London Honeymoons
Spend your first days as a married couple in one of the world's most iconic cities; London is a city bursting with life that lives up to the hype and still holds a few secrets for you to discover.
Kick off your married life in London where cutting edge pop culture blends with millennia old history to create an urban playground with iconic sights around every corner. If you're looking for trendy restaurants and bars, world-class museums and theatres and plenty of "Ooo look! That's from that film" moments, London is for you! Take advantage of free entry to some of the world's best museums and explore the city by foot. Big Ben, Buckingham Palace, Westminster Abbey and Hyde Park are a few of the top sights but you might just stumble across a 16th century building or round a corner to see a stunning view(We recommend Primrose Hill on a sunny day!) After walking all day, ditch the pre-wedding diet in style and eat your way around the world with everything from inspired street food markets to celebrity hangouts in Mayfair. London is a foodie's paradise and it's where many of the world's top chefs try out their latest culinary creations. There's always something quirky going on in London so make sure you do some research before you go & don't miss out on a Secret Cinema or a pop-up campfire club! With some of the best nightlife in the world and everything from super-clubs to secret speakeasies, you'll have plenty of opportunity the next morning to take advantage of all of the latest brunch trends with bottomless prosecco or bottomless bacon to name a few!
Start planning your London honeymoon with this handy guide.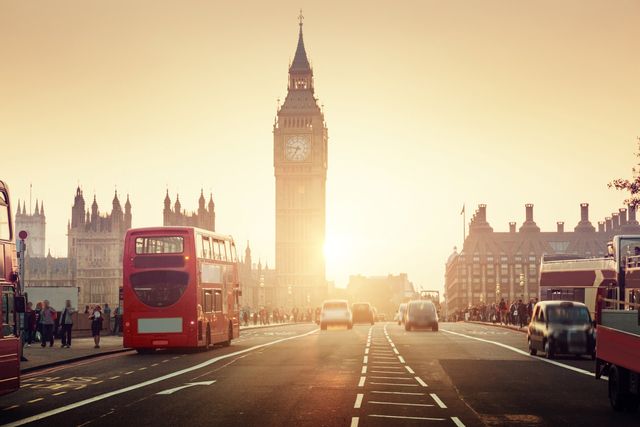 When to Go
London is known for it's rain so make sure you bring an umbrella at any time of the year! The sunniest months are often May, June and September and although it's busy all year round in London, the busiest months are July and August when you can expect to pay a premium. Christmas is a great time to visit with open air ice-rinks, christmas lights and a winter wonderland at Hyde Park. January to March are quieter months where you can save money, not have to battle as many crowds and take advantage of the best time at the theater, ballet and opera but be prepared to dress warmly!
Top Sights and Activities
Have Afternoon Tea: Taste tea as it should be and partake in this great London tradition. Try The Savoy or The Dorchester for an afternoon of finery and British pageantry.
Borough Market: London's oldest market and a "pop-up" paradise.
The Tower of London: Learn about London's murderous past at this former prison and even catch a glimpse of the crown jewels!
The London Eye: What better way to toast to your honeymoon than quaffing champagne with spectacular views over London on this grand ferris wheel
The Changing of the Guard: Catch a glimpse of this colorful spectacle at Buckingham Palace
Have an Immersive Dinner Experience: Be part of the French resistance, eat in pitch black, or be a guest at a Roald Dahl play for fine food & an evening to keep you guessing at every corner!
Take a Tour: London's a big city so let a local show you around with everything from tours on a big red bus to rock 'n' roll history to Jack the Ripper
Secret Cinema: These events happen throughout the year where you are invited to get all dressed up & be part of an iconic movie. Films in the past have been Dirty Dancing and Back to the Future amongst others
Wander the South Bank: Take a stroll with your beau and stumble upon street performers, food markets and vintage stalls
Drink Gin! London loves the stuff and there are dozens of places popping up where you can find out more and have a go at brewing your own. Try The Ginstitute on Portobello Road
Visit a Museum: Many are free so don't miss out and try out some lesser known but equally informative ones such as The Wellcome Collection or the Bank of England museum
Watch a West End Show: With everything from the Lion King to Les Miserables to comedy and ballet, don't miss out on the hottest tickets!
Get out of the Big Smoke: Explore Bath, Windsor, Stonehenge, Oxford, Canterbury, Brighton or even Paris all within just a couple of hours train ride of the city
Go Shop! Shop Oxford Street for big flagships stores, Knightsbridge for high end department stores like Harrods and Bond Street for one of the highest concentrations of designer shops in the world!
Flight 3
- Remove Flight
+ Add Flight
Flight 4
- Remove Flight
+ Add Flight
Get access to travel deals when you book your honeymoon through WeddingWire