Kyoto Honeymoons
Kyoto, an ancient city filled with rich traditional Japanese culture and scenic landscape.
With many UNESCO heritage sites, this city is perfect for a picturesque honeymoon memories. Begin with peaceful backdrops at temples such as Kinkaku-ji, a temple with a golden pavilion and Kiyomizu-dera, a temple built on stilts without nails. Enjoy lovely strolls at the divine rock garden in Daitoku-ji or the pleasant park in Kyoto Gosho Palace. Continue the harmonious feeling with a stay at the guesthouse offered by most of the temples.
For a change of environment, ride on the Sagano Romantic Train as a sentimental way to admire Arashiyama's scenic valley and bamboo forest. Drop by Gion for its popular Japanese traditional pleasure quarters such as art performance by the Geisha. Visit Kyoto Railway Museum to learn Japanese important transport system. Finally, savor authentic Japanese food and locally brewed sake at Pontocho.
If this sounds like your idea of an amazing honeymoon experience, start planning your Kyoto honeymoon adventure.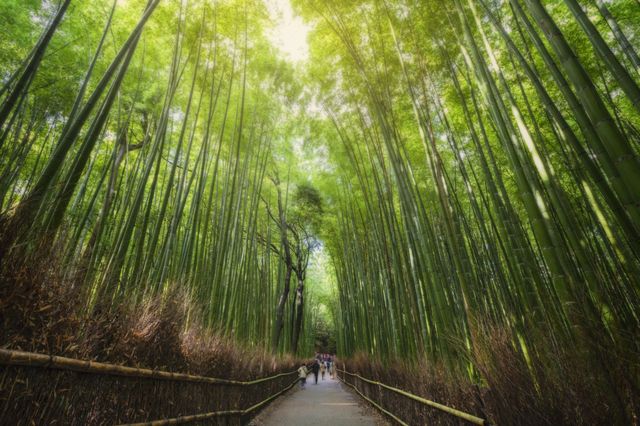 When to Go
The favorable seasons to visit are spring and autumn with comfortable temperature. Spring offers blossoming flowers and autumn gives golden leaves. Low seasons are winter because it is cold with very little snow and summer because it is humid and hot.
Top Sights and Activities
Kinkaku-ji: The golden pavilion mirrored by the pond special landscape.
Kiyomizu-dera: An outstanding temple built on a steep slope that is supported with pillars and no nails are used.
Fushimi Inari-taisha: A distinct temple that has many bright red tori gates.
Gion: An old part of Kyoto that retains traditional architectures and customary Geisha performance.
Arashiyama: The outskirt of Tokyo that offers natural beauty and the famous bamboo forest.
Sagano Railway: Also known as the romantic train, the train gives its passengers a nostalgic memory through the charming sceneries of Arashiyama.
Pontocho: A distinctive alley popular for its dining and entertainment establishments in the evening.
Koke-dera: Known as Moss Temple for its unique garden that has different varieties of moss.
Daitoku-ji: A Zen temple with unique rock and gravel gardens to stimulate contemplative thoughts.
Koyasan: A beautiful and mystical temple town that has grown from a monastery into a settlement.
Kyoto Gosho Palace: The Emperor's official residence in Kyoto where the exterior part of the palace and impressive gardens are open to the public.
Kyoto Railway Museum: More than 50 railway vehicles from the old steam locomotives to the modern bullet train are displayed.
Nishiki Market: A popular traditional food market that sells fresh produce, dried and readymade food and cookware.
Flight 3
- Remove Flight
+ Add Flight
Flight 4
- Remove Flight
+ Add Flight
Get access to travel deals when you book your honeymoon through WeddingWire