There's something so special about a New England wedding. Whether you choose to go full-on nautical with your theme, or simply to bring in a few elements of this highly specialized locale, it's sure to make for a special day. If you're hoping to tie the knot in New England, a Newport, Rhode Island wedding venue might be just the ticket for you and your partner. Why? Because this tiny state packs a huge punch when it comes to rocky shorelines, dramatic sunsets and stunning ocean views. And then, of course, there are the Newport mansions.
Back in the Gilded Age, Newport, RI was like a who's who of billionaire tycoons. And their well-appointed summer homes are still on display there, dotting the lush, green oceanfront lawns. Of course, all of this equates to the perfect place to host a wedding, whether casual or at the height of elegance.
So if you envision dining on lobster and clams, exchanging vows on a rocky cliff, or dancing the night away with yachts in the distance, a Rhode Island wedding simply has to be on your radar. Keep reading for our list of the best Newport, RI wedding venues.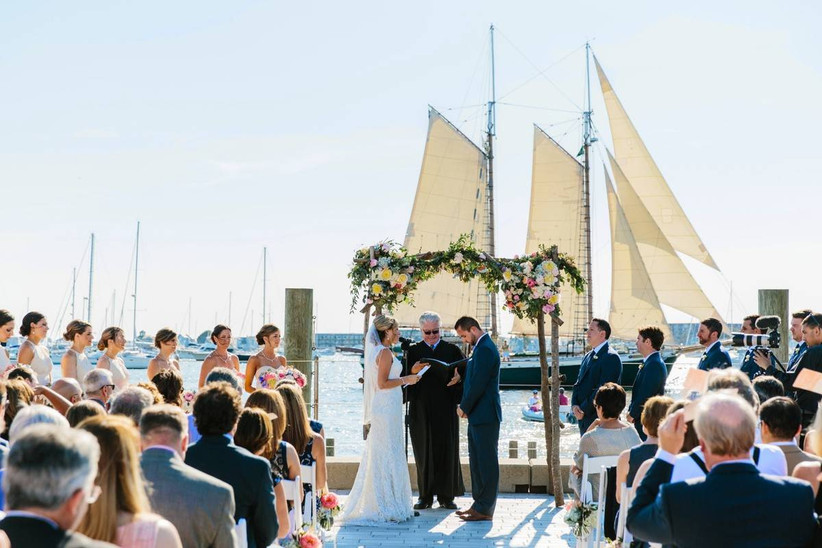 The Bohlin at the Newport Yachting Center
Celebrate your union in the heart of Newport's waterfront when you host your event at the Bohlin. This upscale venue can easily host even the largest guest list, with space for a 500-person event under its 5,000-square-foot tent. You're completely waterfront the entire time, looking directly out onto the Newport harbor that's dotted with gorgeous yachts. It's the site of the historical America's Cup boat race, a rich and prized part of Rhode Island's history. When it comes time to select food for your affair, you'll sample the finest flavors New England has to offer, which is sure to please guests on your big day.
Learn more about The Bohlin at the Newport Yachting Center »


OceanCliff
Enjoy the breathtaking views that made Newport famous when you make OceanCliff your backdrop. This beautiful indoor/outdoor venue is high on the list of Newport wedding venues, and offers several different spaces, allowing you to personalize your special day. Say "I do" on the lush 10-acre lawn, or overlooking the iconic Newport bridge from the Upper Deck, watching the sailboats float lazily by. Intrepid guests can enjoy stunning ocean views from Cliff Walk, one of the area's top tourist attractions that's just moments from your venue. Fantastic food and well-appointed guest rooms round out the top-notch amenities you'll enjoy at this RI wedding location.

International Tennis Hall of Fame
Located right in the heart of downtown Newport, the International Tennis Hall of Fame makes for a fantastic wedding venue. Historically intact grass tennis courts are the perfect backdrop for a wedding ceremony or reception, with romantic string lights above. Or enjoy a lavish cocktail hour on the Horseshoe piazza, with Insta-worthy photo ops at every turn. Staff at the ITHF are willing to work with any vendor to ensure a personalized experience at this ideal location.
Learn more about the International Tennis Hall of Fame »
Hotel Viking
If you're in search of the Rhode Island wedding venue that has it all, look no further than the Hotel Viking. Conveniently located on Bellevue Avenue in the heart of downtown Newport, the Viking is the perfect backdrop for just about any nuptials. Tie the knot at the quaint Kay Chapel, with its rustic vibe and swanky groom's room. Then, choose from any one of the hotel's 14,000 square feet of ballroom space. The Viking Ballroom is a grand space suitable for 300 guests, or you could opt for the Bellevue Room, which easily holds a guest list of 150. A staff of adept and skilled wedding planners help you with every single detail along the way for a completely stress-free event.
Learn more about Hotel Viking »
Wyndham Newport at the Atlantic Resort
Just a hop, skip and a jump outside of Warwick, home to the main airport in the state of Rhode Island, is this fantastic hotel wedding location in Middletown. This upscale property boasts plenty of indoor and outdoor space that can serve as host to your wedding vows, reception or even your cocktail hour. And talk about photo ops—with scenic views everywhere you turn, you'll be amazed at the classic New England vibe evident in all your wedding photos. With accommodations for groups up to 350, the Wyndham is a great choice for your special day.
Learn more about the Wyndham Newport at the Atlantic Resort »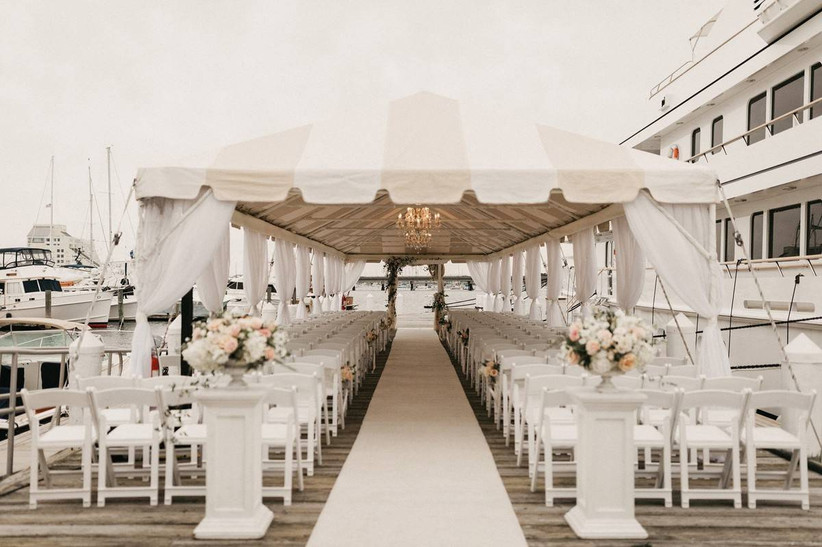 Regatta Place
It doesn't get any more New England than Regatta Place. Where else can you exchange vows alongside huge, gleaming yachts, or snap a photo of your wedding party hanging out on wooden Adirondack chairs while overlooking the sea? Situated on the Goat Island Marina, you'll have all this and more at the Regatta. After your ceremony, you and your guests can dance the night away under the twinkling lights of the wharf, then enjoy a day-after brunch on the patio. A dedicated staff will help you put expert touches on your big day.
Learn more about Regatta Place »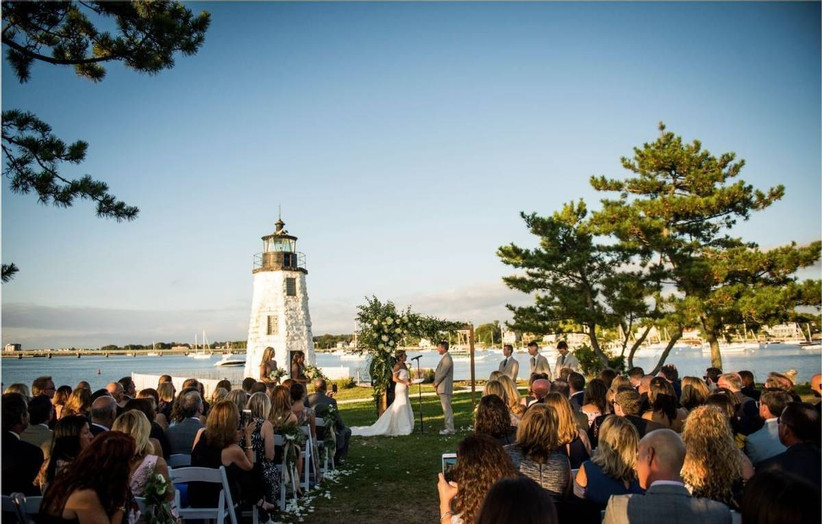 Gurney's Newport Resort and Marina
If you're looking for the best location for a waterfront wedding in Rhode Island, you can't beat Gurney's Newport Resort and Marina. Situated in Goat Island with sweeping views of Narragansett Bay, your dream wedding will have all the New England vibes you're looking for. What's more, there's no guest list this fantastic space can't handle, with the Grand Ballroom hosting up to 1,000 guests. Looking for something more quaint? Host a smaller affair on the deck of the Yellow House for a more personal feel. Just moments from Rhode Island hotspots like Fort Adams, Newport RI and Narragansett, you and your guests will love the posh accommodations Gurney's affords.
Learn more about Gurney's Newport Resort and Marina »
Harbor Lights
With distinguished touches everywhere, you'll love hosting your wedding ceremony at Harbor Lights. This beautiful event space is located in the heart of Rhode Island and only minutes from the state's only airport in Warwick. Views of the Atlantic Ocean abound, which serves as the perfect backdrop for photos and vows alike.
Learn more about Harbor Lights »
Eisenhower House
You may not be able to get married at the White House in DC, but you can get married in the home that served as the "summer White House" for President Eisenhower! This stately mansion is impeccably maintained, with modern restroom facilities and top-notch spaces for both partners to get ready for their special day. Beautiful grounds surround the wrap-around porch, and views of Narragansett bridge in the distance complete this typical New England setting. With tons of photo ops and a dedicated staff to help assist you with all the details, you can't imagine a more perfect wedding day than one spent at the Eisenhower House.
Learn more about Eisenhower House »


Aldrich Mansion
The perfect venue for your New England wedding is this grand mansion from the Gilded Age, Aldrich Mansion. The stately mansion and its expansive 70-acre grounds offer the perfect backdrop for your rehearsal dinner, vow exchange and wedding reception. Two grand ballrooms offer space for guest lists up to 250. You and your guests can dance, mingle and enjoy some of the best New England cuisine the area has to offer. Situated in Warwick, Rhode Island, which is close to both the Providence and Boston airports, this beautiful mansion will be host to the most special celebration you can imagine.
Learn more about Aldrich Mansion »
Belle Mer
At the epitome of style and sophistication is Belle Mer, one of Newport's premier wedding destinations and a Longwood property. When you choose to host your wedding reception at the historic home's water salon, you'll experience 180-degree, unobstructed views of the waterfront. Breezy white curtains pair with sparkling chandeliers for a touch of elegance. When the weather's warm, feel the salty breeze caress your skin as you dance the night away with your partner and mingle with guests. Capable of hosting up to 1,000 guests, this stunning space is sure to make for an experience you'll never forget.
Newport Marriott and Spa
The beautiful, green-roofed Newport Marriott looms large on the waterfront of the Newport harbor, with enough event space for weddings of any size. If you want to have an array of wedding packages at your disposal, this wedding venue is the one for you. The hotel boasts a wedding planning crew that can help you with every aspect of your big day, making this the ideal location if you'll be planning your wedding from afar. Everything from space reservation to menu tastings to guest rooms can be handled through your dedicated wedding concierge. And on your big day, you'll be able to sail through without having to worry about a single detail.
Learn more about the Newport Marriott and Spa »