10 Sedona Wedding Venues That'll Make Your Desert Dreams Come True
Want to marry amid the red rocks? These Sedona wedding venues are perfect for an event complete with some truly jaw-dropping scenery.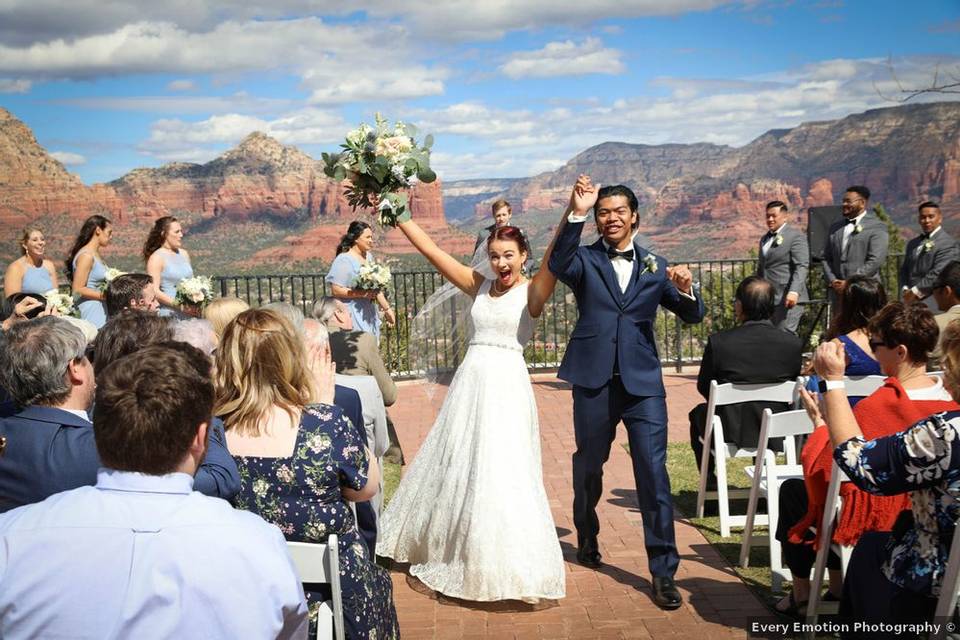 If your big-day dreams include red rocks and canyons, you may want to consider having a destination wedding in the romantic town of Sedona, Arizona. At first a peaceful place dotted with tall cacti and towering cliffs, Sedona also boasts a wealth of activities and a bustling downtown. There's something for everyone, and wedding venues range from luxury hotels, one-stop Sedona wedding venues that make far-away planning possible, and beautiful gardens set against the rushing waters of Oak Creek.
Here, we've chosen ten of our favorite Sedona wedding venues to share with you. We'll outline everything you need to know as you begin your wedding planning journey by choosing the site of your ceremony and reception.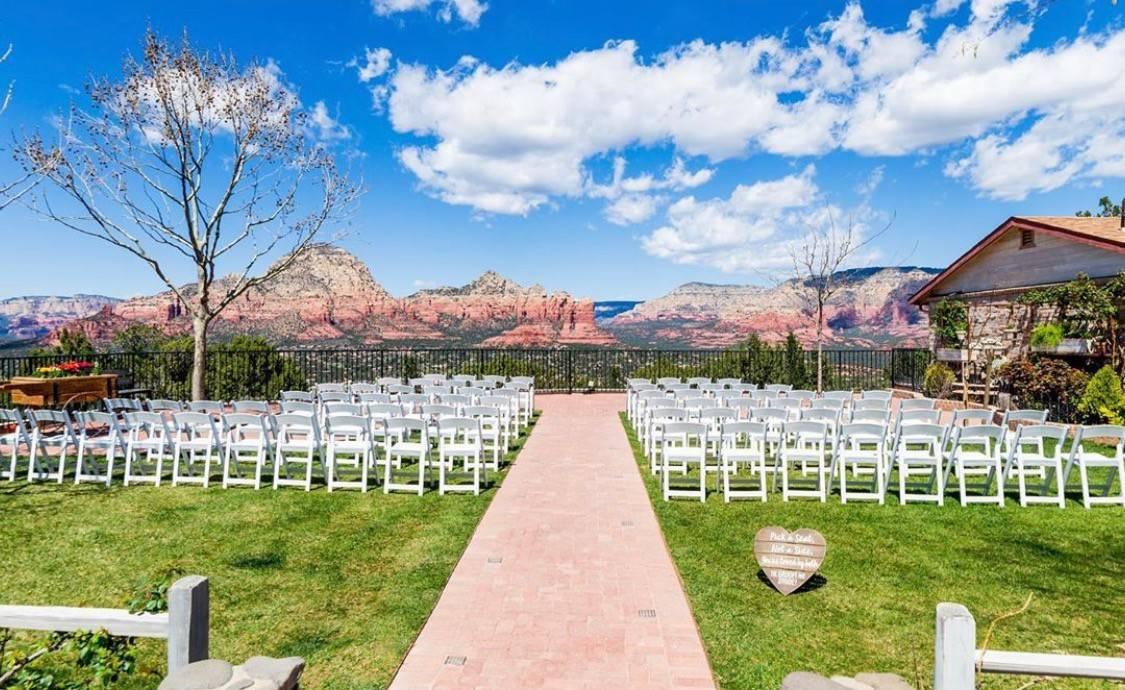 Sky Ranch Lodge
For couples who want to spend their entire wedding weekend in one spot, Sky Ranch Lodge is for you! Situated in the heart of gorgeous Coconino National Forest, Sky Ranch offers lodging, wedding planning, two reception areas, each capable of hosting up to 150 guests, and even a posh spot to host your rehearsal dinner. You'll exchange vows while overlooking some of the most stunning red rocks Arizona has to offer, then you and your guests can dance the night away under an elegantly lit outdoor dance floor.
Learn more about the Sky Ranch Lodge »


Tlaquepaque Chapel
There's no better place for a small, intimate gathering in northern Arizona than this elegant chapel and Sedona wedding venue. Designed with a Mexican flair in mind, this stucco chapel is surrounded by breathtaking greenery and arched entryways. Imagine the stunning wedding photo opps that'll arise from a romantic stroll down a cobblestone walkway with your partner. You'll exchange vows inside the cozy chapel, then enjoy an upscale reception in a space that's reminiscent of an old Mexican city square. Twinkling lights strung overhead lend a casually elegant vibe at this rustic wedding venue.
Learn more about the Tlaquepaque Chapel »
Sedona Golf Resort
This upscale resort is the perfect backdrop for your Sedona desert wedding, especially if you'd like a one-stop-shop for all your wedding needs. You'll be assigned a team of wedding planners to help bring your dream wedding to life, from table linens to your reception menu, and everything in between. Exchange vows on the golf course with stunning mountain views, and choose from indoor or outdoor wedding reception options for up to 150 guests.
Learn more about the Sedona Golf Resort »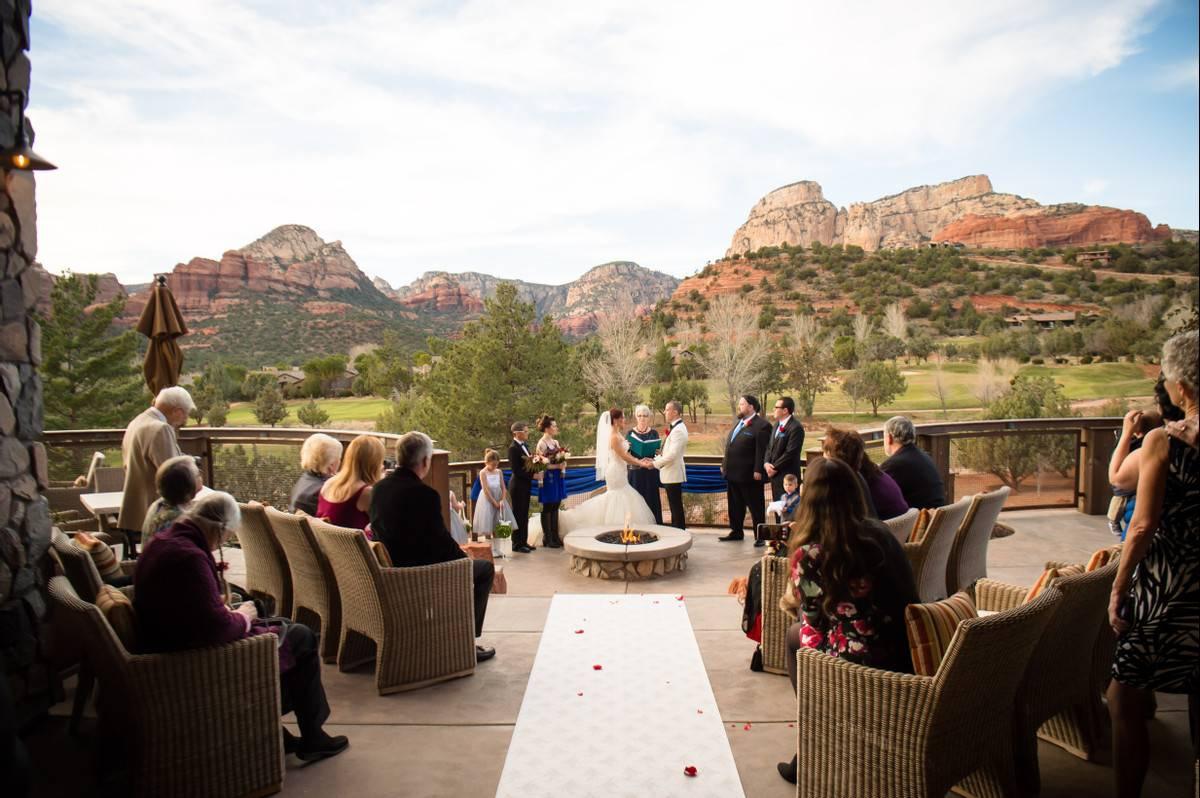 Seven Canyons
If you've been dreaming of exchanging vows with a 360-degree view of Arizona's famed red rocks, Seven Canyons is the place for you. Sedona wedding venues are known for their stunning views, and this country club is no exception! An expansive outdoor terrace allows for groups up to 100, while nearby overlooks and fire pits offer room to spread out and enjoy your special day under the blue Arizona sky. And when Mother Nature turns up the heat, head indoors for your reception, where the elegantly styled clubhouse will meet all your catering and entertaining needs.
Learn more about Seven Canyons »


Agave of Sedona
Situated in the heart of Sedona, the Agave of Sedona reception hall is just minutes away from everything this beautiful area has to offer—including the airport! An attentive staff of event planners can help with every aspect of your big day with a host of wedding packages to choose from. And you'll enjoy lots of different options for where to host your wedding ceremony and reception. Whether you're hoping for an intimate outdoor setting for your wedding day or a grand indoor affair, Agave has something for everyone.
Learn more about Agave of Sedona »


Poco Diablo Resort
Stunning red rock views abound on this 8-acre resort property. Exchange vows in a gazebo while guests enjoy shade from a nearby willow tree, or snag a sunny spot on the golf course for your "I dos". Either way, it's a day you'll never forget. A dedicated and experienced staff of wedding planners will help you choose from the expansive catering menu, and get all the details right, from decorations to table linens. If you're looking for a one-of-a-kind wedding experience in Sedona, Poco Diablo Resort is the place for you.
Learn more about Poca Diablo »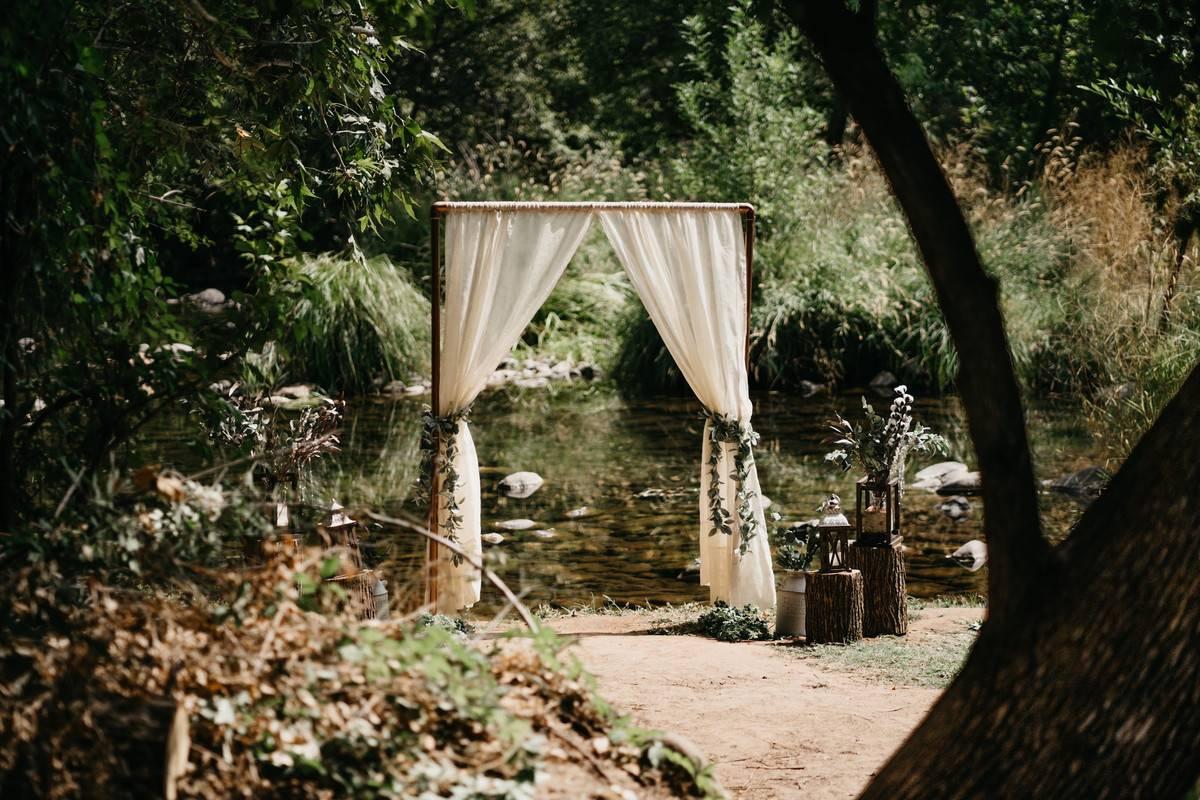 Sedona Cedars
Sedona Cedars is the perfect venue for your intimate affair, whether you're going small with a crowd of 50, or keeping things micro with a 10-person gathering. Located in the heart of Sedona with plenty of those iconic red rock views along with Oak Creek, this gorgeous property will transfix you and your guests. Here, you'll get married outdoors against a backdrop only Mother Nature could provide, then dance under the stars at this perfect location. A wedding suite will be waiting for you when your special event comes to an end.
Learn more about Sedona Cedars »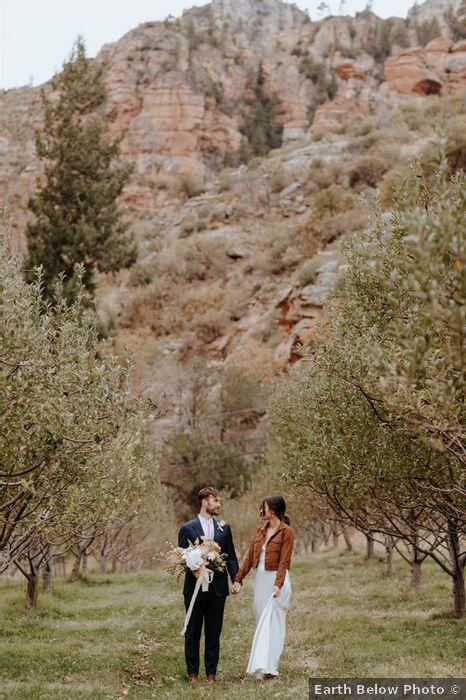 Orchard Canyon on Oak Creek
If you've been dreaming of a rustic wedding, Orchard Canyon on Oak Creek is the place for you. Just over an hour away from major Arizona cities like Flagstaff and Phoenix, this diminutive property stays tucked away from the crowds. Best for smaller crowds, this gorgeous property is perfect for an afternoon stroll among the fruit trees, or a nearby canyon hike. The property boasts both indoor and outdoor venues for your ceremony and reception.
Learn more about Orchard Canyon on Oak Creek »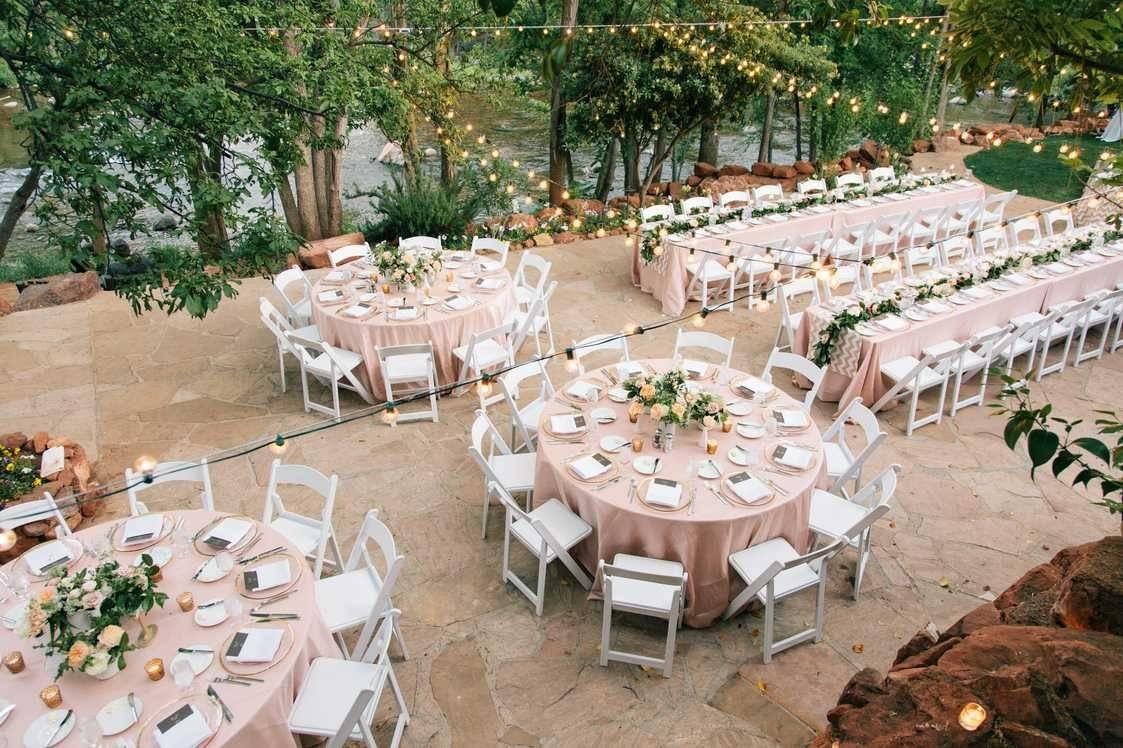 L'Auberge de Sedona
Perhaps the most popular wedding venue in Sedona, L'Auberge has it all. Whether your guest list numbers 15 or 150, this fantastic property has the perfect gathering space for you. Indoor and outdoor reception sites offer sweeping views of red rocks and Oak Creek. If you're planning your wedding from afar, rest assured the helpful staff at L'Auberge will help you every step of the way with cuisine, rentals, bar and space reservation. Catered meals are superb, with options from the most upscale to the most basic. If you're looking for a special day like fairy tales are made of, L'Auberge de Sedona should be on your list.
Learn more about L'Auberge de Sedona »​
Creekside Inn Sedona
Get married on the banks of Oak Creek while the water rushes by when you tie the knot at the Creekside Inn Sedona. This luxury hotel can accommodate as many as 250 guests on its 2-acre grounds, with many different natural settings that serve as the backdrop for your vow exchange. The hotel makes it a snap to plan from afar, too, with a dedicated staff that handles all the details.