The Best 20th Wedding Anniversary Gift Ideas
Ready to celebrate your big 2-0 as a married couple? Check out the very best 20th anniversary gifts, traditional, modern, and everything in between.
We have included third party products to help you navigate and enjoy life's biggest moments. Purchases made through links on this page may earn us a commission.
Two whole decades of togetherness. It's quite the celebration when a couple hits their 20th anniversary. After 20 years of marriage, it's safe to say two partners know each other pretty well! But that doesn't mean it's easy to come up with the perfect 20th anniversary gift.
And if you're shopping for a couple, it can be even more difficult to come up with gift ideas. But have no fear—we're here to help you out. We've compiled a comprehensive round-up of some of our favorite 20th anniversary gift ideas for you to browse for inspiration. But first, perhaps you'd like to learn more about 20th anniversary gifts.
What is the traditional 20th anniversary gift?
The 20th anniversary traditional gift is china, which means a dinnerware set would make a great gift, or something as small as a coffee mug would be a great option if you're searching for inexpensive 20th anniversary gifts. China is said to represent a marriage because it's both strong and fragile at the same time, much like a long-term union between two people.
If you're into a more modern gift, you'll want to include platinum items on your list of gift ideas. That's because platinum is considered to be the modern 20th anniversary gift. There's nothing fragile about platinum, and there are lots of great platinum gifts to shop!
Finally, have you ever wondered what the 20th anniversary gemstone is? It's an emerald; a beautiful green stone that's also the birthstone for the month of May. Along with that, the color often associated with a 20th anniversary is green. That's why you'll find several green items on our list of the best 20th anniversary gifts as well. So without further ado, here's our round-up of great gifts you can shop if you or someone you know will soon be celebrating a 20th anniversary.
The Best 20th Anniversary Gifts
Maybe you're looking for something traditional. Or perhaps a modern gift is more your speed. Whether you've got a large budget for your 20th anniversary gift ideas or you're just looking for something small to show you care, you're sure to find some inspiration here.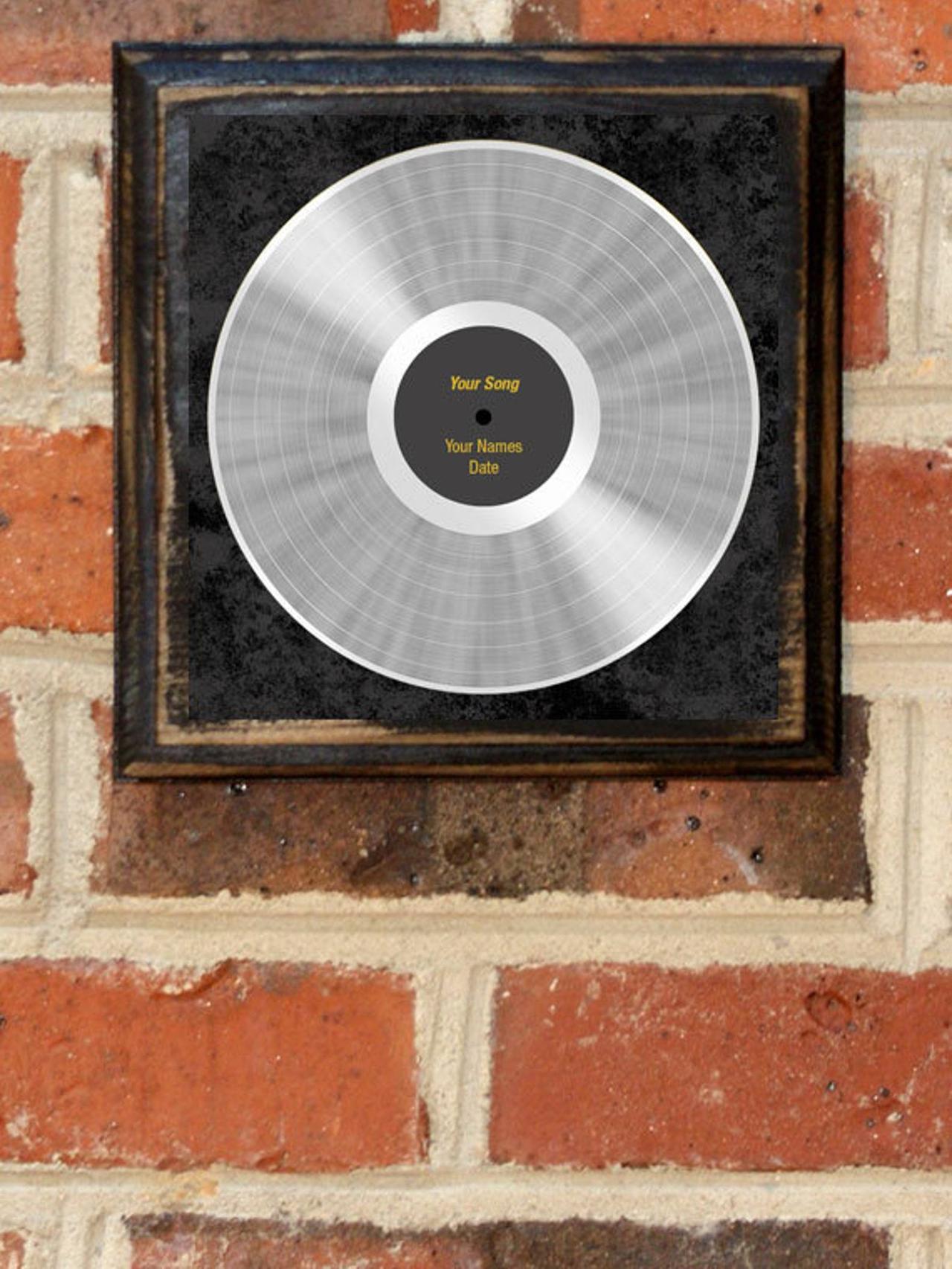 1. Platinum print
It's been 20 years of wedding bliss, so you might say their love's gone platinum! Honor those decades-old vows with this printed platinum record that also displays their special first dance song. It's a time-honored way to commemorate a couple that deserves a wonderful 20th wedding anniversary gift.
Patterson Design LLC platinum record print, from $30, Etsy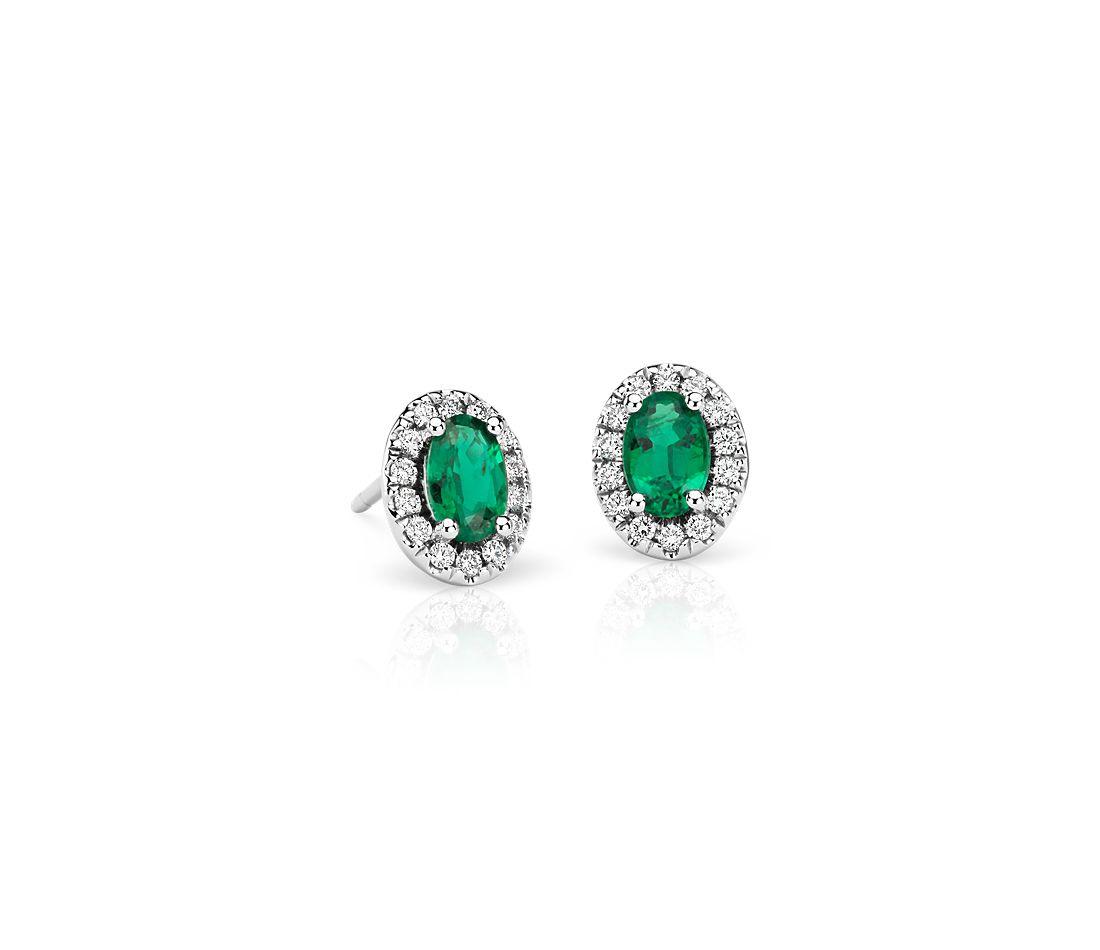 2. Elegant earrings
With emerald being the 20th anniversary traditional gift, these pave earrings should certainly make the cut. A sizable emerald is encircled by a channel of pave diamonds for a classic, elegant look.
Blue Nile emerald pave diamond halo earrings, $1,975, Blue Nile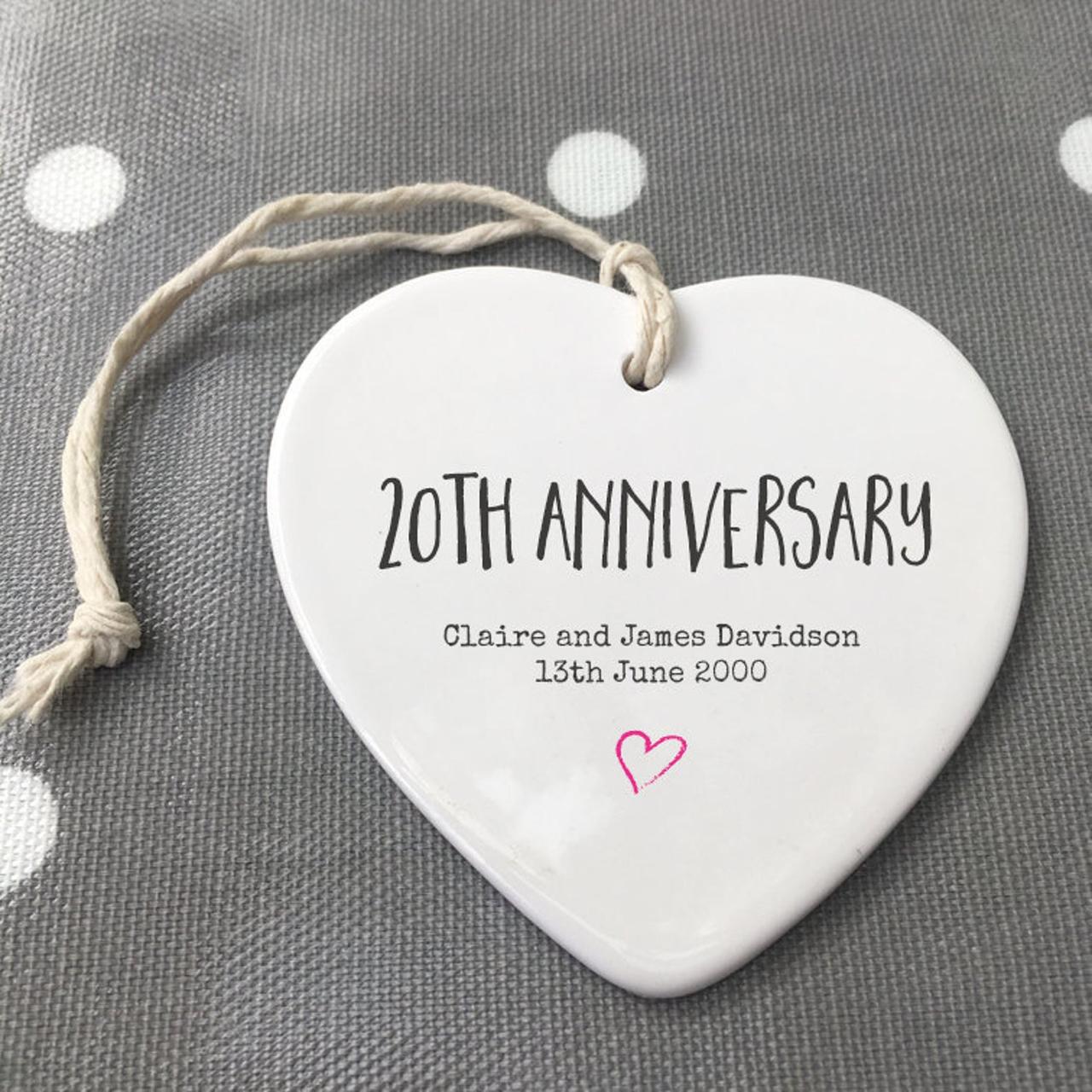 3. Commemorative ornament
For a small but thoughtful 20th anniversary gift, choose this sweet little ceramic heart that lists the couple's names along with their wedding date. They might choose to use it as a Christmas ornament, or simply to hang it on the wall as a reminder of their special day.
Pink Strawberry Studio ceramic 20th anniversary keepsake, $12, Etsy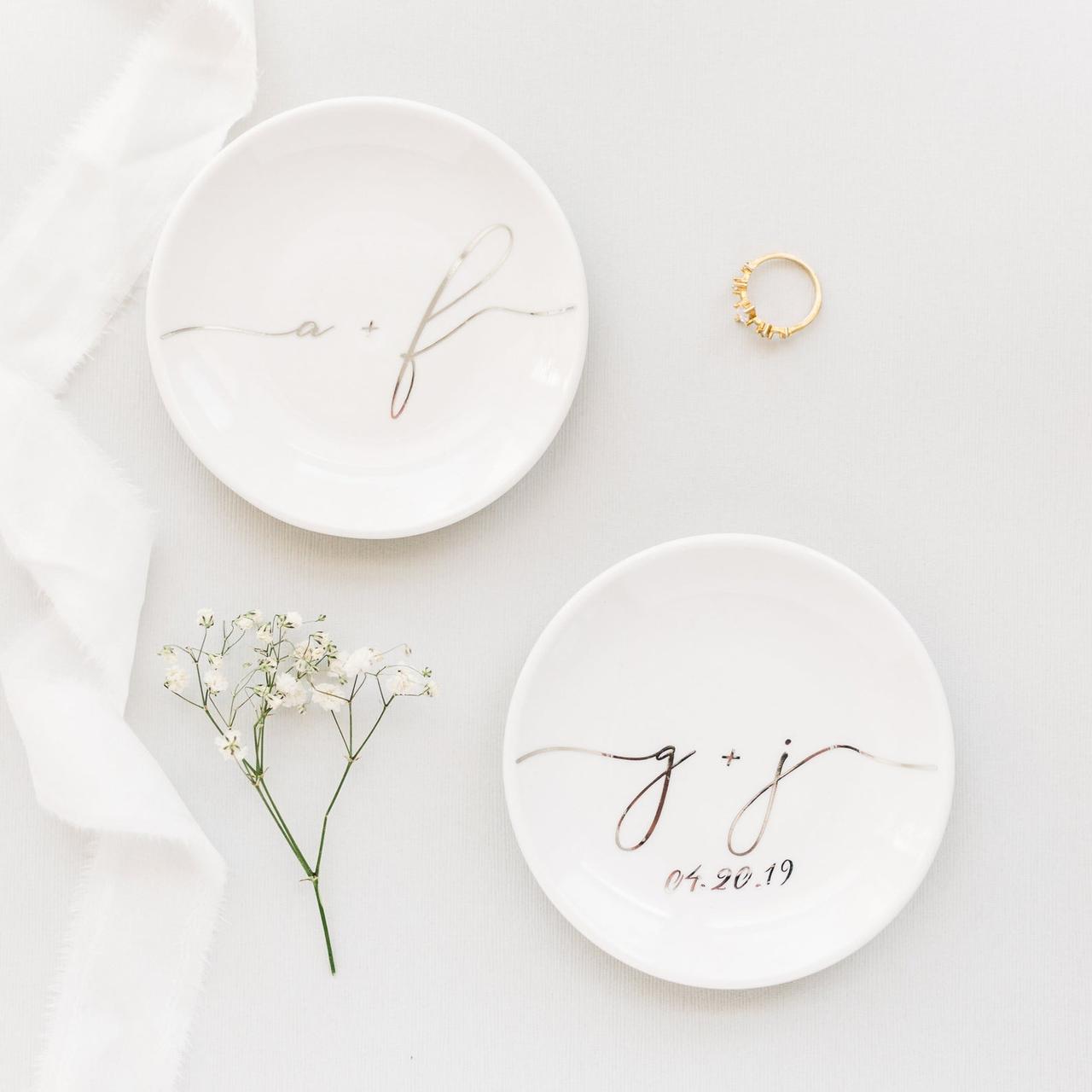 4. Pretty ring dish
Over the years, she may have collected a few amazing pieces of jewelry. If so, this elegant ring dish might make a great 20-year anniversary gift for her. A few different color options are available, but selecting a white dish with silver writing gives it a platinum vibe, which is the modern 20-year anniversary gift.
Willow Lane Collective personalized ring dish, $14, Etsy
5. Vintage emeralds
Emerald is the 20-year anniversary gemstone, so you'll find lots of it on our list of the best 20th anniversary gifts. This round-cut bezel ring is a favorite! Here, round emeralds encircle her entire finger, with a rim of gold that gives this ring a vintage vibe she's sure to love.
Nari Fine Jewels Aiyana emerald round cut ring, $380, Etsy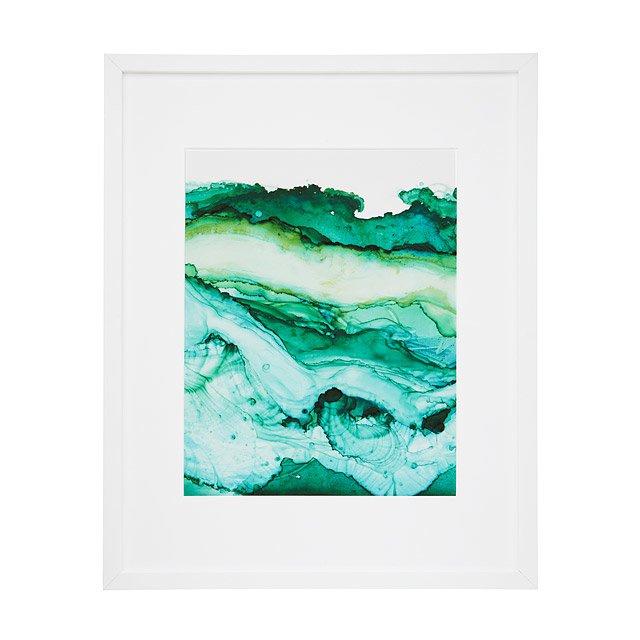 6. Modern art
Searching for a non-traditional 20-year wedding anniversary gift? This unique print deftly combines the 20th anniversary traditional gift of emerald, but gives it a modern spin by using the color rather than the stone. Either way, this tidal shift art makes a gorgeous print that will look amazing on their wall.
Uncommon Goods tidal shift print in emerald ink, from $35, Uncommon Goods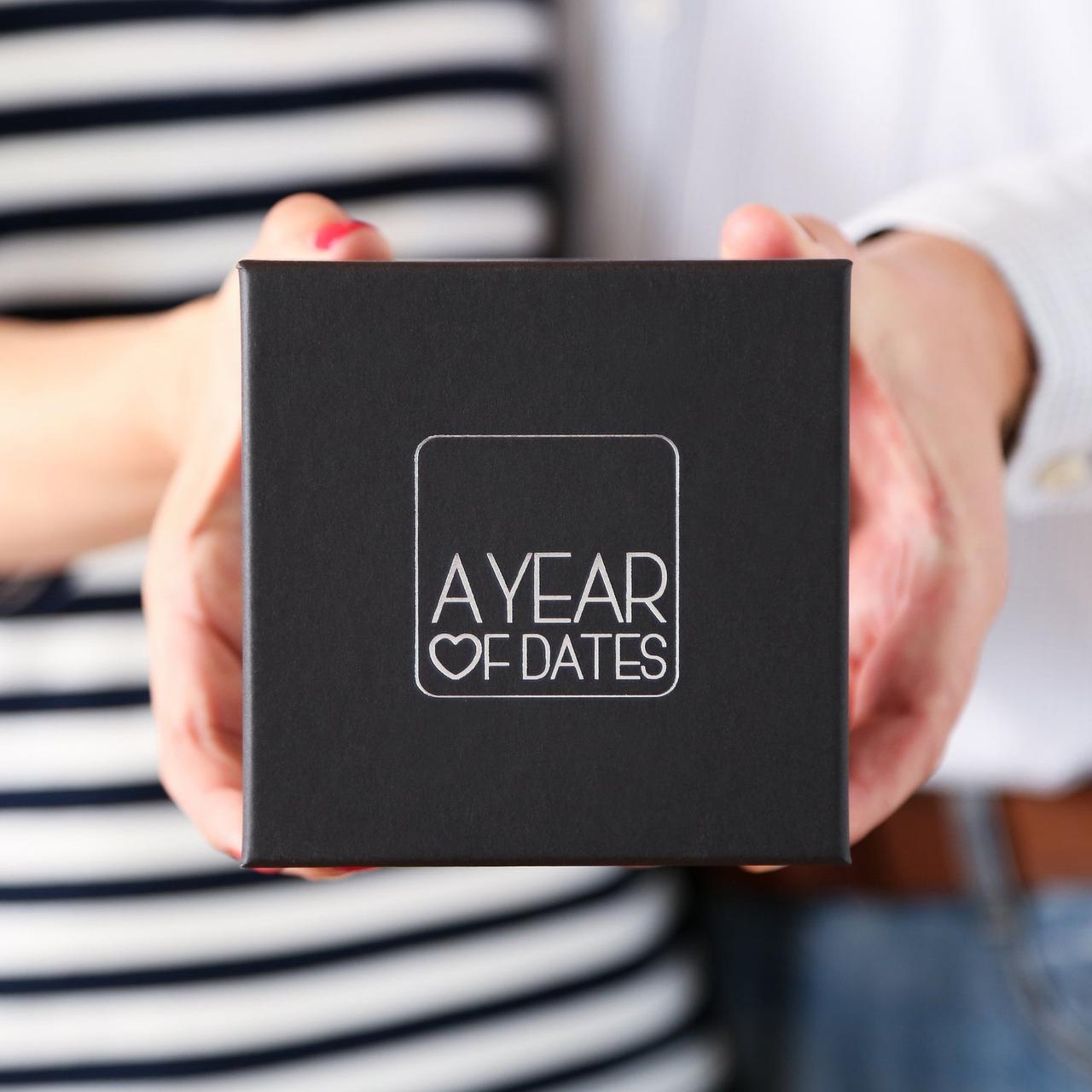 7. Romantic and fun
We can't think of a couple who couldn't use some date night inspo from time to time. That's why this box of date night cards is on our list of the best 20th anniversary gifts. Each card presents a detailed date option for some really interesting ways to fire up that spark that can seem to get buried when everyday life beckons.
A Year of Dates box of date night cards, from $42, Etsy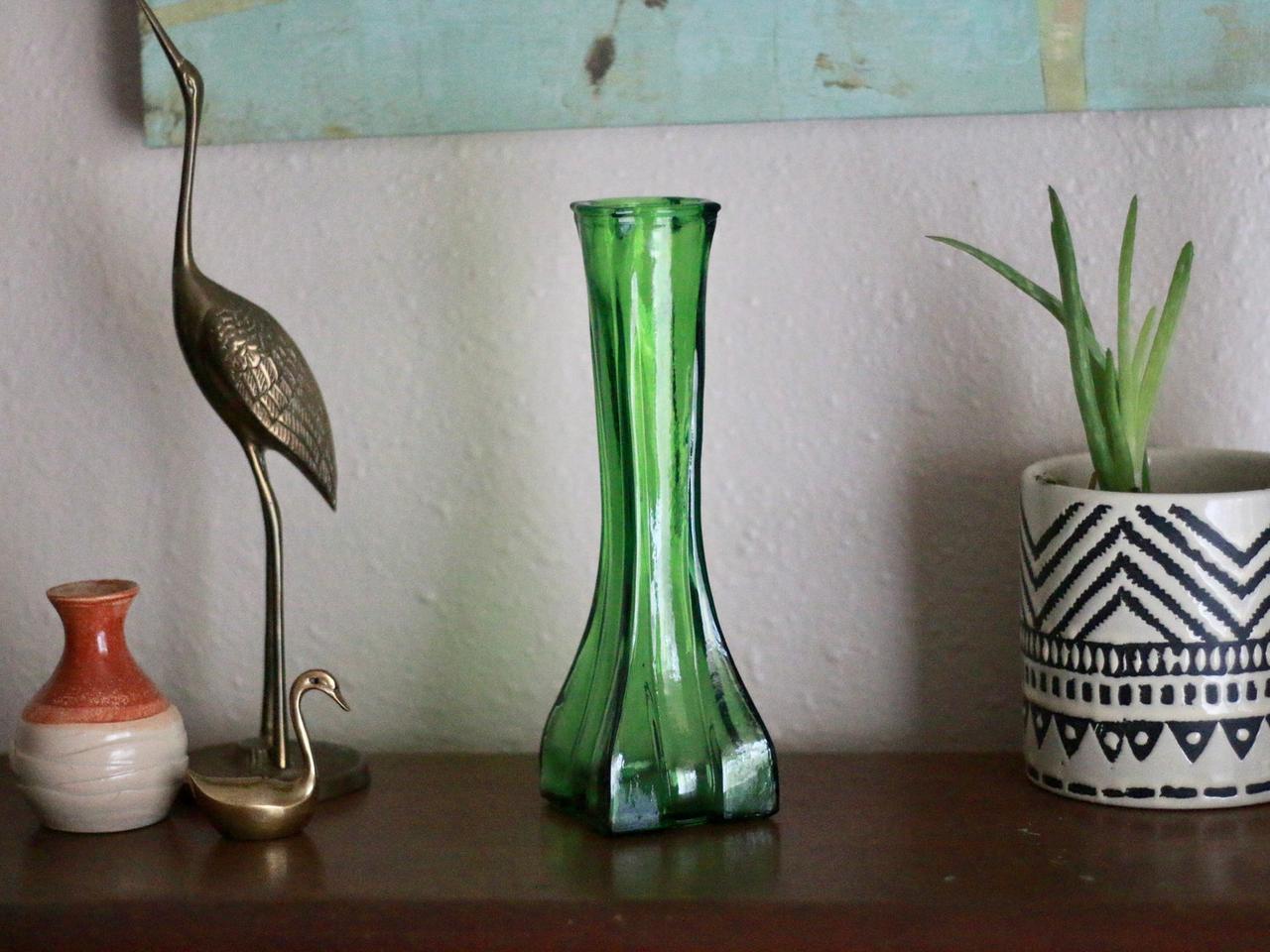 8. Green vase
If you're looking for 20th wedding anniversary gifts for couples, look no further. This vintage emerald vase is a perfect option, adding a dramatic flair wherever it's displayed. At nearly 9 inches tall, it can display an array of floral or greenery arrangements with ease.
Leaf River Vintage vintage Europa emerald glass vase, $24, Etsy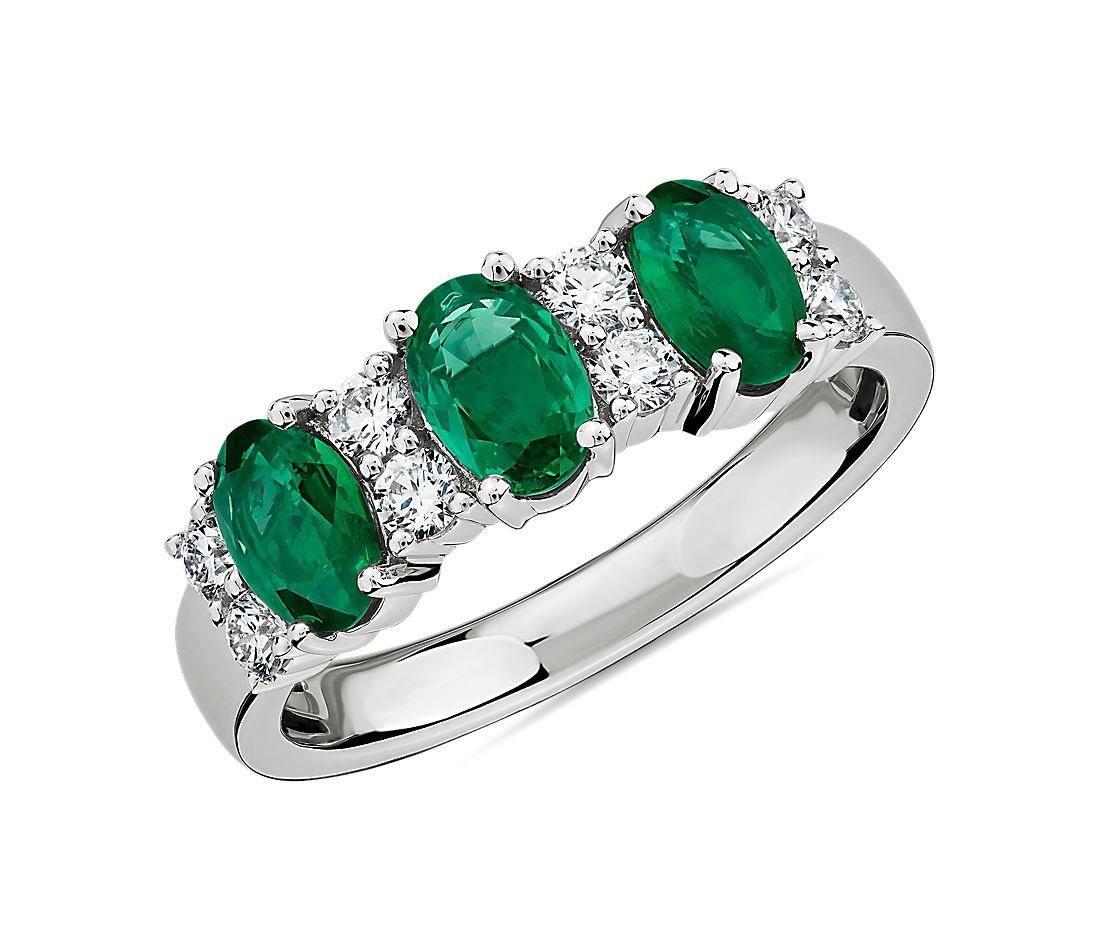 9. Emerald stunner
A 20th anniversary is the perfect time to splash out on an amazing gift she'll never forget. And we love this diamond and emerald three-stone ring. Dramatic emeralds are set amongst sparkling diamonds on a 14-karat white-gold setting that's sure to turn heads wherever you go.
Blue Nile emerald diamond gemstone ring, $2,300, Blue Nile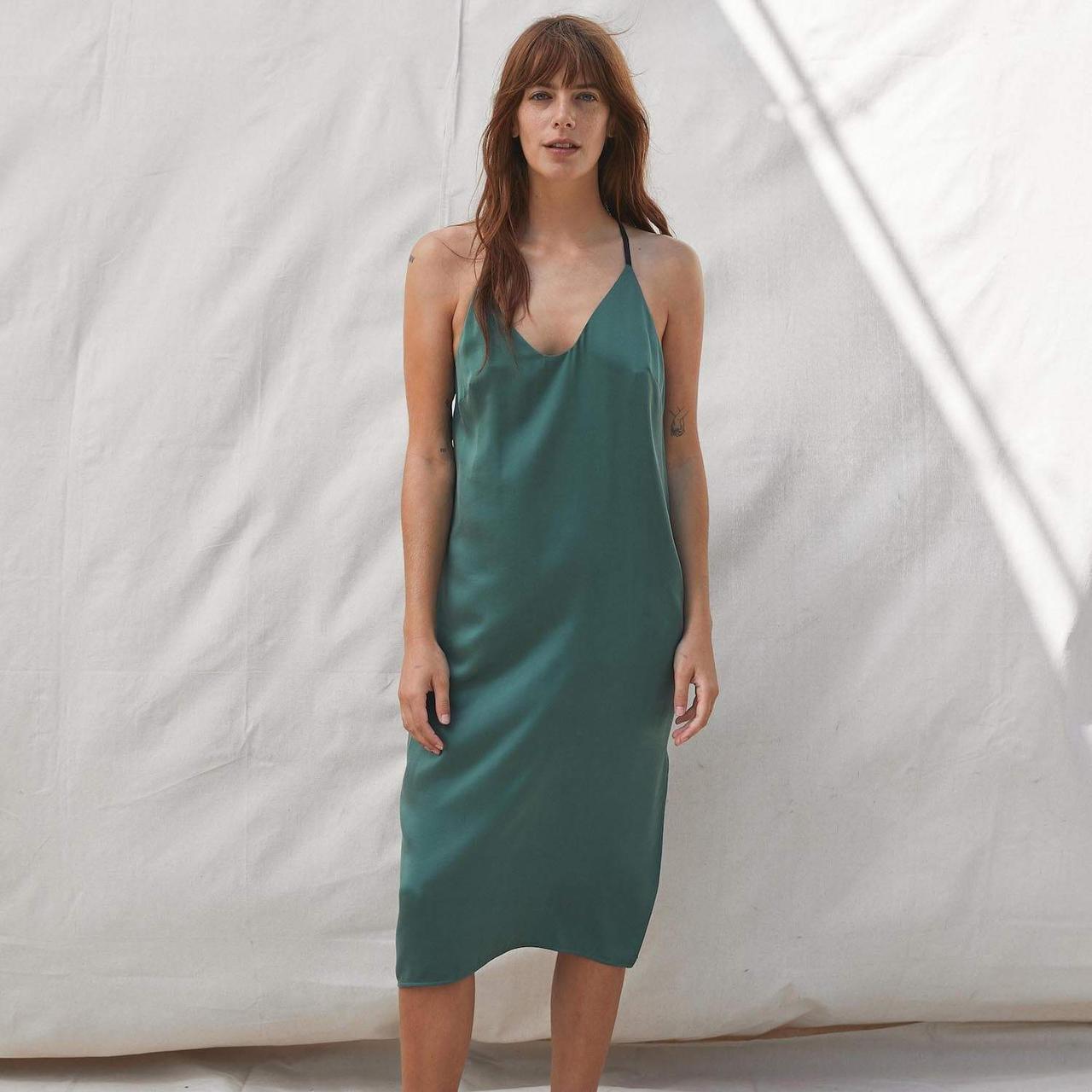 10. Silky slip dress
You could give emeralds as a 20th anniversary gift, or you could simply gift her this gorgeous emerald green slip dress, made of buttery soft silk. It's a cool twist on the 20th anniversary traditional gift of emerald stones, and a gift she's sure to wear as much as possible.
Lunya washable silk slip dress, $198, Lunya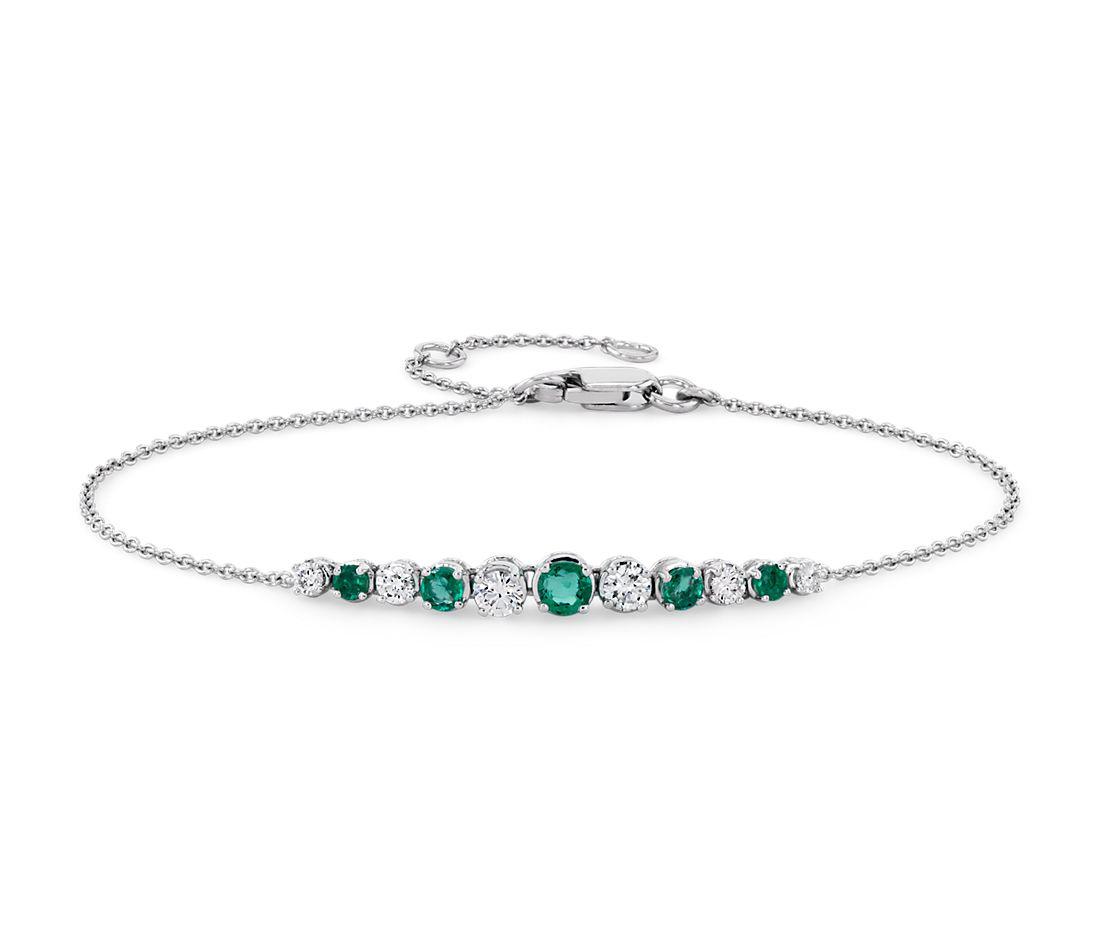 11. Emerald bracelet
No list of 20th anniversary gifts could be complete without this delicate diamond and emerald bracelet from Blue Nile. This pretty piece of jewelry is just right for everyday wear.
Blue Nile emerald and diamond graduated curve bracelet, $875, Blue Nile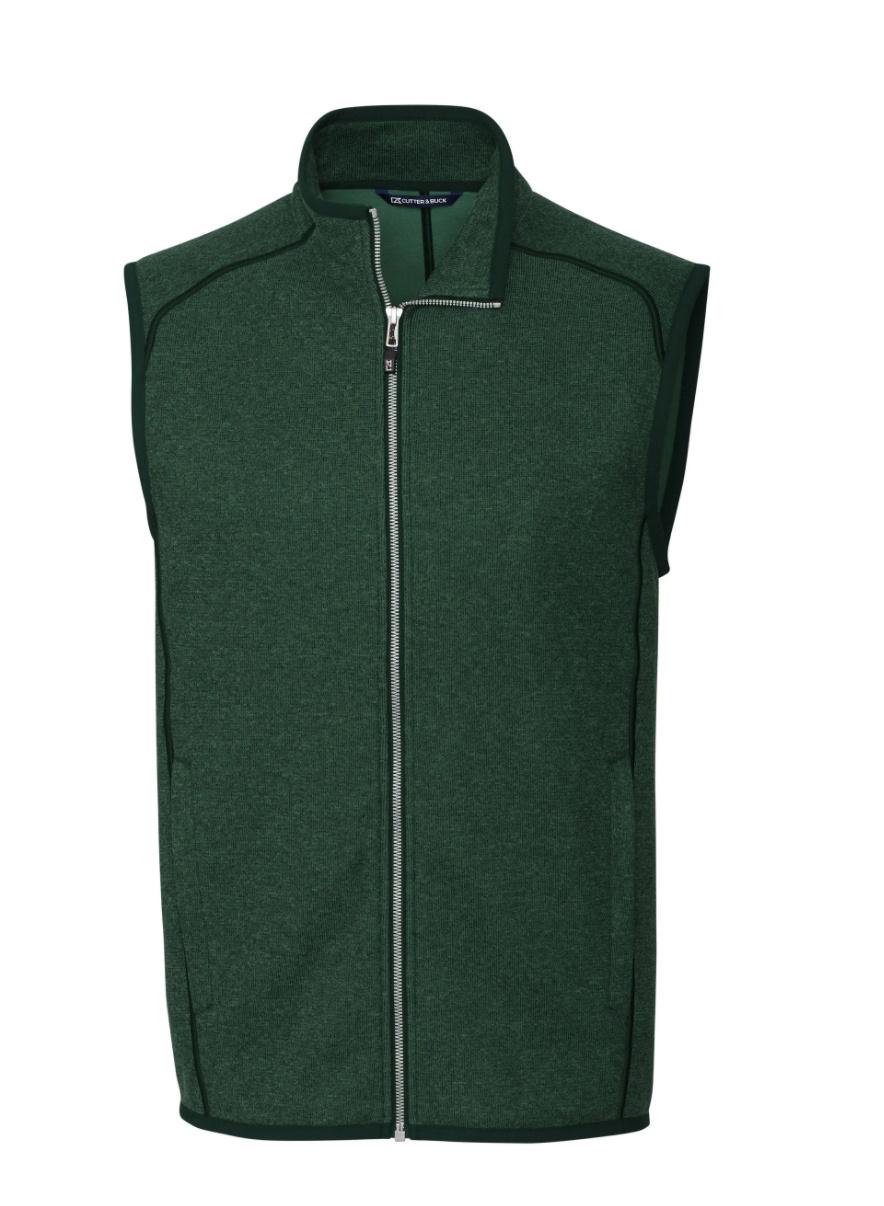 12. Handsome vest
Looking for a great 20th anniversary gift for him? This stylish front-zip vest looks cool and keeps him warm at the same time. And the hunter green color is totally apropos for an anniversary with emerald as the gemstone.
Cutter & Buck Mainsail zip vest in Hunter Heather, $120, Nordstrom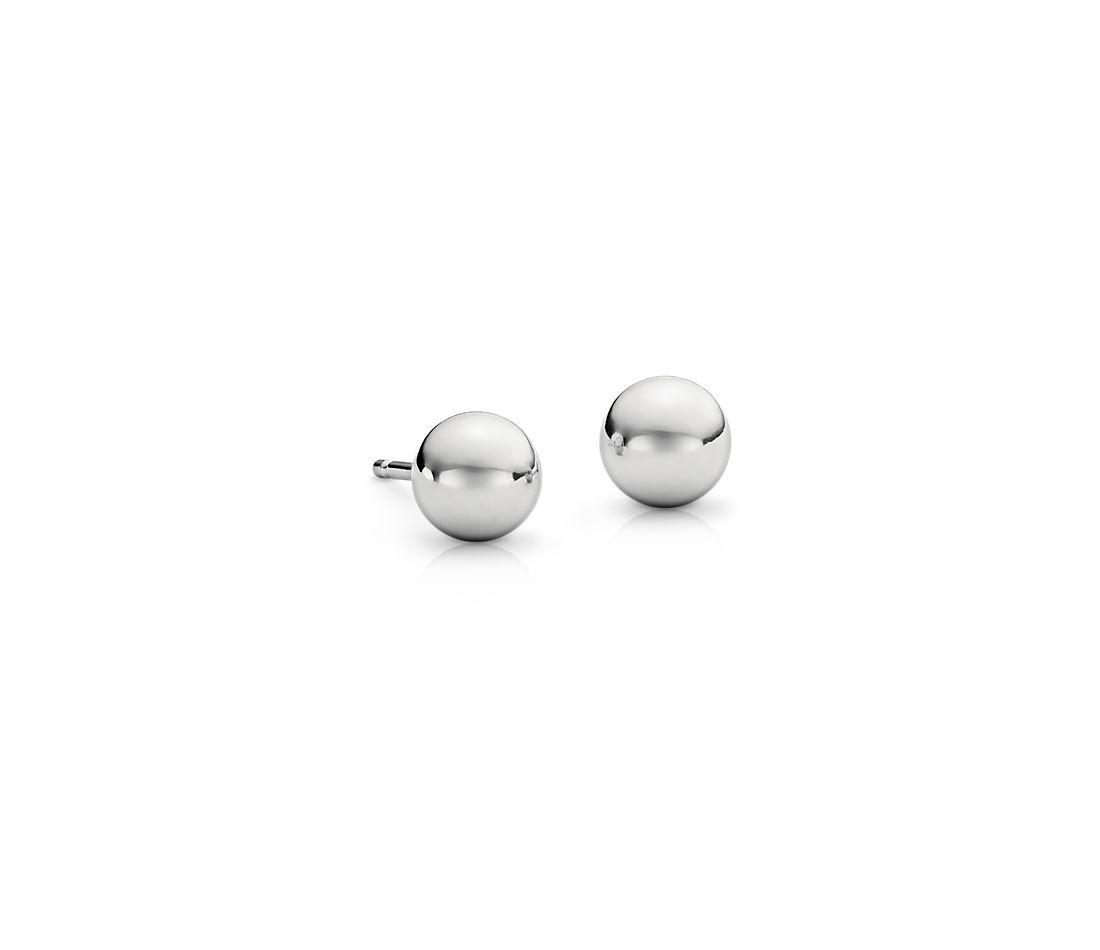 13. Platinum earrings
Platinum is the modern 20-year anniversary gift, and these simple but stunning bead ball studs are sure to make her smile! They're a classic pair of earrings that are versatile enough to be worn every day if she chooses.
Blue Nile bead ball platinum earrings, $200, Blue Nile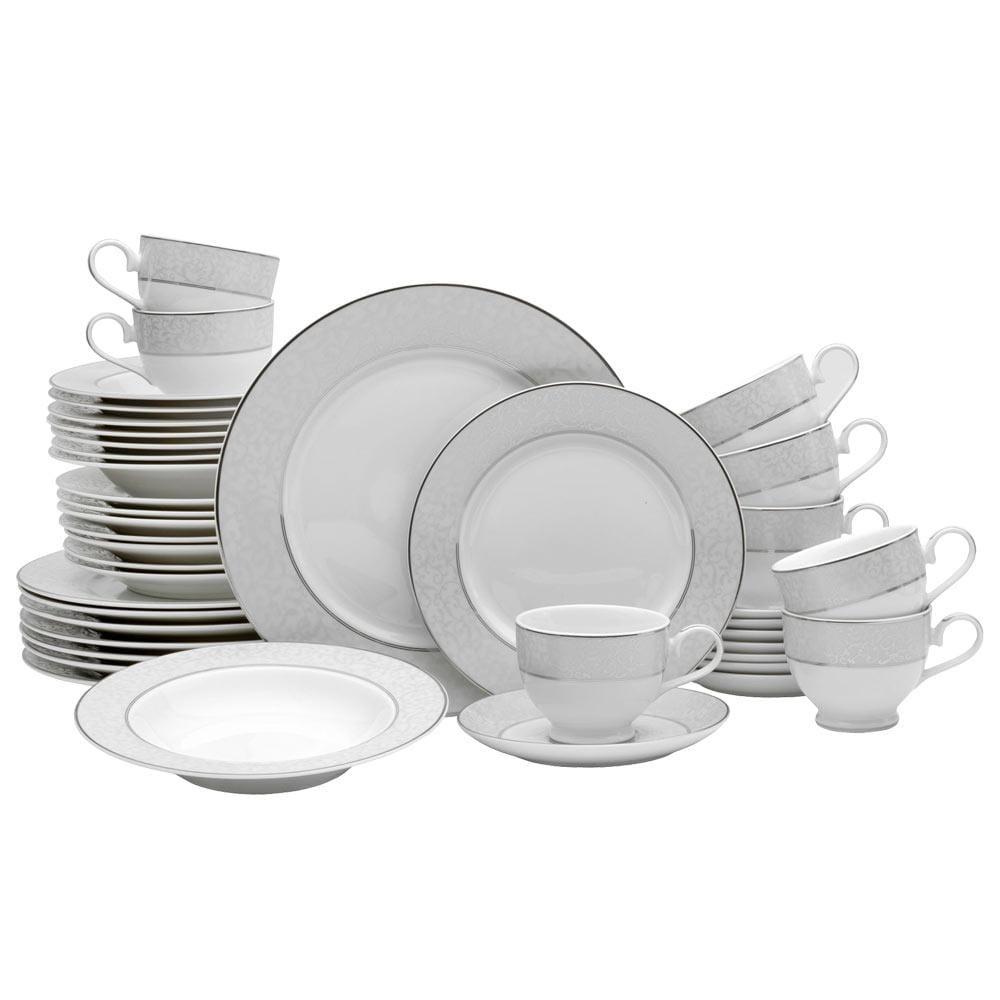 14. Decorative dinnerware
The 20th anniversary traditional gift is china, and the modern 20-year anniversary gift is platinum. Check both boxes when you gift the happy couple this exquisite dinnerware set from Mikasa. Elegant swirls are etched on the grey border, and a fine strip of platinum offers just a hint of shine.
Mikasa Parchment service for 8, $400, Macy's
15. Dotted dip bowls
By the time a couple has reached 20 years of marriage, they may need a bit of a kitchen refresh. Help them out with this set of four china dip bowls in a simple white dotted pattern. They'll serve a variety of purposes in the kitchen, and can easily match with just about any decor.
Wedgewood Gio set of 4 bone china dip bowls, $65, Macy's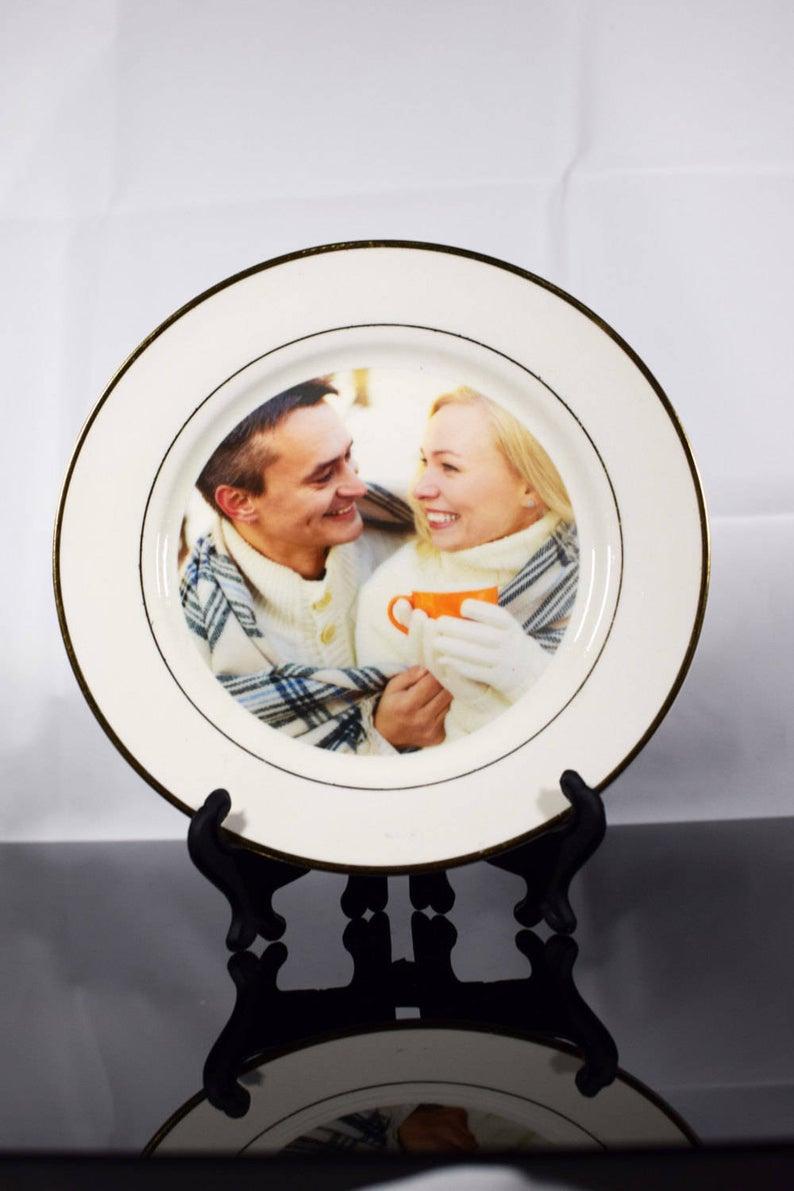 16. Photo plate
This creative 20th anniversary gift checks all the boxes: it's made of china, the traditional 20-year anniversary gift, and it features the happy couple's sweet, smiling faces. They're sure to get a kick out of this photo plate.
Memories 1314 custom photo decorative plate, $33, Etsy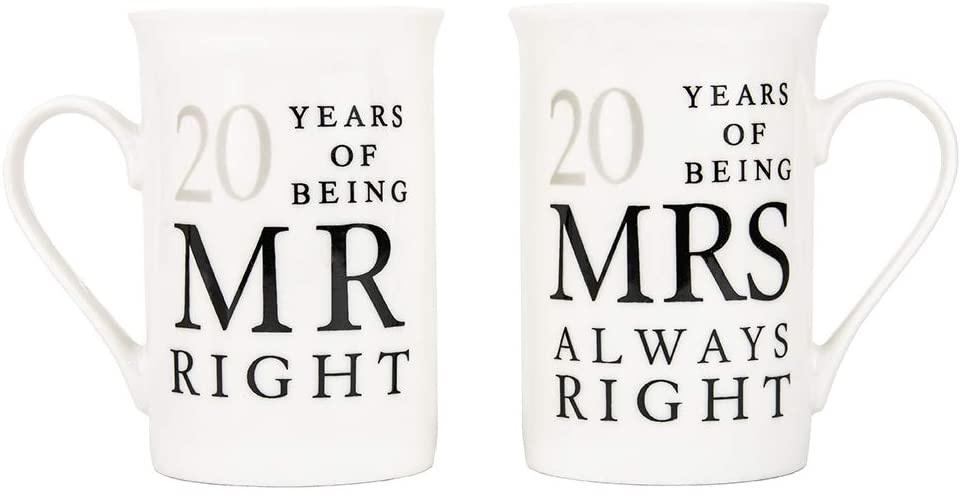 17. Cheeky mugs
This tongue-in-cheek set of coffee mugs pays homage to her "always right" status, even after 20 years of marriage. It's a great option if you're looking for a funny 20th anniversary gift for a couple.
Haysoms 20th anniversary mug, $25, Amazon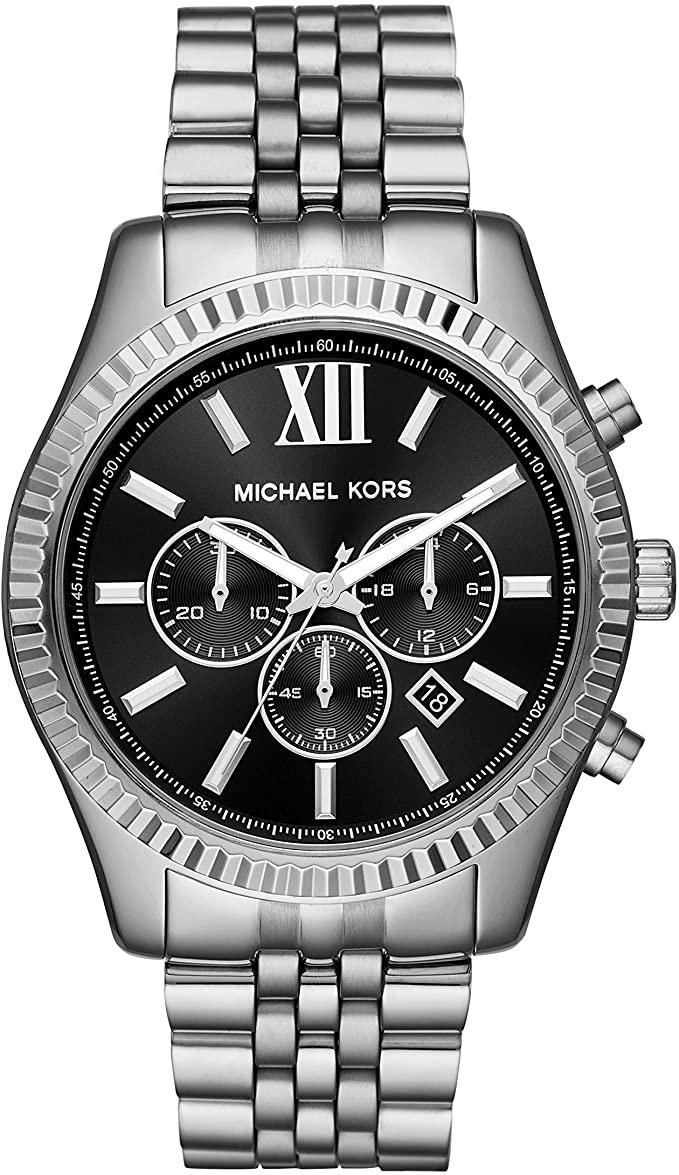 18. Dapper timepiece
We can't think of a better 20-year anniversary gift for him than this handsome timepiece. He'll feel like James Bond when he slips on this stainless steel Michael Kors watch.
Michael Kors Lexington watch, $275, Amazon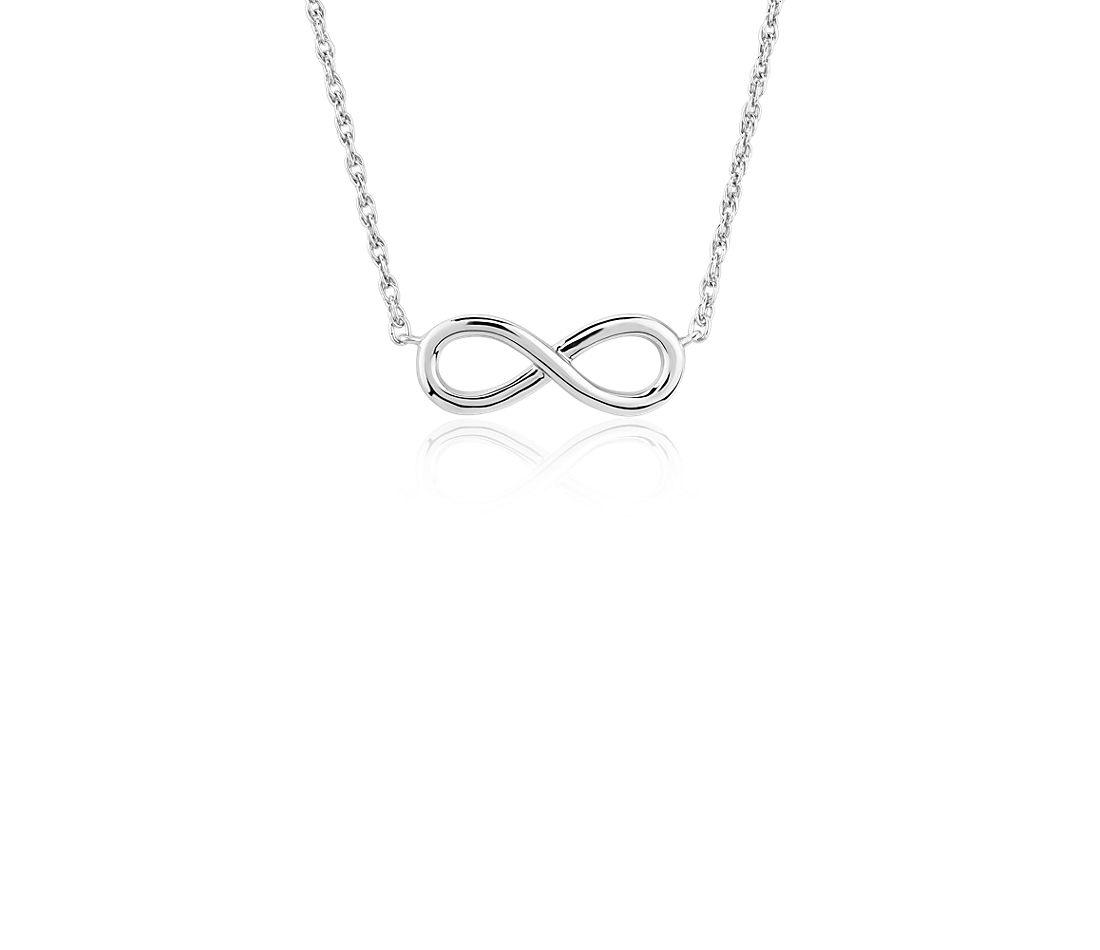 19. Infinite love
After 20 years, it probably feels like the love you share is infinite. Give your wife a gift that symbolizes that with this platinum infinity necklace from Blue Nile. It's a perfect option if you're shopping for 20-year anniversary gifts for her.
Blue Nile platinum infinity necklace, $675, Blue Nile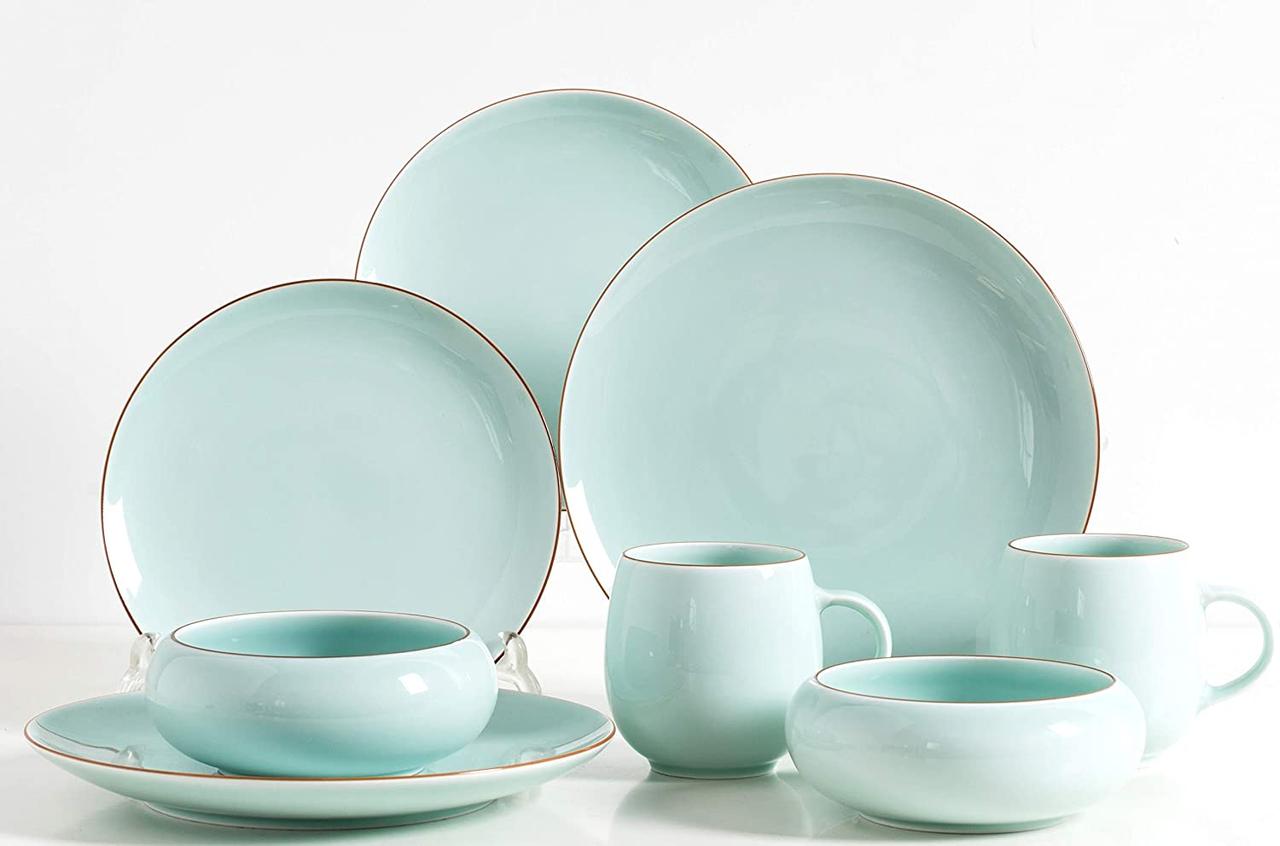 20. Minimalist dishes
A subtle green finish and clean, simple lines gives this chic porcelain dinnerware set a modern vibe. This pretty set comes with dinner plates, salad plates, bowls and mugs for two, making it a wonderful 20th anniversary gift for the couple you're celebrating.
Pangu minimalist porcelain dinnerware for two, $190, Amazon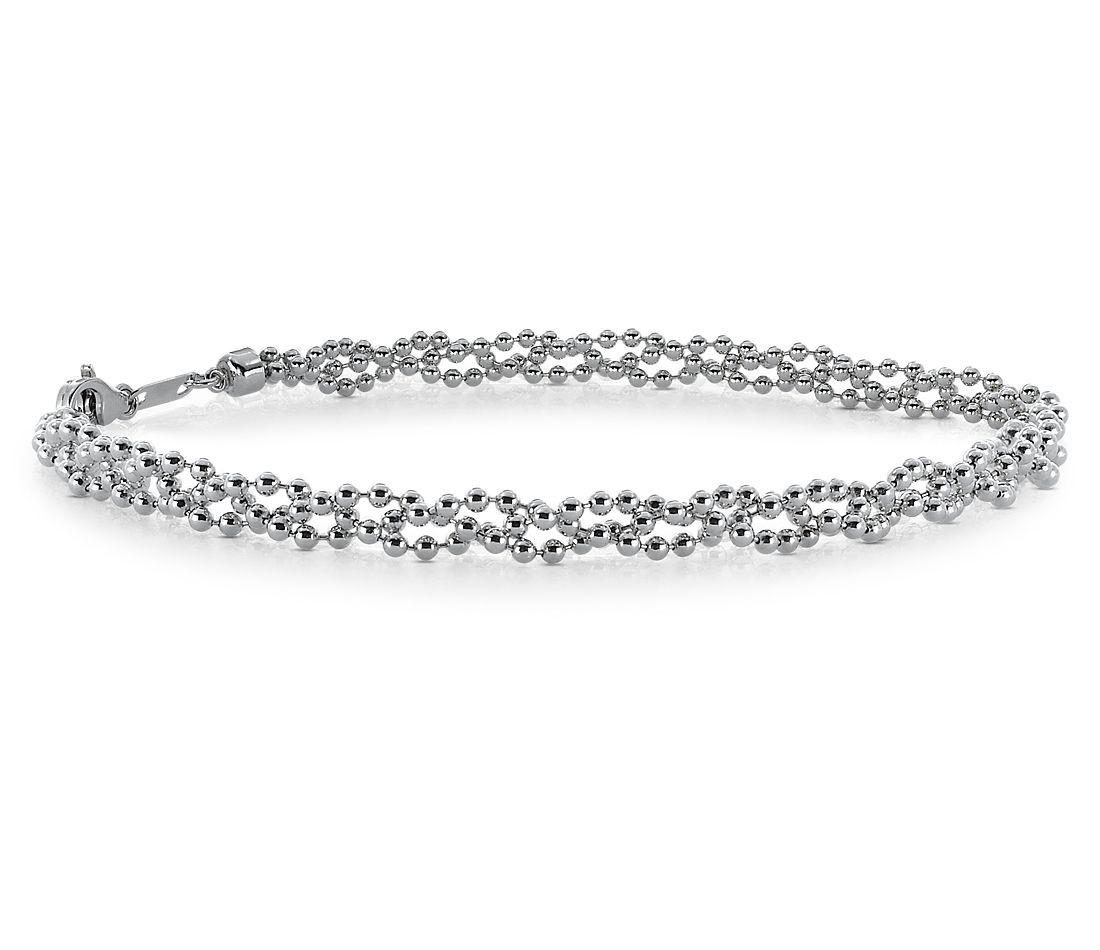 21. Sparkly bracelet
This pretty bead bracelet sparkles like diamonds, but it's made of platinum, the modern 20- year anniversary gift. It's a simple yet beautiful addition to her everyday wardrobe.
Blue Nile Garland bead bracelet, $890, Blue Nile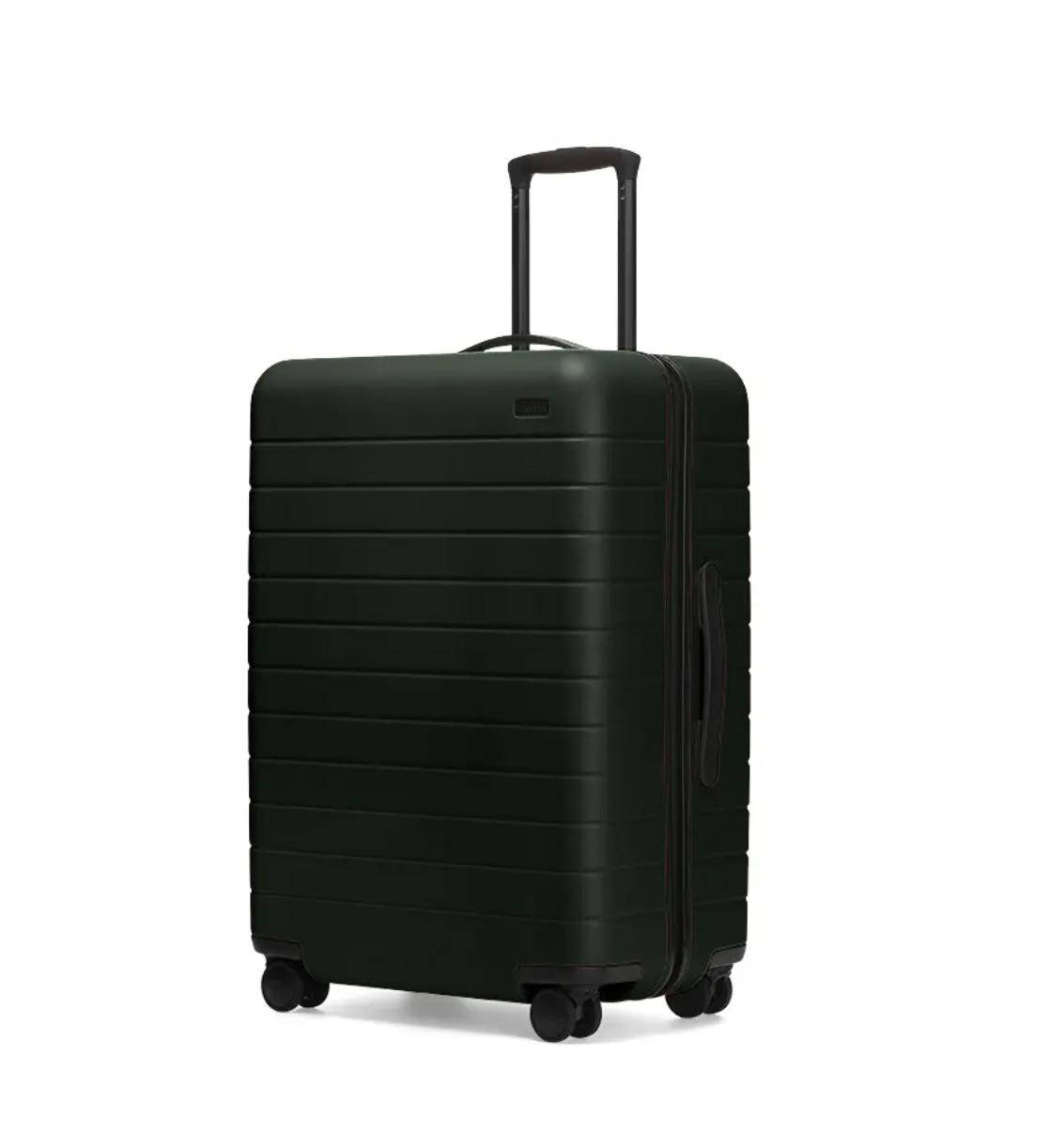 22. Premium luggage
If the happy couple will be taking a lavish trip to celebrate their 20-year wedding anniversary, this premium luggage set from Away will help them travel in style. We love the dark green hue that pays homage to emerald, the 20th anniversary gemstone.
Away medium suitcase, $275, Away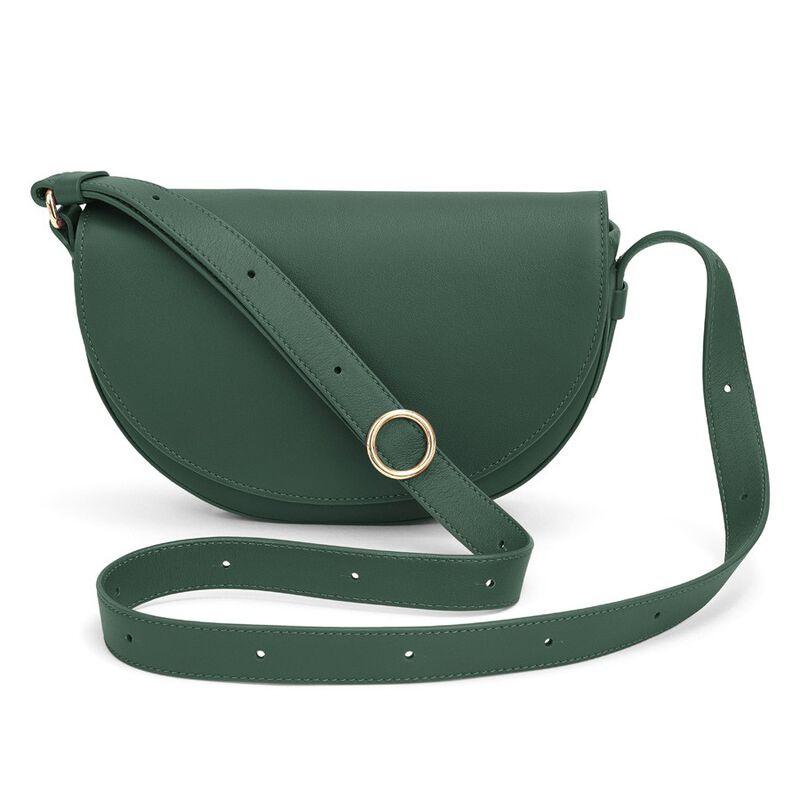 23. Stylish bag
The perfect addition to your list of 20th anniversary gift ideas for the bag collector, this adorable half-moon mini bag makes a great gift. Choose from dark green (a nod to emerald) or seven other pretty colors.
Cuyana half-moon mini bag, $195, Cuyana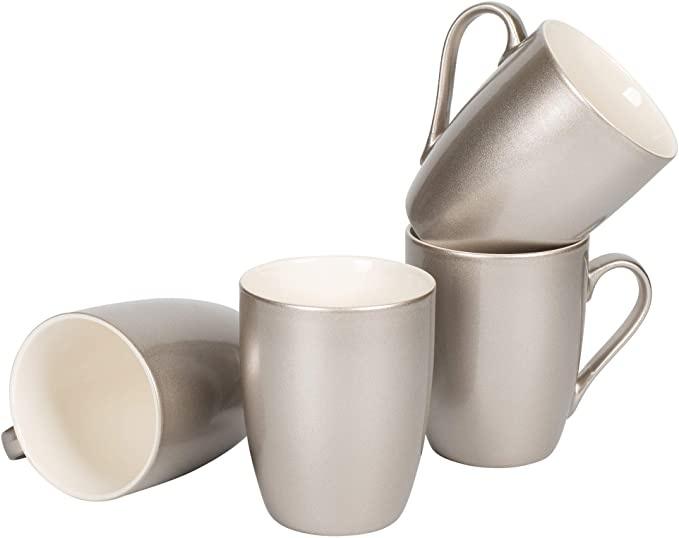 24. Festive coffee mugs
China is the 20th anniversary traditional gift, which is why we've included this sparkly set of four bone china coffee mugs on our list of the best 20th anniversary gifts. These are a chic but inexpensive way to say cheers to 20 years over a cup of their favorite brew.
Elanze Designs silver metallic finish china coffee mugs, $18, Amazon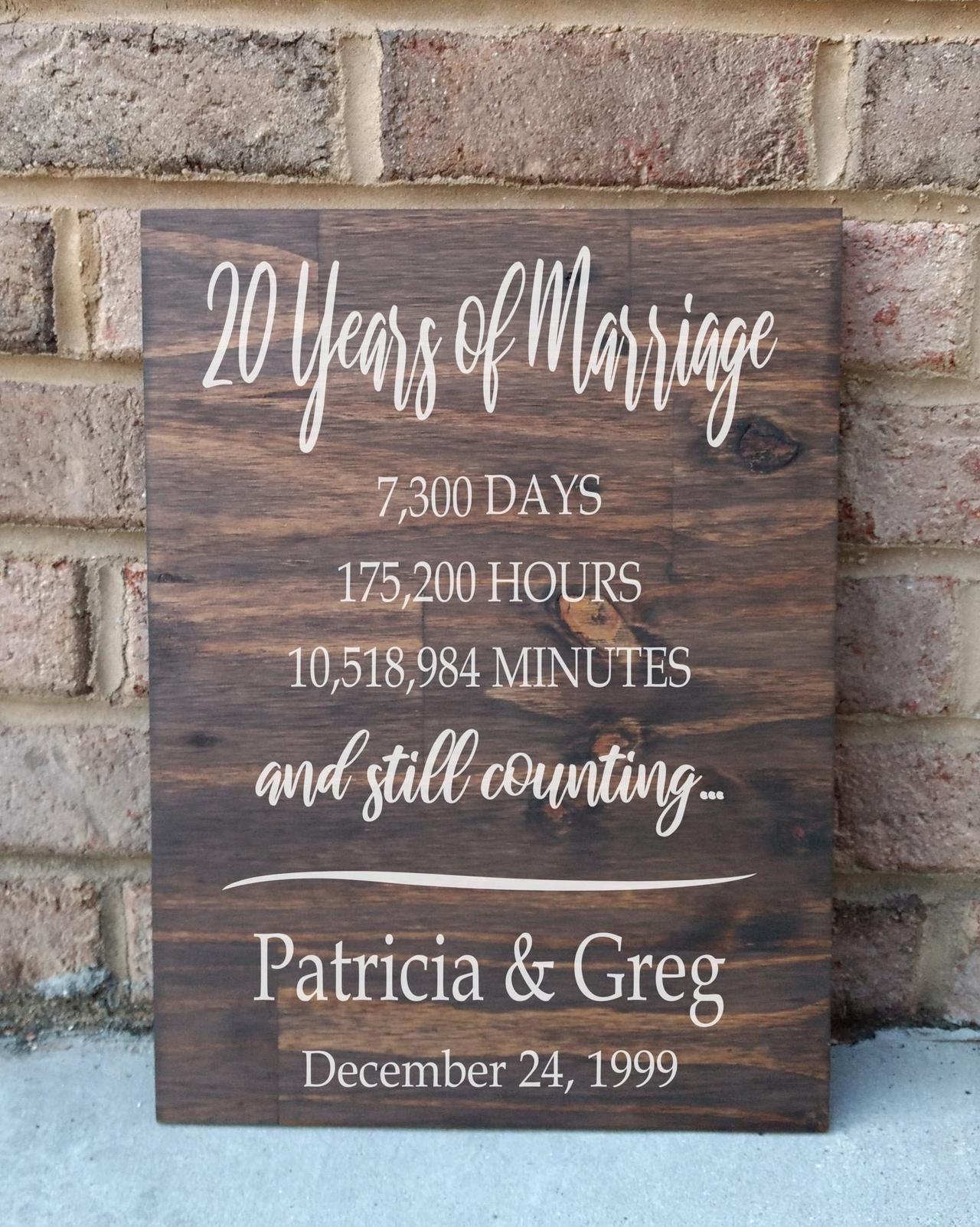 25. Adorable sign
In case the couple celebrating their 20th anniversary ever wonders how many minutes they've been married, this handy gift is here for them. All the time they've spent together is adorably displayed on this wooden sign, a gift that's certain to be one of their favorite 20th anniversary gifts.
Treasures of Savannah 20 years of marriage sign, $64, Etsy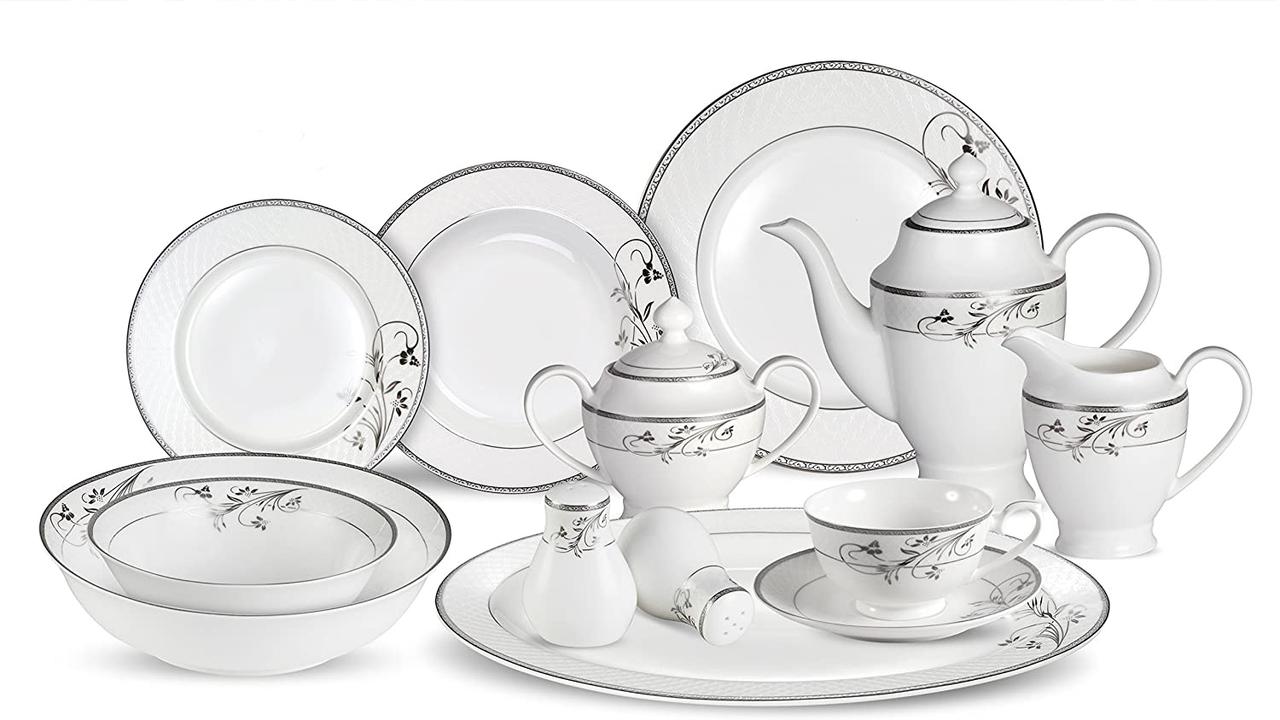 26. Delicate dinnerware
This beautiful white and silver dinnerware set belongs on any list of 20-year anniversary gifts. It's a six-piece set of dinnerware, but also comes complete with other serving pieces like a salt and pepper shaker, a creamer dish, sugar bowl and even a small teapot. They'll be serving in style with this attractive set.
Lorenzo elegant service dinnerware, $398, Amazon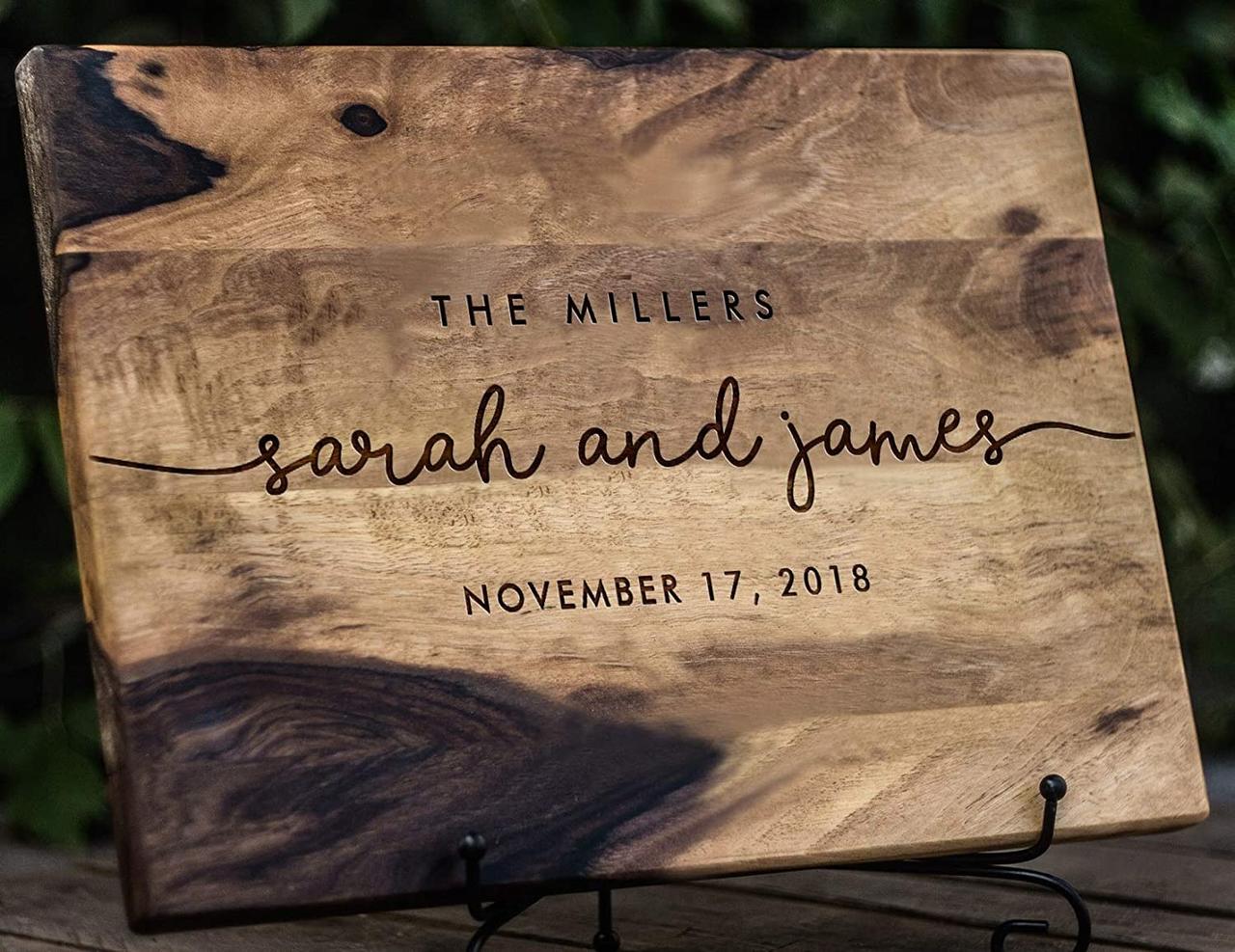 27. Personalized cutting board
If they don't already have one, a personalized cutting board should be on your list of 20-year anniversary gifts. We love this walnut board for its rustic finish and beautifully engraved names. It's available in 8x12, 10x14 or 12x16 sizes to suit their space.
TheHrdwoodCom walnut personalized engraved cutting board, from $59, Amazon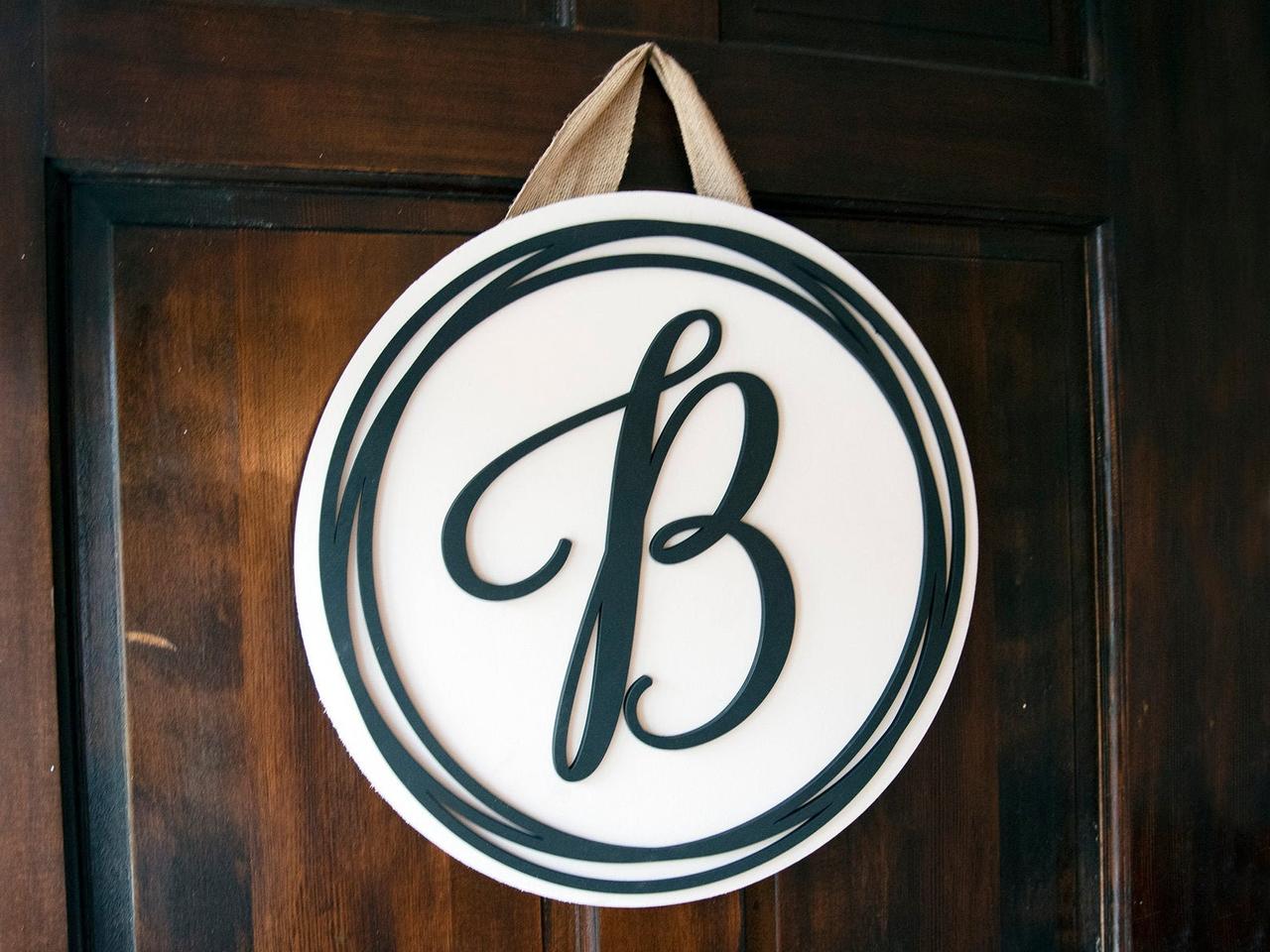 28. Door hanger
Help the happy couple adorn their door with the initial they've shared for two decades now. This whimsical monogram door hanger stands out from the rest, with a fun circular shape and playful font.
Alexander Laser Design monogram door hanger, $54, Etsy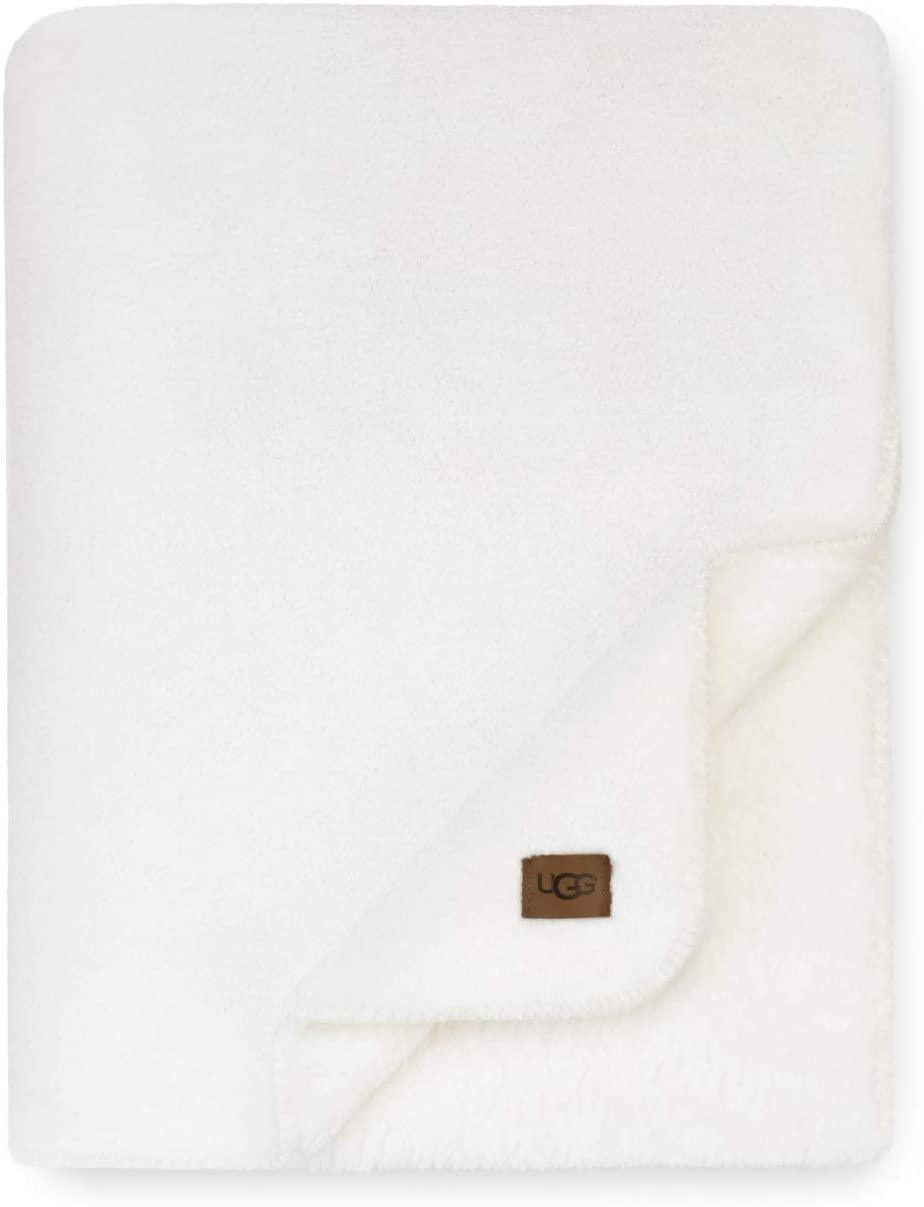 29. Snuggle time
Just looking at this amazingly soft, oversized throw blanket from Ugg makes us want to snuggle. And that's the hope when you select this cozy blanket as a 20-year anniversary gift. Choose from 7 pretty colors to coordinate with their decor.
Ugg Whitecap plush oversized throw blanket, $98, Amazon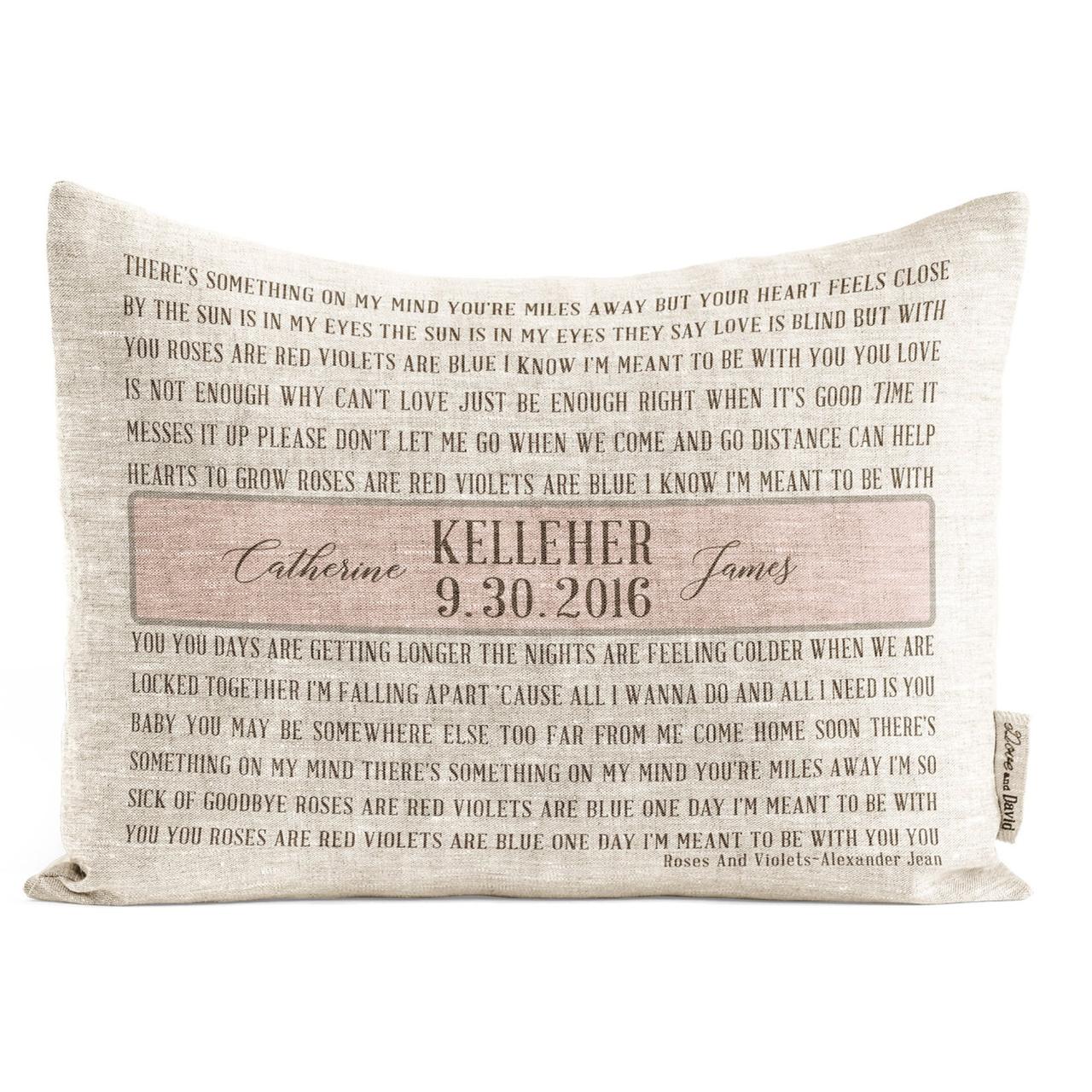 30. Personalized pillow
This super personalized throw pillow checks all the boxes for a 20th anniversary gift. Dig up those vows they exchanged decades ago, or use lyrics from their first dance song for the background text. Then, display their names and wedding date in the forefront and incorporate their favorite color, too. The couple is sure to love this sentimental gift.
Dove and David personalized linen wedding throw pillow, from $48, Etsy