These 6th Anniversary Gifts Prove 6 Years is Something to Celebrate
Did you know that one of the traditional six-year anniversary gifts is candy? Celebrate a sweet six years with these creative and clever sixth anniversary gifts.
We have included third party products to help you navigate and enjoy life's biggest moments. Purchases made through links on this page may earn us a commission.
If you're celebrating six years of marriage, you've sailed past your first big milestone anniversary (five years), so congrats! You're hopefully still going strong and looking forward to rounding out your first decade as a married couple. Now, it's time to start looking around for a six-year anniversary gift that speaks to your union. Or maybe you're looking for a gift for a special couple. Either way, you've come to the right place. Our guide of sixth anniversary gifts is here to help.
What is the Traditional Six-Year Anniversary Gift?
Iron. It's strong and solid, just like the couple who makes it to six years of marriage. So it's easy to see why the traditional six-year anniversary gift is iron. And the good news is, there are lots of lovely iron anniversary gifts to choose from. Or, maybe something a little sweeter would tickle your fancy? Candy is another commonly gifted item for six years of wedded bliss, and who doesn't love candy?
If you consider yourself a more modern gifter, you've got an easy job if you're looking for a sixth anniversary gift, since wood is the modern gift this year. Other symbols associated with six years of marriage are calla lilies-beautiful, dramatic blooms that you may have even used at your wedding, and the amethyst, which is a pretty purple stone. In keeping with that, purple is one of the sixth anniversary colors, along with turquoise and white.
The Best Six-Year Anniversary Gifts
If you and your partner are staring down the big 0-6, then it may be time to start shopping for some great sixth anniversary gifts. Here, we've rounded up a long list of gifts to consider if you're hoping to celebrate your partner on your special day, or if you're shopping for a couple that's near and dear to your heart.
So consider this your one-stop shop for anything you'll need to celebrate six years of marriage. We've got the best sixth anniversary gifts you'll find anywhere, so keep reading!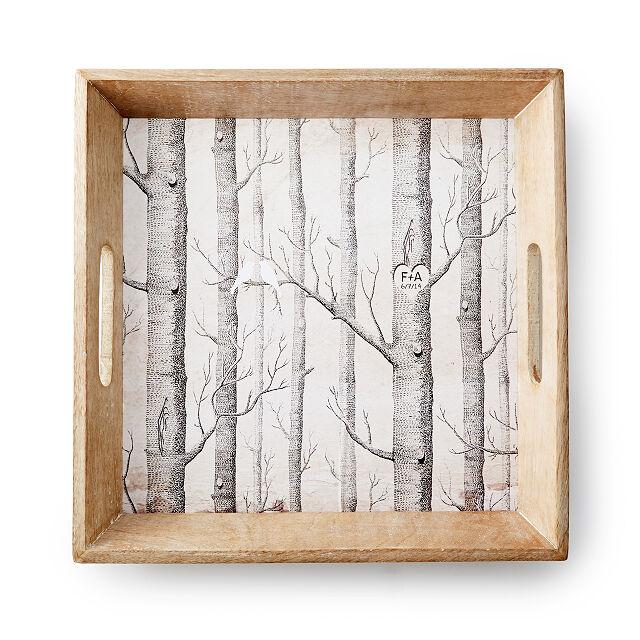 A Peaceful Scene
This wooden anniversary serving tray is a no-brainer if you're looking for a modern sixth anniversary gift. Sweet lovebirds and carved initials adorn this serene wooded scene, while wipe-clean mango wood sides create a handy tray they can use to serve their favorite appetizers or drinks.
Uncommon Goods anniversary serving tray, from $65, Uncommon Goods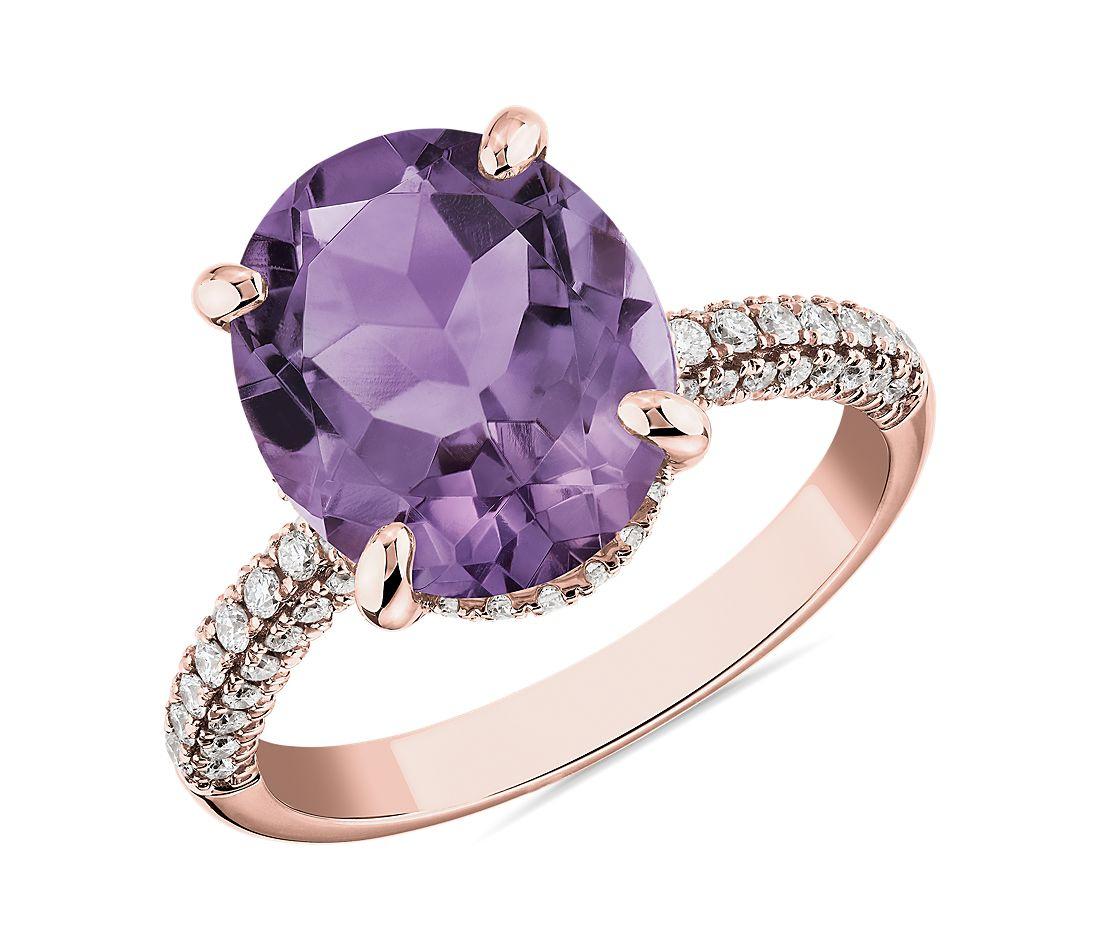 Beautiful Ring
This shimmering light purple ring will make her day, and maybe even her year, when she opens it as a six-year anniversary gift. The center stone pops against a channel of white topaz stones on the rose gold band. It's feminine and gorgeous, making it a perfect option for a six-year anniversary gift.
Blue Nile Rose de France amethyst ring, $2,000, Blue Nile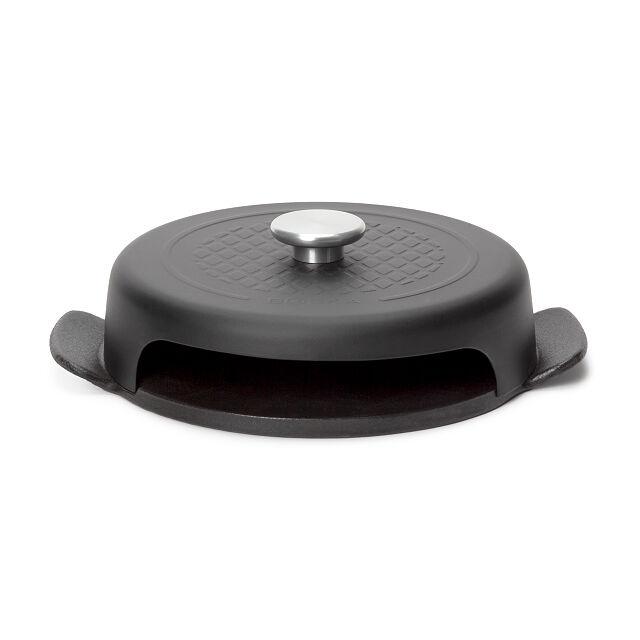 Pizza for Two
Just about everyone loves pizza, which is why we think this cast iron personal pizza maker is a must-have item on our list of the best sixth anniversary gifts. There's no easier way to make pizza-simply add your favorite toppings and toss it on the grill for a perfectly personalized personal pizza.
Uncommon Goods personal pizza maker, $35, Uncommon Goods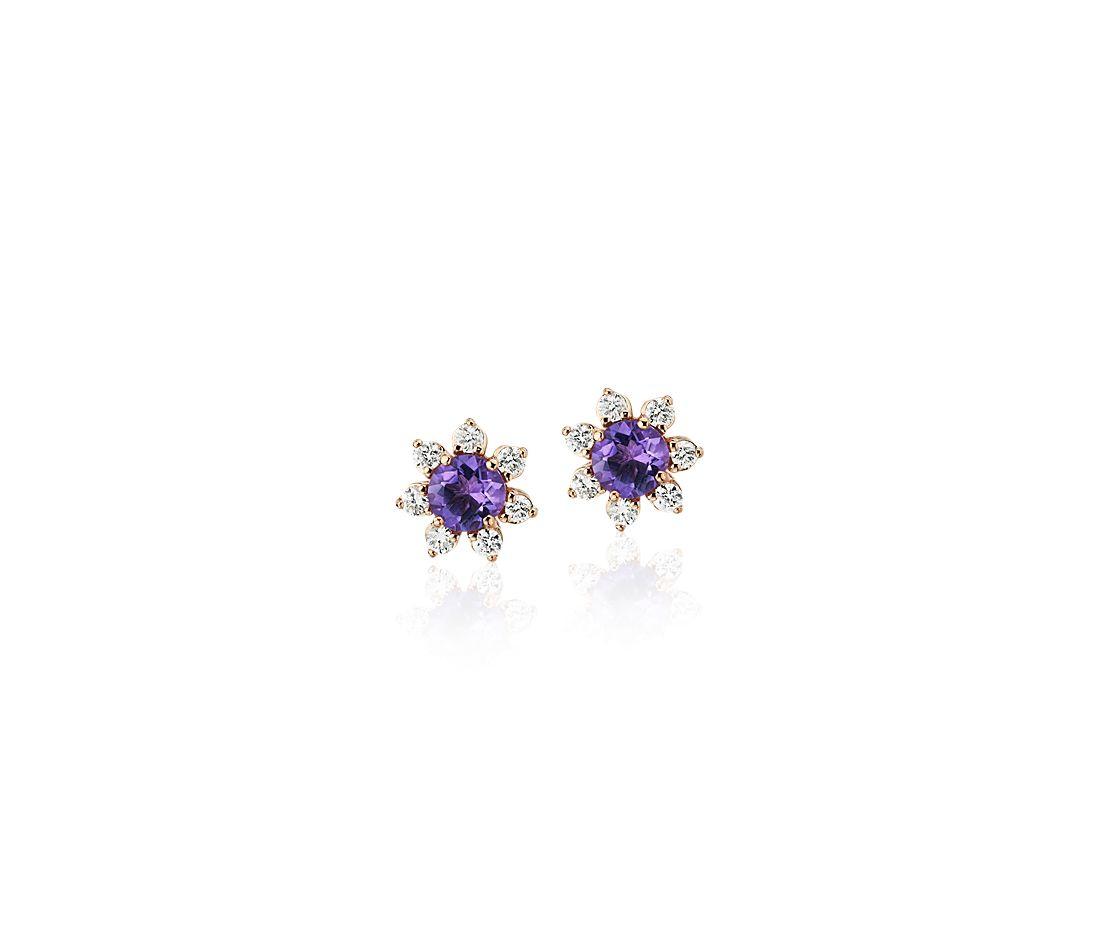 Dainty Earrings
These petite starburst earrings are perfect if you're looking for sixth anniversary gift ideas. Pretty, affordable and totally apropos (the six-year anniversary gemstone is amethyst, after all), these earrings are sure to be a hit.
Blue Nile mini amethyst earrings, $495, Blue Nile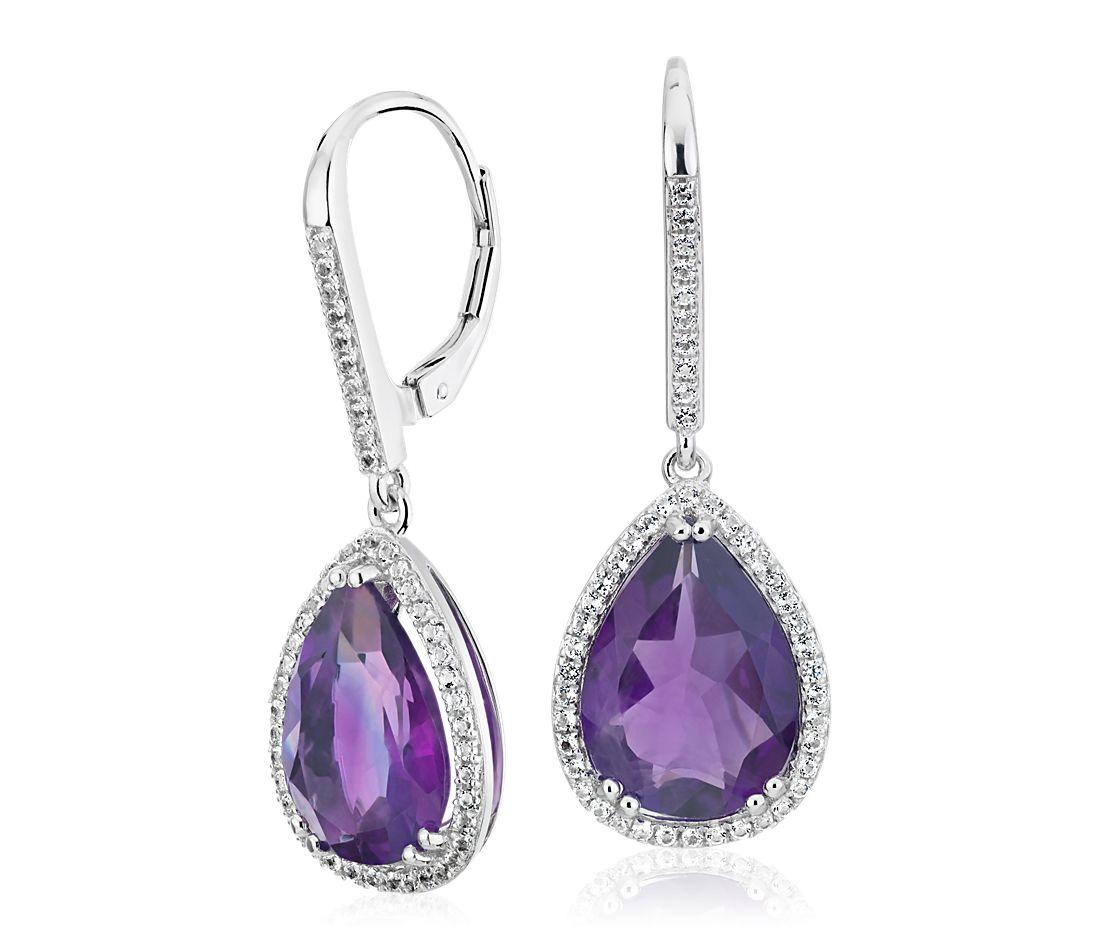 Amethyst Earrings
As you celebrate the big 0-6, the purple amethyst is the signature gemstone you'll be looking for. So if you're shopping for a show-stopper six-year anniversary gift for her, check out these dramatic halo drop earrings. Gorgeous, deep purple stones are suspended and surrounded with a halo of tiny white topaz stones.
Blue Nile sterling silver amethyst halo earrings, $475, Blue Nile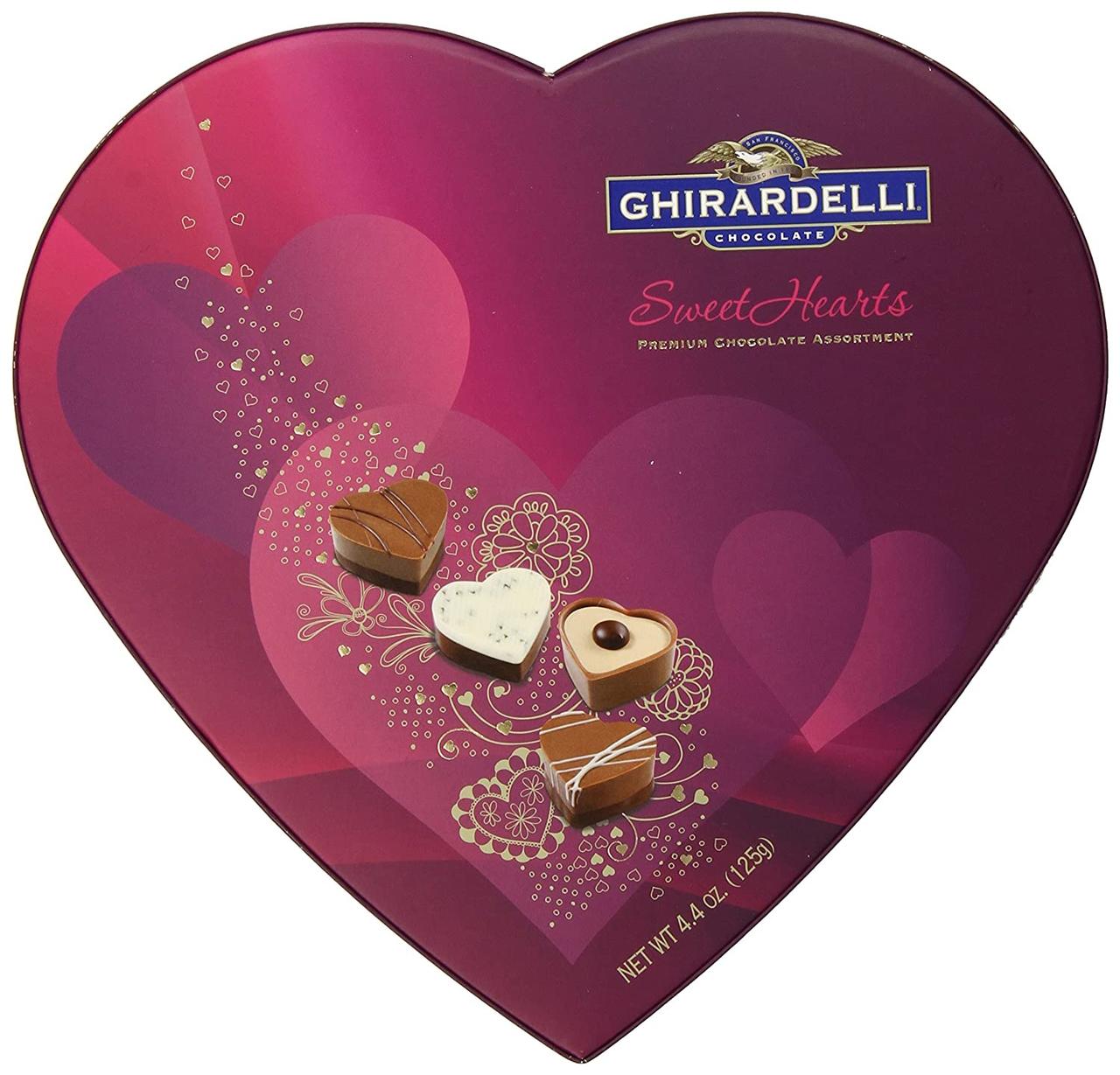 Delectable Chocolates
Bet you didn't know candy is considered a traditional six-year anniversary gift! True story, which is why this delectable heart-shaped box of Ghirardelli chocolates is a great option for your partner. This gift box contains a variety of chocolate candies.
Ghirardelli gift box, $15, Amazon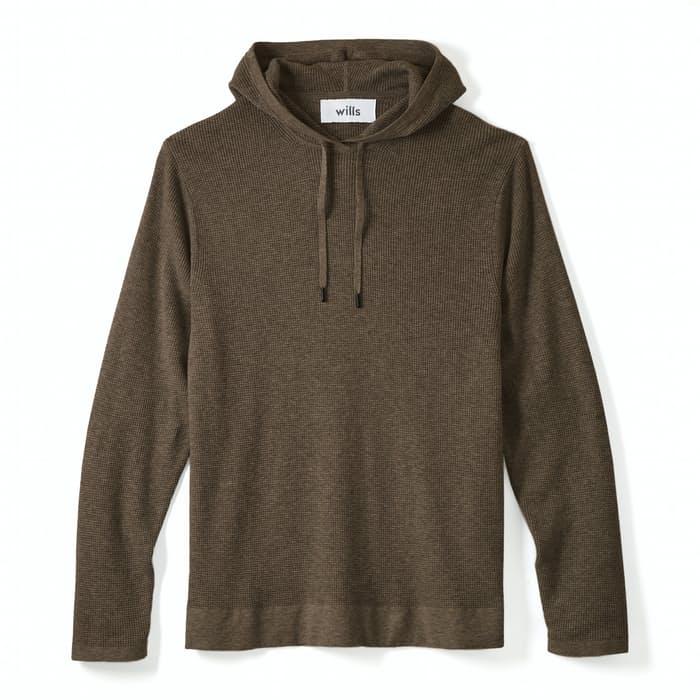 Super Warm Hoodie
If you're in search of six-year anniversary gifts for him, this cashmere waffle-stitch hoodie is a great find. Available in three handsome colors-cement, Army green and graphite-this super-soft pullover will quickly become his go to!
Wills cotton cashmere waffle-stitch hoodie, $150, Huckberry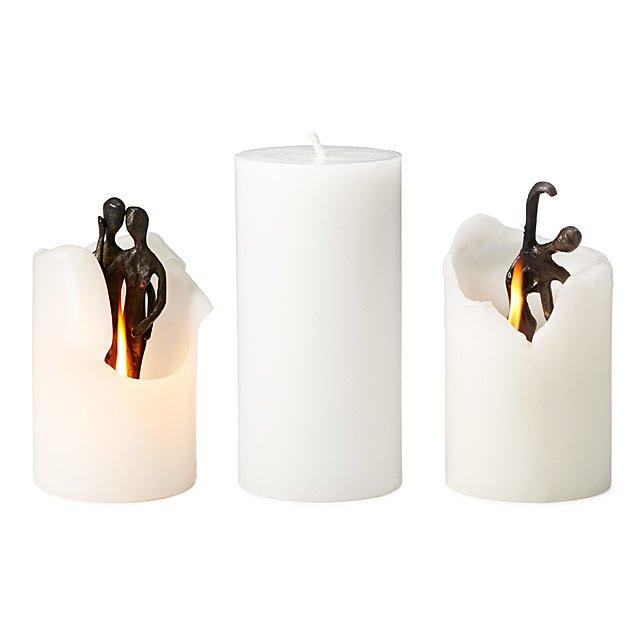 Iron Figure Candles
If you've been wracking your brain trying to find the best iron anniversary gifts to give, look no further. These super cool spirit candles feature cast-iron figurines that magically emerge as the wax melts. What a neat way to make a candle last, and we think this gift is a perfect way to honor the traditional sixth anniversary gift of iron.
Uncommon Goods Spirit candles, $30, Uncommon Goods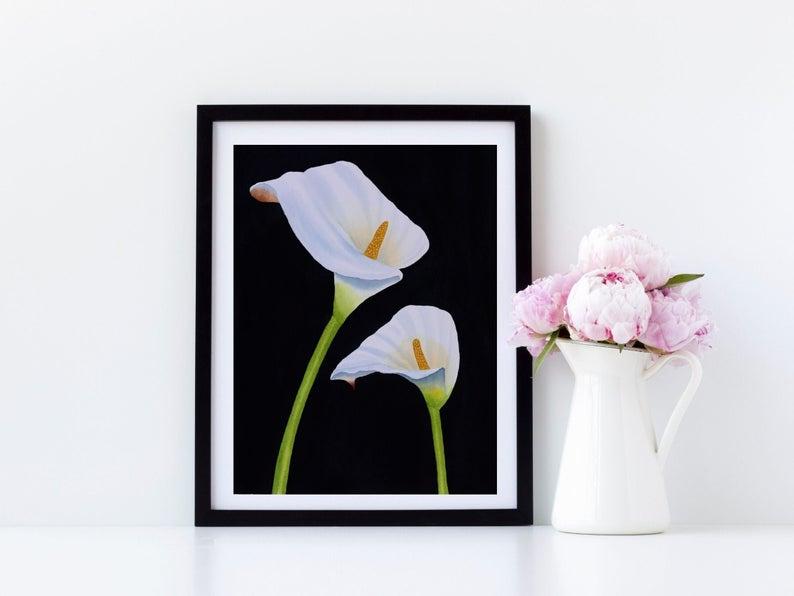 Floral Print
The elegant calla lily is the signature flower for the sixth anniversary. So if you're looking for six year anniversary gift ideas featuring a calla lily, opt for this dramatic print. Featuring a gorgeous white lily that pops against a black background, this print will look amazing in the happy couple's home.
Aida Tubridy Art calla lily watercolor print, from $15, Etsy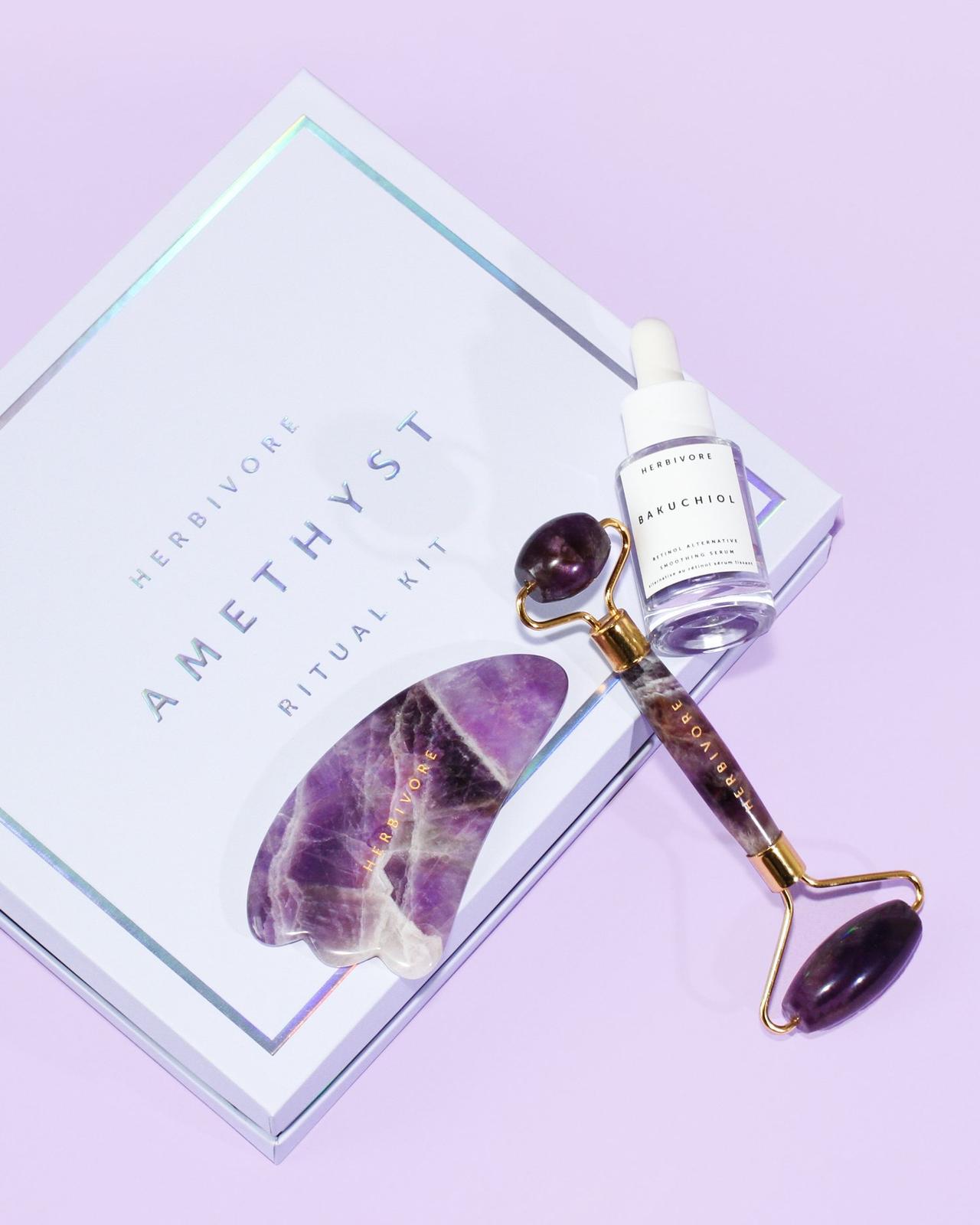 Beauty Must-Haves
This amethyst ritual kit from Herbivore Botanicals is such a cool way to give the traditional six-year anniversary gemstone. This luxe kit includes an amethyst roller and gua sha massager, along with bakuchiol oil for an amazing beauty routine.
Herbivore Botanicals amethyst ritual kit, $88, Herbivore Botanicals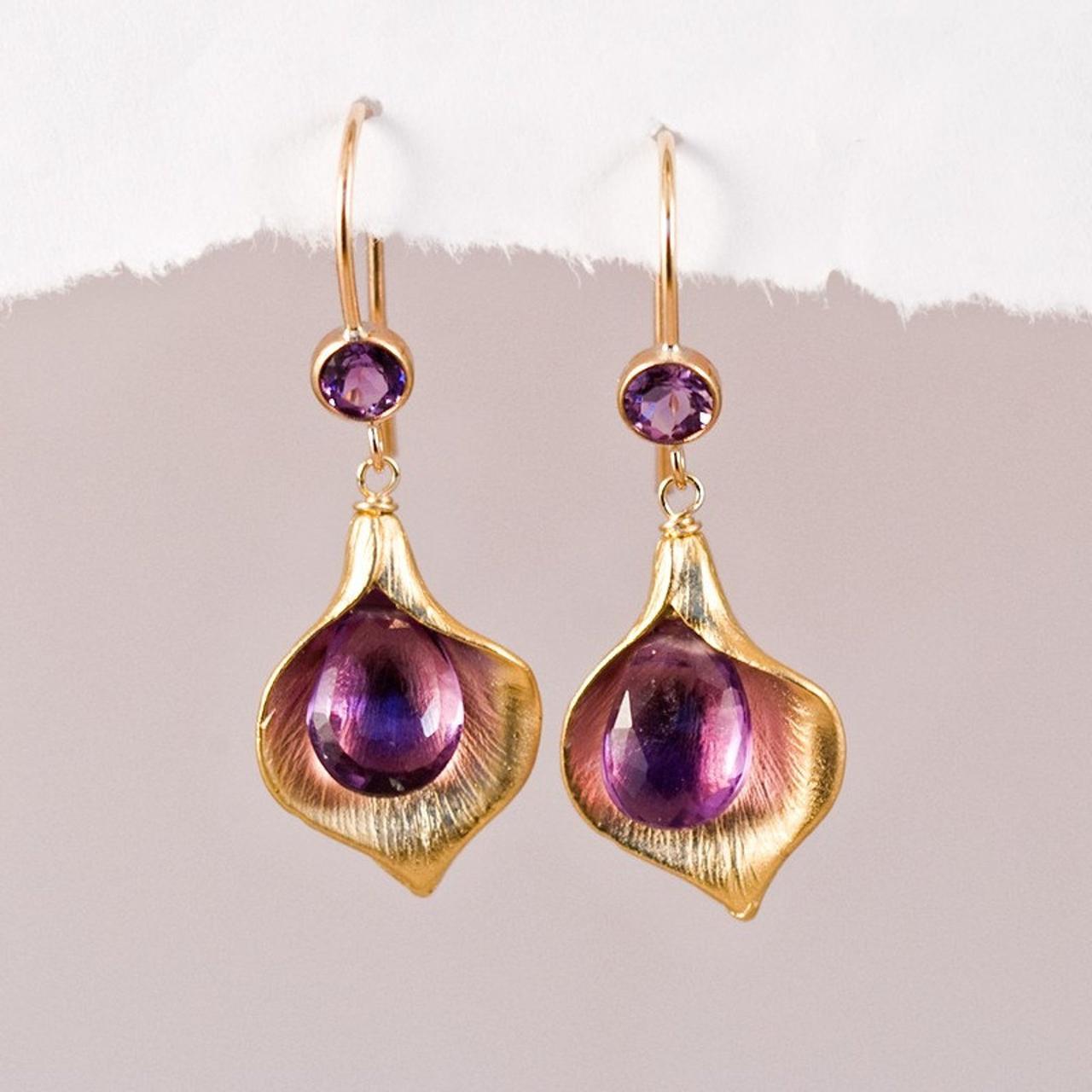 Lily Earrings
What better way to gift calla lilies that last than with a pair of gold earrings? These are shaped like the pretty sixth anniversary flower, and feature a small purple bauble for a hint of interest.
Delezhen purple amethyst flower earrings, $42, Etsy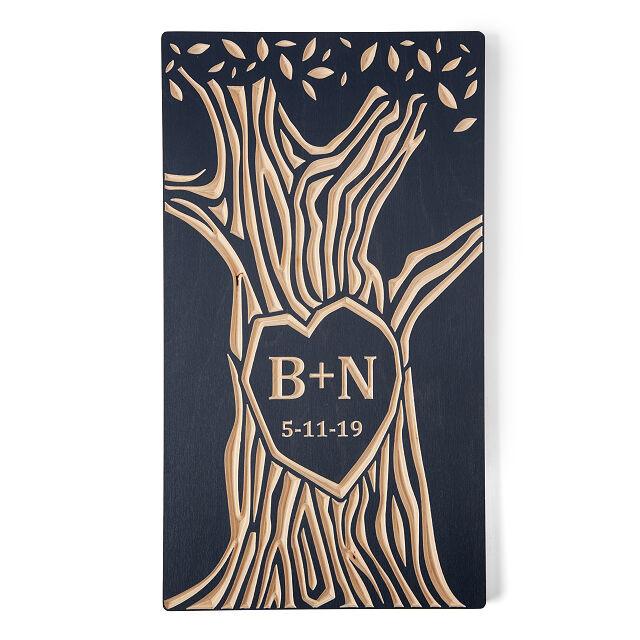 Wooden Wall Hanging
Perfect for any couple, this minimalist tree carving makes a perfect six-year wedding anniversary gift if you're opting to give the modern gift of wood instead of the more traditional iron. Crafted in a simple design and neutral tones, this wall hanging can work with just about any decor.
Uncommon Goods personalized tree wood carving, from $85, Uncommon Goods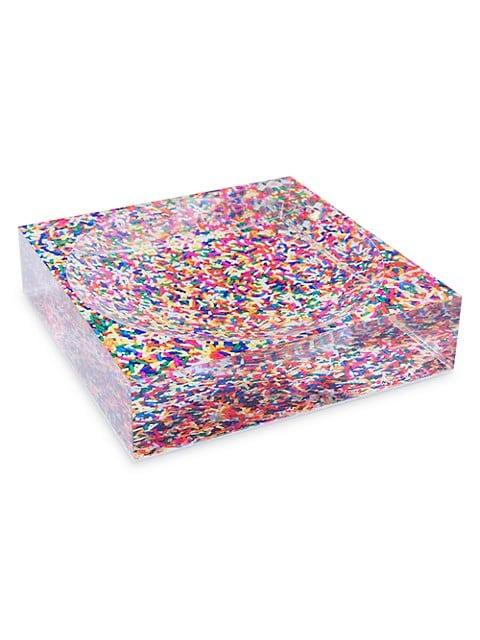 Candy Dish
Robyn Blair's candy-themed artwork has taken Instagram by storm, so what could be a more perfect sixth anniversary gift than one of her signature candy dishes? This sprinkles-covered dish will brighten up any coffee table.
By Robyn Blair Sassy Sprinkles candy dish, $260, Saks Fifth Avenue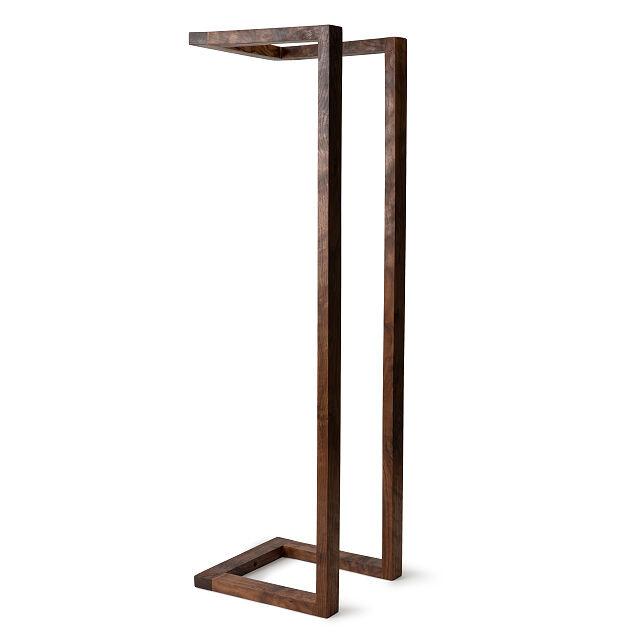 Simple Blanket Holder
If you'd like to give the modern six-year anniversary gift of wood, why not go minimalist with this pared down blanket holder? Clean lines and natural wood tones serve as a chic backdrop for the couples' favorite cozy blankets, and maximizes storage as well.
Uncommon Goods minimalist blanket storage display, $150, Uncommon Goods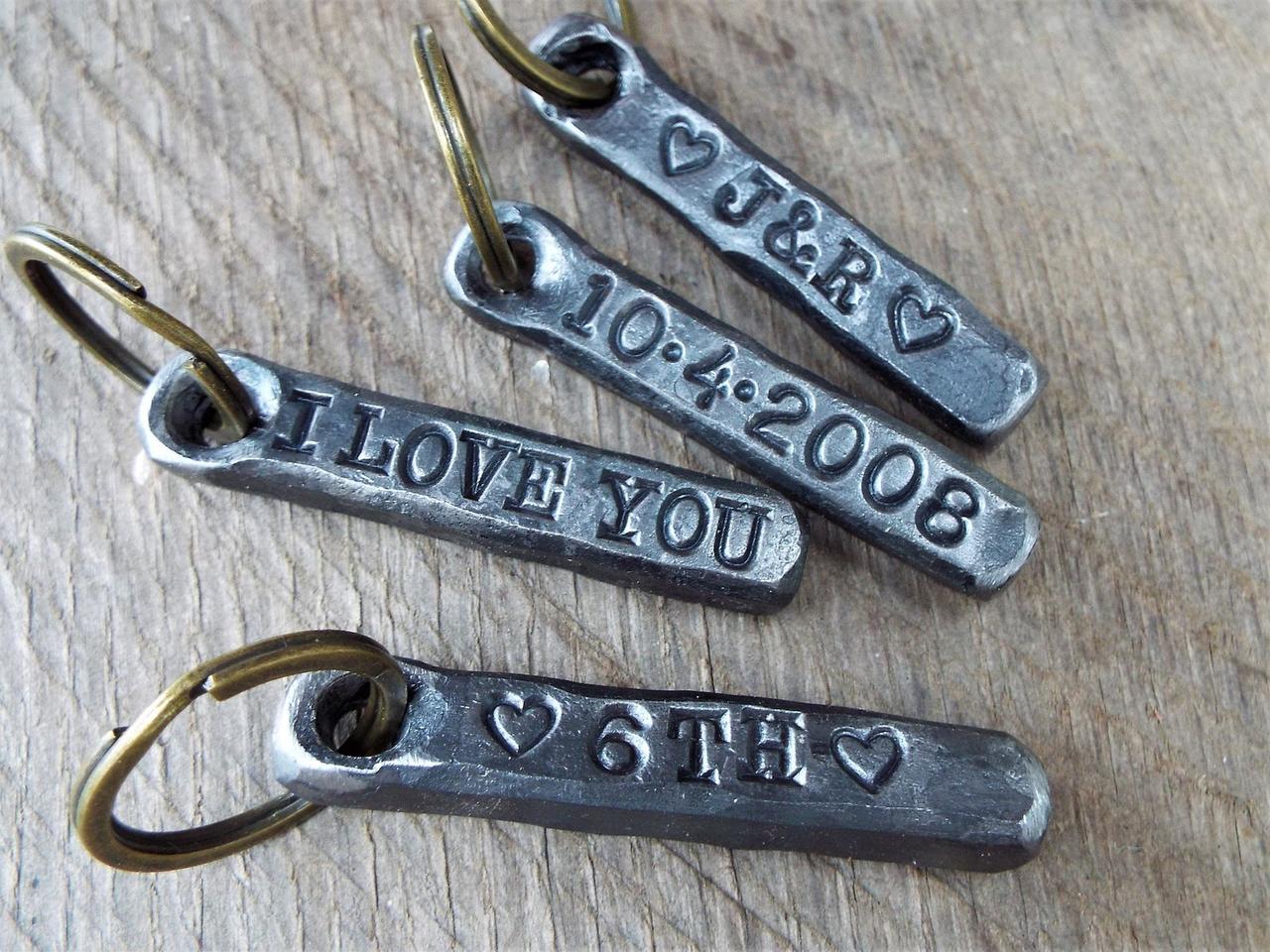 Iron Keychain
Looking for a six-year anniversary gift for him? This sentimental keychain is made of iron to last forever, just like the two of you are hoping to do! Sweet and simple, this is a perfect sixth wedding anniversary gift for the guy who has everything.
Adirondack Iron iron anniversary keychain, from $24, Etsy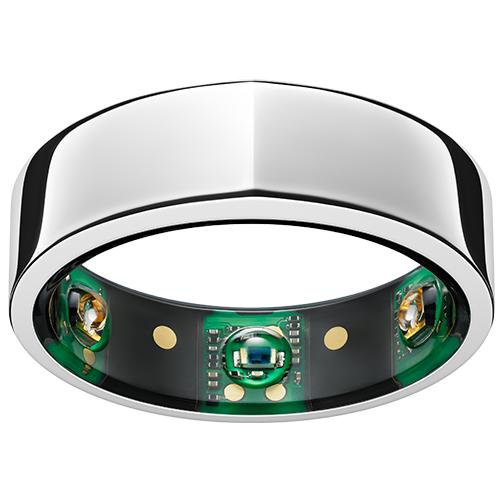 Sleep-Tracking Ring
There's no gift like the gift of sleep, so why not gift your partner this innovative sleep tracking ring. The Oura is a sleek, chic ring that can be worn day and night- but it's much more than that. It works overtime to track sleep trends, heart rate and much more.
Oura ring, from $299, Oura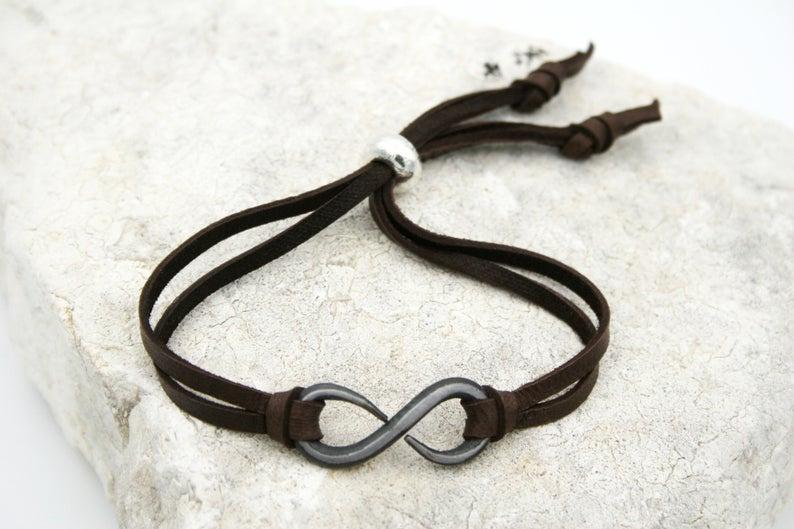 Infinity Bracelet
This symbolic bracelet displays an infinity symbol cast in iron; strong and long-lasting, just like your relationship after six years. It's a great token to show your love for your partner.
Alchemy Artwork Infinity bracelet, $52, Etsy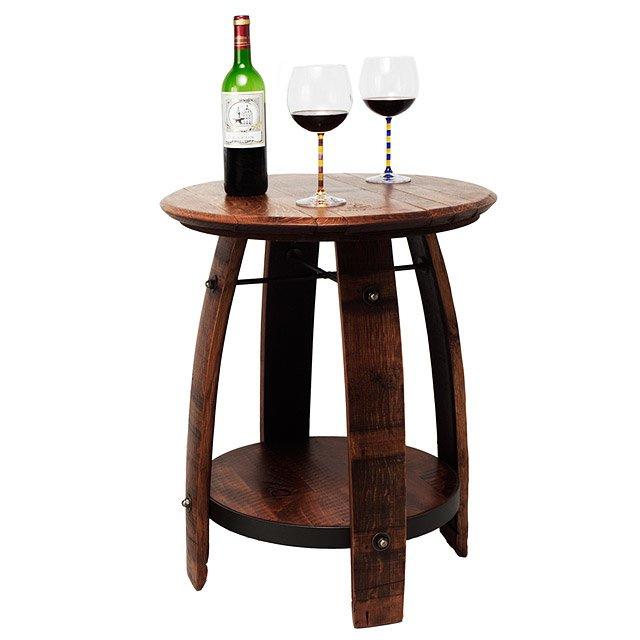 Wine Barrel Side Table
If you're following the modern anniversary gift schedule, you know this year it's time to give a gift of wood. And we've got the perfect gift for you to consider: it's a super chic side table made from a recycled wine barrel. The legs take the shape of a softly curved wine barrel, while the top provides just enough room to place some vino for two!
Uncommon Goods recycled wine barrel side table, $380, Uncommon Goods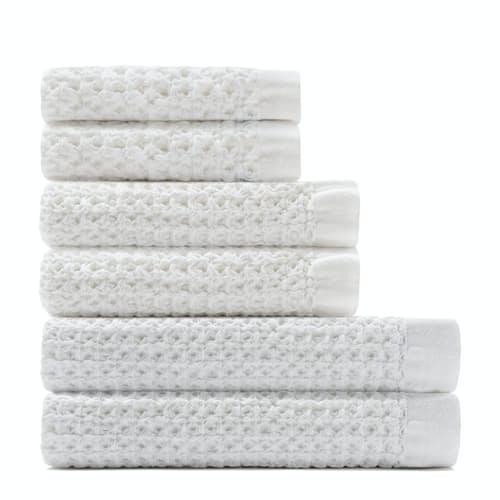 Enviable Towel Bundle
A set of luxe towels is where it's at with this bundle from Huckberry. These waffle-weave towels are thin but touchably soft. The best part? They're oversized to ensure a cozy wrap right out of the shower. Each bundle comes with two washcloths, two hand towels and two full-sized towels. Choose from five neutral colors to coordinate with most bathroom decor.
Onsen bath bundle, $156, Huckberry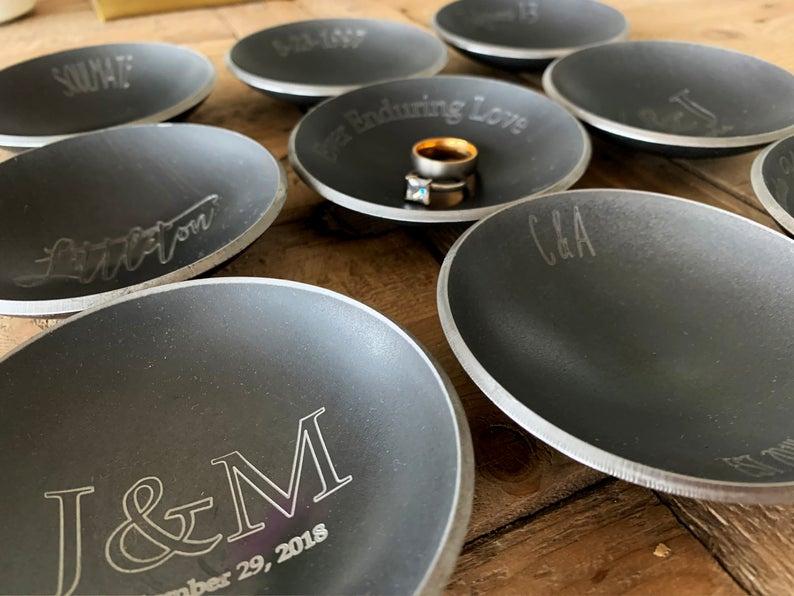 Iron Ring Dish
Every married person could use a bit of extra storage for their baubles, which is why we love this unique iron ring dish that also checks the box for the traditional sixth anniversary gift. Choose from a variety of different fonts to carve into the elegant brushed surface.
Wanderweg iron ring dish, from $35, Etsy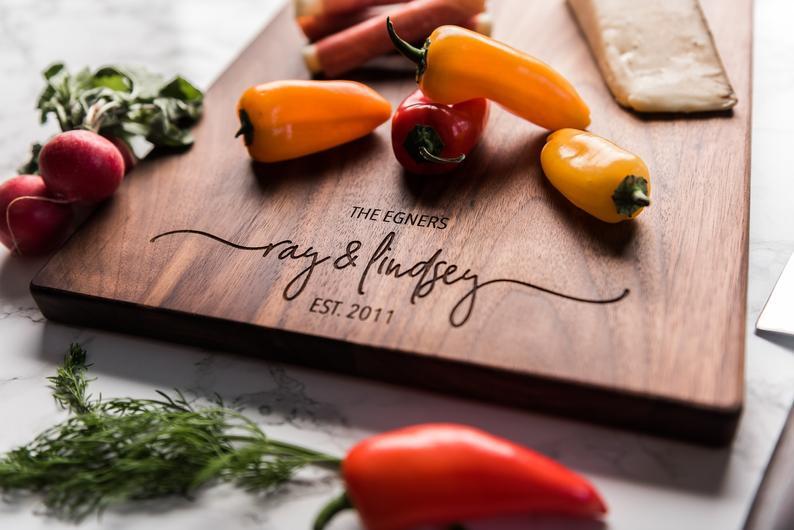 Personalized Charcuterie Board
If you're into the charcuterie board trend (and who isn't?) a personalized wooden board is an ideal six-year anniversary gift. This version is available in maple and walnut, with several sizes to choose from. Just add your favorite cheese, meats, and nibbles, and you're good to go.
Well Written Gifts personalized charcuterie board, from $40, Etsy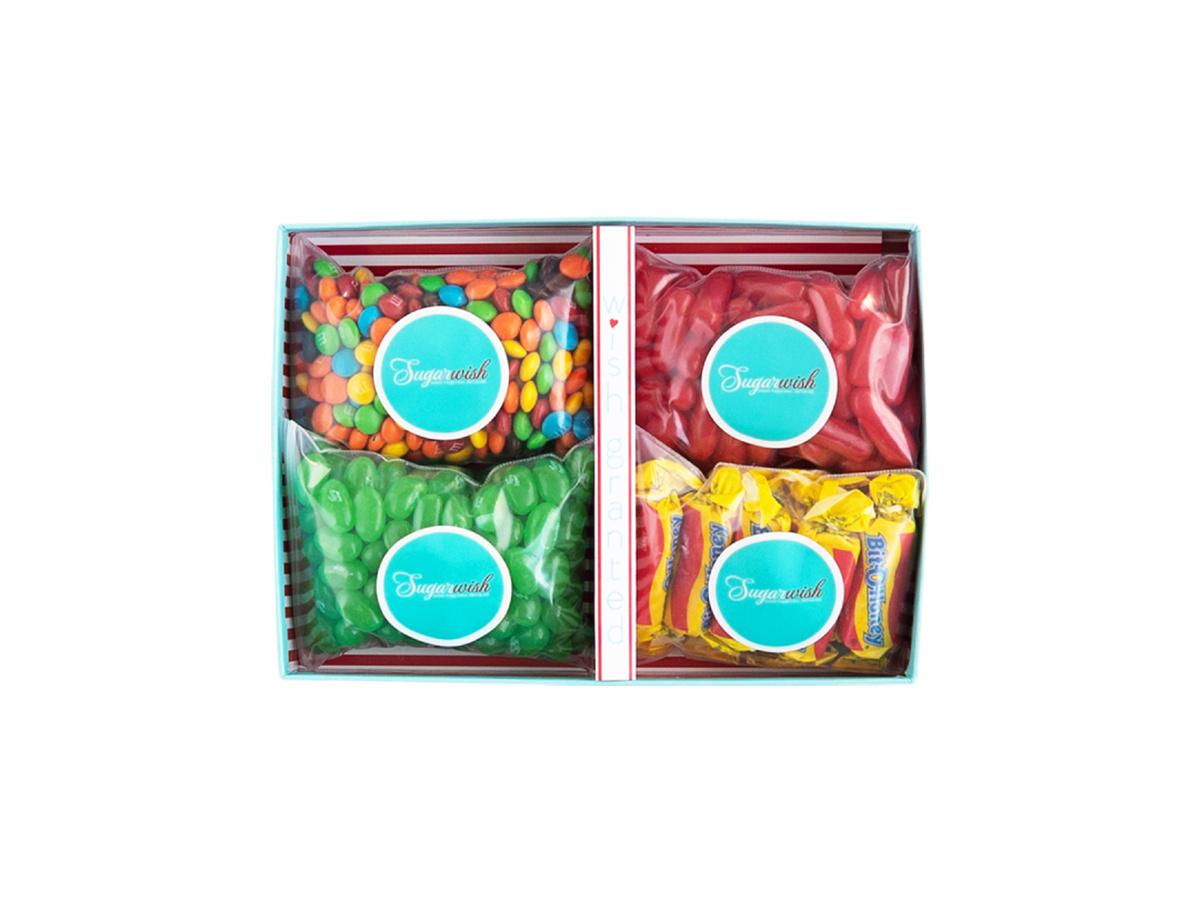 Sugar Rush
Oh, sugar! When it's not being used as a pet name, it's the stuff that makes up the "other" six-year anniversary traditional gift. That's right-candy! And this beautifully packaged set of four sweets certainly hits the spot for the couple celebrating a sixth anniversary.
Sugarwish 4-pick, $30, Sugarwish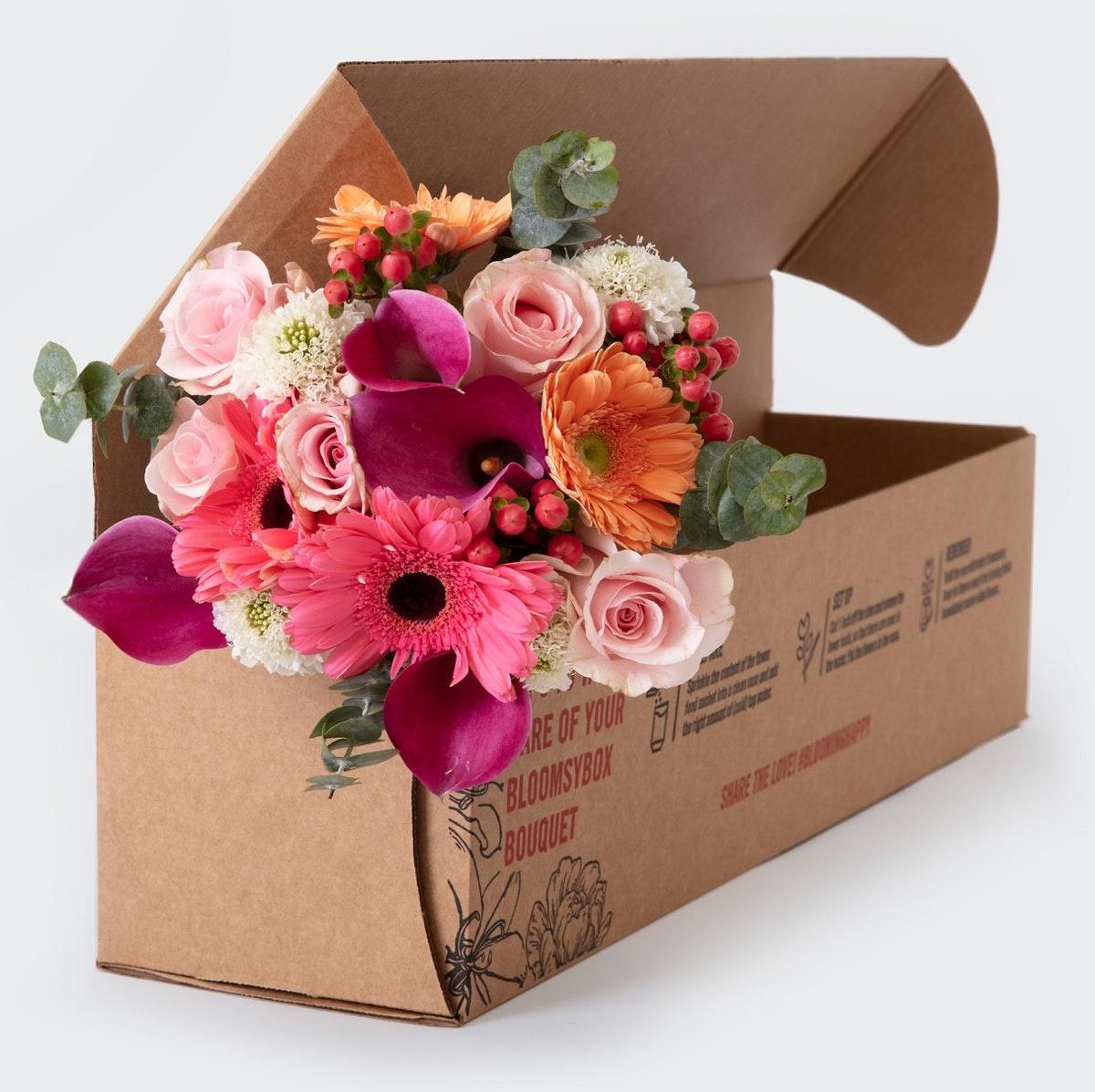 Farmhouse Bouquet
An anniversary is a great time to give the gift of flowers, and we love the rustic vibes this farmhouse bouquet gives off. And bonus- this pretty bouquet features bright pink calla lilies, which are the signature flower for the sixth anniversary. Make it a one-time gift or opt to give your sweet one a monthly subscription of beautiful blooms for an extra-special surprise.
Bloomsy Box Bloomsy Farm classic, $44 per month, Bloomsy Box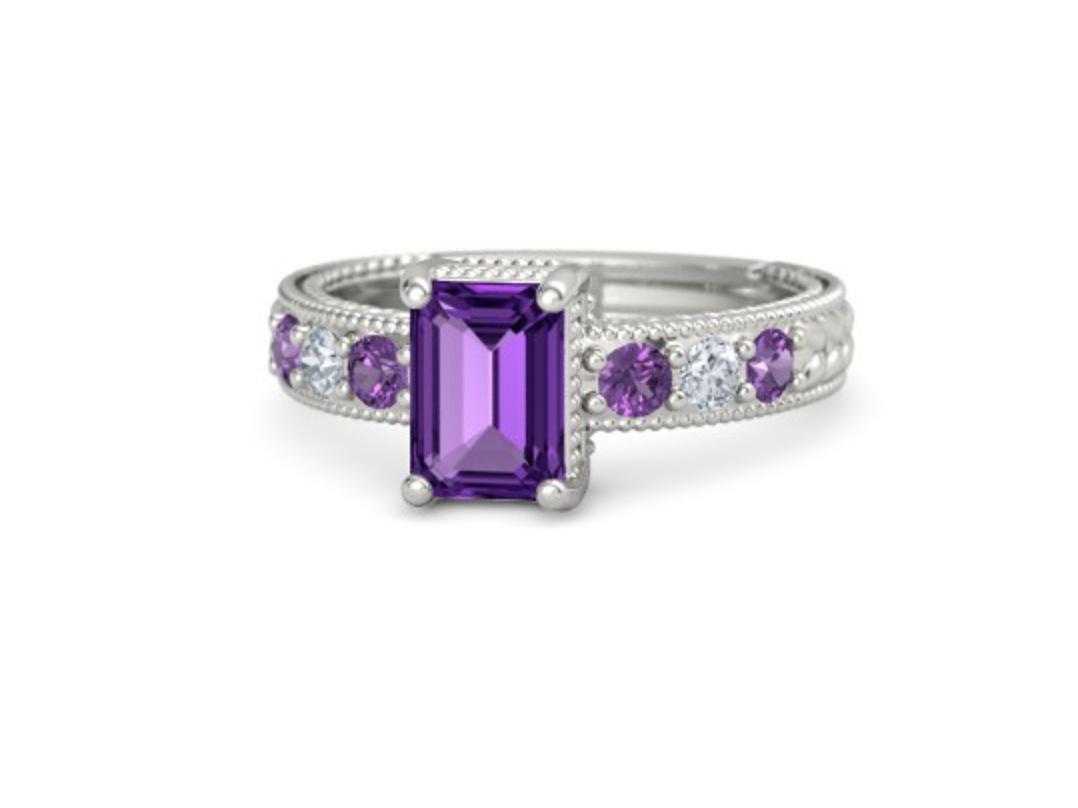 Statement Jewelry
Is jewelry on your mind when you think of sixth anniversary gift ideas? Choose this stately emerald-cut amethyst for a gift she's sure to love. The center stone rests atop a channel of alternating amethyst and diamond accent stones for a stunning look.
Gemvara Emerald Isle ring, $1,135, Gemvara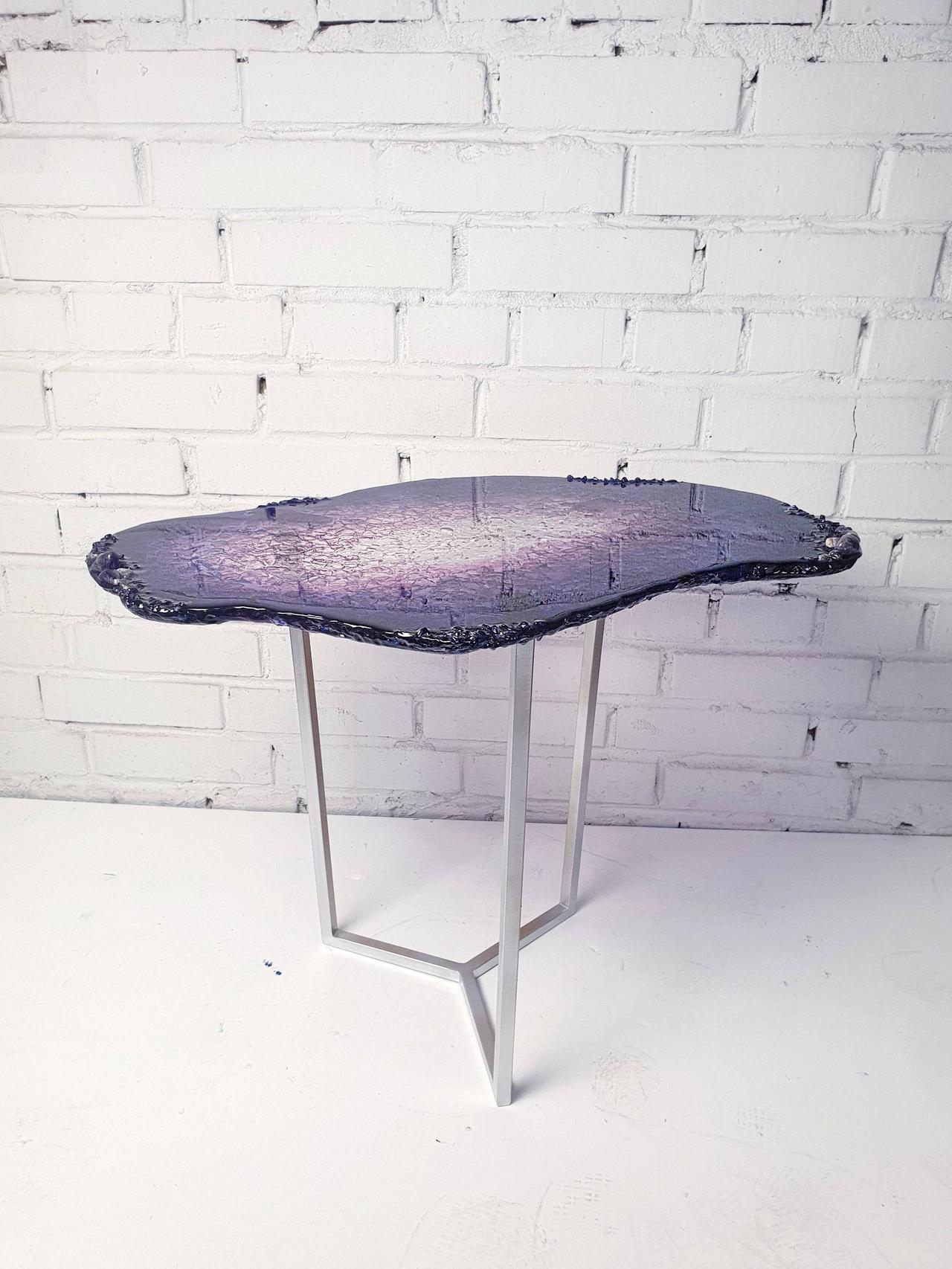 Eye-catching Table
This stunning and unique geode table makes quite the statement, and would be a great way to gift the six-year anniversary gemstone of amethyst. Simple but sturdy table legs allow all the attention to focus on the beautiful, deep purple surface.
Art Me Up Studio amethyst geode end table, $539, Etsy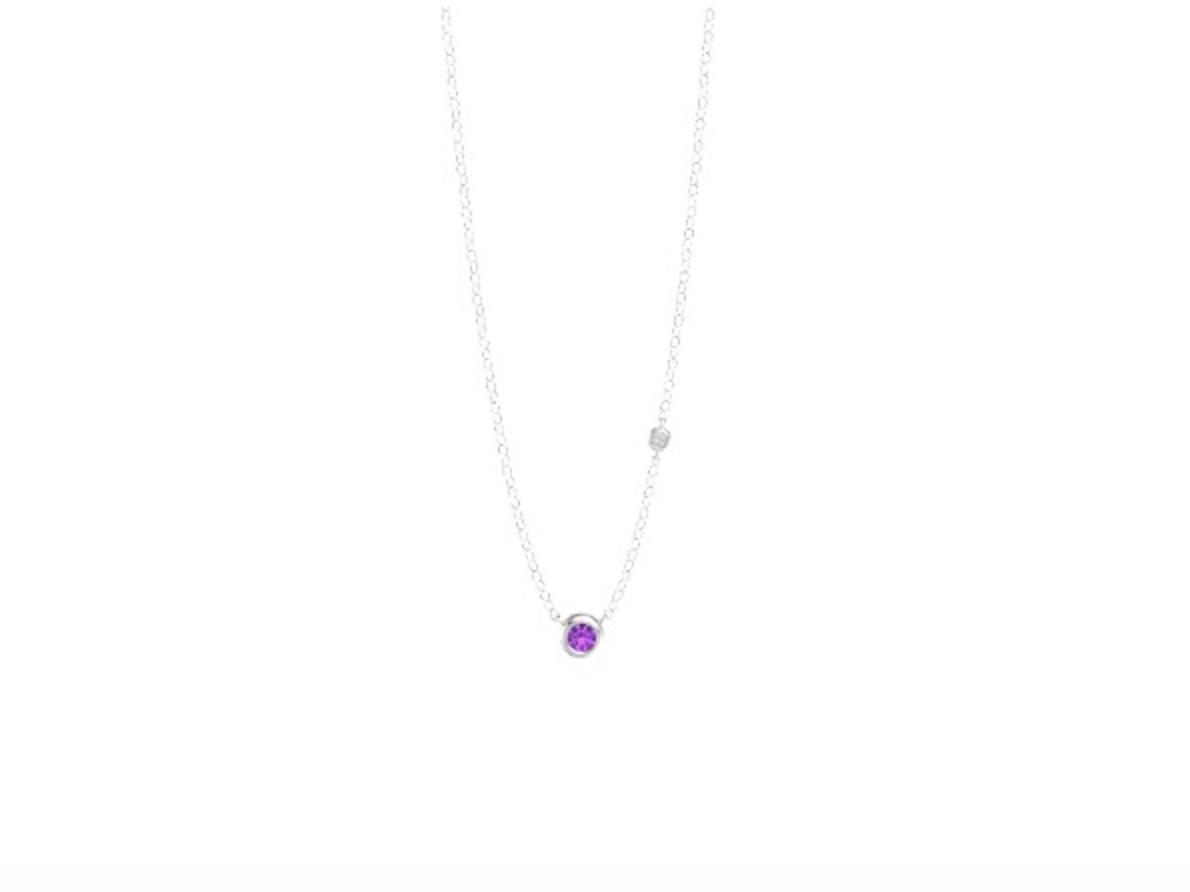 Petite Necklace
Need a six-year anniversary gift for her? Give her a hint of glimmer when you wrap up this pretty little necklace from Gemvara. Here, a tiny bezel-cut stone in your choice of color (amethyst is the right choice for your sixth anniversary) is suspended from a chain that's available in silver or gold to match her other jewelry.
Gemvara luxe petite marvel necklace, $220, Gemvara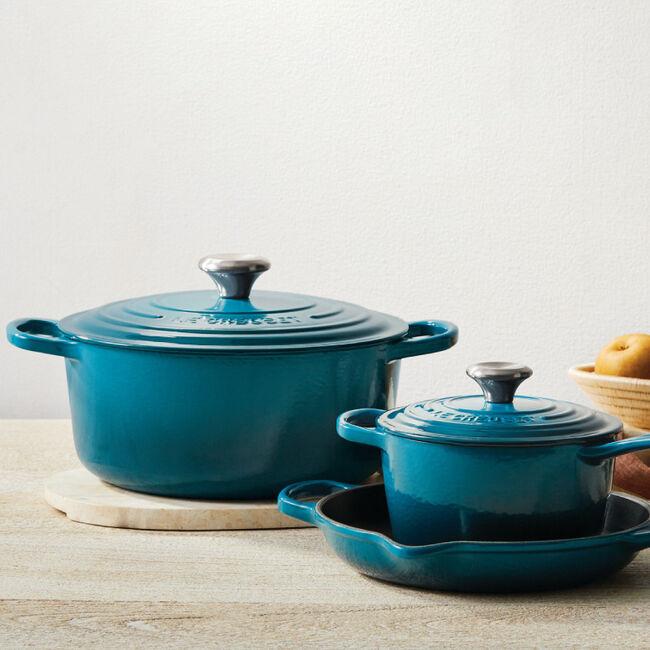 Elevated Cookware
Turquoise is one of the colors associated with a six-year wedding anniversary. And it's such a fun color in the kitchen. That's why we love this ocean-hued cast iron Dutch oven from Le Creuset. So if you're looking for gifts made of iron that also check the box when it comes to color (oh, and functionality of course!) this workhorse of a Dutch oven can't be beat!
Le Creuset round Dutch oven, from $155, Le Creuset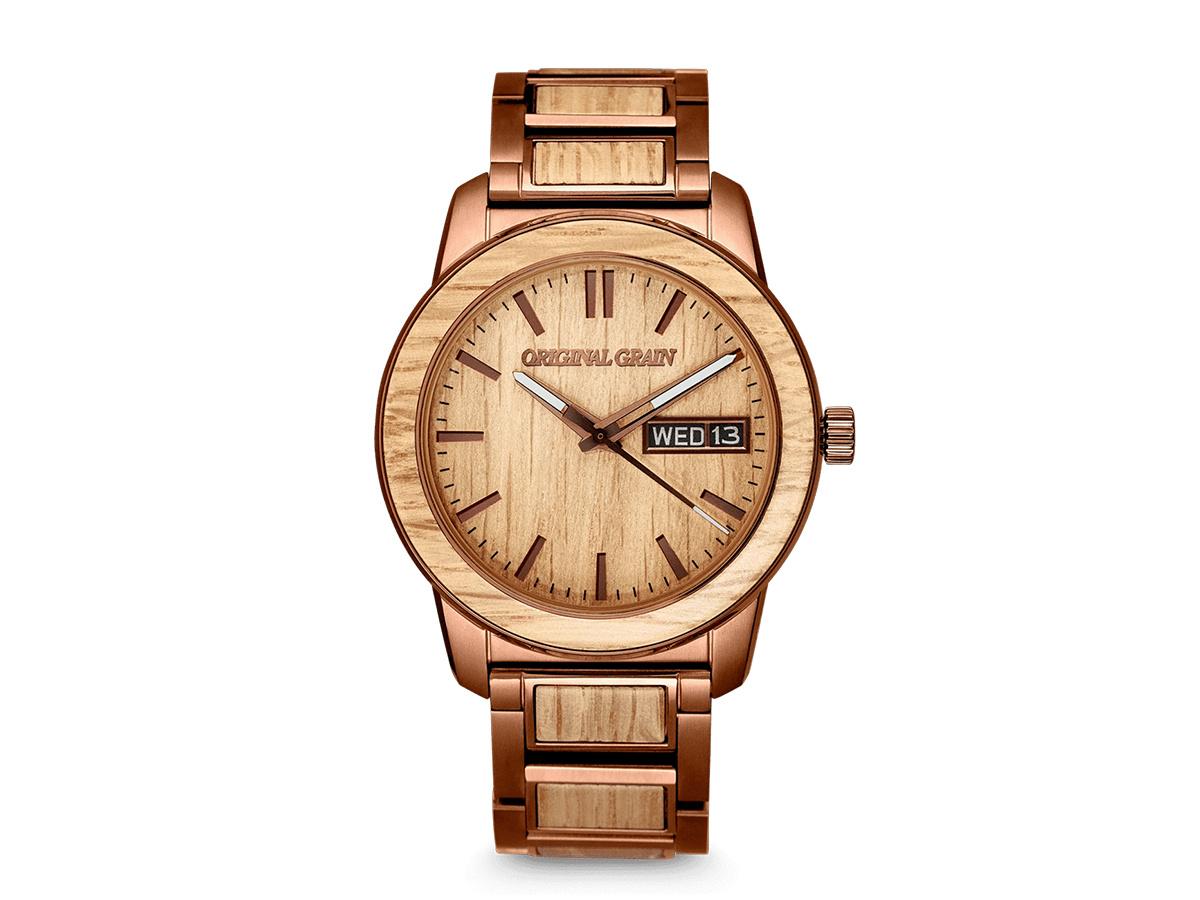 Whiskey Barrel Watch
This wooden watch is such a clever way to gift your special someone the gift of wood; the modern six-year anniversary gift. This classic timepiece is crafted from the wood of reclaimed whiskey barrels for a cool six-year anniversary gift for him or her.
Original Grain whiskey espresso leather barrel, $299, Original Grain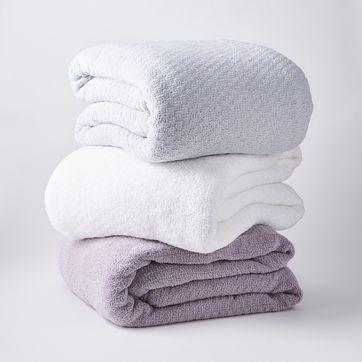 Weighted Blanket
Give the gift of comfort when you wrap up a cozy weighted blanket for the couple celebrating the big 0-6. We love this super-soft version from Sunday Citizen. It's available in three pastel hues suitable for just about any home decor, and four different weights as well.
Sunday Citizen weighted throw blanket, from $259, Food52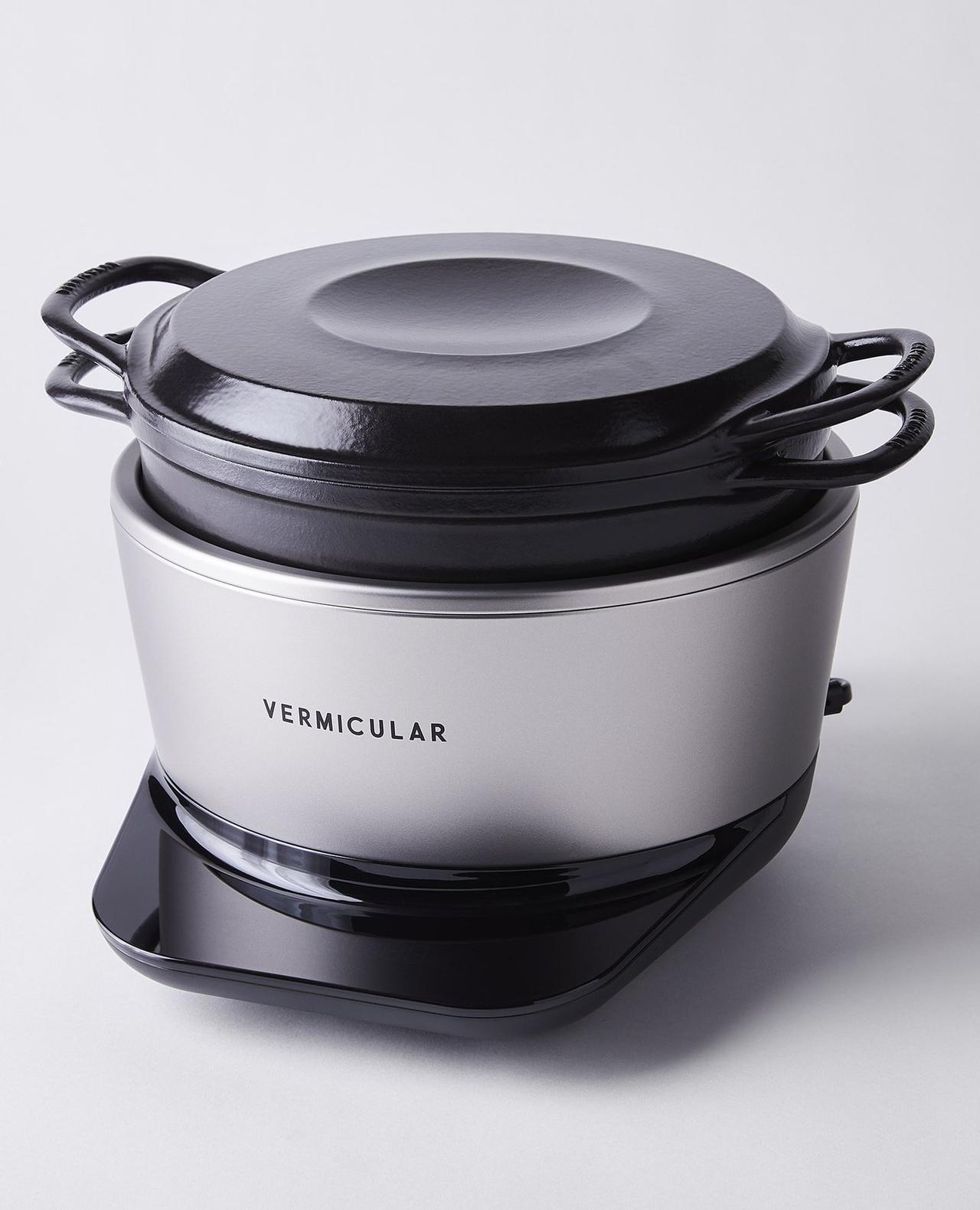 Cast Iron Induction
Induction cookers are all the rage right now, and this cast iron model is just right for your list of gifts made of iron. This countertop workhorse is capable of effortlessly pulling together tons of meals, with hardly any effort at all.
Vermicular Musui-Kamado cast iron induction cooker, $670, Food52