Stylish Aso Ebi Styles for Gorgeous Bridal Party Photos
This Yoruba tradition is popular among Nigerians from all ethnic groups. Get inspired by these beautiful bridal parties.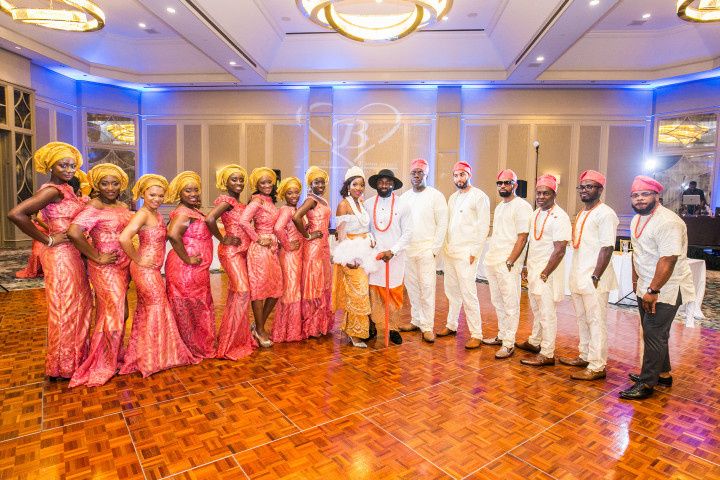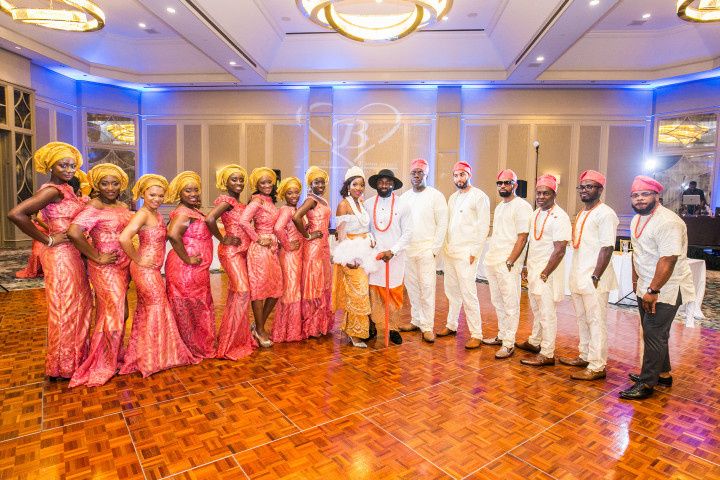 Aso ebi, sometimes also spelled aso-ebi, is the Nigerian tradition of wearing a shared family print to social events, like weddings and funerals, to designate your relationship to the celebrants or solidarity with a larger group. Although the fabric is the same, women are normally given the freedom to design the dress style. Other West African countries also adopt this tradition by different names. In Yoruba, one of the official languages of Nigeria, "aso" means cloth and "ebi" means family, but aso ebi is commonly worn by friends of the couple and friends of the couple's parents as well. Matching gele, a stylish head wrap, is commonly worn with the printed dresses.

For Nigerian-American couples, an aso ebi is sometimes the de facto bridal party, with the bridesmaids wearing Western gowns at the "white," or Americanized ceremony, and then switching to aso ebi cloth for the traditional ceremony. Other times, the aso ebi is distinct from the bridal party and still other times both the bridal party and a wider circle of friends and family will wear different cloth patterns.
If you've been invited to wear aso ebi for a friend's wedding or you're searching for different takes for your own nuptials, check out these aso ebi styles.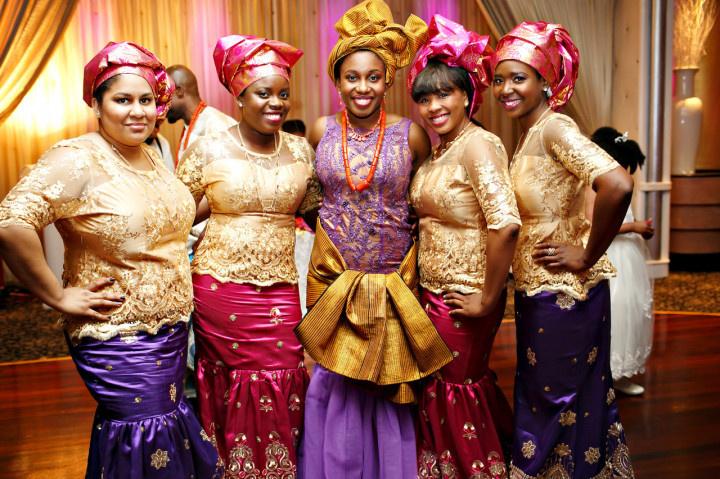 Brilliant shades of pink and purple with gold accents made festive skirts for these aso ebi styles. Matching gold lace blouses and shimmering pink and gold geles topped off coordinated looks for the bridesmaids.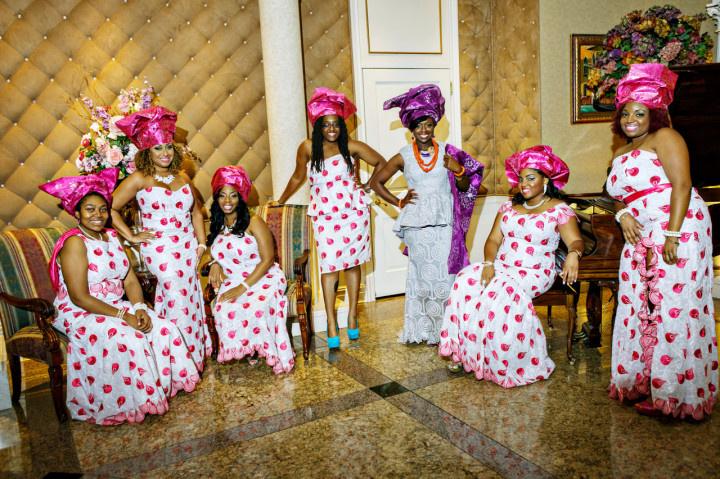 How many different dresses can the same fabric create? These six aso ebi members show off their creativity with a variety of dress styles — short with peplum detail, long and strapless, belted and more. Bright pink gele ties all the looks together.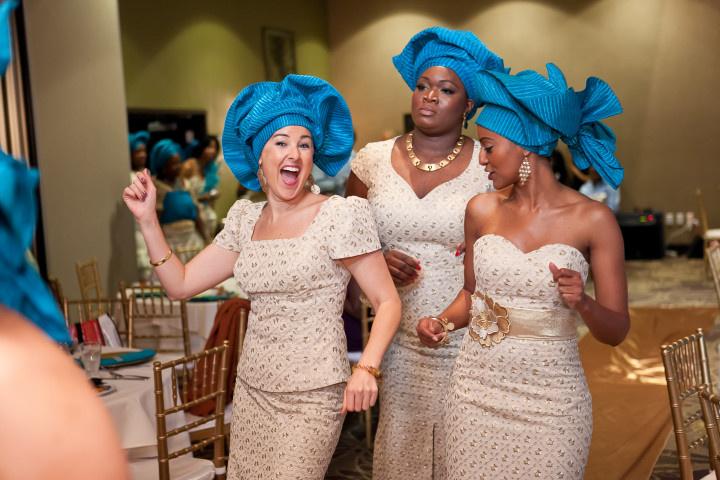 Beyond being a family cloth that tells other wedding guests you're close to the bride, there are special dances during the wedding reception when the bride's aso ebi will lead the bride and groom onto the dance floor, like this procession. Donning glittering blue head wraps and wearing gold ankara prints, these attendants were ready to party.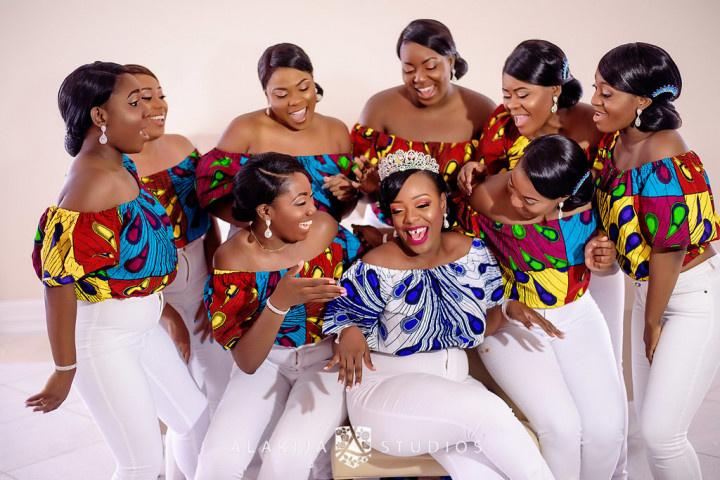 Not wanting her bridesmaids to miss out on the aso ebi experience, this creative Nigerian bride chose matching ankara-like tops and white jeans for her bridal party to wear as they got ready for her Western wedding. Once hair and makeup was done, her 'maids changed into traditional bridesmaids dresses for the ceremony.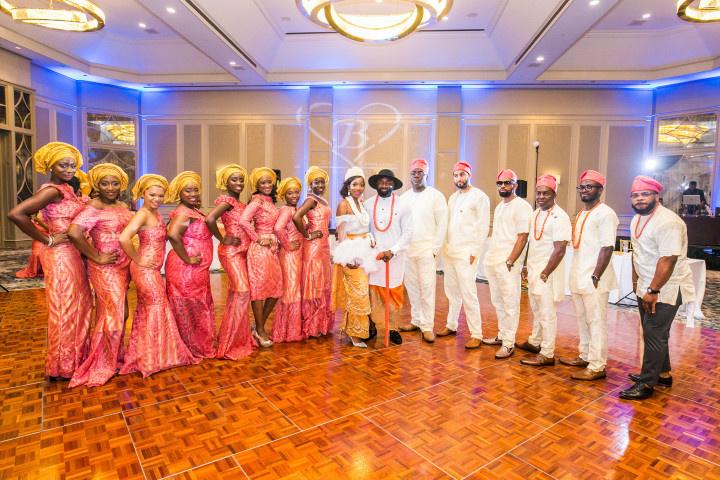 While lots of aso ebi styles feature ankara prints, lace styles are also popular. This bridal party created eight distinct designs with their pink and gold metallic print and lace fabric. Short and long, mermaid and A-line, all the dresses are coordinated with bright golden gele head wraps.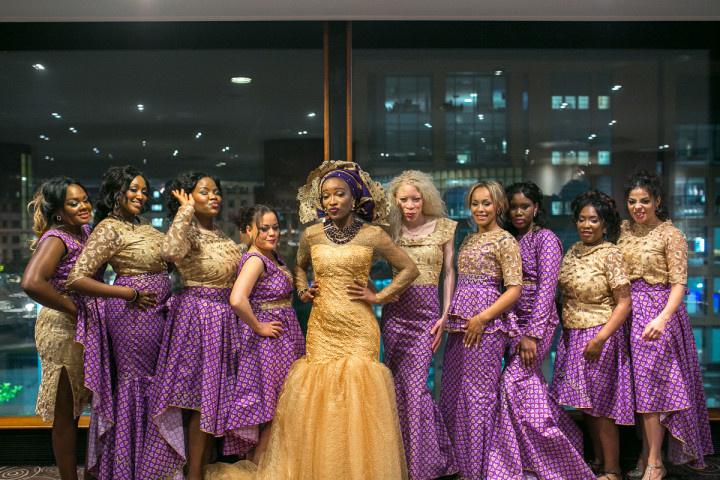 Using the choice of two fabrics — one gold and one purple print — these aso ebi styles run the gamut from belted dresses to two-piece dresses to blouse and skirt combinations. This bridal party is also perfectly matched to the bride's traditional gold gown.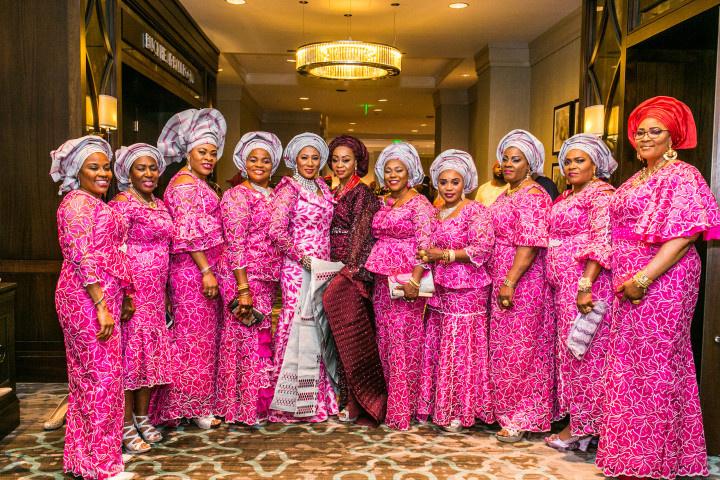 Friends and family of the bride aren't the only people who wear aso ebi. The mothers of the bride and groom may also choose a unifying pattern for her friends and close relatives as well to show their kinship and age cohort. This MOB decked out her crew in bright pink patterned cloth and grey geles.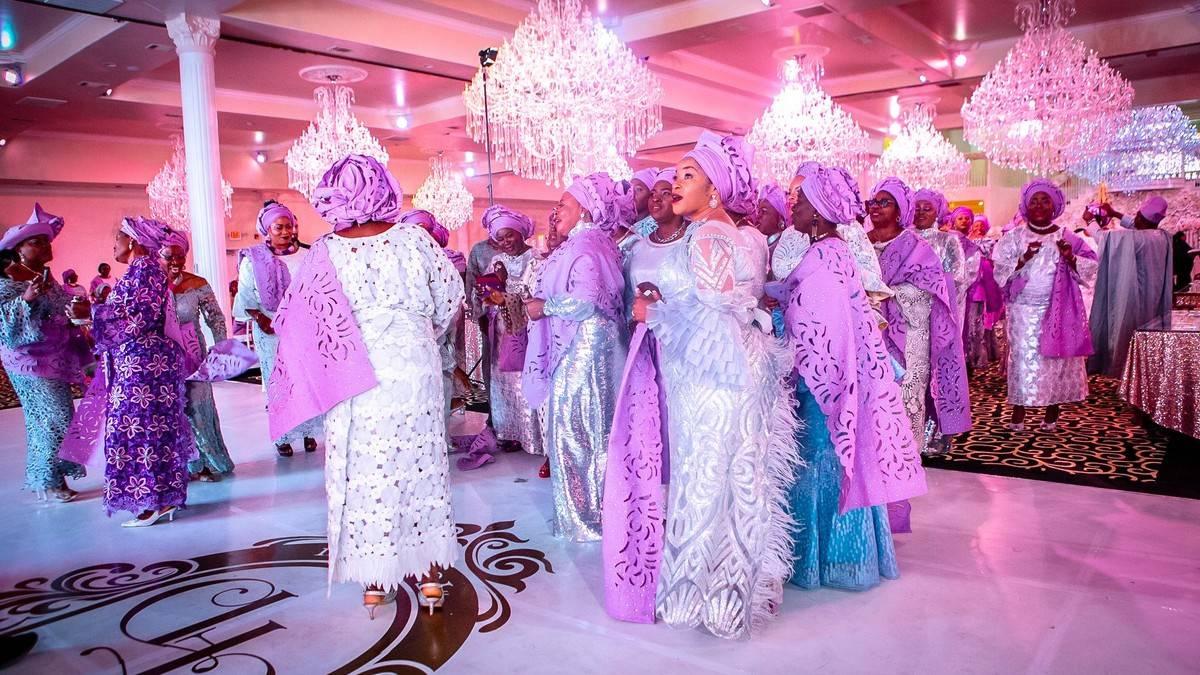 We love these glamorous aso ebi looks, which pair lavender with metallic silver hues.