Wedding Reception Music Basics
Your wedding reception will definitely be the most fun part of your big day. The vows are over, you're married to your love—now it's time to celebrate!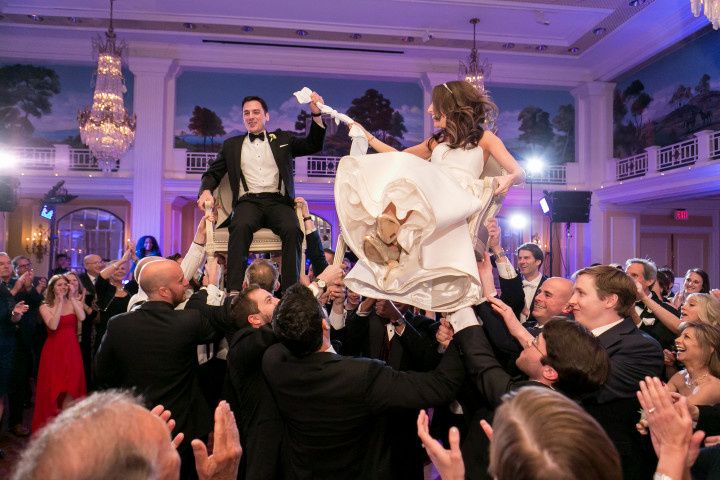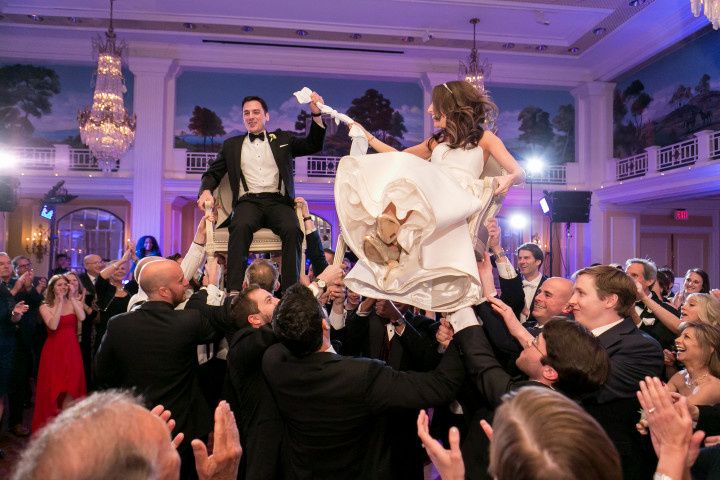 Photo: Pablo Sartor Photography
Your wedding reception will definitely be the most fun part of your big day. The vows are over, you're married to your love—now it's time to celebrate! Choosing the right music will help to ensure that your wedding day is the Best. Day. Ever. So read on for our best music-selection advice!

Choosing special songs to punctuate your reception (your first dance, cutting the cake) is a great starting point for plotting out your reception music.


Here's a typical reception timeline and the moments that are often highlighted by special songs (know that you can always mix things up, though; this is just a guide!)

Wedding party and couple's entrance

Wedding party members and sometimes the couple's parents typically make a special entrance after cocktail hour (they're returning to the party after taking photos with the newlyweds). Talk to your friends and family members about any grand entrance songs they have in mind; you can browse playlists of songs chosen by experts, or think back on special moments in your friendship that were punctuated by music—you might just find the perfect tune! Your own entrance song should be something that gets you excited and sets the tone for the rest of the event, so pick something upbeat that gets your guests hyped up for the party!

First dance

Many couples transition straight from their grand entrance to the first dance; you also have the option to kick off the dance-party portion of the reception with your first dance or share that tender moment in between courses during dinner. If you and your partner already know "your song," then choosing a first-dance tune will be easy-peasy. If you need a little help, check out some of our favorite first-dance songs, or browse your iTunes and Spotify playlists for romantic songs that speak to both of you.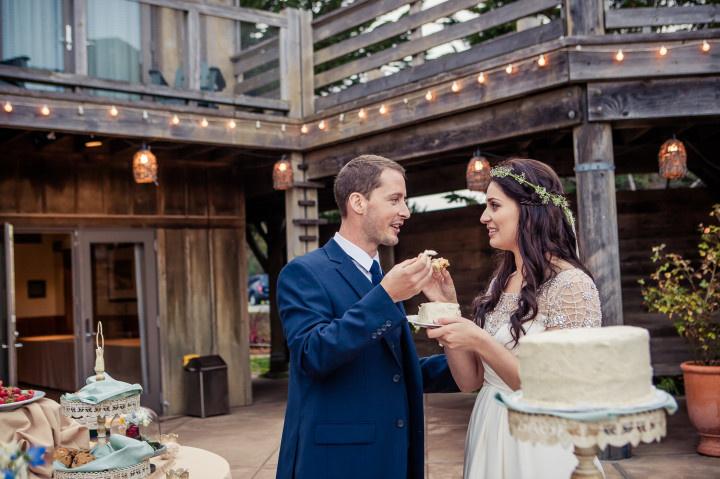 Photo: Kreate Photography & Design
Mother-son/father-daughter and other "parental" dances

Whether you're dancing with your mother, father, aunt, uncle, a grandparent or even a sibling, this special dance represents the blessing of your marriage by your family and the beginning of your new family life with your spouse. Choose a song that's sweet, or surprise your guests with a fun, choreographed routine! Keep in mind that your parent or other family member might already have a song in mind, so be sure to have a tête-à-tête before making your final decision. Need a little help picking the right tune? Check out our mother-son and father-daughter dance song ideas.

Dinner

Your DJ or band can take the lead here, but talk through the vibe you want to create while your guests are dining. The music during this part of the wedding should be fairly subdued—not too loud, rambunctious or distracting—and allow guests to easily mingle and catch up.

Party time!

To open up the dance floor—remember you can kick off the party with your first dance and your parental dances if you'd like to—choose a song that's upbeat and will be familiar to all (or at least most!) of the guests at your wedding. Motown and funk are good options here and appeal to most ears. Be the first on the floor and invite your guests to join in! From there, your music should flow from appropriate for everyone—keep it PG—to more modern tunes to end-of-the-night, only-your-friends-are-left, no-kids-allowed party jams (if that's your style!) An experienced music professional will know how to please the crowd, read the room and keep people dancing all night, so pick someone whose personality you love and who has great references.

Cake cutting

Couples often choose sugar-themed songs for this special moment during the reception—"Sugar Sugar" by The Archies, for example—so have fun with that idea and get creative!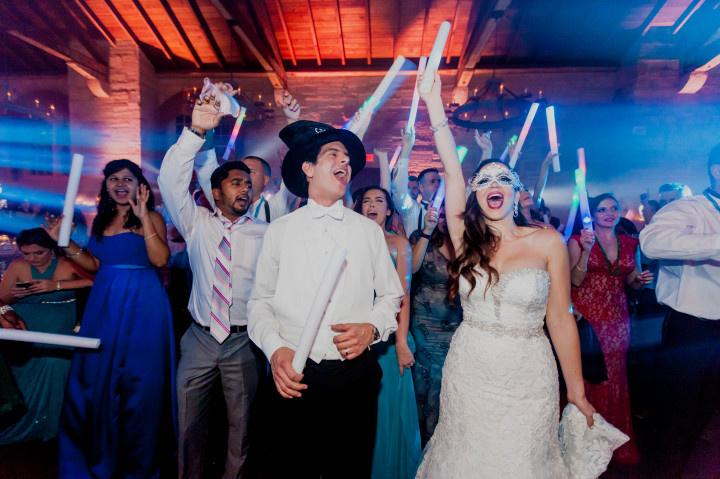 Photo: Photography by Santy Martinez
Bouquet/garter toss

Get your friends hyped up for this moment with a fun party song. Many couples opt for sexier tunes during the garter and bouquet toss—such as "Milkshake" by Kelis or "You Sexy Thing" by Hot Chocolate—so don't be afraid to get a little wild here.

Slow dances

Your band or DJ can help decide on these tunes—they'll know which ones usually get parents and grandparents or younger couples on the floor—but you can also let your music professional know if there are certain songs you just have to hear. We have some great ideas for romantic slow dance songs for you to check out.

Last dance of the night

Eventually the party has to end (sob!) so it's a good idea to pick a fun last dance song that you love and that will also signal to your guests that it's time to wrap things up. Take our quiz to discover the perfect last-dance song for you!

A good conversation with your band or DJ should put your mind at ease about your reception music. After all, your music professional is an expert at getting guests on the dance floor and keeping things moving. Turning over your special song, must-play and do-not-play lists should provide a good structure for the evening—your band or DJ will fill in the rest! And rest assured, you can always create your own big-day playlist and skip the band and DJ all together—just keep in mind that pulling together four to five hours' worth of music, and making sure that it flows nicely, is no small task.