7 Things to Consider While Bridesmaid Dress Shopping
Your 'maids should look their best AND love the dresses they're wearing on the wedding day. Follow these bridesmaid dress shopping tips to ensure that everyone is happy.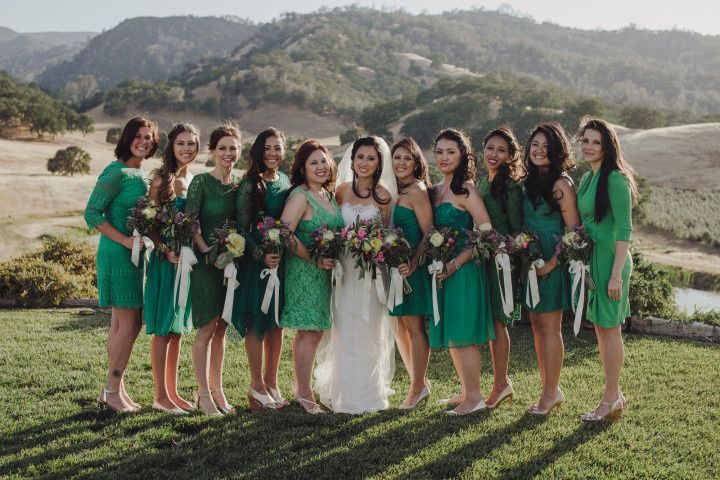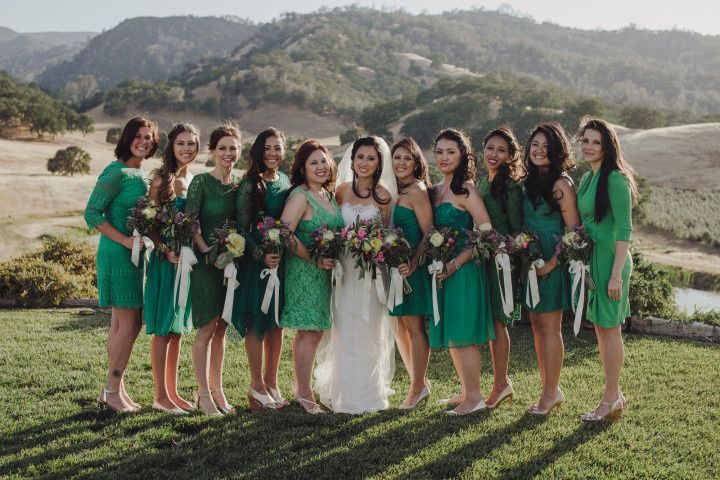 Photo: Vitaly M Photography
After you find your own wedding dress (or at least begin the process), the next step is to outfit your 'maids. Bridesmaid dress shopping isn't as easy as going to the mall and buying something off the rack—there are a number factors that go into pulling together a cohesive look.


Here are seven things to think about while you're shopping for the perfect bridesmaid dresses.
Season
It's important to consider the time of year in which you're getting married. If it's in the middle of July, long black dresses may not be the best way to go. Shorter dresses made of lighter fabrics in paler tones will match the aesthetic of the day. Think of color palettes that typically correlate with each season and use those colors to inspire the attire.


Length
Again, let the time of year and location dictate the length of the 'maids dresses. If you're getting married in the fall or winter, long dresses are a good way to go, especially if you're getting married outside. You also need to consider if you want all your gals in the same length. You can mix-and-match between short and long styles, or you can opt for high-low dresses. There's no right answer for how long or short each dress should be, but it's important you think about what you'd prefer before you go shopping.


Fabric
Some fabrics are heavier than others and may not be ideal for certain climates (read more about the different types of fabrics before you shop). For warm weather weddings, chiffon gowns are a good go-to fabric because of their light and airy feel. A heavy silk gown may be best suited for a winter wedding when high temps and potentially sweaty situations aren't an issue.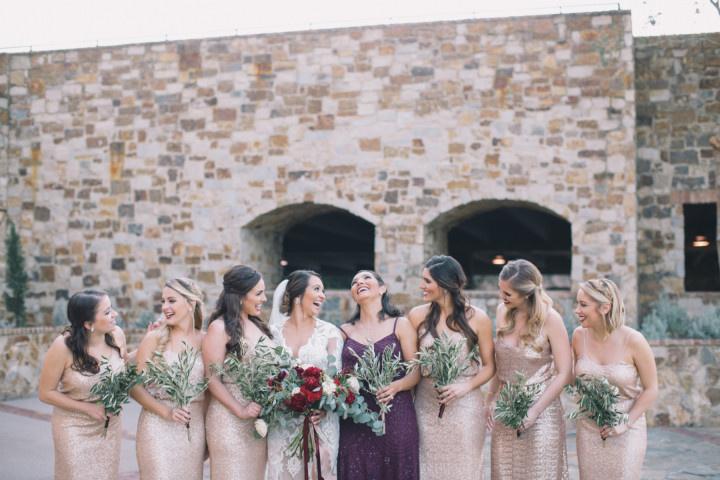 Photo: Black & Hue Photography
Style
Think about the overall aesthetic of your wedding. Is it a casual summer wedding by the beach? Or is it a more formal affair in a country club? Your venue and wedding style can help guide your decision. An outdoor farm wedding might call for more rustic attire, while one-shoulder floor-length dresses might be more appropriate for a downtown fête. Think about your aesthetic before making a decision!


Color
Consider your wedding colors. If the palette you've picked out is navy blue and blush, then your 'maids should be donning a similar hue. You may also want to consider the idea of having a variety of shades of one color. For instance, instead of dressing all of your gals in forest green, give them the color green, then have them pick out the specific shade. That way you'll create a unique bridal party look and your 'maids will feel more comfortable in a hue they picked.


Your bridesmaids
It's very likely that your closest pals will be different heights and sizes, making it impossible for one dress to look the same on all of them. Keep them in mind while browsing for a dress. The beauty of mix-and-match dresses is that your gals can pick out a neckline and fit that works with their body type. Just give them a color, fabric, and length you prefer, and the rest is up to them!


Price
It is customary for the bridesmaids to buy their own dress. Keep this in mind when you're searching for a style you want. Certain designers have higher prices than others, so be cognizant of that. Your 'maids will be happy to shell out some money for your special day, but they probably have some kind of spending limit you should be mindful of.