Photo: Moxie Studio
These engagement photos with dogs are too cute! Lawrence and Michael decided to have their two "fur babies" Joy and Troy make a special appearance in their engagement session and we're obsessing over the photos. They chose to take the photos in Las Vegas and decided that their only props would be their two Shih Tzu toys dogs. Who by the way, are almost too stinking cute for words. So, If you are trying to plan an engagement session with your dogs or pet, then you need to see how these two pups were involved in this shoot.

Check out these these adorable engagement photos with dogs below.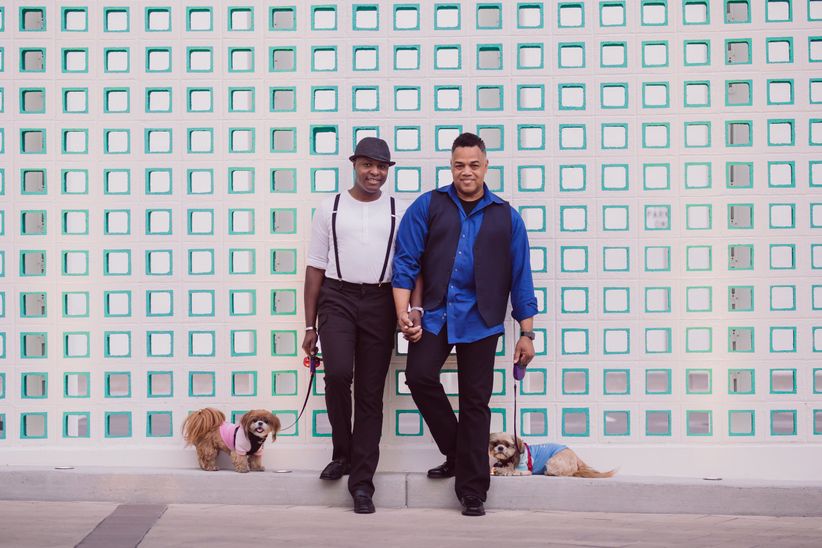 Photo: Moxie Studio
How they met
Lawrence and Michael met 11 years ago in Washington D.C. through a mutual friend. "We laughed, talked and danced the night away as it was PRIDE in D.C.," says Michael. The two then began a long distance relationship until Michael decided to move to pursue a closer relationship with Lawrence. The two have since been inseparable and are now planning a wedding this fall in their favorite city, of course, Las Vegas.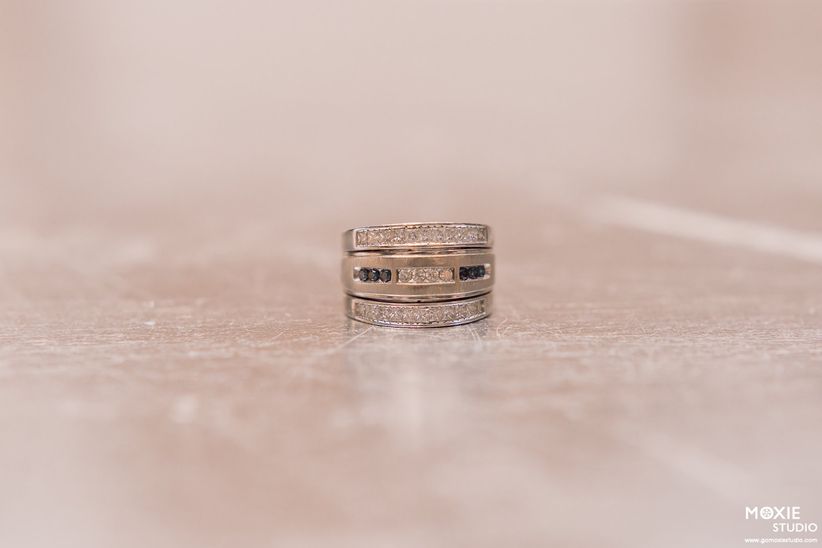 Photo: Moxie Studio
How he popped the question
Lawrence even proposed in Las Vegas, too! He surprised Michael at Scarpetta Restaurant while they were dining with their close friends. Lawrence slipped a One Karat engagement ring accessorized with white and blue diamonds into Michael's champagne flute. "Michael actually thought that the waiter brought him a dirty glass, but the ring was floating in the bottom," says Michael. "It was a tearful and laughable moment."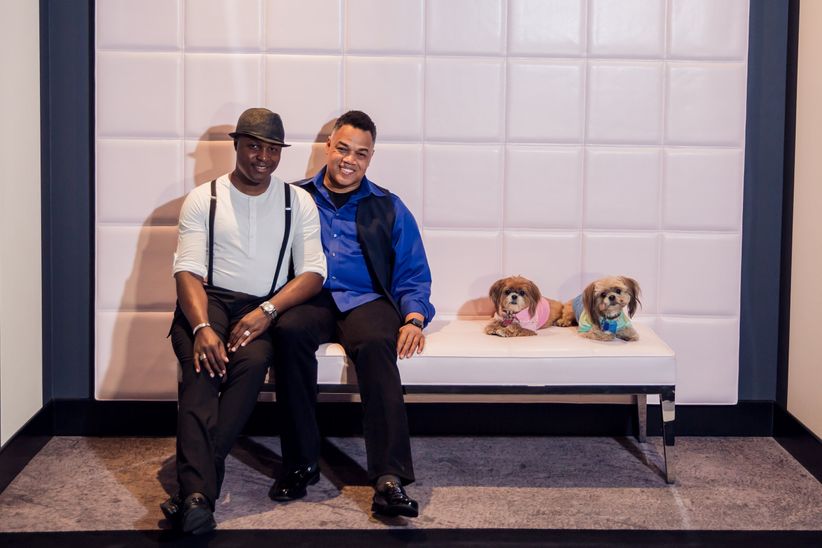 Photo: Moxie Studio
Their advice for a pet friendly engagement session
"Make sure you scout out the best photographer by checking out their portfolio," says Michael. "Go online and check out photography that they have done for other couples. I used every resource possible to find who was best for us. Every photographer is different as far as their eye and what they capture with their camera lens."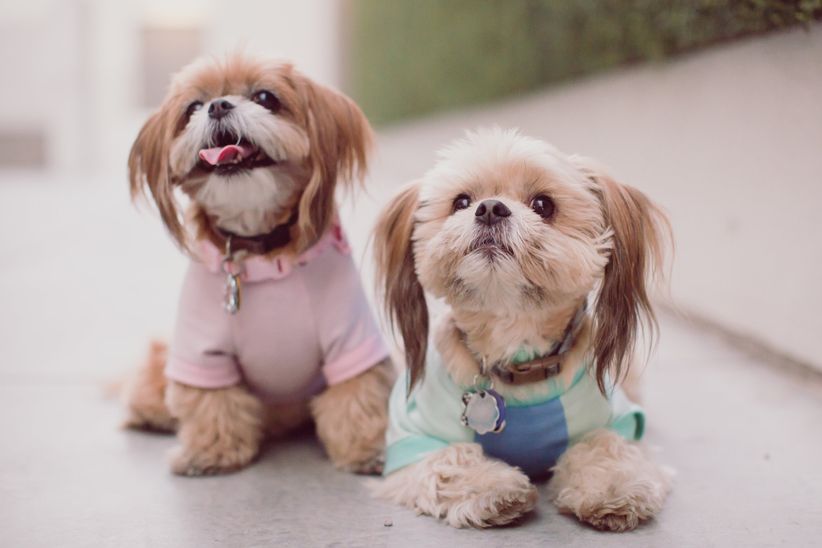 Photo: Moxie Studio
The stars
These engagement photos with dogs wouldn't be the same without Troy and Joy! They looked too cute as they posed for a few portraits.
Photo: Moxie Studio
How they coordinated outfits
"We chose to be comfortable in our attire for the engagement session photos," says Michael. Both Lawrence and Michael wear suits everyday for work so they opted for something a bit more casual. They also coordinated with their adorable pups by having them wear matching blue and pink doggy t-shirts.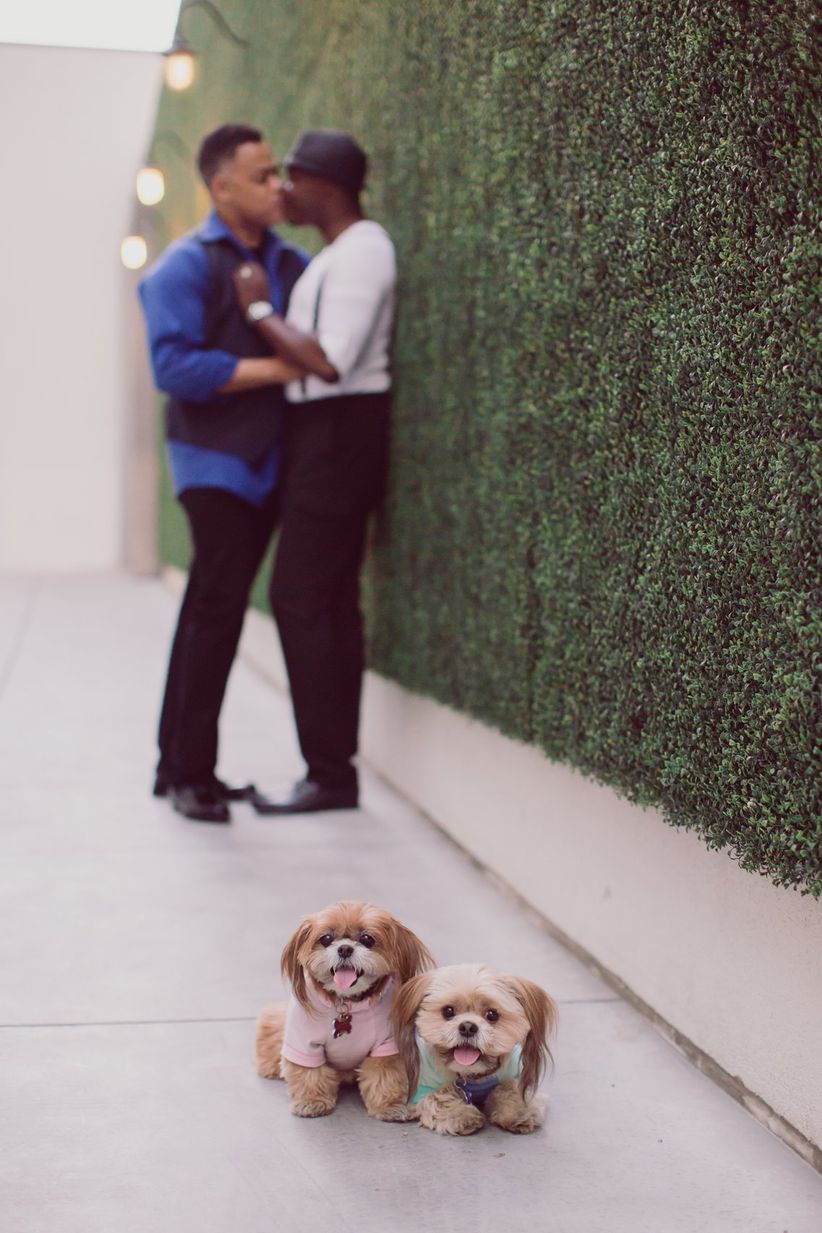 Photo: Moxie Studio
Best tips for planning a proposal
"Seek the help of close friends and family so you can have the perfect timing and the best memory ever," says Michael. "It is one of the most precious moments in your life that you'll always remember."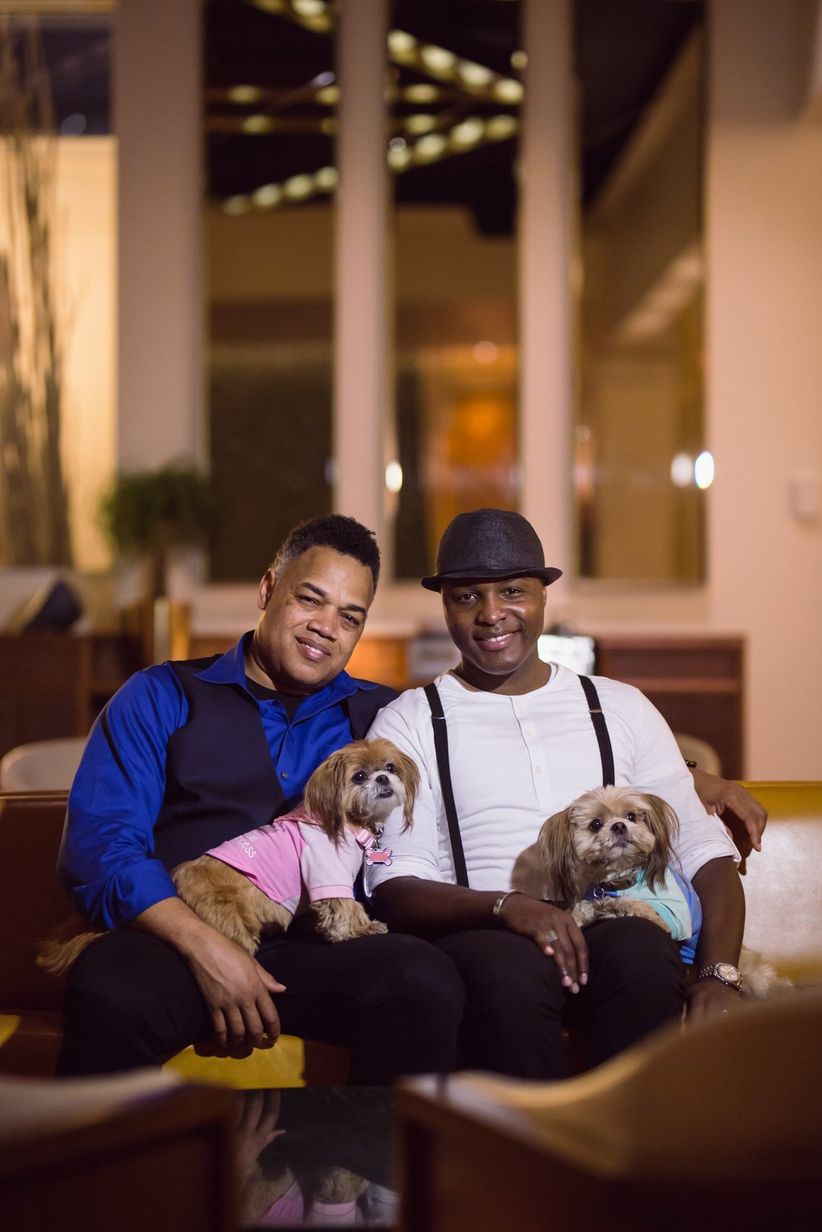 Photo: Moxie Studio
Let the Wedding Planning Begin!
"Our Wedding is set for October 14 in Las Vegas at The SLS Las Vegas Luxury Hotel in the Albert Room," says Michael. They are planning a formal Black tie reception in the Congo Ballroom that is immediately following the ceremony. "Our color scheme is midnight blue and silver, with shades of pink for a pop of soft color." says Michael.