Photo: Beau Vaughn Photo
Your engagement photo shoot is the perfect opportunity to get some pretty rad images that can be used not just for save-the-dates, but framed and displayed to add a personal touch to your wedding decor. To ensure you make the most of this experience and get some stunning outdoor engagement photos, check out Kayla and Jake's Kansas City session that we low-key are obsessing over.


Follow these engagement photo shoot rules so you can pose like a pro at your outdoor session.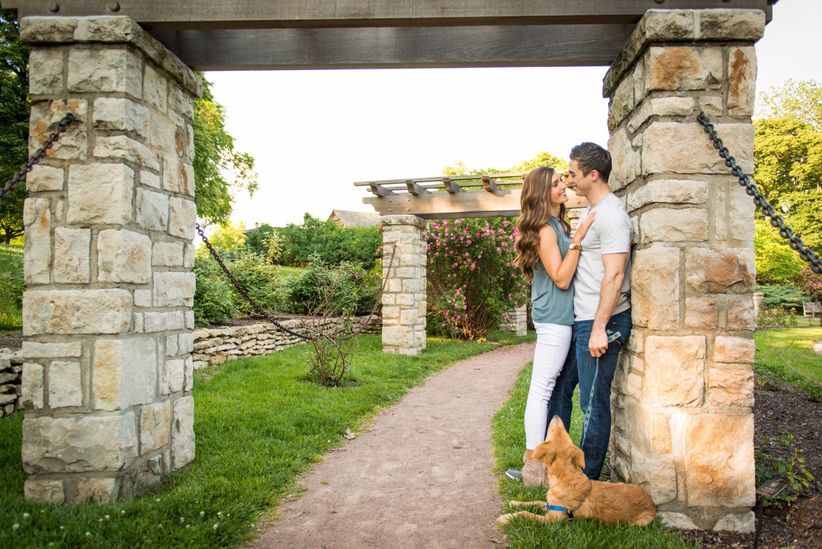 Photo: Beau Vaughn Photo
Choose The Right Location
Find a location that sets the tone of your outdoor engagement photos. For example,
if you're opting for a fall session
, look for a park filled with orange and red leaves. A summer session may mean finding an area that's more beachy and bright. Kayla and Jake chose a park right across from Kayla's office, because they wanted a spring garden feel for their engagement photo shoot.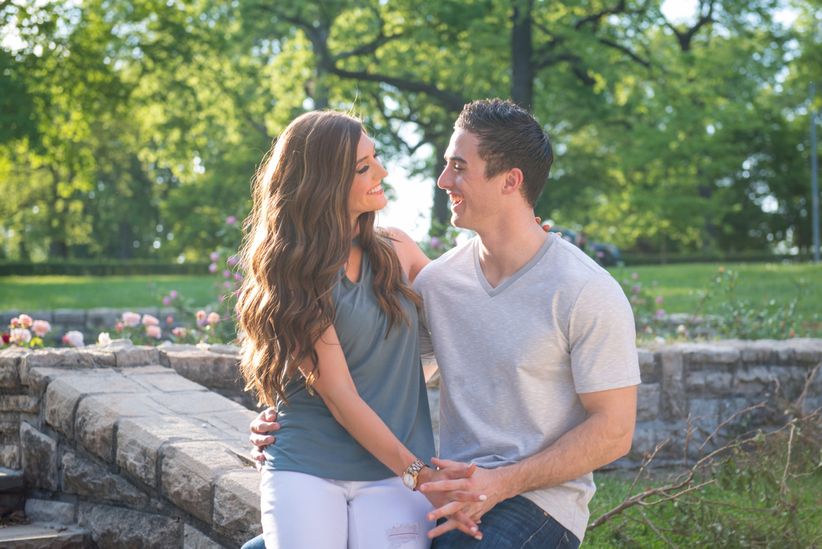 Photo: Beau Vaughn Photo
Dress to Impress
While you and your partner shouldn't look too matchy-matchy,
you should choose outfits
that complement each other—and echo the style you're hoping to achieve. Kayla and Jake wanted to stick to the springtime theme for their outdoor engagement photos, so Jake made sure to compliment Kayla's sundresses and tops by matching his shirts with the right colors.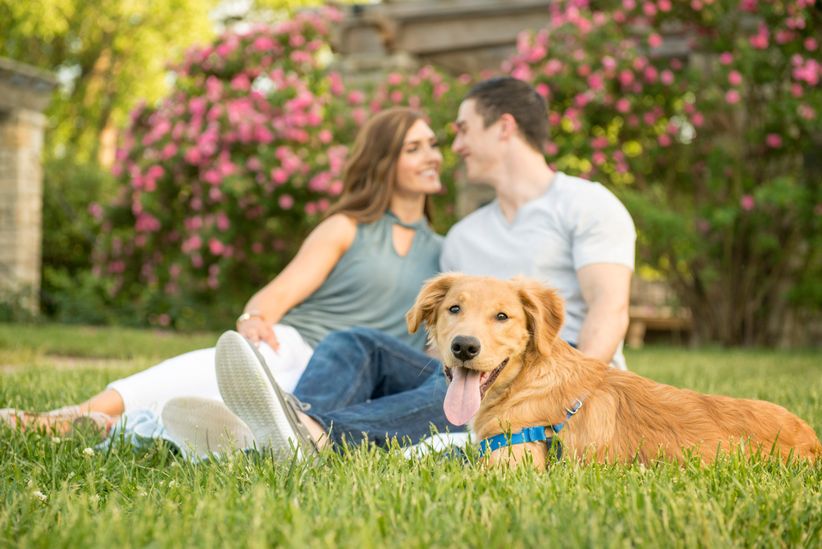 Photo: Beau Vaughn Photo
Have A Special Guest Appearance
If you're a dog (or cat!) owner then we definitely suggest bringing your
furry friend or friends along to your engagement photo shoot
. Their adorable faces are literally "purrfect" for adding a personal touch to your session. Kayla and Jake had their lovable golden retriever, Oakley, partake in their outdoor engagement photos and the images are too stinkin' cute.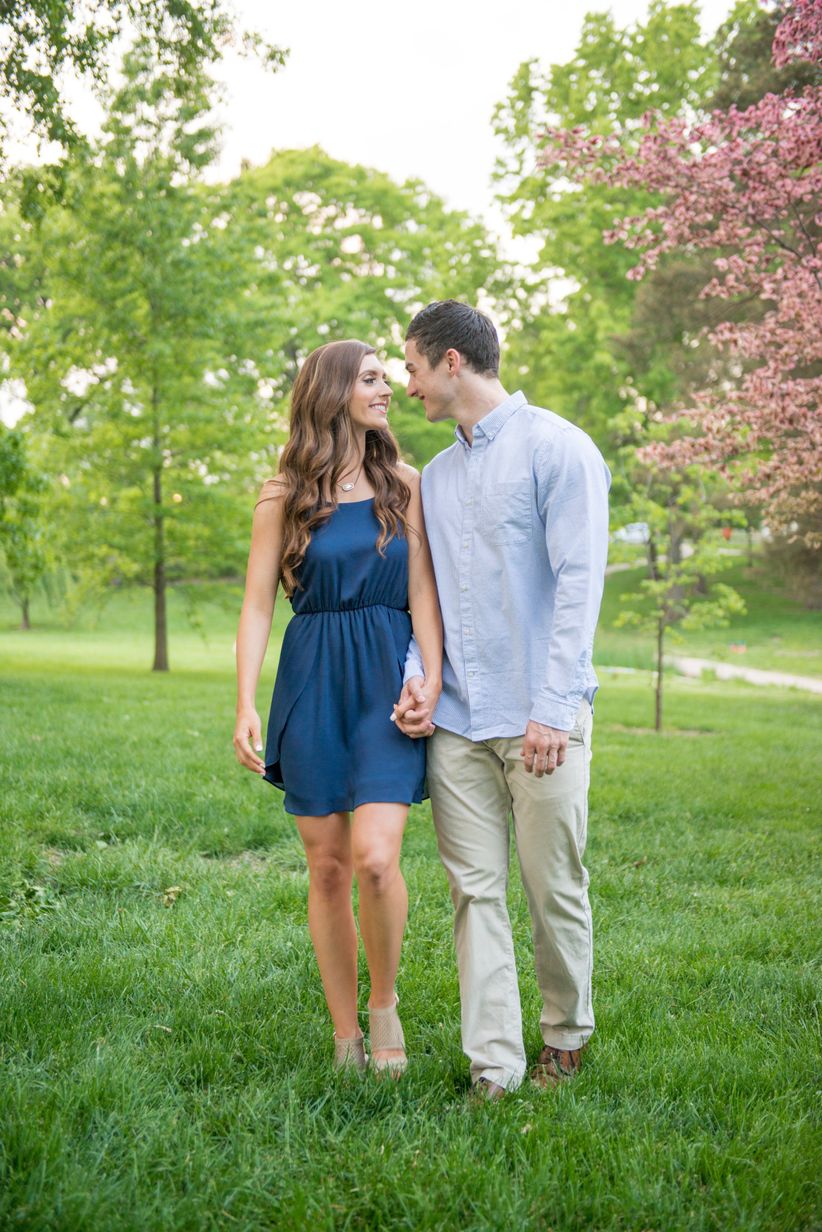 Photo: Beau Vaughn Photo
Opt for An Outfit Change
Don't get stuck on trying to find the perfect outfit to wear to your outdoor engagement photos. Instead, opt for an outfit change during the session. This is easy way to change up your look from casual to something a bit more formal. Kayla and Jake nailed their outfit change by starting the shoot off in jeans and then changing into dressier attire (a sundress for Kayla, and khakis and a button-down shirt for Jake).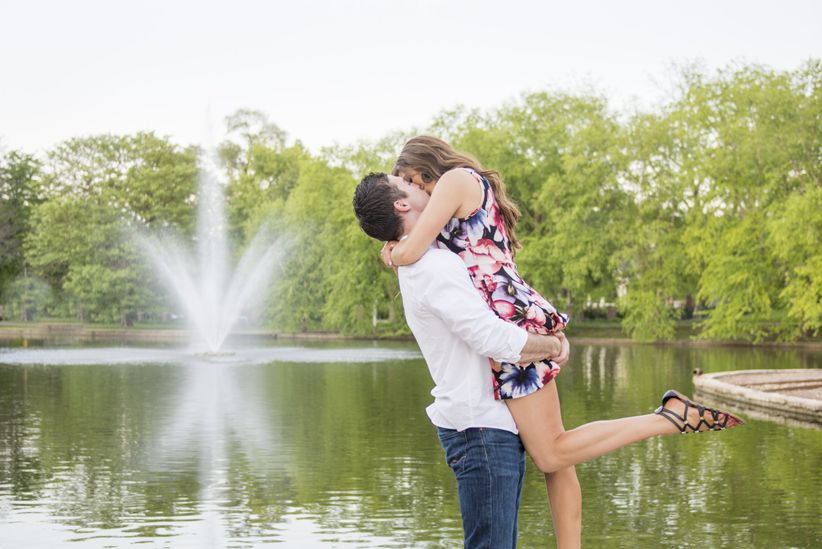 Photo: Beau Vaughn Photo
Let Loose and Be Yourselves
It's totally normal to feel a bit, shall we say, awkward while posing for engagement photos. If you're in public and PDA isn't really your thing, then outdoor engagement photos can seem like something you'd rather skip out on all together. Our recommendation: Give 'em a try! This is a great opportunity to let loose, learn how to pose with your future spouse and even get to know your photographer—since they probably will be the one snapping your portraits on the big day. Learning how to be yourselves in front of a camera will not only make you feel comfortable throughout the shoot, but also makes the final results (the images!) turn out ten times better.