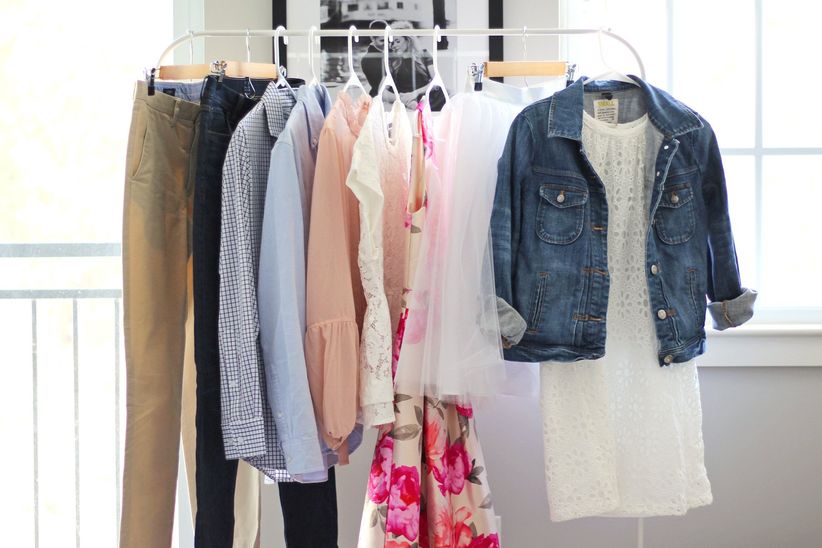 Photo: Mindy Thompson
Hi! Mindy from A Mix of Min here. I'm a bride-to-be and have been enjoying every moment of wedding planning thus far. The first item my fiancé and I checked off our to-do list? Our engagement photography session! If you're like me, you've dreamed up these photos ever since you started dating "the one." Once you nail down your season and shooting locations, you can move on to planning you and your partner's outfits. When I got to this portion of planning, I realized every article out there was about what to wear as the future bride, but I couldn't find any advice on what the future groom should wear.


Today I'm rounding up five tips for creating a cohesive engagement shoot look for both you and your love.
Pick a color palette
You and your fiancé are two different people with possibly two completely different styles. Your engagement shoot is centered around capturing the excitement of your new life milestone together! With that, you both want to feel like yourselves, especially behind a camera lens, which may be a new experience for you. The best way to have a cohesive look while also reflecting your own unique styles is to pick a color palette. I suggest choosing two focal colors—like maroon and navy, for example. From there, keep the rest of your look neutral with items like khaki pants, cognac shoes and gold accessories.
Avoid being too matchy-matchy
While you want to achieve an overall cohesive look, there's a fine line between complementing one another and looking like twins. When I first pulled together our engagement looks, I planned on wearing a white linen dress while my fiancé sported a white polo tucked into navy shorts. I quickly realized we looked like a family photo op instead of a newly engaged couple. By adding a pop of print on him with a gingham shirt and a classic denim jacket as a layer on me, we not only felt more like ourselves, but looked it too.
Just be you
When you dress like yourself, you'll be comfortable and be able to focus on your partner rather than fidgeting with your outfit. If you typically wear four-inch heels, throw them on for your shoot, girl! If you typically wear flats, don't force yourself into a shoe that doesn't feel like 'you.' The same thing goes for your fiancé. If he's not a typical suit-wearer, find something that will fit the look that he'd normally wear, like dark wash denim.
Try everything on
Make sure you add time between ordering your outfit items and the shoot date to ensure you can each try on your looks and stand next to each other in front of a mirror. This is exactly when I realized my fiancé and I were too matchy and had to make a couple adjustments.
Pull in your personality
Are you both huge Red Sox fans? Do you have a furbaby you want to join in on the fun? Pull in a personal aspect of your relationship and have fun with it! My fiancé and I have a donut shop we love in the area of our engagement shoot, so we incorporated these donuts in a silly way for one look of our shoot.
I hope these five tips help you while planning your engagement shoot! (You can take a peek at my engagement photos here.) Just remember that this is about the love between you and your partner, and no matter what you do or wear, that'll shine though. Xo Mindy