8 Details That Will Make Your Proposal Pictures Even Better
If you're planning to secretly hire a photographer to capture your proposal pictures, here's what else you can do to make the moment go off without a hitch.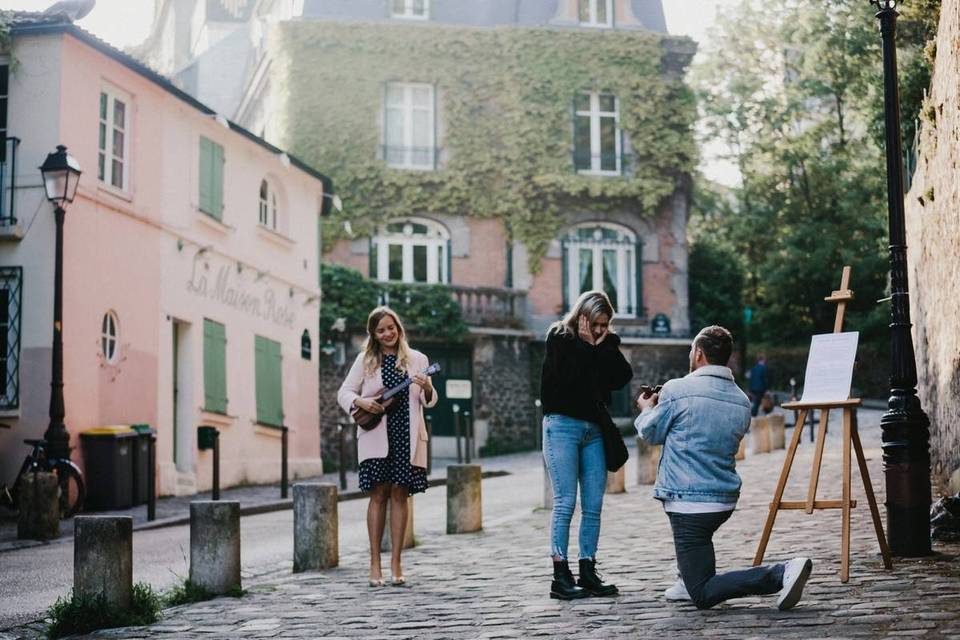 When it comes to getting the most memorable proposal pictures, no one knows better than the pros behind the camera. It's more popular than ever to have professional photos of your engagement moment, so we asked wedding photographers from around the country to share their tips on lighting, timing, location, and everything else you'll want to know in order to get frame-worthy snaps of you popping the question. Here's what the experts had to say.
What are marriage proposal pictures?
Proposal pictures are professional photos of the exact moment you ask your partner to marry you. In order to capture the most genuine reactions from their partner, most proposers choose to keep the fact that they've hired a proposal photographer a secret—this means the photographer will be "hiding" somewhere nearby where they can discreetly take pictures of you without spoiling the special moment. Once you're engaged, you can use the pictures for your engagement announcement to friends and family or on social media.
How much do proposal pictures cost?
The price of a proposal photographer will vary depending on where you're located, but most photographers charge a few hundred dollars for a short photo session and a batch of images. If you want pictures of an activity immediately following the proposal, such as a celebratory champagne toast or impromptu engagement photo session, your photographer may charge a little more.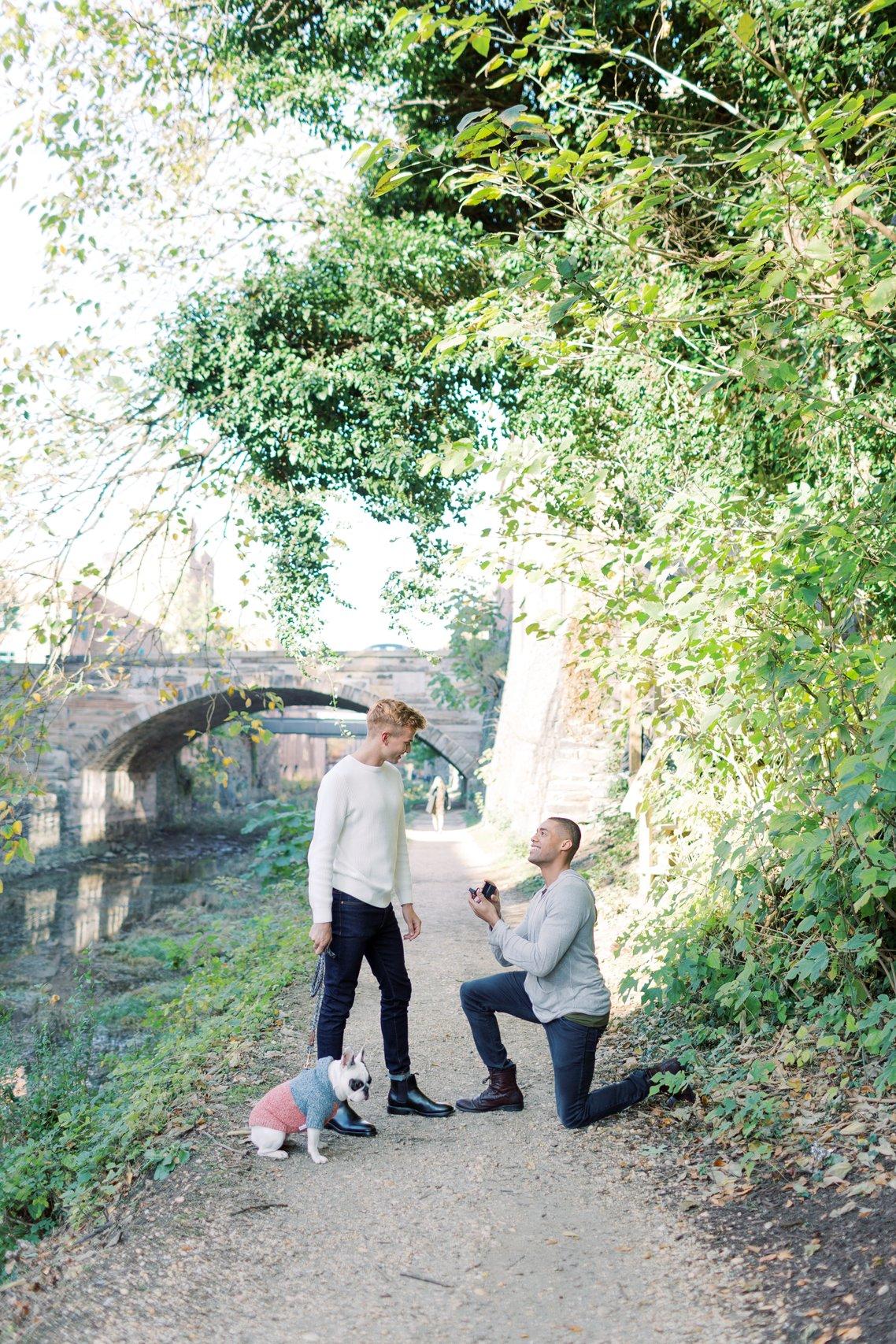 Pay attention to the three Golden Rules.
While your photographer will do their best to work their magic when capturing the big moment, there are a few ways you can help them achieve the best shot possible. "Remember, a great photo is made up of three things: good light, beautiful location and, of course, the people in the photograph," says Brian Flint, owner of b. flint photography in Oxford, Mississippi.
First, think about where and how you want the proposal to take place. A setting with natural scenery or built-in decor is ideal. Consider places like local parks, beaches or lakes, museums, the prettiest tree-lined street in your neighborhood, a formal garden, etc.—anywhere that you'd want to have your photo taken, even if you weren't proposing. Next, consider the time of day you'll be proposing. Daylight will create the clearest, most natural look in your proposal pictures, since your photographer probably won't need to use a flash or additional light source. "If the proposal is happening at night, make sure there is some sort of ambient lighting near the proposal site," says Flint. Finally, aim to look your best for the photos (and try to get your partner to do the same, without spoiling the surprise). Iron or steam your clothes, style your hair, and remember that your confidence and happiness will show through in the final pictures!
Do your best to take your time proposing.
We know it can be nerve-wracking to propose, which means you might be tempted to rush through your marriage proposal speech (without even meaning to do so). If possible, do your best to stay calm and take things slow—deep breaths! "If you go down on your knee, stay down for a couple of seconds. Make sure to give me enough time to take the shot," says Sascha Reinking, owner of Sascha Reinking Photography in Long Island City, New York. Even though your photographer will have a camera that can capture split-second movements, taking your time will give them a better chance of getting the best images and all of the little moments in between.
Consider hiring not one, but two photographers.
Most professional photographers often work as part of a team, either as a duo, with a full-time assistant, or with another photographer who they collaborate with regularly. One photographer capturing your proposal pictures is great, but two photographers are even better! Ask your photographer if they have a second shooter or if there's an additional cost to include one in your proposal. This way, they can tag-team the event and ensure that no detail is overlooked. "My assistant and I work as a team, so together we are able to capture both of their expressions," says Laura Hernandez, owner of Laura & Rachel Photography in Charleston, South Carolina. "We will scout out the area beforehand so we know right where everything will take place."
Make eye contact with the photographer before you propose.
Your photographer will spend time chatting with you ahead of the proposal to work out all of the nitty gritty details, but when it's actually time for the big moment, a quick visual confirmation of where the photographer is located will make all the difference. "Do not propose without 100% knowing that I am there," says Reinking. "We have to make at least quick eye contact beforehand."
This is important for a few reasons: Making eye contact with the person behind the camera will confirm that your photographer is actually in the right place, and it lets them know you're ready to propose. Plus, it gives you a brief moment to catch your breath and calm your butterflies if you're feeling nervous.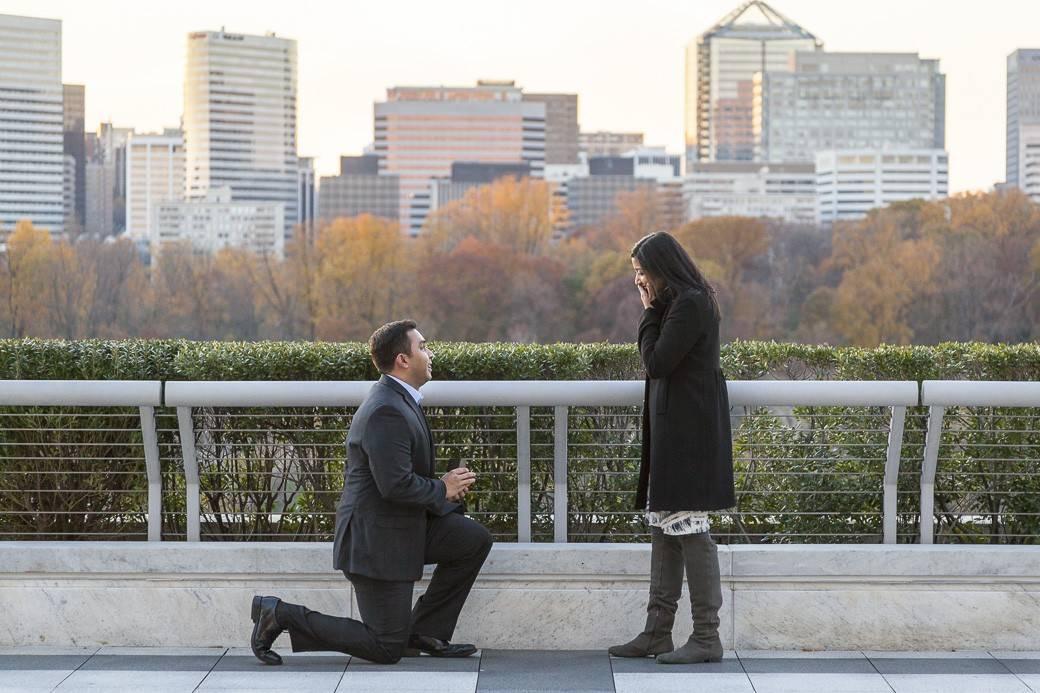 Keep the photographer a surprise.
Secret proposal pictures are often the best, most authentic images. "Make sure to capture the surprise aspect," says Sarah Christine, owner of Sarah Christine Photography in Fort Collins, Colorado. "Those reactions I find are priceless."
It might feel tempting to point out the hidden photographer right before your proposal, but that has the potential to spoil the moment. Instead, we recommend waiting until after your partner has said yes—that way, you can get snapshots of the genuine excitement of the engagement, followed by the realization that everything was just captured on camera (which could result in some hilarious pics!).
Know exactly where everyone will be standing during the proposal.
As we mentioned, planning ahead will make all the difference when it comes to getting the best proposal pictures possible. You should be familiar with the location where you're proposing—if you've never been to that exact spot before, make sure to do some extensive sleuthing on Google Maps to get an exact understanding of the layout. Share the place where you're planning to propose with your photographer, and ask them to do the same. "I always send a Google map with exact locations marked so they will know where they should be standing and where I will be," says Reinking.
Email photos of yourselves to the photographer in advance.
Along with sharing your planned location, give your photographer a heads up about what you and your partner look like, and what you'll be wearing for your proposal pictures (this means you'll have to finalize an outfit ahead of the actual day). "I will email him/her a photo of us, detailing what we will be wearing that day, and have him/her send a photo of them as well so we are certain of their arrival," says Hernandez.
You can also mention any other identifiable details, like if you'll have a dog with you, or if you'll be carrying some sort of prop (a picnic basket, flowers, etc.). The more information you provide, the better!
Plan something to celebrate following the proposal.
The surprise proposal pictures will be a once-in-a-lifetime memory, but you can keep the momentum and excitement going by planning something immediately following the engagement. "We offer to either simply capture the proposal or have something special awaiting the couple," says Hernandez. "Imagine a champagne and dessert picnic along the beach."
Use the opportunity to treat your brand-new fiancé(e) to another fun surprise, such as a live musician, proposal party, confetti drop, or anything else they've always wanted to to experience.