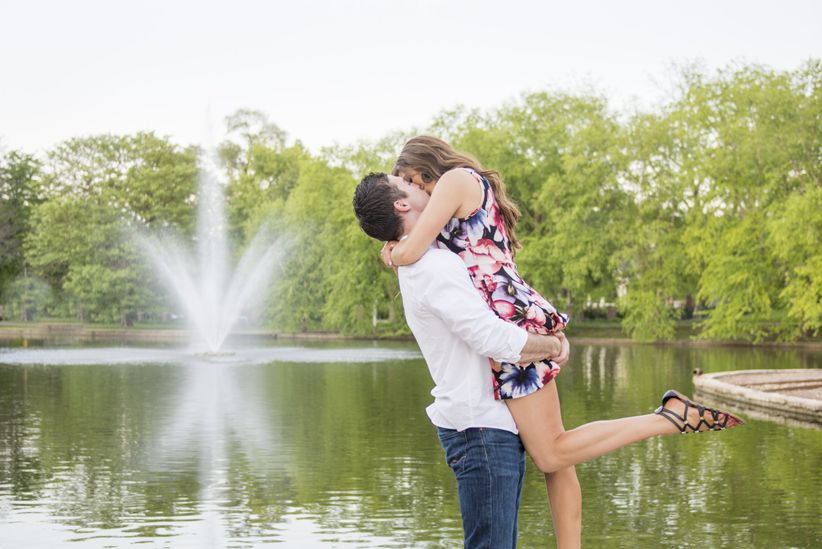 Photo: Beau Vaughn Photo
If you're recently engaged, then we know you've been thinking about how to announce your engagement to everyone. Saying "yes" is truly an exciting and—let's be real—freaking awesome time. You get to rock a killer sparkler and you're over the moon in love with your, ahem, new fiancé(e)!

Even though you probably feel like shouting "I just said yes!" from the rooftops, you may have a few single pals that aren't too keen on the idea of love at the moment. Everyone has that one friend (or even a few!) in their squad who is constantly worrying about being alone forever. You love them and they love you, but you also know that reading about engagements or how happy someone is in a relationship isn't exactly how they like to spend their downtime. While you shouldn't let them totally steal your thunder, you should be sensitive to their feelings as well.

If you have a friend who maybe spends too much time swiping on dating apps and you're finding yourself wondering how to announce your engagement—don't worry! There are plenty of ways to announce your engagement without making them want to eyeroll. Just follow these key pointers that will totally make your single pals want to like and also comment on your engagement announcement post.

Learn how to (nicely) announce your engagement to your single friends by avoiding these major no-nos.
Don't Be Too Catchy
How many times have you read Queen B's jam "Single Ladies" as an engagement post for Facebook or Insta? You know the line "He liked it so he put a ring on it"—yes it is catchy AF, but come on, it's been done, so many times. Your caption game needs to stay strong when it comes to how to announce an engagement—so don't overthink it! instead post something that sounds like you so your single gals and guys will lol or aw as they like your pic, instead of think to themselves "yea . . . that's original."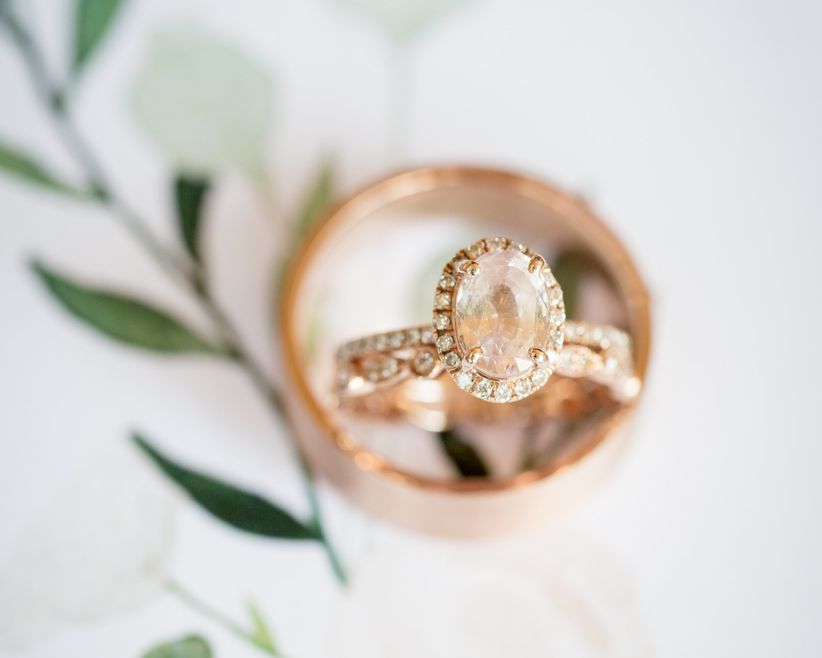 Photo: Amber Green Photography
Don't Use Pet Names
Pet names, like bae or baby—the list goes on and on—are great to use between you and your S.O. (if that's your thing), but not when you are announcing your engagement. Pet names can come off a bit cheesy and can make an engagement announcement feel like you're treating your fiancé(e) as an accessory rather than your future-spouse. Stick to using either your S.O.'s name in the post or try using "my fiancé(e)" for the first time. This will make your post feel much more personal and not gag-worthy to your single pals.

Don't Brag
After you've #justsaidyes, you're bound to feel pretty stoked, but don't let that get to your head—or your engagement announcement. Keep the post short and sweet by not bragging too much about how awesome your future spouse is or the size of your diamond. Your single friends don't want to feel like they've just read a Nicholas Sparks novel after they've seen your post. Instead, add a few key details of the proposal like tagging the location of where the question was popped, so your followers can get the jist of how it went down—instead of a full on love story.

Don't Over Post
Similar to bragging, over posting is also an easy way to bug the heck out of your single friends. We get it, you've probably snapped hundreds of photos of your shining new sparkler (or better yet the actual proposal!), but that doesn't' mean every single photo needs to be uploaded to your social media accounts. Once you've shared your ring selfie or proposal pic, stop posting! We promise your friends and family will see the engagement announcement in their newsfeed and will want to call and get all the juicy deets.