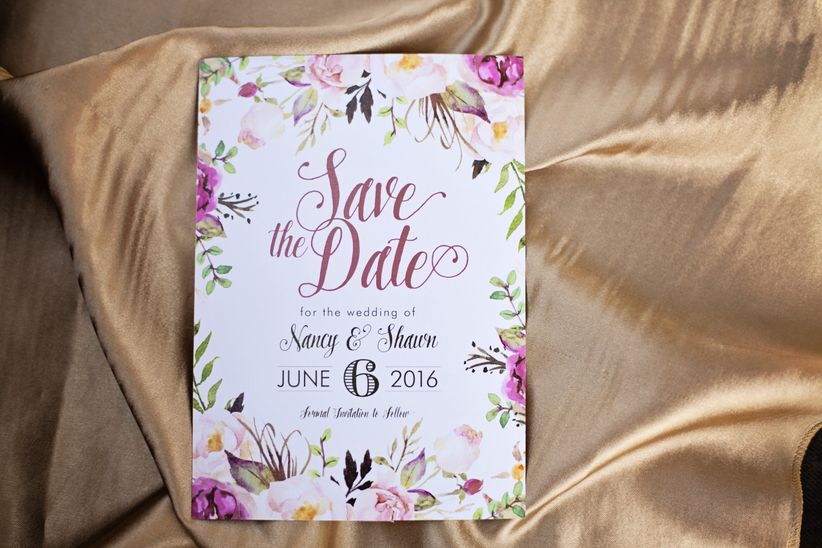 Photo: Nicolette Moku Photography
Once you have decided on the all-important wedding date, it's time to share it with your family and friends! Sending save-the-dates is a great way to inform your guests of the date and location of your impending nuptials.


Read more about how to send save-the-dates here!
Typically sent four to six months prior to the wedding date, the save-the-date is more of a courtesy to guests so they can plan in advance to attend your big day, especially if travel is involved. If you are planning a destination wedding, or if your wedding is over a holiday weekend, you may want to notify your guests sooner as hotel and flight arrangements may need to be made early to avoid hefty markups.
Your save-the-dates should include all the pertinent information for your guests: your first and last names, wedding date, and general location. If you have a personalized wedding website, you should included the URL and encourage guests to check that site for updates and further details.
If many of your guests will require hotel rooms, you may want to
contact local hotels to block rooms
at a special rate for your guests. If you do so, you should include this information either on a separate card mailed with the save-the-date or simply include the hotel information on your wedding website.
If you choose to 'go green' with your notifications, try an online invitation site to send an electronic save-the-date. While this is a great solution for most of your guests, you may need to also send paper notification to those guests who may not have advanced along with modern technology!