5 Details Your Save the Date Needs—and 4 It Doesn't
Trying to figure out what to include on a save the date? Help your guests plan for your big day by including these five points.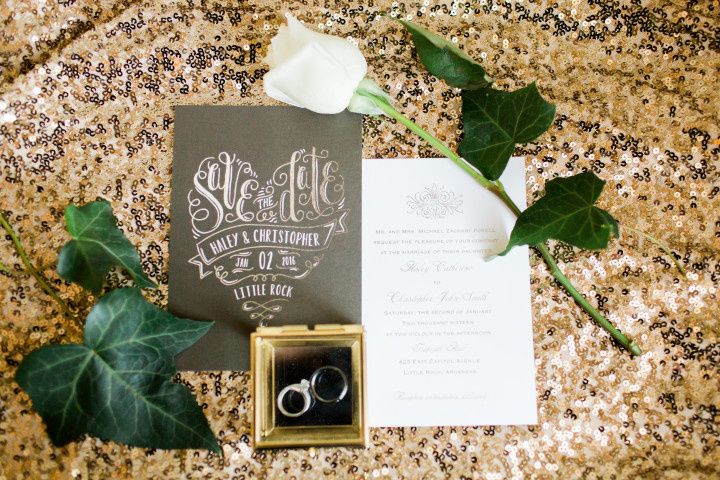 The time has come to kick the wedding-planning process into high gear, starting with figuring out what to include on your save the date (how exciting!?). While your impending wedding might already feel as real as can be, this step makes it just as real for your wedding guests. Not only will they put it on their calendar, but they may even start making some arrangements to ensure they're able to be there. They're typically sent out between 6 to 8 months or so before your wedding date, although they can be sent out earlier if you happen to be particularly organized and on point! While they're meant to be simple, there are some important bits of information when it comes to what to include on the save the date. On the contrary, however, there's no need to go out of your way and include pretty much every detail you'll have on your wedding invitation, which you'll send around three months before your big day.
Here, wedding planners reveal the dos and don'ts of what to include on your save the dates.
Needs: Your (maiden) names
This one might sound obvious, but it's so important that your guests know who the save the date is for! Taylor Keenan, wedding and event planner, suggests not only ensuring your names are on your save the date, but ensuring that they stand out and are totally visible. "You might even want to go as far as picking a different font from the rest of the wording," she says. "It is also nice to include a picture of you as a couple if the design warrants it." When printing your names, don't forget to use your maiden names instead of "the soon-to-be Mr. and Mrs."
Doesn't need: Your venue
Whether or not you've already selected your venue, there's no need to feel pressure to include it in your save the date (although of course you can if you choose to!). Just providing a city and state is sufficient for save the date purposes.
Needs: The date of your wedding
This is why you're sending a save the date in the first place. "Make sure it has the date of the wedding day on it, and, if you are having a celebration for the weekend, make sure it is clear when the ceremony is," says Keenan.
Doesn't need: Your hotel information
Deborah McCoy, president of the American Academy of Wedding Professionals, believes it's best not to bog guests down with hotel, flight or "things to do" information in your save the date. "Chances are, the majority will have no idea as to whether or not they will be attending at this stage," she says. "That type of information should be reserved for those who have accepted the wedding invitation."
Needs: Location
While you don't have to get super specific when it comes to what to include on your save the date, your guests will need to know where (as in, what city, state and country) your wedding is being held. "Part of the reasoning behind sending a save the date so far in advance is so people can make travel plans," notes Leah Weinberg of Color Pop Events in Long Island City, New York. "Travel costs like airfare are going to be less expensive six months out than they would be two months out from the wedding."
Doesn't need: Exact times
This early in the wedding-planning stages, there's no need to have your timeline in place in terms of specifics (like the time of your ceremony and/or reception). "The save the date is more for them to secure the day than a specific time," says Keenan.
Needs: Your wedding website
Most wedding planners recommend waiting to look at save the date ideas until your wedding website is up and running. This way, wedding guests can get to know you a little better as a couple (if they don't already, of course), and become familiar with the type of wedding you're planning on having. "This is where all of the details of your wedding are going to live, so it's good to send people there as early on as possible," adds Weinberg.
Doesn't need: Attire specifics
When thinking about what to include on a save the date, know that it doesn't have to specify the attire for the wedding. "If a guest desperately needs to know that information before receiving a formal invitation (assuming that the dress code isn't listed on your wedding website), then all they have to do is ask you," says Weinberg.
Needs: A note that a formal invite will follow
Keenan recommends letting guests know that they will be getting a formal invitation to your wedding. It is also good to have the save the dates addressed to exactly who you want to know about your wedding," she says. "Adding 'and guest' at this point will give time to additional parties that would not otherwise receive the save the date."