14 Save-the-Date Ideas for Every Wedding Style
Spread the word about your upcoming nuptials with these save-the-date ideas for every wedding style.
We have included third party products to help you navigate and enjoy life's biggest moments. Purchases made through links on this page may earn us a commission.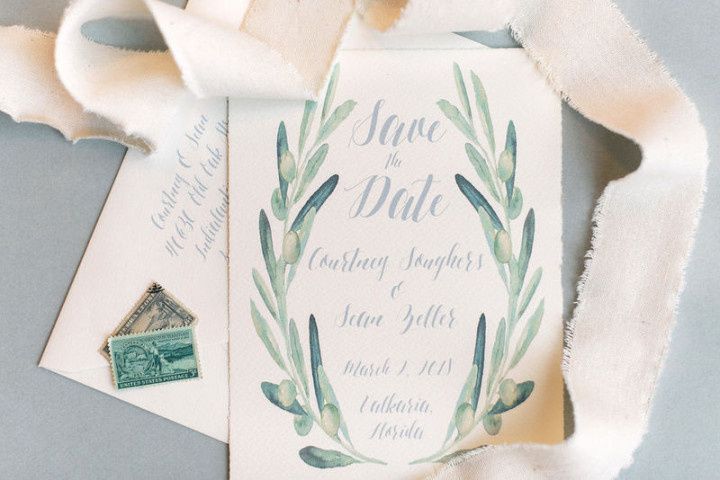 Shortly after you've finalized your wedding date and venue, it's time to send your official save-the-dates! (Insert excited squeal here). But before you start addressing and stamping those envelopes, take a moment to plan everything out. You might not have your exact wedding style or decor finalized quite yet, which is why you'll want to start by browsing save-the-date ideas to see what sparks your interest. In general, the save-the-dates should match your invitation suite and overall wedding theme, so it's important that their design really fits your vision. Plus, in addition to giving guests their first glimpse at the time and place of your wedding, your save-the-dates clue everyone in about what to expect on the big day. From your wedding season to your aesthetic and color palette, your save-the-dates can reveal a lot — so choose wisely!
Here are some of our favorite save-the-date ideas for every style.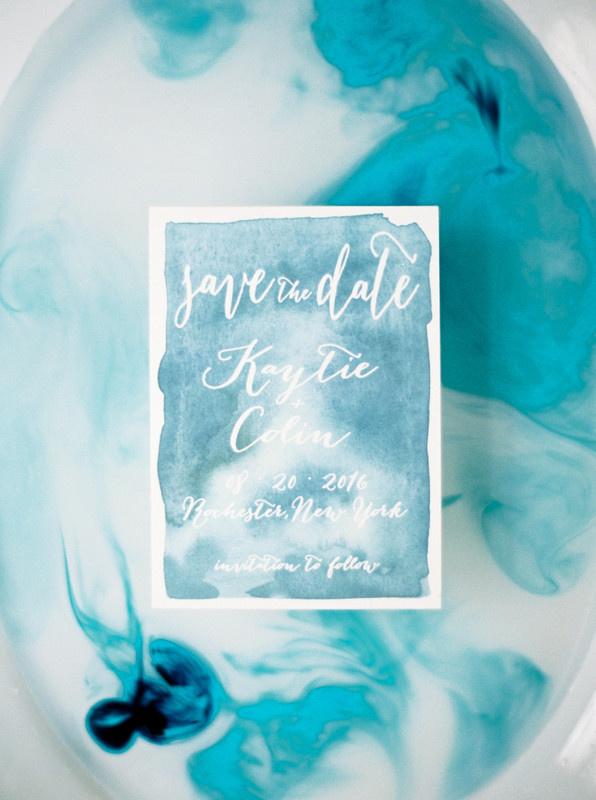 Beachy
Play up a beach wedding theme (mermaid-inspired wedding, maybe?) or hint about a waterfront venue by sending blue watercolor save-the-dates to all of your guests. A simple watercolor wash is effortless and pretty.
Get the look: EverbluePress navy watercolor save-the-date printable template, $11, Etsy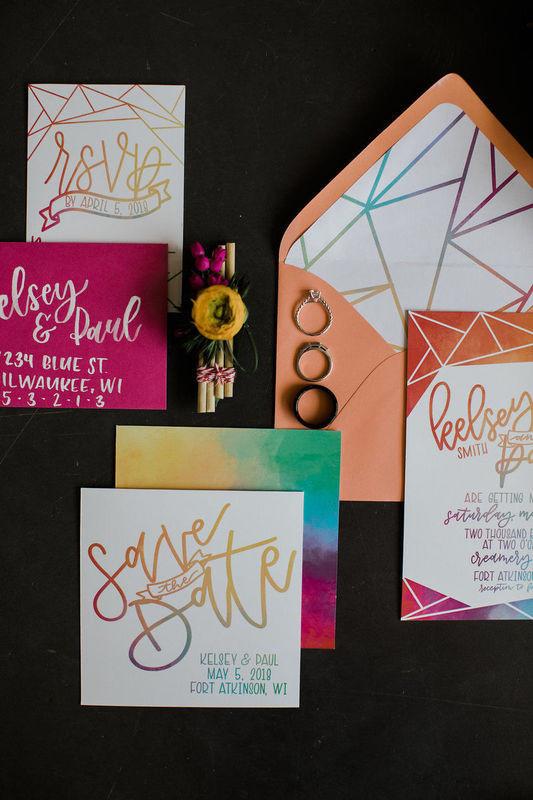 Whimsical
A rainbow color palette and free-flowing calligraphy are fun save-the-date ideas for the couple who doesn't take themselves too seriously. Add some geometric motifs for even more artsy vibes.
Get the look: Holly Whitcomb floral gem save-the-dates, $248 (100 count), Minted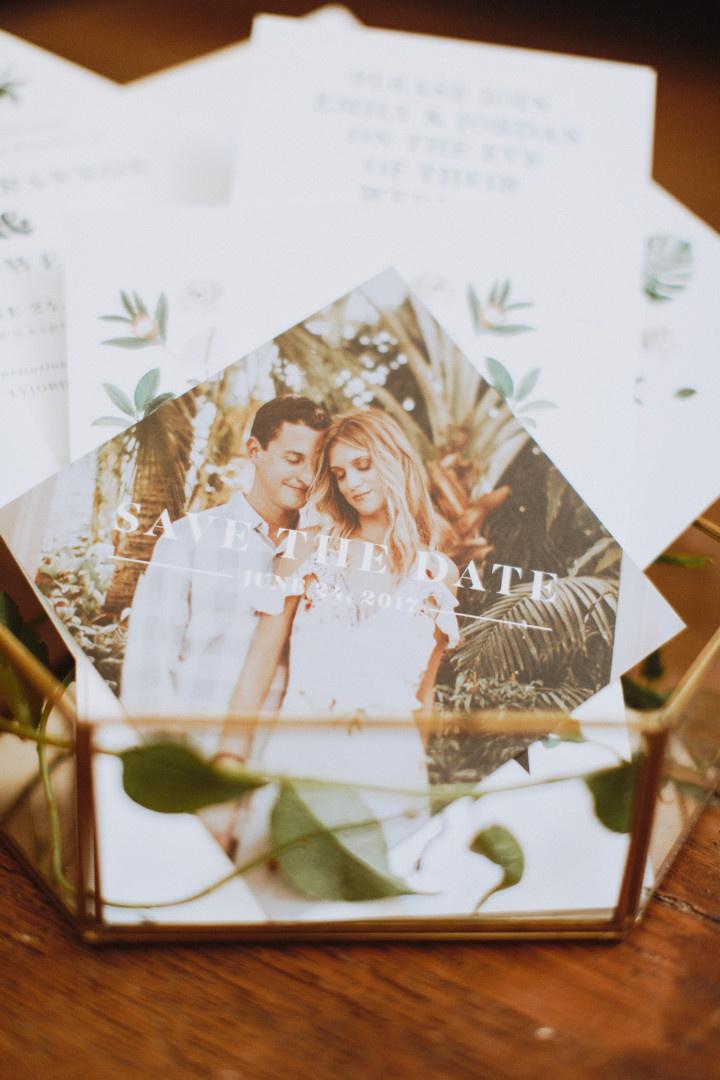 Boho chic
When it comes to boho wedding stationery, nature-inspired motifs such as feathers and flowers are par for the course, but we also love this more subtle option. Complement a botanical invitation suite with a sweet save-the-date card featuring a photo of you and your S.O. This couple planned ahead for their botanical-inspired wedding and took their engagement photos in a tropical greenhouse!
Get the look: Lea Delaveris swoon save-the-date postcards, $135 (100 count), Minted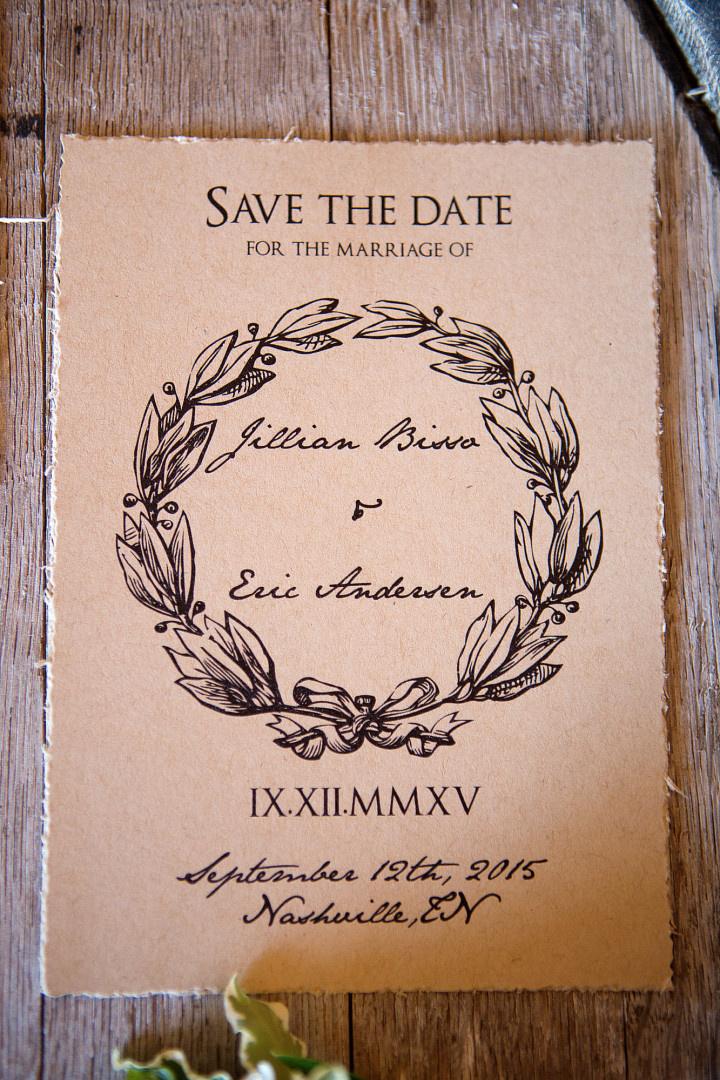 Rustic
For rustic weddings, we love save-the-dates printed onto brown cardstock paper. This save-the-date seamlessly bridges the gap between rustic and elegant, with the timeless laurel wreath and typography contrasting against the torn edges of the paper. Something like this would be gorgeous for a vineyard wedding!
Get the look: FabLabStationery rustic save-the-date card, from $38 (10 count), Etsy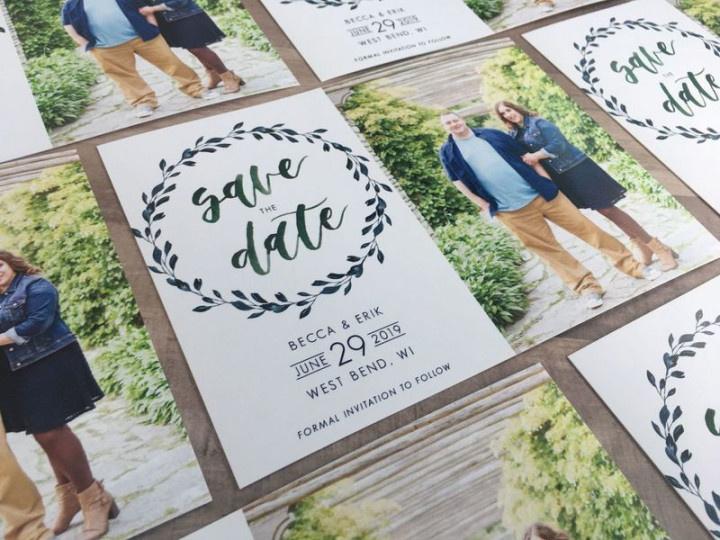 Casual
If you took engagement photos, your save-the-date cards are a fabulous opportunity to showcase your favorite portrait. Pair the photo with basic save-the-date details, including your names, the date (obviously!), and wedding city.
Get the look: Kelly Schmidt framed in foliage save-the-date postcards, $135 (100 count), Minted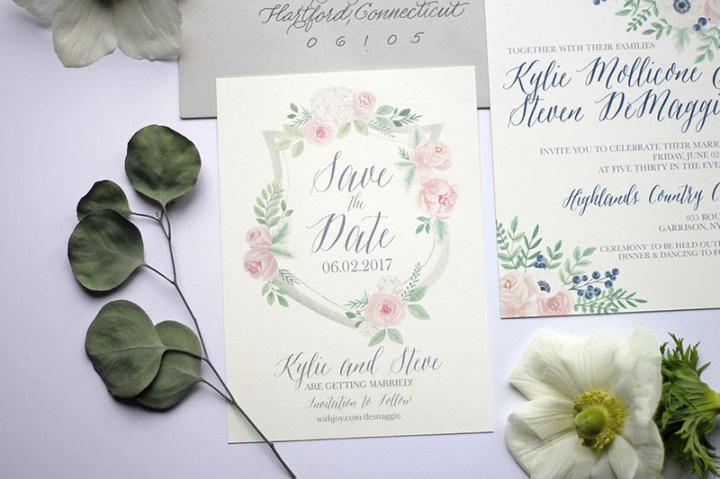 Romantic
Whether you're exchanging your vows in a secluded rose garden or a chandelier-filled ballroom, save-the-dates adorned with hand-painted florals and pastel colors are undeniably romantic.
Get the look: GraciousBridal personalized watercolor crest save-the-date cards, from $25 (20 count), Etsy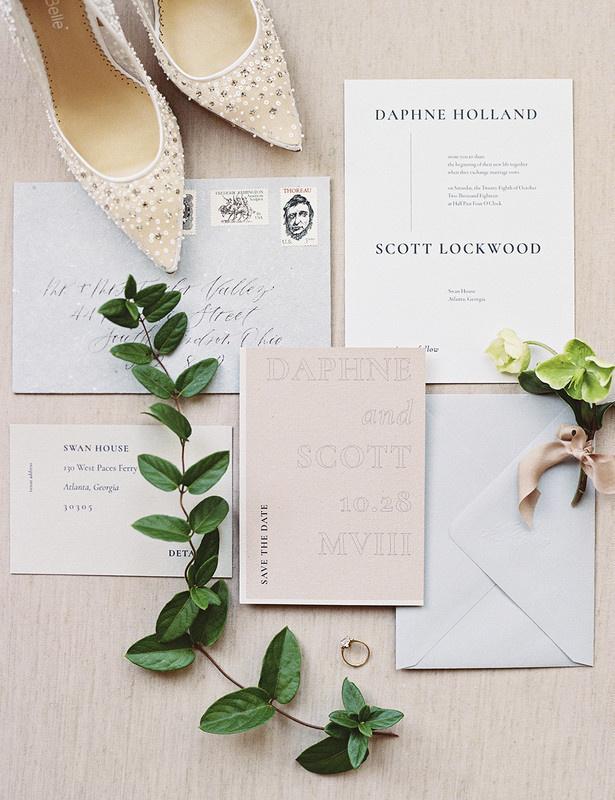 Classic
Clean lines and a neutral color palette are two fundamental design elements of classic save-the-dates. If you're looking for ways to personalize your save-the-dates while keeping them chic and straightforward, try playing around with different fonts, layouts, or even textured paper.
Get the look: KFrancoEvents Roman numeral save-the-date printable template, $8, Etsy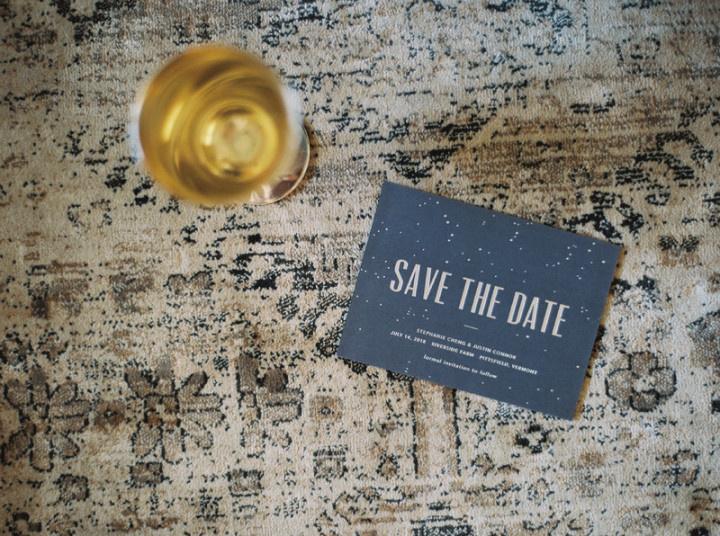 Modern
Position metallic silver text against a dramatic navy blue backdrop for an effect that's modern and streamlined.
Get the look: LettersFromEmilyShop foiled celestial save-the-date, from $119 (50 count), Etsy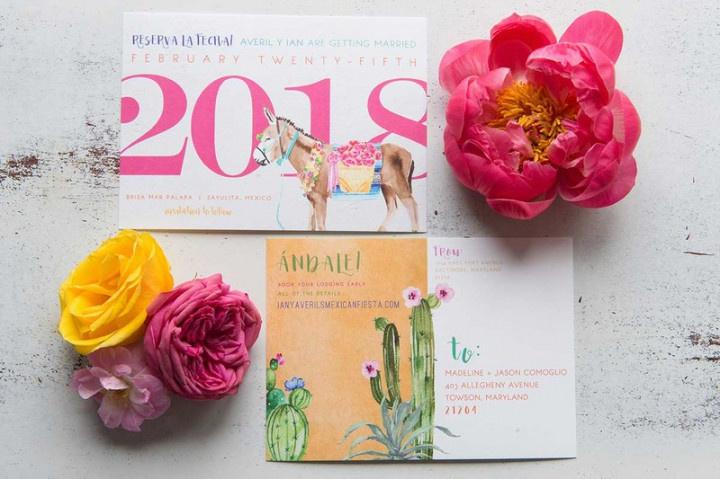 Eclectic
Don't hesitate to get creative with your save-the-date ideas by incorporating non-traditional details! This save-the-date was inspired by the couple's destination wedding in Mexico. They paired cacti and burro sketches with a bright color palette to emphasize the laid-back, playful theme of their big day.
Get the look: On Point Designs cactus save-the-date, $3, Zazzle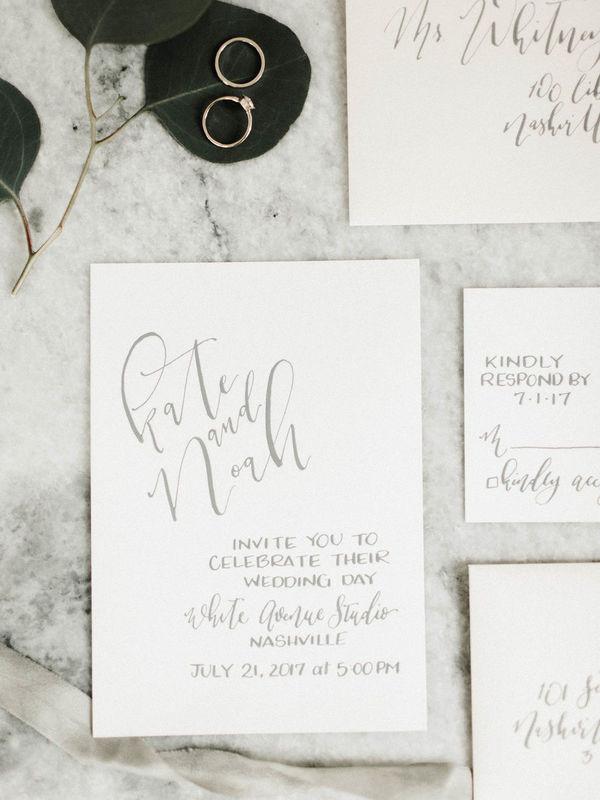 Minimalist
For the minimalist couple, a crisp white save-the-date card with gray text is just the ticket. This monochromatic design is refreshing and uncomplicated.
Get the look: Phrosne Ras funky names save-the-dates, $192 (100 count), Minted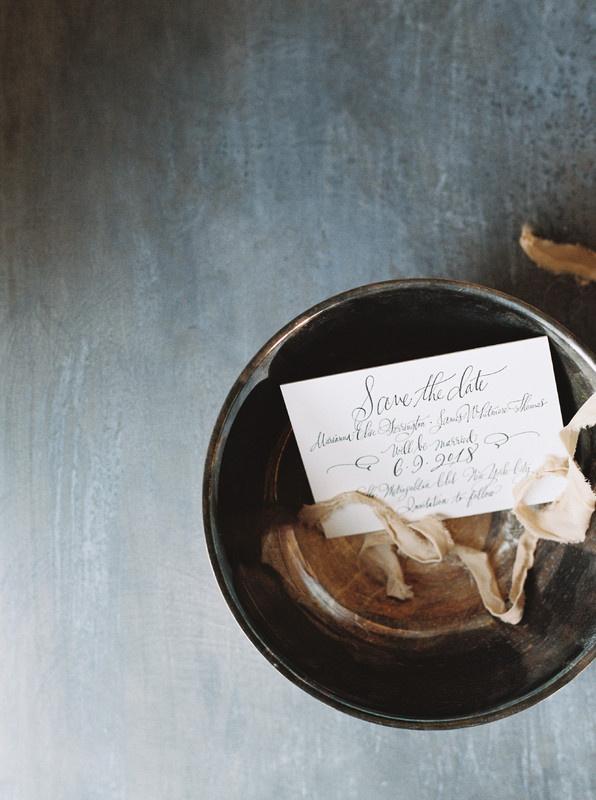 Ethereal
Handwritten save-the-dates are ethereal and extra-personal. Depending on the size of your guest list, you can have your wedding calligrapher create an original save-the-date and use it to print copies, or have each card written individually for every guest.
Get the look: MirabelleMakery handwritten save-the-date tag, $7, Etsy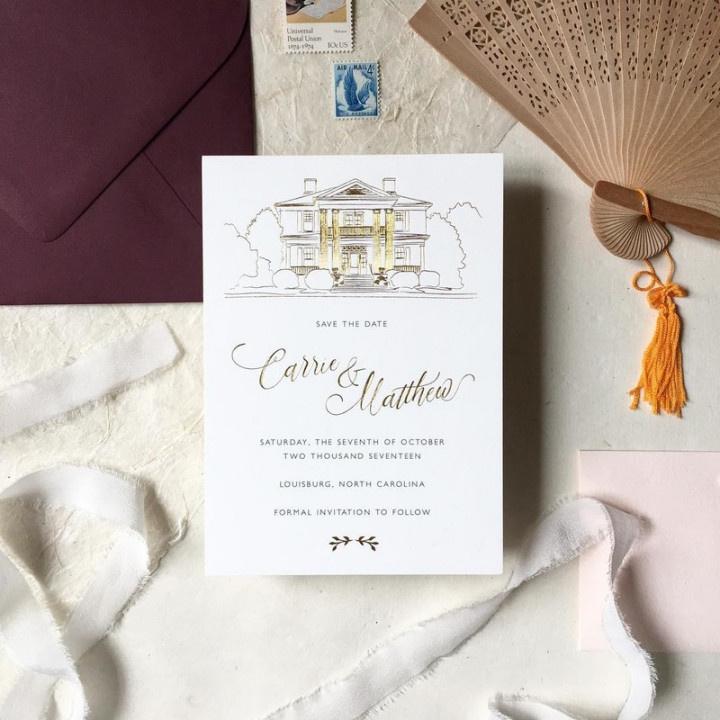 Formal
Save-the-dates with decorative details and sophisticated embellishments tell your guests from the get-go that your wedding will be a formal affair. A custom sketch of your venue with touches of gold foil bring understated luxury.
Get the look: Unicaforma venue illustration save-the-date, $20, Etsy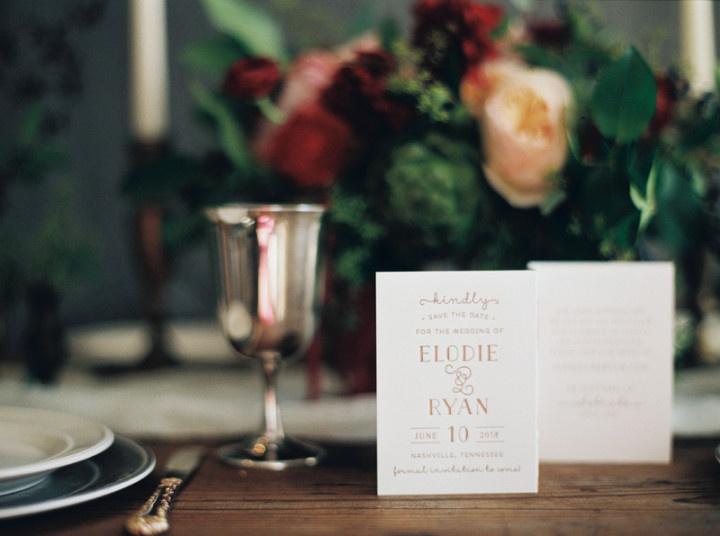 Vintage
If you're having a vintage style wedding, retro-inspired fonts are perfect for your save-the-date ideas. Use a font with '20s vibes for a Great Gatsby wedding, or a 1970s typeface for a free-spirited bohemian theme.
Get the look: GeekInk Design antique lines save-the-date postcards, $165 (100 count), Minted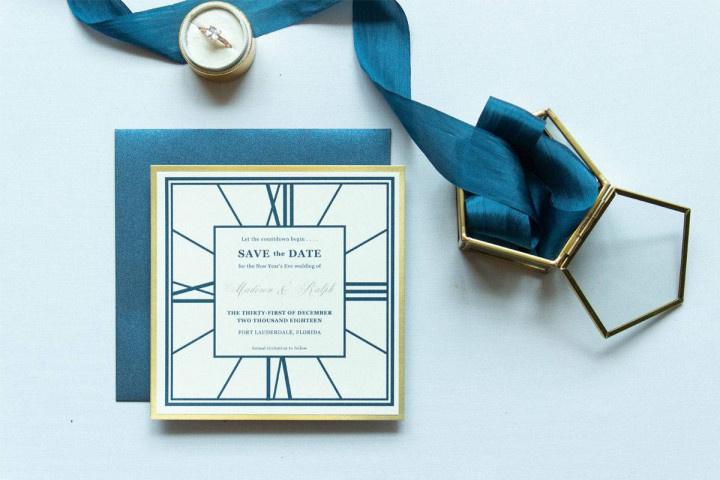 Dramatic
Bringing out all the stops on your big day? Set the tone for a glamorous wedding by sending save-the-dates with dramatic details like sharp lines and metallic foil. A navy blue and gold color palette is especially fancy.
Get the look: Stacey Meacham gilded frame save-the-dates, $248 (100 count), Minted
Disclosure: This post contains affiliate links, some of which may be sponsored by paying vendors.