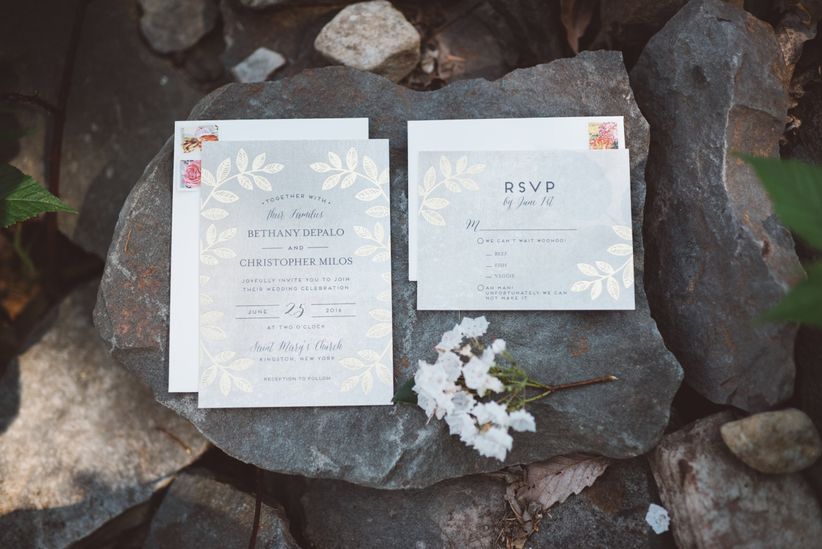 Photo: Athena Pelton Photography
The thought of handwriting guests' names and addresses on outer and inner envelopes can be quite terrifying for a couple about to mail wedding invitations, especially when there is sealing and stamping too. It is the one project that you might just want to pass on to the paper pros—the calligraphers!


Read what the pros had to share about calligraphy and more below!
Search for vendors in and out of your area
"Calligraphy differs depending on the person doing it. Depending on skill level, personal style, technique and even who they learned from, every calligrapher has a unique way of hand-lettering. Looking through websites like WeddingWire and Instagram (search #calligraphy) will give you an idea, and you can find something you are drawn to and fits in with the overall look of your wedding. Most calligraphers will ship, so if you find someone's work you love that lives in Vermont, but you are in Los Angeles, shoot them an email. Don't limit yourself to a local person if you love someone's work."
Values will vary
"When I started out as a calligrapher, I researched other calligraphers rates to no end. I tried to decide where I fit in, and what I thought my time was worth. But I realized that I have no idea where somebody else got his or her rates. There is no magic calculation. There are so many styles now that it is even hard for me to compare one calligrapher to another. It's all about personal preference and what fits into your budget. If you love a style, but the calligrapher offering it is out of your budget range, don't give up. There is probably a similar style within your budget if you just keep searching around. I have seen everywhere from $0.80 an envelope to $9.00 an envelope."
Book in advance
"Book early! Everyone I know that is a calligrapher or in the wedding business is basically buried under a pile of envelopes during wedding season. I can be booked out months in advance sometimes and adding another job to that list just simply can't be done as calligraphy is not something you can rush through. It is all done by hand, and it just takes time."
"If you want to be sure you will have your envelopes addressed by a calligrapher, find and make contact with them at least a few months prior to receiving your invitations. The calligrapher may ask you for a deposit to hold your spot on their schedule."
Consider your overall theme
"When planning your wedding, one of the first and most important elements to think about is your wedding paper: your save-the-date, invitation suite, and the calligraphy that will accompany it all. Calligraphy elements weave a common theme through all of your wedding paper, from your save-the-dates to your invitations and the envelopes your guests receive to your day-of décor, including place cards, menus, programs, and other signage."
Pick a font and color that pops
"When researching calligraphers, it might help to decide if you'd like your calligraphy in a particular color (maybe to match your wedding color scheme). Some calligraphers mix their own calligraphy inks like I do. I can match any color on your invitation, and will often request a copy of your invite with your envelopes. However, some calligraphers stick to traditional inks, and therefore, are more limited in color options. This doesn't make one calligrapher better than the other. It just might help you with your decision."
Double
and triple-check your guest list
"Have your mom and mother-in-law check the guest list. Have dad check the list. Make sure everyone has had their input before sending off to the calligrapher. Remember, your calligrapher does not know your guest list and writes what he/she sees."
"Calligraphers may ask for different file types, but one standard request is that everything is written out as you want it on the envelope. If you want to spell out the states, then they should be spelled out on your list. If you want to include Mr. and Mrs., include it on each address so there is no guesswork. Do you prefer "&" or "and," it's up to you. If a calligrapher has a question about something on your list, they will probably ask you. But it can't hurt to double
"Your calligrapher will use your list as an exact guide for how to write each name and address, so make sure you've double-checked spellings, zip codes, and other details of your guests' addresses! A great resource for addressing etiquette in atypical naming situations (such as spouses with different last names or different titles for your guests who live together) is Crane's Blue Book."
Allow plenty of time for addressing
"If you are planning on mailing eight weeks before your wedding date, have your completed and final guest list to your calligrapher 10-12 weeks before your wedding date for addressing. That means start looking at basic invitations 16 weeks prior and custom invitations six months prior to your wedding date. This will help you avoid rush fees, errors, and other hidden costs of running behind schedule."
Order extras of everything
"We are all human and make errors. Your calligrapher needs some overage for ink testing, layout testing, and pen splatters. You will need extra for guest list additions, address corrections, and lost in the mail envelopes."
"It is standard for calligraphers to request 15-20 percent extra envelopes for many reasons including ink splatters, misspelling, somebody changes their address, or you forgot someone on your original list. Many stationers are aware of this request and will either provide or let you purchase the extra envelopes without having to buy full invite suites."
Mistakes are made
"The couple getting married, the calligrapher, the invitation designer, everyone
makes mistakes]! I always ask for 15-20 percent surplus in supplies to account for this, so plan accordingly when ordering envelopes from your stationer."
Charmaine Al-Mulaifi of [Everly Calligraphy
in Brooklyn, New York
Think beyond the invitations
"It is being used in many wedding details now. If you love calligraphy, think about other ways to bring it in to your special day: the invitation itself, a calligraphy monogram, calligraphy place cards, calligraphy signage, calligraphy menus, and more!"