When to Send Save the Dates
You've set a date! Now that you've hit that wedding planning milestone, it's time to figure out when to send your save the dates. Our advice: Not too early, not too late!
We have included third party products to help you navigate and enjoy life's biggest moments. Purchases made through links on this page may earn us a commission.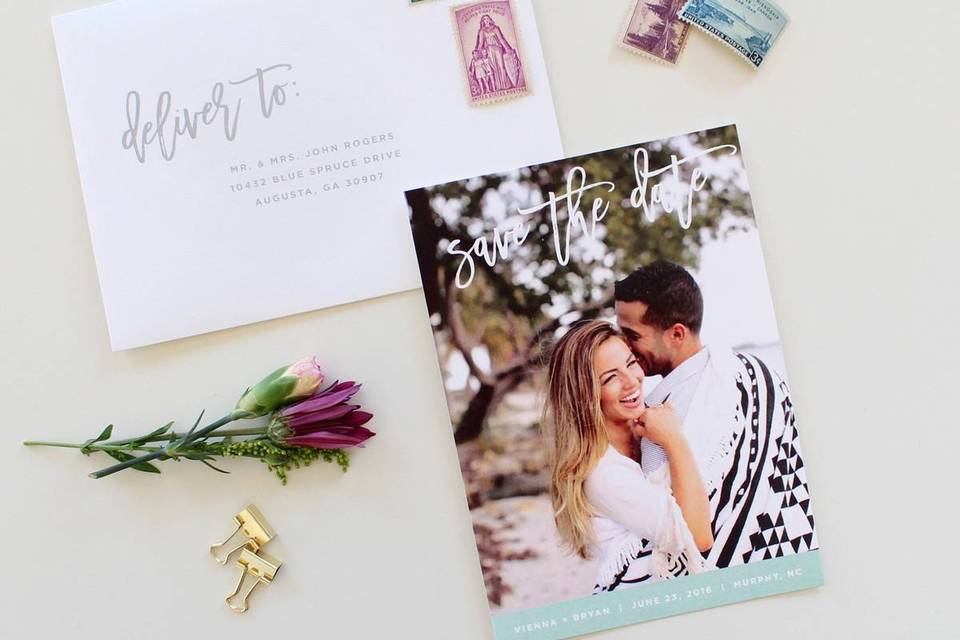 Save the dates are the first form of communication couples have with their wedding guests and as the saying goes, timing is everything. When considering when to send save the date cards, you don't want them to arrive too late for obvious reasons, but you also don't want to send them too far in advance, either. Your guests will need ample time to book travel and accommodations, particularly for destination weddings, but save the dates sent too far ahead of time might be stored in a drawer and forgotten about. There is a difference between when to save send the dates for hometown weddings vs. destination weddings, so be sure to time these notices carefully during the planning process and give your guests a heads up so they can plan ahead for your wedding day. Wondering when to send save the dates? Here are your answers.
When do you send out save the dates when you're hosting a destination wedding?
If you're hosting a destination wedding and most of your guests will have to travel to the location, it's extra important to consider when to send save the dates. You'll want to ensure that your guests have enough time to clear their schedules and book flights and hotels (hopefully you've already reserved hotel room blocks for your loved ones!). A good rule of thumb is to send save the dates for destination weddings eight to 12 months before the big day. Make sure that you've already reserved room blocks and have listed travel information on your wedding website before sending your save the dates. That way, your guests will be able to take action as soon as they receive their save the date. By not having a completed wedding website, you run the risk of guests totally forgetting to make travel plans until it's too late.
When do you send out save the dates if you're hosting a local wedding?
Couples hosting hometown weddings can be a bit more flexible when it comes to when to send save the dates. We recommend sending save the dates between four and eight months in advance of your nuptials for hometown weddings. If a good portion of your guests are traveling to your event or if your event is taking placing over a holiday weekend, send save the dates around eight months in advance, but if most people are local, four to six months ahead of time is fine—anything later than four months in advance, your guests may already have conflicts on their calendars. As with a destination wedding, your wedding website should be relatively complete by the time those save the dates go out. Your guests will likely refer to your wedding website immediately after receiving your save the date to check your registry and other details, and the last thing you want is them to be greeted by a blank page.
What should I include on my save the dates?
Save the dates should be kept relatively short and sweet. Your and your partner's names, your wedding date, the location of your venue (we mean city and state, not the actual venue), and your wedding website's address are really all you need. Some couples, particularly those hosting destination weddings, may choose to put travel and accommodation information in their save the dates, but as long as the information is on your wedding website, and you note your site's address on the save the date, you're fine. You'll also want to say that a formal invitation will follow so that guests don't think this is the actual invite.
What shouldn't I include on my save the dates?
The major wedding etiquette no-no is including specific registry information on your save the date. This information can be included on your website, but shouldn't be added to any printed materials. You also don't need to be specific about your wedding venue, exact timing, or dress code. Your guests don't need that information at this early point.
To whom do I send my save the dates?
Your save the dates should be sent to all of your guests, which means you should have a finalized guest list before sending them out. Some couples create A, B, and C guest lists and only sending save the dates to those on the A-list, but that's not something we recommend. In fact, we don't recommend having A, B, or C lists at all—it's best to just have one final guest list, rather than multiple lists with potential invitees. It's possible that those family members and friends on your B and C lists will find out that save the dates went out ("Hey, did you get Jordan and Blake's save the date? It's so pretty!"), and they weren't included—not ideal.
Where should I buy my save the dates?
When it comes to purchasing your save the dates, you have several options. You could buy your save the dates through an online stationer like WeddingWire Invitations, which allows you to browse a variety of options, customize your wedding stationery, and receive free samples easily and conveniently. If you'd prefer to see a wide range of options in person, you might opt to work with a local stationer in your area. Check sites like WeddingWire to find a stationer near you who is well-reviewed.
Do my save the dates need to match my wedding invitations?
Nope! While your save the date design should reflect the style of your wedding (formal or casual), it's doesn't have to match the rest of your paper goods (including your wedding invites). In fact, you probably don't even know what the rest of your paper suite will look like at this early point, so don't sweat it! Just pick a style that you like and feels true to your event's general vibe. It may also be a good idea to feature an engagement photo on your save the date cards—if you're interested in going that route, may sure to schedule a photo session with your wedding photographer before you need to start researching save the dates.
Can I send electronic save the dates?
Traditional wedding etiquette dictates that save the dates should be printed and sent via snail mail. However, times have changed and for couples who are planning with a really tight timeline or an extremely large guest list, online save the dates can be a quick and easy solution. For formal weddings, though, printed save the dates are still best. If you're going the online route, there are plenty of websites with thousands of templates to choose from so you can find the save the dates that best suit your wedding style.