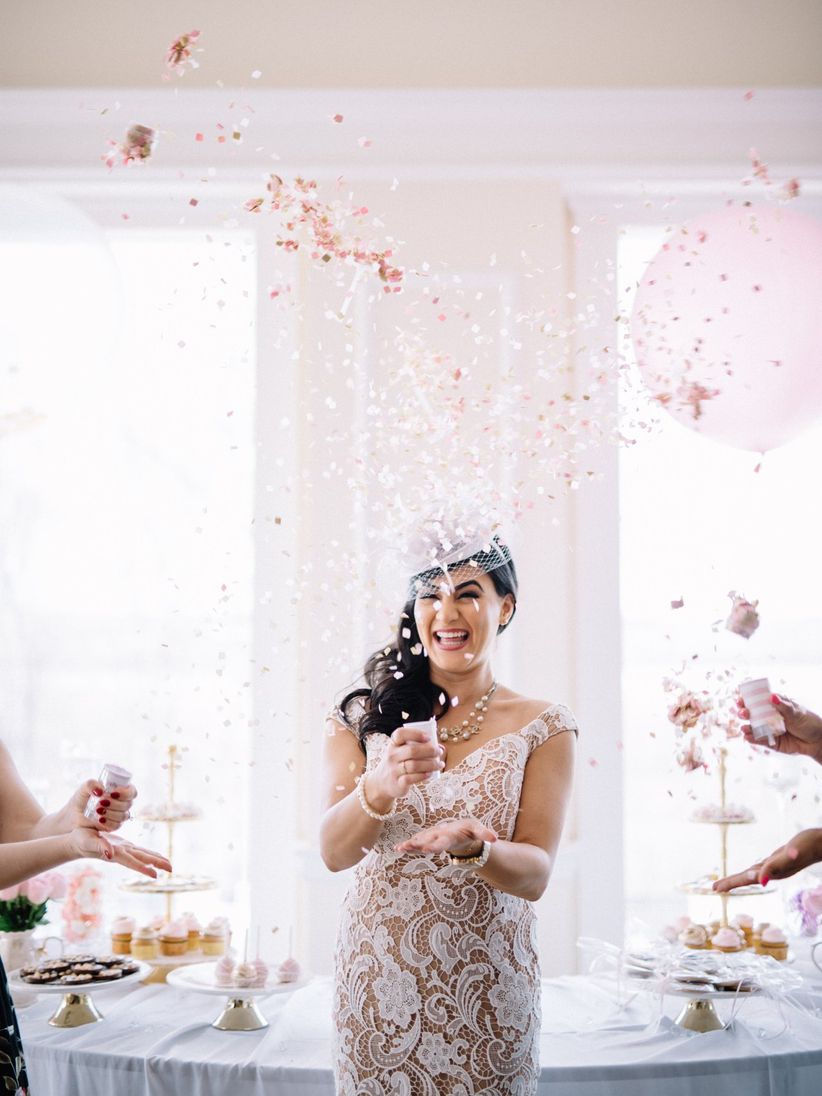 Your engagement party is one of the first pre-wedding events, so you'll definitely want to wear something that sets the tone of your wedding style—like a killer statement piece or a fashionable little white dress. However, we know it can difficult (and sometimes a pain) trying to find an outfit that's both cute and makes you feel like a bride-to-be. So, don't freak out if you think your closet is lacking in that department. We decided to roundup some of our favorite online stores that are known for having the best selections of engagement party looks and dress options.
Celebrate your recent proposal in style by finding the perfect engagement party dress at one of these popular stores.
Nordstrom
Nordstrom is a guaranteed one stop shop for classic cocktail dresses, rompers, jumpsuits—you name it. This well-known department store's online site carries a wide variety of top brands (like Calvin Klein and Kate Spade) and is also great for finding a chic little number for any type of engagement party. You can easily choose between designer brands or just the overall latest styles to find the perfect dress or outfit for your event. The best part? Free shipping and returns!
Rent The Runway
Is your engagement party at a trendy venue, like a rooftop restaurant? Or are you just a girl that loves getting glammed up no matter the occasion? If you answered "yes" to either of those questions, then you definitely should check out Rent The Runway for your engagement party dress. Rent The Runway is a women's clothing store that lets gals rent designer dresses—yes, you heard us right—at a reasonable price. This means you can have a red carpet look without having to break the bank. With RTR's recently launched "The Wedding Shop", brides-to-be can easily search through hundreds of different wow-worthy looks for every wedding function—including their engagement party.
ModCloth
Brides-to-be who love vintage finds or popping into antique stores should check out ModCloth's unique dress selections. This online store is known for carrying fashionable must-have dresses that have a quirky and vintage vibe. So, if you're hoping to wear something with a darling pattern rather than a little white dress, then ModCloth won't disappoint. From lace to bold designs this online retailer is perfect for gals who march to the beat to their own drum.
Asos
This online fashion and beauty store is a great option for affordable engagement party dresses. From fashion-forward designs to something relaxed or even classic, Asos has tons of dress selections for any type of celebration that are budget friendly. So, don't fret if you don't have a specific style or don't want to spend a fortune on another white dress—Asos allows you to browse through different lengths, colors, and prices to find the perfect engagement party dress.
Show Me Your Mumu
If you have a more laid-back style and are looking for something with a relaxed fit like a maxi or wrap dress, then you'll love Show Me Your Mumu's engagement party dresses. Show Me Your Mumu is known for having carefree dress styles that are perfect for a casual engagement party—like a backyard bash or something outdoors. Free spirited brides-to-be will love sifting through their boho-chic collections and will totally be able to find something fab (and fitting!) for their celebration.