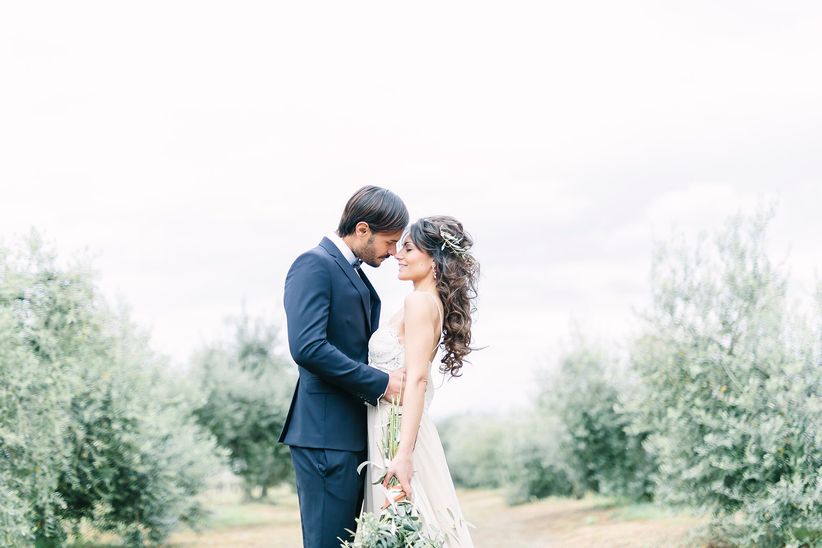 Where do we even begin? This styled shoot has us ready to pack our bags and catch a flight to Italy—stat. We love the simple, ethereal aesthetic, not to mention the breathtaking setting in one of the world's most beautiful places.
We'll be lusting after this shoot for a while, but for now, see all of the stunning details here: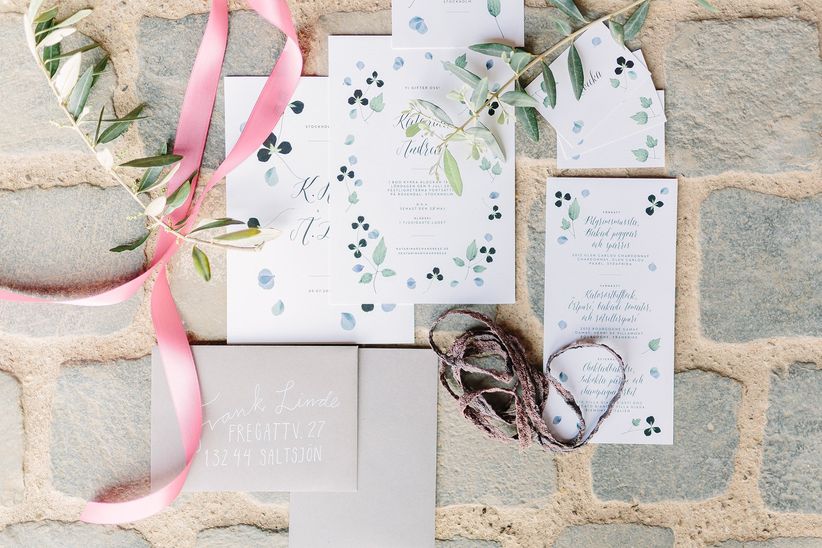 The invitation suite featured a crisp white color scheme with pops of mint and dark green.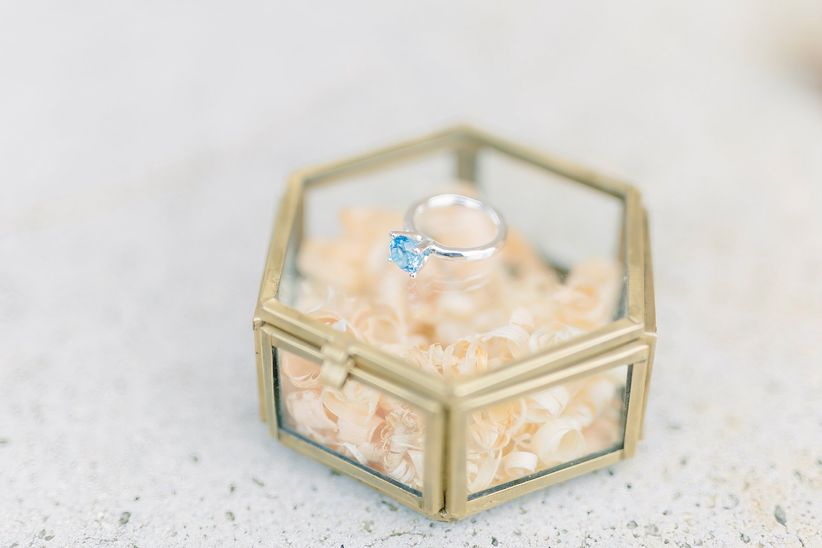 We love this non-traditional alternative to the classic diamond engagement ring: a colored stone!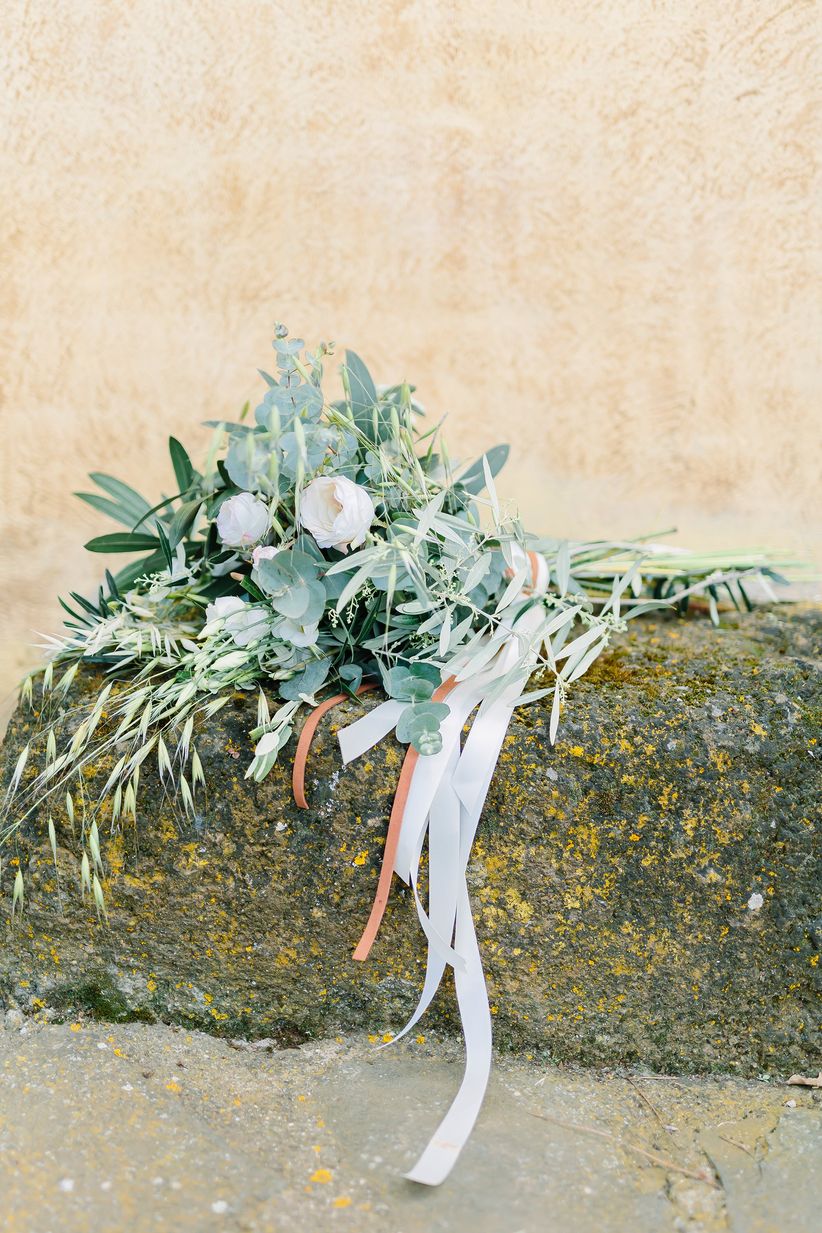 "We bought the flowers for the bouquet from a local flower shop in Rome," said photographer Linda-Pauline Pehrsdotter. "[They came] from a cute little old man that almost did not understand, but he was helpful."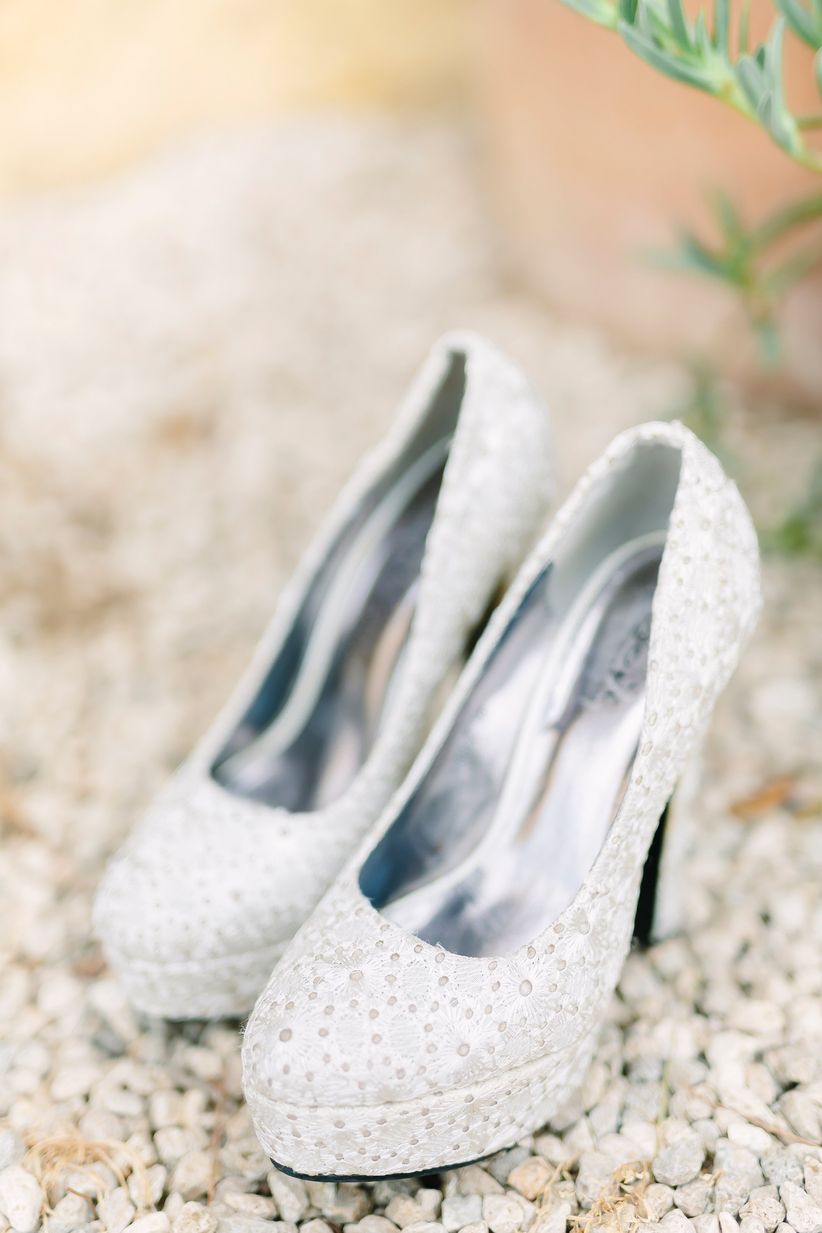 The bride, Veronica, wore a pair of eyelet lace platform pumps.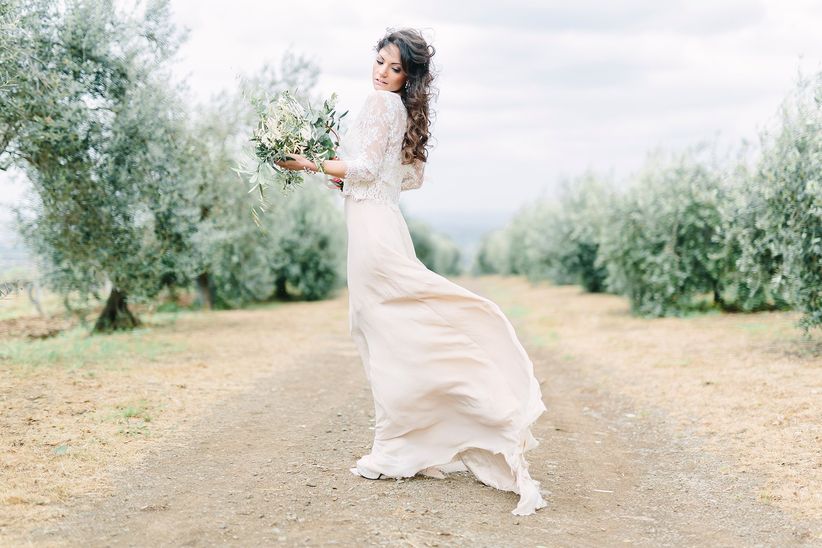 Veronica looked stunning in a two-piece wedding gown, which was created specifically for the shoot by Linda-Pauline's friend, Hélena Parmér of SensibleM.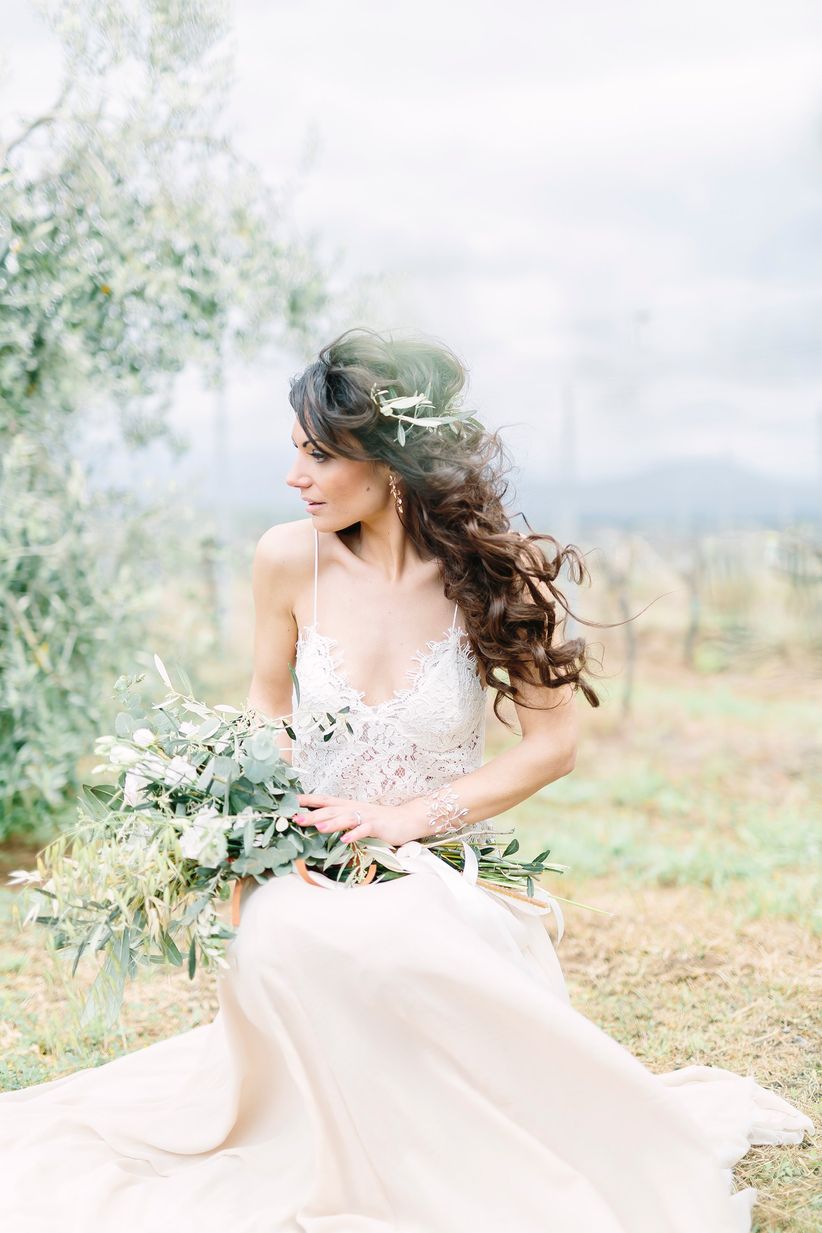 Notice the beautiful lace bodice!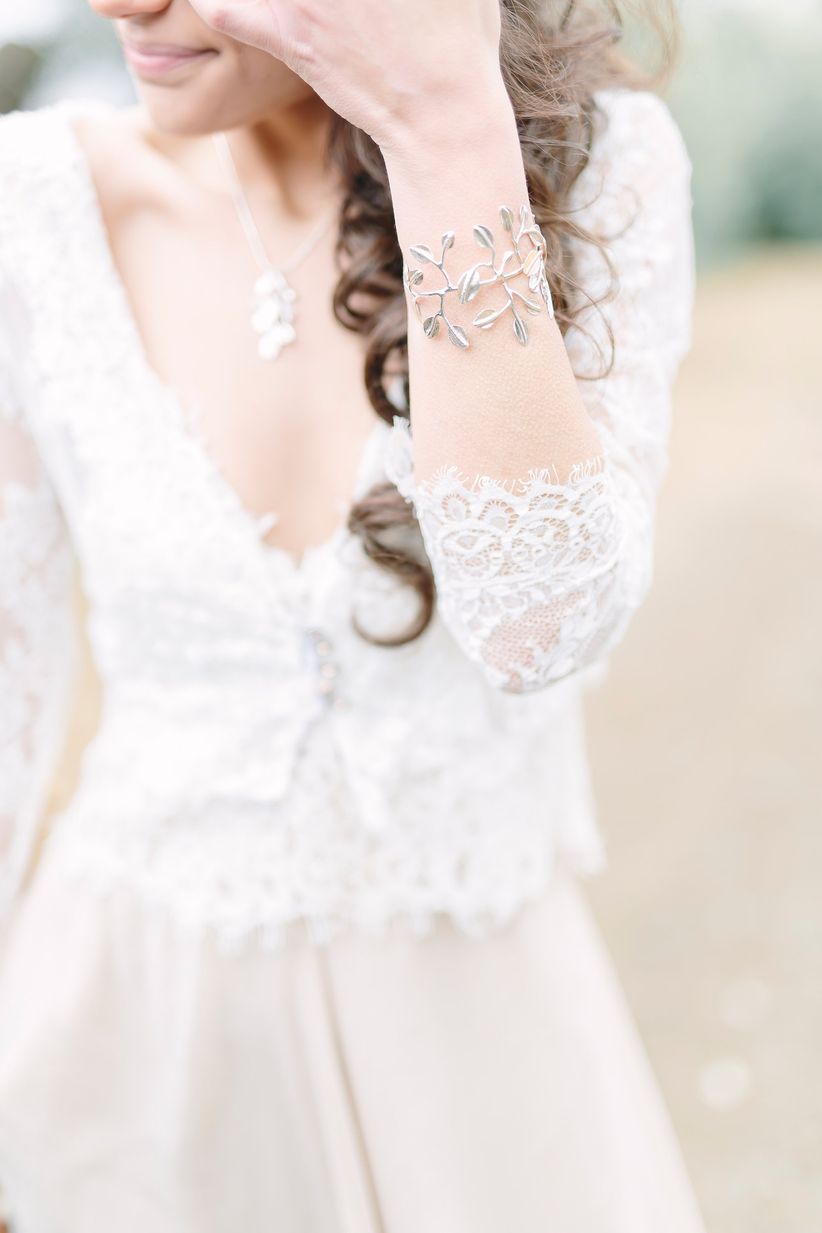 A vine-inspired cuff bracelet was perfect for the vineyard setting.
Veronica wore her dark brown hair in loose, romantic curls.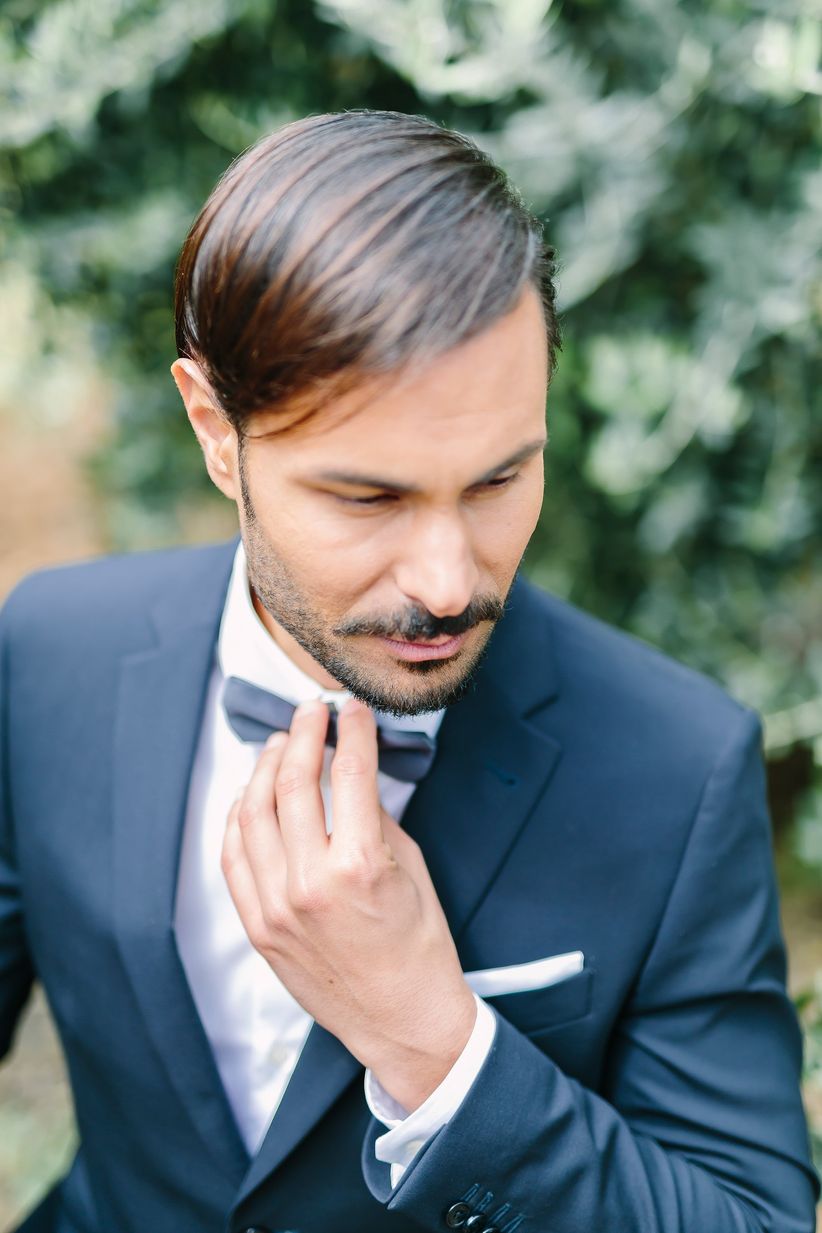 Emanuele looked handsome in a fitted navy blue suit and matching bow tie.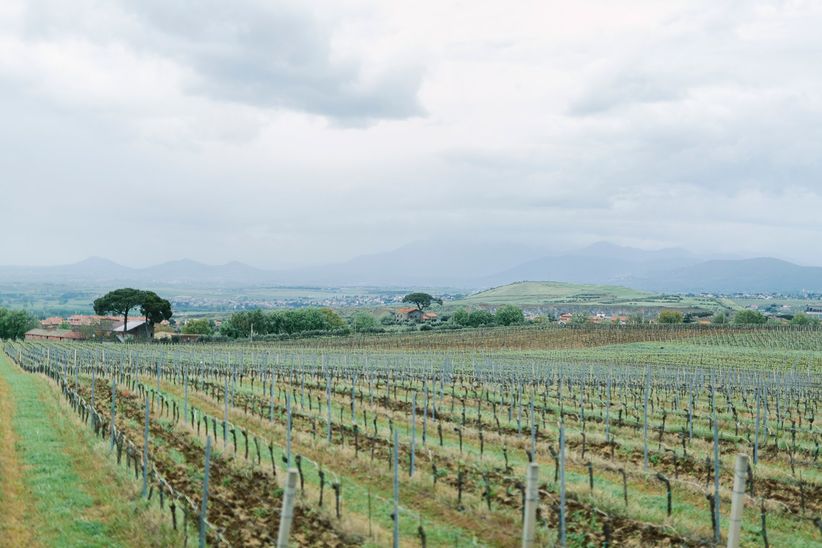 "We found this lovely place called Principe Pallavicini, a private vineyard," Linda-Pauline said. "It took us about 40 minutes from Rome to get there, and the road was tricky to find."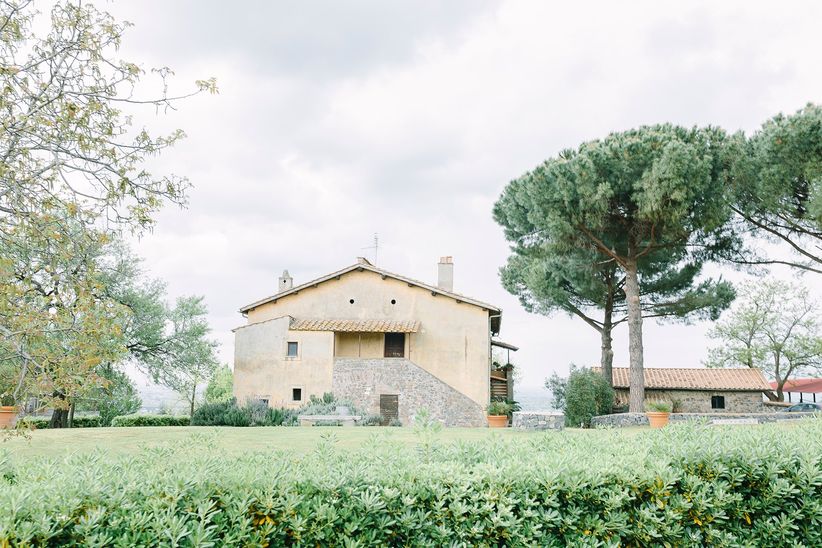 "Me and my dear friend Hélena Parmér got together in Italy for a small workshop with seven attendants," Linda-Pauline said. "This was our first time [working] together and we had a blast."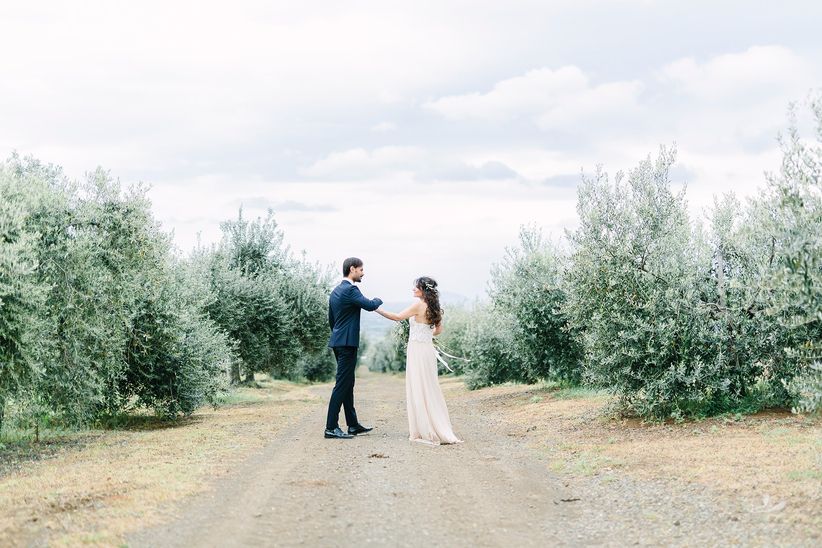 The models are a couple in real life!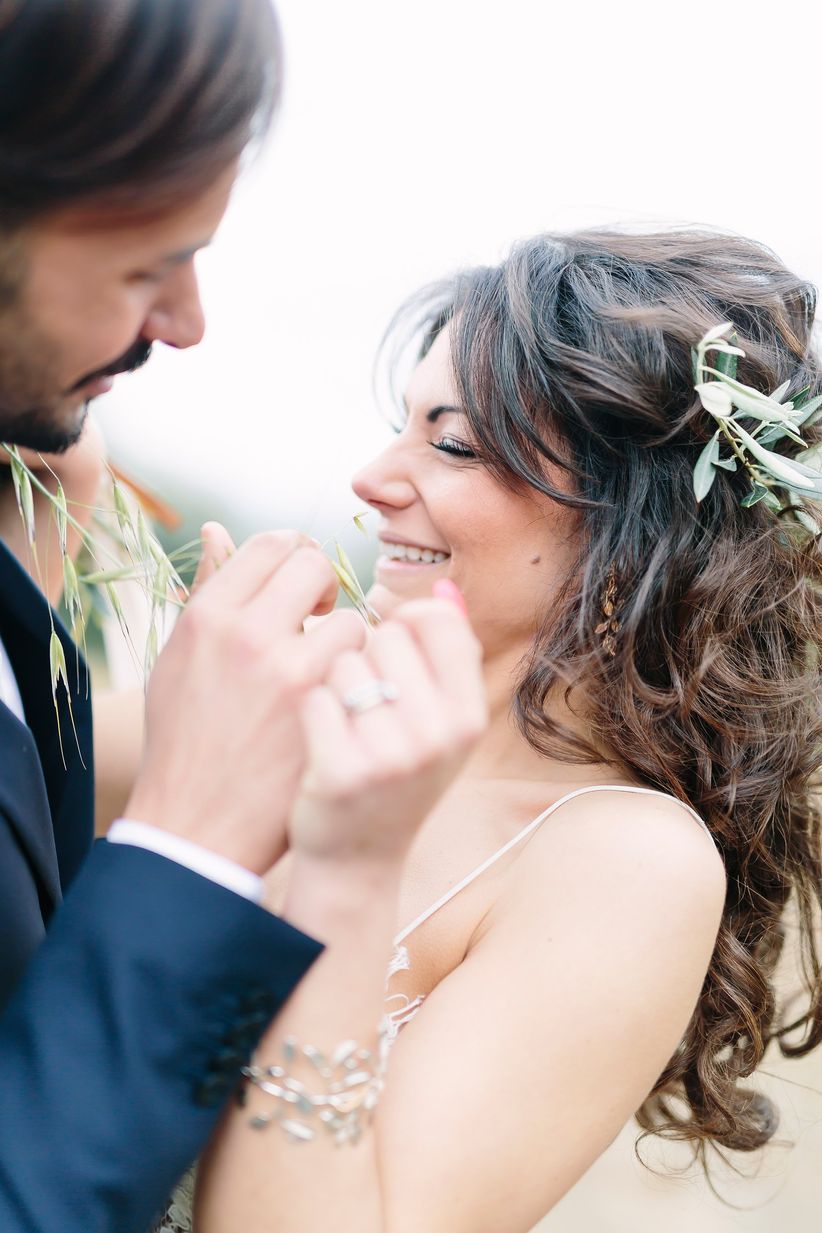 "We found these two lovebird models, Veronica and Emanuele," Linda-Pauline said. "They are the typical Italian models, so we had to really work hard to get them to relax and act natural. They wanted to pose, pose, pose. But at the end of the day, they finally relaxed and could show us their true love."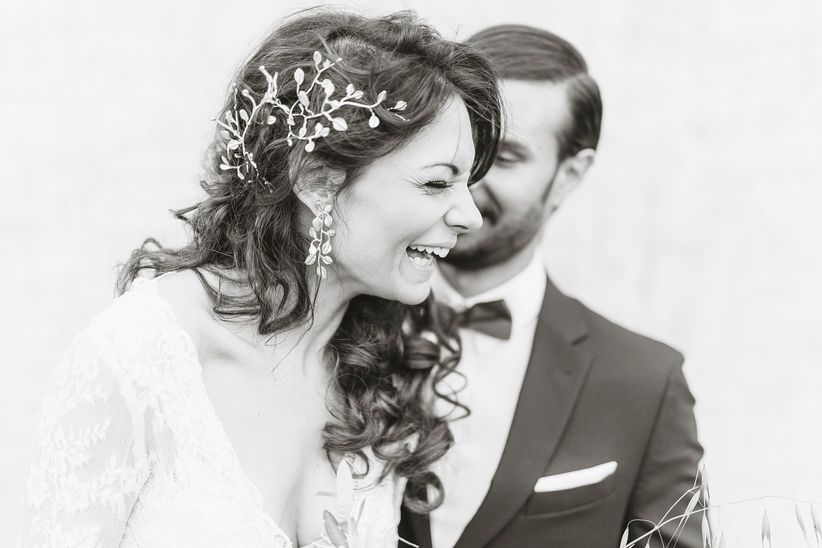 Too cute!
The estate is surrounded by dozens of vineyards and lush greenery...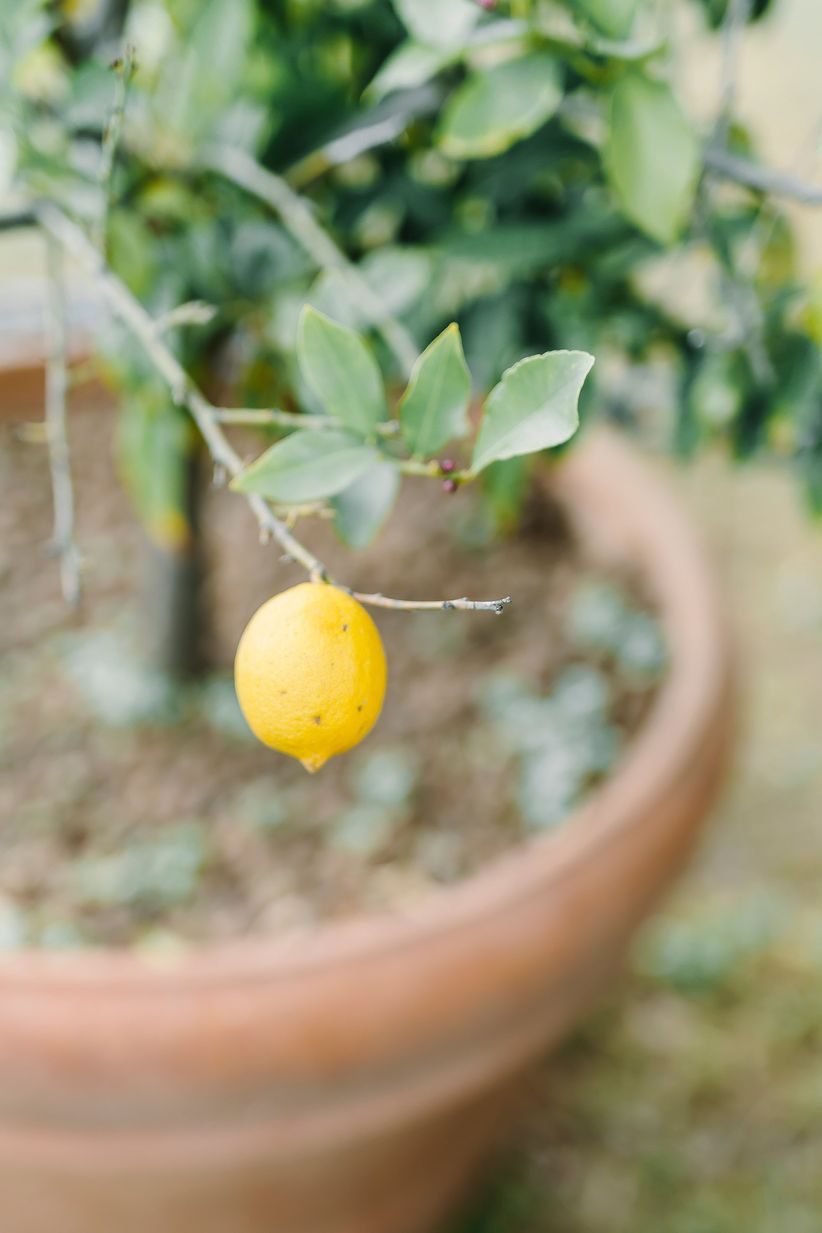 ...And of course lemon trees!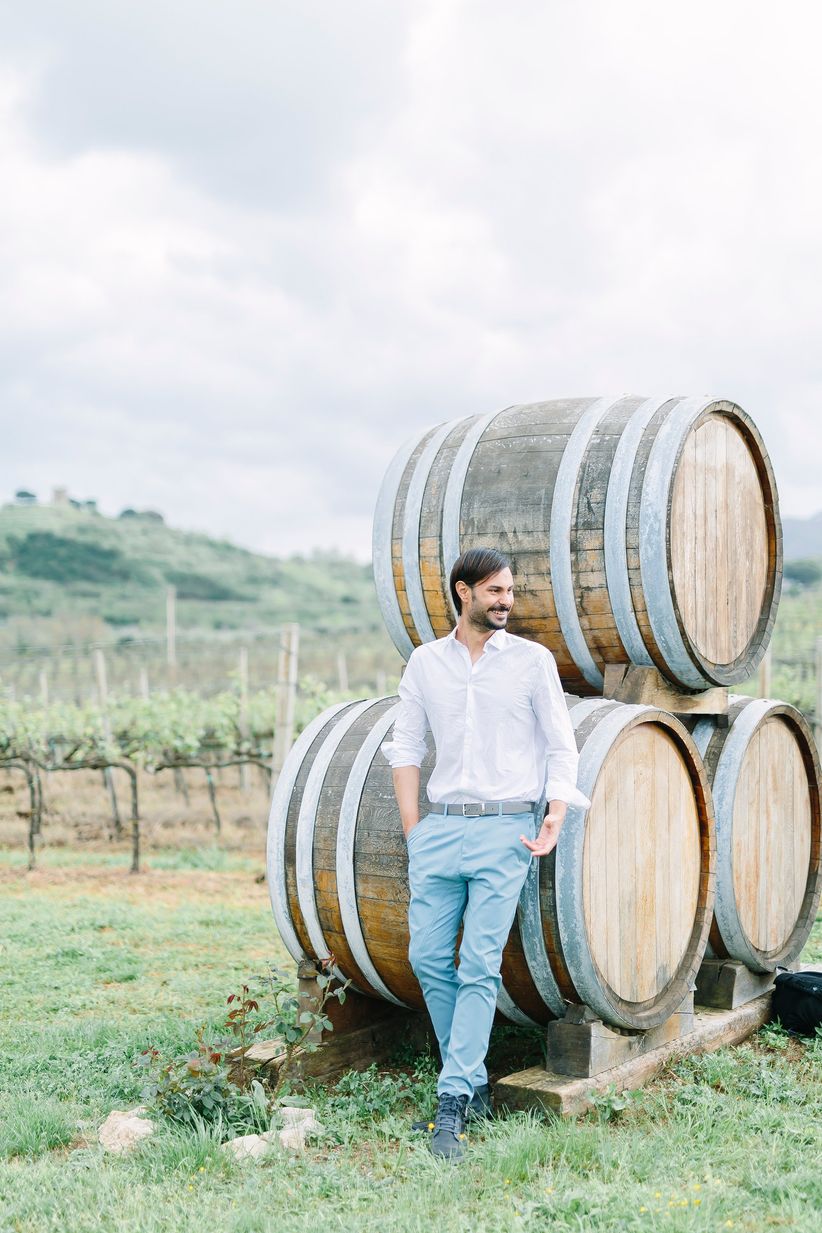 Emanuele changed into a more relaxed look with light blue chinos and casual sneakers.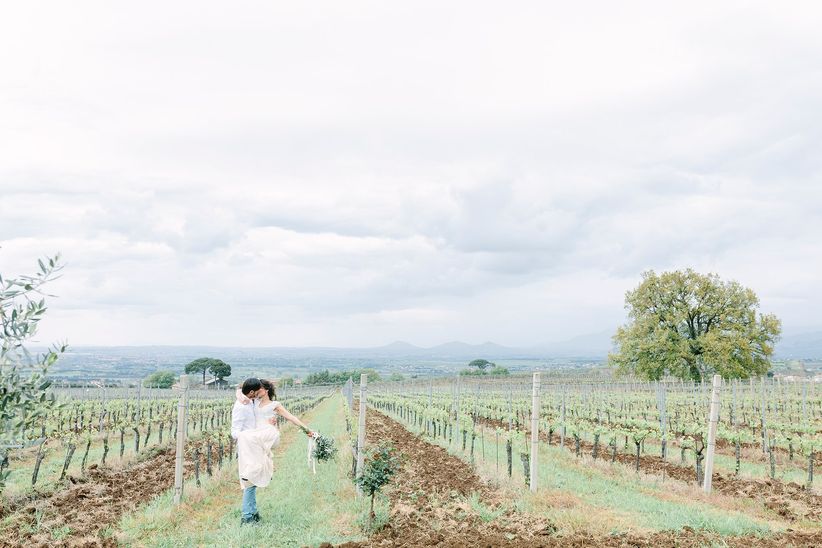 Veronica and Emanuele met at a nightclub. He invited her to dance with him, and then he eventually kissed her! The rest is history.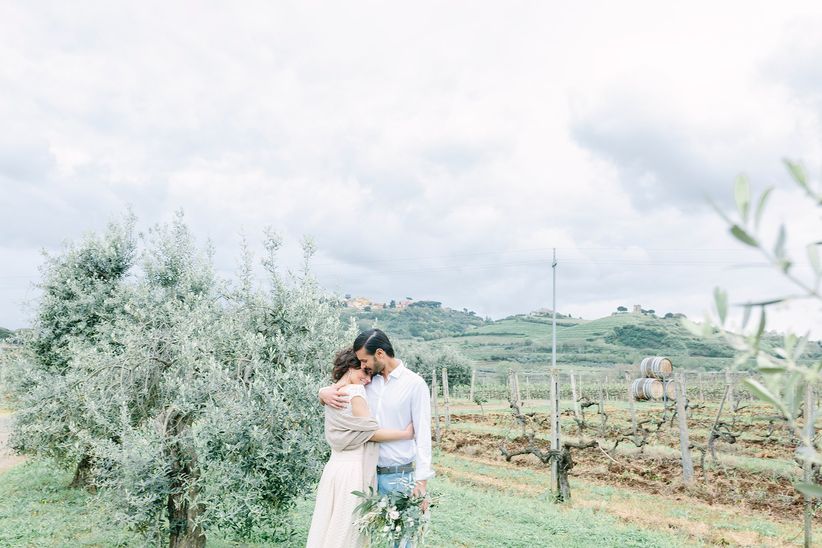 "We were really satisfied after this day," Linda-Pauline said. "It was such an amazing day and we really want to go back!"
Vendors
Venue: Principe Pallavincini | Bride's Gown: SensibleM | Jeweler: Weronica Ziemann | Makeup Artist: Linda-Pauline Pehrsdotter | Invitations: Pretty Paper