Every Single Thing You'll Need for Your Wedding Reception
From forks to centerpieces and everything in between, this wedding reception checklist is a must-read to make sure your celebration runs without a hitch!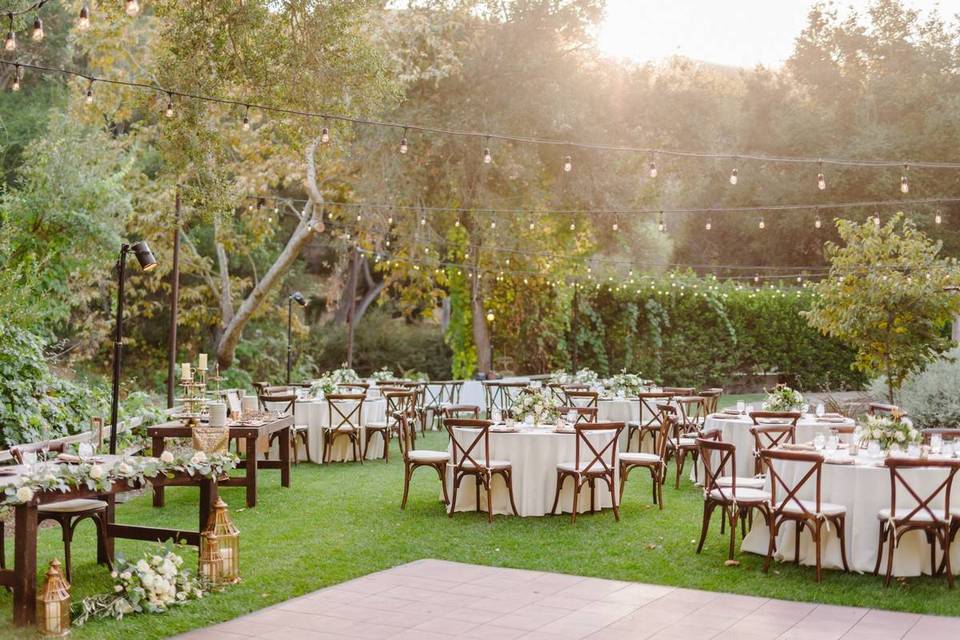 While the focus of your wedding reception should be letting loose and having fun, there's a lot of, er, stuff, involved with putting together the perfect party. From the big (dance floor, tables, chairs) to the small (cake serving set, escort cards, table numbers), the items on a wedding reception checklist vary widely—but each and every one has an important role to play in making your celebration run smoothly. We've compiled a list of must-have items for any wedding reception to help you plan your big day. Don't panic: Your vendors, such as your caterer, florist, stationer, venue, and planner, will assist with sourcing and compiling these items to ensure an amazing party!
Rentals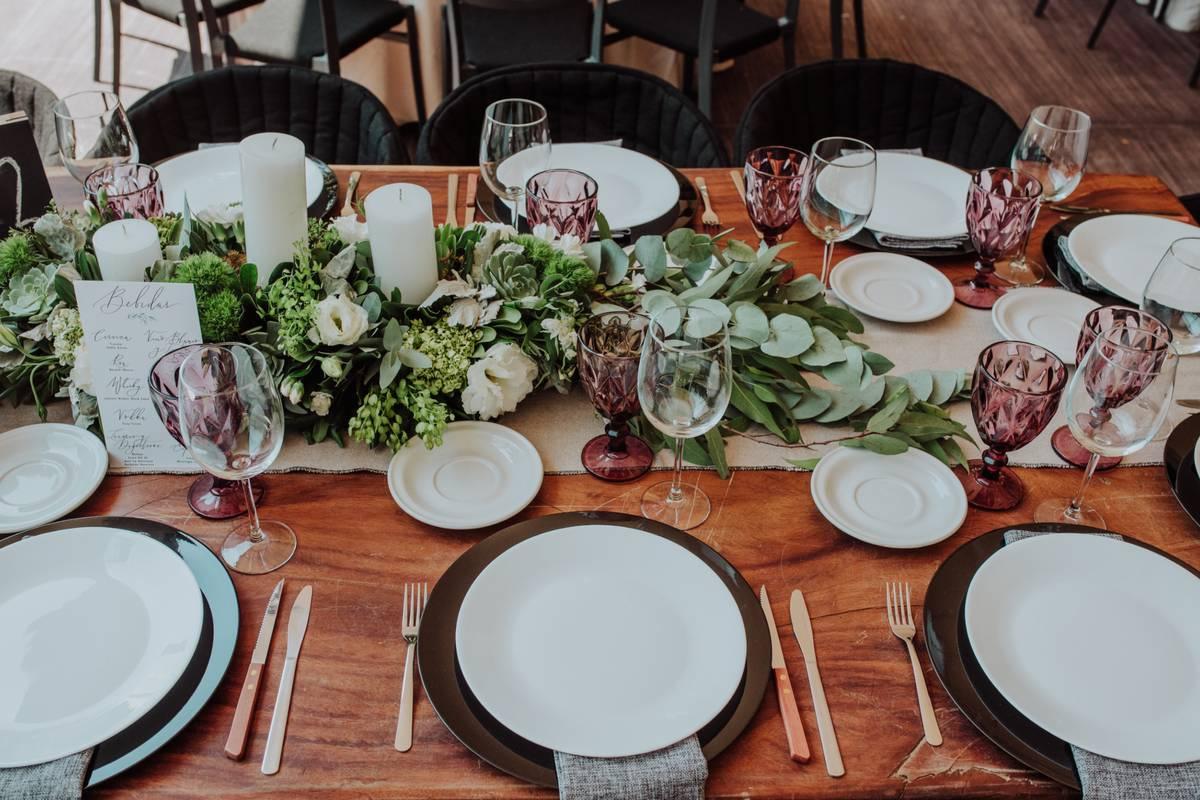 An event rentals company, along with your wedding venue and caterer, provides many essential items on your wedding reception checklist that you might forget. Don't forget to give these pros an accurate headcount once your RSVPs are in so they can make sure they have the right amounts of each necessary item.
Tent
You may be hosting a tented reception rain or shine, or may only need a tent if bad weather is in the forecast. Either way, working with a reputable tent company will ensure that you choose the right tent (there are lots to choose from!) for your event. Depending on your venue, you may also need generators, kitchen tents, and more.
Lighting
An experienced lighting company can totally transform your wedding reception space and take it from nice to jaw-dropping.
Dance floor
Some reception venues have dance floors already installed, but if you're hosting an outdoor or tented wedding, you may need to have a dance floor installed. Tent and rentals company can help with this process.
Staging for band
If live musicians will be entertaining you and your guests, they'll likely need a stage to perform on. Some reception venues have built-in stages, while others may require a stage to be built or created. Your florist can also help decorate this area.
Tables
There are so many guest table options to choose from, from round tables to long banquet tables—you can select one table style or opt to mix it up! And don't forget that you'll need more than just guest tables—from escort card tables to buffet tables, gift tables, and more. Your venue manager and planner can help you figure out which tables you'll need.
Chairs
Again, the different chair options are endless, including Chiavari, cross-back, ghost, cane back, and more. Your wedding budget and style will inform your chair choice!
Chargers
Chargers are decorative base plates that sit beneath your dinner dishes. They come in a multitude of colors and styles, and your rentals company can help you select the right charger (or chargers—you can mix and match!) for your event.
Dishes
You're going to need a lot of plates and bowls for your reception—from the small plates your guests will use for hors d'oeuvres during cocktail hour to salad plates, dinner plates, bread plates, and more during the main meal—and there are so many styles to choose from! Again, your rentals company and caterer knows the drill here and can tell you exactly what (and how many) dishes you'll need.
Flatware
Forks, knives, spoons, oh my! You'll likely need a lot of flatware (salad forks, steak knives, butter knives, soup spoons, etc.) for your reception—and plenty of extras in case someone drops a fork or two. Lean on your caterer and rentals company to pick what you need.
Glassware
There's going to be a lot of toasting during your reception, so plenty of glassware is needed. This includes the water and wine glasses that will be on your reception table, but also glasses stocked at the bar area for alcoholic beverages and soft drinks.
Dinner table accessories
There are several other pieces of dinnerware that go on your reception table, from bread baskets to butter plates and knives, salt and pepper shakers, pitchers, and more.
Bar area and supplies
If your reception venue already has its own bar, it will likely already have all the related accessories. If not, you'll need to work with your caterer, rentals company, and/or bartending company to ensure you have everything from barware to straws, lemon and lime wedges, and more.
Champagne flutes
Yes, champagne flutes are part of the glassware reception checklist item listed above, but if you and your spouse-to-be have a pair of special flutes you'd like to use for toasting, be sure to bring them on the big day!
Serving trays and utensils
Depending on your catering serving style (plated, buffet, family-style, etc.), you'll need a variety of serving pieces and utensils, which your rentals company and caterer can provide.
Napkins and napkin rings
Similar to tablecloths, there are lots of patterns and materials available for your napkins. Napkins can serve as a fun focal point for your reception place settings—and don't forget the napkin rings (not necessary, but can dress things up).
Wedding cake stand
A cake stand provides a decorative base for your confection. Your cake baker will likely provide the stand, but be sure to discuss with them first to confirm.
Buffet warming trays and serving pieces
If you're hosting a buffet-style reception, there are certain items you'll need such as warming trays trays, serving pieces, and more.
Table linens
Tablecloths and runners come in a variety of colors, patterns, and materials, so have fun choosing a style that fits your wedding's theme and color palette.
Chair covers or sashes
Certain styles of wedding chairs require chair covers or sashes—and again, there are lots of options to choose from!
Decor
The decor you choose for your reception will bring your wedding style to life! Whether you're going for classic, rustic, modern, romantic, or a completely unique type of decor, your florist, wedding planner, rentals company, and reception venue, can make your dreams a reality.
Signage
From welcoming your loved ones to pointing guests to the restrooms to adorning the guest book table and sharing romantic quotes, signs serve dual purposes—to decorate and to provide information to your guests.
Centerpieces (and vessels)
Centerpieces will add color and texture to your reception guest tables—whether you're opting for tall, lush arrangements or a more minimalist style, your florist will ensure that each and every table is well-decorated. Your florist will also provide vessels, such as vases, bowls, jars, and more, for your centerpieces.
Floral arrangements for guest book and other tables
Centerpieces aren't only used on the guest tables—every table, from the escort card table to the bar to the buffet, is an opportunity for some beautiful decor. Your florist will likely look at a seating chart and "map" of your reception venue to see where floral arrangements can be featured.
Other floral arrangements
Work with your florist to find other "moments" for floral decor throughout your reception venue, from hanging arrangements to a statement floral wall and more.
Chair signs
Make your and your future spouse's chairs stand out by decorating them with chair signs, wreaths, or other fun touches.
Candles
Tall candelabras, mini votives, floating candles, oh my! There are lots of ways to add a romantic glow to your reception space.
Table accessories
Adding some unique accessories, such as lanterns, geodes, vintage pieces, and geometric accents, to your reception tables can really help bring your wedding style to life. Your florist may be able to help you source these, or you can hit flea markets and other wedding decor retailers to find them yourself.
Garlands
Decorative garlands, made from greenery and flowers, can decorate staircases, mantles, and other areas of your reception space.
Wreaths
Looking to add a pretty touch to the doors of your reception venue? Put a wreath on it!
Draping
Draping, or large swaths of fabric, are used to cover ceilings, walls, and other areas of a venue. Talk to your venue coordinator to see if draping is necessary for your space.
Wedding photo booth
A photo booth can be a fun addition to your wedding reception entertainment. There are lots of types of photo booths to choose from—a reputable photo booth company can help you pick the best one for your event.
Stationery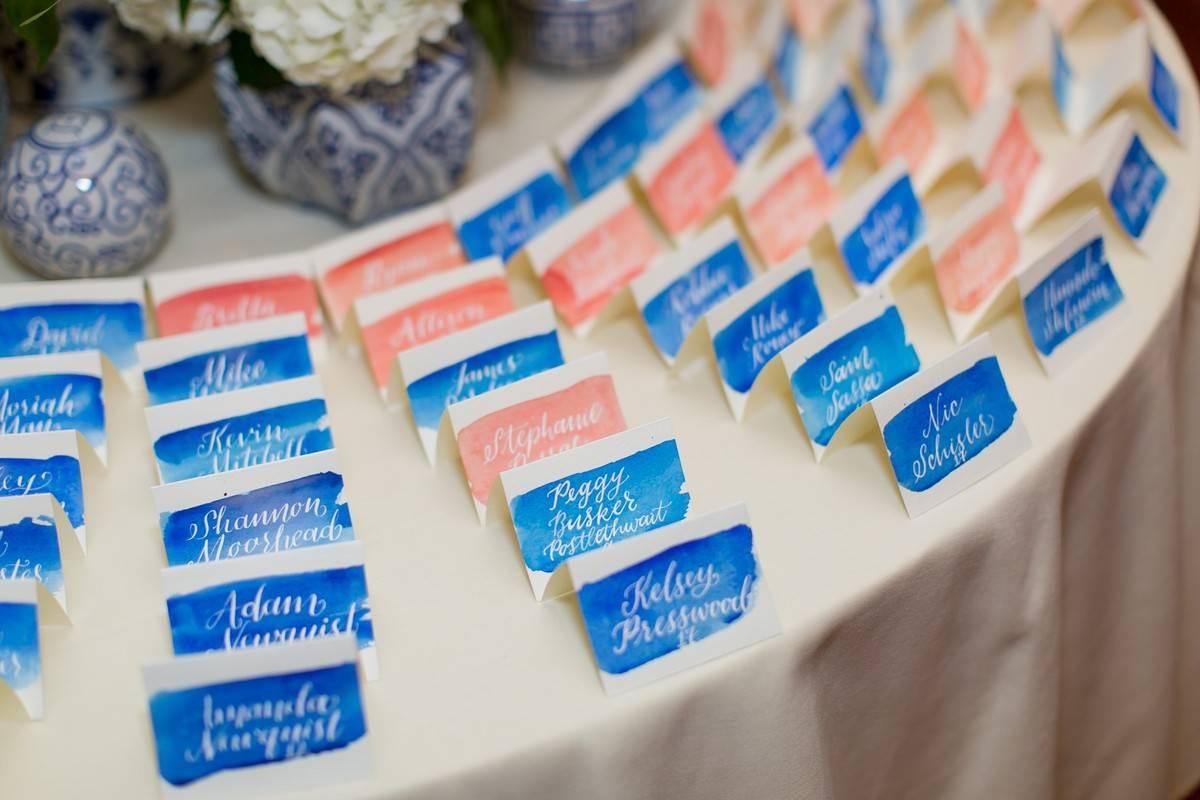 Your stationer handles far more than your save the dates and wedding invitations! From escort cards to menus, your stationer can help create a cohesive theme and motif for all of your paper products. And these items serve an important purpose—to inform your wedding guests so they feel in-the-know and comfortable throughout your event.
Seating chart or escort cards
Direct your guests to their tables with escort cards or a seating chart. These are usually created after the RSVPs in (tight turnaround, we know!), so be sure to enlist your stationer and/or calligrapher well in advance.
Place cards
​Yes, there's a difference between escort cards and place cards! Place cards show guests their exact seat at their reception table—they're optional, but for often used at more formal affairs.
Table numbers and holders
Table number or name signs are a great way to show off your creativity. If you're going with paper table numbers, don't forget the holders to ensure your guests can easily see them!
Menu signs or menu cards
What's for dinner? You can provide menu cards at each place setting, a sign at each table, or a larger sign for guests to check out as they enter the event.
Bar menu
If you're offering signature cocktails, a bar menu can be a nice touch so your guests will know what's in your beverage of choice.
Personalized cocktail napkins
Not totally necessary (your venue will likely have their own), but cocktail napkins that match the color scheme of your wedding are a nice addition to your wedding reception checklist.
Coasters
Avoid water rings on your venue's furniture by offering personalized coasters with beverages.
Other Important Items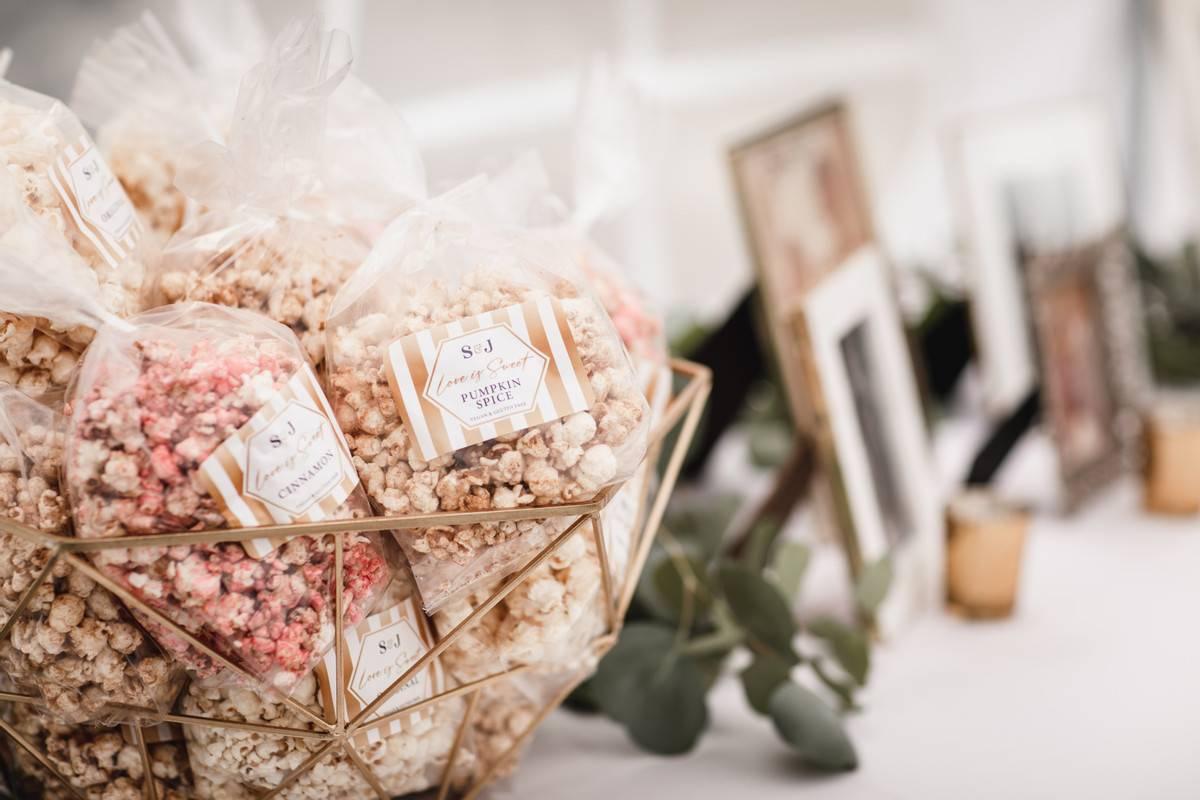 You'll want to source and purchase these wedding reception checklist items well in advance of your event—so don't wait until the last minute! Collect these items throughout your planning process to avoid stress in the days and weeks before your wedding day.
Guest book and pens
Whether you're opting for a classic or more unique guest book, don't forget to provide several pens in case one gets lost or runs out of ink.
Card holder
Instead of having your guests hand you cards and gifts, make sure there's a gift table set up with a card box so your loved ones can easily drop off their presents.
Bouquet and garter
If you're doing a bouquet and/or garter toss, make sure that you bring these items to the reception.
Favors
Whether you're purchasing your favors or going for a more DIY vibe, these items are a nice gesture of thanks to your guests. If you're having a candy buffet or other take-home treat set up, you'll need to talk to your rentals company about setting up a table and having serving pieces at the ready.
Dance floor giveaways/photo booth props
From sunglasses to glow sticks, dance floor giveaways and photo booth props make for some fun wedding photos!
Audio/visual equipment
From microphones for all the toasts to a screen for the photo slideshow your Dad made, audio/visual equipment can be an important addition to your wedding reception checklist. Your DJ or band can likely help with this one.
Cake serving set
Your rentals company can likely provide a cake cutting set, but if you have heirloom pieces or a set you received as a wedding gift, be sure to bring them on the big day.
Send-off materials
From sparklers to confetti, there are lots of wedding ideas for a spectacular send-off. Make sure to display a sign letting guests know when the send-off will take place so they'll be in the right place at the right time.
Getaway car decor
Your wedding party will likely take care of procuring the items for this silly tradition!
Emergency kit
Your wedding party members (maid of honor, best man, bridesmaids, groomsmen, etc.) can create a kit of important items to have on hand, from pain relievers to bandaids, bug spray, and more.
Bathroom amenity baskets
An important part of the wedding planning checklist—making bathroom amenity baskets (this is also a fun task for eager bridal party members!).
Photo displays
For a sweet touch of nostalgia, many couples opt to display wedding photos of loved ones at their reception. Make sure you have a table set up for the photo and of course, nice picture frames are a must!
Copies of important documents
Your wedding planner will likely have all of this on hand, but just in case, it's a good idea to have copies of your vendors' contact information, your guest list, music playlist, and your wedding timeline close by.
Vendor tips
Don't wait until the last-minute to organize your vendor tips. Here's a helpful tipping guide to ensure you give the right amount to each of your talented pros.
Note: This checklist focuses solely on the reception—you may need additional items for your wedding ceremony. Work with your venue, planner, officiant, and florist to ensure you have everything required for your ceremony.