How to Create an Epic Wedding Send-Off
A wedding send-off is a great way to cap off an already amazing evening. But turns out there's more that goes into a picture-perfect send-off than meets the eye. Here's some must-know advice.
We have included third party products to help you navigate and enjoy life's biggest moments. Purchases made through links on this page may earn us a commission.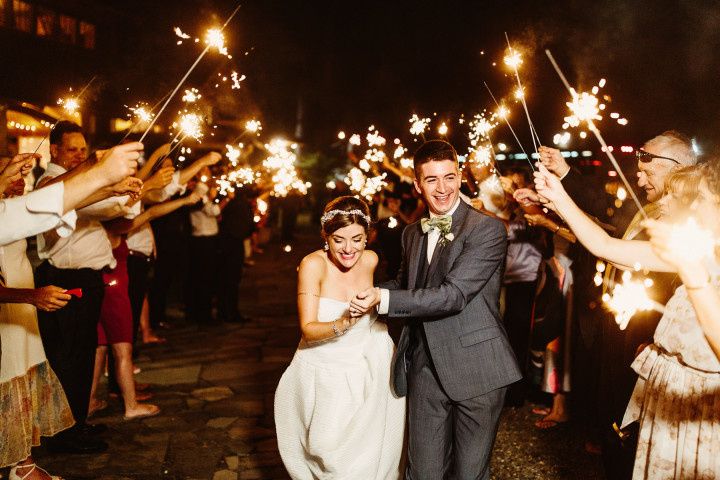 All good things must come to an end, and that includes your wedding day. But you can still go out in style! Wedding send-offs and grand exits are a fun and creative way to end your wedding (and kick off your marriage!), creating one more memory before you head off for your first night as a married couple.
We've rounded up planners' tips to make an epic wedding send-off happen.
Check with your venue—and the city.
"Before you decide what kind of wedding send-off you'll be having, check with your venue for any restrictions, as well as those in place in the city or town where you venue is located," says Jove Meyer of Jove Meyer Events in Brooklyn, New York. "For example, some venues or cities don't allow sparklers. Just make sure you know the rules before you get your heart set on anything!"
Keep it eco-friendly.
"Many venues will restrict what send-offs you can have, especially if they're not good for the environment," says Tosca Clark of Tosca Productions in San Francisco, California. "Instead, consider things like glow sticks or ribbon wands, which can be gathered up once the send-off is over."
Be prepared to spend extra.
"In addition to telling my clients what their grand exit could look like, I always take the time to walk them through any extra costs," says Meyer. "Between the props themselves and extra time for the planner, photographer, videographer, and clean-up, it can definitely cost more than you'd expect!"
Know your venue's hours.
One thing couples often forget to check is their venue's shut-down time. "Find out when the event needs to be over, as well as when all vendors need to be packed up and off the premises," Tosca says. "Then count backwards from there to ensure your reception ends in time to accommodate your send-off."
Extend photography hours.
Of course, half of having a grand exit is getting those amazing photos! But most photographers' contracts don't extend to the very end of the night (they'll usually leave about an hour into dancing). "You can extend your photographer's hours so they stay 'til the end, but that can be pretty pricey," says Jove. If you're on a tight budget, you might need to choose between having your photographer photograph you and your future spouse getting-ready or your send-off.
Be ready to go.
"I only encourage my clients to do a grand exit if they're actually leaving," says Jove. "Going outside for this big moment, just to turn around and come back for the after-party, is pretty anticlimactic." Make sure you're actually ready to go when the time comes, with everything you're taking with them packed and in the car. And make sure you get out of the way! "If you're hiding and ready for the exit, it will be much easier to get guests outside—they can be easily distracted by the guests of honor if you're still mingling or on the dance floor!"
Keep it simple.
Whatever you're planning, keep the set-up simple. "Over one hundred tipsy people can be pretty hard to wrangle, so make it as straightforward as possible," says Jove. Put guests in two lines, hand out whatever they'll be holding, lighting, or throwing, put the photographer in place, and get moving!
Inform your photographer and videographer.
If you'll have pros capturing the moment, make sure they know what to expect. "Share what will be happening, where, and when so your photographer and videographer can scout the area and determine the best way to capture it," says Jove.
Ask your wedding party to lead the way.
"Lead by example!" says Tosca. "Ask a few key family members or the wedding party to be the first ones ready for the exit. You'll have a much easier time getting guests to follow someone who already knows what to do!"
Popular Wedding Send-Off Ideas
Sparklers
"This is a classic exit that is definitely still in style," says Meyer. "It's impactful, and looks great in photographs! It just takes a little bit of advanced preparation to get the best results." First, make sure you have enough lighters - Meyer recommends one for every 10 guests - and a bucket of water nearby, just in case. "More lighters means you'll be able to get everything lit quickly, so the first sparklers lit don't burn out before you light the last ones. And make sure you buy the long sparklers - the short ones burn to quickly!" Finally, make sure you've got a few people on-hand to help with lighting. "These should be part of the vendor team, not guests (who might be tipsy or drunk by the end of the night)," Jove advises.
Once the last song has played, the couple should hide while the bandleader or DJ announces the grand exit and tells guests where to go. "Have at least two people at the door handing out sparklers, plus another person at the far end of the exit area helping guests line up from farthest to closest point," says Meyer. "Wait until everyone is lined up to pass out lighters, then do a countdown so the sparklers are lit at the same time." While that's happening, the photographer and couple should get in position, and the couple can start walking (slowly!!!) once the sparklers are lit. Says Meyer, "The key is to walk slowly instead of running - that will give your photographer the chance to get a few good shots!"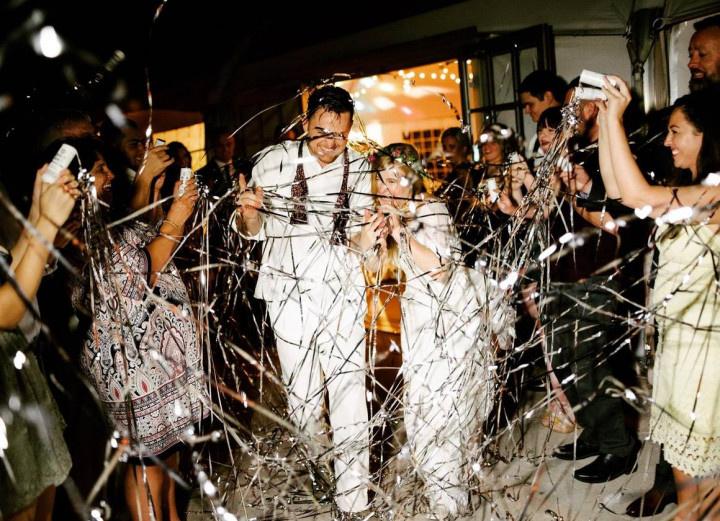 Pop-Out Streamer Canon
"These are really fun - and no-mess!" says Clark, who loves that the 10-foot streamers on Simplicity's Pop Out Streamers are attached for easy clean-up. They're also easy to use, as they don't require extra set-up or quick timing like sparklers can. "Line up 10 to 20 guests with canons, then surround them with your remaining guests before you make your exit." It's important to have a few extra people on-hand to help pick up the streamers after, though, as they can be a tripping hazard. "As an added bonus, these metallic streamers won't stain floors or sidewalks like crepe paper or confetti."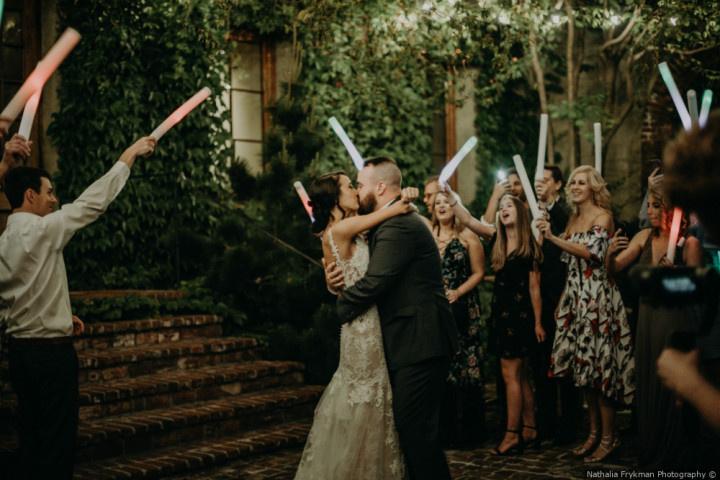 LED Light Sticks
"Foam LED light sticks are like giant glow sticks, and are just as easy to use," says Clark. "They're fun for all ages, whether you're passing them on the dance floor or waving them for the exit. Plus, they can be customized with your hashtag!" Ask your planner to light them up and pass them out once dancing is over - this will be the perfect opportunity for them to tell your guests about the grand exit plan. "Giving guests clear instructions makes a huge difference in getting everyone together quickly!"
Disclosure: This post contains affiliate links, some of which may be sponsored by paying vendors.