The Modern Wedding Candy Bar Shopping List
Add a sweet touch to your reception by offering a wedding candy bar, full of your favorite treats to eat on the spot or take home.
We have included third party products to help you navigate and enjoy life's biggest moments. Purchases made through links on this page may earn us a commission.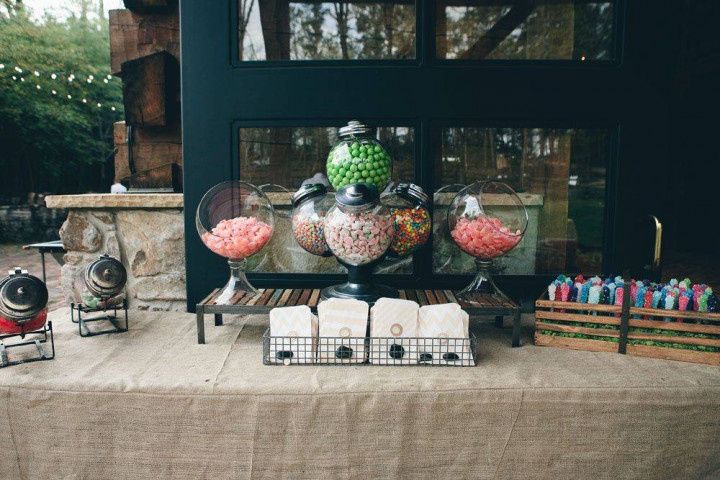 Wedding candy bars have become a popular addition to the reception dessert scene, but not without good reason. These sugary spreads evoke a sense of childhood nostalgia, and guests young and old love to graze on a dessert selection that feels anything but pretentious. You can pick from a wide variety of sweet treats to offer as part of your wedding candy bar, whether they match your event's color palette or they're simply favorites from your and your partner's childhoods. The vessels you choose (many of which are available on WeddingWire Shop) also have an important role to play, tying together the theme and style of your big day.
Think candy bars might be overdone? Think again because we've rounded up everything you need for a wedding candy bar with a fresh and stylish twist.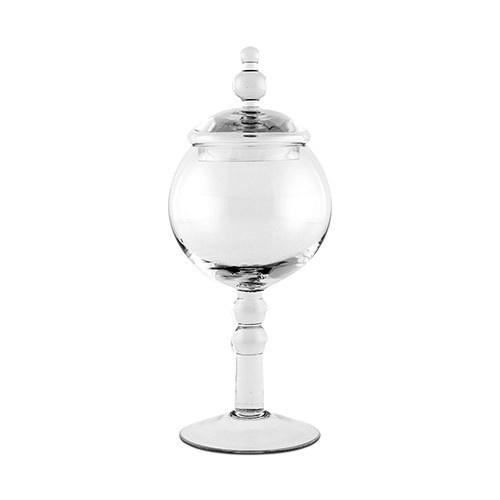 Dress up your wedding candy bar with vessels that feel entirely fancy. This globe-shaped jar offers a unique shape to bring both height and visual interest to the table.
WeddingWire Shop large glass apothecary candy jar, from $30, WeddingWire Shop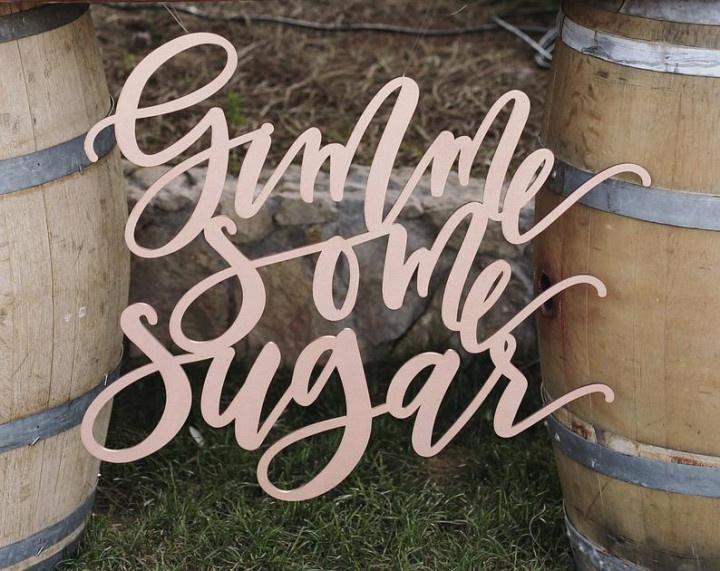 This laser-cut wood signage is just the clever touch your wedding candy bar needs. Available in nine different color options, you're certain to find the look that's just right for your style.
LetterstoYou Gimme Some Sugar sign, from $85, Etsy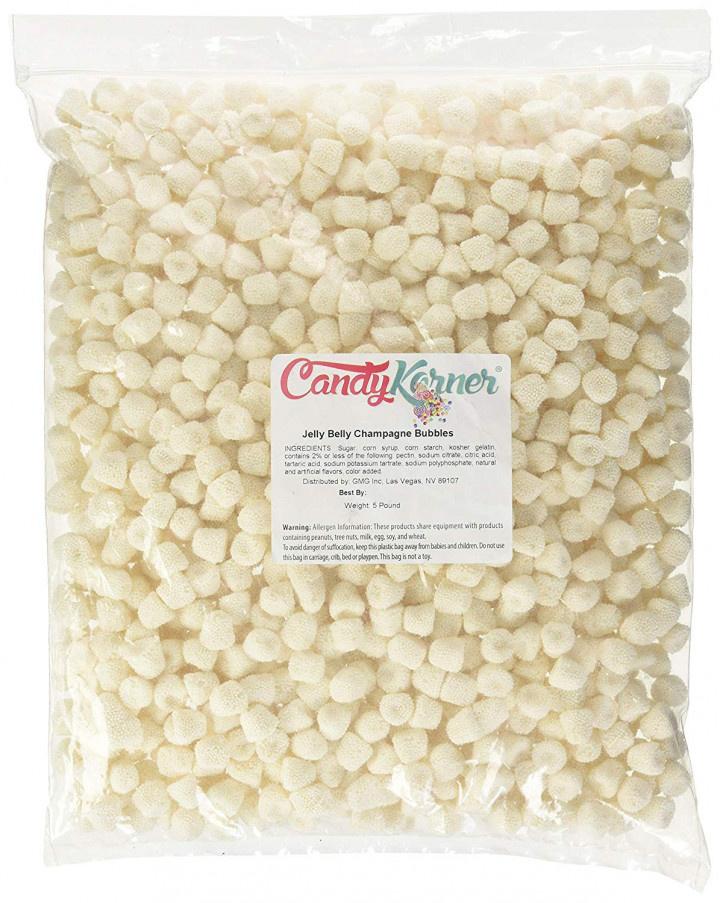 It's hard to find a candy that's as elegant as it is delicious, but these champagne bubbles check both boxes. Fill them in a clear glass jar for a lovely addition to your table.
Jelly Belly white champagne bubbles, $37, Amazon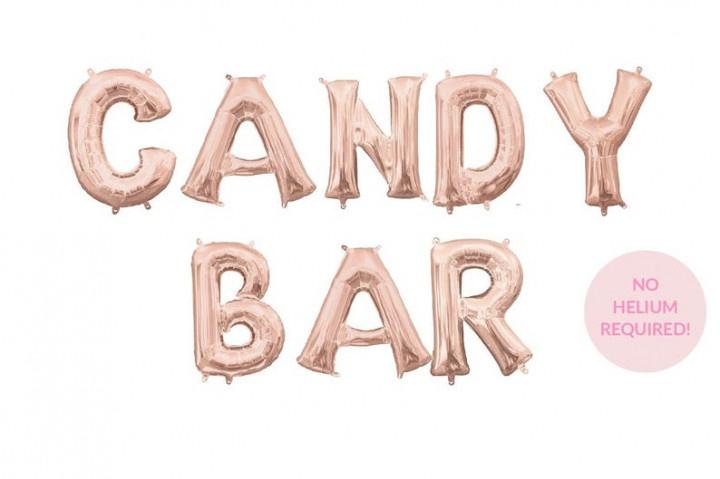 Hop on the popular letter balloon wedding trend with this metallic banner available in gold and rose gold options.
CouronneBoutique candy bar balloon banner, from $18, Etsy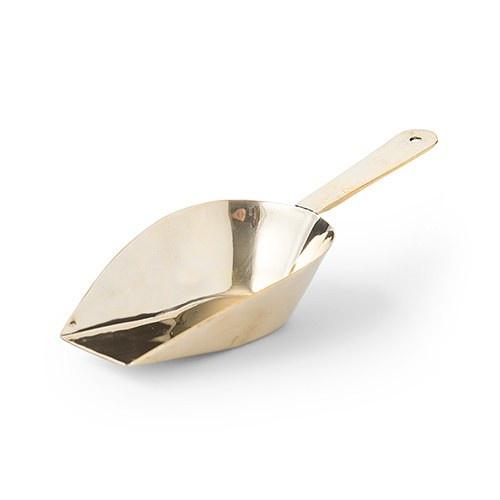 When it comes to designing a candy bar, don't overlook the details. This gold candy scoop will add the metallic accent your dessert table was missing.
WeddingWire Shop Sweeties candy scoop in gold, $5, WeddingWire Shop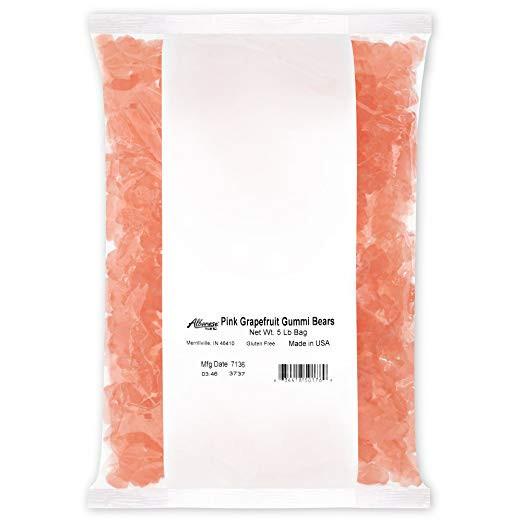 The ultimate crowd-pleasing sweet, gummi bears are a must for any wedding candy bar spread. Try these gummis in grapefruit and you'll be convinced it's the best flavor out there.
Albanese pink grapefruit gummi bears, $13, Amazon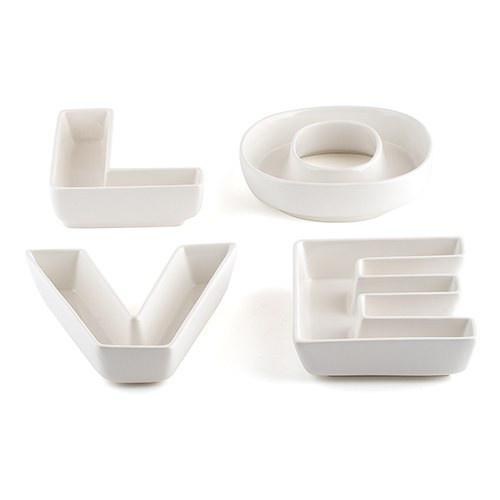 The perfect vessels for smaller candies - think M&Ms, jolly ranchers, sweethearts, or gumdrops, these L-O-V-E plates are both practical and cute.
WeddingWire Shop "LOVE" plates set, $37, WeddingWire Shop
Everyone loves a late night snack and these treat bags are a great way for your guests to stash away treats from the candy bar. Don't be surprised if everyone takes an extra bag for the ride home!
WeddingWire Shop gold foil polka dot paper treat bags with stickers, $9, WeddingWire Shop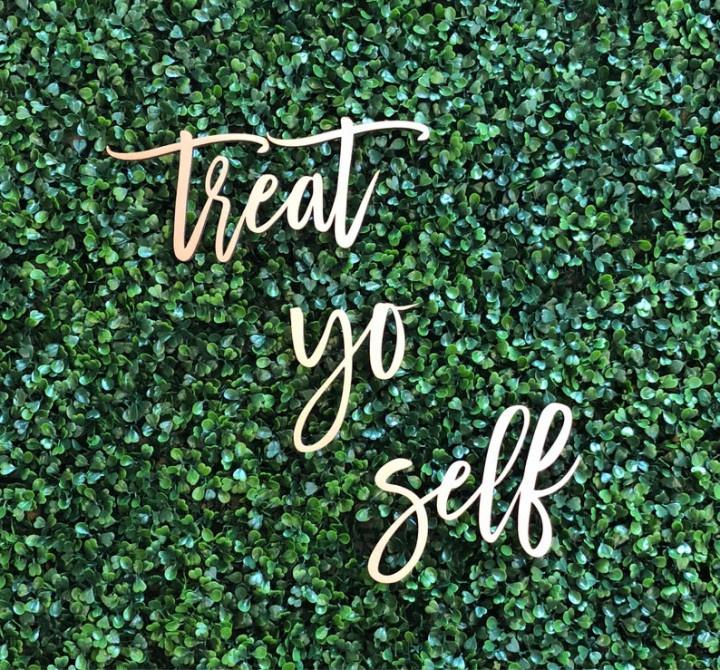 Give your wedding candy bar a cheeky touch with some handmade signage that inspires guests to treat themselves and party on. Signs come in multiple sizes and can easily be hung on any wall or backdrop.
PaperSupplyStation treat yo self wood sign, from $28, Etsy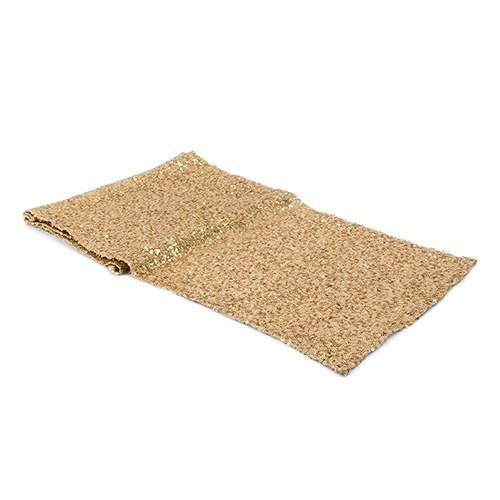 If you're looking to add a bit of sparkle to your wedding candy bar, this sequin runner will do just the trick.
WeddingWire Shop glitzy gold sequin table runner, from $20, WeddingWire Shop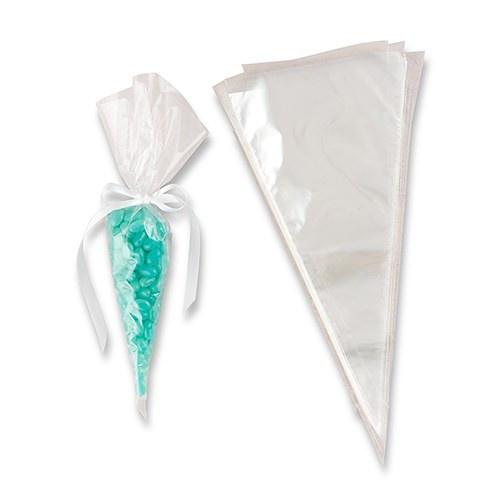 Let your guests feel like kids in a candy store with these clear goodie bags they can fill up to their heart's desire.
WeddingWire Shop cone shaped clear cellophane candy bags, $30, WeddingWire Shop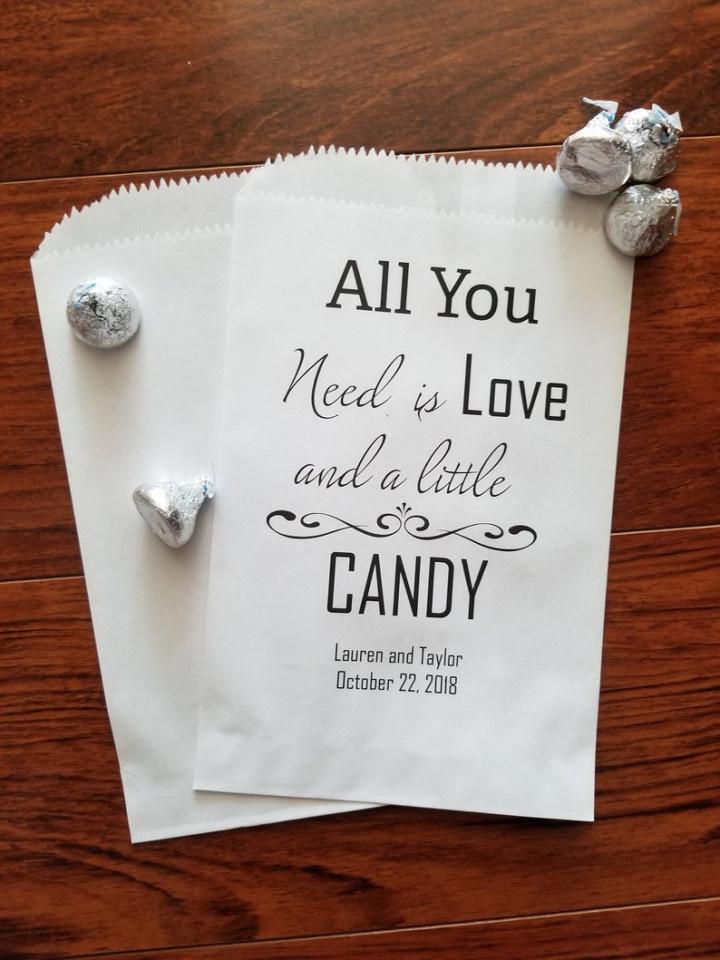 The bag says it all, and it's guaranteed to make your guests smile.
PrettyforParty All You Need is Love custom candy favor bags, from $1, Etsy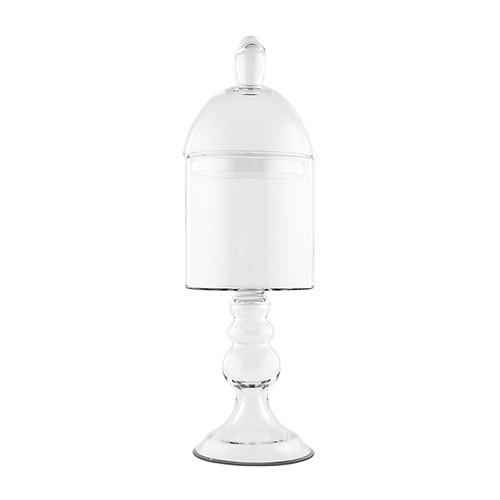 Make a statement with this tall cylinder vessel that can be filled to the gills with any candy you'd like.
WeddingWire Shop large glass apothecary candy footed cylinder with lid, from $30, WeddingWire Shop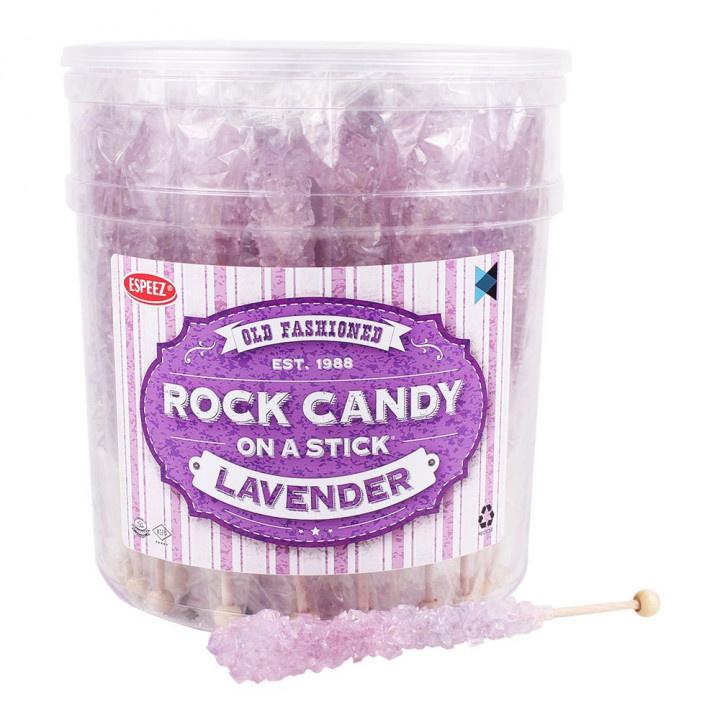 Every dessert bar needs some old-fashioned rock candy. Simply pick the flavor option that fits with your color palette for a coordinated look.
Espeez extra large rock candy sticks, from $29, Amazon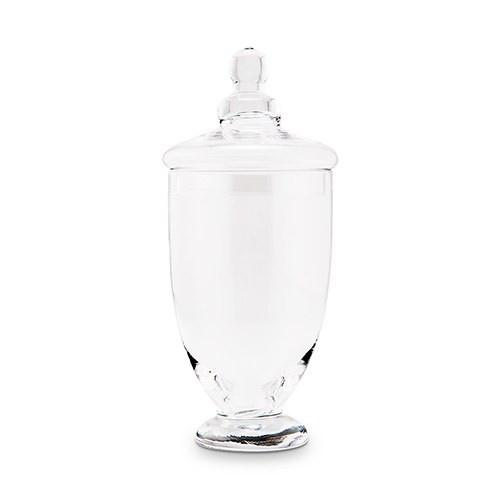 Balance your taller vessels with a few glass jars on the smaller side. The footed design and matching lid feels straight out of any old-fashioned candy shop.
WeddingWire Shop small glass apothecary candy footed vase with lid, $15, WeddingWire Shop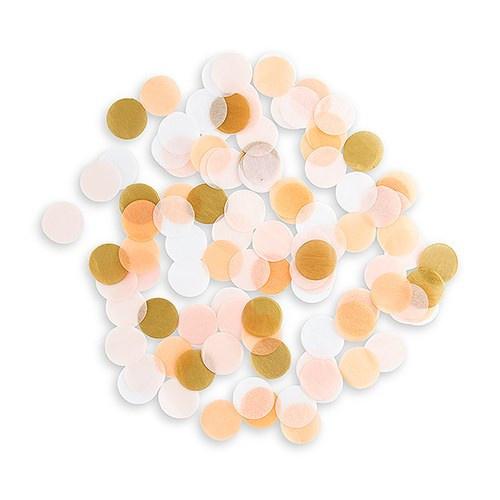 Candy bars should be FUN, so why not include some festive confetti? This pink and gold mix is a great color combination for any romantic occasion.
WeddingWire Shop spring mix jumbo party confetti - pink, blush, gold, $2, WeddingWire Shop
Nothing will top the rings you exchanged with your spouse, but these ring-shaped candy pops might be a close second.
Dee Best jewel pop ring shaped hard candy, $13, Amazon
Tie your wedding candy bar table design together with this pretty calligraphy-inspired signage that's available in either white or black.
WeddingWire Shop sweet treats acrylic sign, $18, WeddingWire Shop
Disclosure: This post contains affiliate links, some of which may be sponsored by paying vendors.