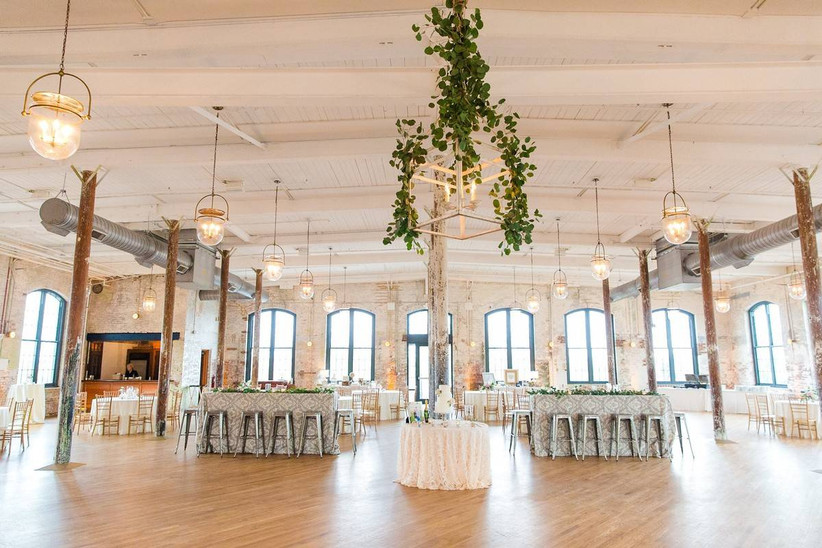 Industrial wedding venues are so on-trend right now, and for good reason. These spaces have the rustic feel of a barn venue with a modern twist. You'll find such unique architectural features as exposed brick, ductwork, hardwood floors, ample natural light, and more. We particularly love that these locations often serve as "blank slate" venues, meaning you can decorate them in a variety of ways to create a wedding that's totally personalized to your style. Plus, they're usually mostly indoors so no need to worry about Mother Nature spoiling your special day! There are several U.S. cities that have an abundance of these industrial wedding venues. If you're getting married in one of these cities (or considering it!), you might want to check out a few industrial spaces. Alternatively, if you're set on an industrial wedding venue and are flexible about your location, these cities have much to offer.
Check out our list of cities that have a variety of industrial wedding venues—ideal if you're looking to host a contemporary-meets-historic celebration.
*Note: There are industrial wedding venues in most parts of the country—be sure to check out WeddingWire's venue directory to find one in your area.
Atlanta, Georgia
We know that the ATL has no shortage of cool venues, but we love that many of the industrial wedding venues in Atlanta come with a unique history. Examples include the GA Freight Depot (a former train depot), Upstairs Atlanta (a former film processing plant), and The Cotton Warehouse (an 1890s warehouse). Your guests will love getting a taste of the city's history while celebrating your nuptials.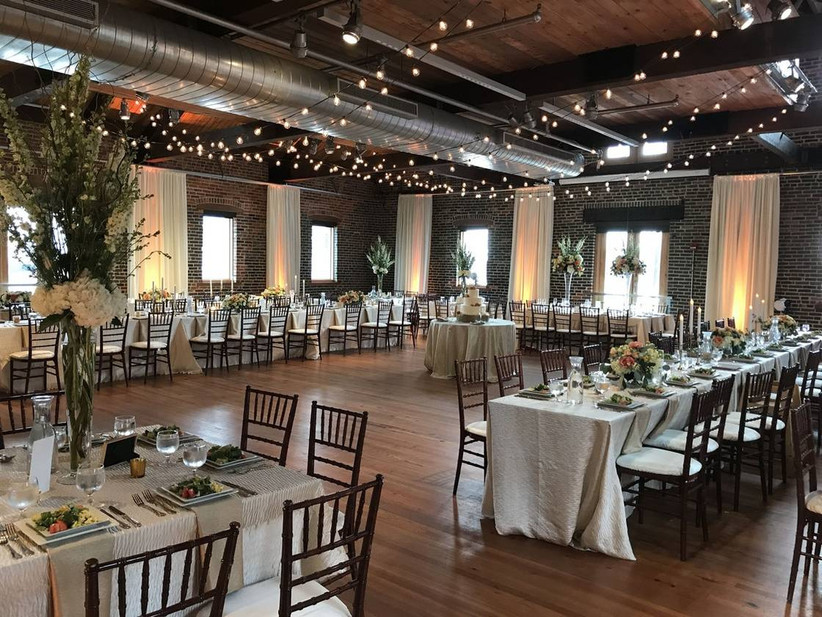 Baltimore, Maryland
One of the major perks of hosting your ceremony and reception at one of the industrial wedding venues in Baltimore—waterfront views! In particular, the Baltimore Museum of Industry, the American Visionary Art Museum, and Frederick Douglass-Isaac Myers Maritime Park all offer those coveted harbor views.
Charleston, South Carolina
The industrial wedding venues in Charleston combine Southern charm and history with a modern edge. We love the juxtaposition of traditional touches like chandeliers and marble fireplaces, with industrial-chic details like exposed ductwork and beamed ceilings. From the famed Historic Rice Mill to the Cedar Room at the Cigar Factory (yup, its a renovated cigar factory!), you'll have your pick of these unique spaces.
Minneapolis, Minnesota
It may come as a surprise to some, but the Minneapolis area offers some of the top industrial wedding venues in the country—and Minnesotans certainly appreciate the abundance of amazing indoor spaces for weddings, given the weather. We particularly love the stunning architecture at Aria, the intimate setting at The Neu Neu, and the unique elements at The Loft at Studio J in nearby Stillwater.
Chicago, Illinois
If you're getting married in the Midwest and looking for an industrial wedding venue, Chicago has a variety of options. A few of our favorites in the Windy City include The Zephyr Chicago, The Bridgeport Art Center, and Kitchen Chicago, but there are lots more to choose from.
Research Triangle, North Carolina
Planning a wedding in Raleigh, Durham, or Chapel Hill? Turns out there are lots of industrial wedding venues that are definitely worth checking on. We're big fans of Market Hall, The Stockroom at 230, and the new Bridge Club—all featuring that in-demand historic and industrial vibe.
New York, New York
The Big Apple has a wide variety of wedding venues, period. But we're particularly wowed by the breadth and diversity of industrial wedding venues in the boroughs. In Queens, there's The Foundry; in Brooklyn, you'll find The Green Building and Liberty Warehouse; and in Manhattan, Houston Hall is a favorite, among many others.
Los Angeles, California
SoCal is a total hotspot when it comes to industrial wedding venues. In Los Angeles, SmogShoppe, Huron Substation, and The Unique Space are all favorites. You can also head south to San Diego, which has an industrial venue scene all its own, with Moniker Warehouse and Luce Loft as two of the most popular options.
Austin, Texas
Austin is becoming a favorite destination wedding location in the U.S.—couples love the city's unique, quirky vibe. And the variety of industrial wedding venues in the area is definitely an added bonus. Couples are loving 800 Congress, with its desirable location on North Congress Street, and are heading north to One Eleven East in Hutto, known for its historic vibe and all-white interior.
Phoenix, Arizona
Phoenix may not have a ton of industrial wedding venues, but we're big fans of the options in the Valley of the Sun. In particular, Tre Bella in nearby Mesa is ideal for couples who are looking for a seamless and stress-free planning experience, and Warehouse 215 @ Bentley Projects is a former linen laundry ideal for larger events.
Grand Rapids, Michigan
The second-largest city in Michigan, Grand Rapids is known as a hub of furniture manufacturing—so it probably comes as no surprise that there are quite a few industrial wedding venues in the city and nearby. If you love that authentic industrial feel, be sure to check out The B.O.B., The High Five GR, and The Goei Center.
Seattle, Washington
If you're hosting a Pacific Northwest wedding and are into industrial style, Seattle is a great city to host your big day. There are tons of industrial venues, including The Foundry, Metropolist, and Fremont Foundry Events.
Philadelphia, Pennsylvania
Given Philadelphia's vast history, it probably comes as no surprise that the City of Brotherly Love is also a hotspot for industrial wedding venues. Especially if you're hosting a lot of out-of-town guests, an authentic industrial wedding venue will give them a unique look at the city. Some of our favorite industrial spaces include former chocolate factory Power Plant Productions and Artesano Gallery, a former warehouse.