Brewery weddings are totally trending right now—and for good reason. These venues combine the edgy feel of an industrial space with the booze-loving appeal of a winery wedding. While many U.S. cities have their own breweries, there are certain areas of the country where there are a wider variety of brewery wedding venues to choose from. From coast to coast, these cities are particularly ideal for a brewery wedding—and may even be worth traveling to if you're looking to host your big day in a city with a hopping beer scene (yes, pun totally intended).
These are the best cities in the U.S. for a brewery wedding—so grab a bottle of your favorite brew, and read on!
*Note: There are brewery wedding venues in most parts of the country—check out WeddingWire's venue directory to find one in your area.
San Diego, California
Hosting a brewery wedding in this SoCal beer hub has a unique benefit—ample outdoor space! Many of the brewery venues in San Diego feature unique outdoor locations for ceremonies, cocktail hour, and more. A few of our favorite brewery wedding venues in San Diego include the Karl Strauss Brewing Company (its lush gardens complete with koi ponds are a must-see!), Stone Brewing World Bistro & Gardens (we love the landscaped outdoor space for ceremonies), the rustic-industrial 32 North Brewing Co., and the boho-chic Helia Brewing Company in nearby Carlsbad.
Grand Rapids, Michigan
The Grand Rapids area is one of the top spots in the Midwest for a brewery wedding (and if you're into it, distillery weddings). We're huge fans of the casual, laid-back vibes combined with industrial-modern architecture at venues such as New Holland Brewing, Three Blondes Brewing, and for a more traditional look, the Walldorff Ballroom and the Singapore Room at Saugatuck Brewing Company. If you've got your eye on distilleries, check out Journeyman Distillery or Iron Fish Distillery.
Asheville, North Carolina
Getting married on the East Coast? Mix delicious brews with a healthy dose of Southern charm at one of the hip brewery wedding venues in Asheville. A few of our favorites include Highland Brewing Company (you'll swoon over the incredible mountain backdrop!), The BarrelHouse at the Funkatorium, and Catawba Brewing Company. In nearby Charlotte, there's also Sugar Creek Brewing Company and The Olde Mecklenburg Brewery.
Milwaukee, Wisconsin
Milwaukee has been known as the Beer Capital of the World, so it should come as no surprise that it offers a plethora of brewery wedding venues. We love how the Milwaukee area features more traditional brewery spaces with a classic German feel, like Delafield Brewhaus, Bavarian Bierhaus, and Vintage Brewing Co., as well as more modern breweries like Captain Pabst Pilot House and Good City Brewing. There's truly something for every couple in Cream City.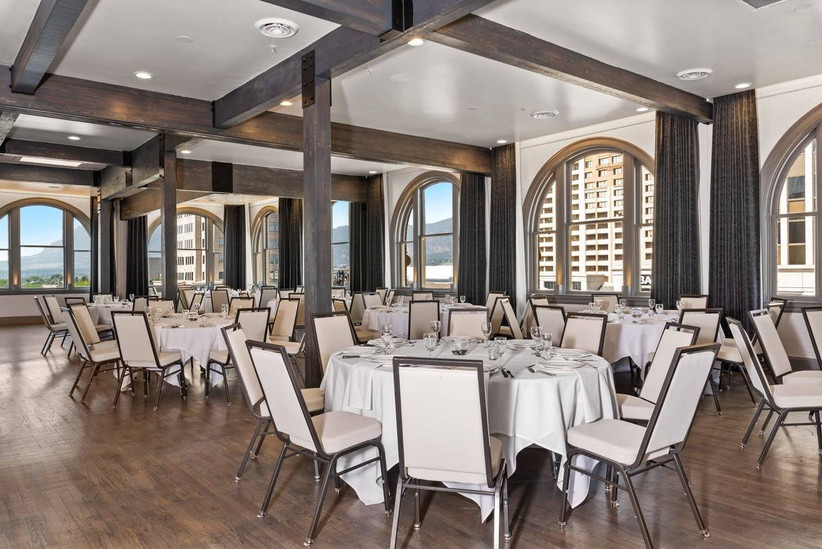 Denver, Colorado
We know Colorado is known for its amazing mountain views and ski resorts, but it also has a vibrant beer (and food!) scene, along with some truly spectacular and unique brewery wedding venues. From Rock Bottom Brewery and Briar Common Brewery + Eatery in Denver to Mountain Tap Brewery in Steamboat Springs to Phantom Canyon Brewing Company in Colorado Springs, no matter where you turn in Colorado, you're sure to find an incredible brewery wedding venue.
Boston, Massachusetts
If you've ever been to Boston, you already know that the city is home to some of the country's top breweries. And it turns out that there are many amazing brewery wedding venues in and around Beantown. We love the historic and industrial feel at many of the area's brewery venues, including Harpoon Brewery and Democracy Brewing. And if you're looking for outdoor space, head to nearby Fiskdale to Hyland Orchard & Brewery for rustic-barn vibes with a modern edge.
Chicago, Illinois
Getting married in the Windy City? You're in luck! There's an abundance of brewery wedding venues in Chicago, featuring both great beer selections and ample space. A few of our favorite brewery venues in and around Chicago include Revolution Brewing, Prairie Street Brewhouse, Buffalo Creek Brewing, and The Onion Pub & Brewery.