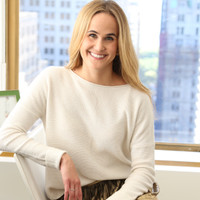 Kristen Maxwell Cooper
Vice President and Editor in Chief
Kristen is responsible for overseeing the editorial content strategy for WeddingWire and fulfilling its mission of making wedding planning fun and stress-free for every couple. She also works closely with her team to make inclusivity a priority across all of WeddingWire's content to ensure all couples feel represented and welcome. Kristen was born and raised in Saint Louis, Missouri and moved to New York City to pursue a career in journalism over 14 years ago. In her spare time she enjoys reading the latest murder mystery or thriller, spinning, Kim Crawford Savignon Blanc and spending time at the playground with her two children and husband.
Experience
Prior to spending the last six years covering the wedding industry, Kristen was the deputy editor at People StyleWatch. In that role, Kristen was responsible for the magazine's celebrity fashion coverage, interviewing and collaborating with A-listers like Nicole Richie, Carrie Underwood and Rachel Zoe. Kristen has also held editorial roles at Ralph Lauren, Shape, MTV and InStyle.
Education
Kristen is a proud graduate of the University of Kansas where she majored in journalism with an emphasis in magazines. During her senior year, Kristen contributed to both the university magazine and Dance Magazine based in New York City, where she had interned the summer prior. Kristen was also a founding member of Chalk Magazine, a publication geared towards college students living in Lawrence, Kansas.
WeddingWire Q&A with Kristen
What is your ideal wedding style?
Anything that showcases the couple's personality. For me, it was modern yet timeless.
Dream honeymoon location?
Antigua is one of my favorite places on Earth, but I'm happy anywhere with a tropical climate and the ocean.
What was (or would be) your first dance song?
My first dance song was Stand By Me by Ben E King. We even had a choreographed dance!
Favorite celebrity wedding look?
Olivia Palermo's wedding look by Carolina Herrera was unexpected yet incredibly chic.