16 Pros Share Their Favorite Wedding Songs of All Time
Searching for top wedding songs? Read our article to find the list with popular wedding songs straight from planning pros!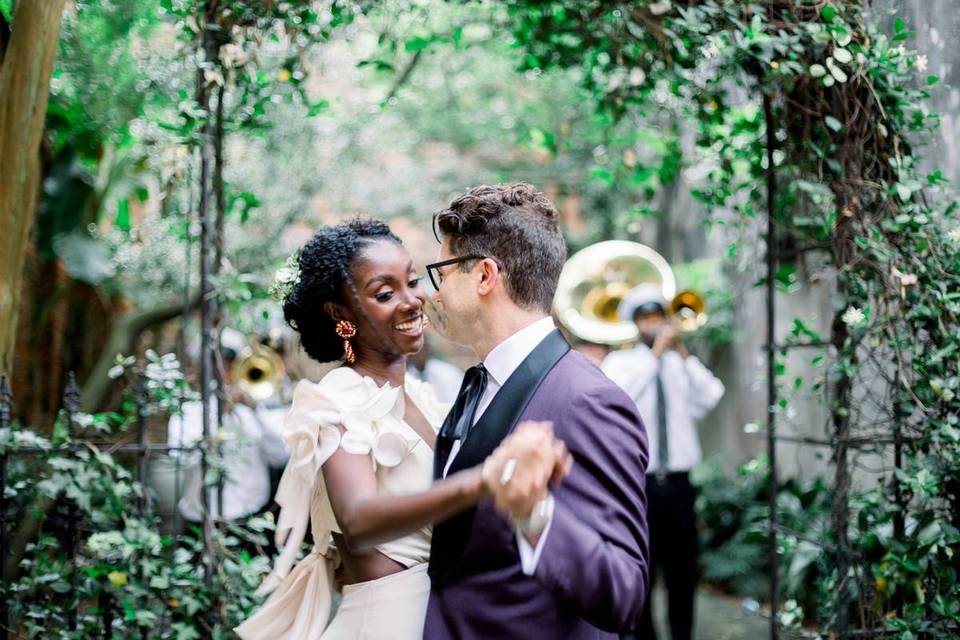 On the laundry list of things you need to plan ahead for in preparation for your big day, one major to-do is choosing your music set list. In addition to hiring your DJ or band, it's crucial that you go over the songs they plan to play for you on your wedding day. In fact, Farah Saint-Jean of Spectacular Affairs, LLC, in New York City believes music to be one of the most important aspects in setting the mood for a wedding celebration. For this reason, she recommends that the couple not only carefully select their music pros, but provide him or her with a song list that holds special meaning for their relationship or some of the best wedding songs of all time, as well as a list of music that should not be played. "The wrong music can ruin the wedding reception," she warns.
Jodi R.R. Smith, owner of Mannersmith Etiquette Consulting, in Marblehead, Massachusetts, agrees that music plays a major role—and recommends songs to match the ages of your guests. "You could play a few from the '50s for your grandmother, a few from the '60s and '70s for your great aunts and uncles, a few from the '80s for their kids, some from the 90s and 00s for your aunts and uncles, and present day for your friends and cousins," she says. "Everyone should be included and everyone should hear a song that resonates so much that they want to get up and dance."
When meeting with your DJ to plan song selections, be clear in your vision and expectations. Lindsey Sachs of COLLECTIVE/by Sachs in Boulder, Colorado and Minneapolis recommends asking how many songs are reasonable to play given your reception duration so you have a better understanding of how your top picks may be mixed with their selections. "Your music pros may also ask if you're open to accepting guests requests," she says. "If so, know that the number of songs played from your list may take a back seat to accommodate."
To give you some inspiration, we asked wedding planners to share, in their view, the best wedding songs of all time.
First Dance: "For Once In My Life" by Stevie Wonder
"I'm biased since this was my wedding song, however, the reason it's my favorite is because the lyrics are exactly how my husband and I feel about each other," says Danielle Rothweiler of Rothweiler Event Design in Verona, New Jersey. "I think it's really important to pick a song that you and your partner can relate to instead of selecting something trendy."
First Dance: "For You" by Kenny Latimore
"This is a timeless song that basically expresses one lover's dedication to the other and evokes emotions of love, gratitude and joy," says Farah Saint-Jean of Spectacular Affairs, LLC In New York. "It is simply beautiful."
First Dance: "I Only Have Eyes For You" by The Flamingos
"This is an unexpected first dance song that has some added interest because of the minor keys it incorporates," says Kate Lerman of Chicago Vintage Weddings in Chicago. "You also can't go wrong dancing to it!"
Cocktail Hour: "Feeling Good" by Michael Buble
"The uplifting nature of this song makes me sing out loud every time," says Lindsey Sachs of COLLECTIVE/by Sachs in Boulder, Colorado. "And, just like a new day, your wedding day is the epitome of the line 'it's a new dawn, it's a new day, it's a new life...and I'm feeling good.' This song is a beautiful addition to cocktail hour, dinner, or your first dance. When considering the best wedding songs of all time, I think of including songs that most everyone will know, but may not hear that often."
First Dance: "Let's Stay Together" by Al Green
"The lyrics are meaningful and unique and opens the doors to a lifetime of love and happiness," says Amy Katz of Amy Katz Events in New York City. "Also, the tempo is perfect and uplifting!"
Grand Entrance Song: "Lovely Day" by Bill Withers
"This top wedding song is fun and lively to begin with, and easy to dance to!" says Patti Hasting of P.Hasting Design and Event Planning in Columbus, Georgia. "The line, 'Then I Look at you and the world's alright with me,' should be your mantra of how your marriage should be!"
First Dance: "At Last" by Etta James
"It is a classic song that depicts the excitement of finding your true love at its finest," says Carine Saint-Jean of Spectacular Affairs, LLC in New York. "'At last, my love has come along my lonely days are over and life is like a song.' Those lyrics speak to my soul and so many other people's souls and it's such a popular wedding song because it transcends time as this song is older than I am but it resonates with both young and old alike."
First Dance: "Whatever It Is" by Zach Brown Band
"This was my first dance song and it talks about the person you love just having that 'thing,' the 'whatever it is' that draws you to them," says Amber Anderson of Heavenly Day Events in Austin, Texas.
Processional Song: "Can't Help Falling in Love" by Elvis Presley
"This top wedding song reminds me of my grandparents dancing together," says Katelyn Stanis of Wedding Words in Brooklyn, New York. "They were happily married for 61 years. Hearing such a classic and romantic song reminds me of what weddings are all about: true love, family, and legacy."
Slow Dance Song: "Make You Feel My Love" by Adele
"Adele's voice is like rocks in a river, strong, fixed, eternal," says Nahid Farhoud of Nahid's Global Events in San Diego, California. "This song brings back lots of memories."
Crowd Pleaser: "I Wanna Dance With Somebody" by Whitney Houston
"This song spans across multiple generations and is relatable to practically every wedding guest out there!" says Jen Avey of DestinationWeddings in Wayland, Massachusetts. "It's energizing and high tempo, but not overplayed or too cheesy. It's one of the best wedding songs because it's a constant crowd pleaser; something everyone can sing along to and keep everyone's energy levels up!"
First Dance Song: "You & Me Song" by The Wannadies
"I love it because it was my wedding song, but, I also love it because it's real," says Jamie Chang of Mango Muse Events in Los Altos, California. "The relationship between two people is you and me. And most of the time, it's not all romantic or like the movies. It's about being a team. It's about choosing each other every day. It's the silly things, the fights, the simple things like watching TV and still it's you and me."
First Dance Song: "You for Me" by Johnny Gill
"This is one of the best wedding songs because it resonates with literally everyone," says Joanna Sheppard of ValiaRose Events in Birmingham, Alabama. "It tells how the two people were living their lives alone and the universe aligned the couple to meet and fall in love. From that moment, dreams came true and they never wanted to separate."
Last Dance Song: "Don't Stop Believin'" by Journey
"It's such a fun way to end the night," says Lindsey Nickel at Lovely Day Events in Napa, California. "Most of the guests know the words, they gather around to sing and dance together. It's a classic song that a lot of people know, so it gets them on the dance floor."
Recessional Song: "Bittersweet Symphony" by The Verve
"Love this song for the recessional to an on-site ceremony," says Alexis Eliopoulos O'Mara of Unique Weddings by Alexis in Boston, Massachusetts. " It's modern, but love the variety of instruments in the song."
First Dance: "Perfect Duet" by Ed Sheeran feat Beyoncé
"The song is literally PERFECT!" says Kimberly Lehman of Love, Laughter & Elegance in Massillon, Ohio. "With the vocals of both Ed and Beyonce singing their words of love. I think it's perfect for a first dance wedding song."
Processional Song: "Kissing You" by Des'ree
"I have loved this song for over 20 years," says Ashley Espinal of Dulce Dreams Events in Ozone Park, New York. "It is powerful yet romantic and has this beautiful sense of longing and desire. It evokes so many different emotions all surrounded by love! I had a quartet play this song as I walked down the aisle, and it was truly overwhelming. I've seen several other couples play this song in different versions and during different times in their celebrations. It is always a tear jerker!"