12 Vail Wedding Venues With Year-Round Scenery
No matter what time of year you're getting married, these Vail wedding venues offer plenty of natural beauty through the sunshine and the snow.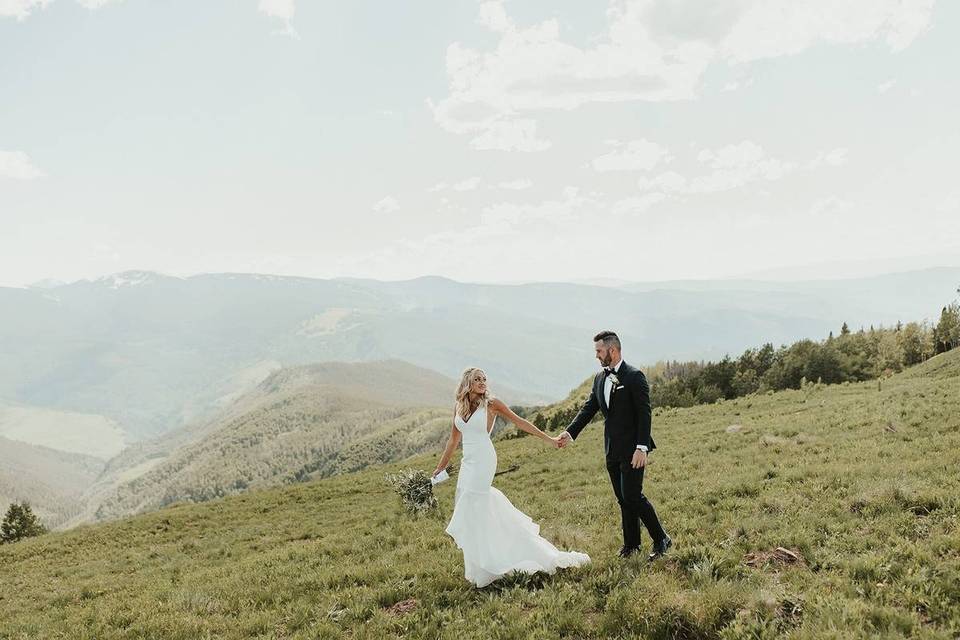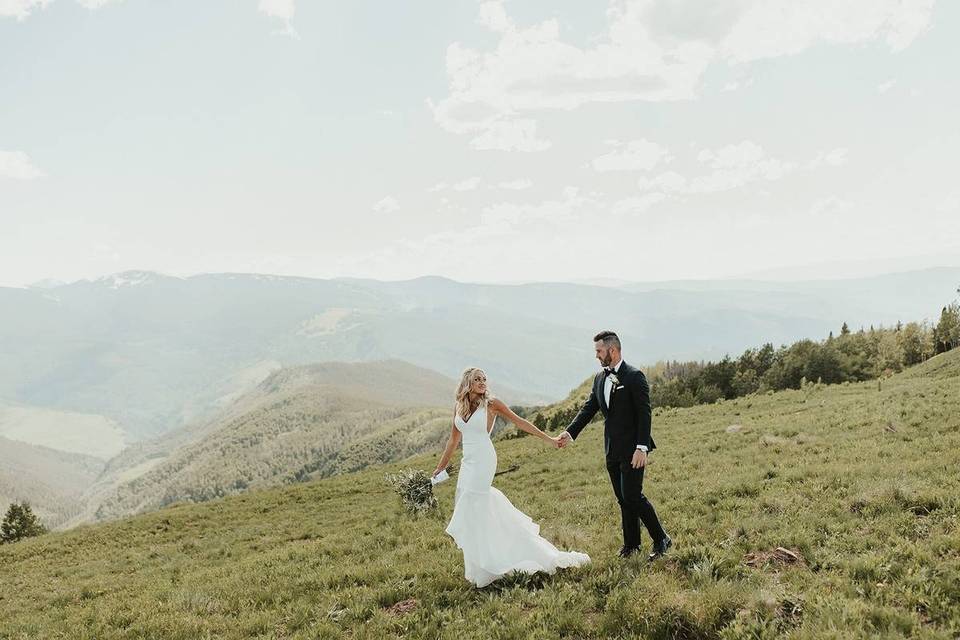 It might be small, but this iconic Colorado town is one of the most beautiful places in the state (if not the country) to get married. Best known for being a winter wonderland, Vail is actually a year-round destination, whether you're just visiting or planning the wedding of your dreams. Ski lodges, rustic ranches, and elegant hotels are some of the most popular types of Vail wedding venues—and luckily, they're all surrounded by incredible scenery. To save you the time and effort, we researched dozens of Vail, Colorado wedding venues to find the locations with the best scenery and amenities that will bring your vision to life.
Here are the best Vail wedding venues, whether you're getting married in the middle of summer or on a snowy winter day.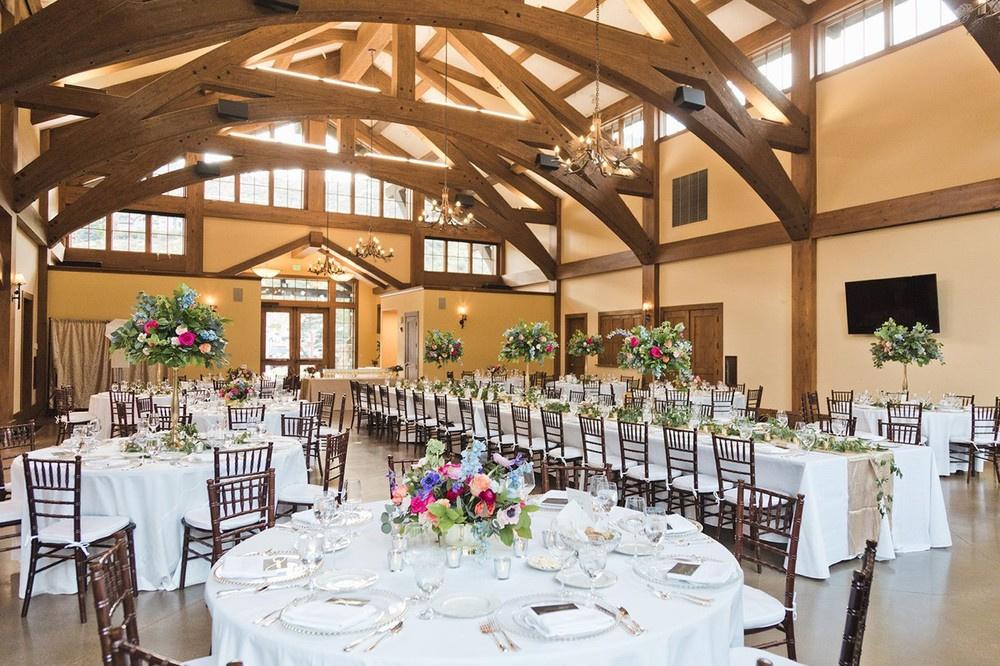 Donovan Pavilion
Natural sunlight pours in through the gorgeous floor-to-ceiling windows at Donovan Pavilion on South Frontage Road in West Vail. The alpine lodge-style wedding venue is decorated with exposed wood beams, antler chandeliers, and polished stone floors to create a rustic, cozy atmosphere. Donovan Pavilion is surrounded by 50 acres of trees and ski trails, so whether you're in the 5,200-square-foot pavilion or outside on the adjoining patio, you'll have views of the mountains from all angles. The venue can host sit-down weddings for 200 guests, with a capacity of up to 230 people for a cocktail-style reception. Tables, chairs, cleaning, and use of the full-service catering kitchen are all included with your venue rental fees.
Learn more about Donovan Pavilion »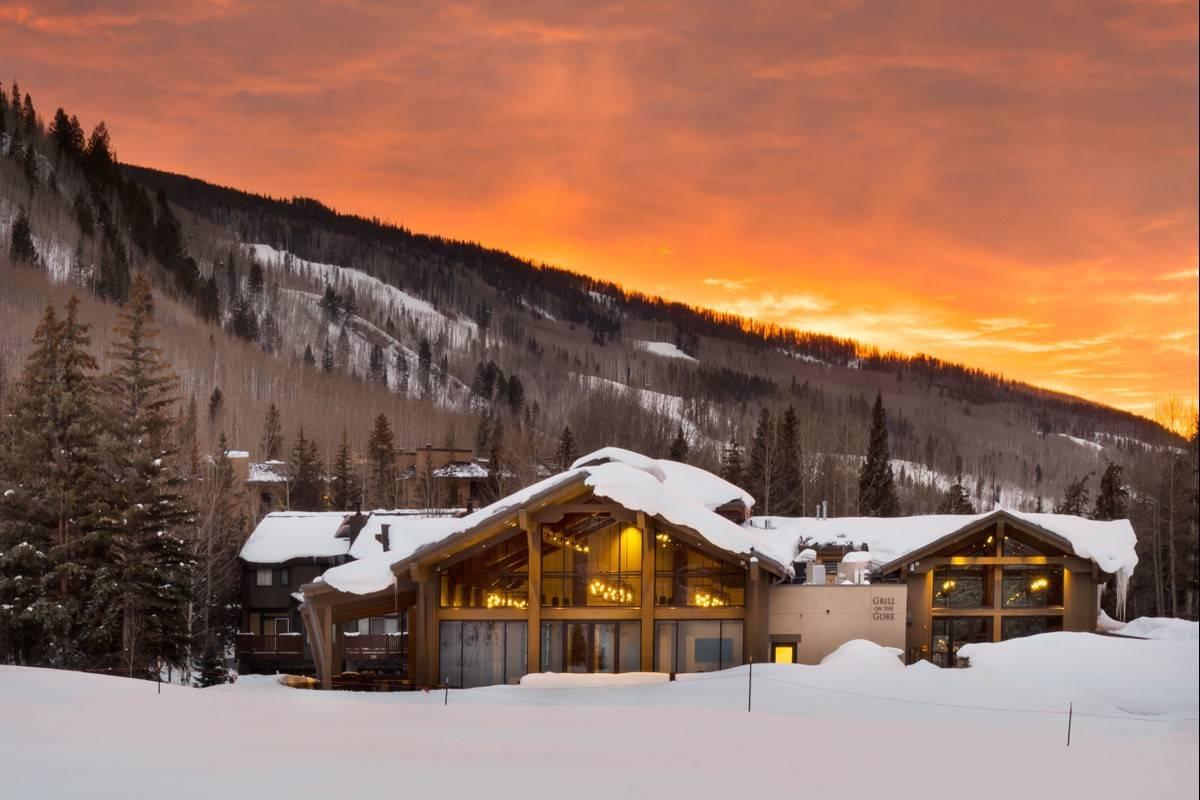 Vail Golf & Nordic Clubhouse
What do the indoor and outdoor event spaces at this Vail, Colorado wedding venue have in common? For starters, they both offer breathtaking views of the surrounding mountains, so you'll never have to compromise on scenery. If you've been dreaming of an outdoor summer wedding, you can't miss the venue's "wedding island," an intimate grassy area on the edge of a pond surrounded by Aspen trees and wildflowers. Indoors, the Gore Range Room gives you a unique view of the golf course and the Gore Range Mountains, framed by beautiful floor-to-ceiling windows. The Vail Golf & Nordic Clubhouse is a full-service wedding venue, providing everything from event rentals and day-of coordination, to gourmet catering, getting ready suites, and an in-house bar.
Learn more about Vail Golf & Nordic Clubhouse »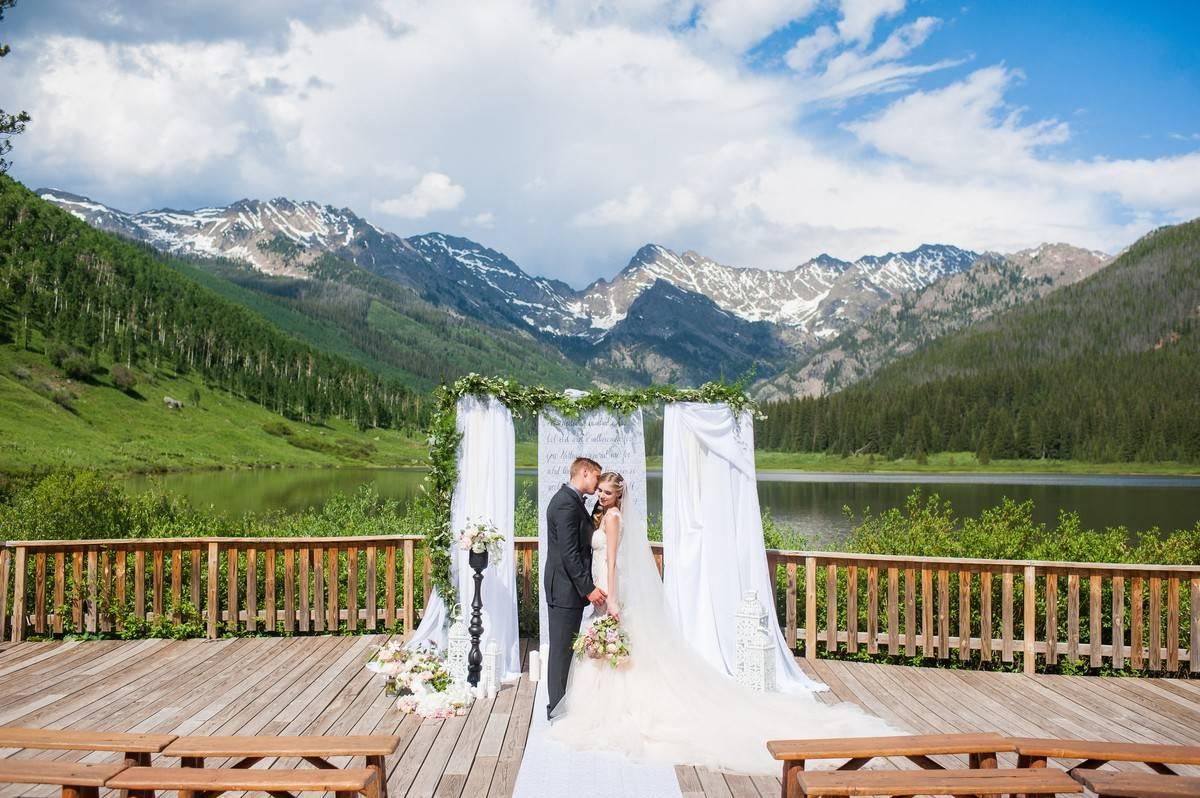 Piney River Ranch
Outdoorsy couples will fall in love with Piney River Ranch. Fair warning, you'll need to drive 45 minutes along a dirt road to reach the venue, but once you're there, it's totally worth it. Piney River Ranch is located 9,350 feet above sea level in the Gorge Range, surrounded by stunning back country scenery—and if you're lucky, you might even have an appearance from a wild moose. A spacious wood deck overlooking the mountain range is one of the venue's most popular locations for ceremonies, but there are two log pavilions you can also use. For an even more memorable experience, you can stay overnight at Piney River Ranch in one of the venue's glamping tents, yurts, or guest cabins. The venue offers six in-house catering packages, all including ranch-style cuisine like smoked chicken, BBQ ribs, or blackened salmon.
Learn more about Piney River Ranch »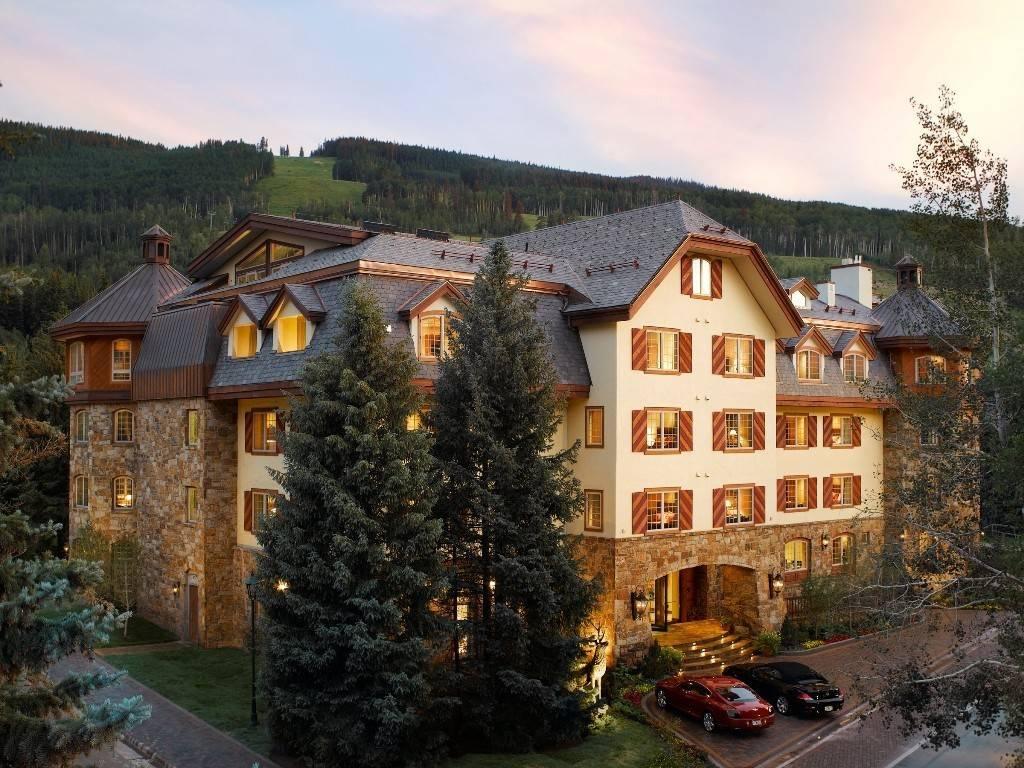 Tivoli Lodge
Planning a wedding on the smaller side? The beautiful Tivoli Lodge in Golden Peak is ideal for hosting an intimate celebration. During the warmer months, a quiet lawn at the back of the venue offers mountain views and a serene setting for groups of up to 150 people. The venue provides in-house catering, wait staff, event rentals, and guest room blocks. Rental fees for Tivoli Lodge start at $1,000, making it one of the more affordable Vail wedding venues.
Learn more about Tivoli Lodge »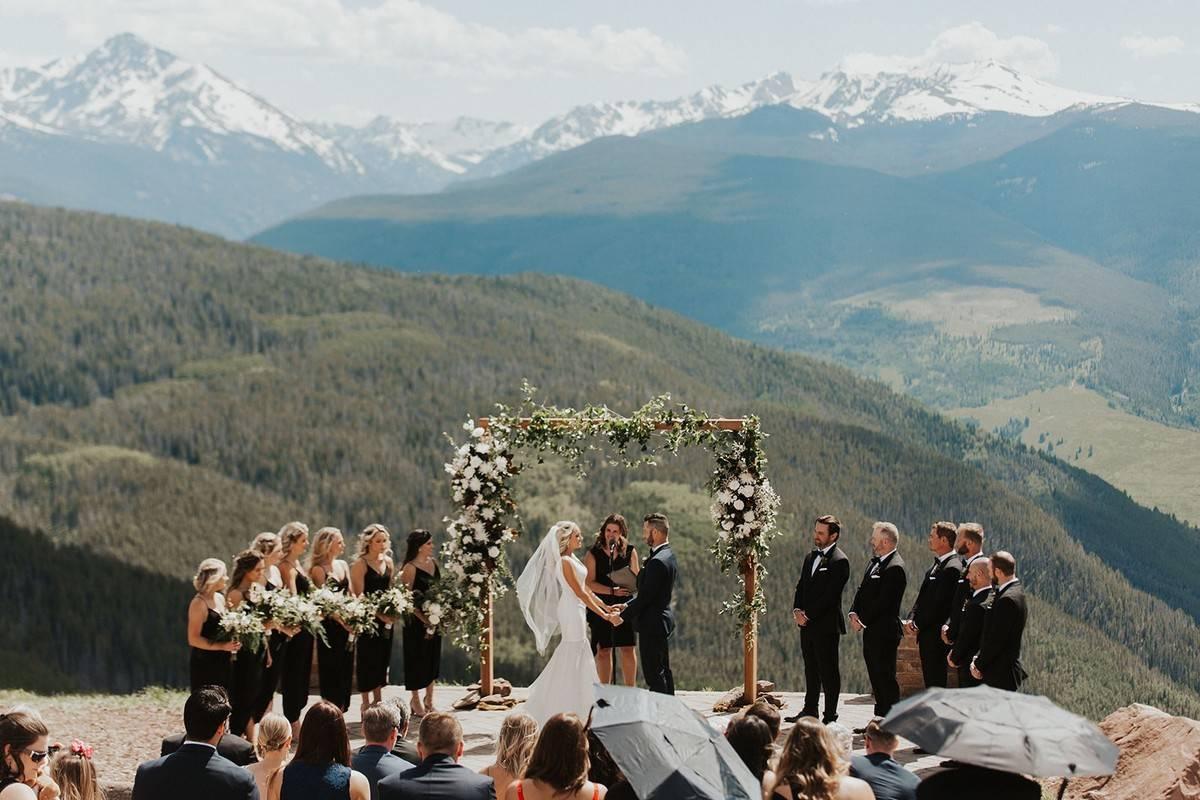 Vail Wedding Deck
The Vail Wedding Deck (also known as the Holy Cross Event Deck) is one of the most popular Vail wedding venues, and all you need to do is take one look at the view from the ceremony spot to understand why. Perched at the edge of a plateau on Vail Mountain, the Vail Wedding Deck has 360-degree panoramas of the valley and Gore Mountain Range. Even the journey to the venue is breathtaking—you and your guests will board private gondolas for an unforgettable ride up the mountain. The Vail wedding deck is available to rent from mid-June to mid-September and can host groups of up to 180 people.
Learn more about the Vail Wedding Deck »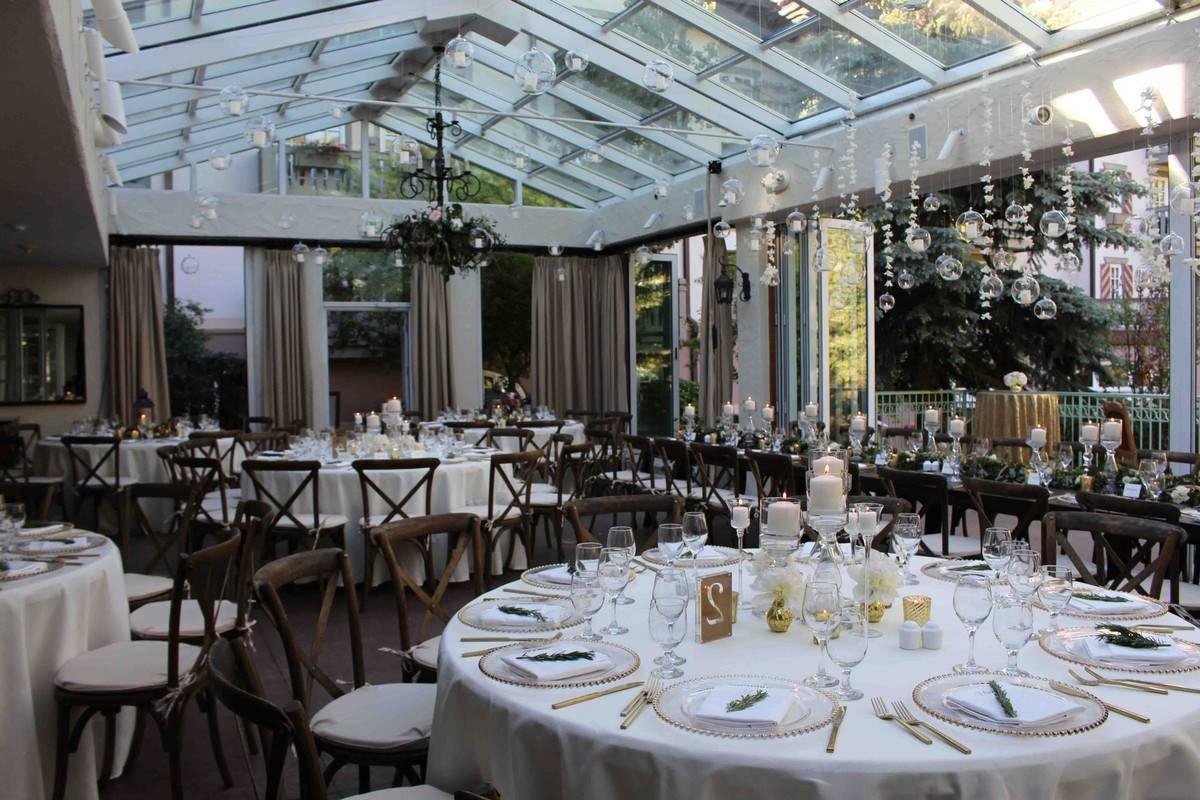 Sonnenalp Hotel
If you're into rustic elegant style, the Sonnenalp Hotel is a chic backdrop for your wedding day. This Vail wedding venue combines Western charm with European luxury, from its lodge-style facade to the gorgeous Grand Bavaria banquet room featuring dark wood floors and a painted tray ceiling. Situated in a prime spot along Gore Creek in the heart of Vail Village, the Sonnenalp Hotel is also one of the most conveniently located wedding venues in town. The hotel provides all of your wedding day essentials, including catering, event management, decorative rental items, wait staff, and guest accommodations. Thinking of extending your stay before or after the wedding? Multiple restaurants, a fitness center, and a full-service spa are located within the hotel, but you'll also be walking distance to some of Vail's best shops and eateries.
Learn more about Sonnenalp Hotel »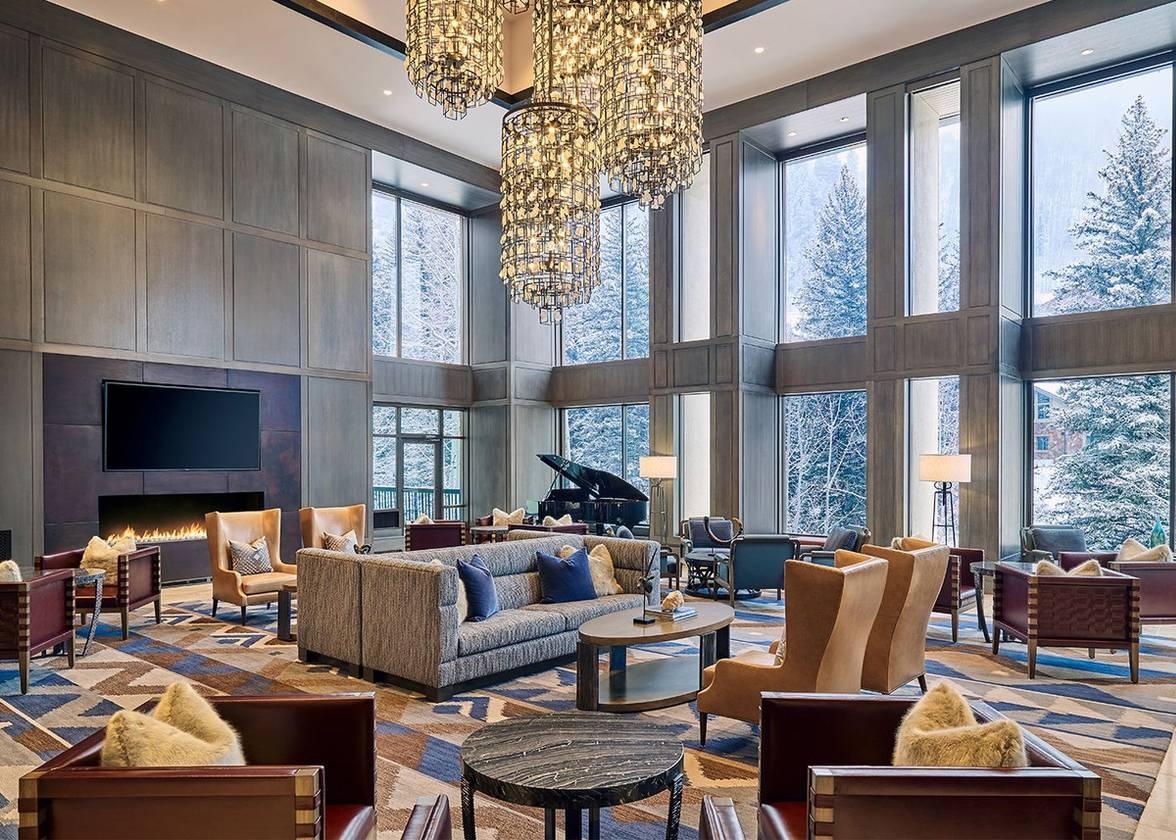 Grand Hyatt Vail
Another stylish hotel wedding venue is the Grand Hyatt Vail, located in Cascade Village. With multiple ballrooms, drawing rooms, and a waterfront terrace overlooking Gore Creek, the Grand Hyatt Vail combines convenience and scenery in one place, whether you're having a summer or winter wedding. The hotel can host events for up to 750 people, making it one of the largest Vail, Colorado wedding venues, but its gardens, private decks, and fireside lounges instantly give it a cozy vibe for smaller groups. Catering is provided by the hotel, and all wedding packages include cocktail tables, banquet tables, chairs, table linens, a dance floor, and more. Guests who stay at the hotel can enjoy the creekside pool, fitness center, spa, and on-site dining options.
Learn more about Grand Hyatt Vail »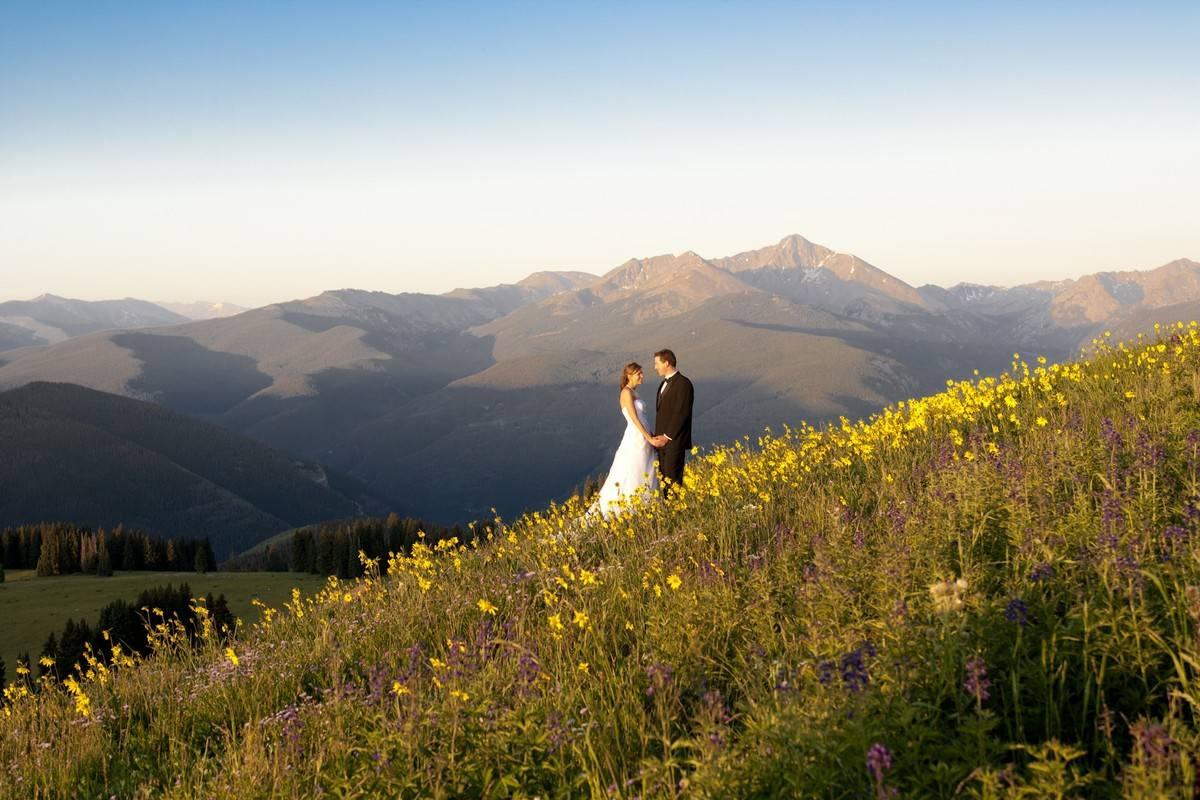 Manor Vail Lodge
This Vail wedding venue has all types of settings in one location—whether you want a restaurant, a garden, a wildflower meadow, or a traditional ballroom. Located in Golden Peak (the less-crowded area of town compared to Vail Village and Lionshead), Manor Vail Lodge is the perfect place to relax ahead of the wedding day. The resort condominiums are each outfitted with full-size kitchens, gas fireplaces, and private balconies to create a home-away-from-home feel. Couples who were married at Manor Vail Lodge rave about the venue's hospitality, so you can expect top-notch service when it comes to the venue's in-house catering, event coordination, and amenities.
Learn more about Manor Vail Lodge »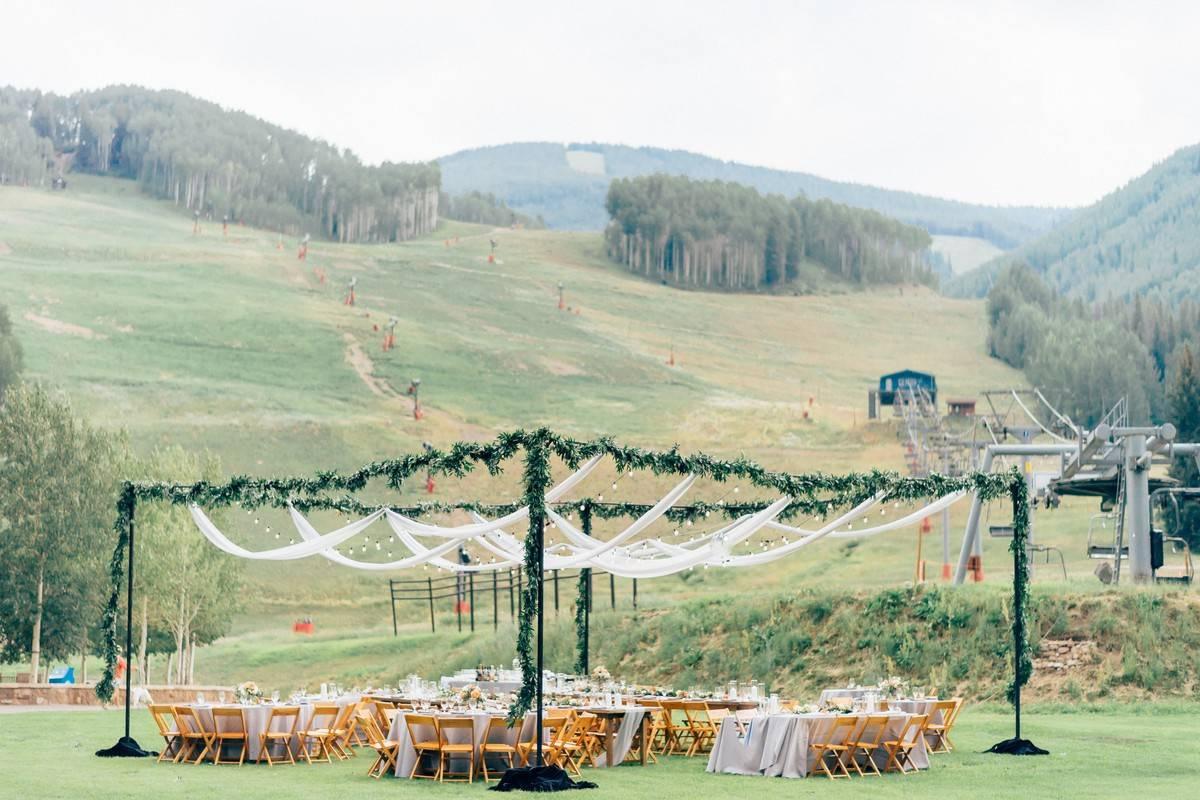 Larkspur Events & Dining
Vail wedding venues at ground level can be just as stunning as those located up high in the peaks, and Larkspur Events & Dining is a perfect example. Sitting at the base of Vail mountain, this venue has prime views of the Golden Peak gondolas and slopes, especially from the Larkspur ceremony lawn. Alternate event spaces at this all-inclusive venue include a mountainside patio, formal dining room, great room, and smaller private dining rooms.
Learn more about Larkspur Events & Dining »
Vail Racquet Club Mountain Resort
If you're looking for mountain views in East Vail, the Vail Racquet Club is an excellent place to start. Surrounded by Gore Creek and the White River National Forest, this venue is only five miles from Vail Village but provides a highly secluded setting for your nuptials, especially since the venue only hosts one wedding per day. Choose from a handful of indoor and outdoor event spaces, including the ceremony lawn, a sunny flagstone terrace, and various banquet rooms. Catering, wait staff, and basic decor items are provided in-house. For any guests who prefer to stay overnight at the venue, the resort's condos and townhouses are available for rent—and if you're hosting a lot of out-of-town guests, you can arrange group outings and activities, including horseback riding, rafting, or rock climbing.
Learn more about Vail Mountain Club Racquet Resort »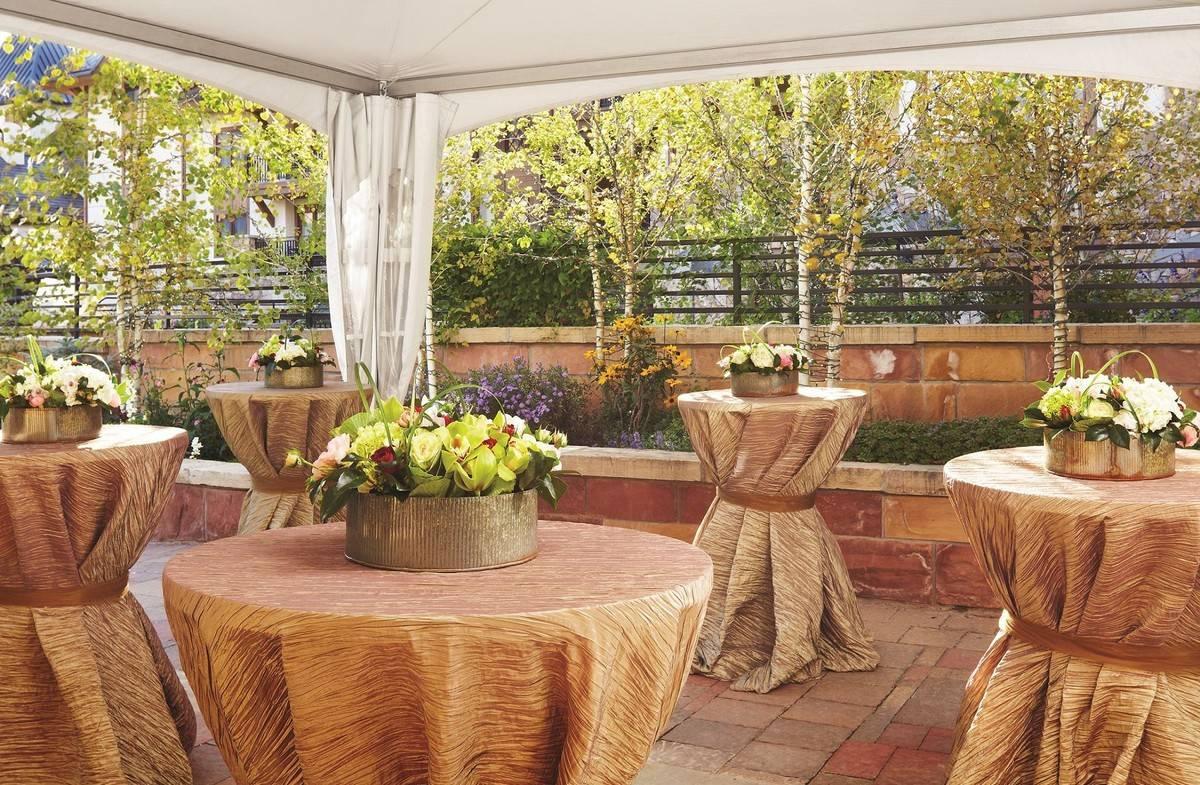 The Sebastian
Get married in the heart of town by hosting your wedding at The Sebastian located in Vail Village, only a few steps from the interfaith Vail Chapel. Whether you're inviting 10 guests or 300 guests, this hotel provides a classic setting for your wedding day, with sophisticated ballrooms, a landscaped mountain view terrace, and private dining rooms all available for you to rent. The Sebastian's professional event staff will help you plan all of the most important details of your wedding, and in-house services like catering and bartending are two more things you can cross off your to-do list. One last perk: You'll receive complimentary hotel accommodations on your wedding night and discounted rooms for your guests.
Learn more about The Sebastian »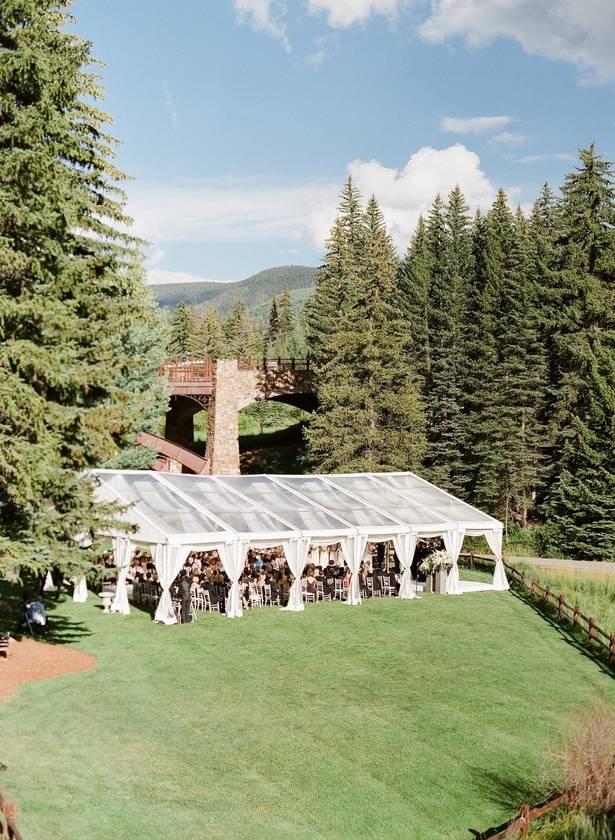 Lion Square Lodge
Situated in central Vail near the Eagle Bahn Gondola, the Lion Square Lodge offers the best of everything you'll want for your wedding day: amenities, location, scenery, and more. If you're getting married during the summer, the venue's lawn is a gorgeous setting for hosting your ceremony, tented reception, or both. Indoors, the views are just as impressive from the stately banquet rooms, each of which have a cozy fireplace. Luxury guest suites make this venue a convenient choice for hosting out-of-town guests or getting ready on the big day.