23 Wedding Lighting Ideas to Brighten Your Event Space
You and your brand-new spouse won't be the only things glowing on the big day. Try these wedding lighting ideas to add ambiance to your ceremony or reception venue.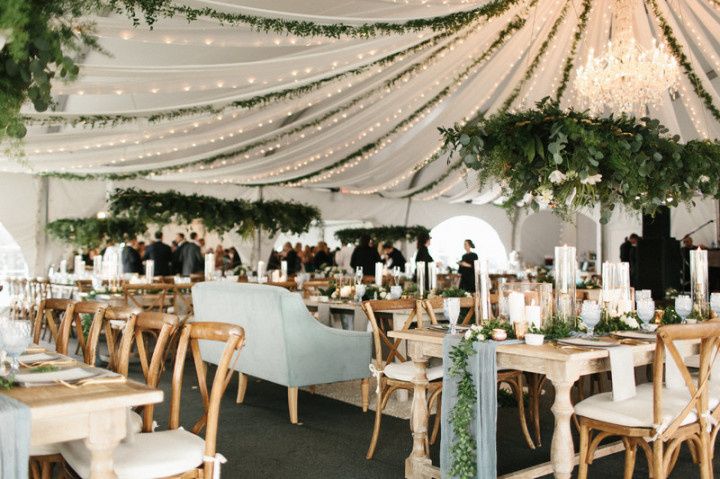 You can easily bring a burst of drama to your big day by incorporating statement light fixtures into your event space. From strands of twinkling lights to clusters of flickering pillar candles, we're sharing our favorite wedding lighting ideas to *spark* your wedding decor inspiration, whether you're getting married indoors or out. If your wedding venue needs a decorative boost, keep scrolling—these wedding light decoration ideas give a whole new meaning to the term "setting the mood."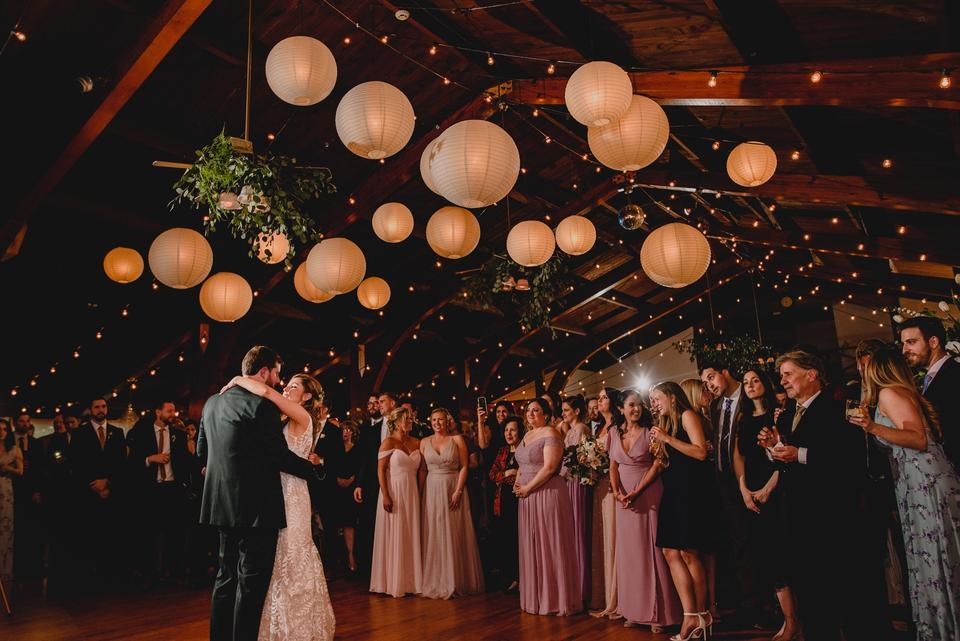 Rice Paper Lanterns
This whimsical wedding lighting idea is perfect for a casual setting, like a barn venue, backyard wedding, or beach wedding. Use an assortment of paper lanterns in different sizes to create a multi-dimensional focal piece above your dance floor.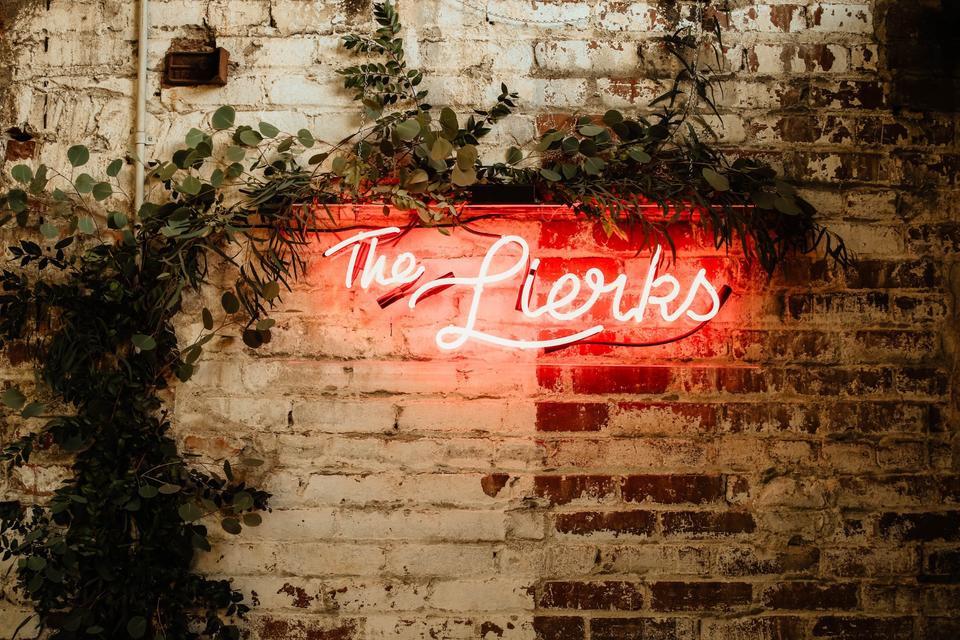 Custom Neon Sign
The neon sign trend doesn't seem to be losing traction anytime soon. This eye-catching lighting option is great if you're looking to really personalize your event space—you can use the neon sign to showcase your last name or put a cheeky phrase on display behind your head table for an instant photo backdrop.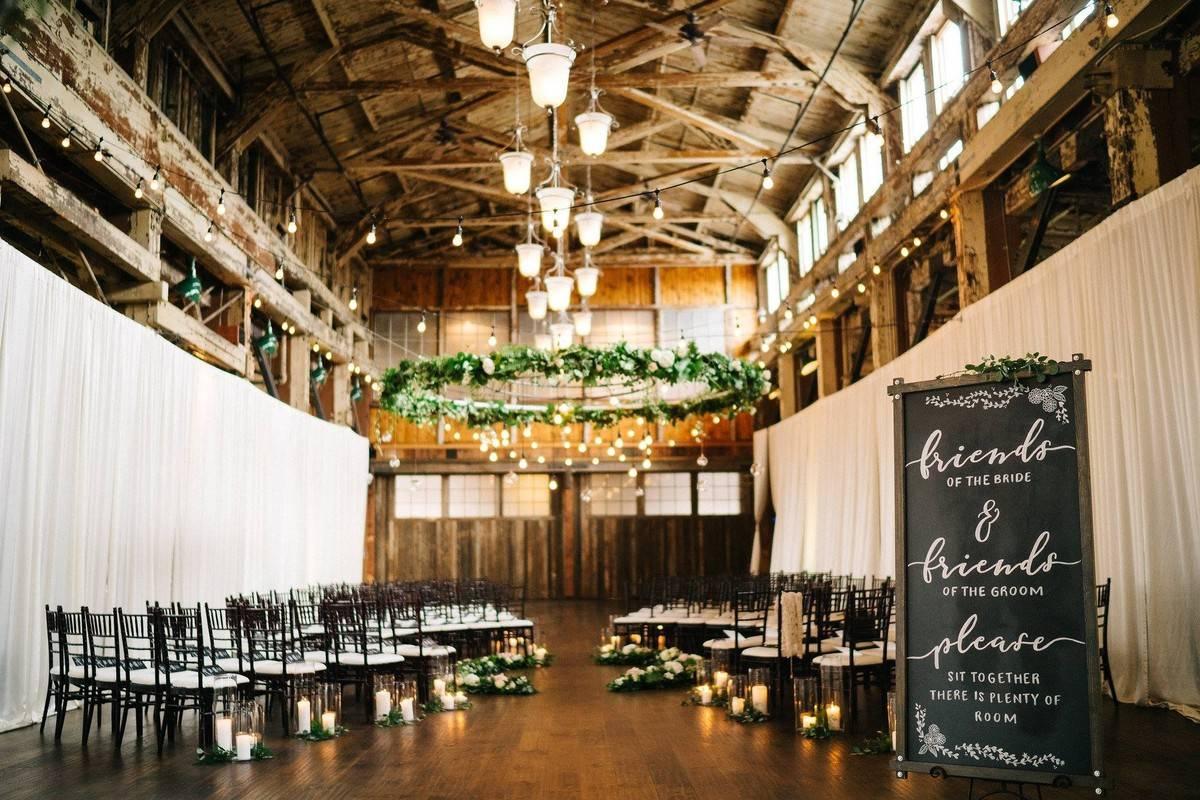 Greenery Chandelier
Ideal for elegant rustic weddings and romantic aesthetics, a greenery chandelier is a tried-and-true wedding lighting idea that always looks gorgeous. Work with your florist to choose the best type of greenery to match the rest of your decor, such as eucalyptus, smilax, or seasonal evergreens for a winter wedding.
Rattan Lanterns
Going for a boho wedding theme? Rattan lanterns will seamlessly blend with the rest of your wedding decor. Add greenery and floating votive candles to complete the laid-back vibe.
Wooden Beaded Chandeliers
If traditional crystal chandeliers aren't quite the look you're going for, try modern beaded styles instead. A cluster of white and ivory beaded chandeliers bring an airy, eclectic element to this wedding lounge area.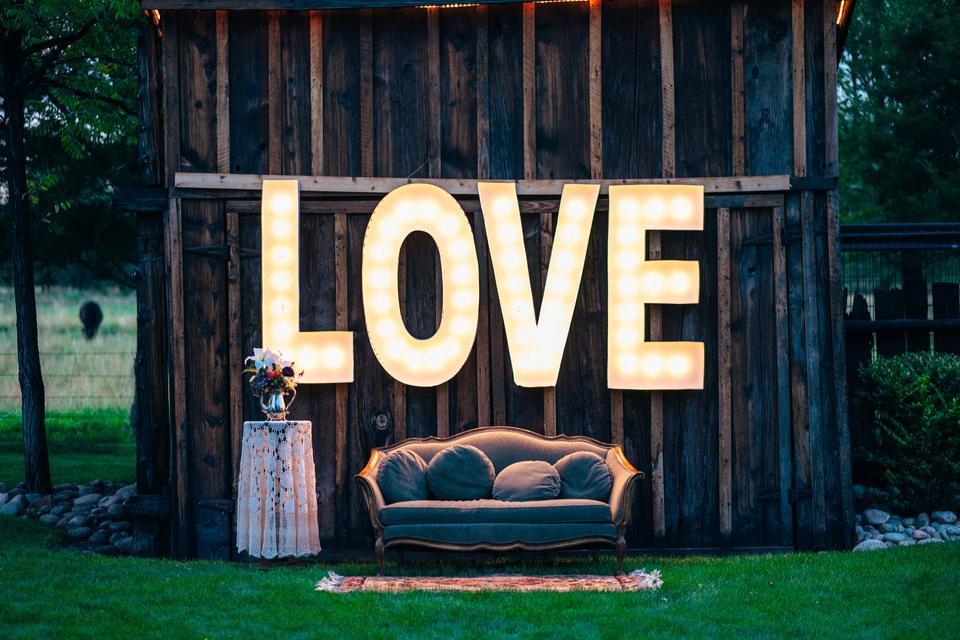 Love Sign
Let everyone know loud and clear that you've found the one with giant marquee love letters. Your guests won't be able to resist snapping a photo or two in front of this statement backdrop.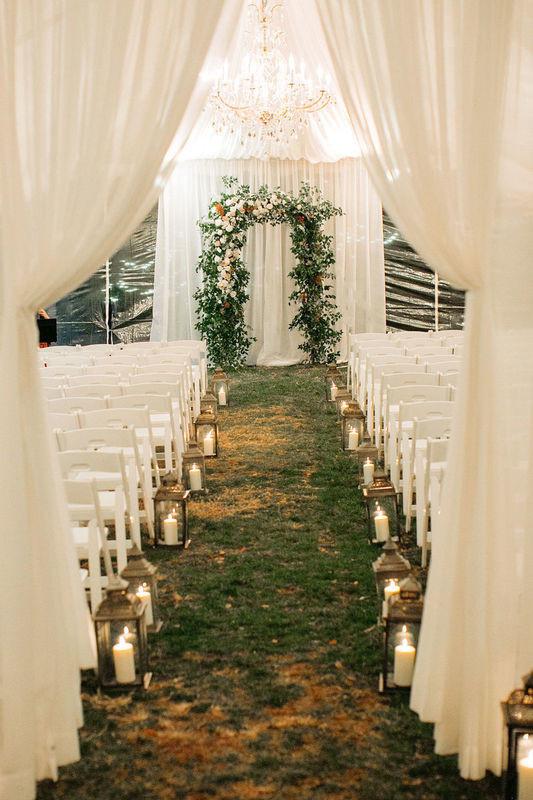 Candle Aisle Markers
Decorate your ceremony aisle with candlelit lanterns to create a romantic, cozy setting. This is one of our favorite (and easiest) wedding lighting ideas to recreate at nearly any type of venue, from garden weddings to formal ballrooms.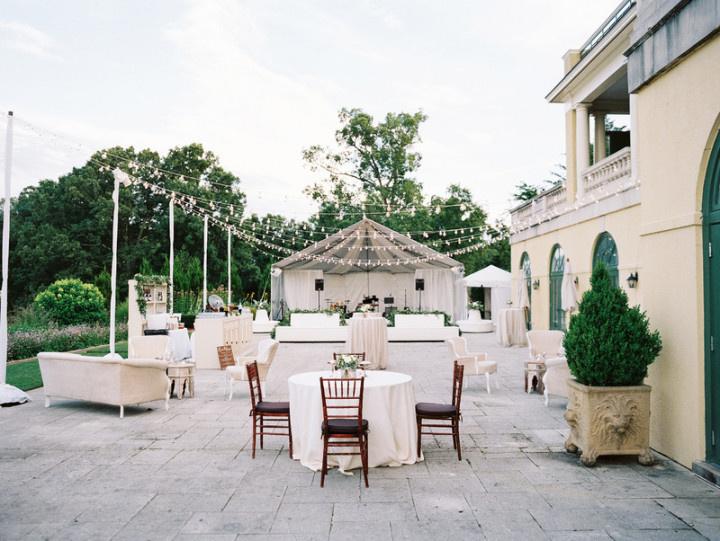 Bistro Lights
Whether you're getting married at an outdoor space or indoor venue, strands of bistro lights or Christmas lights will bring instant charm and character. Suspend them in rows over your lounge area, dance floor, or wedding reception tables to create a magical canopy of fairy lights.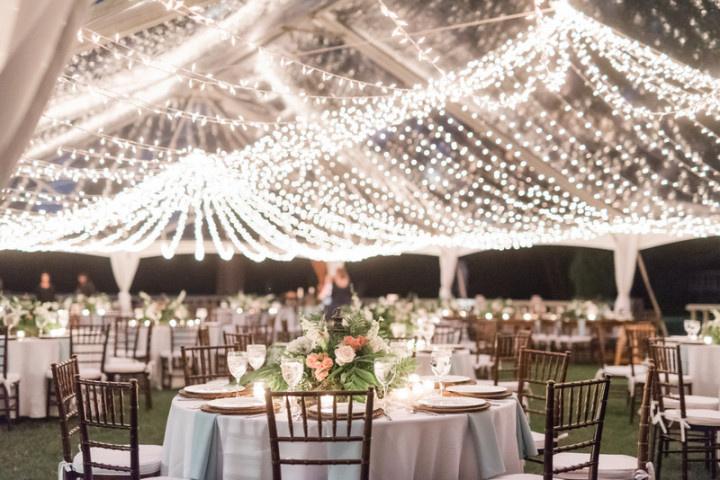 Tented Light Strands
For the ultimate wow factor, accent a clear-top wedding tent with dozens of draped LED string lights—it will feel like you're celebrating under a sky full of stars. This wedding lighting idea also looks gorgeous with a standard marquee tent or sailcloth tent.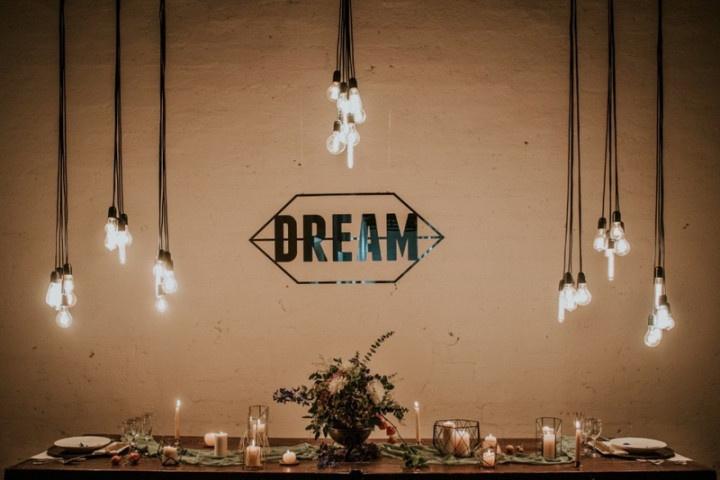 Edison Bulbs
Edison light bulbs are a sleek, sophisticated hanging light option if you love modern style. Suspend them vertically from the ceiling on long cables to create an industrial-inspired backdrop on your wedding day.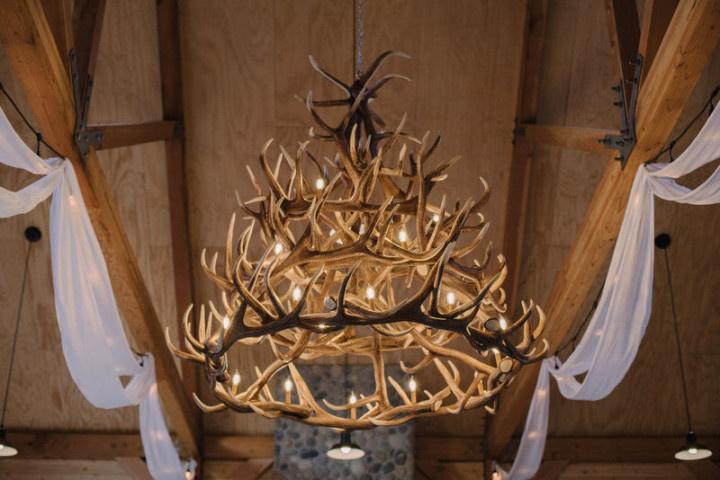 Antler Chandelier
Romantic with a rustic twist! An antler chandelier looks right at home inside a barn or countryside wedding venue.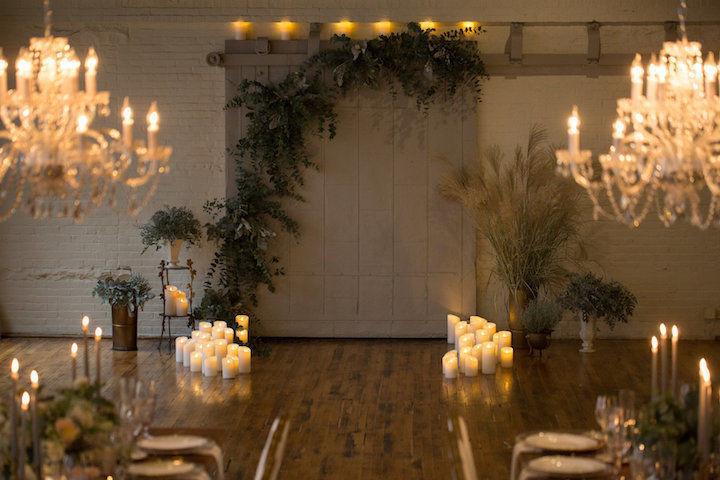 Pillar Candle Ceremony Altar
Make your wedding ceremony seem extra-intimate by surrounding the altar with clusters of pillar candles and lush greenery accents. The candles will give the space a warm white glow that feels welcoming and homey.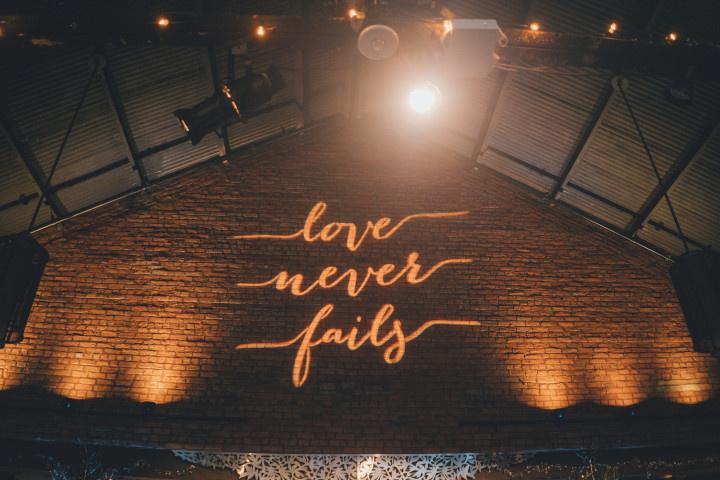 Custom Wall Projection
A custom gobo is one of the best wedding lighting ideas if you're looking to add an ultra-personal element to your wedding decor. Project your initials, wedding date or a sweet saying, like "Love Never Fails," onto an empty wall or your dance floor.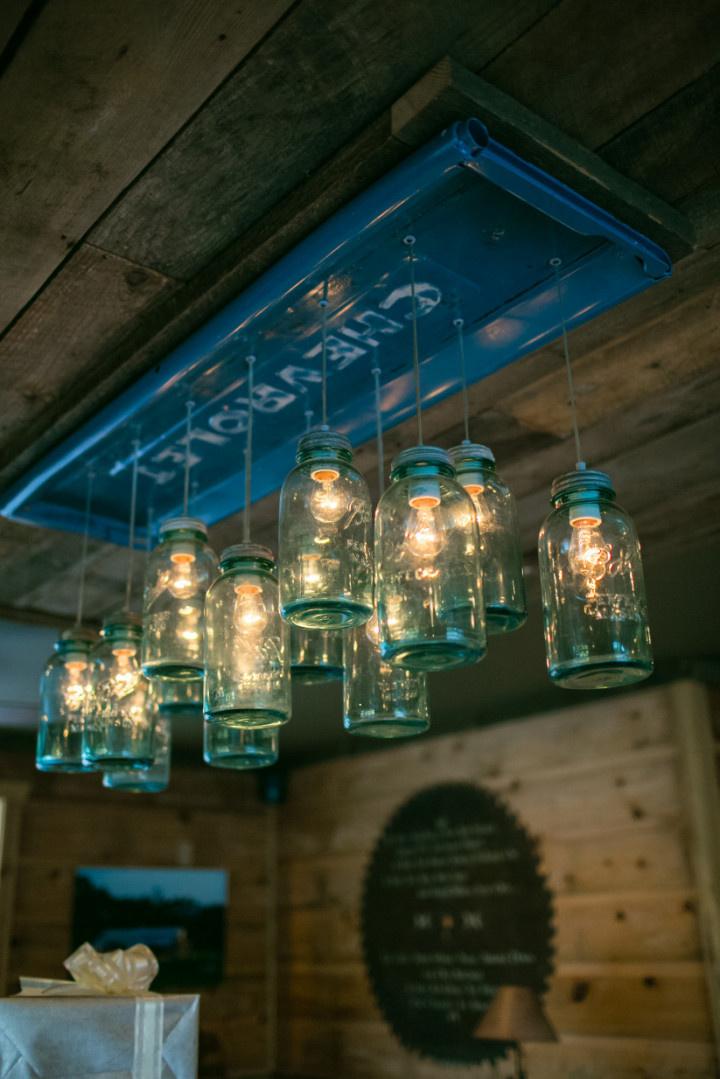 Mason Jar Chandelier
A quirky mason jar chandelier is fitting for a vintage theme or rustic wedding. We love seeing this country-style accent repurposed in a different way (instead of just for wedding centerpieces!).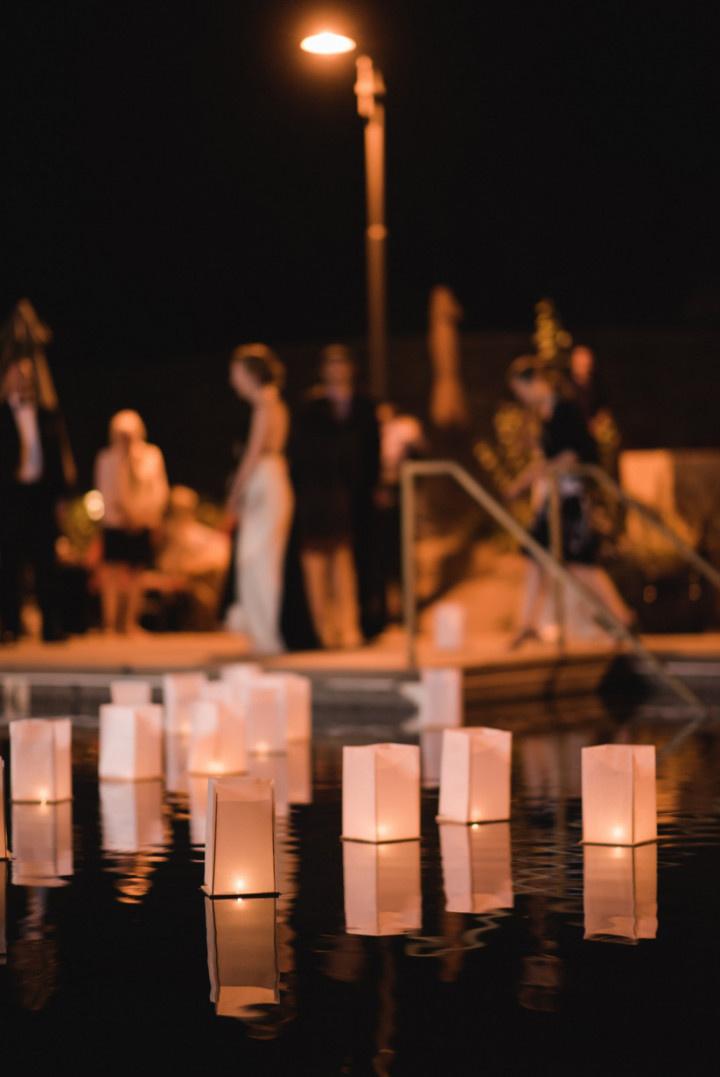 Paper Luminaries
Floating luminaries create an oh-so-magical effect if your venue has a pool, fountain or other water feature (FYI: you'll need paper lanterns, votive candles and styrofoam to keep them afloat). You can also use luminaries to accent walkways, staircases, and patios.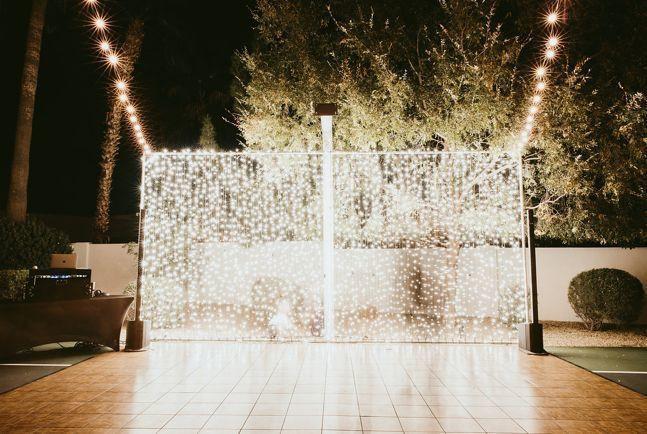 Dance Floor Backdrop
An illuminated wall of string lights provides the dreamiest ambiance for dancing the night away with your guests.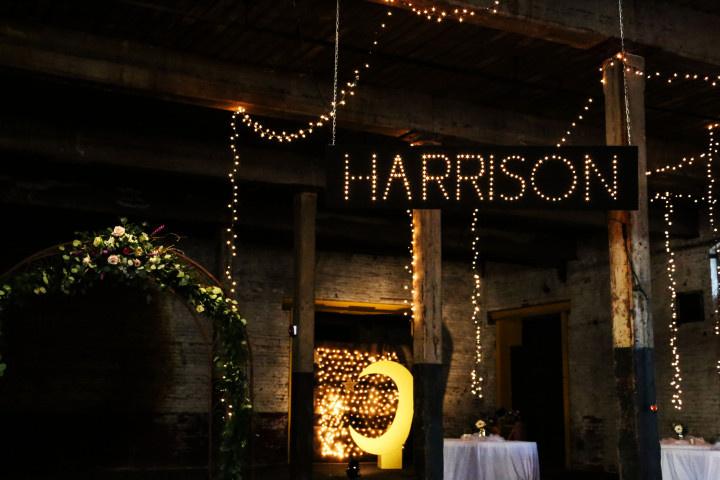 Illuminated Letter Sign
This wedding lighting idea is like Lite-Brite for your wedding, but better. Show off your last name with a glowing sign featuring dotted letters.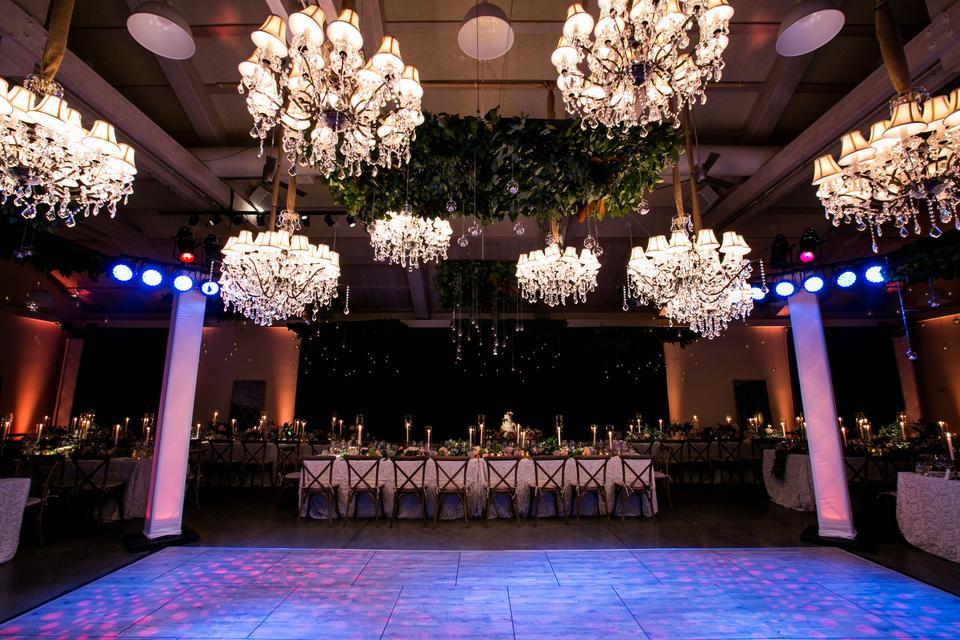 Hall of Chandeliers
Why stop at just one chandelier when you can have dozens? Crystal chandeliers bring a luxurious, dramatic spin to your wedding decor. If your venue doesn't have chandeliers already in place, look into renting them from a local event stylist or decor company.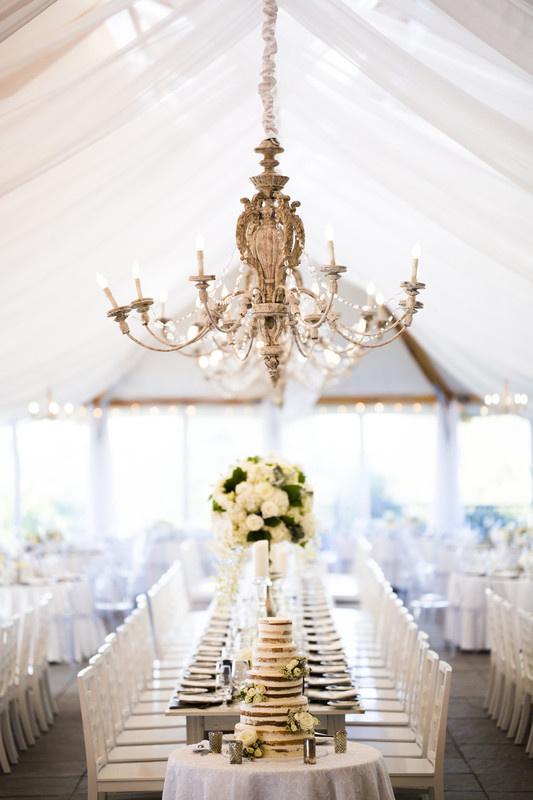 Vintage Chandelier
An antique-style iron chandelier finished with a light brown patina looks lovely if you're going for a shabby chic or French country aesthetic.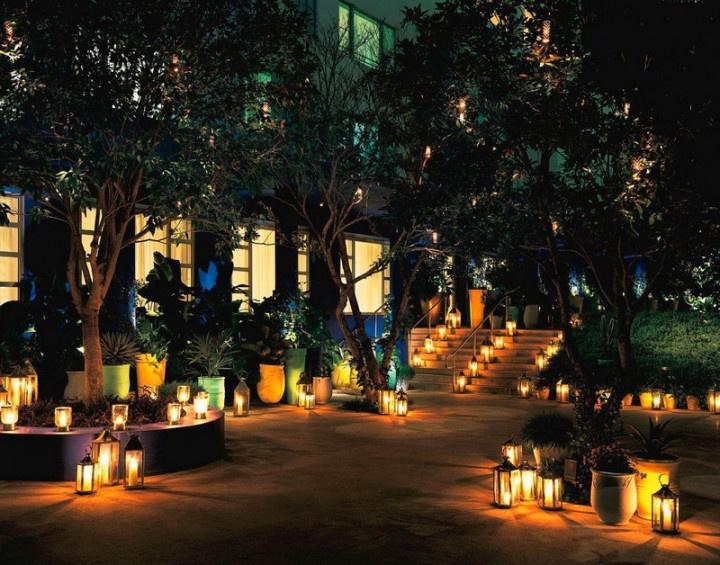 Hurricane Lanterns
Use candlelit lanterns to illuminate the main walkways of your venue to make it easy for your guests to navigate around the space after dark. If your venue doesn't permit the use of candles, you can get the same look with battery-powered options (no one will know from far away, trust us!).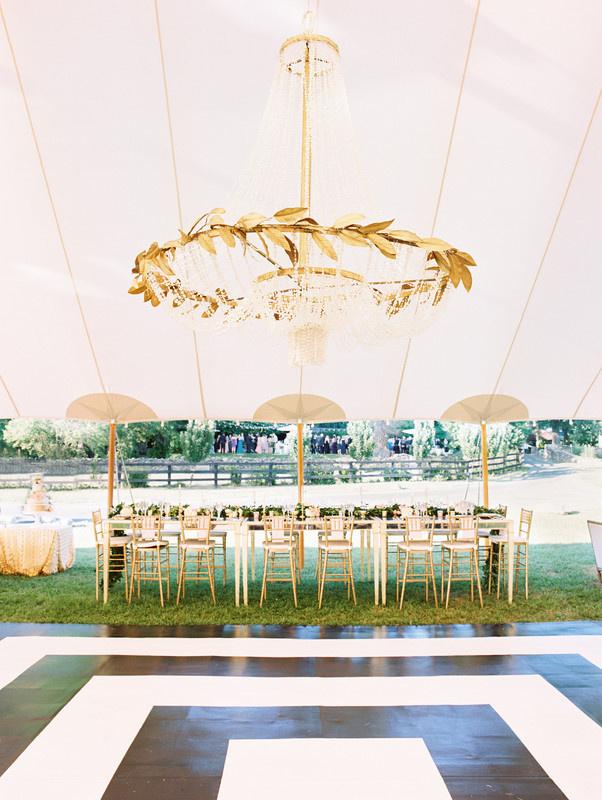 Gold Beaded Chandelier
Scout local event rental and lighting companies to look for a golden chandelier like this one, which will add ethereal Grecian goddess vibes to your ceremony or reception space.
Pendant Lights
If your venue has high ceilings, accentuate them with an eye-catching pendant light installation. Add ghost chairs and metallic gold accents, and you have the contemporary wedding space of our dreams.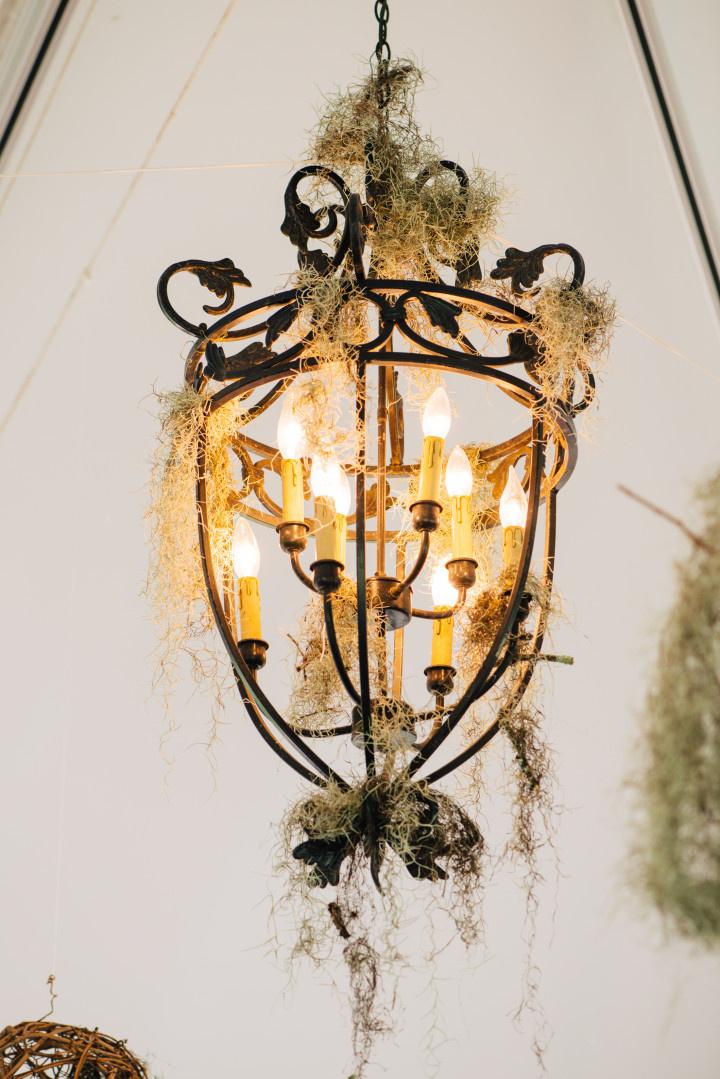 Chandelier with Spanish Moss
Spanish moss brings Southern flair to a brass chandelier, but you could recreate a similar look with other greenery, such as eucalyptus or olive leaves.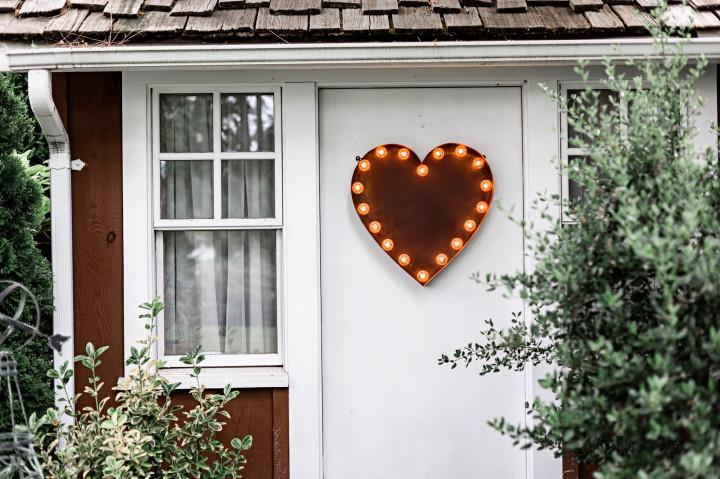 Illuminated Marquee Heart
How cute is this heart-shaped marquee light sign? It's a perfect accent if you're looking for something simple yet sweet. Place a marquee heart anywhere that needs a decorative boost—above your sweetheart table, dessert bar, or venue entrance.