The Best Hawaii Wedding Venues for Every Type of Couple
No matter your wedding theme or the size of your guest list, Hawaii is a magical place to marry. Here are the best Hawaii wedding venues for every style, from Kauai to the Big Island and beyond.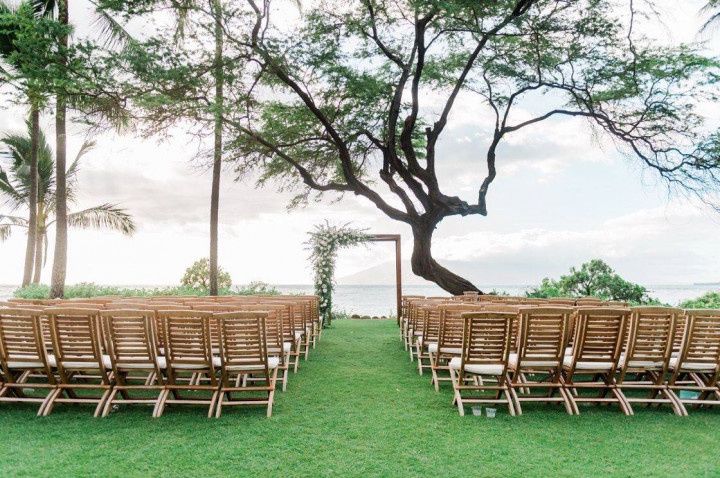 The Aloha State is one of the most beautiful places in the country (and honestly, the world) to say 'I do.' From the ultra-popular islands like Oahu and Maui, to the more secluded wedding locations on Kauai and the Big Island, these Hawaii wedding venues will have you dreaming of an escape to paradise. Ready to start planning your dream wedding? We've found the best Hawaii wedding destinations for every type of couple, whether you're envisioning an event that's classic, romantic, rustic, or totally unforgettable.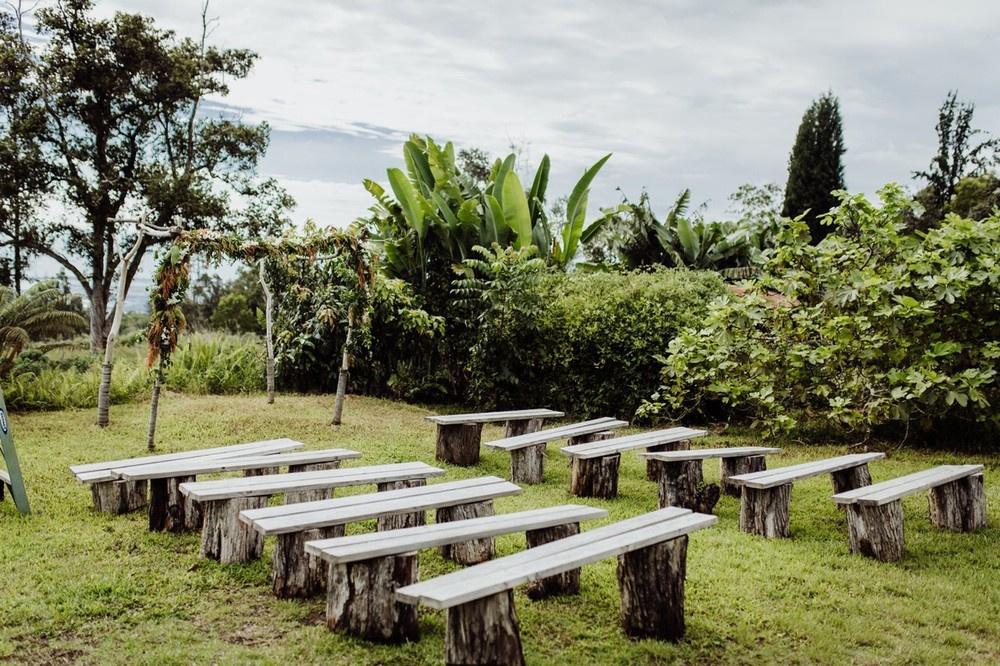 Sustainable Hawaii Wedding Venue: Sunshower Farms
Holualoa, Big Island
If sustainable practices are important to you, you're in luck, because Hawaii is home to many eco-friendly and low-waste wedding venues. Sunshower Farms, located on the Big Island, is a beautiful Hawaii wedding venue that we'd recommend checking out. The Kona coffee farm practices sustainable farming methods, including using organic pesticides and natural coffee processing. This off-the-grid venue also hosts weddings for up to 80 people, with rental fees starting at just $600 for a five-hour window. Sunshower Farms offers various wedding services, including floral design, event coordination, serving/bartending staff, and decor rentals. The best part? The farm is home to goats, ducks, chickens, and other animals that you and your guests can interact with on the big day.
Learn more about Sunshower Farms »
Mountaintop Hawaii Wedding Venue: Hawaii Vista Weddings
Pearl City, Oahu
Not all Hawaii weddings have to take place by the ocean or the beach—the scenery from high up in the mountains is just as breathtaking. Hawaii Vista Weddings at Manana Hills Estate on Oahu overlooks a protected conservation area, which means you'll have lush rainforest views no matter where you are on the property. The fact that the venue is also a flower and fruit farm only adds to the tropical ambience. Perfect for small weddings, this private estate accommodates groups of about 20-30 people and has several event spaces to choose from, including a treetop deck, bamboo forest, red barn, and various gardens.
Learn more about Hawaii Vista Weddings »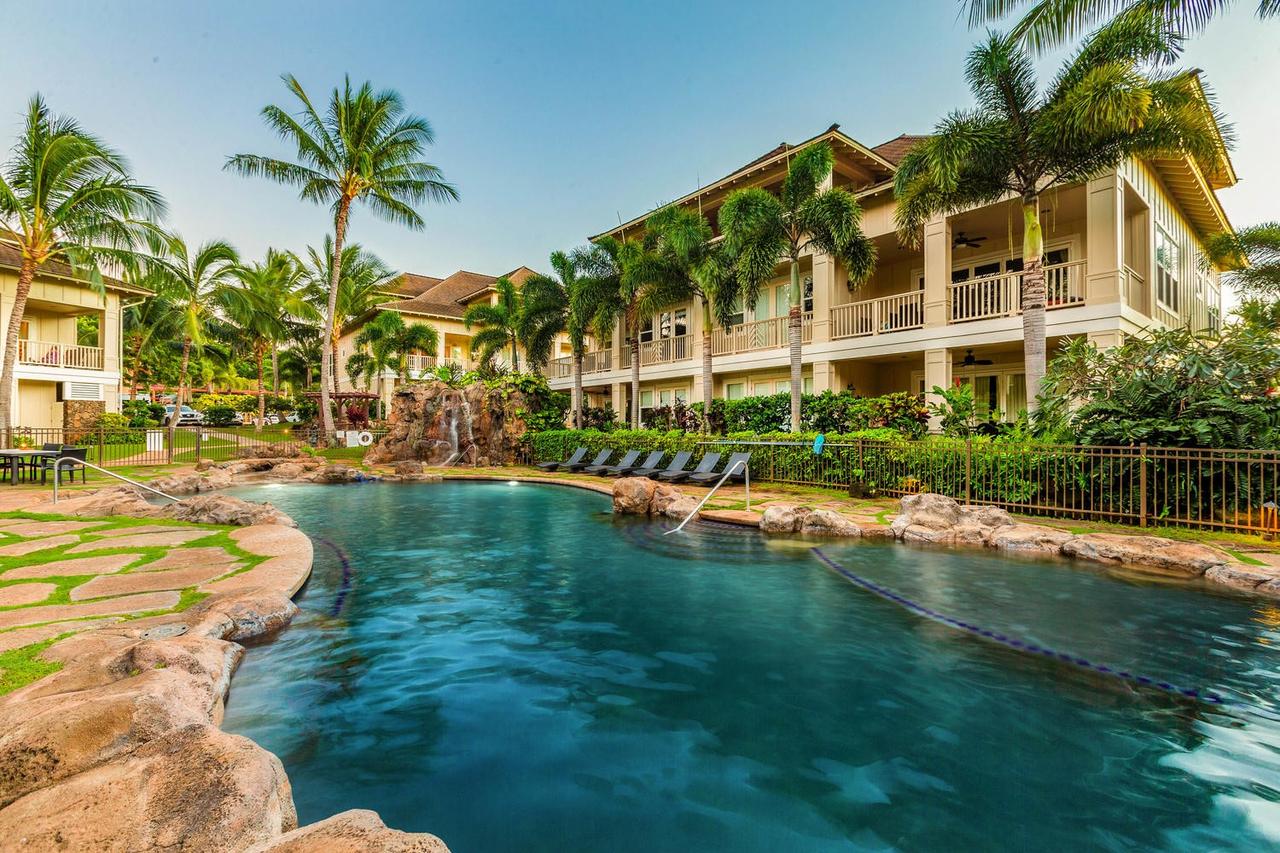 Destination Hawaii Wedding Venue: Villas at Poipu Kai
Koloa, Kauai
What could be better than having all of your guests in one place for your entire wedding weekend? Whether you're traveling from another part of Hawaii or coming from the opposite side of the world, the Villas at Poipu Kai are perfect for creating your home away from home. This gorgeous Kauai wedding venue features 29 luxury villas, each with its own kitchen, living room, and private balcony. A refreshing grotto-style pool sits at the center of the property. Two nearby beaches, Shipwreck Beach and Maha'ulepu Beach, are popular wedding ceremony locations.
Learn more about Villas at Poipu Kai »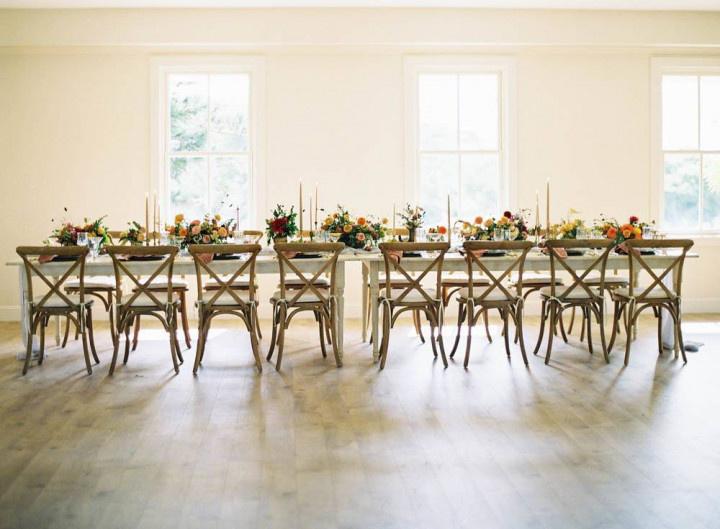 Intimate Hawaii Wedding Venue: Maui Pineapple House
Lahaina, Maui
Located in Lahaina on the island of Maui, the Pineapple House is a historic beachfront chapel overlooking the Pacific Ocean. A spacious one-acre lawn at this venue can fit up to 500 guests, but we think the Maui Pineapple House truly shines when it comes to more intimate events with smaller guest lists. A terrace located just outside of the chapel is ideal for wedding with up to 100 people. The chapel itself also makes a charming setting for your ceremony or reception, thanks to the abundant natural light, wood floors, and bright white walls that give the space a modern farmhouse vibe
Learn more about Maui Pineapple House »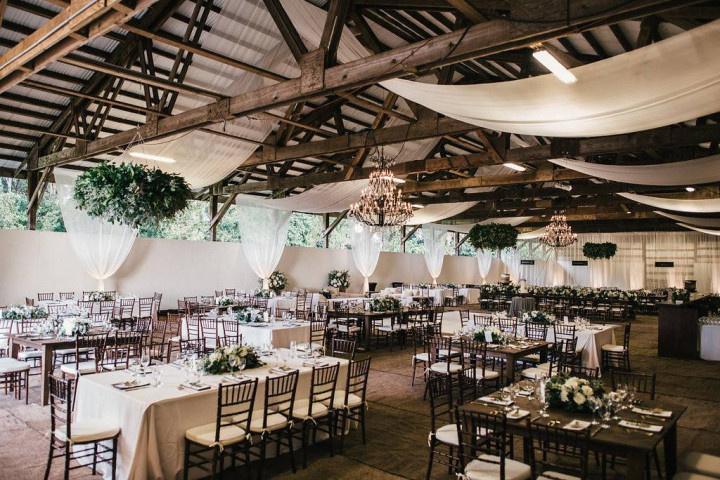 Rustic Hawaii Wedding Venue: Sunset Ranch Hawaii
Haleiwa, Oahu
Host the rustic Hawaii wedding of your dreams at this venue on the north shore of Oahu. Sunset Ranch has four event spaces you can choose from, including a spacious meadow overlooking Waimea Valley, a pond, botanical garden, and a rustic barn, pictured above. The venue is also a sustainable farm with horses, avocado trees, and citrus trees—all of which add to the ambience of your wedding day. Sunset Ranch provides in-house wedding planners and can host weddings for up to 150 people. The venue will connect you with exclusive vendors who can provide all the wedding services you need for your special day, including event rentals, photography, floral design, entertainment, and more. You'll also receive discounted accommodations at nearby hotels, along with transportation to and from the ranch.
Learn more about Sunset Ranch Hawaii »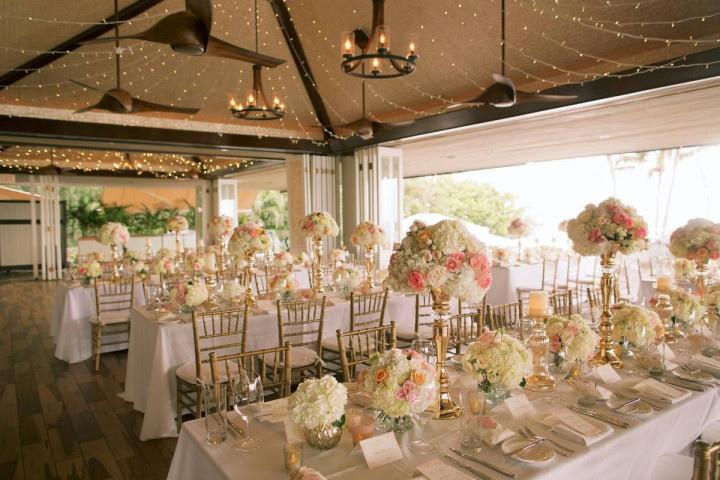 Classic Hawaii Wedding Venue: Merriman's Kapalua
Lahaina, Maui
If you want a classic wedding with authentic Hawaiian island flair, look no further than Merriman's Kapalua on Maui. This Hawaii wedding venue has a variety of indoor and outdoor event spaces, but our favorite is the open-air reception room (pictured above) that gives you breathtaking views in an elegant space. Ceremonies can be held on the venue's panoramic oceanfront deck or a grassy overlook The venue can accommodate up to 200 guests and will provide event coordination, day-of setup/cleanup, in-house catering, beverages, flatware, linens, and more.
Learn more about Merriman's Kapalua Maui »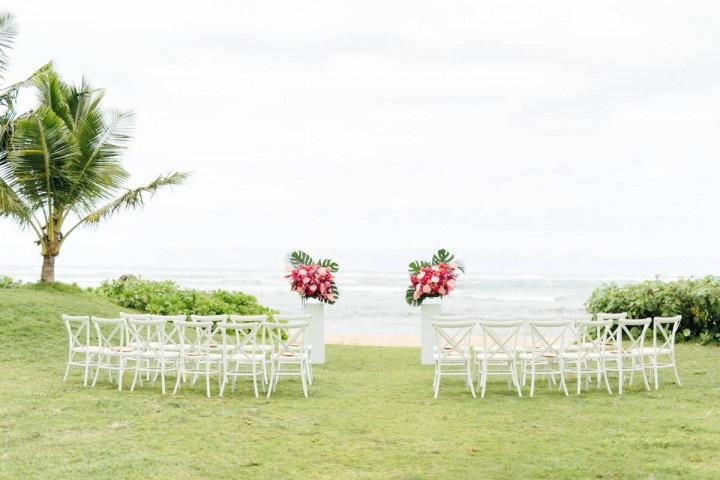 Laid-back Hawaii Wedding Venue: Loulu Palm Weddings
Haleiwa, Oahu
Whether you want an informal Hawaii beach wedding or want something that's low-key yet unexpected, you'll find plenty of options at Loulu Palm Weddings. This laid-back Hawaii wedding venue is located on the island of Oahu, with sweeping ocean views no matter where you are on the property. Choose from the private beach or the venue's vintage farmhouse, depending on the vibe you're looking to create. On the big day, you can get ready in the venue's private wedding suite while your personal day-of coordinator handles deliveries, event setup, and more. Loulu Palm Weddings can provide a variety of rentals (tents, tables, umbrellas) plus decorative accents (arches, tableware, linens, chairs, and even lawn games), making it a breeze to bring your wedding vision to life.
Learn more about Loulu Palm Weddings »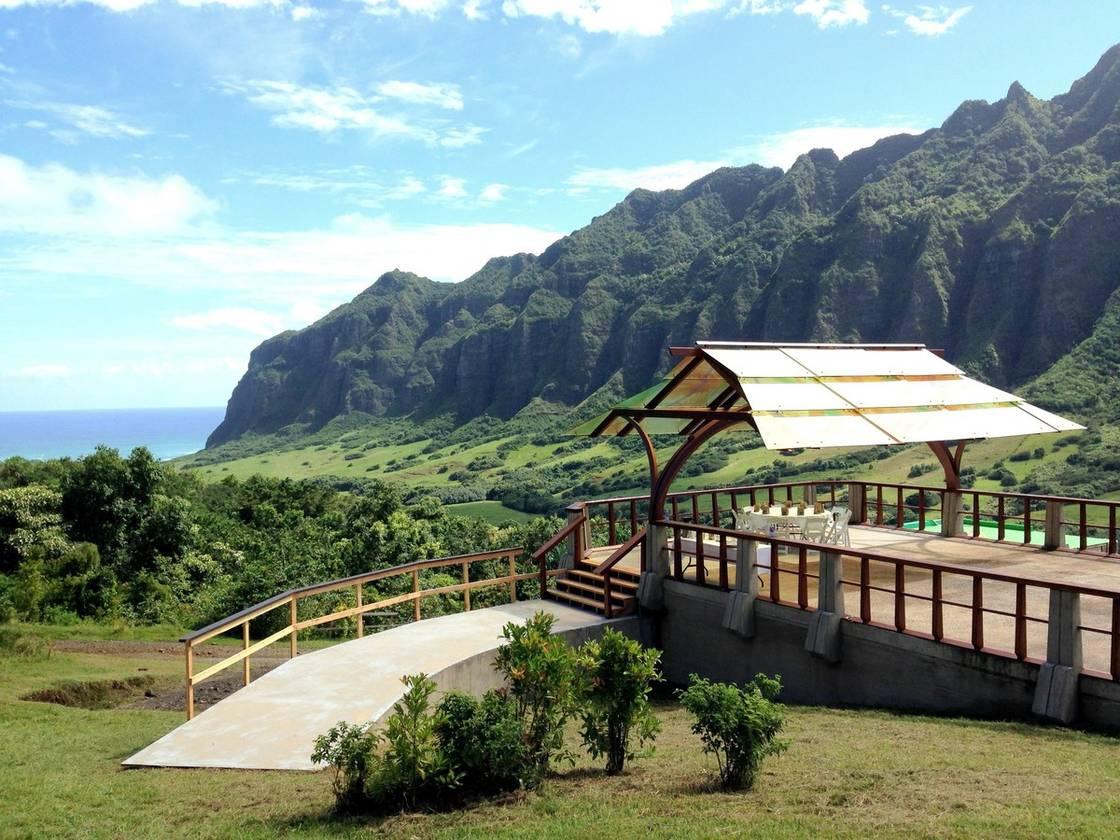 Unique Hawaii Wedding Venue: Kualoa Ranch
Kaneohe, Oahu
For a truly unique experience, get married at one of the coolest and most scenic Hawaii wedding venues, Kualoa Ranch. If you think this Oahu wedding venue looks familiar, you're not imagining it—the ranch is a popular filming location and has been featured in both big and small-screen productions, including Jurassic Park, Jumanji, and Lost. Naturally, it's a great location if you and your S.O. are entertainment buffs. Not only is Kualoa Ranch known for its Hollywood ties, but it also offers a number of unique backdrops for your wedding day. One example? Secret Island, the venue's secluded beach that can only be reached by catamaran. Talk about a one-of-a-kind experience! There's also a pavilion overlooking an ancient fishpond, along with several tropical gardens and horse pastures that make lovely backdrops.
Learn more about Kualoa Ranch »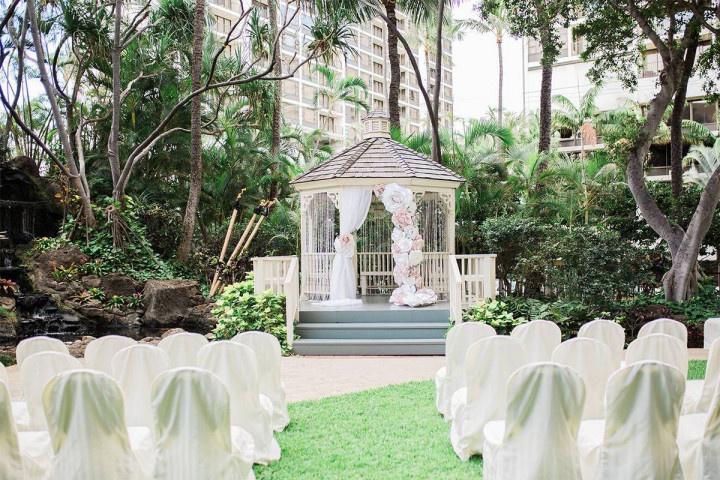 All-inclusive Hawaii Wedding Venue: Hilton Waikiki Beach
Honolulu, Oahu
Want to get married at a venue that offers everything in one place? There are plenty of all-inclusive Hawaii wedding venues, but one of our favorites is the Hilton Waikiki Beach in Honolulu. This venue is located on Oahu, one of the most famous Hawaiian islands and a popular spot for vacationers from around the world, thanks to the stunning white sand beaches. With plenty of restaurants, shopping, and entertainment nearby, the hotel is in a great location for anyone hosting a destination wedding. You won't have to worry about planning your big day from a distance, since the Hilton Waikiki Beach offers customizable wedding packages to help you easily cross all of the essentials (and more) off your list. You'll also have the option of multiple event spaces, from a romantic garden to a grand ballroom and modern penthouse space.
Learn more about Hilton Waikiki Beach »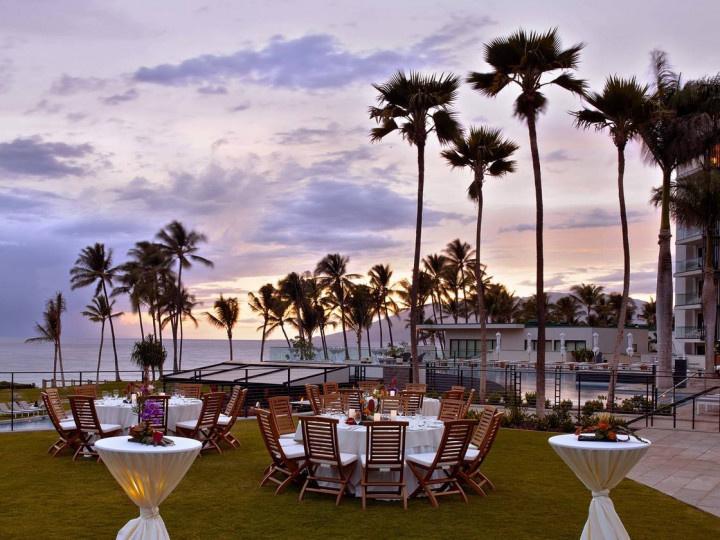 Modern Hawaii Wedding Venue: Andaz Maui at Wailea Resort
Kihei, Maui
This stylish beach resort on Maui is perfect for couples looking to bring a modern spin to their Hawaii wedding. With sleek finishes like glass-walled lanais, floor-to-ceiling windows, and perfectly manicured lawns, the indoor and outdoor event spaces (there are a dozen of them!) at Andaz Maui are ideal for hosting a an ultra-chic event with modern tropical wedding vibes. With a capacity of 700 guests, Andaz Maui is also one of the largest Hawaiian wedding venues on our list of faves. The venue also offers wedding day services such as event planning, catering, decor rentals, setup, cleanup, and lighting.
Learn more about Andaz Maui at Wailea Resort »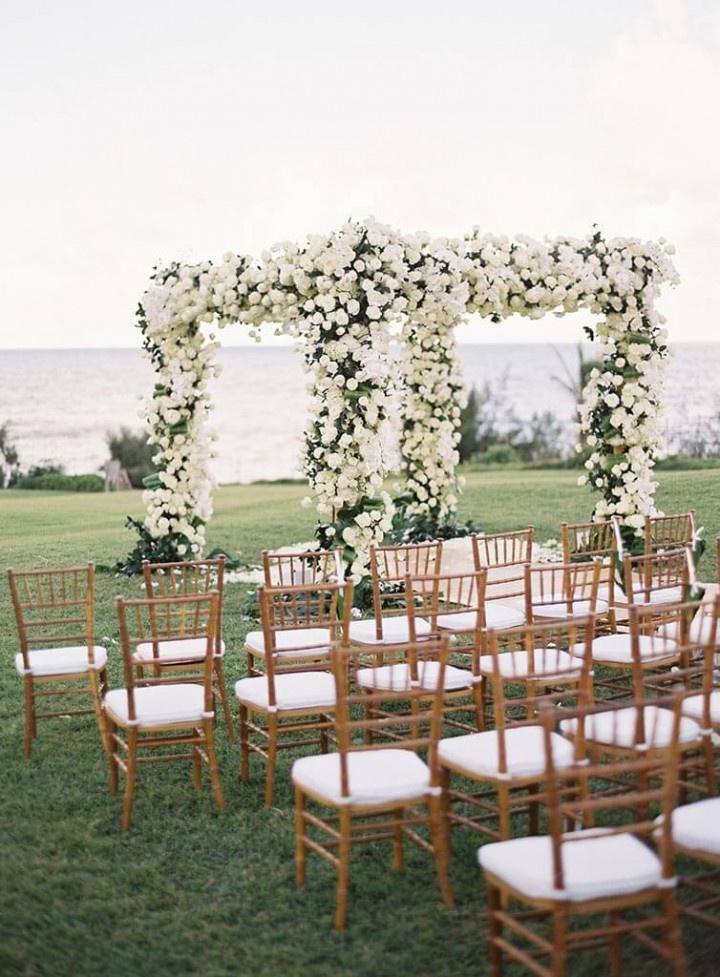 Romantic Hawaii Wedding Venue: Hana Maui Resort
Hana, Maui
Say hello to one of the prettiest wedding venues in all of Hawaii. From coastal bluff ceremonies overlooking the ocean (a perfect spot for elopements and vow renewals), to intimate dinners on the secluded lanai, Hana Maui Resort is a super-romantic location for your nuptials. In total, the venue has four outdoor ceremony spaces and eight indoor spaces, allowing you to truly customize your big day. Catering, bartending, floral design, and entertainment add-ons such as hula dancers and ukulele music can all be arranged through the venue. Check into the resort a few days early to kickstart your celebration and catch up on some R&R before heading to the altar—Hana Maui Resort has a world-class spa, restaurant, and luxury accommodations onsite.
Learn more about Hana Maui Resort »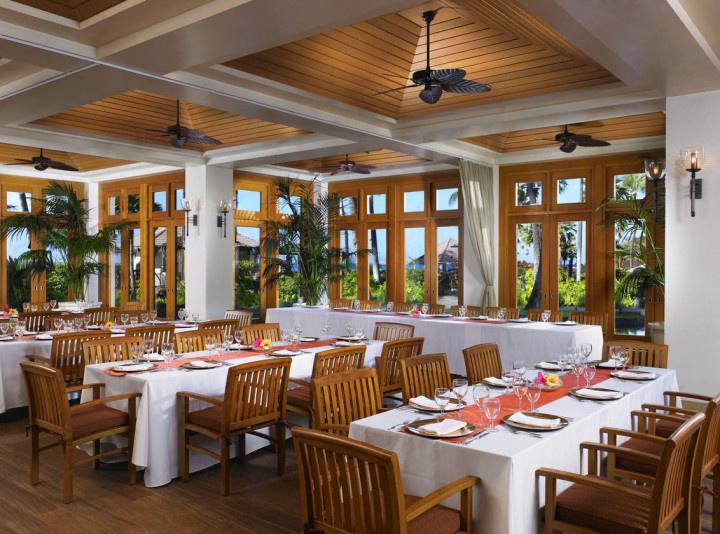 Indoor Hawaii Wedding Venue: Sheraton Maui Resort & Spa
Lahaina, Maui
Hawaii is a gorgeous place to get married outside, but there are plenty of equally stunning indoor Hawaii wedding venues, too. The Sheraton Maui Resort & Spa is an excellent example of an indoor wedding venue that captures the spirit of the islands. The resort's Coral Reef room (pictured above) is surrounded by glass windows that create an indoor-outdoor atmosphere and fill the room with light. Another thing we love about this venue are the wedding packages, which will help you stay stress-free since your catering, cake, event rentals, and more are all included in the pricing.