As Hawaii's second-largest island, Maui is nicknamed the "Valley Isle" for its rugged yet breathtaking landscape filled with mountains, waterfalls, and dense tropical forests. If you're considering getting married in Hawaii, these Maui wedding venues offer all the same perks as popular Hawaiian locations like Honolulu and Waikiki — gorgeous beaches, top-notch resorts, beautiful sunsets — with a much more laid-back vibe. Maui is constantly named one of the best Hawaiian islands for vacationers, but it's a seriously incredible backdrop for your wedding, too!
See why we're loving these Maui wedding venues.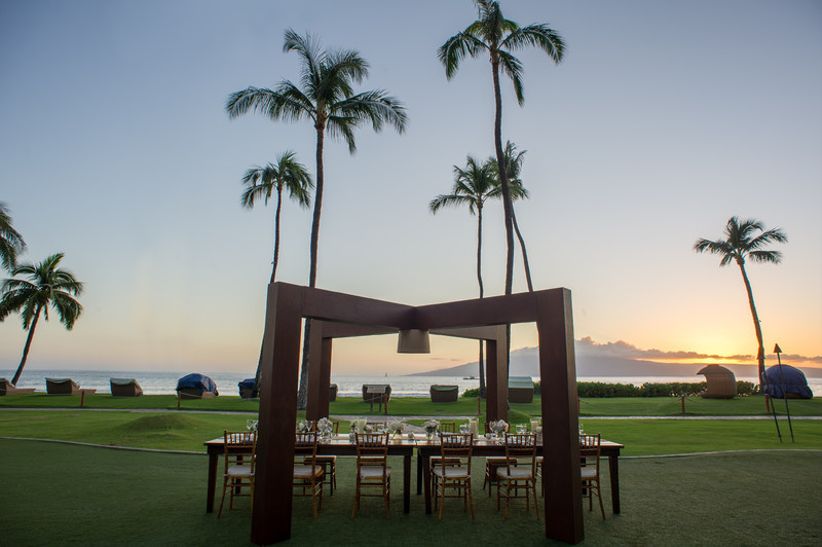 Hyatt Regency Maui Resort and Spa
The Hyatt Regency Maui is a full-service, all-inclusive wedding venue located on 40 acres along Ka`anapali Beach, one of Maui's most popular regions. Leading up to the big day, you can leave the planning and coordination to the resort's staff, who will take care of everything from catering and decor to event setup. The Hyatt Regency Maui is one of the largest Maui wedding venues, accommodating up to 600 people. The venue has a range of different event spaces, from beachfront lawns with ocean views to traditional ballrooms and meeting spaces. Extend your stay by reserving an oceanfront room or luxury suite, and be sure to make plenty of time for relaxing by the pool!
Learn more about Hyatt Regency Maui Resort and Spa »
Fairmont Kea Lani
Wailea is one of the more secluded towns along Maui's southwestern coastline. It's known for its luxurious resort community vibe, prestigious golf courses, and crescent-shaped beaches. The Fairmont Kea Lani is tucked along the Wailea coastline and recently underwent a complete renovation, transforming it into one of the most elite venues for Maui weddings. This resort is also one of the only places in Hawaii where you'll find that all guest rooms and suites have an ocean view, making it ideal for anyone looking to host an unforgettable destination wedding. Fairmont Kea Lani has both indoor and outdoor spaces for your big day — we personally love the Polo Lawn, which is pictured above.
Learn more about Fairmont Kea Lani »
The Ritz-Carlton, Kapalua
The Ritz-Carlton Kapalua is another one of our favorite Maui wedding venues. Located in Kapalua, which is home to one of Hawaii's largest nature preserves, this venue is surrounded by amazing scenery, including lush rainforests and marine sanctuaries. The Ritz-Carlton is one of only three resorts in Kapalua, giving you privacy and serenity on the big day. You can get married on the beach, a hilltop lawn, or even on the edge of a cliff overlooking the ocean. The venue provides basic wedding services, including catering, event rentals, and coordination.
Learn more about The Ritz-Carlton, Kapalua »
Kaanapali Beach Hotel
Whether you're eloping, renewing your vows, or hosting a wedding for 300 people, Kaanapali Beach Hotel offers Maui wedding packages for all of the above. In addition to basic event coordination, the Kaanapali Beach Hotel will provide catering, cake, event rentals, and accommodations for your big day. This venue has 11 acres of scenic property, with oceanfront, ocean view, and secluded garden spaces available. With your venue rental, you also have the option to personalize your wedding with various add-ons, such as floral design, hula dancers, lei greeters, ceremony musicians, and more.
Learn more about Kaanapali Beach Hotel »
Travaasa Hana, Maui
If you're looking for a venue with true Hawaiian charm, check out Travaasa Hana on Maui's east coast. This secluded venue has fabulous oceanfront spots for anyone looking to host a classic Maui beach wedding, but the resort also has additional indoor and outdoor spaces. A plantation house has an adjoining lanai connected by a wall of French doors that open to allow an abundance of natural light and ocean breezes. Various pavilions and dining rooms are also available, depending on the size of your guest list. The spacious venue also features oceanfront bungalows, family suites, two pools, a full-service spa, yoga studio, and a restaurant.
Learn more about Travaasa Hana, Maui »
The Steeple House
Not all Maui wedding venues are on the beach! This quaint venue in Kapalua does have a spacious lawn with ocean views, but it also features a historical chapel that is lovely for an intimate indoor ceremony. The chapel's white walls, natural wood floors and vaulted ceilings make the interior space feel extra-roomy and bright. If you can't live without a bit of sand between your toes, The Steeple House is just a short five-minute walk to Ironwoods Beach — perfect for taking your wedding portraits or watching the sunset. The Kapalua cliffs are also nearby if you're looking for a dramatic backdrop. Customize your venue rental by reserving just the chapel for a small group or the entire property, which can fit up to 500 people.
Learn more about The Steeple House »
Panoramic Paradise
Located in the foothills of the mountains above Lahaina, Panoramic Paradise might not have a beach, but the lush gardens and sweeping scenery are just as picturesque. From this venue, you'll have incredible bird's eye views of the Maui coastline and the volcanic Kaho'olawe Islands in the distance. Exchange your vows in an outdoor ceremony on the Infinity Lawn, a large semicircle of grass with 180-degree views of the Pacific Ocean. The lawn is surrounded by hibiscus bushes and palms, creating a tropical rainforest feel. A sunken lawn, called the "Rock Wall Amphitheater," has plenty of space for a reception tent, lawn games, and banquet tables. Fun fact: Panoramic Paradise is part of a certified organic dragon fruit farm!
Learn more about Panoramic Paradise »
Olowalu Plantation House
This private estate in Lahaina is perfect for couples who want a venue that feels like their own slice of paradise. Whether you're planning a Maui destination wedding or are local to the island, there's no disputing that the Olowalu Plantation House is a stunning location. A plantation house, which is just steps from the beach, sits at the end of a spacious lawn that's dotted with palm trees. Since the ocean is literally at your fingertips, you won't need much decor, especially if you're planning a sunset ceremony. Lanterns strung throughout the trees create an ultra-romantic atmosphere when the sun goes down. The main house features getting ready suites and a catering kitchen.
Learn more about Olowalu Plantation House »