13 Oahu Wedding Venues for a Dreamy Hawaiian Escape
Say "I do" on one of the most popular (and beautiful) islands of the Aloha State at these Oahu wedding venues.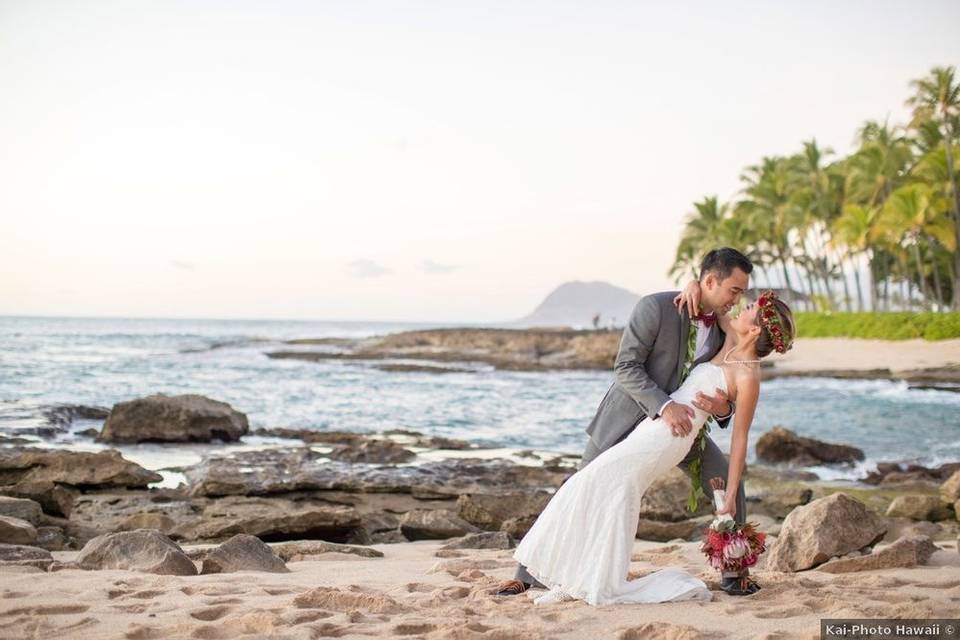 With a nickname like "The Gathering Place," it's only fitting that the island of Oahu is one of the most popular places to get married in the Hawaiian islands. There's a lot to love about Oahu wedding venues, from the trendy high-rise resorts in Honolulu, to secluded mountain ranches in Waimea Valley and the North Shore. If you've just started browsing Hawaiian wedding venues, these gorgeous locations might just convince you to host an Oahu wedding! Read more about our favorite Oahu wedding venues below.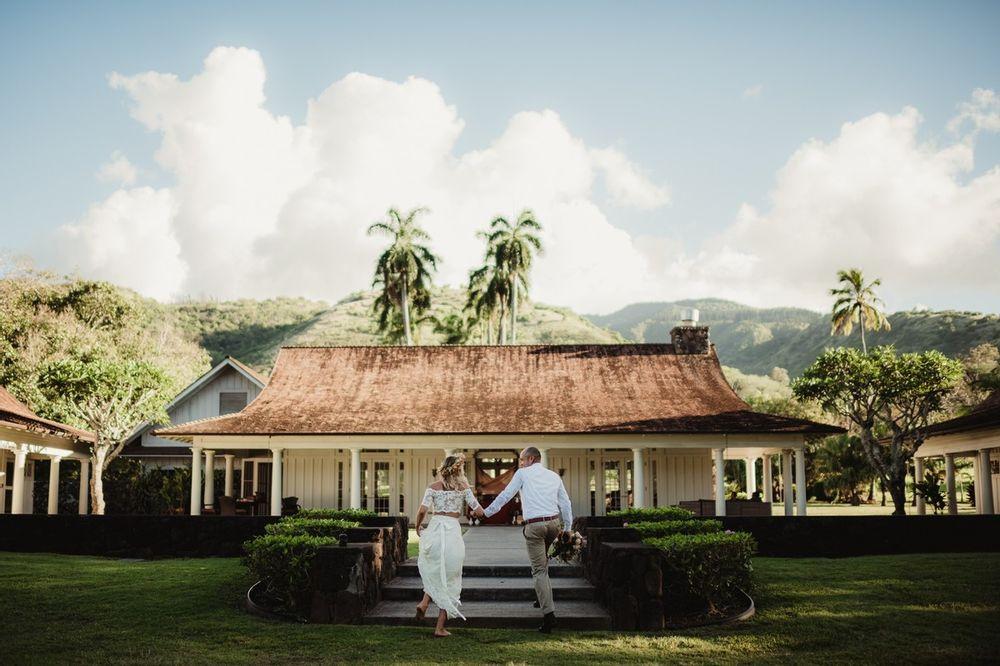 Dillingham Ranch
Coconut trees, Pacific Ocean views, and free-roaming peacocks—is there anything more you could want when it comes to your dream Oahu wedding venue? You'll find all of this and more at Dillingham Ranch in Mokuleia on the North Shore. We love this gorgeous venue not only for its breathtaking scenery, but for its flexibility and seclusion when it comes to your special day. You'll have the entire 19-acre property to yourself, giving you plenty of room to spread out and host your wedding in different parts of the venue. While the grounds at Dillingham Ranch are perfect for throwing an outdoor wedding, a 3,000-square-foot great room in the recently renovated "Big House" is available if you're interested in an indoor space. The lodge also includes a catering kitchen and eight bedrooms that you can rent if you're planning an extended wedding weekend.
Learn more about Dillingham Ranch »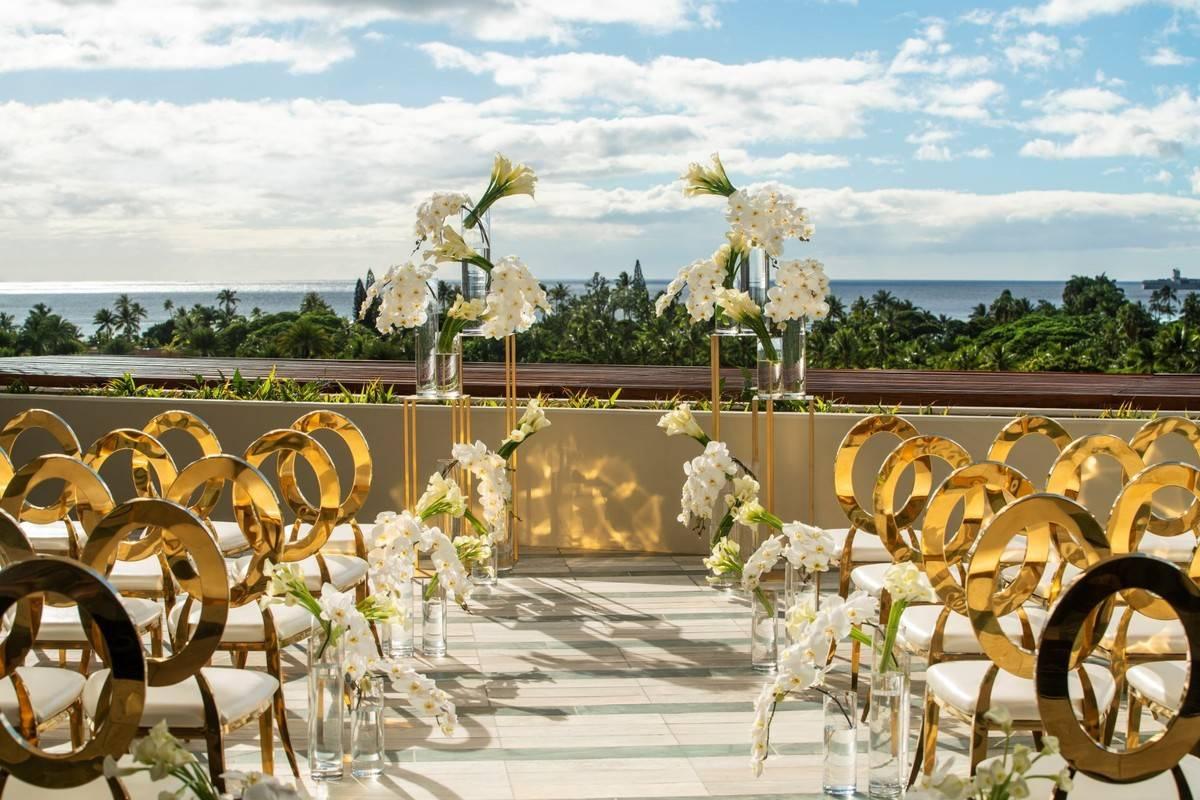 The Ritz-Carlton Residences, Waikiki Beach
Whether you're planning an elopement, a microwedding, or getting a head start on the big wedding you're hosting once it's safe to celebrate in large groups, The Ritz-Carlton Residences in Waikiki Beach gives you plenty of options for any type of event. This all-inclusive wedding venue is the pinnacle of luxury, with grand ballrooms overlooking the ocean, a scenic rooftop event space, and in-house event and catering teams who will help ensure that your big day is unforgettable. Once you're married, the resort is a great place to kick off your honeymoon, with deluxe suites, restaurants, infinity pools, and a spa all on site.
Learn more about The Ritz-Carlton Residences, Waikiki Beach »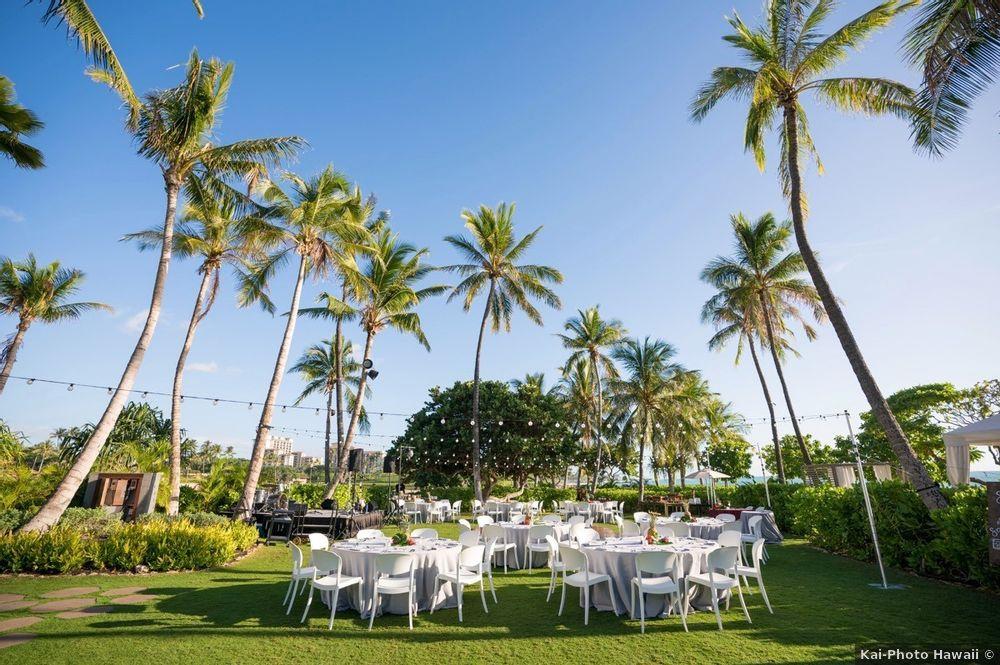 Four Seasons Resort O`Ahu at Ko Olina
If you're planning a Hawaii destination wedding, the Four Seasons Resort O`Ahu at Ko Olina is a game-changer when it comes to finalizing the details from afar. The resort's team of wedding specialists can help you choose everything from the flowers and event design, to your photographer, reception menu selections, entertainment options, and more. Located on the Leeward Coast, this Oahu wedding venue offers a slower pace of life compared to bustling Honolulu and Waikiki—the perfect spot if you're looking to truly get away from it all. Choose from several wedding locations at the venue, including an intimate chapel and oceanfront lawns that offer incredible sunset views.
Lear more about Four Seasons Resort O`Ahu at Ko Olina »
Paradise Cove
Famous for its luaus and traditional Hawaiian entertainment, Paradise Cove is a must-see for anyone visiting Oahu, and it's an even better place to get married. The venue has plenty of event spaces to choose from, including botanical gardens, secluded beachfront locations, and a charming white chapel. Customizable wedding packages and optional event rentals provided by the venue allow you to design your wedding to fit your exact needs.
Learn more about Paradise Cove »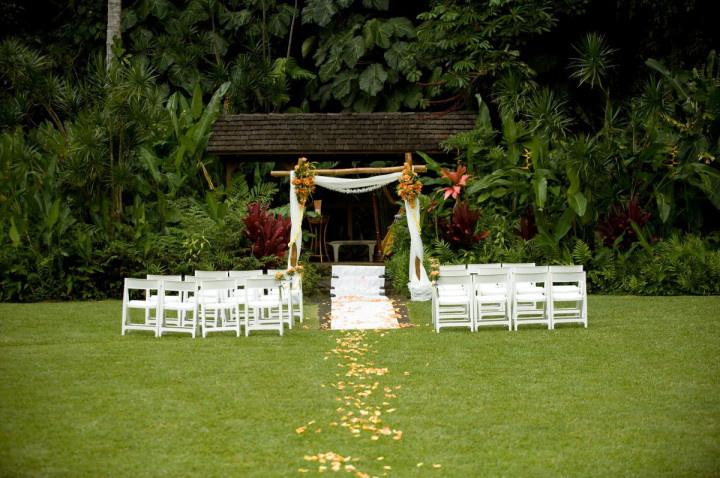 Haiku Gardens
As one of the most secluded Oahu wedding venues, Haiku Gardens is our pick for couples who want total privacy and solitude on the big day. But being away from Oahu's bustling cities has its perks—Haiku Gardens is located at the base of the Ko'olau Mountains, which gives the venue a lush rainforest setting filled with palm trees and amazing views. For the wedding ceremony, you'll have a choice of three event spaces, ranging from a tropical garden to an open-air chapel or gazebo. The venue offers customizable wedding packages, from all-inclusive options with a full-service planner, to à la carte enhancements.
Learn more about Haiku Gardens »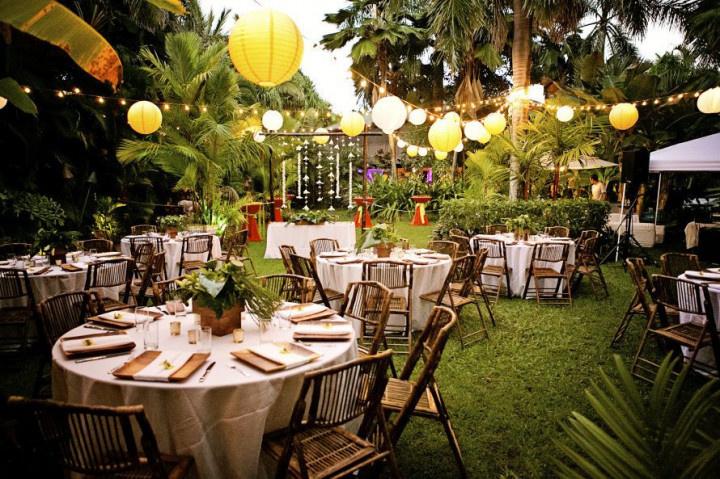 Oahu Wedding Villa
Want to feel like a total VIP on your wedding day? Renting a swanky villa is one way to achieve it! This Hawaii wedding venue is a private beachfront estate on Oahu's windward side, and it's the perfect space for hosting your wedding and a family getaway in one spot. The fully furnished house, which has a Bali-inspired design, has four bedrooms and can sleep 10 guests. There's also a swimming pool, jacuzzi, home theater, spacious yard, and jogging trail. For your wedding day, Oahu Wedding Villa can host up to 200 people and will provide basic event rentals such as altars, arches, lighting, tent, and a dance floor.
Learn more about Oahu Wedding Villa »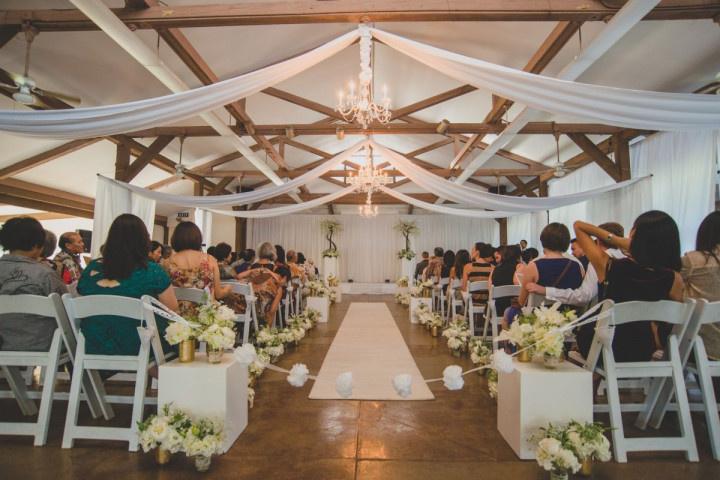 He'eia State Park
You'll nearly feel like you're at the edge of the world at this Oahu wedding venue. He'eia State Park is located near Kaneohe on 18.5 acres of peninsula along Oahu's windward shore. The park offers some of the most beautiful scenery on all of Oahu, including views of Kane'ohe Bay, which is home to the island's only coral reef (expect to see plenty of sea life, including sea turtles!). The park's spacious banquet hall can fit 300 people, and there's also a newly renovated cottage on site where you can get ready for the big day. Wedding packages include tables, chairs, industrial-size fans, prep kitchen usage, and pre- and post-wedding clean-up.
Learn more about He'eia State Park »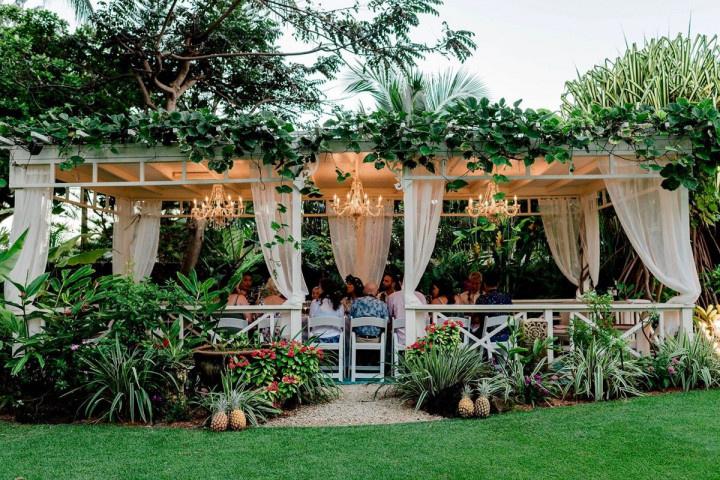 Male'ana Gardens
If you're keeping your guest list small, you won't want to miss a visit to Male'ana Gardens. The boutique venue, which has a maximum capacity of 20 guests, specializes in intimate weddings and bespoke celebrations. Male'ana Gardens is located in Kailua on the east coast of Oahu Oahu, close enough to make it easily accessible for traveling guests, yet farther away from larger towns like Honolulu and Waikiki. The venue's ceremony site is just steps from Kailua Beach, while the reception cabana overlooks pristine Kailua Bay. Native Hawaiian plants and fragrant flowers, like plumerias, can be found throughout Male'ana Gardens. Extend your stay by reserving the venue's bungalow to kick off your honeymoon!
Learn more about Male'ana Gardens »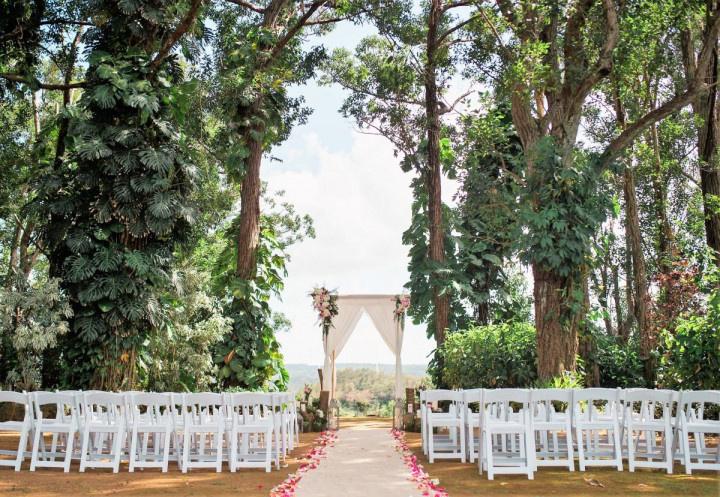 Sunset Ranch Hawaii
Whether you're dreaming of a tropical outdoor wedding ceremony or a rustic-style reception in a barn, Sunset Ranch has options for both. The venue, which is located in Haleiwa on Oahu's North Shore, has four unique event spaces and 30 acres of stunning land (with eucalyptus, avocado, and citrus trees, no less!). Sunset Ranch also makes it a breeze to plan your wedding by offering all-inclusive packages including catering, event coordination, decor rentals, and on-site accommodations. Love giving back to the community? This Oahu wedding venue is an ideal choice. In addition to using organic ingredients, sustainable farming practices, and supporting local vendors, Sunset Ranch also provides equine therapy programs for children.
Learn more about Sunset Ranch Hawaii »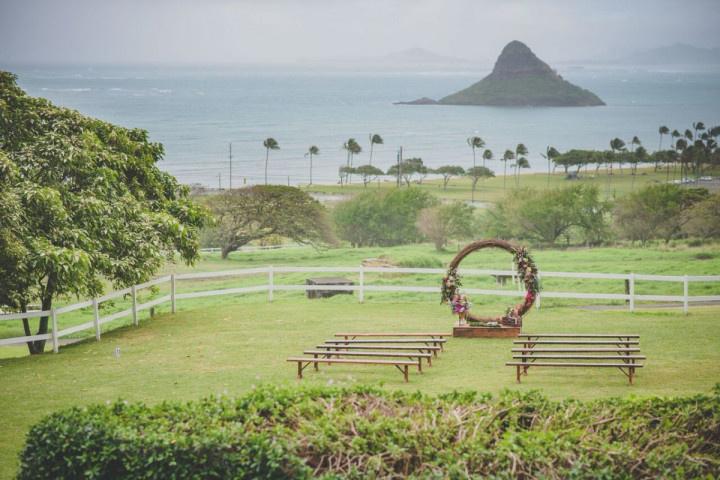 Kualoa Ranch
With a capacity of 500 people, Kualoa Ranch in Kaneohe is one of the largest Oahu wedding venues. But you don't need to have an extensive guest list to feel at home here—the venue has four different event spaces for a range of wedding styles and sizes. If you've been dreaming of a classic Hawaiian beach wedding, you'll love the ranch's private beach, which has a direct view of Mokoli'i Island and Kaneohe Bay. There's also a ranch house, various pavilions, a Hawaiian fish pond, and the stunning Paliku Gardens. Catering, event coordination, and decor rentals can be supplied by the venue. If Kualoa Ranch looks familiar, it's because you might recognize it from Jurassic Park, Godzilla, Lost, and other blockbusters that were filmed at the venue!
Learn more about Kualoa Ranch »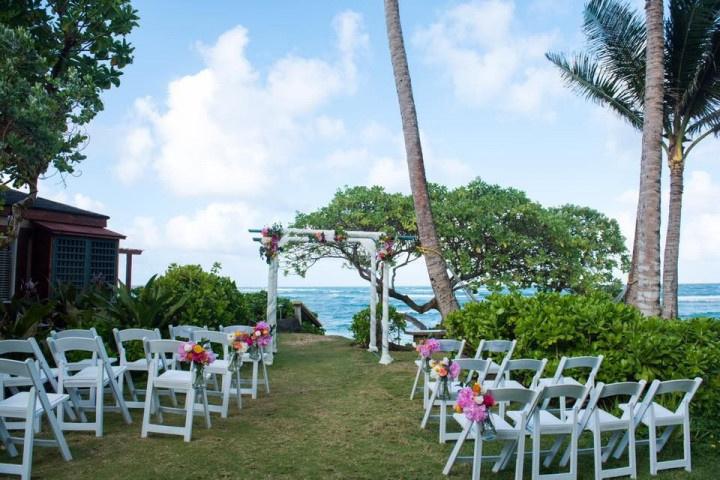 Tiki Moon Villas
For an even more laid-back vibe, head to the Tiki Moon Villas in Laie on Oahu's north eastern shore. This small town offers quiet seclusion for your wedding day, without sacrificing Hawaii's incredible beaches and scenery. The B&B-style venue is located right on the coast, providing a fabulous opportunity for an oceanfront wedding. It's especially great if you're hosting a destination wedding, since overnight accommodations in the venue's villas are included with your rental fee.
Learn more about Tiki Moon Villas »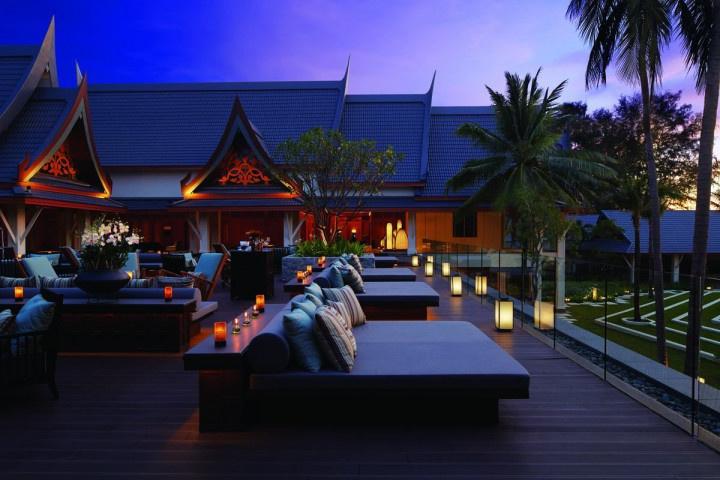 Ala Moana Hotel
While many of our favorite Oahu wedding venues are located throughout the island's countryside, you can also find great options without ever having to leave the city! The Ala Moana Hotel is one of the best Honolulu wedding venues for couples who want the best of both worlds. It's centrally located to the downtown area while still offering plenty of scenery and amenities for your big day. This full-service resort is ideal for couples who want to put a more traditional spin on their Hawaiian wedding. The Ala Moana Hotel has various ballrooms, banquet spaces, a garden lanai, and even a nightclub venue that can be privately rented.
Learn more about Ala Moana Hotel »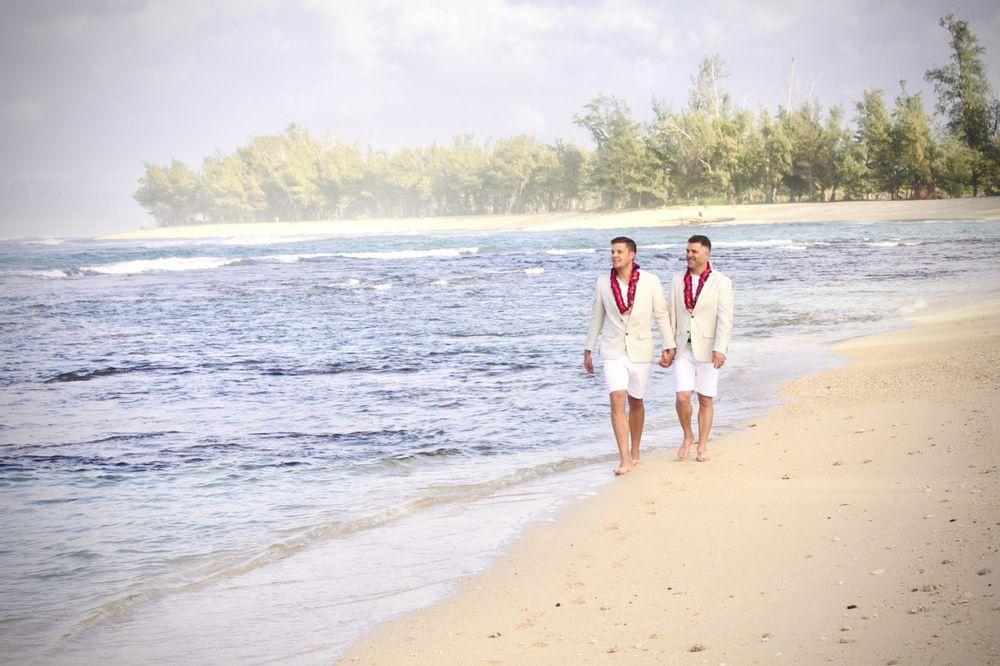 Hawaii Polo Club
For a more formal Oahu wedding, check out the Hawaii Polo Club on the North Shore. The venue's manicured polo lawn overlooks the Waianae Mountains and ocean views, giving you the perks of a beach wedding with a classic spin. The lawn has plenty of room to accommodate a tent (included with your rental fee) for an outdoor reception, but if you prefer something indoors, the main clubhouse is also available. The Hawaii Polo club can host weddings for 200 people and will provide chairs, tables, and a dance floor.