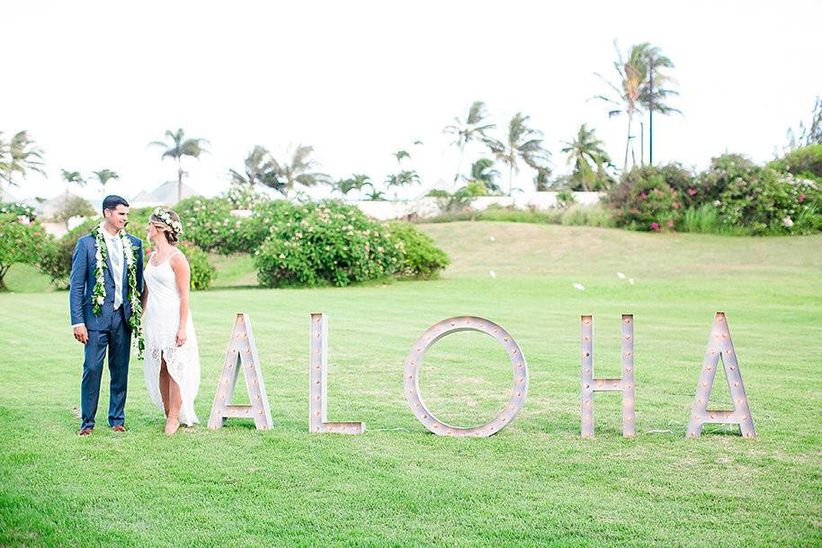 Planning a Hawaii destination wedding? No matter which island you choose, you're in for a treat. Hawaii is one of the most beautiful places on earth, which is why it's also one of the most popular places for couples who want to elope, have the ultimate beach wedding, or throw an unforgettable wedding getaway for their closest friends and family members. Getting married in Hawaii might seem like it's out of reach, but in reality, it's easier than you think (and so worth it). We've created this handy guide with all of the basic info you'll need to know, from the best Hawaii wedding venues to the differences between the four main islands, to help make your dream Hawaii wedding a reality. Here's everything you need to know for your Hawaii destination wedding.
Getting to Hawaii
If you're planning a Hawaii destination wedding, flying into Honolulu on the island of Oahu is one of the easiest ways to reach the Aloha State. Flights from Los Angeles to Honolulu have an average time of five-and-a-half hours, while flights from New York and other East Coast destinations average between 10 to 15 hours, with many direct flights available. From Honolulu, you can catch short flights to the other Hawaiian islands. There are also two major airports on the Big Island of Hawaii: Kona International Airport (KOA) on the west coast and Hilo International Airport (ITO) on the east coast.
Once you're in Hawaii, we recommend renting a car if you're staying for an extended period of time and plan to do any exploring. Larger cities, like Honolulu, have public transportation, while services like Uber and Lyft are available on the Big Island, Kauai, and Oahu. Biking is also a popular option with the locals, and you can find rental shops and bike tours across all of the islands.
Weather in Hawaii
Hawaii is known for being a year-round paradise, and while that's generally true, the weather differs from island to island—and can even vary from coast to coast on some of the islands because of Hawaii's microclimates. (That means it could be raining in one town and totally sunny two miles down the road!) In general, the average daytime temperature in Hawaii is around 80 degrees during the summer, with highs dropping to the mid-70s during winter. If you travel into the mountains, for example Maunakea on the Big Island, expect temperatures to be significantly colder—you might even spot some snow on the summits. April through October is Hawaii's summer season, and the rainy season runs from November to March. Parts of some islands, like Kauai's windward side, can be very rainy all year.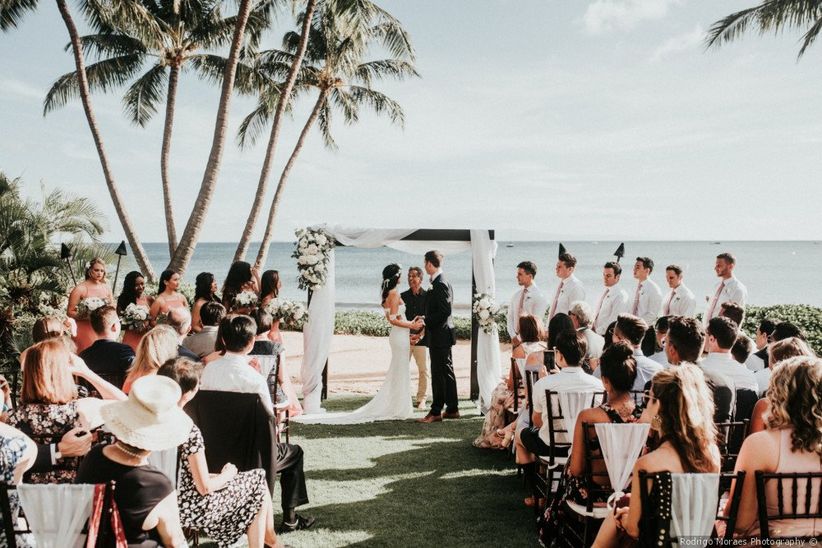 Hawaii Wedding Venues
Maui Wedding Venues
Head to one of Hawaii's most popular islands to find dozens of breathtaking venues for your wedding, including scenic beaches, romantic hilltop overlooks, and secluded gardens. Weather on the island varies dramatically, so take that into consideration when browsing for possible wedding venues. Maui's windward side (the north and east coasts) is breezy, lush, and green, while the leeward side (the south and west coasts) is drier, hotter, and sunnier.
Check out Maui wedding venues »
Honolulu Wedding Venues
As the largest Hawaiian city and the state capital, Honolulu has a lot to offer for your big day. This metropolis is an especially great choice if you want to have a Hawaii destination wedding without sacrificing the comfort and convenience of getting married in your hometown. There are frequent flights into Honolulu, making it one of the easiest Hawaii wedding destinations to reach, and public transportation makes it a breeze to get around the city once you've arrived. From all-inclusive resorts in Waikiki to beachfront rental homes on the outskirts of town, Honolulu offers wedding venues for all styles and budgets.
Check out Honolulu wedding venues »
Oahu Wedding Venues
Honolulu isn't the only place to get married on Oahu. Outside of the city, you'll find scenic wedding venues from coast to coast, including private park pavilions, botanical gardens, nature preserves, and working ranches that will give your big day a tropical-meets-rustic vibe.
Check out Oahu wedding venues »
Big Island Wedding Venues
The Big Island is home to some of Hawaii's coolest scenery, including two active volcanoes and several black sand beaches. That's why this island is our pick for couples who dream of hosting a truly unique Hawaii destination wedding, whether it's getting married in a secluded lagoon surrounded by lava rocks or exchanging your vows at an off-the-grid coffee farm.
Check out Big Island wedding venues »
Kauai Wedding Venues
With a nickname like "the Garden Isle," it doesn't surprise us that some of the prettiest Hawaii wedding venues are located on Kauai. This Hawaiian island is mostly covered by rainforest, with sea cliffs, rivers, and rolling green hills all adding to its incredible beauty. Kauai is perfect for outdoorsy couples—you can get married on a rocky beach, on top of a mountain, or in front of a cascading waterfall.
Check out Kauai wedding venues »
Small and Intimate Hawaii Wedding Venues
Whether you're planning to elope or you're just keeping your guest list small, the Aloha State is filled with small and intimate venues for Hawaii destination weddings. From Maui to Kauai, you'll find cozy rental properties, modern lofts, and secluded hideaways that specialize in creating bespoke weddings and vow renewals for smaller groups.
Check out small and intimate wedding venues in Hawaii »
Hawaii Marriage Requirements
You'll need to apply for a marriage license before getting married in Hawaii. You don't have to be a Hawaii resident, but you will be required to provide valid identification and proof of age, such as a certified birth certificate and driver's license. The minimum age to apply is 18 years old. The main marriage license office is located in Honolulu on Oahu, but you can also apply on Maui, Kauai, and the Big Island at various marriage license agent offices. Once your marriage license is issued, it's valid for 30 days on any of the Hawaiian islands.
Things to Do In Hawaii
When we think of Hawaii, a few things come to mind: sunshine, surfing, and endless good vibes. And while the friendly Aloha Spirit is a constant across all of the islands, each island actually has its own unique culture and claims to fame. Here's a quick rundown on the best activities for each island, whether you're planning planning to extend your Hawaii destination wedding into a honeymoon or simply want to advise your guests on how to spend their downtime while they're in town.
Maui
One of the most famous attractions on Maui is Hana Highway (also called "The Road to Hana"), a 64-mile-long drive that stretches along the eastern coast of the island. Hana Highway is known for its hairpin turns and one-lane roads that, although treacherous at times, offer some of the most amazing scenery you'll ever see. The highway winds through Maui's backcountry past small towns, beaches, waterfalls, and Haleakala National Park, providing you with plenty of scenic stops along the way.
Oahu
Oahu offers an old-meets-new Hawaiian experience, with bustling cities like Honolulu rubbing elbows with laid-back surfing towns and ancient Polynesian sites. It's also home to well-known attractions, such as the Pearl Harbor memorial and famous Waikiki Beach, which is dubbed the "birthplace of modern surfing."
Kauai
Kauai is a nature-lover's paradise. Hiking, zip-lining, and water sports are all popular things to do on this mountainous island, but for those who want to mix in a bit of R&R, there's no shortage of pristine beaches and charming towns. Parts of Kauai's north shore are so rugged that they're only accessible by foot or air—a perfect excuse to cross 'helicopter tour' off your bucket list. If you're visiting Kauai between December and May, keep your eyes peeled for the humpback whales that come to the island each year to breed.
Big Island
The island of Hawaii — also called the Big Island because it's twice the size of all other Hawaiian islands combined—has something for everyone. Adrenaline-pumping volcano tours, manta ray dives, and surfing opportunities will appease adventurous types, while stargazing and world-class golf courses are just some of the more low-key activities you'll find when visiting the Big Island.