7 Big Island Wedding Venues for Your Hawaiian Nuptials
Hidden lagoons, hillside gardens, pristine beaches — these are just some of the Big Island wedding venues we're currently obsessing over.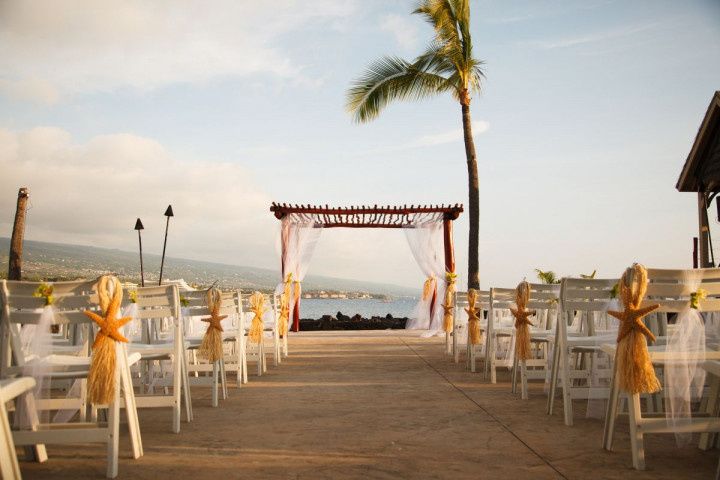 While arguably not as popular as Oahu and Maui, the island of Hawai'i, also known as the Big Island, is an equally beautiful place to get married. We've rounded up some of the best Big Island wedding venues for anyone planning a Hawaii wedding, and it won't take much to convince you why this island is worth a second look. With two active volcanoes, black-and-white sand beaches, snow-capped mountains (seriously!), and lush rainforests, there's practically something for everyone — and every type of wedding — on the Big Island.
Get married in a Hawaiian paradise at one of these Big Island wedding venues.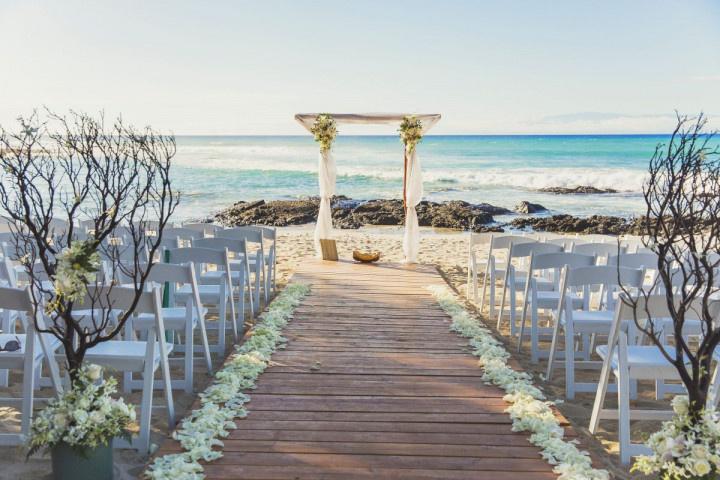 The Fairmont Orchid, Hawaii
Kicking off our list of Big Island wedding venues is a spot that provides the perfect opportunity for a breathtaking beach ceremony. You'll have an unforgettable ocean view as you exchange your vows right in the sand at The Fairmont Orchid, which is located in Waimea (Kamuela) on the north side of the island. This luxury resort has a total of six event spaces, and couples who don't want to get married on the beach can choose from waterfall gardens, a courtyard lanai, or spacious lawn areas. Expert wedding planners at The Fairmont Orchid will orchestrate your day from start to finish, making this venue an ideal spot if you're dreaming of a Hawaiian destination wedding. The venue's wedding packages range from just the basics to all the perks (and more) you'd ever want, and discounted room rates make it easy for you and your guests to stay on-site!
Learn more about The Fairmont Orchid, Hawaii »
Royal Kona Resort
The secluded lagoon at the Royal Kona Resort will make you feel like you're getting married in your own little slice of paradise. Perfect for a small wedding, vow renewal, or elopement, the venue's hidden lagoon overlooks pristine turquoise waters and is surrounded by lush trees and lava rocks (with sea turtles often stopping by!). For larger ceremonies, the Royal Kona Resort has a total of eight venues, including ocean view terraces, traditional banquet rooms, a coconut grove, and panoramic oceanfront spaces. The resort's many wedding packages ensure that you'll have your dream Hawaiian wedding, no matter your budget or needs! Services provided by Royal Kona Resort include wedding coordination, floral design, wedding cake, catering, photography and videography, hair and makeup, and entertainment.
Learn more about Royal Kona Resort »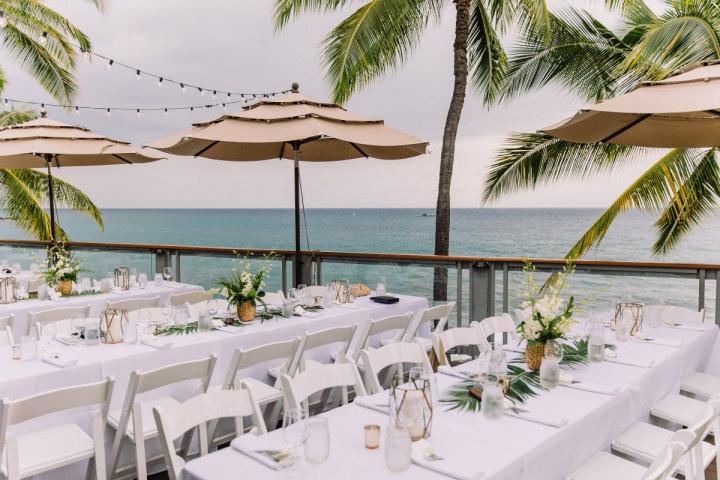 Daylight Mind Events
Hawaii is famous for its coffee industry, and it's only one of two states in the country where coffee is grown (the other is California, FYI!). As coffee fans, we had to include at least one Hawaiian coffee company on our list of Big Island wedding venues. Daylight Mind Coffee Company, which is located within the famous Kona coffee belt, is a gorgeous venue overlooking Ōneo Bay in Kailua-Kona. The venue has a waterfront area for your ceremony, while the wraparound lanai can fit 110 guests and provides a picturesque view throughout your reception. Catering, event coordination, chairs, tables, and dessert are all supplied in-house.
Learn more about Daylight Mind Events »
Anna Ranch Heritage Center
Not all Big Island wedding venues are located on the beach. The Anna Ranch Heritage Center is tucked away in the hillside of Waimea on the north side of Hawai'i, providing you with amazing views of the Kohala Mountains. The 110-acre ranch, which dates back to 1848 and features a historic ranch house, has an Old Hawaii vibe. Anna's Ranch offers multiple wedding spaces for up to 300 guests, including green lawns, an orange tree grove, and an indoor banquet hall complete with French windows and a full kitchen.
Learn more about Anna Ranch Heritage Center »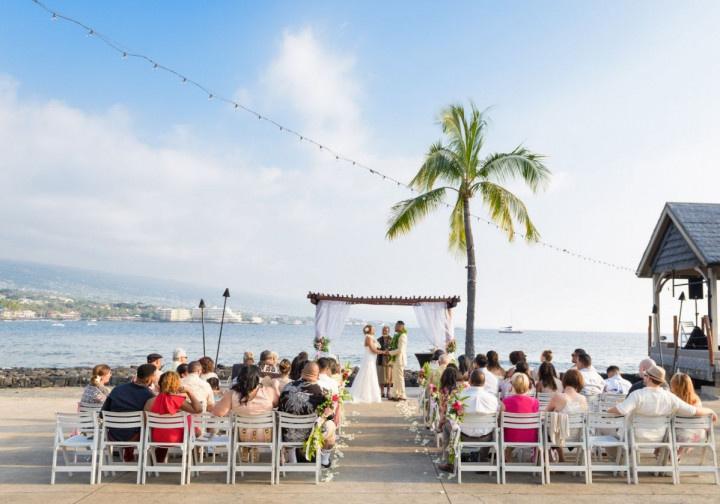 King Kamehameha's Kona Beach Hotel
Whether you want to get married in a ballroom or a tropical garden overlooking the ocean, this Big Island wedding venue literally has it all. With over 20 event spaces to choose from, there's no shortage of possibilities for a romantic wedding — big or small — at King Kamehameha's Kona Beach Hotel. A range of wedding packages ensure that your planning will be worry-free, since all of the essentials can be provided by the venue. If you're considering a destination wedding, the venue is located in Kailua-Kona, one of the island's most popular areas that's just minutes away from shopping, restaurants, and entertainment. Out-of-town guests can stay at the hotel and spend their downtime exploring the village or simply relaxing on the beach.
Learn more about King Kamehameha's Kona Beach Hotel »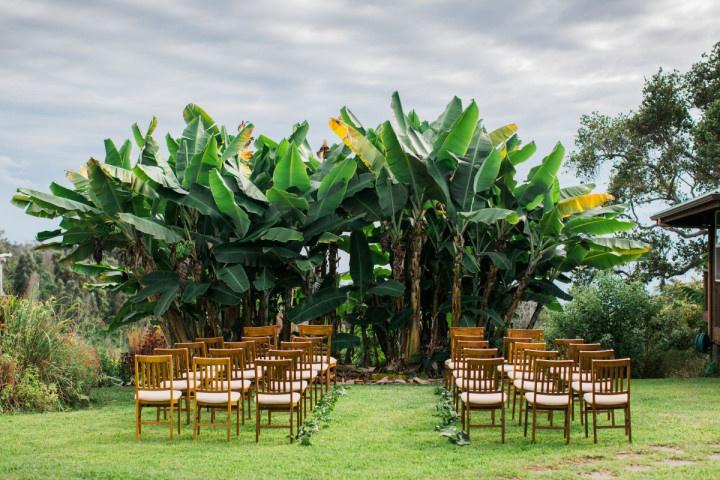 Sunshower Farms
If sustainability and farm-to-table cuisine are priorities for your big day, there's no better Big Island wedding venue than Sunshower Farms in Holualoa. This family-owned coffee farm is totally off-the-grid: Sunshower Farms uses solar power, rainwater, and organic farming techniques as part of their eco-friendly approach to business. You'll work with the venue's staff to create a wedding day that's entirely bespoke, from the farm's seasonal menu offerings to your flowers, decor rentals, and optional Hawaiian experiences like lei making, henna, and hula dancers.
Learn more about Sunshower Farms »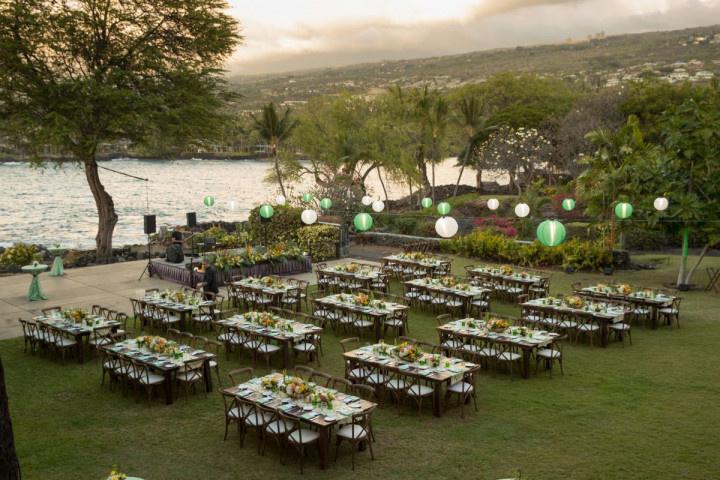 Sheraton Kona Resort & Spa at Keauhou Bay
For the ultimate VIP wedding treatment, check out the Sheraton Kona Resort & Spa at Keauhou Bay. This full-service wedding venue has it all, from on-site catering to event planning, upscale accommodations, spa services, and more. Whether you're planning a destination wedding or are local to the island, you'll love the convenience of having everything in one place — not to mention the venue's incredible waterfront views. The resort has 10 unique event spaces, including indoor and outdoor options, and can host weddings for up to 1,000 guests, making it one of the largest Big Island wedding venues.