21 Beach Wedding Bouquets to Carry at Your Waterfront Ceremony
Whether you're into tropical flowers, classic nautical style, or modern floral arrangements, these beach wedding bouquets prove that there are plenty of ways to accessorize on the big day.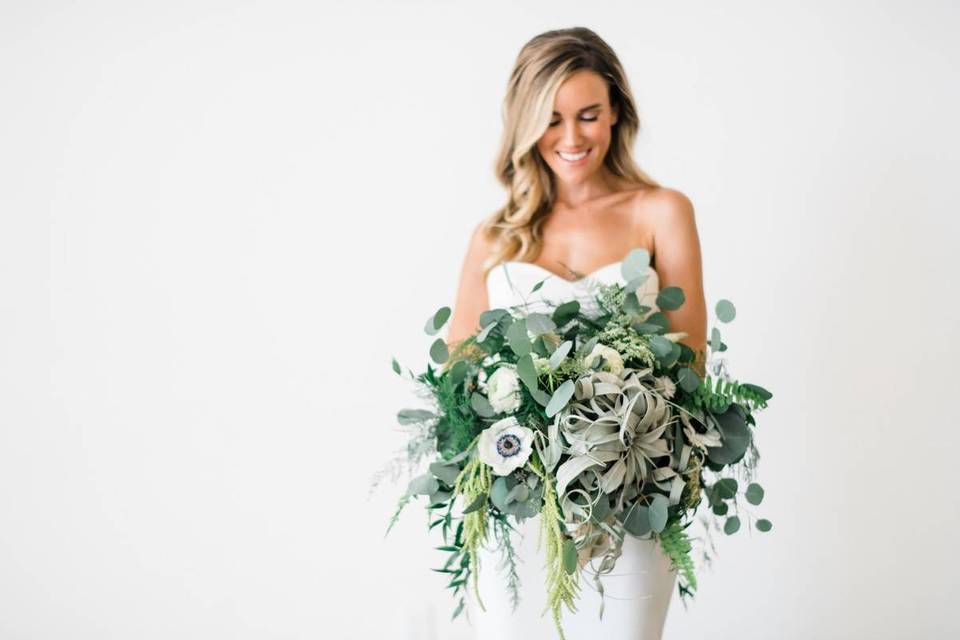 Getting married at the beach, a waterfront venue, or in a scenic destination wedding spot often means you can skip some of your wedding decor (since you don't want to overpower the scenery). But if there's one detail that you should keep, it's your bridal bouquet! Not only does the bouquet serve as an accessory for your wedding day look, it also ties the whole decorative aesthetic together. Before you meet with your wedding florist, check out these beach wedding bouquets to give you an idea of what you do and don't like.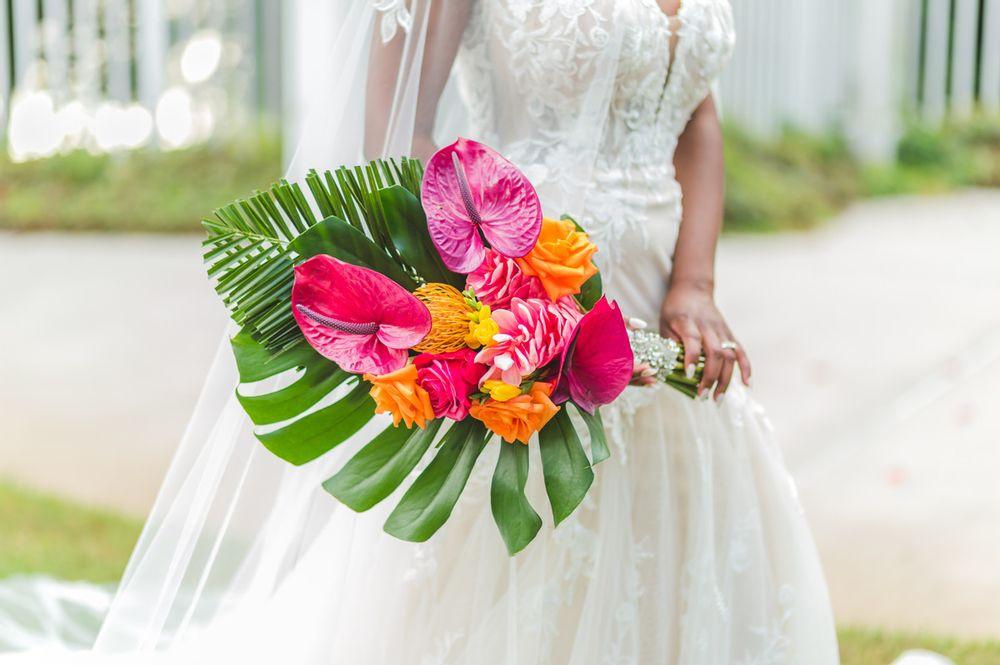 Monstera Leaf Wedding Bouquet
The giant monstera leaf is a staple among beachy and tropical floral arrangements. Use one as the "base" for your wedding bouquet, then add contrasting flowers, like the anthurium, pincushion proteas, ginger torch, and roses seen here.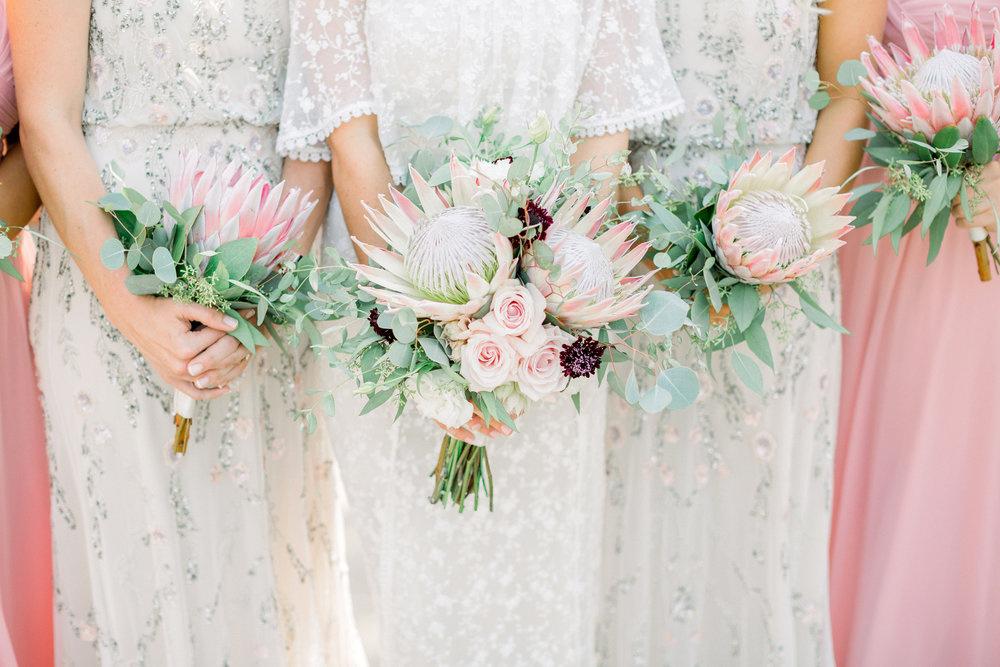 King Protea Wedding Bouquet
A favorite for boho brides, the king protea is impossible to miss. These spiky flowers are native to South Africa and are known for lasting several days after they've been cut, which is what makes them popular for beach wedding bouquets and hotter climates.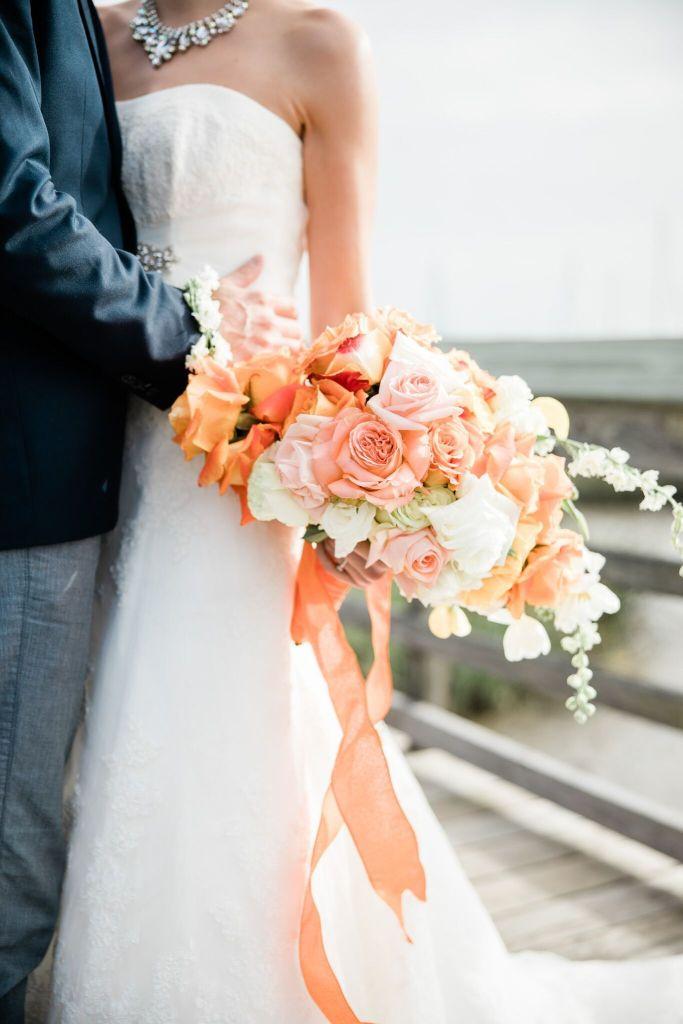 Whimsical Orange Wedding Bouquet
You don't need your wedding bouquet to have a rainbow of flowers to be memorable—this pale orange and white arrangement is unique because of its monochromatic palette of roses, tulips, and stock.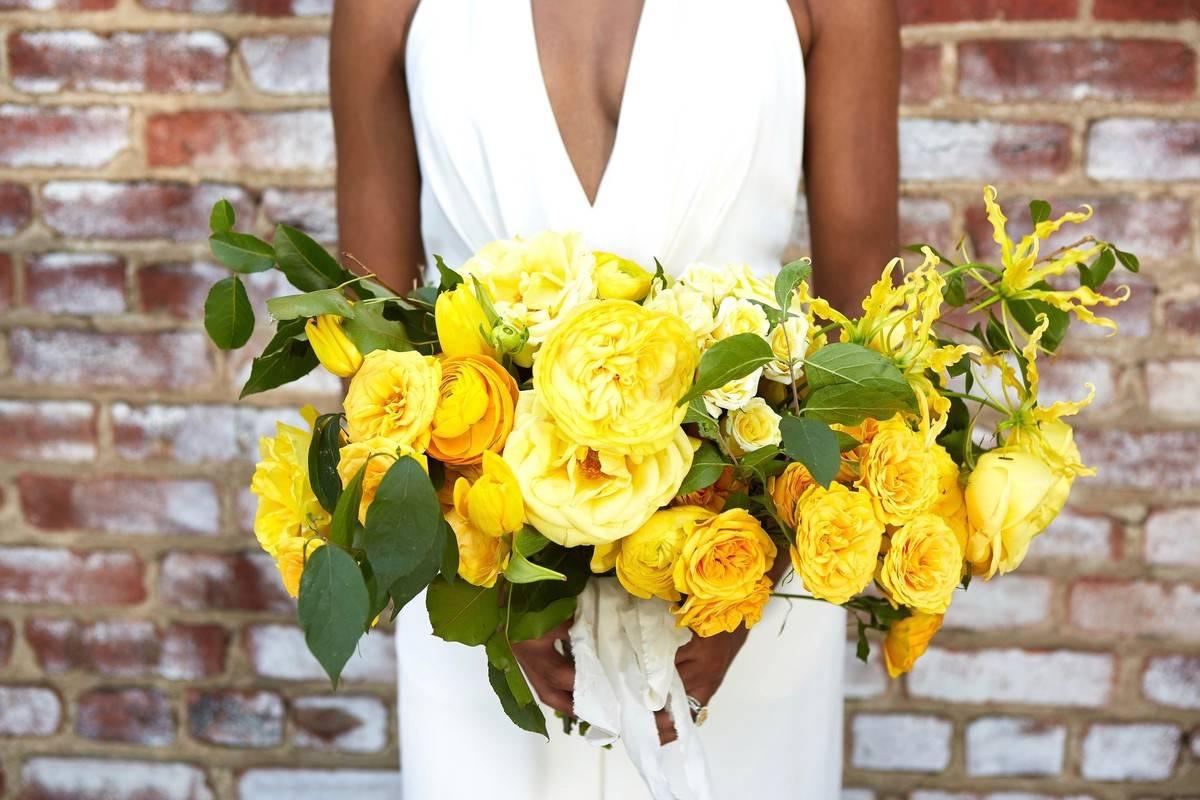 Illuminating Yellow Wedding Bouquet
Speaking of monochromatic, this allover yellow bouquet definitely packs a punch. We predicted yellow to be one of the top wedding colors of 2021, and it's also the Pantone Color of the Year.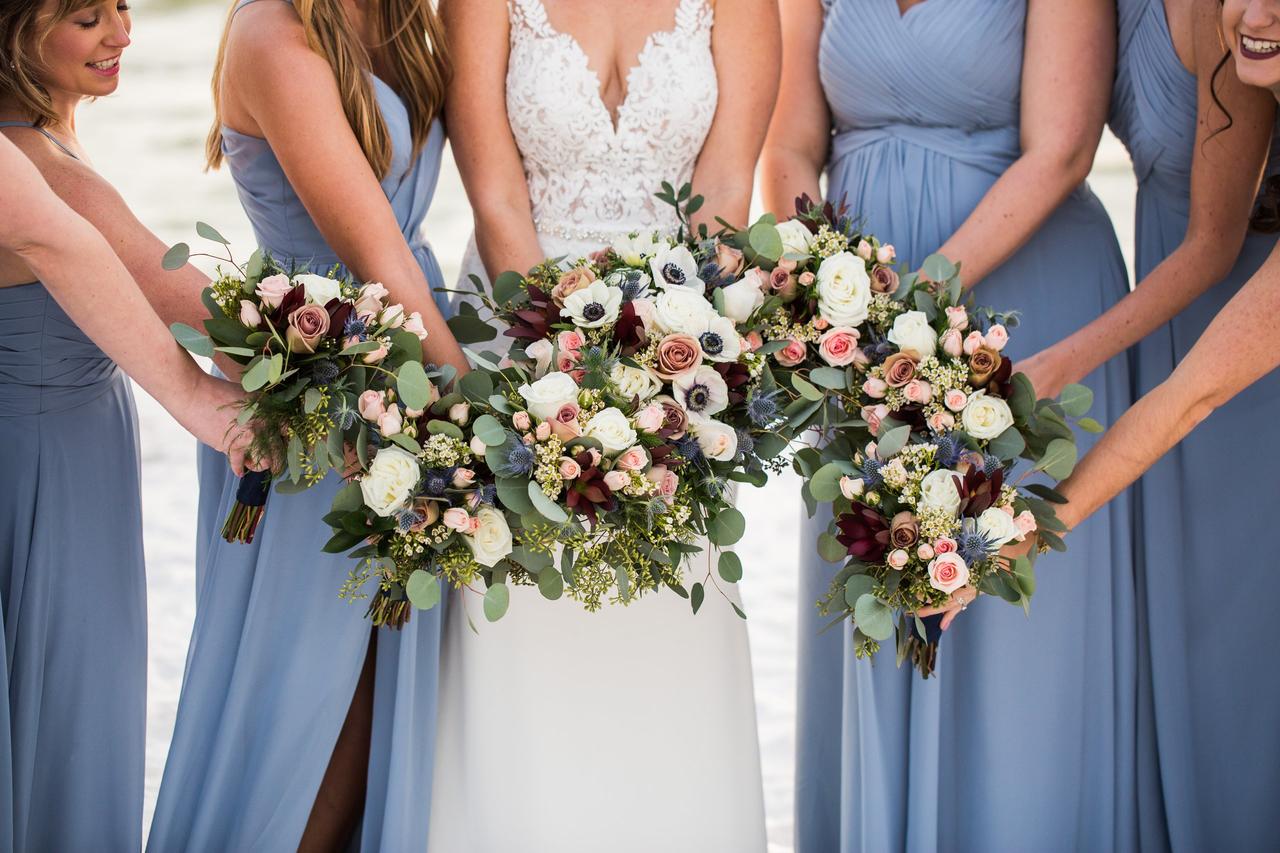 Romantic Rose Wedding Bouquet
If you're going for more of a classic beach wedding bouquet look, opt for timeless flowers, such as roses, anemones, and greenery.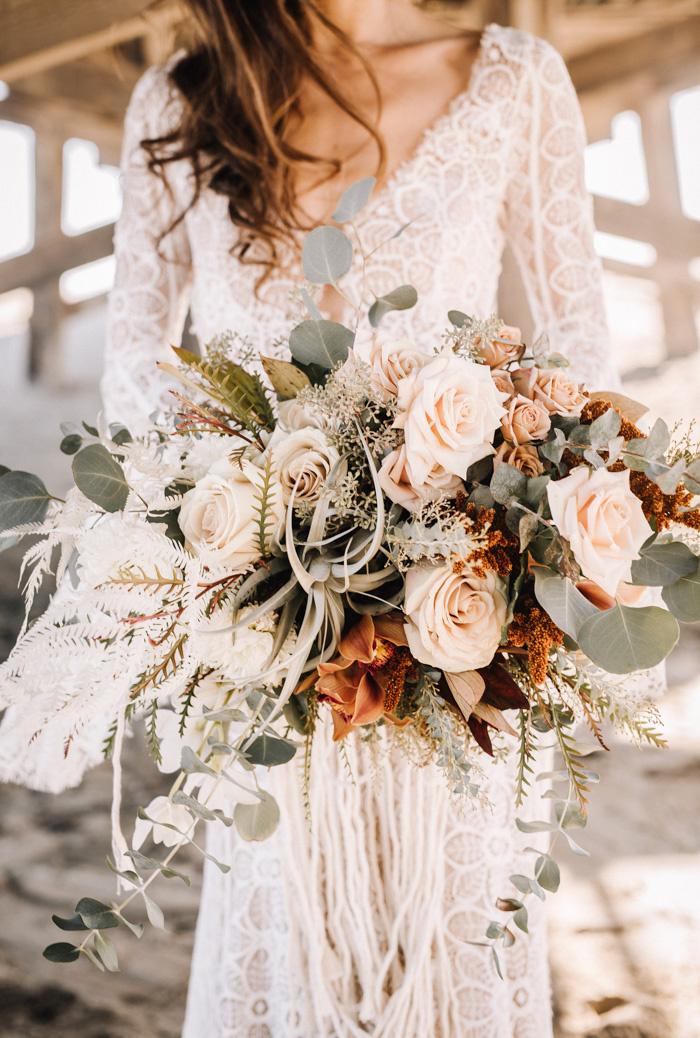 Boho Beach Wedding Bouquet
Ask your wedding florist to put their own spin on this beachy, boho arrangement by using flowers like blush roses, rust orange cymbidium orchids, air plants (also known as tillandsia), and assorted greenery.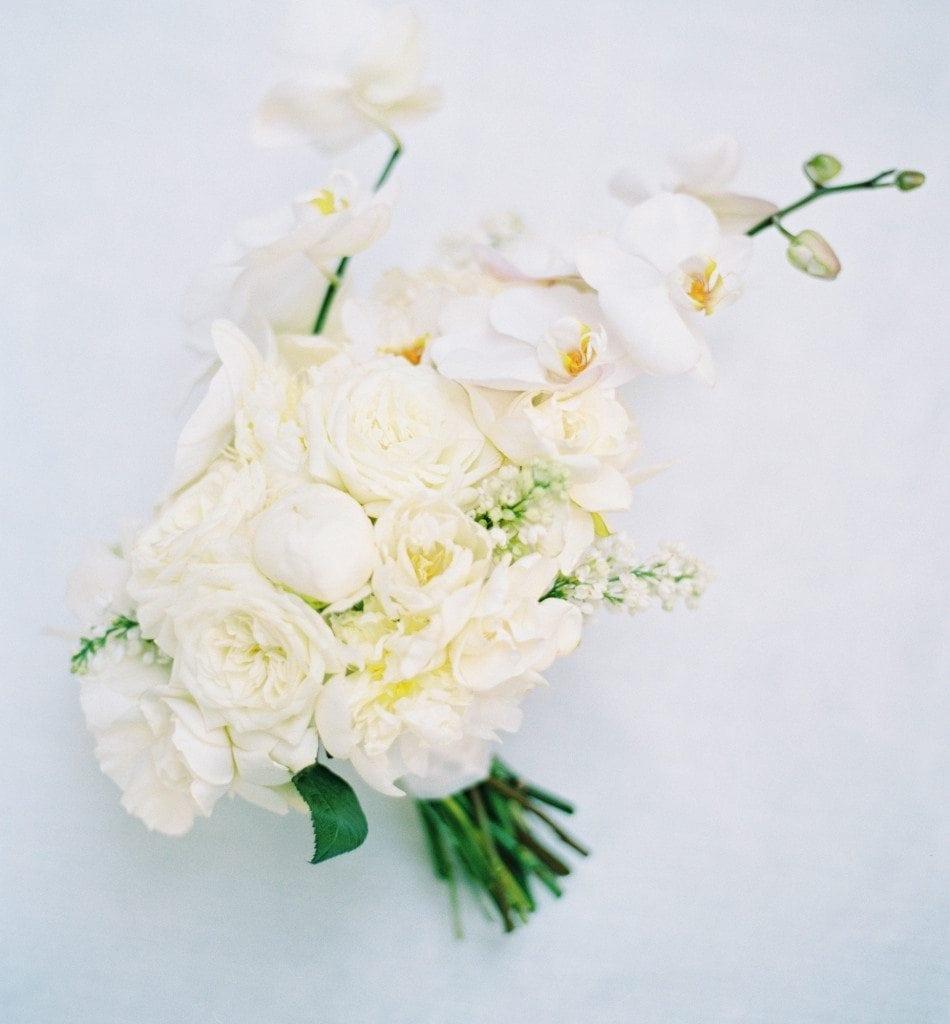 Elegant Orchid Wedding Bouquet
​This otherwise classic white rose and peony bouquet gets a tropical spin thanks to asymmetrical stems of gorgeous phalaenopsis orchids.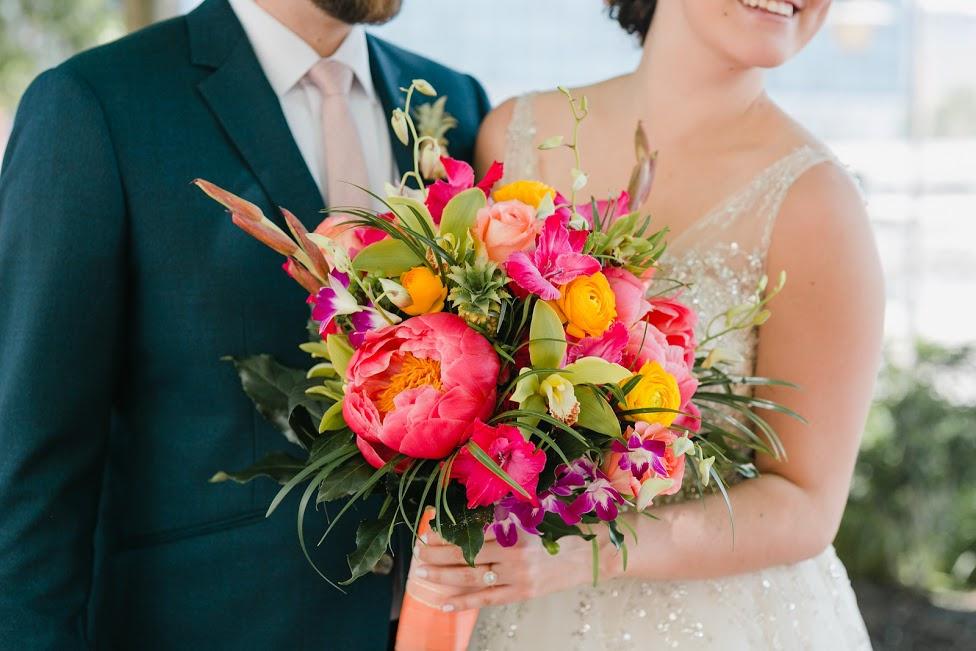 Pink Peony Wedding Bouquet
Late spring and early summer are peak peony season, which means these beloved flowers should be easier (and more affordable) to source for your beach wedding bouquet. Pair bright pink peonies with green orchids and yellow ranunculus for a fun floral palette.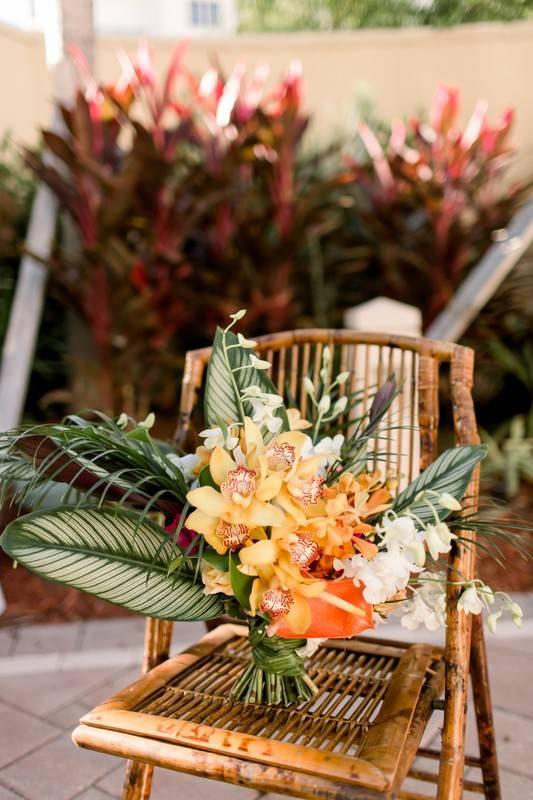 Tropical Orchid Wedding Bouquet
Did you know that there are actually more than 20,000 different types of orchids in the world? For beach weddings, cymbidium orchids (the orange flowers pictured here) are some of the most popular.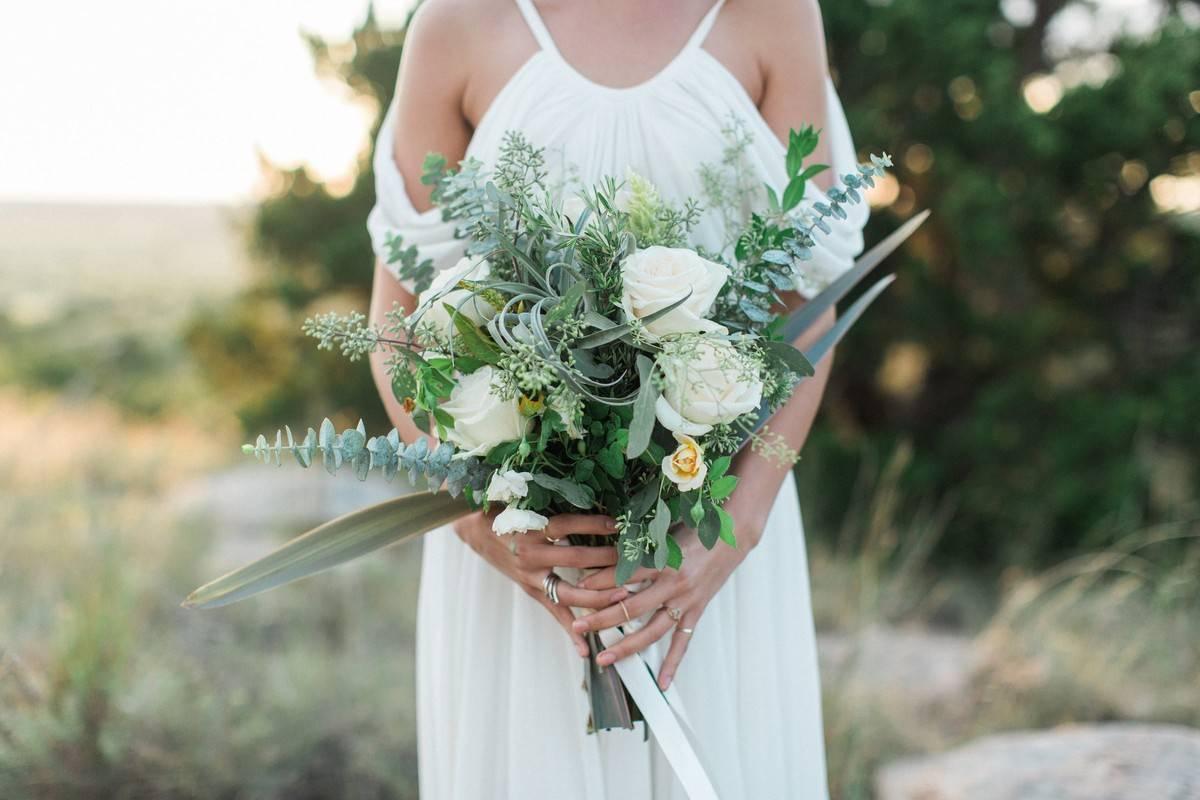 Simple Beach Wedding Bouquet
For a no-frills beach wedding bouquet, stick to a green and white color palette with elements like eucalyptus, roses, and greenery. This is also a great option for your bridesmaid bouquets!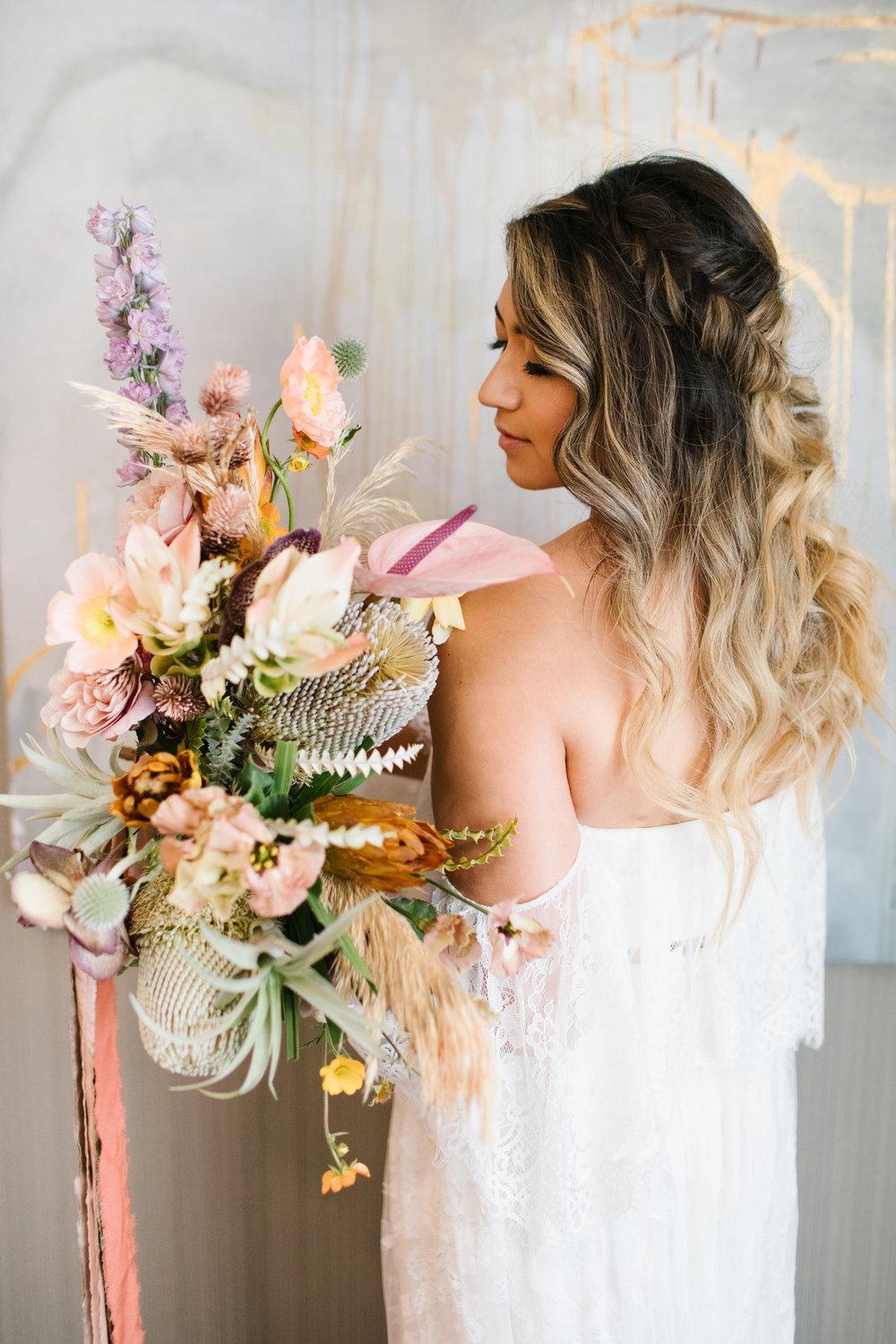 Unique Beach Wedding Bouquet
We're in love with this abstract wedding bouquet that's full of whimsy. Pair unexpected flowers together, such as poppies, banksia flowers, and anthurium, for a totally one-of-a-kind vibe.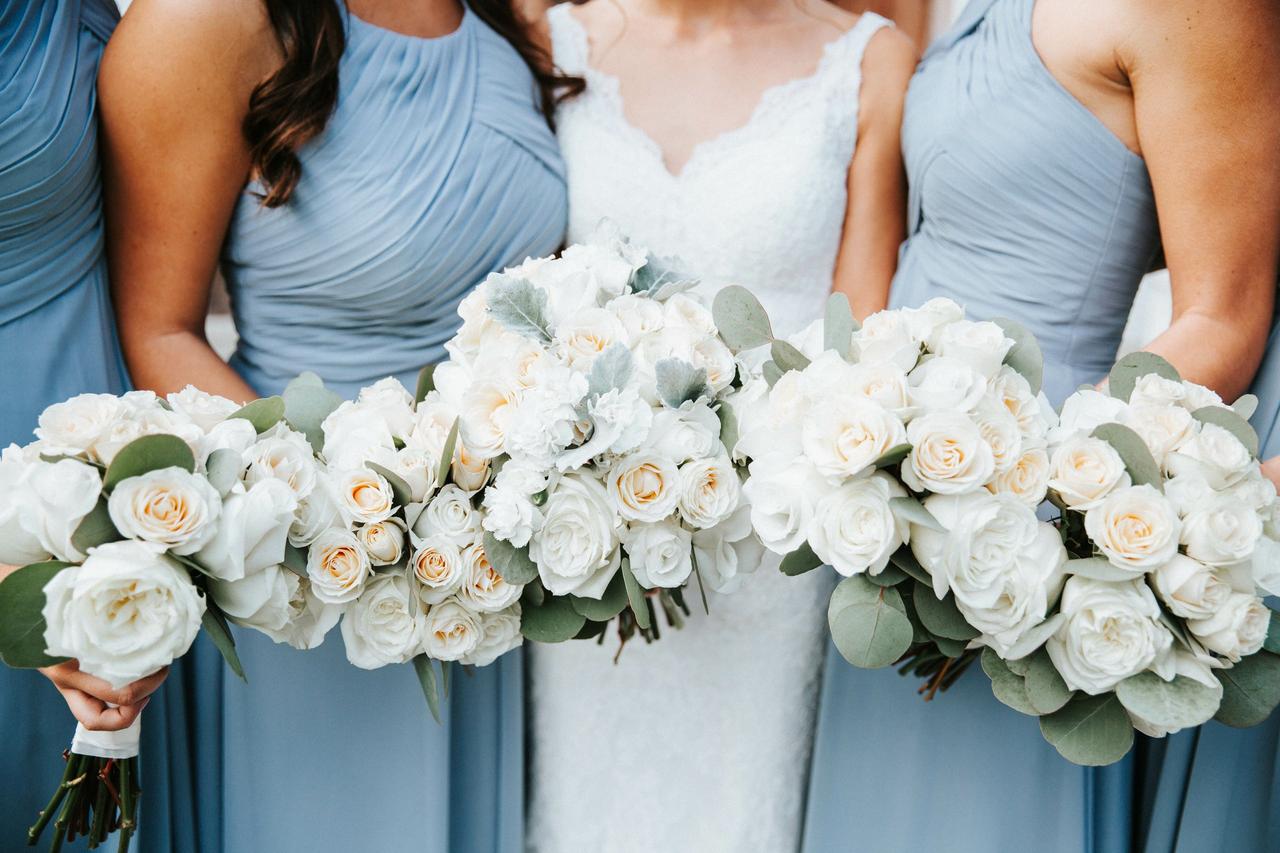 White Wedding Bouquet
For a simple summer wedding, these understated white rose and dusty miller bouquets are always a hit.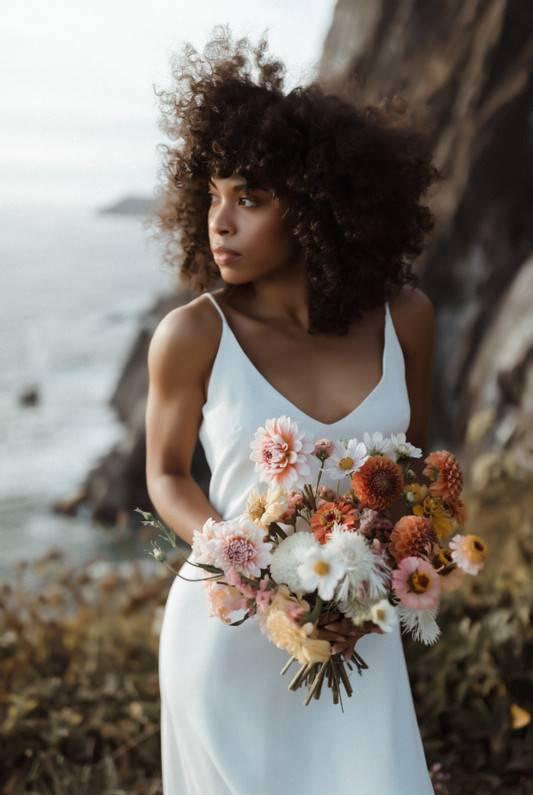 Wildflower Wedding Bouquet
If the usual beach wedding bouquets aren't your style, try an alternative arrangement like this one instead. Wildflowers in pink, yellow, and white hues are oh-so-pretty.
Birds of Paradise Wedding Bouquet
The tropical Bird of Paradise flower is immediately recognizable, thanks to its spiky shape and bright orange color. With this flower, you won't need much else in your beach wedding bouquet except a little bit of greenery.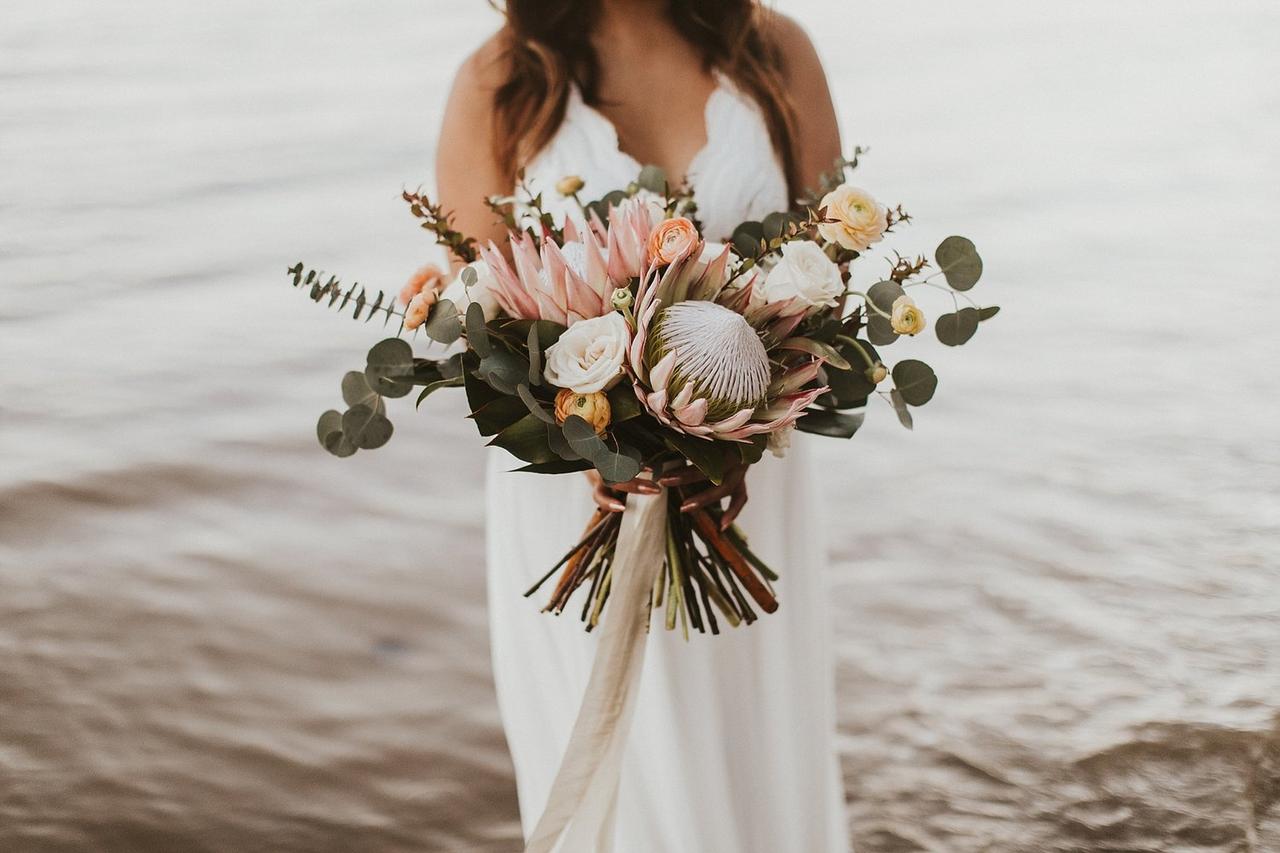 Oversized Beach Wedding Bouquet
Take your beach bride look to the next level by carrying a statement-making oversized bouquet filled with king proteas, ranunculus, silver dollar eucalyptus, and long ribbons to tie everything together.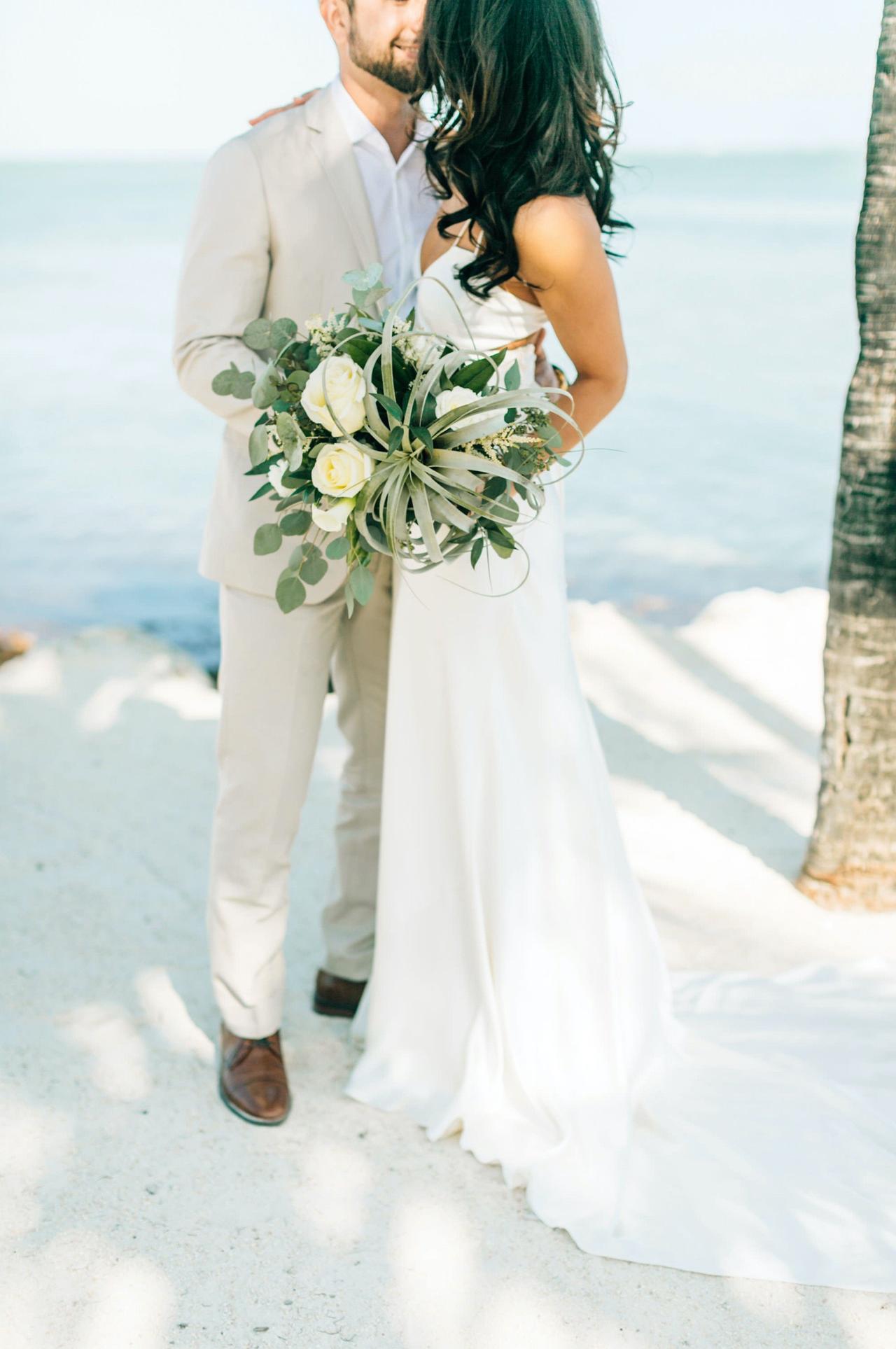 Wedding Bouquet With Air Plants
Air plants are ideal for hot temperatures and can last longer than a lot of wedding flowers, since they don't need to be kept in water. Add one large air plant as the focal point in a loose bouquet of roses and greenery.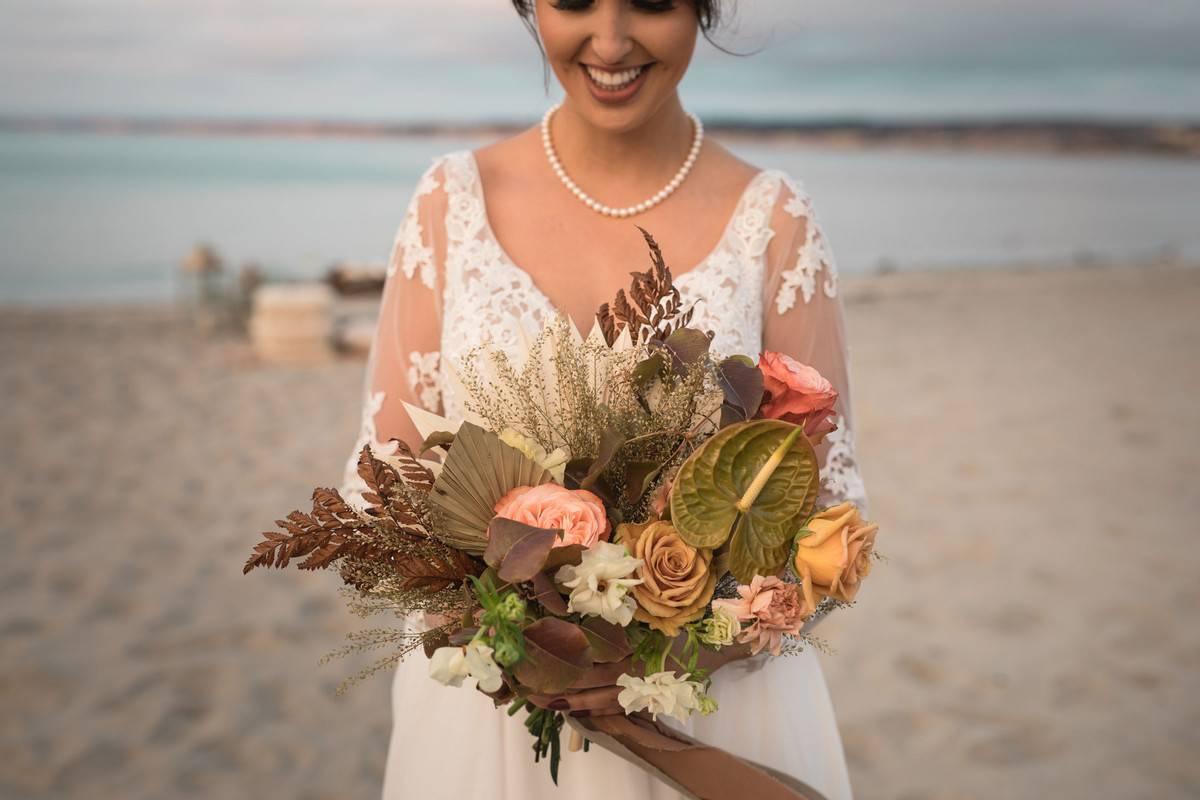 Fall Beach Wedding Bouquet
If you're having a fall beach wedding, switch out the bright neon-hued flowers for muted colors instead. This bouquet of fan palms, anthurium, and roses is a perfect example of how to do it.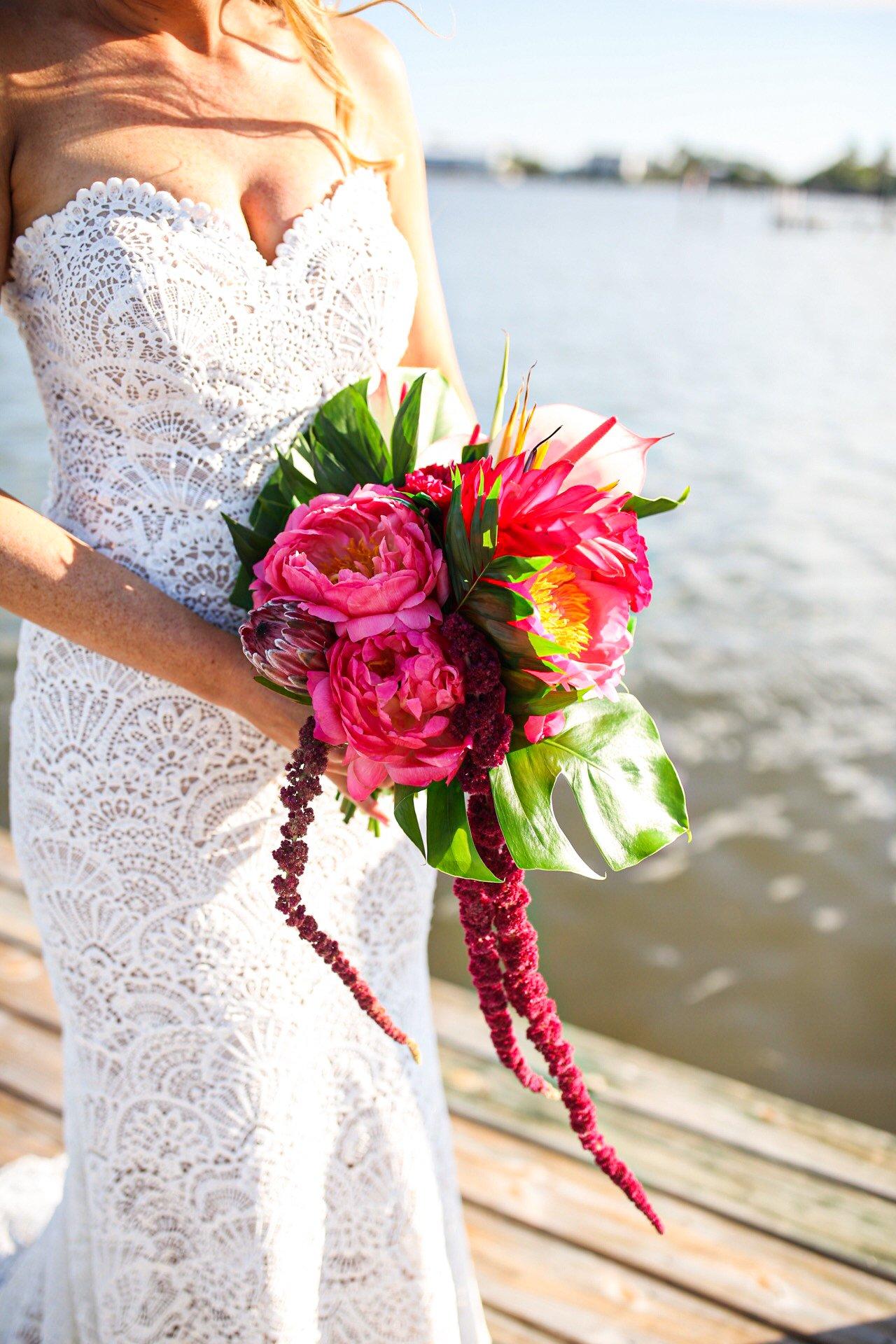 Cascading Wedding Bouquet
Cascading wedding bouquets were first popularized in the 1980s, but we love them for the beach bride who wants to make a bold statement with her bouquet.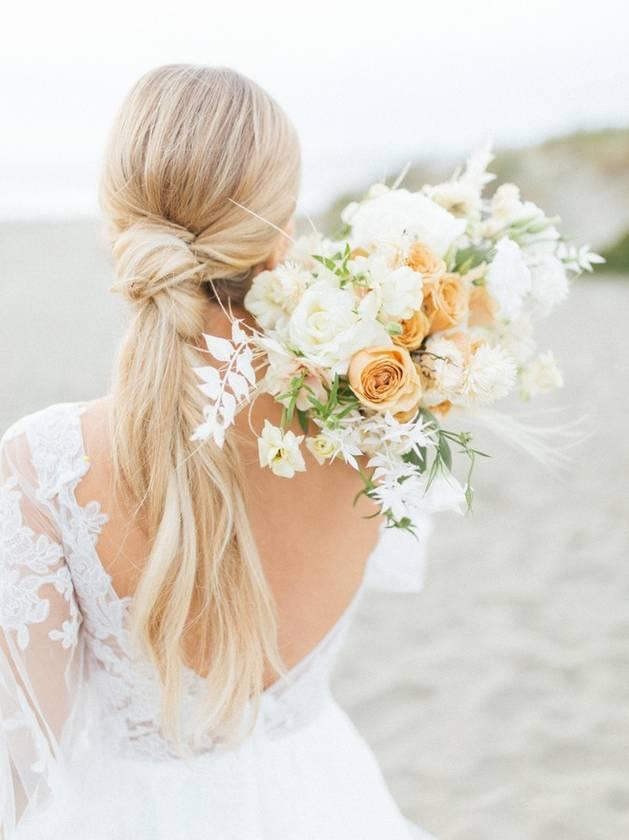 Pastel Wedding Bouquet
Use pastel yellow flowers to add a pop of color to an otherwise white beach wedding bouquet. This one is finished with bleached greenery for a modern, trendy effect.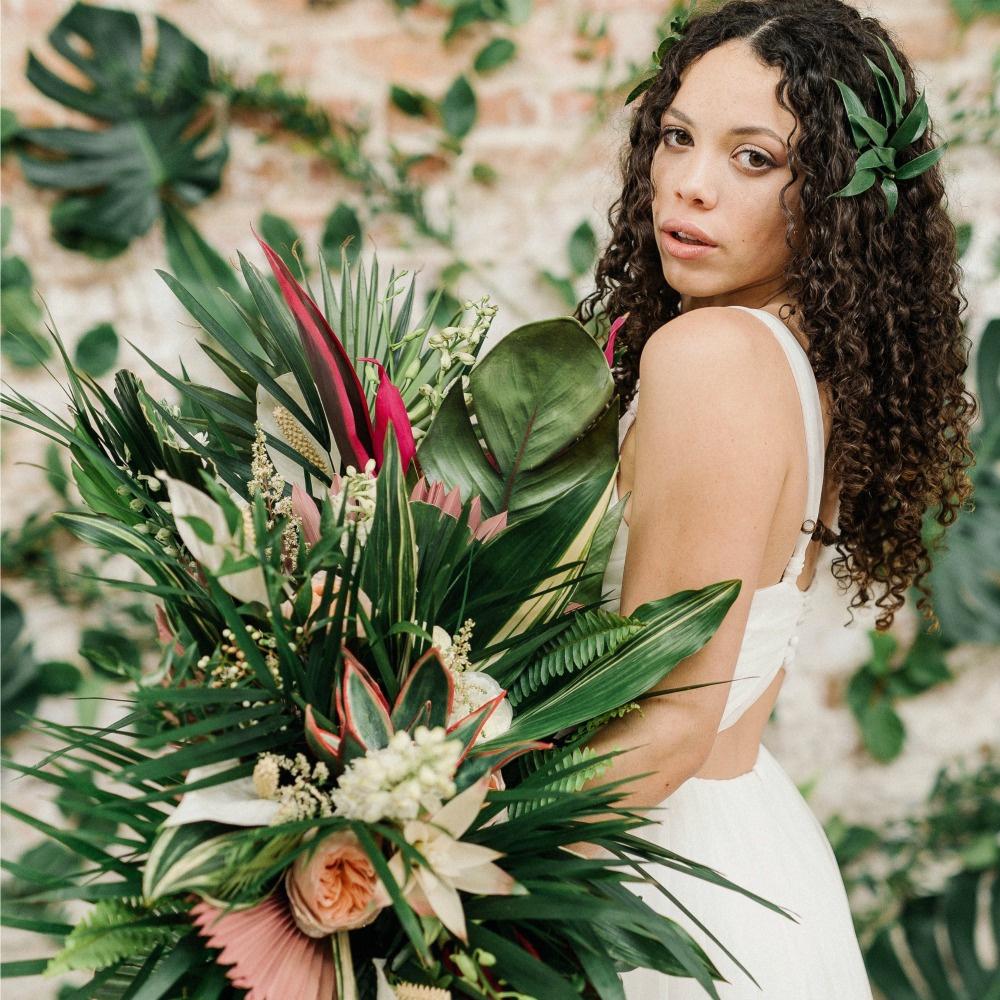 Tropical Greenery Wedding Bouquet
With greenery like this, your summer wedding bouquet won't need much else. Along with monstera leaves, the most common types of tropical greenery include banana leaves, Bird of Paradise leaves, palm fronds, and sword ferns (all pictured here).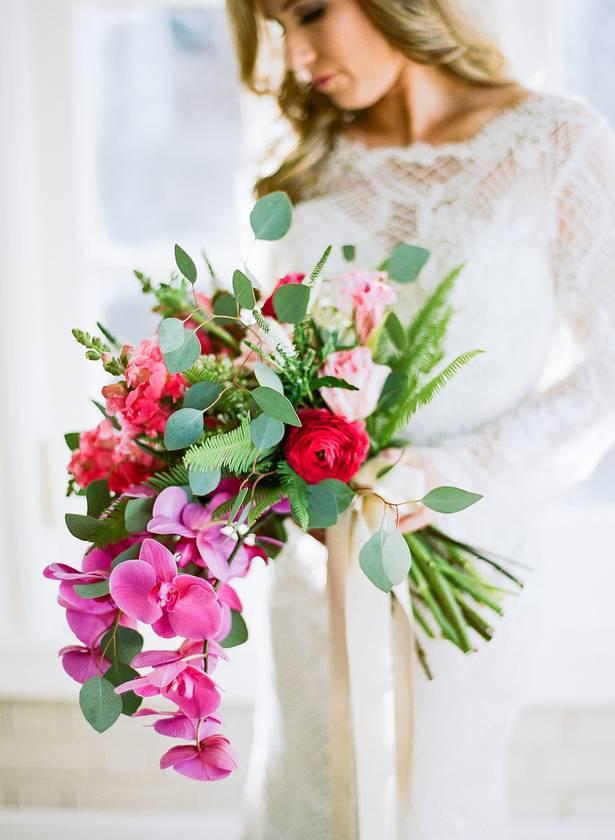 Pink Orchid Wedding Bouquet
Long-stem phalaenopsis orchids are the perfect balance of beachy and elegant. Add them to one side of a bouquet for an eye-catching detail.