When it comes to considering marriage proposal ideas, the way you pop the question should reflect both you and your partner's personalities. If you both love the spotlight, propose in a dramatic way. If you prefer quiet evenings at home, keep your proposal simple and more intimate. While your proposal will be memorable no matter how you do it, it's best to make your partner feel comfortable and in his or her element.
Check out some of our favorite marriage proposal ideas based on different personal styles.
Private and Simple Proposal Ideas
The thought of proposing in public might be fairly terrifying to many people. Not to fear! A proposal in the privacy of your own home can be just as special as a big to-do.
1. The Dinner Proposal
What: One of the simplest and most romantic proposal ideas, prepare a home-cooked meal featuring your S.O.'s favorite foods and place the ring in your pocket.
Where: Propose in your kitchen or dining room.
When: We suggest popping the question near the end of a weekend dinner, so you can celebrate with bubbly and dessert after!
Make it Personal: Present your beloved with a scrapbook of memories from throughout your relationship.
2. The Game Night Proposal
What: Plan a night where you two stay in and play all of your favorite games. From Bananagrams to Scrabble you can easily sneak in the winning "Will You Marry Me?" pieces.
Where: Propose in your living room on a weeknight or weekend.
When: Ask your S.O. to refill the snack bowl or to grab the remote. Then, while they aren't looking, spell out the big question!
Make it Personal: Create a custom crossword puzzle filled with clues and answers that reflect details of your relationship.
3. The Pet-Lovers Proposal
What: Attach the ring securely to your dog or cat's collar. When the timing is right, call your pet over and have them present the ring to your S.O.!
Where: Pop the question outside in your backyard or front porch.
When: Do it on a weeknight, right before dinner.
Make it Personal: Engrave your pet's collar tags with your initials as well as: "Will you marry me?"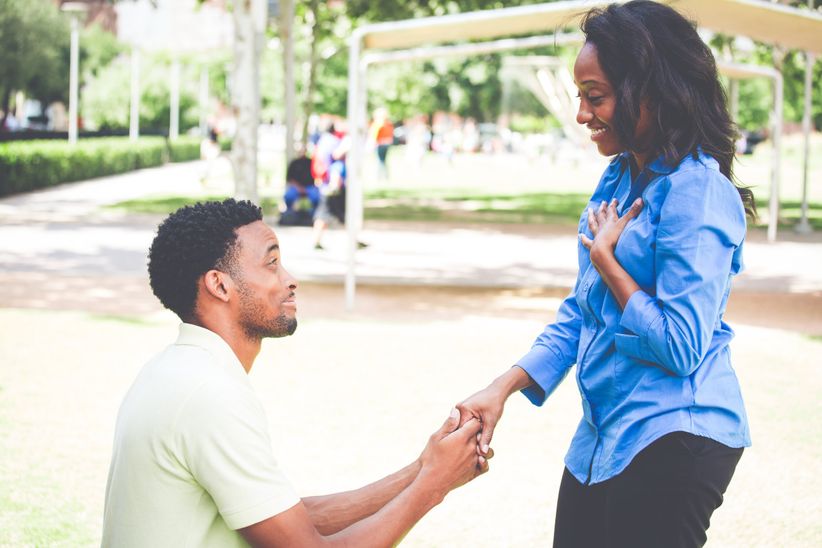 Proposal Ideas That Include Friends and Family
If your partner is super-close with his or her family and friends, a proposal surrounded by loved ones is just the ticket. Just be sure to communicate with all of your VIPs well in advance, so they can be sure to be present for the big moment.
4. The Signage Proposal
What: Coordinate with friends and family to have them each carry a different sign that spells out the big question!
Where: A local pier or somewhere with a great backdrop in your hometown would be the perfect setting.
When: Propose over the weekend after a brunch date, that way you can have the full day to celebrate with everyone!
Make it Personal: Hire a professional photographer and/or videographer to capture the big moment!
5. The Vacation Proposal
What: One of our favorite marriage proposal ideas! Plan a proposal during a family vacation at the beach, mountain or other vacation destination. Just make sure you let your S.O.'s family in on the secret.
Where: Pop the question on the balcony of the rental or vacation house.
When: Before dinner, get everyone outside to look at the sunset. Then when everyone is nearby, get down on one knee. You'll get some great photo-ops with the sunset too!
Make it Personal: Propose with a family ring or toast with heirloom crystal champagne flutes.
6. The Video Proposal
What: Create a video featuring your family members and friends encouraging your S.O. to say "yes"! Then get your significant other to watch the final product.
Where: This can be in the comfort of your own home, over vacation or anywhere with a decent wifi connection!
When: As soon as the video ends, get down on one knee.
Make it Personal: You can livestream or FaceTime your family and friends so they can watch your beloved's reaction to the video.
Wow-Worthy Public Marriage Proposal Ideas
For some people, the bigger the proposal, the better. If you know your partner loves the spotlight, go ahead and plan a big spectacle with one of these unique proposal ideas. Just remember that practice makes perfect. If you're going to propose in front of a crowd, be sure you have your proposal speech down pat.
7. The Scavenger Hunt Proposal
What: Plan a scavenger hunt that will take your future spouse all throughout your city. Then end the hunt with you getting down on one knee!
Where: Hide clues in places that are special to your relationship, where they can reminisce on all the fun times you had together as they complete the hunt.
When: Have the final clue lead your S.O. to a photo-worthy spot right before dinnertime
Make it Personal: Incorporate mementos from your relationship in every clue.
8. The Sports Stadium Proposal
What: One of the best marriage proposal ideas for sports fans, get down on one knee while you two are cheering for your favorite team at their home stadium.
Where: If you really want to get the crowd behind you, pop the question at the stadium. If you're wary of the Jumbotron, don't worry! Propose before the game while everyone is tailgating around you!
When: The best time would be during halftime or a natural break in the game so you won't have any distractions.
Make it Personal: Purchase custom jerseys that read your future monogram or last name!
9. The Flash Mob Proposal
What: One of our favorite creative proposal ideas, make your S.O. feel like they're in their very own musical as you pop the question with the help of friends, family and some super cool choreographed dance moves.
Where: Coordinate with anyone you know that loves to dance and pick a spacious place, such as a local park, mall or even in the middle of downtown.
When: End the dance number by getting down on one knee. Your S.O. will be totally blown away!
Make it Personal: Perform the dance to your beloved's favorite song— or one that's been important in your relationship.