Reviews
5.0 out of 5 rating
Quality of service

5 out of 5 rating

Average response time

5 out of 5 rating

Professionalism

5 out of 5 rating

Value

5 out of 5 rating

Flexibility

5 out of 5 rating
100%
Recommended by couples
4 User photos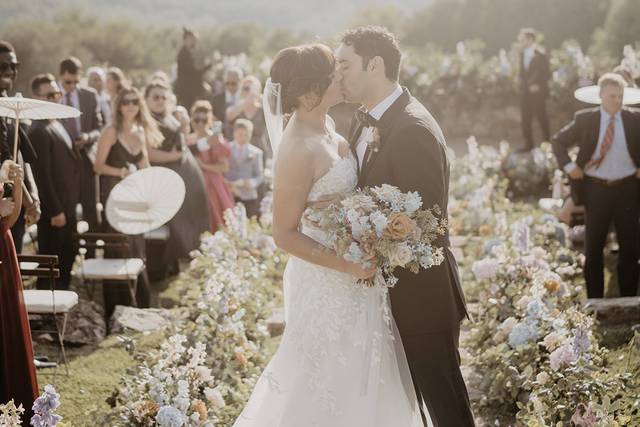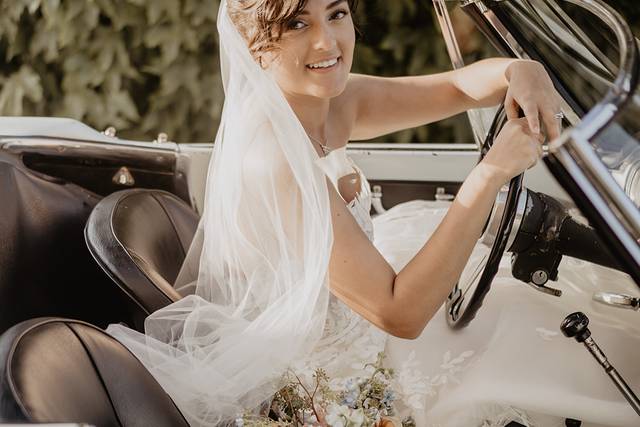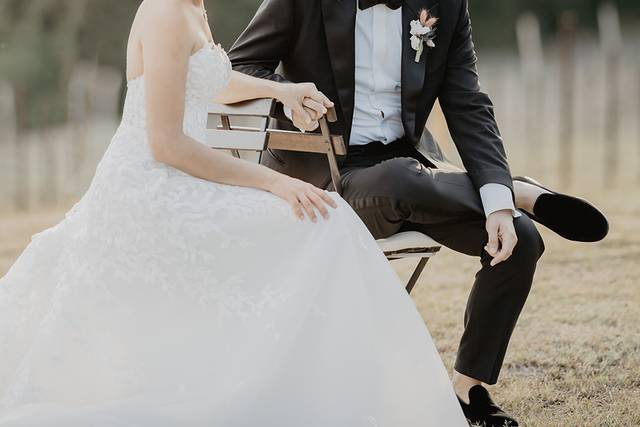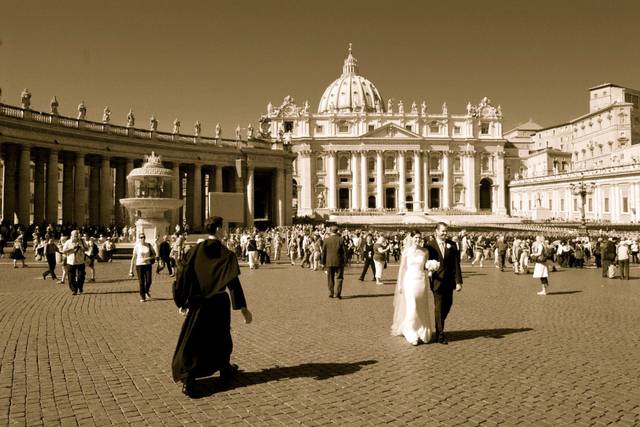 Ellen R.

Married on 10/19/2021

An Exquisite Wedding Celebration in Ravello

As my family and I sit down to write this review, it is almost impossible to do justice to Brenda Babcock and how incredibly positive our experience with her was. I think the bottom line is that Brenda provides 100% peace of mind when planning a destination wedding. She is with you from beginning to end and totally involved in every step along the way. Her professionalism is unmatched and her taste is impeccable. Every single item she chose and every event she planned (we had three days of them!) exceeded our expectations a thousand times over. We developed such a high level of trust in her that our family was truly able to enjoy the celebration with absolutely no worries or stress.

Many people have said this in reviews below mine, but if Brenda plans your wedding, you will spend the rest of the year (and maybe life!) hearing that your wedding was the best that anyone has ever attended. I feel trite saying that our wedding in Ravello was magical, but that's exactly what it was. It flowed seamlessly in both perceptible and imperceptible ways.

To speak to logistics, Brenda is probably the most organized person I have ever met, and I cannot speak highly enough to her professionalism. She is available, patient, understanding, most importantly, she executes the vision for the wedding flawlessly.

I could go on and on about how every detail of our wedding was perfect, but I still wouldn't come close to describing just how wonderful the entire experience was. It was the most fun I've ever had, and I was able to enjoy every second of it because Brenda was there through it all.

Steve R.

Married on 08/12/2021

Simply the Best

Brenda Babcock is the best at her job in the world. It is that simple. If you want a wedding that every guest will tell you is the greatest event they have ever and will ever attend, seek out Brenda Babcock. She exceeded our expectations across the board.

Her guidance on venue, vendors, musicians, food, decor, events, childcare, transportation, everything was spot on.

Our wedding took place in Tuscany over 3 days with 80 guests and Brenda had every detail planned out down to the minute - or in the case of the fireworks - down to the second.

Covid created challenges and Brenda rose to quickly conquer each one. During the wedding, onsite, Brenda addressed issues in the background that we weren't even aware of until after the fact. We were able to relax and enjoy our time celebrating.

Brenda's attention to detail on the budget was excellent.

I am writing this weeks removed from the wedding and every conversation I have with someone who attended our wedding begins with a litany of compliments - not just the first conversation with that person, but the second, and the third post wedding.

Enough cannot be said about the quality of service Brenda provides.

I went back to read the other reviews Brenda has received and reading them now after our wedding, I see that our experience was completely representative of Brenda's other weddings.

To execute at such a high level so consistently is extremely valuable.

Your wedding will be one of the most important events of your life. Entrust it to Brenda Babcock.

Brenda R.

Married on 08/12/2021

Everything we dreamed of and more

Brenda orchestrated the wedding of the century for us. She made all of our dreams come true and she did it flawlessly. From the first day we met, Brenda was invested in our happiness. To this day, every time we talk to a family member or friend that attended the wedding the conversation starts and ends with how incredible the wedding was and how much fun they had. All this was thanks to the stylish and detail oriented Brenda Babcock.

After engaging her services, Brenda conducted several video calls with us to get a sense of our personalities, styles, likes, and dislikes. For each detail, whether the flowers, the stationary, or the salad forks, she produced a list of the best vendors in Italy for us to choose from. She has access to the best vendors, venues, and entertainment due to the relationships she has cultivated over 15[?] years. Brenda was in constant contact with us helping us plan for more than a year – no request was too big for her to overcome. As an example, I asked her to help put together some surprises for my husband over the days of the wedding and she managed to find New York style bagels in Rome and she recruited the pastry chef at our venue to make Italian Rainbow Cookies (not actually Italian mind you). My husband was completely surprised and got to enjoy his two favorite pastry items on his wedding.

Brenda is an excellent designer. She has an eye for detail. She planned all the color schemes, textures, accents and lighting in each event. We were very hands off which is exactly what we wanted. When we had a specific request she would make it happen and each suggestion we had she improved. Walking into each event took our breath away. You never expect your wedding to look that beautiful – it's more what you expect to see on the cover of a wedding magazine – but it was our wedding. Brenda made that happen for us.

Lastly, I want to express how organized and professional Brenda is. We always knew what was going on and everything was alway on schedule throughout the planning and at the wedding itself. She gave us weeks if not months advance notice when it came to decisions we needed to make. We were never rushed. Because of this, we were actually able to enjoy every minute of every event. We weren't running around having to deal with crises. We were essentially guests at our own wedding, eating, dancing, and hanging out with family and friends!

Brenda is an expert. If you want to hire the best wedding planner in the world hire her. Now we have to spend the rest of our lives falling short of our friends' and family's expectations because no event we ever plan will be as incredible as our wedding… unless we hire Brenda.

Are you interested?

Send a message

Teresa D.

Married on 05/30/2019

Outstanding Experience

My husband and I were beyond pleased with the endless and patient guidance of Brenda and Chiara as they walked us through all the necessary steps to fulfill our dream of getting married in Italy. Our dream to be married, not just in Italy, but in the Vatican City of Rome, as practicing Catholic believers, was a spiritual gift for us. We knew our wedding ceremony would be especially endearing to our hearts, as our love story has continually blessed us in unimaginable ways, but partnering with them was the absolute best choice possible to make our vision a reality. Their attention to our particular requests, knowledge of Rome, and obvious love of what they do, made our wedding day even more memorable than we could have imagined. Everything was even better than we expected thanks to them. Even though it was a small wedding, we felt like we received the same attention as a large event would have received.

It was also such a pleasure to work with their team of gifted people. We were honored to have such highly regarded professionals working with us. Truly an unforgettable privilege!! We are grateful for such an amazing wedding day that we and our family will never forget.

Each and every person recommended to us was truly top notch. They were kind and caring, with such attention to detail. We felt each person went out of their way to make our day spectacular. We were in the most capable of hands with wonderfully professional people with a heart for what they contribute.

Monsignor John is a gifted priest with such a love for people. He exudes the love of Christ. We were honored to have him as our celebrant officiating our ceremony. We truly felt God's presence and love as we participated in receiving the Sacrament of Marriage.

Orazio was a dream to work with. He is definitely an artist when it comes to hair and makeup. Our photographer, Dan Sauer was so much fun. He has a calm, but enthusiastic manner, that made us feel very comfortable and he captured the very essence of joy and delight we were experiencing. My bouquet was exactly what I envisioned and the flowers decorating the church were just beautiful.

Again, what a wonderful experience it was to work with Brenda Babcock Celebrations . I simply cannot thank them enough for everything. Looking back, my first email to Brenda was on February 14, 2019 and our ceremony was on May 30th, a little over three months later. I consider that pretty quick work given the civil and religious documents required to be married in Italy and the Vaticano. This was made possible as a result of their vast knowledge, experience and guidance.

Bobbie P.

Married on 07/07/2018

Amazing Tuscany Wedding Experience

Our three day wedding weekend in Tuscany was truly beyond anything we could have imagined. In the weeks after the wedding so many of our guests have sent us messages and the word that seems to appear in every one is "magical". The whole weekend from start to finish was something otherworldly – so incredibly beautiful, delightful, warm and, there really is no other word, just magical. Every event was flawlessly designed and executed by Brenda Babcock and her team with incredible attention to detail. Their recommendations for musicians and all other vendors were spot on. Honestly, we couldn't be happier, it was the best weekend of our lives. At least 15 guests (including some of my parent's friends) have told us that it was the best weekend of their lives! We owe a huge debt of gratitude to the Italia Celebrations team for their hard work on this event and for their guidance throughout the year. The beauty and love that radiated from our wedding weekend will be providing an afterglow for some time, and it will provide memories we will hold on to for the rest of our lives. Thank you for making it all happen, we are truly grateful.

Allie

Married on 08/03/2017

Words cannot express how grateful and thankful we are to have had Brenda Babcock and Italia Celebrations orchestrate all three days of our wedding celebration on the Amalfi Coast in Italy!! Everything about our wedding was an absolute dream. Brenda completely took the vision that I had in my mind and all the inspirations from my pinterest board and made it all a reality. It truly was beyond my dreams and it wouldn't have been possible without her.

We started planning the wedding with Brenda for summer 2018 when I wrote to say that we didn't want to wait that long to get married and would it be possible to make it happen in only 4 months for summer 2017? I thought I was crazy at the time, but Italia Celebrations pulled off everything perfectly. Not only was it perfect, but Brenda and her team made every detail so memorable that my guests will never forget it. It was truly a once in a lifetime experience for us and for everyone in attendance.

The entire wedding planning process was a dream and I would HIGHLY recommend their services to anyone. I never once felt worried or stressed and it was everything I wanted and so much more. Brenda's taste, professionalism and recommendations were spot on for absolutely everything. I can't thank her and her team enough for everything that they did to make August 3rd, 2017 the best day of my life.

Mayhill

Married on 07/22/2017

Brenda and her amazing team gave my daughter the most beautiful and delightful wedding. Four months later, friends and family still cannot stop talking about it. You want perfection coupled with a stress-free experience? This is what Brenda provides. Also, she has a great aesthetic sense. I will never forget leaving the post-ceremony cocktail party on the lawn overlooking a Florentine sunset, and walking over to the bowling green set with two long dinner tables for 150. I was overwhelmed by the beauty of the scene. The crystal, the flowers, the candles, the flickering lights and even more candles in the potted lemon trees lining the bowling green, with the garden fountains splashing above the boxwood hedges and lemons. This is but one of many beautiful memories.

James

Married on 07/20/2017

Brenda helped plan my daughter's 3-day destination wedding in Florence, including a civil ceremony at Palazzo Vecchio, a formal and informal dinner and the wedding itself at Villa Gamberaia. She also suggested a villa for our extended family to stay in during the festivities. Everything was perfection and met our very high expectations. Brenda was responsive, candid, firm but flexible, hyper organized and creative. She has a great network of vendors, and could suggest alternatives when price or availability was an issue. She listens carefully, was focused on our budget and many times suggested less expensive alternatives that would achieve the same effect. I really appreciated that she pushed back when she thought we were going off-course, giving the reasons for her suggestions, based on experience and value, but always willing to carry out our wishes. She proposed many small touches and refinements that we would not have thought of, and she and her staff were present during all of the events to keep everything on schedule and deal with any issues, so that my family could just relax and enjoy (which we did). She and her staff are also down to earth people with their senses of humor and perspectives intact. Many guests have said this was the best wedding they ever attended. I agree. I recommend Brenda without reservation

Kristen

Married on 07/01/2017

I had a wedding this summer with Italia Celebrations and she did a marvelous job for us! We had a three-day wedding, including a pizza party, Indian wedding and a Western wedding. The entire planning process was easy, organized, and actually very enjoyable. Brenda is very responsive on e-mail and on the phone, and a joy to speak to. She really knows her stuff! She kept an organized budget for us, and made making payments so easy and seamless. She was there ready and prepared for any question we had and always patient, and full of great ideas. When we went to Italy to see our venue and to select food, Brenda was there with us every step of the way. She organized a perfect weekend for us to taste the food and explore our venue. I am a perfectionist, but even I was BLOWN AWAY by the décor each and every night of our wedding. It was truly spectacular and beautiful, and beyond my expectations. Brenda organized all of the entertainment for us, which was quite a bit as we had different musicians every night. She organized all of their transportation and their hotels, and everything went absolutely perfectly. Brenda and her team also made beautiful gift baskets for all of my guests, so it was really wonderful to not have to worry about that. I could not recommend Brenda and Italia Celebrations more! It was a beautiful weekend that all of my guests are still raving about!

Allison

Married on 06/03/2017

Our 3-day wedding at Il Borro this summer wildly exceeded our dreams and expectations. Planning a destination wedding for over 170 people seemed extremely challenging and stressful, but working with Brenda and her Italia Celebrations team made the planning experience incredibly enjoyable -- we had an unforgettable wedding. Many of our guests are still praising the event as "the best wedding" they have ever been to and the "experience of a lifetime."

You can trust Brenda and her team 100% as she thinks of EVERY last detail and skillfully, tastefully choreographs and executes. Whether it is an (amazing) firework display that begins as my husband and I cheer with our glasses, absolutely transforming spaces with flowers, tapestries, chandeliers, etc., fresh beer kegs from Germany, or a soccer game the day before the wedding, Brenda can work her magic to make any wish come true.

Importantly, Brenda is great to work with -- she is friendly, accessible, honest, professional and can tailor weddings to any individual need or request. The week after our wedding, my husband confessed, "I miss our weekly calls with Brenda" -- a testament that Brenda is so much more than just a wedding planner. She goes above and beyond and is truly the best at what she does.

Sandra

Married on 02/28/2017

I contacted Brenda for a very small private catholic ceremony. We were looking for something small, but still elegant. Our ceremony did not meet the minimum for many planners, but Brenda was willing to help with with my small ceremony. We only had a guest list of 6 family members. Brenda made it all happen. She made sure everything ran smoothly and it was exactly what I had envisioned. It was small and simple, yet tasteful and elegant. I had the best of both worlds: I got the stress free private ceremony, but also all the things every girl dreams of. She always was quick to respond to my emails despite the time difference; we never actually had to Skype because everything was handled. The day of the wedding, she was there to ensure that all went as planned. I can't thank her enough for all her help and patience. You won't be able to find anyone better.

Jina

Married on 09/18/2016

We cannot imagine our wedding without Brenda anymore! Planning a destination wedding in Florence from 12 hours of plane ride away was never easy but Brenda made it as easy as it can get. After Skyping with a few wedding planners, we knew Brenda was the one. She has been always very responsive and tried to accommodate our ideas and vision of the wedding and in the end, she turned them into reality!
After meeting with her for the first time at the wedding venue four months before the wedding, I could trust Brenda even more. She had great taste yet practical and always mindful of our budget. We were also very happy with Brenda's recommendation on Welcome dinner, Rehearsal dinner, and the wedding venue.
We had guests from all around the world (East and West coast of the U.S., Europe, Hong Kong and Seoul) and we received so many compliments from everyone on all the events over 3 days, especially the décor (flowers!!) and food.
We would recommend Brenda to our closest family and friends with no reservations!

Sasha

Married on 07/17/2016

Brenda managed to exceed every expectation even we had for our own wedding! We had the most amazing weekend of our lives, and it couldn't have happened so perfectly without her there every step of the way. My husband and I were planning a destination wedding while living in a foreign country and we felt so overwhelmed. But then we found Brenda, and she made the process as stress-free as possible. We trusted her opinions, and she listened to our vision. In the end, the food, music, décor, welcome dinner, ceremony, reception was exactly what we wanted while keeping our budget in mind throughout the process. She was very fast to respond, and helped with any questions or concerns we had through the way. Our friends and family still can't stop talking about how amazing everything was! And it was attributed to all the hard work behind the scenes. And as well, Brenda and her team were with us the whole weekend, to make sure the events run smoothly, we couldn't imagine our wedding without her!


Stephanie

Married on 06/26/2016

What can I say - Brenda didn't just put on the wedding of our dreams, she created an 3-day experience at Il Borro in Tuscany so memorable, fun, relaxed, elegant, polished, beautiful and so personal to us that it still feels like a dream. Not only that, our guests, who flew in from 10 countries around the world, many with impossibly high standards, to this day still rave about it being the "best / favorite wedding they've ever been to." From the food, the band, the decor, the flowers (oh - the flowers!!!) everything was literally perfection.

From our first Skype call with Brenda, it felt like she knew us right away. Over the next 11 months of planning, Brenda patiently remained committed to accommodating our (sometimes rather elaborate) requests while staying firm on her recommendations and always helping us find ways to get value. For those of you who anticipate some difficulty / challenge from highly opinionated family members, Brenda is more than capable of taking on personalities. She bent over backwards for us when there was an issue with a vendor, determined to making my parents happy - which she did, 100x over. She's a strong, confident, creative, ultimate professional and I admired watching her get stuff done.

Finally - a review of Brenda's mastery is nothing without acknowledging her team, who for all intents and purposes are basically magicians / mind readers / highest experts of their craft. I absolutely loved her hair/make-up team and wish they were around to fix me up on the regular. But it was Noosheen, Brenda's florist, who still has a piece of my heart - she basically read my mind, then produced florals and decor beyond my wildest imagination. I still have goosebumps when I remember how she and her team transformed our venues...

My husband and I recommend Brenda with highest praise! You can't go wrong.




Michal

Married on 06/18/2016

Let me just start by saying that hiring Brenda is the best decision I have ever made. It puts my now husband in a slightly awkward position because having found Brenda through a wedding she did(to absolute perfection) on stylemepretty.com and worked with her while we planned our wedding for 2 years in Florence, Italy, I'm 100% certain that Brenda is my soulmate. We had a 2 day wedding in Italy - a welcome dinner for all the guests at the beautiful hillside hotel Brenda recommended for us and the wedding itself at Castello di Vincigliata in Fiesole just North of Florence. Words can't even describe the magic that Brenda and her team created. I had a very specific vision, I was extremely high maintenance, I wanted chandeliers and flowers suspended from the ceiling and whole heap of other things. Not only did they completely understand what I wanted they ran with it but they exceeded anything I could have EVER imagined. Brenda's taste level is exquisite, but she also understands what you as a couple are going for and then knocks it out of the park. I cried twice that day - when Brenda revealed how they had set up the courtyard at the Castello for dinner and when I had to say goodbye to her at the end. If you're having a wedding in Italy this lady needs to be on your team. If you're on the fence about a destination wedding, don't be, she made the experience an absolute dream.

Aurelia

Married on 06/18/2016

Brenda created the most amazing wedding for us, words really can't do it justice. The 2 day welcome dinner and wedding were just stunning, if you're nervous about having a destination wedding don't be - just hire Brenda, best decision we ever made.

Sarah

Married on 11/05/2015

I wanted to have my wedding in Florence and did a lot of research before choosing Italia Celebrations. I was planning a destination wedding so I needed someone competent I can trust on site and that was Brenda Babcock. Brenda was very professional, always prepared with great ideas and simply a delight. She made the whole process so much easier. It helped a lot also that she's American as there was no trouble in communicating with her, and she speaks Italian perfectly so there was no trouble relaying exactly what I wanted to the venue and vendors. I would definitely recommend Italia Celebrations as Brenda has great taste, knows the lay of the land and will work tirelessly to make sure you get the wedding you always dreamed of. Thank you Brenda! Lots of love from the family x

Dennis

Married on 07/20/2015

When my partner and I contacted Brenda 6 months before our wedding date, we knew we needed an extremely qualified, capable, and resourceful wedding planner with an eye for fashion, style, elegance and creativity to design our dream wedding in Italy. I am a very organized and detail oriented person, so I was delighted that after only a few Skype sessions, Brenda was able to identify all of our wants, needs, and desires. Although we were separated by two different continents, Brenda was able to efficiently and successfully design our 3-Day wedding extravaganza at a beautiful Tuscan castle in Serre di Rapolano.

Brenda covered every detail of our wedding; from fabric selection for our wedding suits, to the welcome bags, to the most minute details of our wedding dinner table. She and her staff were able to present three unique and beautiful experiences, which was important to us because most of our guests are well traveled and know Italy quite well. Each day, they provided seamless execution of the day's events from start to finish without even the slightest hiccup. Not only were our guests treated to a meaningful experience, but many of them expressed that they wouldn't have changed a minute of our three-day celebration. It was universally felt that this experience was magical in a way that they would have never imagined. In fact, it was so unique and special that Martha Stewart Weddings print magazine has chosen to feature it in their upcoming issue.

With Brenda and her team, any couple can go through this process knowing their wedding will be well-planned, well-organized, elegant and exceptionally beautiful. Communication and planning were always smooth and effortless, but most importantly, the planning was fun. Thank you Brenda for the wedding of the century!

Ken

Married on 07/20/2015

I can't say enough to convey the incredible work that Brenda did to create a Tuscan destination wedding for our good friends. We attended their wedding event--3 days planned impeccably--at the Castello delle Serre in Serre de Rapolano. Everything Brenda did was performed with the greatest amount of attention to detail. Her aesthetic was great, she was punctual, and never stopped moving--though she also never created a sense of freneticism; instead, she maintained a calm and in-control demeanor.

We got to know a little bit about Brenda and she has such an exciting story. I enjoyed watching her work and getting to know her a bit.

Brenda is an angel in disguise. She came straight from heaven to make this day perfect for us. She understands your needs, is very professional and responsive. Her team was perfect on the right day. We had so many issues during our wedding day including someone sent to the hospital. But I discovered everything the next day, once they were dealt with. It was so smooth... Thanks again Brenda !

Christina

Married on 07/11/2015

We had an amazing three day wedding in the heart of Tuscany all organised by Italia Celebrations. As a couple with little time but a high bar, Brenda really was perfect for us. She has beautiful taste which make you comfortable with all her decisions. Even as the bride who was involved in many of the details, I was surprised by many little things that made our 3 day wedding truly perfect. She was extremely responsive throughout the process, and her recommendations were priceless. I also love that she helped us stay very close to our initial budget throughout thr process. The overall level of detail and professionalism were outstanding. Almost 6 months later we are still getting comments about what an amazing few days people had at our wedding.

Khaki

Married on 05/16/2015

Thanks to Brenda Babcock at Italia Celebrations and her dedicated and talented team our wedding weekend was truly beyond anything we could have imagined. So many of our guests have sent us messages and the word "magical" appears in every one and I have to agree. The whole weekend from start to finish was something otherworldly – so incredibly beautiful, delightful, warm and, there really is no other word, just magical. Every event was flawlessly designed with incredible attention to detail and Brenda's recommendations for musicians and so many other vendors were spot on as was the location that Brenda had suggested. It was just perfect for our group in every possible way. Honestly, we couldn't be happier, it was the best weekend of our lives. And at least 15 guests, including some of my parent's friends, have told us that it was the best weekend of their lives as well. We owe so much to everyone at Italia Celebrations for their expertise, inspiration and hard work on this event and all throughout the year in the planning process. The beauty and love that radiated from our wedding weekend will provide an afterglow for some time as well as memories we will hold on to for the rest of our lives.

Michelle

Married on 07/11/2014

Brenda and her talented team are truly exceptional and they went above and beyond our expectations. They offer a passion for fine detail and design, a wealth of local knowledge and connections, and a serious "can do attitude." Brenda's talent and work ethic was the "essential ingredient" to the unforgetable magic behind our wedding and I would strongly recommend her services for top notch American style events in Italy.

From our first converstation, Brenda clearly outlined expectations, and costs. Moreover, she quickly understood our vision for our wedding, and offered gorgeous and refined options, practical and realistic strategies, and alternatives to each detail, in a digestable and comfortable manner.

Not only did my family and I feel very comfortable entrusting Brenda at every stage in the planning process, but also in the care and treatment of details the day of the wedding. It was clear to us that Brenda was hands on and took every task to heart, from personally driving a four tier cake from Rome to the Amalfi Coast (a long and tedious trip), to unpacking sets of fine China and crystal.

I could not have been more elated with the magic in each small detail she handled. She frankly made our wedding dreams come true.

Thank you so much Italia Celebrations for such an incredible and exquiste job!

Sincerely,
Michelle and Christopher

Sarah

Married on 06/28/2014

We had our absolute dream wedding thanks to Italia Celebrations. I'm used to NYC levels of service and efficiency and am very detail-oriented so whilst I love the Italian, relaxed vibe I knew that I needed expert help to plan the wedding and ensure that our vendors executed everything perfectly.Brenda offers the best of Italian and NYC wedding planning: She has an encyclopedic knowledge of venues in Italy, amazing contacts and is fluent in Italian language and culture- her NYC experience means she has a can-do attitude, impeccable attention to detail, a modern, beautiful approach to styling and an instinctive understanding of precisely what you want. I had such faith in Brenda that we booked our wedding venue without having visited it! Brenda understands exactly what you want, she totally gets it. She is the perfect blend of being decisive when required without being pushy. Visiting the venue, I fell completely in love with it and was so grateful for Brenda's confidence and judgment in the venue – it was totally 'us' even better than we dreamt. Over the following months, I bombarded Brenda with questions about every wedding detail. She was always so helpful, patient, reassuring and made me feel calm and confident that the wedding would be perfect. We had vendors whose work we adored and whose company we enjoyed and we came in under budget- Brenda has total integrity and guides you on where to spend and save according to your venue, budget and priorities. It's amazing to have a planner you can totally trust – to make the right choices, to connect you with the right vendors and to deal with everything on the day so that you can relax and enjoy it. Everything was flawless on the wedding day and Brenda was close by when we needed her but so discreet in her presence. Our wedding was a fairytale, just perfect, magical and beautiful beyond belief thanks to Brenda. I whole-heartedly recommend Brenda, she is wedding planning perfection!

Michal

Married on 06/08/2014

Where do we start?! No words we will write in this review are enough to express our gratitude and appreciation for Brenda Babcock. One word kept coming up over and over again when our family and friends were describing our wedding: Magic. And that is thanks to Brenda, who was absolutely invaluable to us throughout the process, from the planning of our wedding to our wedding weekend itself, which was indeed a truly magical event. More than anything, she made the process of planning our wedding a fun one. We had kept hearing from people how hard and stressful planning a wedding is, but with Brenda's extraordinary attention to detail, impressive organizational skills and immaculate taste, planning our wedding was a great and enjoyable experience. Brenda has a unique ability to draw out people's own tastes and preferences, and complement and enhance these ideas further. For example, for our wedding, we kept leaning towards a vintage rustic chic palette, which Brenda detected early on and was able to hone in on to create and craft a beautiful wedding weekend in Tuscany, that was exactly to our taste (and beyond!). And from seeing photos of other weddings she did, it is clear that she has managed to do this for any and all types of palettes/tastes and locations. From start to finish Brenda and her team are there with you, from the first email/Skype to the wedding day itself, making sure that everything is working smoothly and seamlessly. Planning a wedding with Brenda is simply, and truly, perfection. The only downside is that we already miss her a lot!
Are you interested?
Send a message