11 Santa Barbara Estates You Can Rent for Your Wedding Day
Want to get married like Hollywood's elite? Rent a private mansion for your wedding! Here are nine Santa Barbara estates where you can host a stunning big day.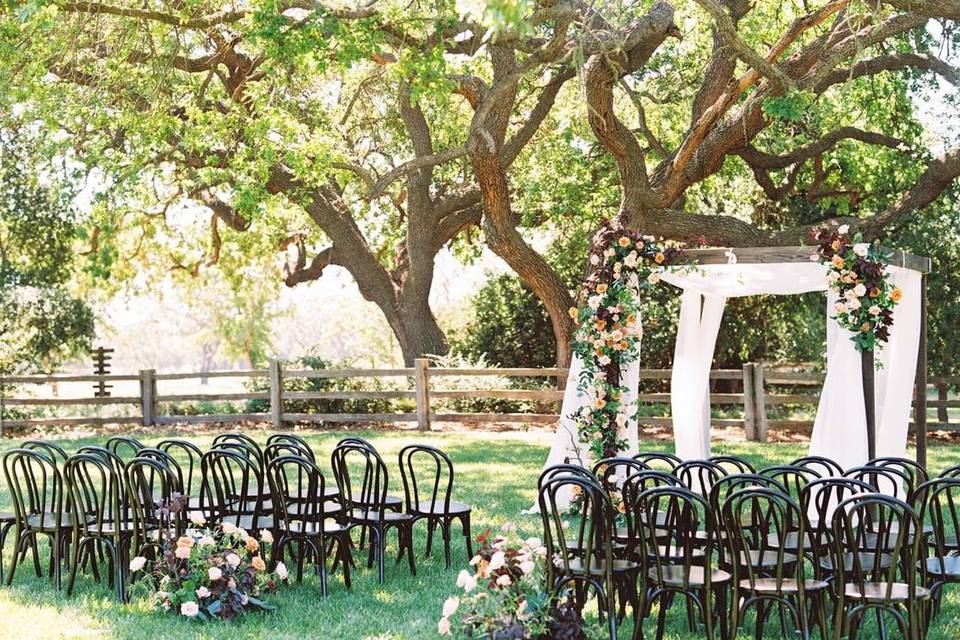 Santa Barbara is home to some of Hollywood's most elite—Ellen DeGeneres, Oprah Winfrey, and Whoopi Goldberg all live in this upscale beach town—but even if you're not a celebrity, you can get married like one at these Santa Barbara estates and pretend like you are, even if only for a day. Set against a dramatic backdrop of the Santa Ynez mountains, Santa Barbara is filled with swanky mansions, private estates, and exclusive villas that look like they were plucked from the south of France or the sun-kissed hills of the Tuscan countryside (just one of a few reasons why Santa Barbara is nicknamed "The American Riviera"). By renting one of these spectacular properties for your wedding day, we guarantee you'll feel like a million bucks.
Get married in celeb-worthy style at these exclusive Santa Barbara estates and mansions.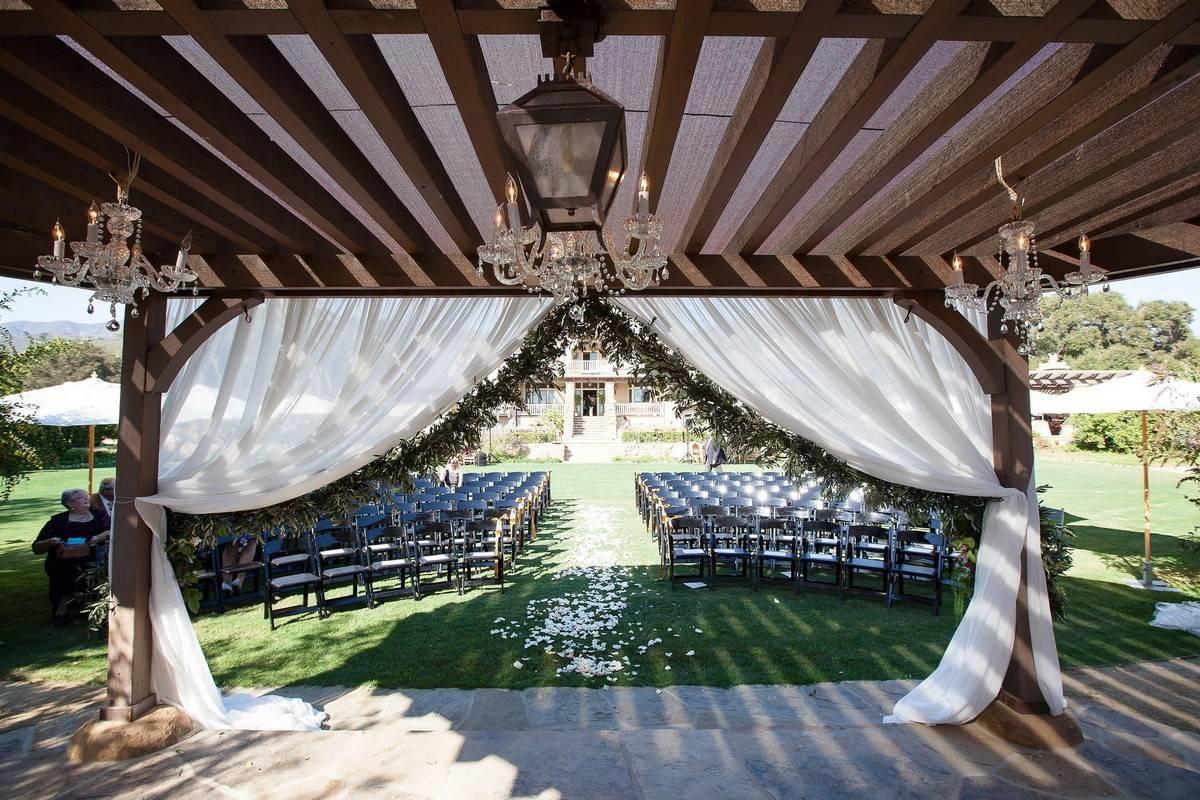 Heartstone Ranch
This private Carpinteria ranch is filled with landscaped gardens, palm trees, rose-covered archways, and elegant stone fountains that all add to the venue's romantic, European-inspired aesthetic. The sunny lawn is a beautiful place to exchange your vows—a wooden pergola, which can be draped with fabric or garlands, serves as an altar backdrop. Can't choose between ocean and mountain views? Heartstone Ranch has both! The venue also has a collection of vintage items and other decor you can use for your wedding day. For the ultimate convenience, the estate house can accommodate 14 overnight guests. Rent the house for the entire weekend so you can relax and focus on spending time with your parents, wedding party, or closest friends all in one place.
Learn more about Heartstone Ranch »
Lieff Ranch & Vineyard
With lush rose bushes, cabins draped in wisteria vines, and vineyard-covered hillsides, Lieff Ranch feels like a wedding venue that's straight out of a dream. The 60-acre property, which is located in the hills of Santa Ynez, is available to rent for weddings of up to 150 people. There are seven different event spaces to choose from, whether you pick the scenic field, shaded poolside pergola, or the charming barn. The ranch also has three adorable cottages to accommodate 22 overnight guests—in your downtime, guests can relax in the hot tub, lounge by the pool, or get their endorphins going on the tennis courts.
Learn more about Lieff Ranch & Vineyard »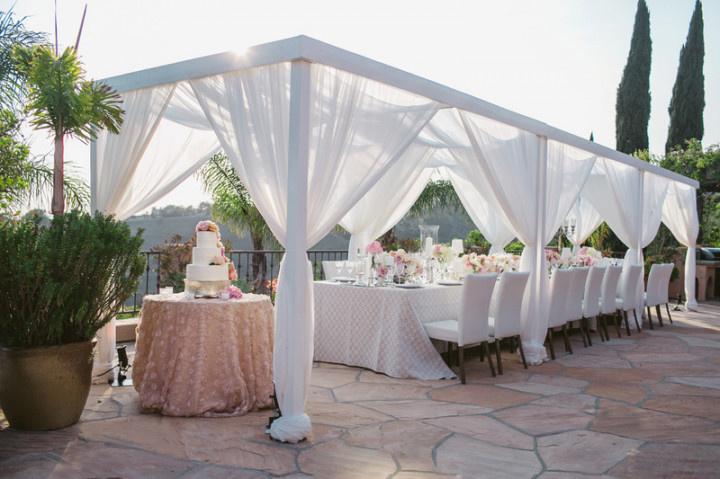 Villa Verano
If you can't make it all the way to the Mediterranean for your dream wedding, fear not. Villa Verano offers the same effect without requiring you to leave the country. This secluded Santa Barbara mansion will become your own personal paradise on your wedding day — there are more than 13 acres of landscaped gardens, stone terraces, and trees, ensuring that you have plenty of privacy and space to relax. Villa Verano accommodates weddings with up to 150 guests, and the variety of event spaces means you can host your entire lineup of events (rehearsal dinner, wedding ceremony and reception, send-off brunch, etc.) without ever using the same area twice. The main house has five bedrooms, a formal dining room, 27-seat movie theater, and Pacific Ocean views from nearly all angles. Could you really ask for anything more?
Learn more about Villa Verano »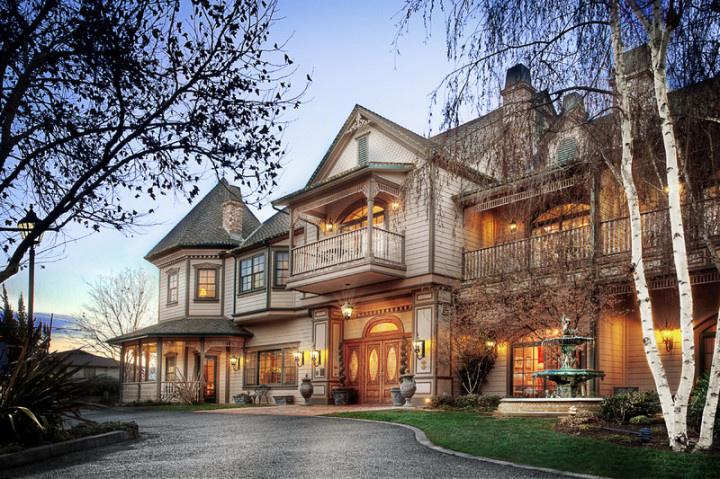 Santa Ynez Inn
This boutique hotel is located in beautiful Santa Ynez wine country, approximately 30 minutes outside of downtown Santa Barbara. With a capacity for 120 guests, the venue's two event spaces are welcoming and timeless. A large, fenced garden features a fountain, brick fire pits, oversized hearth, and views of the Santa Ynez mountains. For your reception, the inn's Coach House is a cozy and intimate setting with its vaulted ceilings, exposed beams and dark hardwood floors. Metal chandeliers and white shiplap walls give the Coach House an upscale rustic vibe. If you're having a destination wedding, the Santa Ynez Inn has 20 guest rooms and suites that are available for room blocks. The inn also provides catering, decor rentals and wedding day coordination.
Learn more about Santa Ynez Inn »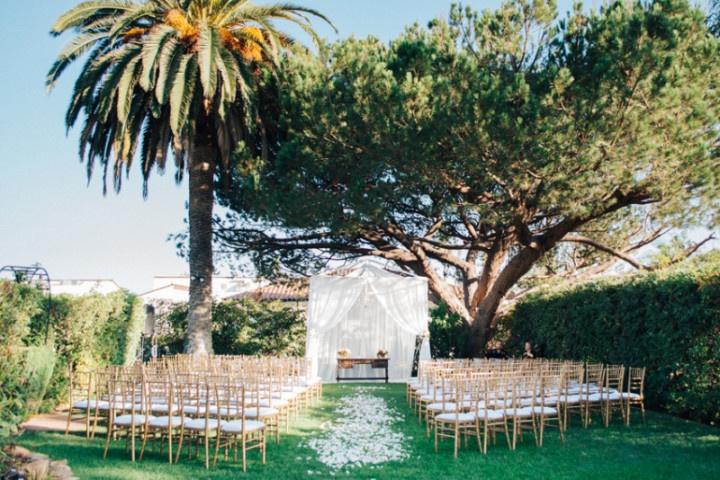 Riviera Mansion
Built in 1880, the Riviera Mansion offers a little piece of Santa Barbara's history for your wedding day. Originally built as a private Santa Barbara estate, the mansion now houses a collection of antiques, art, and stately furnishings. Make the most of Santa Barbara's perfect weather by getting married outside in the mansion's garden, which is surrounded by manicured hedges and tall palm trees with an adjoining brick patio. Catering is provided by the in-house chef, while the venue's event team oversees additional planning and day-of coordination. Dressing suites, decor rentals, and all-inclusive wedding packages are also available. Located in the heart of town, the Riviera Mansion (also known as the University Club of Santa Barbara) is just one block away from Alameda Park, Alice Keck Park Memorial Gardens and State Street.
Learn more about Riviera Mansion »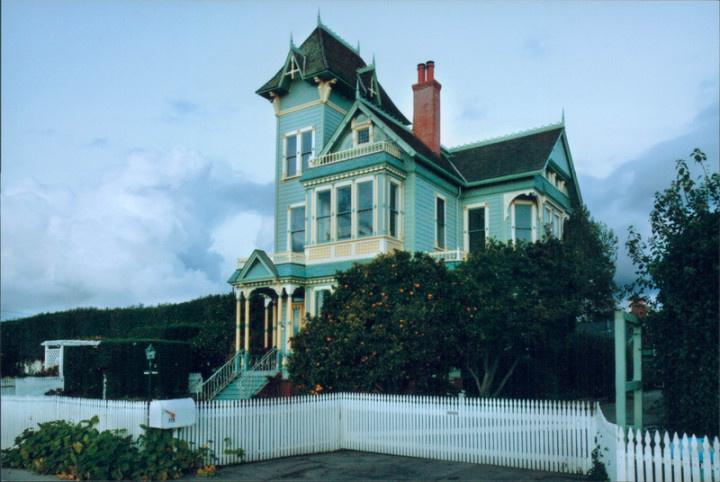 Victorian Pitkin Conrow Estate
Travel north along the Central Coast and you'll find the charming Victorian Pitkin Conrow Estate in Arroyo Grande. The venue's formal garden is a versatile space for your ceremony or reception, while the house itself is full of character and whimsical details, like gingerbread trim and a white picket fence. With a capacity of 300 guests, the Victorian Pitkin Conrow Estate is on the larger end of Santa Barbara wedding venues, making it a great location if you have a bigger guest list. This venue also provides tables, chairs, dressing rooms, china, flatware, and optional in-house catering.
Learn more about Victorian Pitkin Conrow Estate »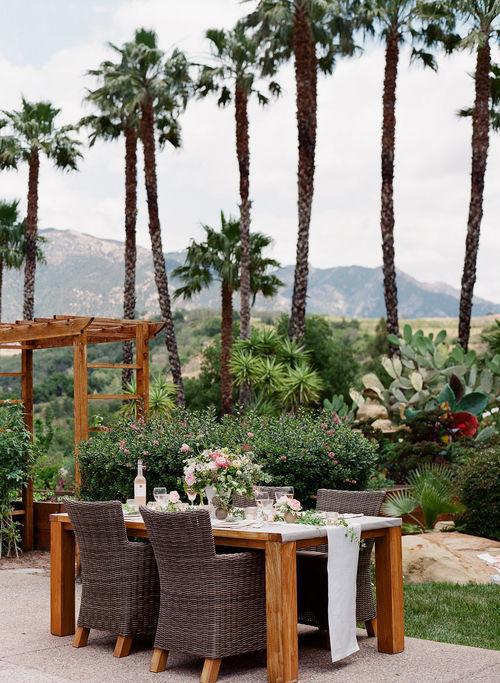 Via Maria Villa
This luxury home is an ideal backdrop if you're looking for a wedding venue that reflects classic SoCal style. The private property, which borders Los Padres National Forest, has mountain views and a gorgeously landscaped yard. Via Maria Villa has a max capacity of 150 guests, but it would also be the perfect Santa Barbara estate for smaller groups, engagement parties, rehearsal dinners, or elopement ceremonies. The house features a swimming pool, contemporary decor, wifi, commercial kitchen, music system, and parking.
Learn more about Via Maria Villa »
The Heritage Estate
If you're looking for a venue with a "backyard wedding" vibe (but don't actually want to get married in your own backyard), this is the place for you! Perfect for couples hosting a destination wedding, The Heritage Estate will become your home away from home. Located about 1.5 hours north of Santa Barbara in Arroyo Grande, this private, five acre property has landscaped gardens, a remodeled barn for rustic outdoor weddings, and a five bedroom guest house that accommodates up to 18 people overnight. The Heritage Estate offers all-inclusive wedding packages, event rentals, setup/cleanup, and scenic mountain views. A few more perks: The Heritage Estate has a three-hole golf course, grill/cookout area, and is less than 10 miles from beaches and wineries.
Learn more about The Heritage Estate »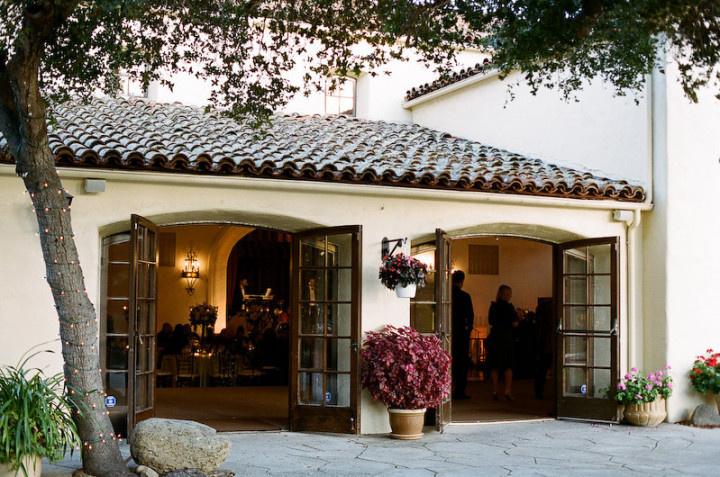 Santa Barbara Woman's Club
For quintessential southern California vibes, the Santa Barbara Woman's Club is a failsafe choice. This historic venue was built in 1927 and features beautiful Spanish style architecture and the laid-back aesthetic that Santa Barbara is famous for. Since the Santa Barbara Woman's Club only hosts one event per weekend, you'll have complete use of the entire venue, with multiple days for setup/cleanup. A large oak tree in the venue's courtyard is a popular spot for ceremonies, but there's also an adjoining reception room with French doors that can be left open to create an indoor-outdoor space. The Santa Barbara Woman's Club can host weddings for up to 200 guests and will provide tables and vendor recommendations for an additional fee.
Learn more about Santa Barbara Woman's Club »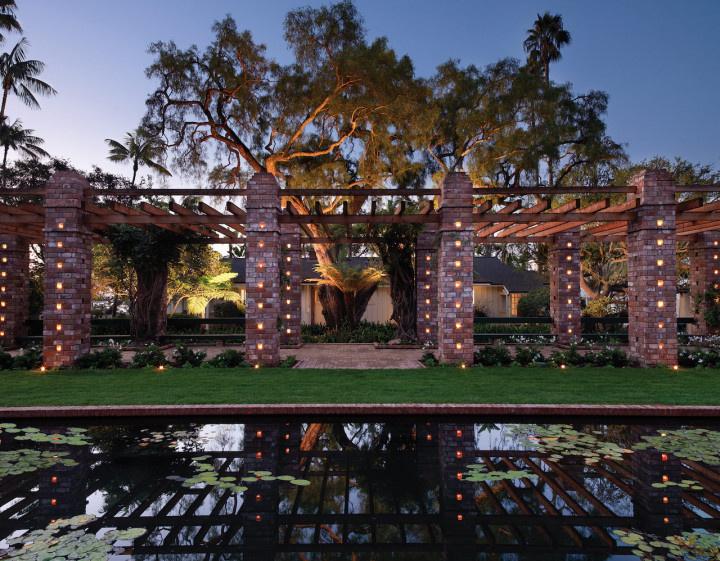 Belmond El Encanto
There's no shortage of luxury at this breathtaking resort, which we think is one of the most impressive Santa Barbara wedding venues. Belmond El Encanto is part hotel, part European-style estate, and no matter where on the property you host your wedding, it's guaranteed to be flawless. A romantic outdoor area with a wisteria-covered arbor and large lily pond is our favorite wedding backdrop at this venue, but you also have the choice of a 3,000 square-foot ballroom, tiled terrace, or intimate wine room, among others. Belmond El Encanto is also an excellent place to relax before or after your wedding day. The venue has its own spa, dining room, tea/cocktail lounge, infinity pool, and fitness studio.
Learn more about Belmond El Encanto »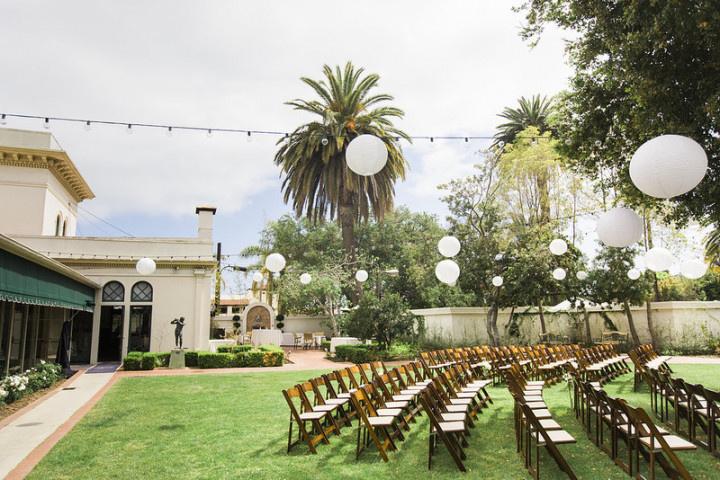 Santa Barbara Club
Tucked away in the center of downtown, this vintage Santa Barbara estate offers a quiet, picturesque setting for your big day. A sun-filled lawn is surrounded by tall privacy walls and dozens of palm trees, creating an inviting oasis if you have been dreaming of an outdoor wedding in the heart of town. The Santa Barbara Club will provide all the essential services for your wedding, including in-house catering, bartending, decor rentals, lighting/sound systems, wifi, and event coordination.