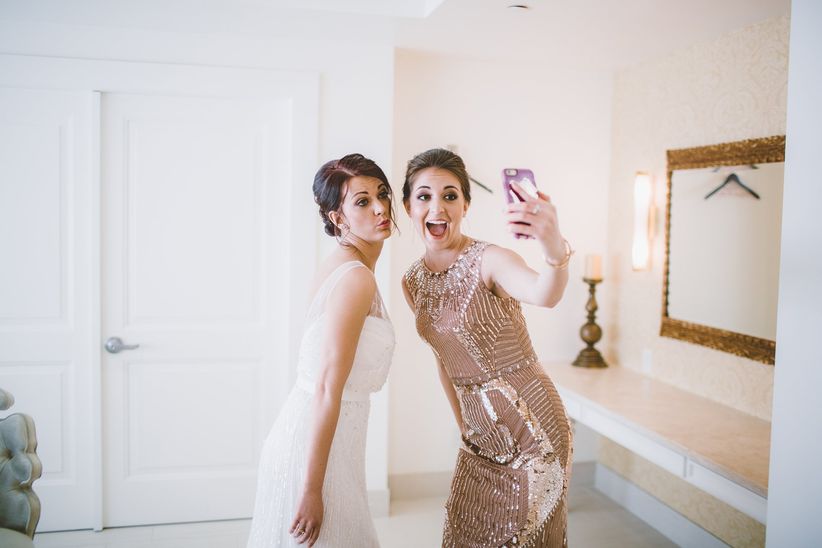 Photo: Shutterfreek Photography + Video + Photo Booth
It's certainly an honor to be asked to be a maid of honor in a loved one's wedding but yes, it is a job. The definition of a maid of honor is "head bridesmaid," and it's not too different from managing a team while catering to the whims of a demanding boss (bride). There's no definitive guide to being a maid of honor, so the responsibilities and duties of this role can change depending on the wedding—and cause some stress on the MOH's part (especially if you're a newbie, ahem, entry-level).

Want to know more about what being a maid of honor will really entail?
Check out this maid of honor job description to help clarify the real-deal responsibilities of this "position." And brides who have yet to choose their maid of honor, take note of who in your squad would make the cut!
Position: Maid of Honor

Start Date: The moment you receive that "Will You Be my Maid of Honor?" basket (hopefully with champagne included!), you're on the clock.

Salary: You think you're getting paid? LOL. Actually, you're the one who's going to be losing money in this whole deal. In fact, the average maid of honor will spend over $1,300 on a single wedding, including dress, accessories, hair, makeup, travel, gift, and more.

Reports to: Who do you think? The one in the white dress.
Photo: Anna Simonak Photography
Required Hours: 24/7 or as needed by the bride. This includes 3 a.m. phone calls to discuss centerpiece options, Pinterest board sharing during your actual workday (oh, we forgot to tell you, you'll have to maintain your real job through all of this), weekend dress-shopping excursions, and all-night text chains about bachelorette party hashtags.

Job Summary (Maid of Honor Definition): This is a management position with a lot of juggling involved. The goal is to wrangle a group of extremely opinionated people, otherwise known as "the bridal party." These people are eager to please, but may frequently disagree on small details. The maid of honor's boss is extremely volatile and emotional—joyful and excited one minute, hysterically crying the next, so be warned

This is a very high-pressure position, but also very rewarding. You're supporting a loved one during one of the most amazing times of her life. How special is that?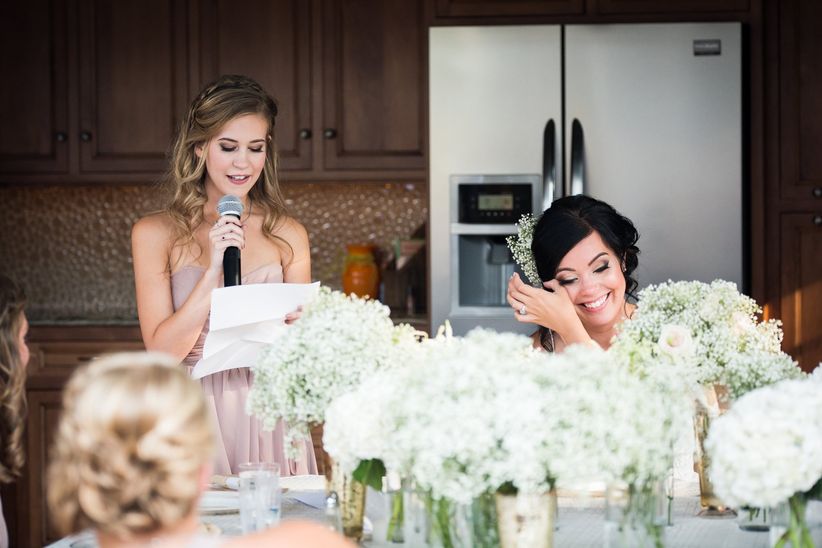 Photo: Happy Finch Photography
Responsibilities and Requirements:
A successful maid of honor will be able to handle a variety of tasks, large and small. This is a sampling of the required responsibilities, but the maid of honor should be flexible and open to additional workload.

Manage team of 3 to 12 people—team members may be local or remote and may include family members, friends, college besties, childhood pals, etc.—leading up to a large event where attendance is required
Plan and host two to three auxiliary pre-wedding events, with one possibly requiring travel
Attend dress shopping appointments, and coordinate team's ensembles ensuring all attire is ordered and received in a timely manner
Be on call to answer a variety of questions—etiquette, style-related, and more
Provide assistance with DIY projects, including but not limited to addressing envelopes, assembling favors, creating banners, gathering vintage lanterns, and more.

On day of main event, responsibilities may include:
Coordinating hair and makeup schedule for team
Preparing "emergency kit" with important items (clear nail polish, stain remover, tampons, etc.)
Serving as messenger between managers
Potential wedding-planning opportunities may arise (schedule and timeline enforcement, vendor communication, etc.)
Handle the above while wearing a floral-printed robe
Standing beside manager at ceremony, bouquet maintenance
Signing marriage license
"Smizing" in a variety of photo opportunities, some of which may also include jumping on the count of three, linking arms and walking while pretending to laugh, etc.
Extensive dancing required
Photo: B.Matthews Creative
Qualifications:
While the maid of honor job description does not require experience in the field, there are certain skills that someone in this role should possess:
Ability to share honest opinions without offending anyone
Ability to calmly mediate disputes and resolve problems (otherwise known as "drama")
Team player
Extreme party planning skills (while maintaining a strict budget)
Travel agent background a plus
Fashion experience helpful, including but not limited to: stain removal, bustling, fluffing trains, adjusting veils, touching up makeup, etc.
Creativity and crafting ability
Strong communication skills (via phone, text, email, and in-person)
Must be comfortable with public speaking
Social media experience, including hashtag creation
Attentive listener, shoulder to cry on
Time management skills essential
Calm presence, able to juggle a variety of tasks while making it look effortless
Unconditional support and love for management required

Maidzillas need not apply.