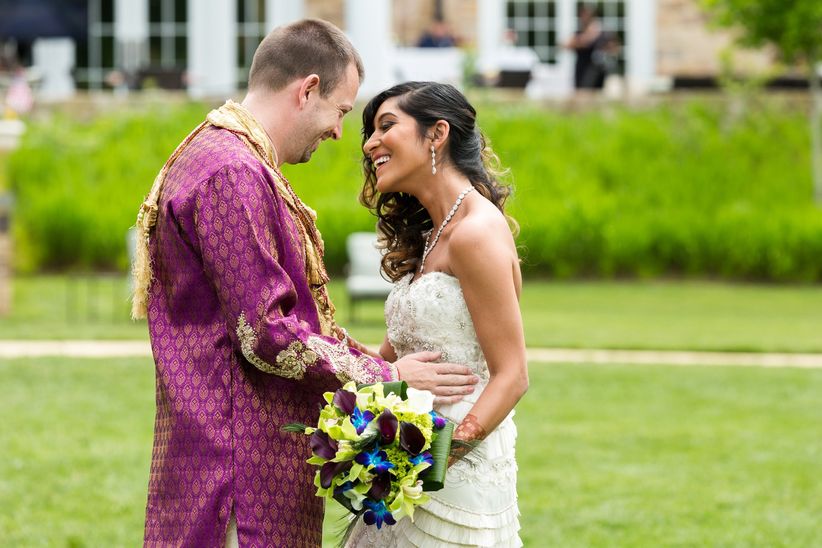 Photo: Moshe Zusman Photography
At one point or another, it's likely you'll cross paths with someone who's at their wit's end with wedding planning. Whether this is something you've already endured or not, consider this your crash course on how to deal with an engaged person who's super stressed out.
Offer to help
One of the many reasons engaged couples get so stressed during wedding planning is due to the fact that they feel like they have so much to think about at once. From the long list of vendors they have to book to keeping track of RSVP cards and everything in between, it's only natural to feel overwhelmed. If you hear them complaining about all the things left on their to-do list, ask if you can help in some way. Something as simple as getting a price quote from a florist or searching for a
wedding DJ
in the area can make them feel a little more at ease.
Take their mind off the wedding
Sometimes the best way to relieve wedding stress is to not think about it at all. Offer to join them for an
activity
that's totally unrelated to planning. Whether you take a workout class together, watch the big game on TV at a local bar or head to the spa for some R&R time, make an effort to take them out of the wedding planning world for a while. It'll make things less overwhelming when they get back in the game.
Refer to your own experience
If you've already been through the process, dole out advice on what you learned along the way. Hearing tips and tricks from someone who's done it before is sure to put their mind at ease. If you haven't wedding planned before, maybe a friend or family member has and you can draw on their experience. For example, "My cousin had no idea what kind of flowers she wanted but her florist went through options that worked for their budget and it all worked out." You'll be surprised how helpful personal anecdotes will be.
Provide helpful resources
There are certain aspects of planning that you may not be able to help with, such as keeping them within
budget
, but there are plenty of tools on WeddingWire that make the wedding planning process much easier. From mapping out your
seating chart
to coming up with a witty
hashtag
, we have a tool for it. The couple will be so thankful you pointed them in the right direction.
Stay calm
The best way to handle someone who's stressed out is to simply remain calm. If you let their anxious mentality influence you, it will only make things worse. Whenever the situation feels tense, take a step back and reassure them that everything will work out. Try to brainstorm possible solutions to the problem at hand rather than letting the stress get the best of you. Your even-keeled temperament will likely help them relax.
Put things in perspective
Don't forget to remind them why they're doing all of this in the first place. Ask them to remember why they got engaged. Tell them that at the end of the day, all that matters is that they're marrying the love of their life. While that may seem obvious, the stress of planning can sometimes cause couples lose sight of what's important, so they'll appreciate having you there to give them a friendly reminder.