After finding the perfect partner, the next task is finding the perfect dress. Regardless of the type of wedding you're hosting, many brides-to-be like the drama of a wedding gown with a cascading train (so Princess Di!). However, when it comes to hitting the reception (and dance floor), the last thing you want — and need — is extra fabric getting in your way, or worse yet, getting stepped on, ripped, and dirty.
Here's where bustling comes in: it allows you stylishly protect your gown, walk around to greet your guests, and of course, execute your first dance with ease. Plus, you can't elegantly carry a glass of wine or eat a plate of hors d'oeuvres when you have to be extra conscious of a large piece of white fabric to manage.
So, what are the perks of bustling your dress and how do you actually do it? To learn more, we spoke to several wedding dress experts to get their take on the subject.
The Right Time (and Place)
This seems like a no brainer, but if you truly want to make an entrance leave the bustling for the reception—not the ceremony. "Of course when walking down the aisle, you want your long flowing train!" explains Liz Sellassie of Designer Loft in New York.
She also suggests skipping the bustle for photo shoots prior to the wedding ceremony. One tip? "Make sure lots of attendants are around to carry and strategically place the train of your gown."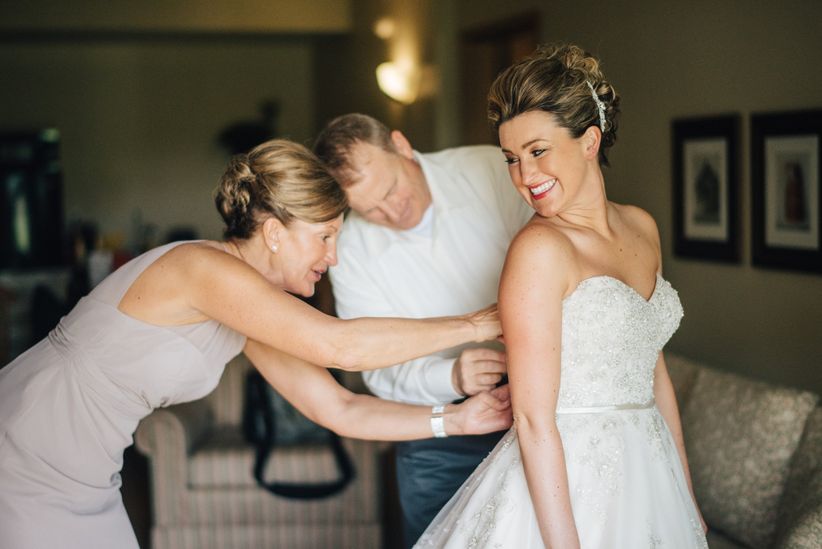 Find The Right Technique
When bustling, there are really two different techniques used. "The American, or ballroom, bustle is lifted from the top and the French bustle is lifted from under, creating a 'blouson' shape," explains designer Sabrina Dahan. "Most of the time it's your preference, but I would suggest if you are wearing a tulle ball gown it is best to lift from top and hook."
Dahan highlights that fabric choice is key to the overall result. "When wearing a satin or heavier type of fabric it is best to lift from under unless your gown has some sort of drape in the back, then you can connect your bustle to that to make it look like it is part of the design," she adds.
Get An Expert Opinion
Regardless of which bustle type your select, now is not the time to go rogue and try to DIY. Utilize a seamstress throughout the fitting process for a perfectly-fitted, professional look. "Tailors usually show a few bustle options to see which the bride would like best," explains Lazaro Perez, head designer of the Lazaro and Tara Keely collections. "Of course, they should give their recommendations as to what would work best for the look and silhouette of the dress."
Perez also reiterates the two ways to bustle your dress—American and French—especially for those who want to preserve their dress as a keepsake/heirloom. "Remember, sometimes dry cleaning won't get out the deep stains that occur if your dress is not bustled [at all]."
Or, Totally Skip the Train!
Guess what? The best part of your wedding day is that it's YOURS! It's all about personal style and preference. "I've personally seen a decrease in bustles," explains designer Hayley Paige. "I think there is something magical about being able to put on your gown for the day—and not have to touch it again. I've also seen an increase in detachable trains where you have versatility and an easily removable process." Moral of the story: the choice is yours!