Veil or No Veil? Real Brides Weigh In
Once you've said yes to the dress, there's another important question to answer: Veil or no veil? Here's how real brides made the call.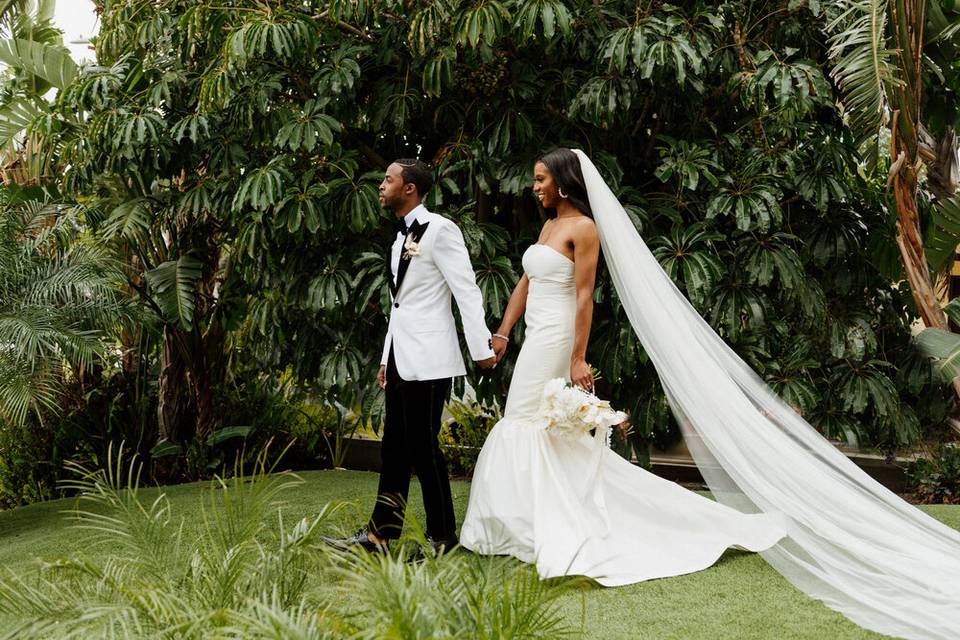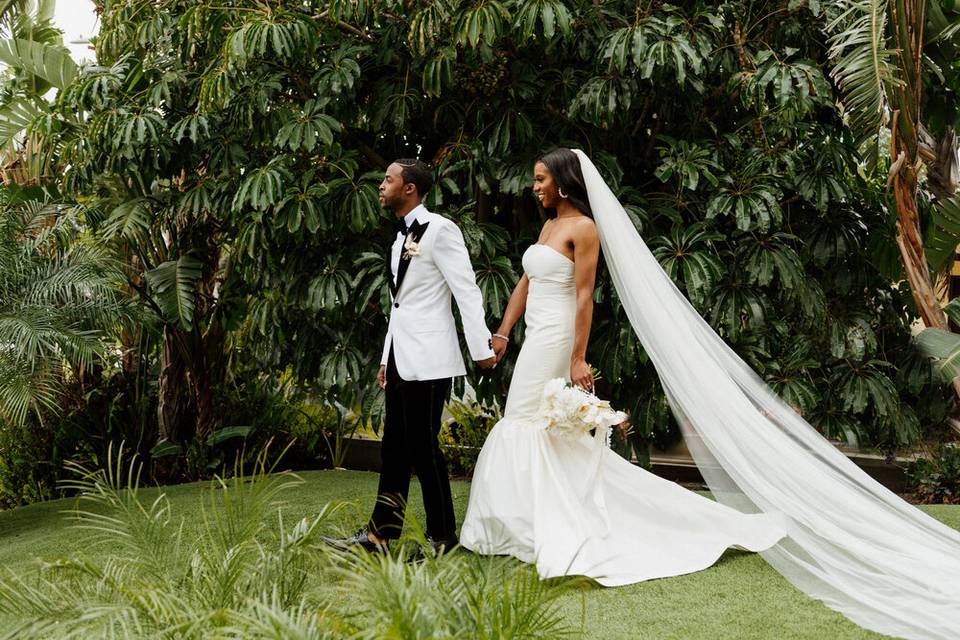 "Veil or no veil?" is a question most modern-day brides might be asked. However, decades ago, it was a no brainer that a bride would wear a veil. It has long been a tradition embedded in a myriad of different cultures and societies all around the world. While veils are an undeniably beautiful aspect of wedding day attire, their purpose was for far more than appearance. In fact, the whole wedding veil meaning and history is fascinating. A veil symbolized virginity, and the act of "unveiling" the bride, or having the father lift the veil and present his daughter to the groom, was symbolically meant to represent the allowance of her to essentially no longer be a virgin. Kind of crazy when you think of it in modern terms, right?
Clearly, nowadays veils have lost most of that symbolism, of course depending on the culture. And, in modern American society, they're not even an essential, or required, part of the ceremony or wedding day. In fact, many brides choose to forgo wearing a veil altogether. While some choose not to wear a veil because, well, they're often quite expensive, ranging in price from $200 to $1,000+, others choose to keep their bridal look less traditional. For some women, walking down the aisle with their face covered feels belittling, while for others it's an important and romantic tradition to uphold.
If you're still trying to come up with your own answer to the "veil or no veil" question, these opinions of brides who've come before you might help you arrive at a decision.
"I never even considered not wearing one"
"I'm very much a traditionalist when it comes to weddings. I love the romance and softness of veils and I wanted to feel like a princess on my wedding day. I wore my veil for my entire wedding ceremony and reception and hated having to take it off at the end of the night along with my wedding gown. I recently pulled my veil out of storage and was showing it to my seven-year-old daughter, when she looked up at me and said, 'Mom, can I wear that for my wedding?' My heart just melted. I told her of course she could wear it. Of course, she may change her mind as she gets older, but I will hold onto that dream for her."—Kimberly L.
"I was back and forth about veil or no veil"
"I tried on so many different types of veils—long, short, small, feathered, you name it. I ended up deciding on a two-tier ivory veil with gems up the sides and it was perfect! I was told by a few people that it tied my whole wedding look together. Looking back, especially at the pictures, I'm so happy that I decided to wear one—it's the only time in my life that I will be able to!"—Sally L.
"I am NOT a veil girl"
"I sort of suspected that would be the case before I started shopping for a wedding dress, and I only had to try one on for a few seconds before confirming the fact. I know that in Say Yes to the Dress (which I love) the veil is always the piece that makes it feel 'real' to the clients—the missing piece that 'makes them feel like a bride,' but it felt costume-y to me (which is funny considering we had a Moulin Rouge-themed wedding that was full of costumes). I did, however, recognize that I needed something on my head to make the outfit complete, so I had a friend who's a professional hat maker create a tea hat for me using the lace from my grandmother's wedding dress as the foundation and border. Not only is it stunning, but it helped me feel close to her on a day I really wish she could've been there for. Plus I've worn it like six times now, which is a lot more use than I would get out of a veil."—Molly C.
"I was team 'no veil' until a month before my wedding"
"I consider my style pretty modern and was never into the whole puffy dress and 'princess' bride look, so wearing a veil seemed a little over the top. Another factor that turned me off from veils was the price! Like many other brides, I was on a budget, so it was hard to imagine spending over $100 on a piece of tulle that I'd wear for five hours tops. Closing in on less than 30 days before the big day, I had been browsing Etsy every day and found a simple, delicate and pretty veil for around $60. I decided to go for it and figured, if I didn't like it, I wouldn't feel bad about spending that amount. Well, that last-minute decision was one of the best decisions I made during my wedding planning. As soon as I took the veil out of its box, I got butterflies and instantly fell in love."—Jannelle G.
"I felt pressured into wearing a veil"
"I never wanted to wear a veil, especially because I was having a more casual beach wedding, but felt pressured into it by family members. Eventually, I gave in and bought one. It ended up being so windy that day there was no way the veil was going to work, so I didn't even put it on. Ultimately, it was a waste of money and I really wish I had stuck to my gut feeling. I think it depends on the bride's personality and the formality of the event. If you're Meghan Markle, for example, you probably didn't have a choice in the matter!"—Kristin C.
"I wore two veils during my wedding!"
"Deciding 'veil or no veil' at my wedding wasn't even a question for me. I knew exactly what I wanted to do even before I found my dress. For me, it was all about the photos during the ceremony and getting those forever memories. I wanted that ethereal look in the church with the light pouring through the windows, and a veil can help capture that light and create that feeling around a bride. I'm also no-fuss when it comes to my personal style. A wedding dress can be a lot to handle on it's own, and a piece of tulle getting caught in the breeze or in the door or in a cactus (as was my experience) isn't exactly 'no fuss,' so, I opted for both options. I wore a cathedral length veil during my ceremony and photos then switched it up with a floral accent piece in my hair for my reception. Best of both worlds!"—Jessica F.
"My veil caused so much chaos"
"I was ambivalent about the veil or no veil question, but my mom really wanted me to wear one, so I got one to make her happy. Truth be told, I was happy with how it looked, but I didn't really think it through when it came to our venue. There was a spiral, carpeted staircase I was to descend. As I started going down, I felt the veil's comb start to pull at the back of my head because my veil had stubbornly attached itself to the carpet at the top of the staircase. I was alone at the top of those steps and had to turn halfway around to tug at the veil to prevent it from yanking my hair back even further or popping right off, which would have been quite the surprise to the 150 people watching. Minor veil disaster averted until we said our vows and began to make our way through the crowd, at which point my husband stepped right through my veil." —Amy B.