The Wedding Veil, Unveiled: Everything You Need to Know About This Bridal Accessory
It has something to do with virginity—or is it evil spirits? Here's a rundown of what wedding veils symbolize, their history, and much more.
We have included third party products to help you navigate and enjoy life's biggest moments. Purchases made through links on this page may earn us a commission.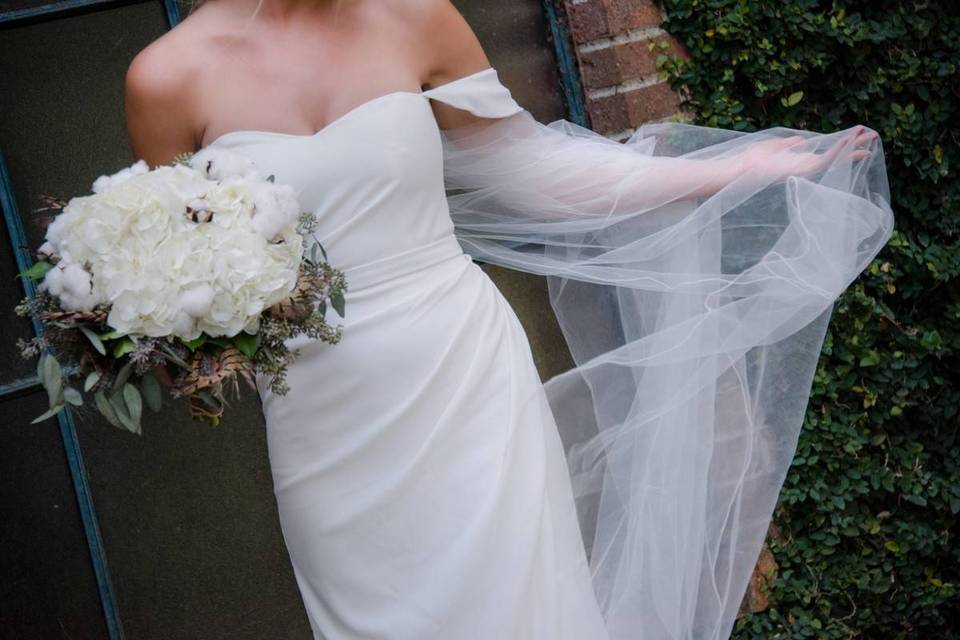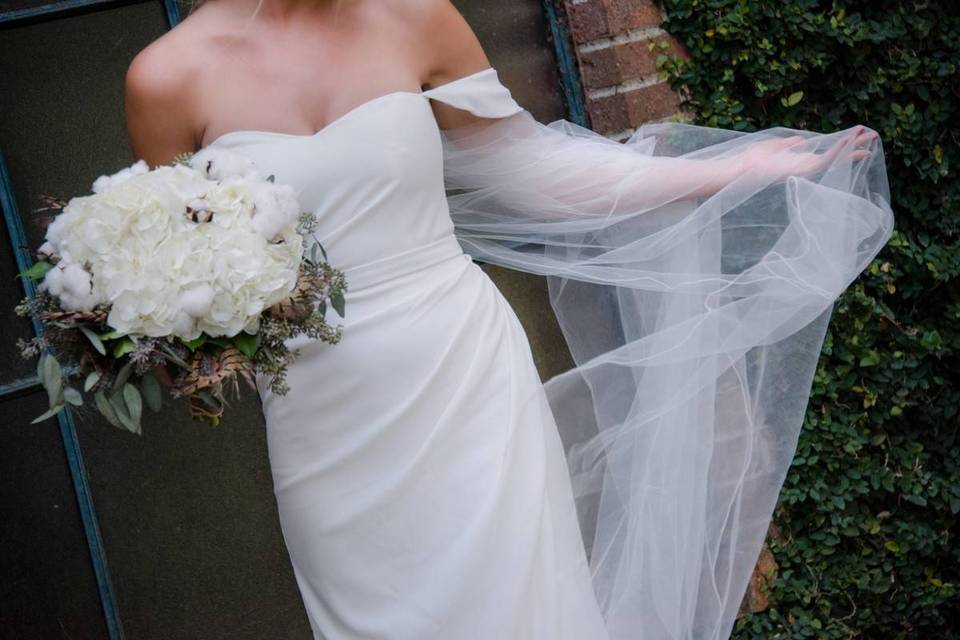 If you've watched any version of Say Yes to the Dress, you probably already know about the inherent magic of wedding veils. As soon as a veil is placed on a customer's head, her face lights up, the tears start to flow, and she somehow transforms into a bride. But what's the meaning behind a veil? Does a bride actually have to wear one on her big day? Is it bad luck not to? There are many questions surrounded this beloved piece of fabric, and we're here to give you the full scoop so you can decide whether wearing a bridal veil on your wedding day is right for you.
When did brides start wearing wedding veils?
According to fashion historian Cornelia Powell in her book The End of the Fairy-Tale Bride: For Better or Worse, How Princess Diana Rescued the Great White Wedding, Roman brides began wearing veils (then called flammeum) during ancient times to protect them from evil spirits and as a nod to an important goddess. "Scholars tell us that the saffron-colored veil worn by brides of ancient Rome symbolized the flame of Vesta, goddess of hearth and home, protector of life," Powell writes. The wedding veil also represented the bride's virginity—that being wrapped up in a veil meant she was pure.
Perhaps surprisingly, the bridal veil was actually not worn for much of history, only returning to fashion in the 19th century when Queen Victoria wore one. In fact, according to Powell, veils covering the bride's face were not allowed at royal weddings. At the time, most royal weddings were arranged marriages, and there was concern that the bride would enlist a decoy to take her place and hide her identity with a veil.
Veils also have significance in certain religions and cultures. For example, in the Jewish religion the bridal veil plays an important role in the Bedeken ceremony, where the groom covers the bride's face with her veil. This act is a nod to the Biblical story of Jacob, who was tricked into marrying his intended Rachel's sister Leah, who was disguised with a veil. At the Bedeken, the groom is required to "check" and make sure he is marrying the correct person.
What does a wedding veil symbolize?
This seemingly-simple bridal accessory can mean different things to different people and cultures. Yes, the veil can represent purity, modesty, and virginity, but it can also just feel feminine, mysterious, sexy, or just feel "bridal". Writes Powell, "Is the romance of wearing a bridal veil part of the 'fairy princess myth'? Or is there something so irresistibly feminine about feeling mysterious—cocooned in sheer iridescent tulle, or surrounded by delicate lace, or with the veil just floating behind—leaving 'princess blessings' in her bridal wake?" All this to say, you can wear a veil because it has some symbolic meaning to you, or you can wear a headpiece just because you like the look.
Do I have to wear a veil?
No! Wearing a veil is totally optional. There are lots of things to take into consideration when deciding whether or not to wear a veil. We recommend trying on several veils after you've selected your wedding gown to see what looks best. Even if you didn't think you'd be into wearing a veil, this is your one opportunity to do so, and seeing yourself in a veil may change your mind. But if you're just not into the whole wedding tradition of wearing a veil and would prefer to wear a different hair accessory like a flower crown, tiara, or headband—or none at all—that's totally your call.
Remember, too, that a veil is an accessory that requires a lot of care and maintenance—particularly if you're opting for a longer style. Veils should be steamed before the wedding to avoid any wrinkles or creases. And longer veils will need to be carried—either yourself or by your bridesmaids—so they don't get dirty. While most brides remove their veils for their reception (it's much easier to dance without one), if you want to wear yours, someone in your entourage will need to learn how to bustle it.
Who lifts the veil during the wedding ceremony?
If you're wearing a veil with a blusher that covers the face, you might be wondering who does the "unveiling" or lifting of the veil at your ceremony. Well, there are a few options. If the bride's father is walking her down the aisle, he may lift the bride's veil as he "gives her away"—an act some may consider too dated and gendered. Or, the bride may choose to wear her blusher during the ceremony and have her partner lift it to kiss her at the end. Or, the bride can just lift the darn thing herself—the choice is yours!
What are some of the most popular wedding veil styles?
There are lots of different types of veils to choose from—it all depends on your wedding dress style, your chosen hairstyle, your face shape, and even your venue. If you're getting married indoors, you can take your pick of veil styles—long, short, or anything in between. If you're hosting an outdoor wedding, though, a long veil might be a bit unwieldy if it's breezy—but a long veil blowing in the wind can also look ethereal and beautiful so again, your choice!
These are the most popular veil styles you'll see, though within each style there are both simple and ornate options. Veils may be adorned with lace, crystals, appliques, and more—or they may be kept unadorned.
Cathedral-Length Veil: Among the longest veils out there, the cathedral-length style extends a foot or two behind a full-length wedding gown.
Chapel-Length Veil: A chapel-length veil falls a few inches behind your a full-length wedding gown.
Blusher: The part of the veil that covers your face, or a shorter veil style that covers your entire face.
Mantilla: A Spanish-style lace-trimmed veil worn flat on the top of the head.
Elbow-Length Veil: A 1960s style veil worn high on the head that falls to your elbows.
Fingertip-Length Veil: A mid-length veil that stops slightly below your waist.
Ballet-Length Veil: A veil that falls below your hips.
Birdcage Veil: A short, retro-style veil that covers just the top half of your face.
Dupatta Scarf: A long and ornate veil covering the head and shoulders worn by Indian brides.
Where should I buy my wedding veil?
Most bridal salons offer a selection of veils. It may be easiest to choose a veil from your salon's offerings at the same time you select your dress. However, there are many online resources for veils, including Etsy, Anthropologie, David's Bridal, and Brides & Hairpins. Or, if there's an heirloom veil that's been worn by members of your or your spouse's family, you may opt to wear it (no pressure, though!).
How much does a veil cost?
According to a WeddingWire study, the average cost of a wedding veil is just under $200. However, you can certainly spend far more than that if you want a very ornate veil.
Can I wear a veil if I've been married before?
You might have heard an old-fashioned "etiquette rule" that brides who have been married before can't wear a veil (or a white dress, for that matter). However, times have clearly changed and if you want to wear a veil for your second (or third or fourth or...) wedding, it's absolutely fine—and encouraged—to do so. Some brides may prefer to wear a more unique or shorter veil, like a birdcage, for a second wedding, but feel free to rock a longer veil if you'd prefer!