15 Wedding Program Ideas to Outline All the Ceremony Details
If you're thinking about adding these paper products to your big day, here are some of our favorite wedding program ideas and designs to consider.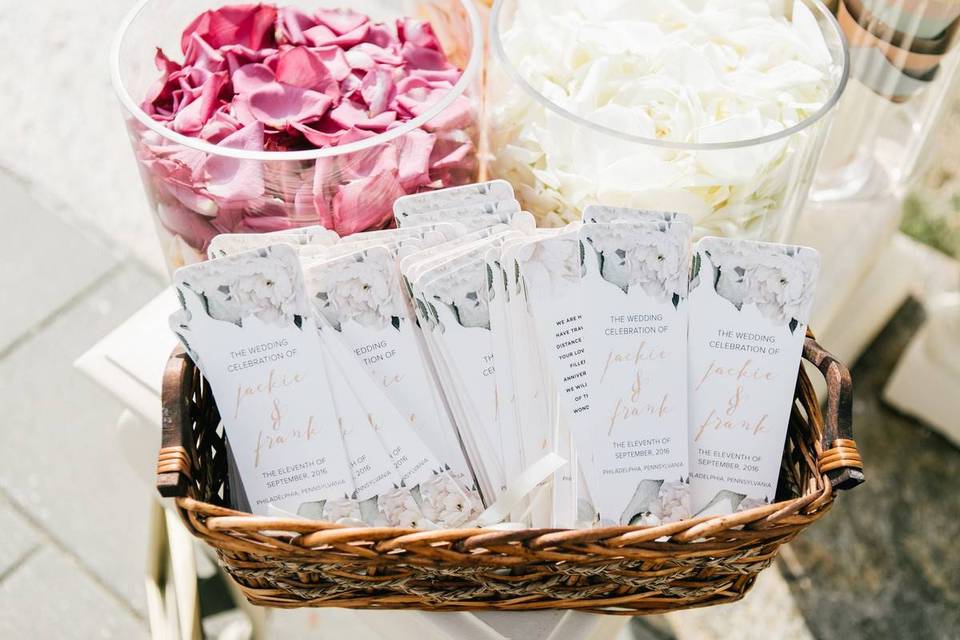 Your wedding ceremony programs have a few different purposes. Not only can you use them to share important information, like the names of everyone in your wedding party and the titles of ceremony readings, but they're another opportunity to personalize your nuptials with fun facts, your wedding hashtag, or a welcoming message for your wedding guests. These wedding program ideas will show you all the different ways you can incorporate them into your special day.
Who hands out wedding ceremony programs?
Traditionally, wedding ushers and greeters hand out ceremony programs to guests as they enter the venue or take their seats. Another option is to place a program on each chair at the ceremony before guests arrive (with the help of a trusty loved one or wedding planner, if you have one). If you don't mind guests grabbing their own programs, you can arrange them in a basket or box near the venue entrance or start of the aisle. Lastly, if you're having a wedding program sign instead of individual program booklets or cards, it should be displayed somewhere that guests will easily see it when they walk in.
Creative Wedding Ceremony Program Ideas
Choosing your stationery suite is a fun part of wedding planning, but the wedding invitations aren't the only paper products you'll need to order. While ceremony programs aren't a must-have for your wedding day, they're a nice addition if you're planning a longer ceremony, a formal wedding, or have special requests for your guests (for example, an unplugged ceremony). Ultimately, the wedding program design should complement your other stationery items and the rest of your wedding decor, but don't be afraid to put your personal touch on them. From traditional wedding programs to unique wedding program ideas and keepsake items, use these options to spark your imagination.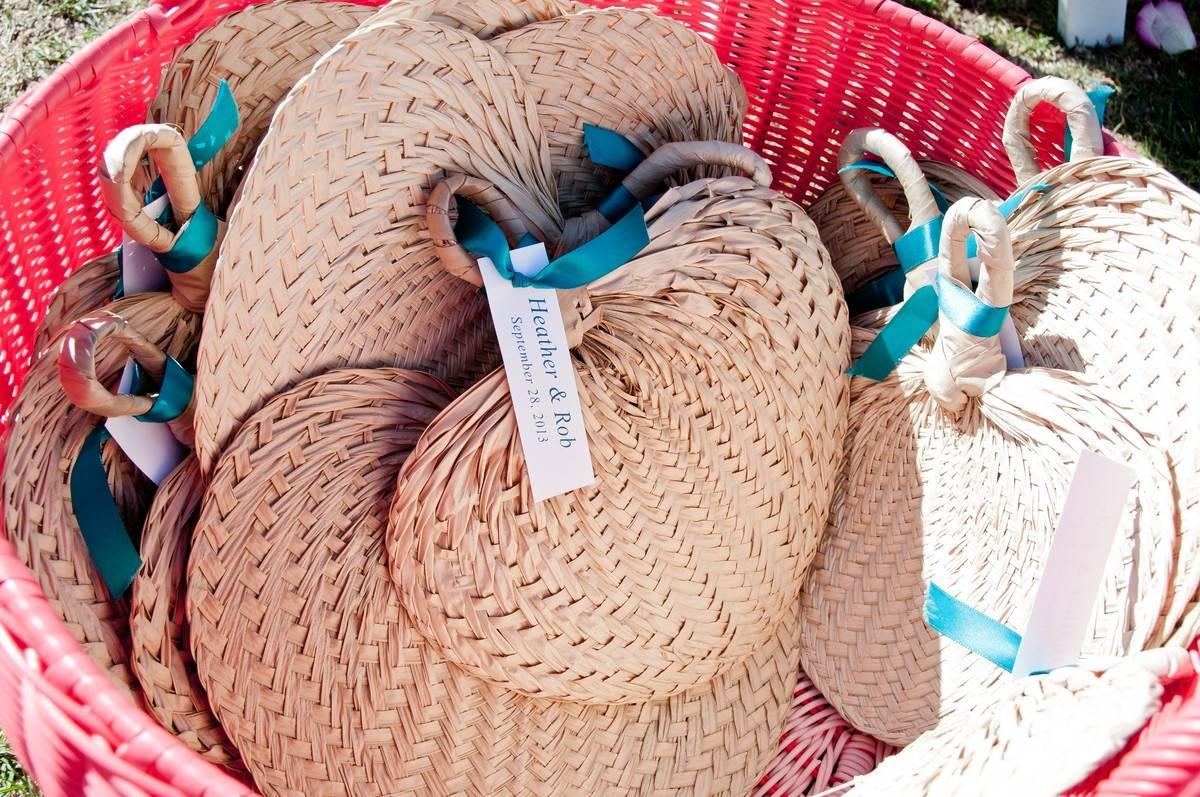 Woven fan ceremony program
We love these woven fan programs for a destination wedding—or a beach-themed wedding in general. The fans come in handy in the event of hot and sunny temperatures, and you can personalize them with small tags bearing a sweet message or other details.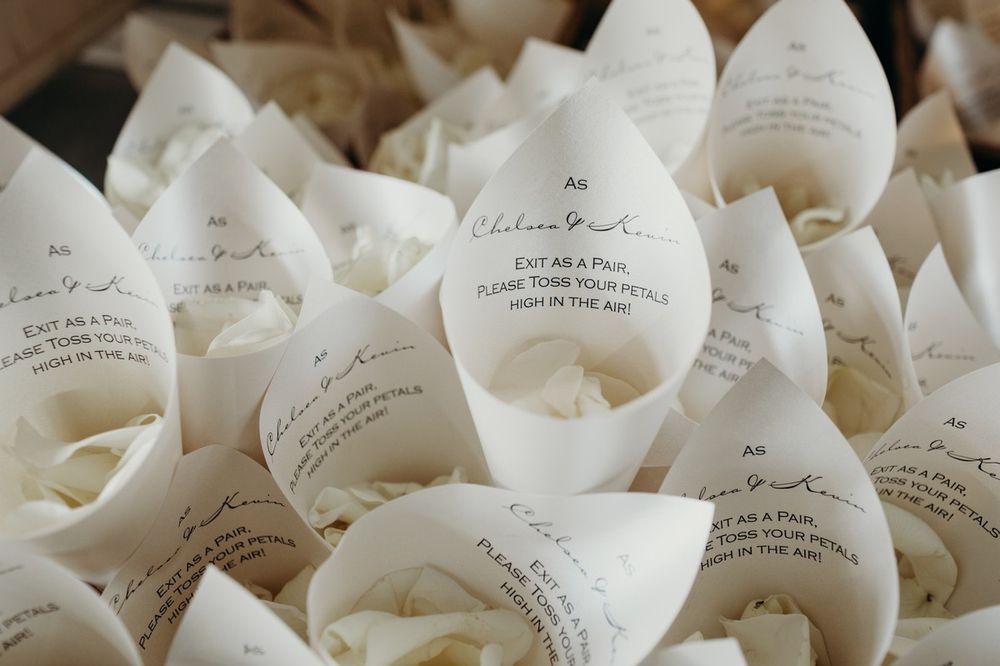 Paper petal toss cones
If you've always loved the idea of kicking off your ceremony recessional with a petal toss, you'll love this cute wedding program idea. Add a short note or monogram to paper cones, then fill them with flower petals or lavender buds so they're ready for guests to grab and go on the way to their seats.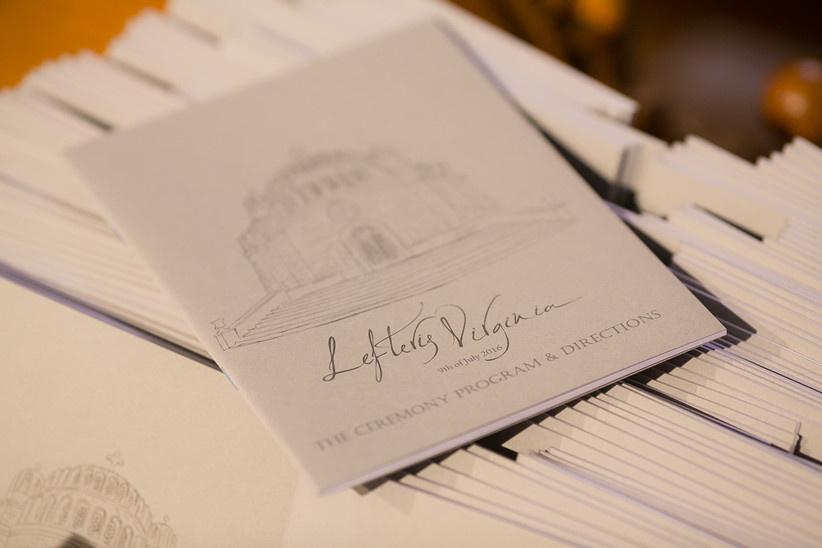 Wedding venue illustration
This wedding program idea is especially great if you're getting married at a venue with impressive architecture, like a historic estate or house of worship. Complement the elegant vibe of a custom venue illustration by adding calligraphy or embossing.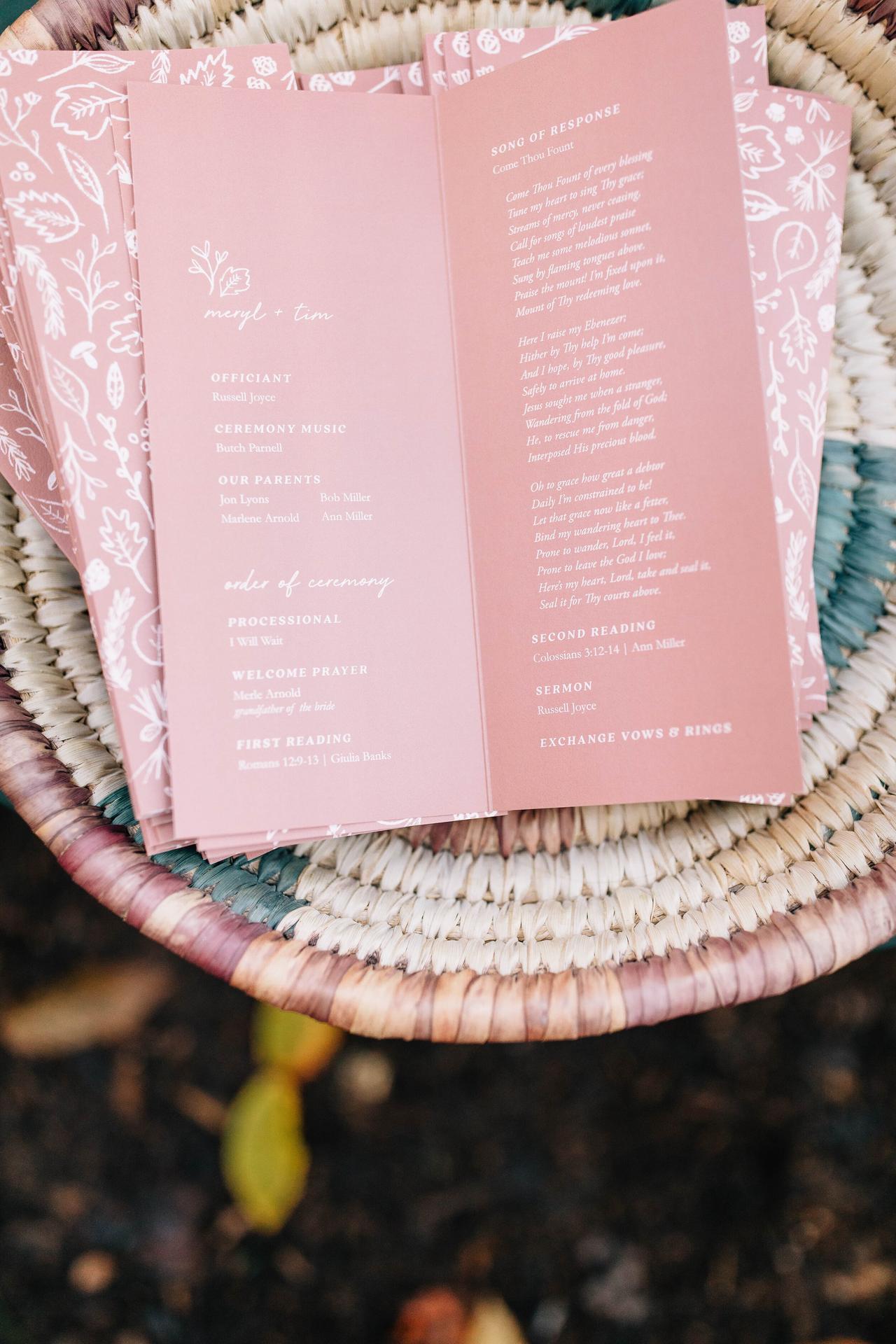 Folded ceremony program
A simple folded cardstock wedding program allows enough space to include a lot of information while also keeping the overall design simple. This pink and white program includes everything from the officiant's name to the order of the ceremony, hymn lyrics, and titles of the ceremony readings.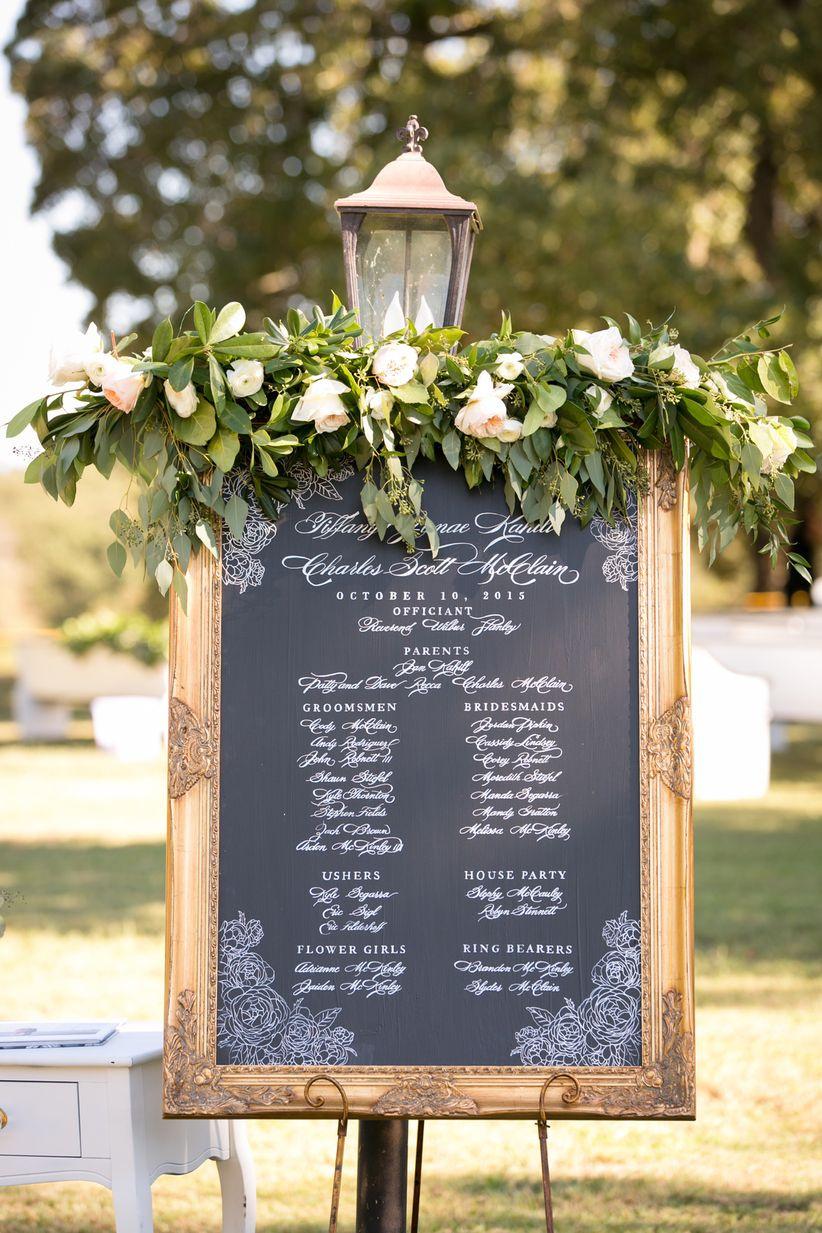 Wedding program sign
A decorative wedding program sign can provide just as much detail as a paper program. Depending on your wedding theme, choose a chalkboard, mirror, or canvas sign, then hire a professional calligrapher to write the names of everyone your wedding party and other important info. Decorate the sign with flowers and greenery to turn it into a focal piece.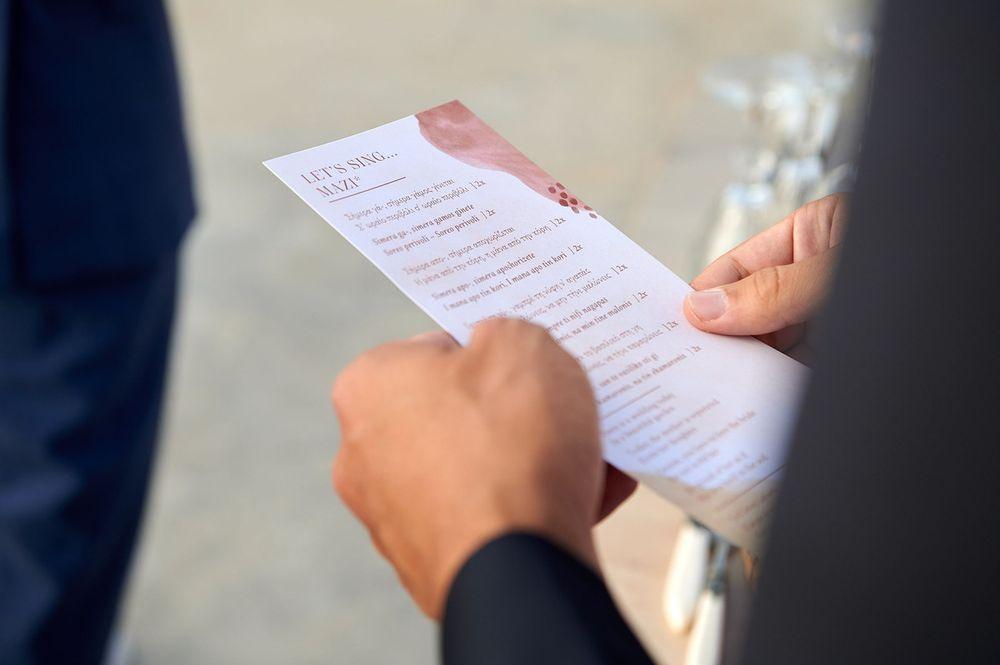 Ceremony program with lyrics
If you're incorporating hymns or prayers into your ceremony, you can encourage all of your guests to join in (even those who don't know the words) by writing them as part of your wedding programs. A watercolor border design like this is decorative but not over the top.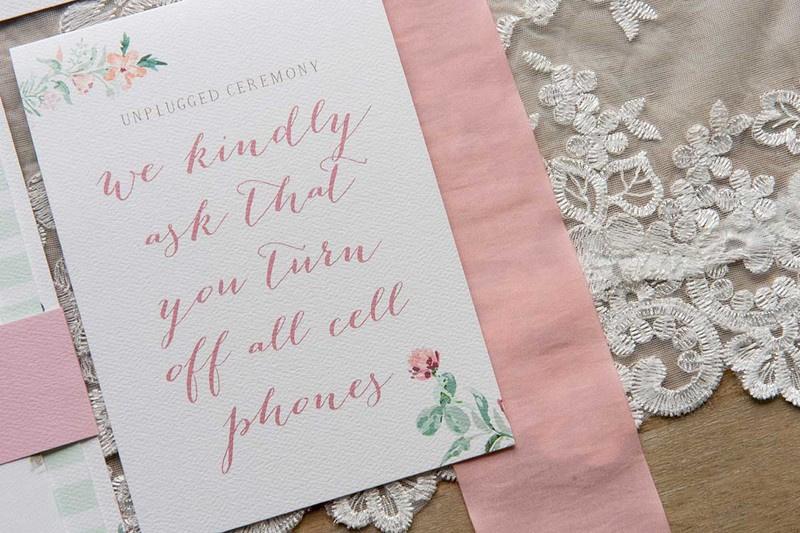 Unplugged wedding ceremony program
Asking guests to keep their phones silent and stored away during the ceremony? Your wedding programs are a great place to add this reminder. Pro tip: We also recommend including a note about the unplugged ceremony on your wedding website to give everyone a heads up.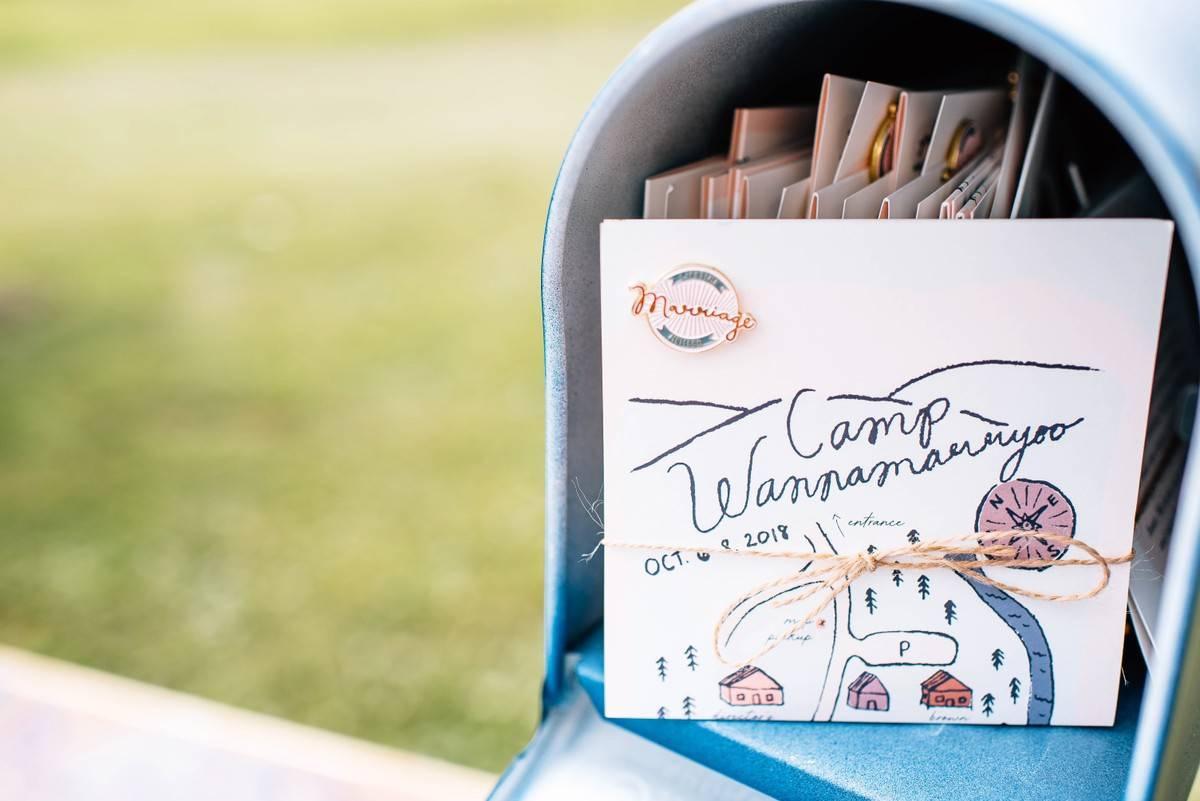 Illustrated map ceremony program
A hand-drawn map of your wedding location is a quirky wedding program idea that showcases your personality and wedding theme, especially if you're having a travel-themed wedding. If you're not artistically blessed, you can hire a stationery designer to do the job for you.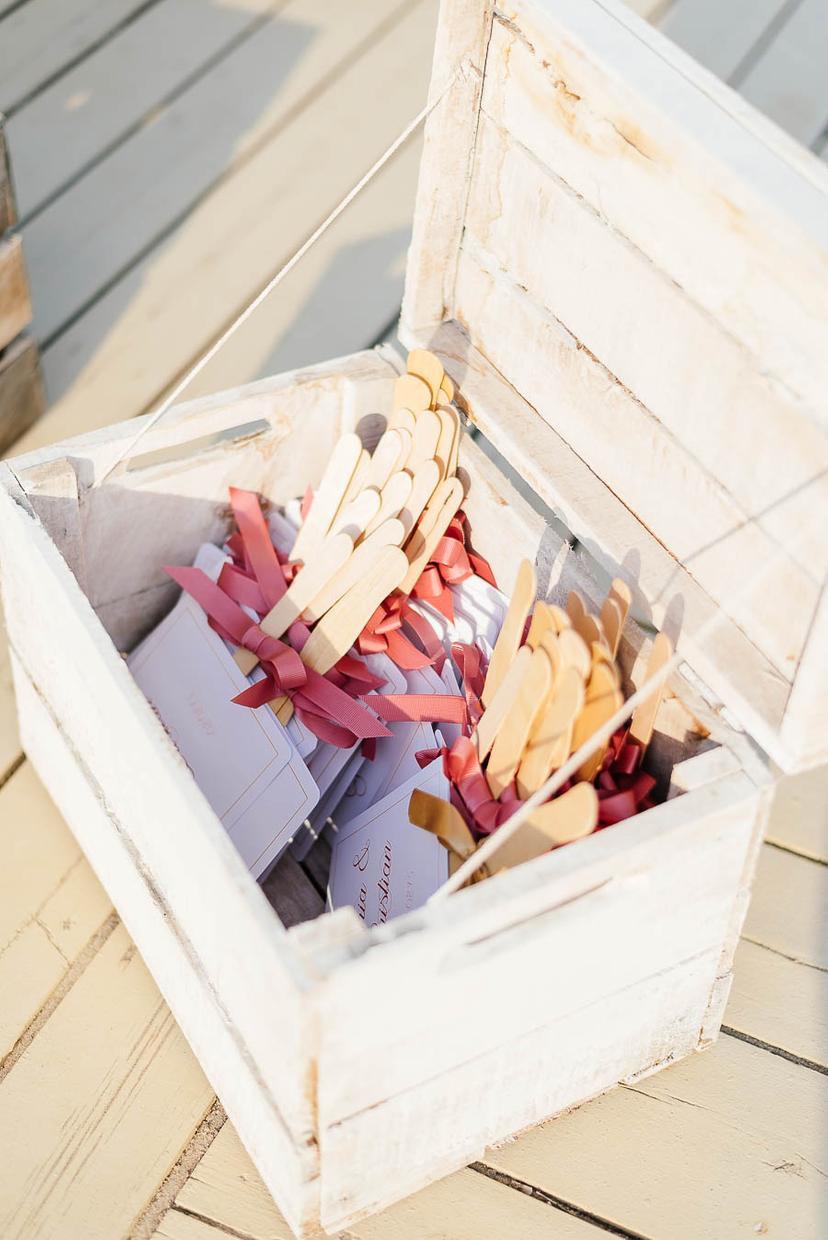 Paper fan ceremony program
Here's another wedding program fan option that's ideal for a summer wedding. This paper fan serves double-duty by keeping guests cool in the heat while providing details about your ceremony.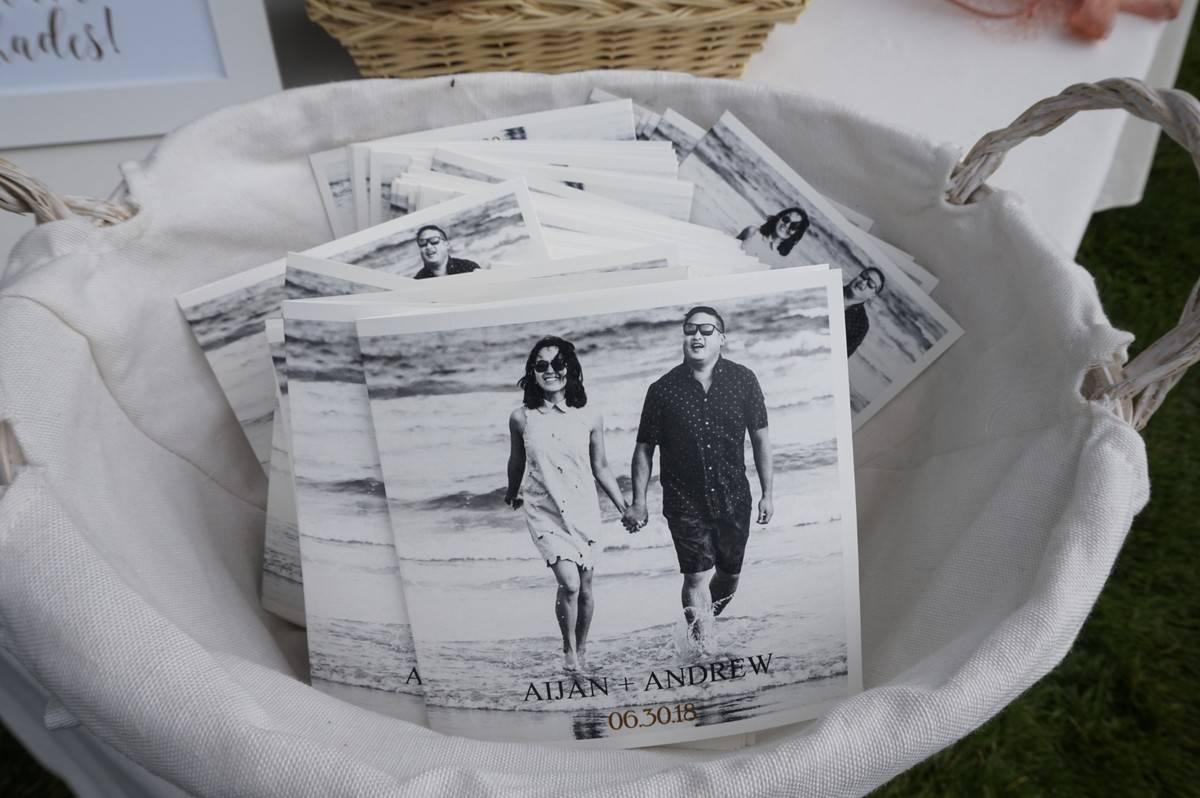 Wedding ceremony program with engagement photo
Looking for another reason to show off your favorite engagement photo? Add it to your wedding programs! Guests will love seeing a glimpse of the both of you before the processional begins, even if only on paper.
Paper bag ceremony program
This unique wedding program idea is a cute way to share your love story with all of your guests while they wait for the ceremony to start. Fill the paper bags with confetti that everyone can toss as you walk down the aisle as newlyweds. Alternatively, you can outline the day's order of events, including the cocktail hour and wedding reception.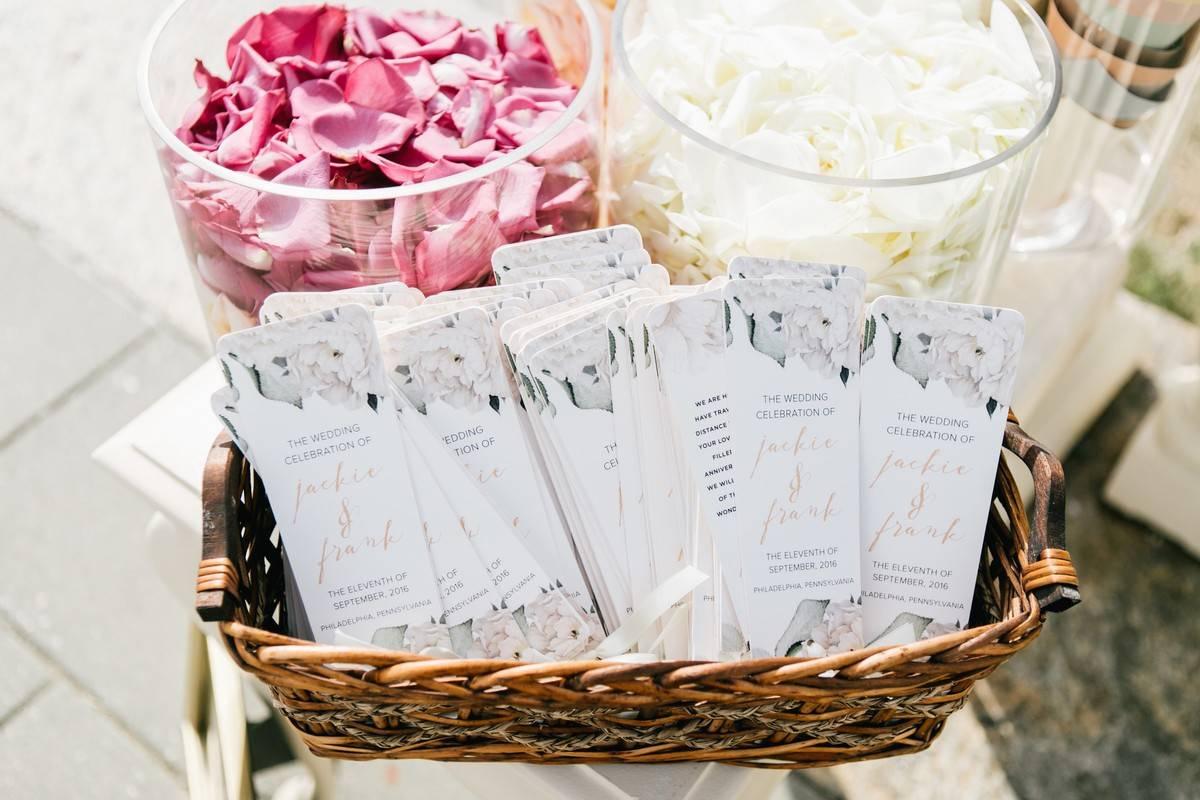 Floral wedding ceremony program
Floral motifs are (unsurprisingly) a gorgeous option for any garden wedding venue or classic theme. Finish the programs with satin bows for an added touch of sophistication.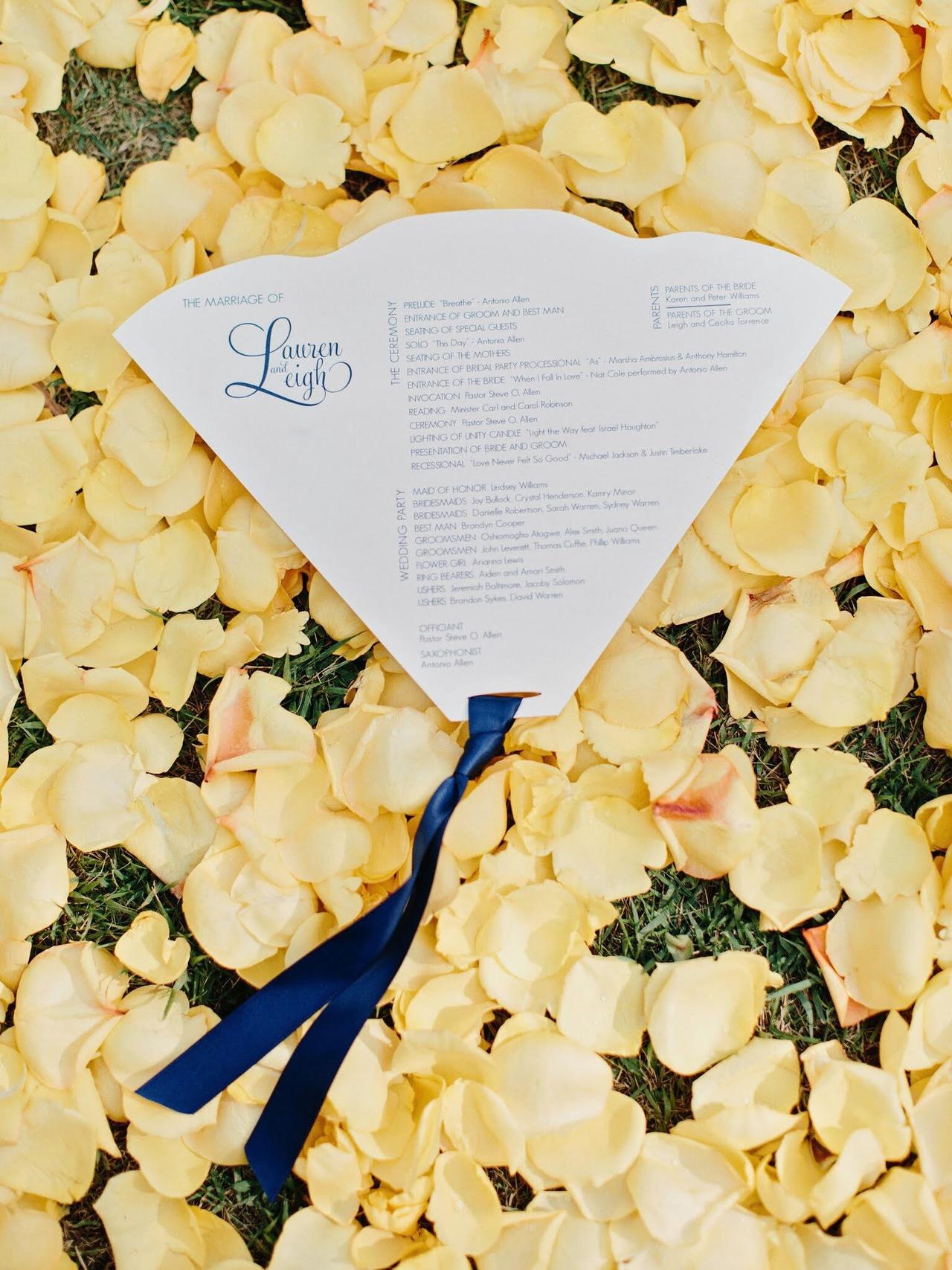 Accordion fan ceremony program
A die-cut wedding program fan like this is a chic choice for a formal wedding, especially when you add a long ribbon to the bottom.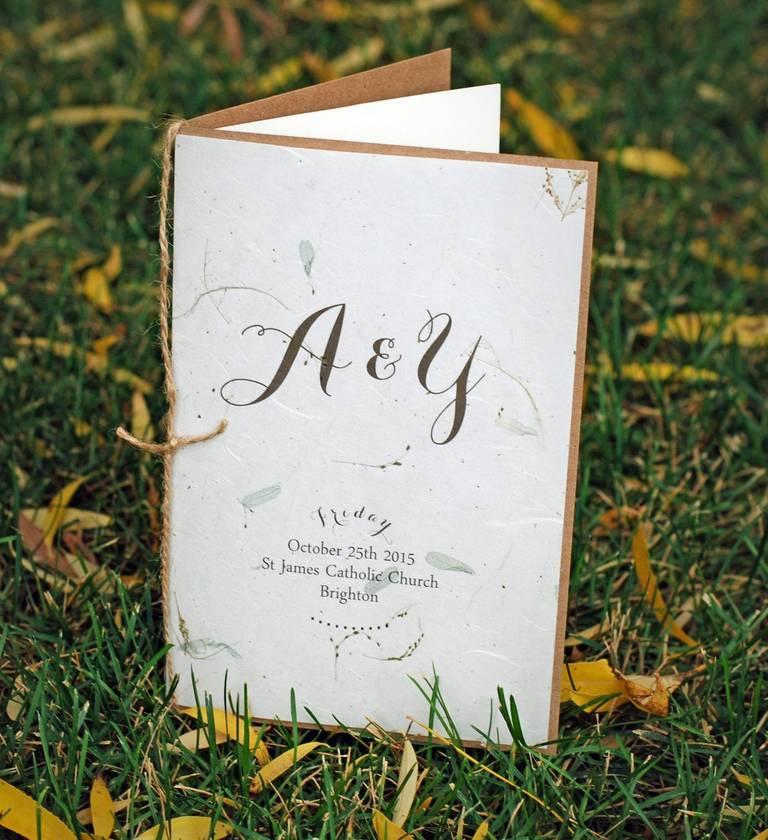 Recycled wedding ceremony program
Play up an earthy or boho wedding theme by using recycled or handmade paper for your wedding programs. A simple twine strand adds a bit of rustic charm.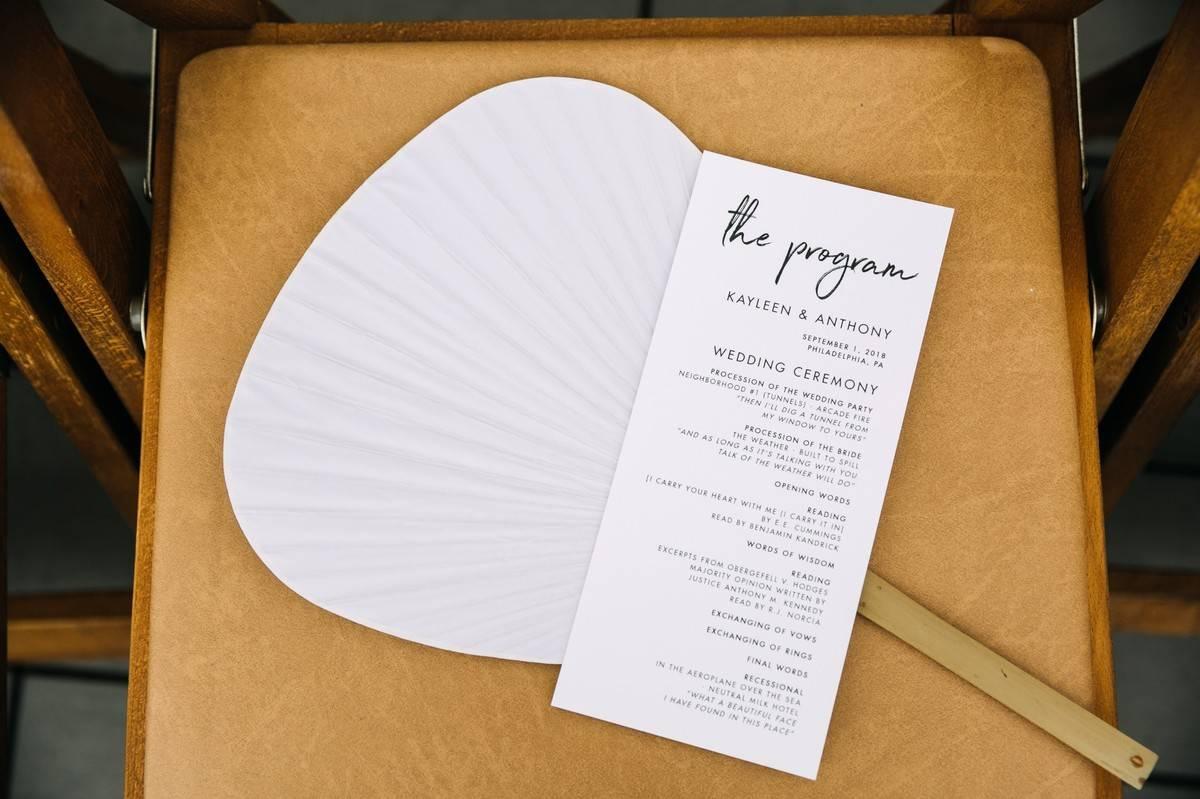 Simple wedding ceremony program
This minimalist wedding program card is a no-frills way to outline your ceremony, including musical selections, reading titles, and the order of events.