12 Romantic Engagement Rings for Your Happily Ever After Moment
If cheesy rom-coms and gushy displays of affection are your game, or you've ever been called a hopeless romantic, don't miss these romantic engagement rings.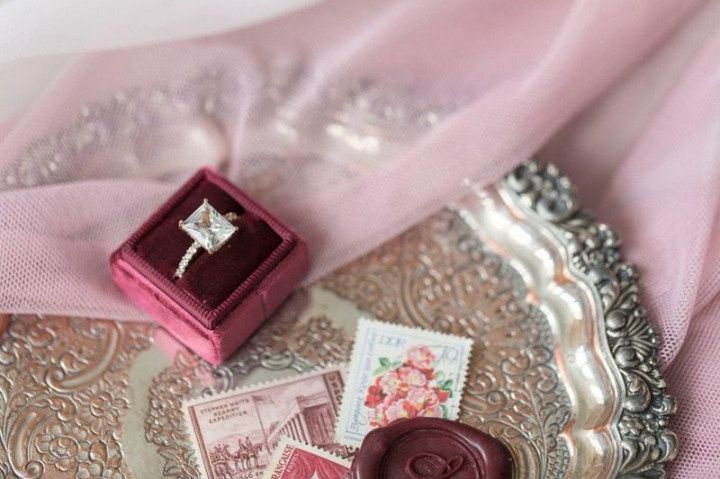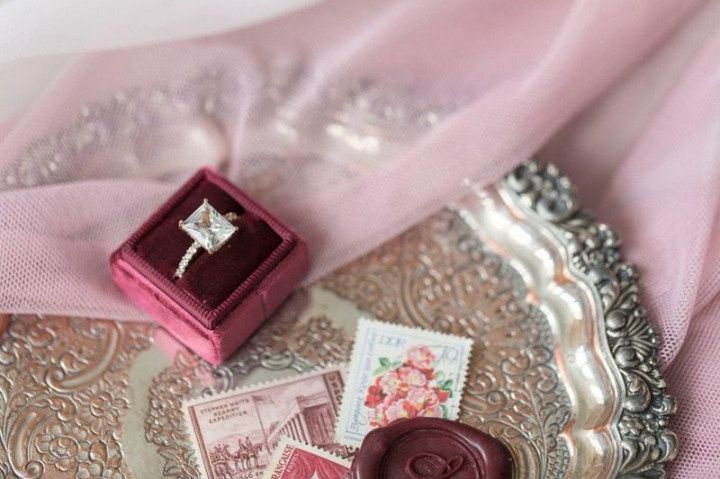 Your wedding day will be one of the most romantic days of your life, but before you can have your storybook ending, it all starts with a breathtaking engagement ring. These romantic engagement rings were made for the daydreamer brides — the ones who have been called hopeless romantics and can't help but get swept away by visions of fairytale romances and happily ever afters. From rings with rose gold details to styles inspired by old-fashioned love stories, these sparklers are the stuff of dreams.
See our favorite romantic engagement rings below.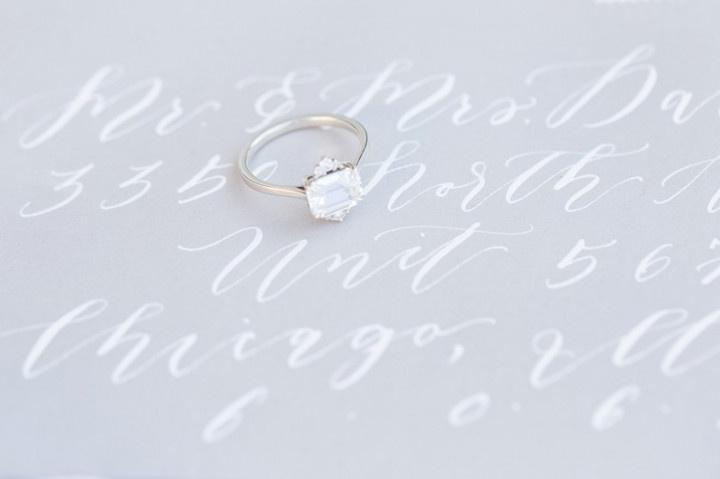 Emerald Cut With Accent Stones
The emerald cut is a classic choice when it comes to romantic engagement rings, but accent stones in a triangular shape complete the look.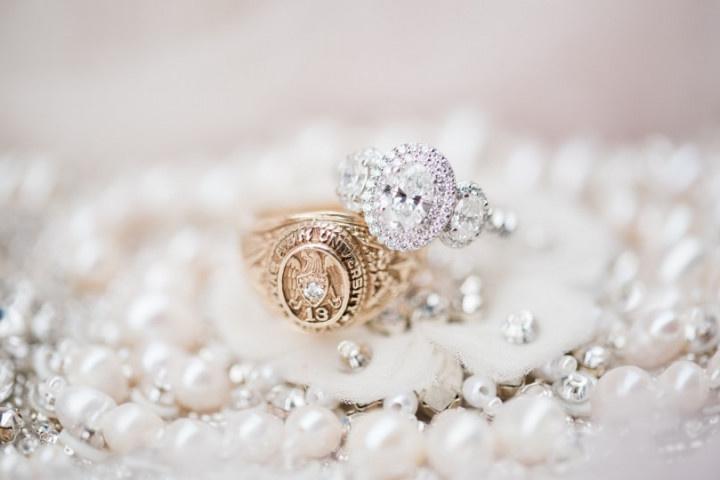 Three-Stone Oval Cut
Hello, sparkler! For the bride who wants everyone to know that she's happily taken, we can't think of anything more perfect than a show-stopping, three-stone ring.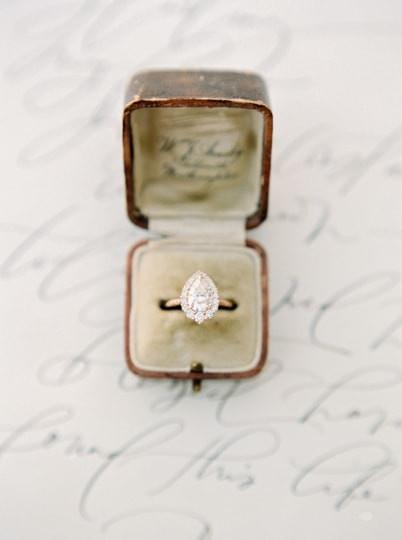 Pear Cut With Halo
Pear-cut engagement rings are trendy, but with a few tweaks, they can also be super-romantic. We're loving how this ring has a delicate gold setting and a halo featuring stones in varying sizes to really emphasize the pear shape.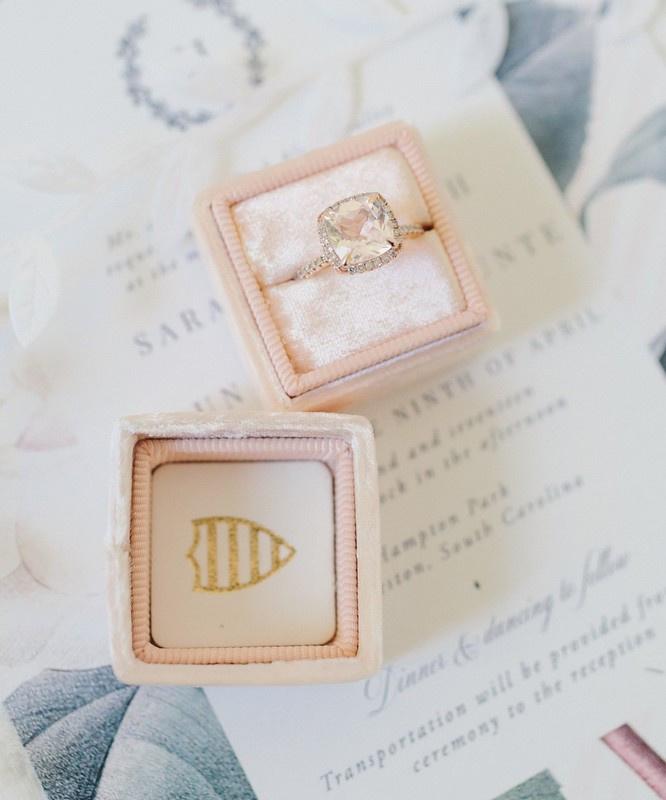 Cushion-Cut Morganite Ring
We couldn't talk about romantic engagement rings without discussing morganite rings! This pink stone isn't a diamond, but rather a gemstone that's similar to emeralds and aquamarines. Colors range from barely-there blush to deep salmon pink. Morganite is a fairly rare stone, making it an excellent choice to symbolize your one true love.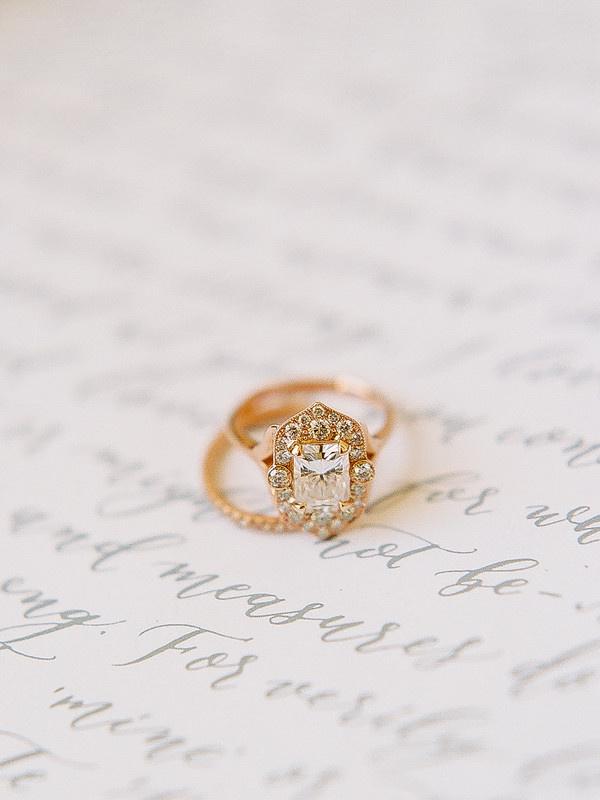 Antique-Style Setting
An antique-inspired ring is perfect for anyone who loves old-fashioned romances. We imagine that the bride rocking this type of romantic engagement ring is a fan of period pieces, such as Pride & Prejudice, Downton Abbey, and Atonement.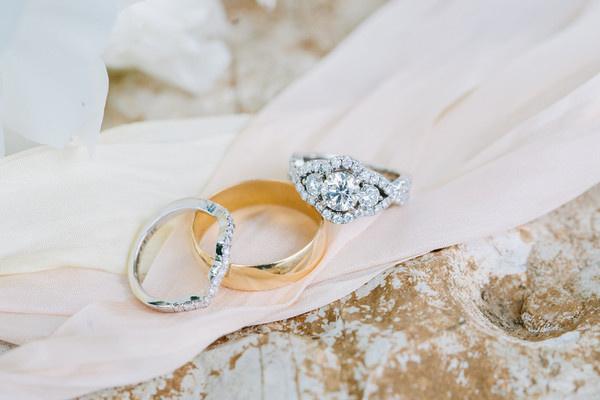 Three-Stone Ring With Halo
Here's another option if you like the idea of a three-stone engagement ring. Instead of each stone featuring an individual halo, they're encircled with one larger halo to create a cluster effect. This type of ring is ideal if you want to customize a matching wedding band to create a ring set.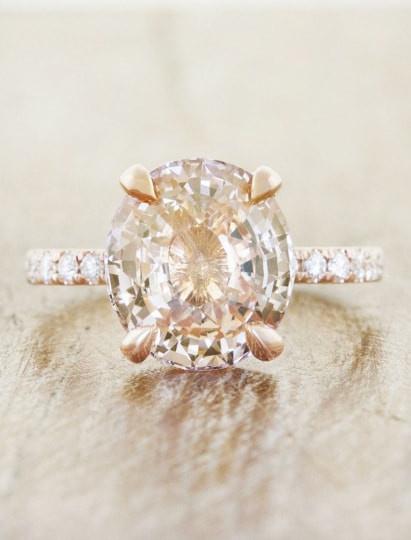 Oval Cut With Rose Gold Band
A bit of rose gold makes everything more romantic. Case in point: this stunning oval-cut peach sapphire (that's right — not all of them are blue!) engagement ring. A pavé infinity band adds just the right hint of sparkle.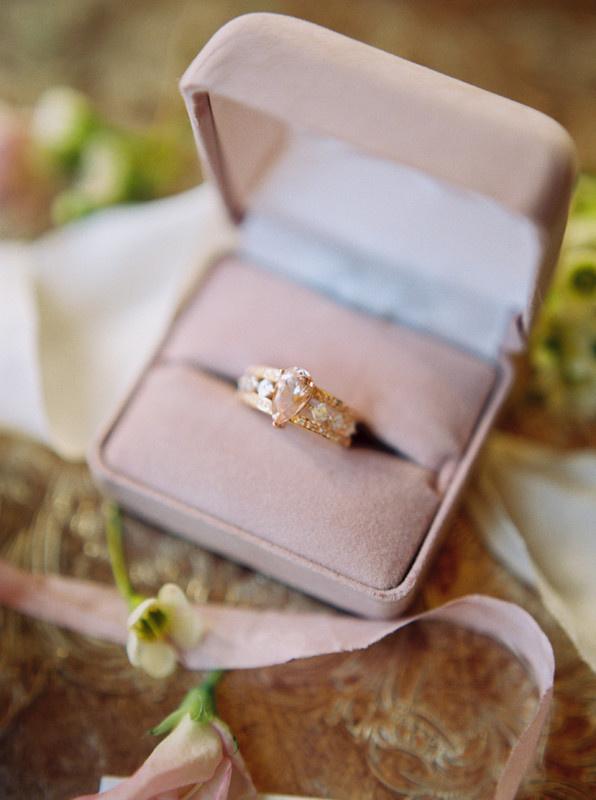 Pear Cut With Double Band
If you're looking for a romantic engagement ring that is also slightly non-traditional, opt for a pear-cut stone with a double band. The pink stone and gold setting are a romantic match made in heaven.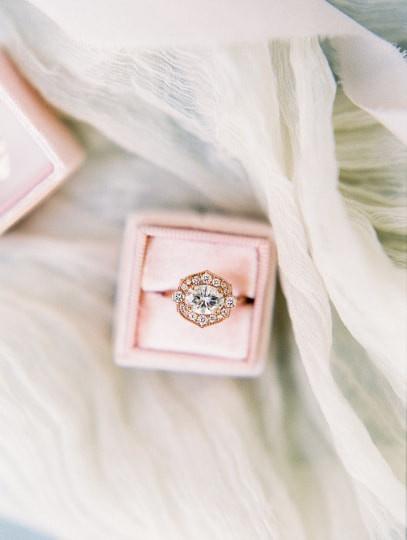 Horizontal Oval Cut With Rose Gold Setting
Flip an oval-cut stone onto its side for a unique take on this romantic engagement ring trend. Complete the ring with a rose gold setting for total fairytale vibes.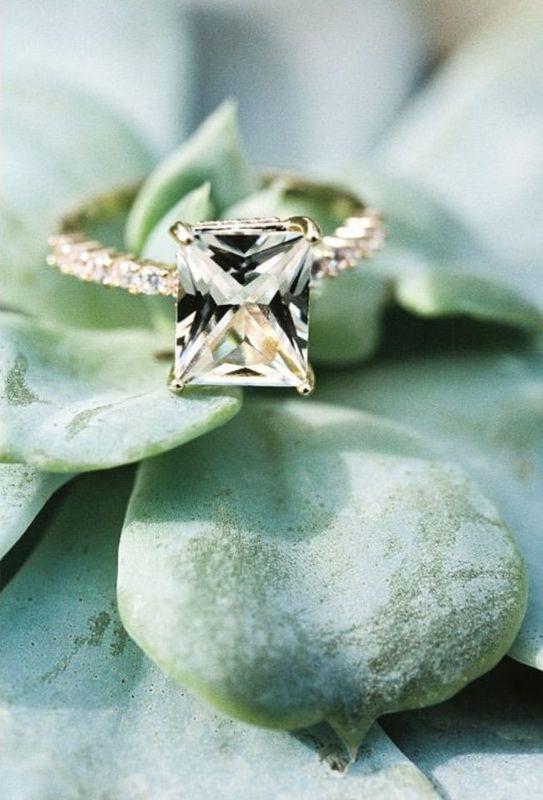 Solitaire Emerald Cut With Gold Setting
Although yellow gold isn't quite as popular as platinum and white gold, we think it's just as beautiful. The proof is in this elegant emerald-cut ring featuring a gold pavé infinity band — it exudes timeless romance and sophistication.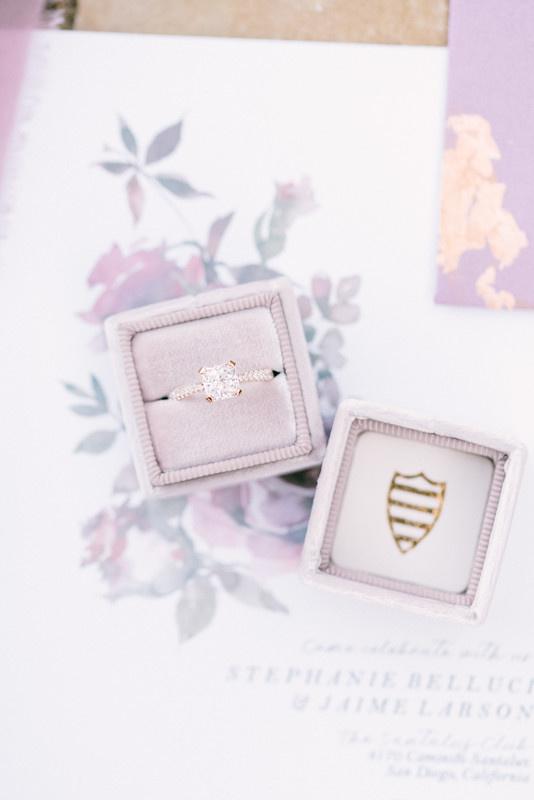 Solitaire Princess Cut
"Romantic" doesn't have to mean choosing a ring that's over-the-top. For brides in search of romantic engagement rings that are on the understated side, solitaire styles are always winners.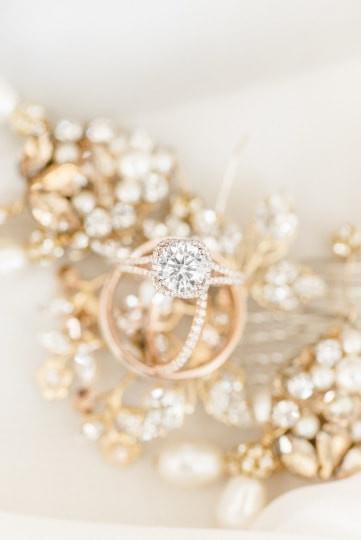 Round Cut With Cushion Halo
This is another option that merges classic and romantic engagement ring styles. A round-cut halo ring will never go out of fashion, and it looks great with all metals, whether you choose rose gold, yellow gold, platinum, or white gold.