Wedding Planning Guilt Is Real Right Now—Here's How to Avoid It
With so much turmoil in the world at the moment, it's normal to feel guilty about planning your wedding or being in the mood to celebrate. Use these tips to focus on the bigger picture.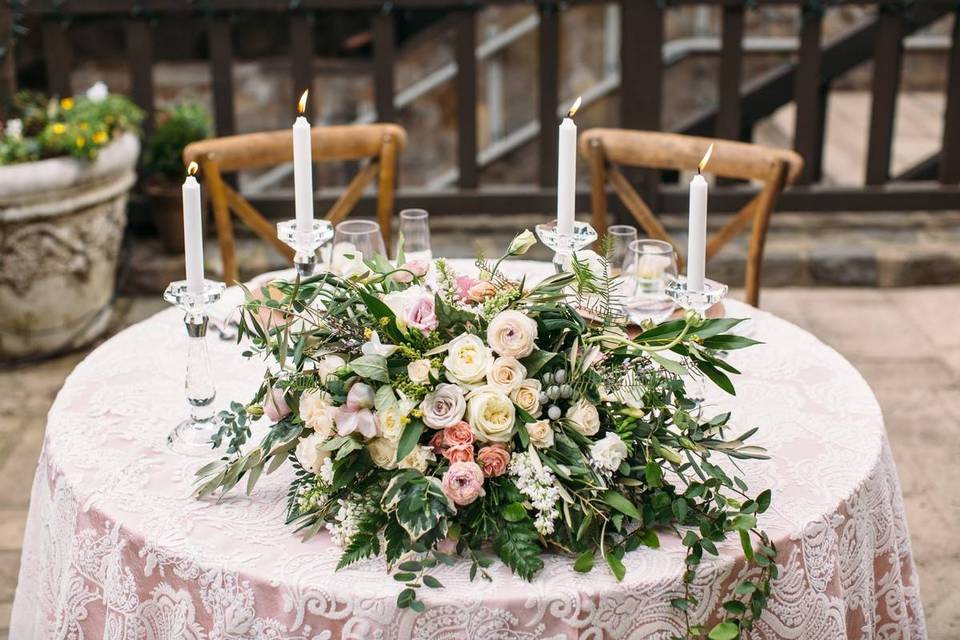 A lot of weddings have been impacted by the COVID-19 pandemic, with many couples being forced to postpone or cancel their plans to marry. But if your wedding is far enough in the future that it hasn't been affected yet, you might be facing a different challenge: guilt. If you're feeling a mixture of relief and remorse that your wedding is still 'safe' for now, you're not alone. This is a perfectly normal reaction, especially as we're all figuring out how to deal with this new reality in our own ways. But it's also a tricky situation to navigate—even more so if you know someone whose wedding has been directly affected. You might be feeling torn about wanting to plan your own wedding while being sensitive to their feelings, or to the severity of the situation in general.
"There is a lot of uncertainty in our world," says psychologist and coach Dr. Patricia Thompson of Silver Lining Psychology. "Giving yourself something positive to focus on can actually be a very constructive thing to do. If you know someone who has had to cancel their wedding, be empathetic and sensitive to how they're feeling—now probably isn't the time to ask their opinion on your plans (unless they're open to it)."
In this situation, the funny thing about guilt is that you can often be too hard on yourself, which will only cause you more anxiety in the long run. Instead, Dr. Thompson recommends trying to enjoy the process as much as possible. "Looking ahead with optimism, occupying your time with something productive, and focusing on love and connection will provide healthy distractions that can help you to cope with all of the scary news that we're hearing," she says.
If you're struggling with wedding planning guilt during the pandemic, follow these steps to get back on track.
Take time to refocus.
If you're feeling torn between happiness and sadness, or struggling with the highs and lows of excitement and guilt, it's okay to press pause on everything—and that includes the news, answering questions about your future wedding, or even skipping your (quarantine-approved) workout. Planning a wedding is already time-consuming, and when you add the weight of a global health crisis, it's easy to wonder if you're focusing your energy on the right things. Of course it's important to be up-to-date on the situation, but don't forget that there will eventually be a time when all of this is in the past. Give yourself time to be sad if you need it, and then take a moment to catch your breath. By stepping back and looking at the bigger picture, you'll remind yourself to prioritize what you can control, which is crucial when it comes to your mental health and coming out stronger on the other side of this.
Cut yourself some slack.
Remind yourself that there's no right or wrong way to be feeling at this moment. Chances are, this situation is affecting your wedding in a way you never thought possible, which is understandably hard to accept—even when you know that safety takes priority. It's okay to feel disappointed or confused while also wanting to maintain as much normalcy as possible, including having your wedding as planned.
As long as you're carefully obeying local COVID-19 guidelines and practicing social distancing, you're already doing a great job. Whether you're looking forward to your bach party six months from now or your wedding next fall, it's totally fine to still be excited about the things you had planned before any of this happened. In fact, having some sort of light at the end of the tunnel will keep you going!
Do what you can to stay positive.
Speaking of lights at the end of the tunnel, remember that there are still good things happening around you. Your engagement and wedding are reasons to celebrate, and acknowledging them won't mean that you're taking current events any less seriously. Now more than ever, it's important to find ways to lift your spirits during quarantine, whether that means shopping online for wedding shoes, throwing a virtual happy hour with your bridesmaids, or simply creating an inspiration board for your big day.
Another thing to keep in mind is that planning your post-quarantine wedding is an opportunity to support local vendors in a huge time of need, if your budget allows. With large gatherings postponed until further notice, many small businesses, including wedding vendors, are taking a direct hit to their incomes. By hosting virtual consultations and hiring vendors as you normally would, you can support those businesses now with deposits and again later on with your final payments.
Stick to a schedule.
One way to avoid feeling guilty or overwhelmed by wedding planning right now is to dedicate time each day to plan. An hour or two every day will be enough for you to feel productive without getting in over your head (which is easy to do when you're stuck at home on the couch with nowhere to be). After you've made progress on your wedding to-do list for the day, turn off your laptop and phone—make it a clear effort to separate wedding planning from the rest of your quarantine activities. Catch up (virtually) with a friend, have an at-home spa night, try cooking a new recipe… anything to balance out your day. If you live with your partner, use this extra time together to focus on keeping your connection strong so that you'll come out of this better than ever.
Remember what's really important.
When is the last time you manually wrote down everything you're thankful for? It may sound silly, but if it's been a while, give it a try—you might find that seeing everything spelled out on paper will put things into perspective and help you prioritize when it comes to your wedding. The fundamental purpose of a wedding is to celebrate with your loved ones, which will be more important than ever moving forward.
As long as you're following appropriate guidelines, don't feel guilty for continuing with your wedding as planned, especially if it's scheduled to take place at the end of this year or early in 2021. Most importantly, remember that your friends and family are probably looking for a reason to celebrate, too! (Cue the post-quarantine party circuit.) If loved ones want to shower you with registry gifts, it's okay—it could be a welcome distraction for many of your guests who are trying to find ways to feel "normal" again. And if you're struggling with guilt for accepting physical gifts, you always have the option of setting up a charity registry instead, whether you ask guests to donate to health professionals or contribute to a meal service for the needy.
In the end, do your best to give yourself the time and space you need to process your emotions. If you're worried about getting all of your planning done or wondering how the pandemic could affect your wedding down the road, take it one day at a time—it will all work out in the end! Keep an open mind and consult with your wedding vendors or call the WeddingWire hotline (833-998-2865) if you need reassurance.