Looking to Save on Your Wedding? Try These Practical, Planner-Backed Ideas
Yes, you can still have a unique wedding and not completely overspend. These wedding ideas on a budget come straight from expert planners.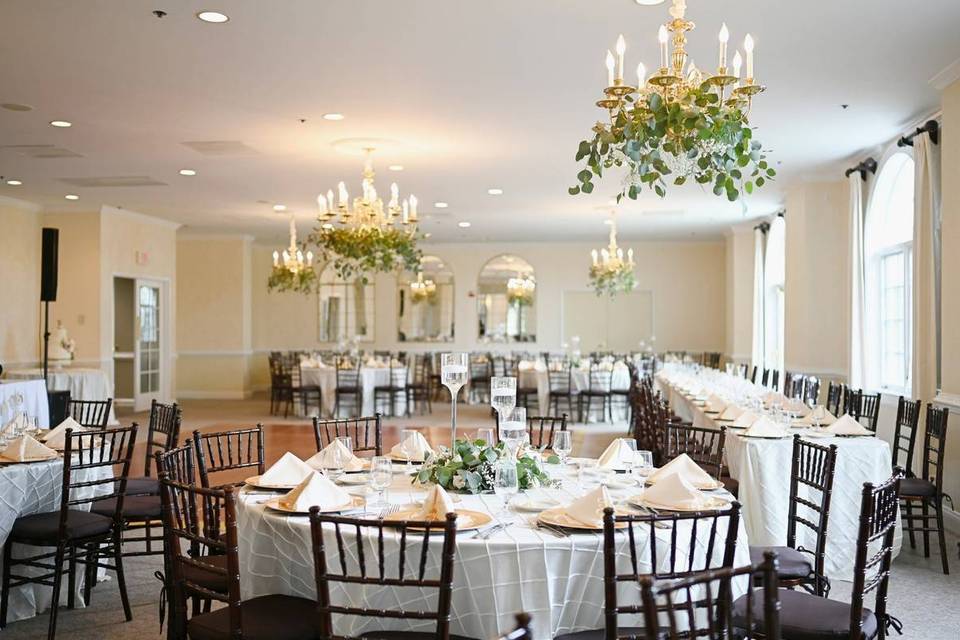 If you constantly find yourself Googling "wedding ideas on a budget" or "inexpensive wedding ideas", you're in good company. Especially in the wake of the coronavirus pandemic, couples are especially clamoring for ways to save money on their big day. "The pandemic brought on more financial insecurities across the globe, which was an unfortunate blow to many couples planning their dream wedding," explains Jen Avey of Destination Weddings Travel Group. "Since they're already known to be an enormous expense that couples and parents save up for, with the added stress of the current economic climate it's no wonder couples are needing to get extra creative on how to have a budget-friendly wedding of their dreams."
It's true that few experiences in your life will be as costly as your wedding day, but that certainly doesn't mean you have to break the bank. To plan an affordable wedding without sacrificing quality, planners recommend that the very first step in your planning process be creating a realistic budget that you can stick to and hiring a planner to help see this budget through—from the early stages to the day-of events.
Even if, at first you might think that a wedding planner is an added cost, oftentimes they can save you a bundle thanks to their plethora of connections. Chanda Daniels of A Monique Affair in San Francisco recommends looking for someone who specializes in budget-conscious weddings. "By doing so you will connect with planners who have made a career out of producing the type of wedding you want, and who have the creative team for it as well," she says. Even better—she suggests seeking out a planner who can help tackle DIY wedding projects, a quality that you are likely to find on their social media page.
Where to splurge? What to save on? This will be different for every couple, according to Tara Melvin of Perfect Planning Events in Washington, D.C., as every couple has their own unique set of priorities for their special day. She recommends that every couple thinks about the elements of a wedding that matter the most to them and invest in those areas, rather than trying to be frugal with every detail. "Remember that quality trumps quantity, and I say this to remind couples to be sure to concentrate on saving versus cutting corners," she says. "Sacrificing quality becomes visually apparent to guests, to unwanted challenges or stress to the couple, to creating last-minute unexpected wedding costs to cover up mishaps."
To pull off a perfect wedding without spending more than you'd like, check out these planner-approved wedding ideas on a budget.
Prioritize what falls under the category of "nice to have" vs "need to have".
The list of expenses that you attempt to eliminate should not be in the areas that mean the most to you. For example, if you've always dreamed of having a full band instead of a DJ, keep that promise to yourself. You will, however, have to cut in some other category to make up for the difference in budget. Gernhauser recommends sitting down with your partner at the outset and establishing the "nice to have" and "need to have" elements to help give you clarity on where to invest your dollars and what is left over to invest in the niceties. "At the end of the day, your guests will never know what the wedding could have been, they will only know what they see and experience," she says. "Focus your funds on the most important necessities and one or two focal points that matter most to you, and you can't go wrong!"
Choose an off-peak season for your wedding.
Most wedding venues have peak periods when the negotiation for cost will be minimal, explains Melvin. For this reason, she recommends inquiring with your wedding ceremony and reception venue about their off-peak periods, during which the cost of hosting your wedding is more likely to fit into your wedding budget. "For most venues, this is in the winter months, however, it does depend on the location; for example the Mid-Atlantic area might be more flexible during the winter months than Florida where it's warm all year round," she says. A good rule of thumb is if outdoor weddings are possible in a certain part of the country, it's probably peak season.
Be open to a weekday wedding.
As a result of the pandemic, and the countless weddings postponed in 2020, weekend wedding dates are quite scarce. Even before the pandemic, the most popular day of the week for a wedding was understandably Saturday, which means that all other days of the week, often including Fridays, are usually less costly. Daniels suggests considering Monday through Thursday, which will give you more flexibility with your creative wedding team who is likely more available on those days. "I'm sure you will be able to secure your favorite venue anytime of the year using this tip!"
Hire an associate photographer.
"Most wedding photography companies are small businesses where the owner of the company is also the main photographer who would normally be the one taking your wedding photos, but, in order to be able to take on more work, many companies also have an associate photographer which may or may not be advertised," explains Jamie Chang of Mango Muse Events and Let's "I Do" This! If you love the primary photographer's work, but their pricing is too high for your budget, she recommends asking whether or not they have an associate, who is likely to be less experienced and thus, less costly; however, they often train under the main photographer, meaning their style is likely similar. If you go this route, Chang recommends looking at several photos of weddings shot by the associate and setting up a time to talk to them specifically. "While their photos will have a similar style as the main photographer, their eye and skill will be different," she says. "You want to make sure you not only like them, but like their work specifically as well."
Select flowers that are in season year-round.
There is a laundry list of wedding flowers that are in season all year long, including baby's breath, calla lilies, carnations, gardenias, orchids, roses, hydrangeas—and of course, greenery. For this reason, Melvin recommends asking your florist how they recommend achieving your desired look in a way that is cost effective for you and asking if their source is from a local grower or from a source outside of the area. She also recommends being flexible with your wedding decor and style. "You may have the desire to want tall floral arrangements on every table, however, to reduce cost consider alternating high and low wedding centerpieces for your tables or alternating floral centerpieces with trio of cylinder vases with floating candles," she says. "Implementing some of these options can save anywhere from 10 to 20 percent off your wedding decoration and floral budget."
Select one single entree for your wedding reception meal.
It's a common misnomer that buffets save you money, according to Laura Maddox of Magnolia Celebrates in Atlanta Georgia. "Often, the cost of the food, as well as the caterer having to over-prepare that food for your guests, leads to you overpaying for the food," she says. "If you choose a single entree (let's say chicken, as it's pleasing to the masses) then your guests all receive a delicious sit-down meal with controlled food cost." Even though you will still have the caterer prepare a small percentage of vegetarian meals, you are still able to save on food costs, as well as the cost of paper goods such as menus or place cards, she points out. For an even easier cost-saving solution, you might plan a brunch reception—brunch food tends to be less expensive and you'll save money on booze.
Limit the bar.
It may be surprising to learn that alcohol is one of the biggest wedding expenses that couples face when planning their big day. Instead of offering a full, top-shelf open bar (certainly a nice gesture, but not entirely essential), limit it to wine, beer, and signature cocktail. Guests can still enjoy alcoholic beverages during cocktail hour and the reception, and they probably won't miss the extra booze.
Cut down your guest list dramatically
A small wedding guest list, including just family members, wedding party, and closest friends, is all the rage right now, especially in light of the pandemic. And, by doing so, you can cut down on costs enough to allocate dollars to your top priorities in the wedding planning process without having to skimp on quality. "Always envisioned having a full 9-piece band with horn section play at your reception? You are more likely to have the funds to invest in that band with a smaller guest list than a larger one," says Valerie Gernhauser, owner of Ruby and Pearl Events in New Orleans. "By keeping your guest list down, you'll be able to splurge in areas you wouldn't be able to if you had a large number of people to feed."
Consider a destination wedding
Whether it's an elopement, minimony, or a big celebration, having an all-inclusive destination wedding has proven to be a huge cost-saver for the couple, according to Avey. "The average couple spends under $10,000 when having a destination wedding in Mexico or the Caribbean (inclusive of accommodations, airfare, and wedding package), which is a huge savings compared to a traditional, hometown wedding—plus you get a honeymoon out of it!" she says. "A destination wedding experience is truly a great bang-for-your-buck for you and your guests, who will get to enjoy a vacation on top of your nuptials!"
Don't sweat the small stuff.
There are so many added elements to the traditional wedding day that are total fluff, according to planners. "Things like fancy guest books, over-the-top wedding favors, and the bling that gets handed out on the dance floor to light up during the band's final set are all things that don't necessarily bring a lot of return on investment," says Gernhauser. "Remember that your guests are there to witness you and your partner make a lifetime commitment to each other and celebrate with you, and there isn't much more required to make that guest experience any better than simply being present for it."