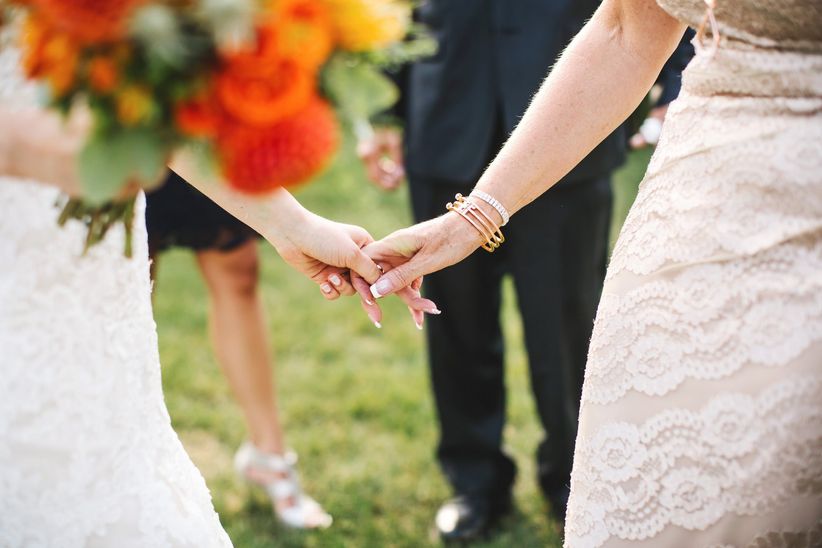 Photo: Lena Mirisola Photography
Even if your parents or other loved ones are paying for your big day, there are certain wedding-related expenses that couples traditionally pay for themselves. So even if you weren't planning on saving for a wedding, you will still need to set aside some money for certain expenses. Some may seem obvious (wedding bands!) other less so (new IDs!), but all are pretty much essential for the wedding and beyond.


Saving for a wedding? Here are a few oft-overlooked items that couples traditionally pay for.
Wedding Bands
On average, these symbols of lifelong commitment can cost anywhere from a few hundred dollars to around $1,000. The price varies depending on the metal, width, style, special details like stones or personal engravings, and retailer. We recommend
starting the ring search
about two to three months in advance of your wedding date, which will give you time to shop around a bit before making a final decision and placing your orders. Of course, it's always smart to do a little research even earlier on in the planning process so you can identify your preferred style and budget accordingly. 
Honeymoon 
If you're saving for a wedding, don't forget about the honeymoon, too! Between airfare, accommodations, extra activities (sunset catamaran cruise or guided winery tour, anyone?), and well-deserved indulgences like romantic dinners or spa treatments, this once-in-a-lifetime trip can cost a pretty penny. Don't fret! Start saving soon after you get engaged,
find creative ways to stay within budget
, and you're on your way to a dreamy vacation.
Premarital Counseling 
Depending on whom you choose to officiate your wedding or where you plan to get married, you may be required—or strongly encouraged—to complete some type of
premarital education program
. This is a common prerequisite for couples wishing to have their ceremonies held in a house of worship. Still, many engaged couples choose to participate in premarital counseling sessions even if it is not mandated. The cost for counseling varies by program, so we recommend inquiring with services available in your area.
Marriage License
Before exchanging "I dos", you'll need a license to wed!
Marriage license fees vary from state to state
—and sometimes even by city or county—so be sure to research the going rate in whatever area your ceremony will be held and plan accordingly. Note: some municipalities will offer a fee reduction to couples who have completed a premarital counseling program and can show proof of completion.
Photo: Shutter Sam Photography
Thank-You Gifts
It takes a village to bring your big day to life, and you couldn't do it without the love and support of your nearest and dearest! A thoughtful gift is the perfect way to show your appreciation to those who have helped you plan, stood beside you at the altar, and played a key role in celebrating this next chapter.
Wedding-Day Gifts for Each Other
If you and your S.O. have agreed to exchange gifts on the morning of your wedding, don't forget to save up for something special! This could be anything from a personalized keepsake to a big-ticket item that has been on his or her wish list forever.
Thank-You Notes
Once the celebration is over,
you'll have a long list of thank you cards to write
! Consider investing in some personalized stationery or high-quality cards to give your notes an extra element of elegance. And don't forget to factor in return address labels and postage, which can add up when you're mailing out 100+ notes!
New IDs 
While you're probably very focused on saving for your wedding, don't forget about expenses you may incur after the fact. If you plan to change your last name after marriage, you will need to pay a fee for an updated driver's license and passport. The exact cost may vary slightly by municipality, but the $32 driver's license and $140 passport fee
Caitlin reports paying
is pretty common.