Savannah is one of the oldest cities in the the U.S., and unsurprisingly, there are dozens of unique buildings around town with historical character and charm. Some of our favorite wedding Venues in Savannah, GA are an old military fort, a converted warehouse, and a former railroad station. While definitely non-traditional, these unexpected venues guarantee that your wedding day will be a memorable, one-of-a-kind celebration.
Take a peek at these unique and historic wedding venues in Savanna, GA.
Cohen's Retreat
If you or most of your guests are coming from out of town, Cohen's Retreat is one of the best destination Savannah venues that you could ask for. The building, originally built in the 1930s, was recently converted into a beautiful retreat with multiple event spaces, shops, cabin rentals, and a restaurant all on the property. From the outside, Cohen's Retreat boasts all the grandeur of a traditional Southern estate, including its welcoming porch and stone fountain (which of course makes a gorgeous backdrop for wedding photos). The interior has a Southern-meets-urban vibe, with industrial chic details like exposed brick walls, ceiling beams, large arched windows, and hardwood floors. Mix-and-match chandeliers elevate the space with a romantic glow. Wedding packages at Cohen's Retreat include catering by the venue's award-winning culinary team, in addition to other services like an event coordination and bartending.
Learn more about Cohen's Retreat »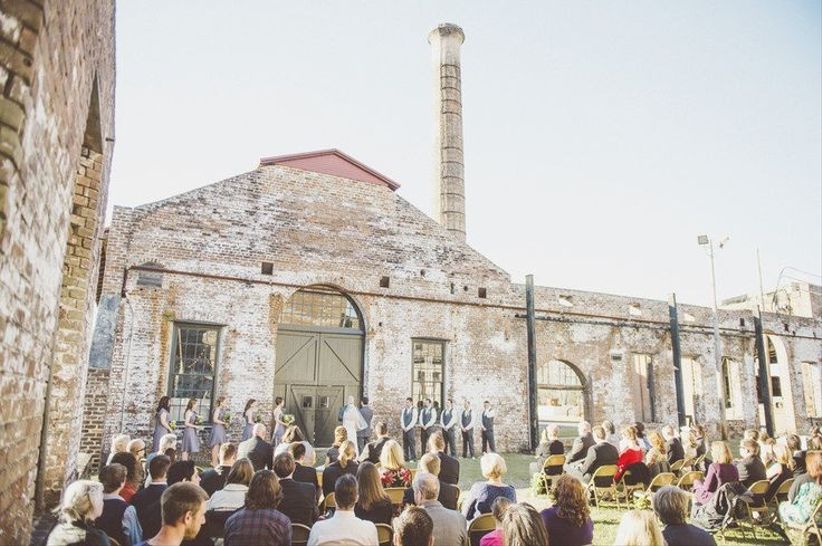 Georgia State Railroad Museum
Couples looking for an out-of-the-box venue will definitely want to check out the Georgia State Railroad Museum. As the name implies, the venue is an old railroad terminal that has been preserved as a museum, and the site was even designated as a National Historic Landmark. A grassy area called the 'Machine Shop' features brick ruins that would make an interesting backdrop for an outdoor ceremony. There are four other spaces around the museum that you can rent, ranging from small indoor locations to larger buildings that can accommodate hundreds of guests. The best part is that the Georgia State Railroad Museum only hosts one event per night, so the entire venue is yours to enjoy! Lastly, the museum's proximity to the Savannah historic district makes it easy for your guests to reach.
Learn more about the Georgia State Railroad Museum »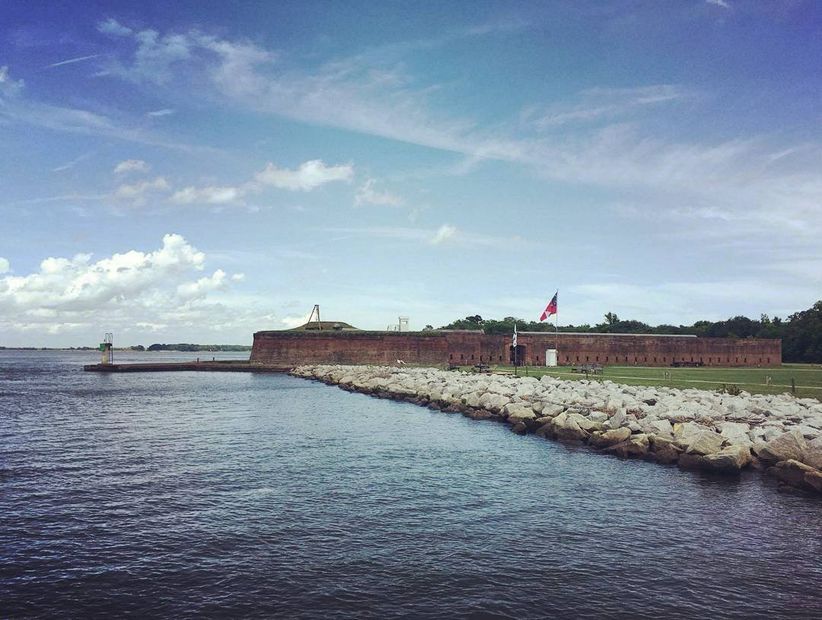 Old Fort Jackson
History buffs, we've found your dream wedding venue! When it comes to historic wedding venues in Savannah, GA, Old Fort Jackson is the place to be. Built more than 200 years ago, Old Fort Jackson is just a 10-minute drive from downtown Savannah. It has scenic views of the Savannah River, a 300-mile waterway that originates in a valley of the Blue Ridge Mountains near Georgia's northern border. Today, Old Fort Jackson is a working museum that has historically accurate demonstrations, including cannon firings and honor guard ceremonies. The setting alone is sure to wow your guests, but to take things to the next level, you can contact the venue ahead of time to hire uniformed soldiers who will give fort tours or perform infantry drills during the reception. Every wedding at Old Fort Jackson includes farm tables and bench rentals.
Learn more about Old Fort Jackson »
Soho South Cafe
Take one look at this backdrop of twinkling string lights and you'll be in love with the Soho South Cafe! This quirky restaurant, which is housed in a former automotive service station, is one of the most unique wedding venues in Savannah. The beautiful steel-framed windows, exposed iron trusses and garage doors of the 1940s-era building give the space an industrial wedding look that we can't get enough of. Let's talk about the food: Savannahites rave about the weekend brunch here, so you can rest assured that your wedding menu is in good hands with venue's culinary team. With the furnishings left as-is, Soho South Cafe can accommodate up to 150 guests, or the wedding venue can be cleared out as a 'blank slate' and customized for larger groups (up to 200 people).
Learn more about Soho South Cafe »
Savannah Station
This century-old building in the heart of downtown Savannah has plenty of character for couples who want a non-traditional wedding venue. Savannah Station was built in 1902 as a stable for freight wagon horses, and many of the original industrial-style details (exposed beams, brick walls) still exist today. Thanks to those details, Savannah Station has a trendy, rustic-meets-urban feel that could work for a variety of wedding styles, making it one of the most popular Savannah wedding venues. This "blank slate" venue can be personalized with your own decor, or you can keep things minimal and let the space speak for itself. Event coordinators at Savannah Station will assist you with everything you need for your wedding, from providing vendor recommendations to on-site rentals, bar packages and decor set-up.
Learn more about Savannah Station »
Whitefield Chapel
One of the most romantic wedding venues in Savannah, GA is the Whitefield Chapel at Bethesda Academy. Located just a short drive from downtown Savannah, the 100-year-old chapel is a must-see for any couple searching for historic venues with plenty of Southern charm. Surrounded by gorgeous oak trees that are covered in Spanish moss, the chapel looks like something straight out of a Nicholas Sparks movie. It has even hosted several celebrity weddings — Paula Deen was married here in 2004, and Mandy Moore held a top-secret ceremony at Whitefield Chapel in 2009. Inside the chapel, there are original pews, chandeliers, brick floors, and an altar. Windows on both sides of the building let in plenty of natural light and a stained glass window behind the altar creates a beautiful ceremony backdrop for your vows. Whitefield Chapel can accommodate up to 135 guests and there are several reception spaces to choose from throughout the rest of the property.
Learn more about Whitefield Chapel »
The Cotton Sail Hotel
We're totally in love with The Cotton Sail Hotel. Housed in a refurbished cotton warehouse from the 1800s, this boutique hotel has an unbeatable location in the heart of downtown Savannah and mixes historical charm with modern-day amenities. From event staff to decor rentals, in-house catering and wedding guest accommodations, this venue has everything you need in one place. At The Cotton Sail Hotel, the main event space features an amazing rooftop terrace with views of the Savannah River and the city skyline.
Learn more about The Cotton Sail Hotel »
Telfair Academy
Telfair Academy is an excellent option for couples in search of a historical venue with traditional elements. This museum houses classic paintings, sculptures and other artwork that will serve as an understated, elegant backdrop for your wedding day. There are multiple event spaces throughout the stately 19th-Century mansion, including a sculpture gallery, period rooms and a three-story rotunda. The maximum capacity for events at Telfair Academy is 100 guests for seated dinners or 150 for cocktail-style receptions. Just steps from the venue's door is Telfair Square, a picturesque setting for wedding photos or even an outdoor ceremony.
Learn more about Telfair Academy »